After celebrating midsummer, I spent one night in Stockholm before catching a flight from Stockholm Arlanda Airport (ARN). There are a few hotels located at the airport but I decided to book the Story Hotel Signalfabriken which is part of JDV by Hyatt. Here's my detailed review.
Story Hotel Signalfabriken: Hotel Basics
The Story Hotel Signalfabriken is one of three properties that are part of Sweden's Story Hotels brand. The hotels joined Hyatt shortly after the pandemic in early 2021. They joined Hotel Reisen (which also joined The Unbound Collection by Hyatt in 2021) and grew Hyatt's footprint in Sweden to four hotels.
While all of the hotels are technically boutiques, Hyatt is pretty good about ensuring that properties honor benefits for elites including the Globalist breakfast benefit, Suite Upgrade Awards, and complimentary upgrades at check-in.
It's kind of crazy to think that just two years ago, Hyatt had no properties in Sweden and now has four, an illustration of Hyatt's growth across Europe recently. Of course, that's in addition to hotels bookable under World of Hyatt's partnership with Small Luxury Hotels of the World (SLH) and the Mr. & Mrs. Smith offerings coming soon.
Story Hotel Signalfabriken has 83 rooms including two suites. The vibe of the hotel is "industrial-chic" and is located inside the Signalfabriken building, a former fire station and town hall. The hotel definitely has a funky personality.
If you enjoy an industrial yet modern vibe, you'll love the decor here in both the rooms and common areas.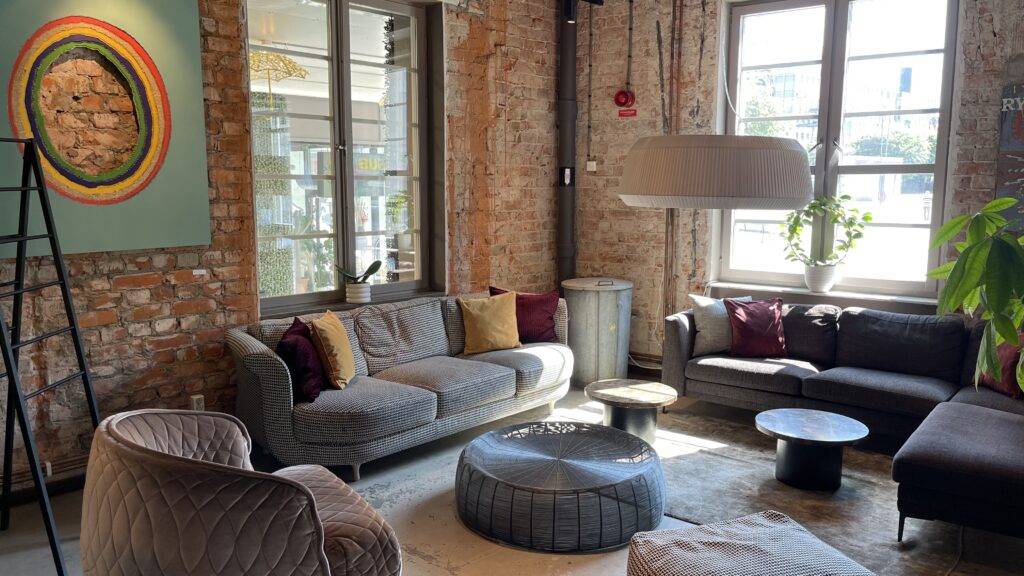 It's located near the Solna Business Park and Friends Arena and Mall, a straight-shot subway ride away from the city center about 15 minutes away.
For me, the hotel is located just 2 blocks away from the Sundbybergs torg stop on the Flygbussarna Airport Shuttle route from Arlanda Airport.
A one-way ticket on the Flygbussarna is 139.00 SEK (roughly $13 USD) while a round-trip ticket will run you 258.00 SEK (roughly $25 USD). It's a comfortable yet cost-effective way of getting to and from Stockholm to the airport.
Booking Story Hotel Signalfabriken
The Story Hotel Signalfabriken is a World of Hyatt Category 1 property on the World of Hyatt award chart.
That means a standard room free night redemption at the hotel cost 5,000 World of Hyatt points. That drops to 3,500 points on off-peak dates and 6,500 on peak dates.
Despite it being on the weekend after midsummer, my dates were considered off-peak so a night at the hotel was just 3,500 points. Frankly, that's shockingly good value in a country like Sweden which isn't exactly known for affordable getaways.
Cash rates were hovering around $100 which is also a great deal, but a points redemption was clearly the better deal.
For incidentals, I used my World of Hyatt Credit Card from Chase which earns a total of 4x World of Hyatt points per dollar spent in addition to normal World of Hyatt earnings.
Story Hotel Signalfabriken: Arriving & Check-In
I arrived at the hotel around 7 pm. I tried to check in before arrival using the app but unfortunately, a mobile key wasn't generated so I had to go to the front desk.
Luckily check-in was very efficient with a friendly agent explaining hotel details and amenities. She thanked me for being a Globalist and mentioned that there would be a welcome amenity waiting for me in the room. She also mentioned that I had been upgraded to the king bed deluxe room from the standard king.
The hotel only has two "suites", one standard suite (family loft) and one premium suite (family duplex). World of Hyatt is generally being great about complimentary suite upgrades for Globalists at check-in but both suites were occupied making the deluxe room the best room available.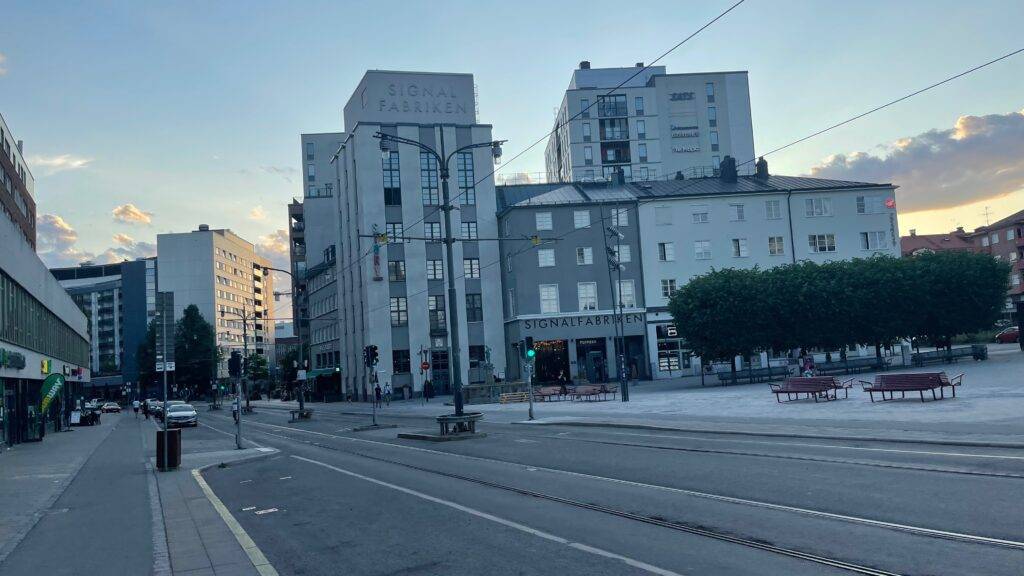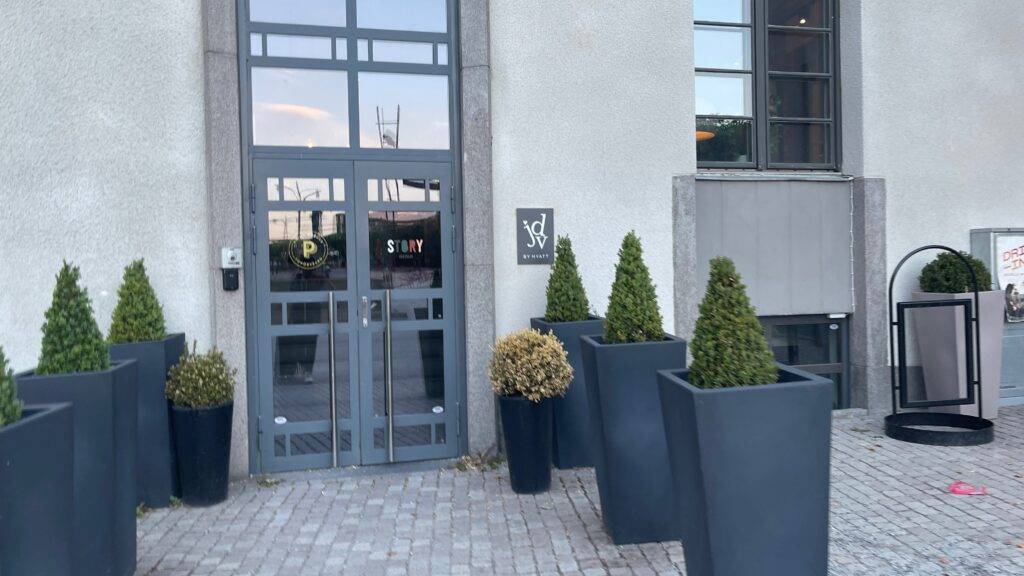 Story Hotel Signalfabriken: King Bed Deluxe Room
I was assigned room 216 on the second floor. I took a ride up an old-school elevator then turned right and down some stairs to find the room.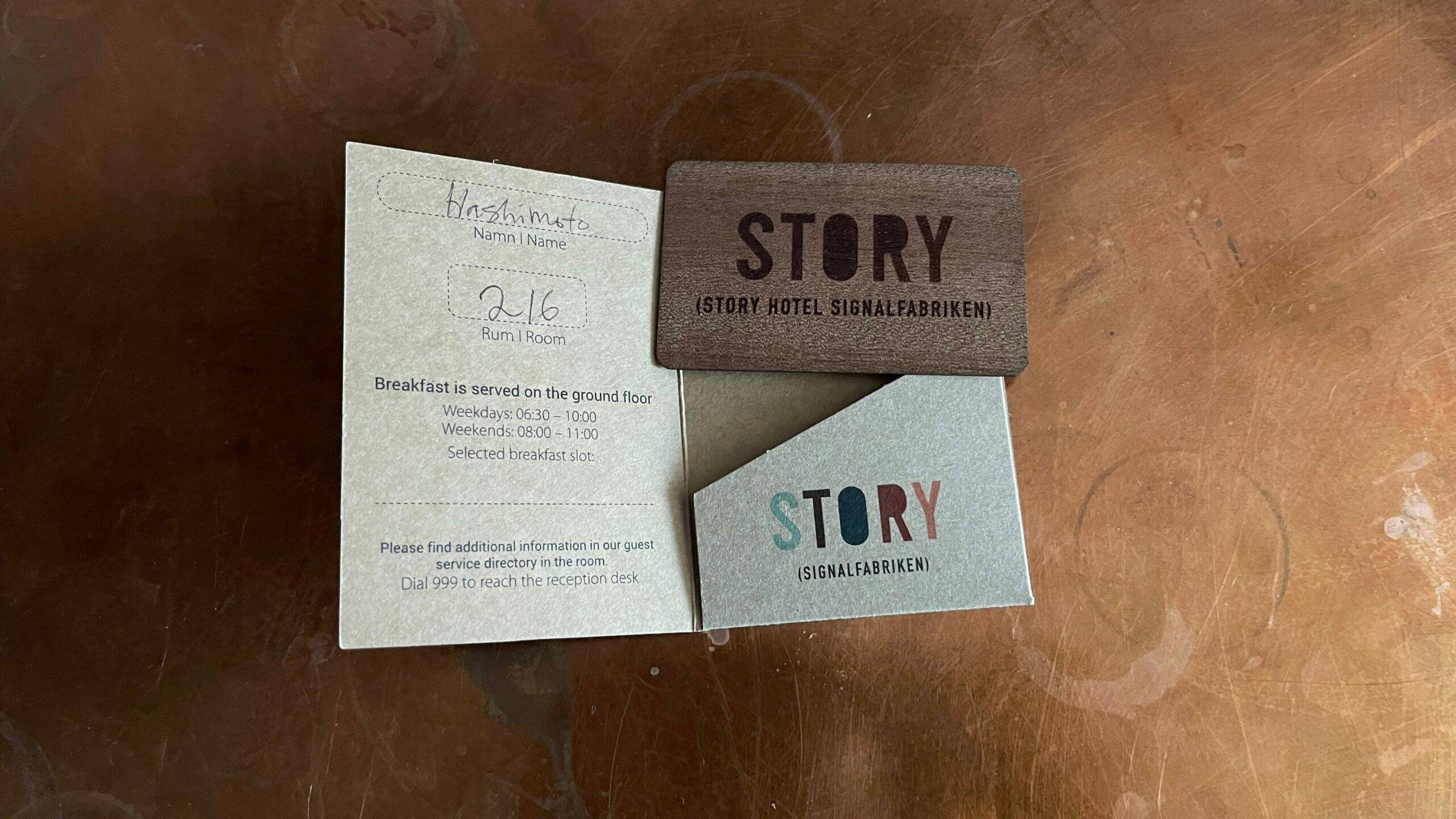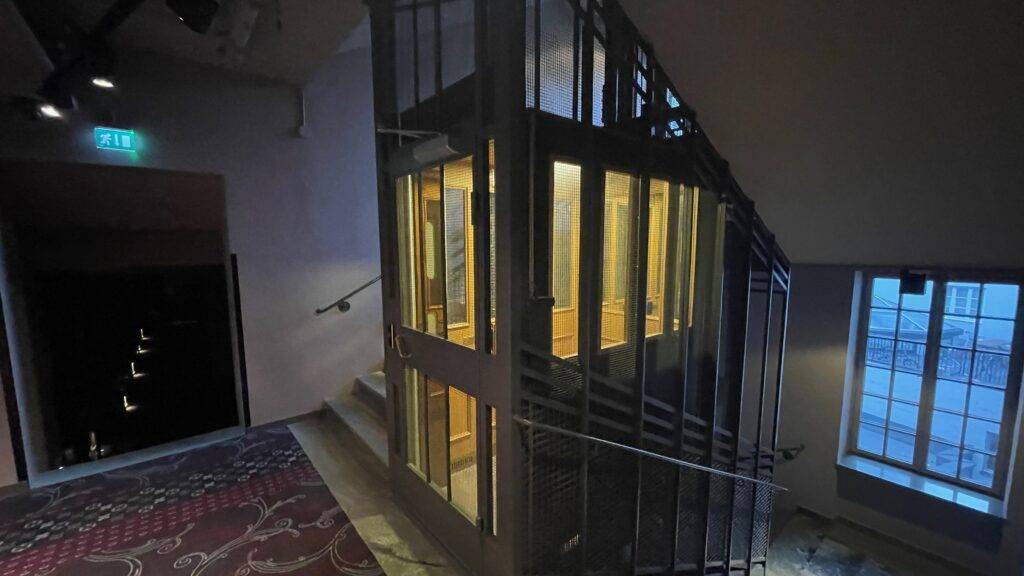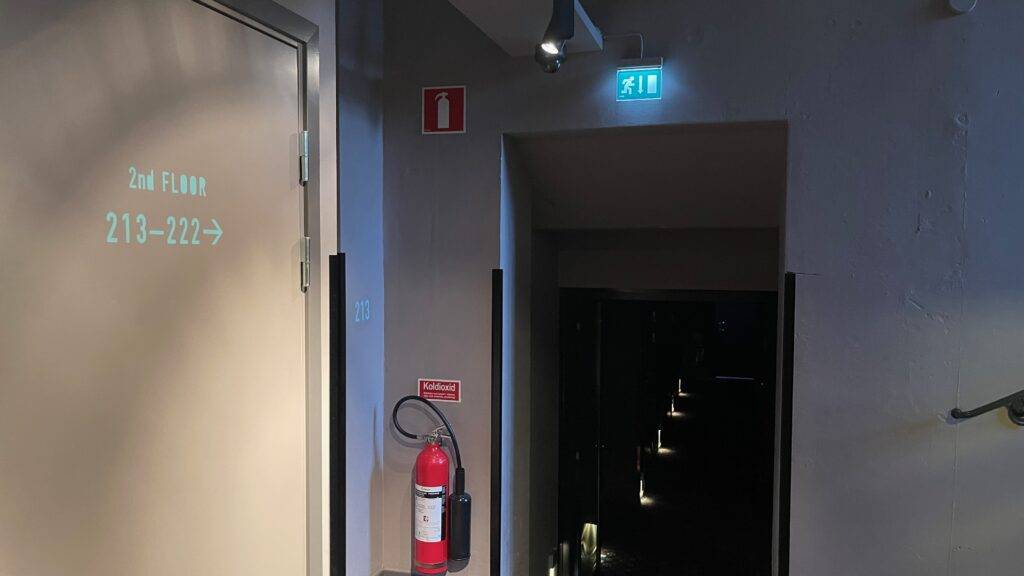 The rooms are described as being 22 square meters (237 square feet). In addition to a king size bed and desk, the deluxe rooms feature a sitting area.
The decoration has a strong funky personality that might not be everyone's cup of tea. While not captured in the photos, the room was slightly dark even with the mood lighting turned all the way up.
There was a spotlight smoothly fading in and out lighting up one of the paintings which I thought was cool but got old after a few minutes.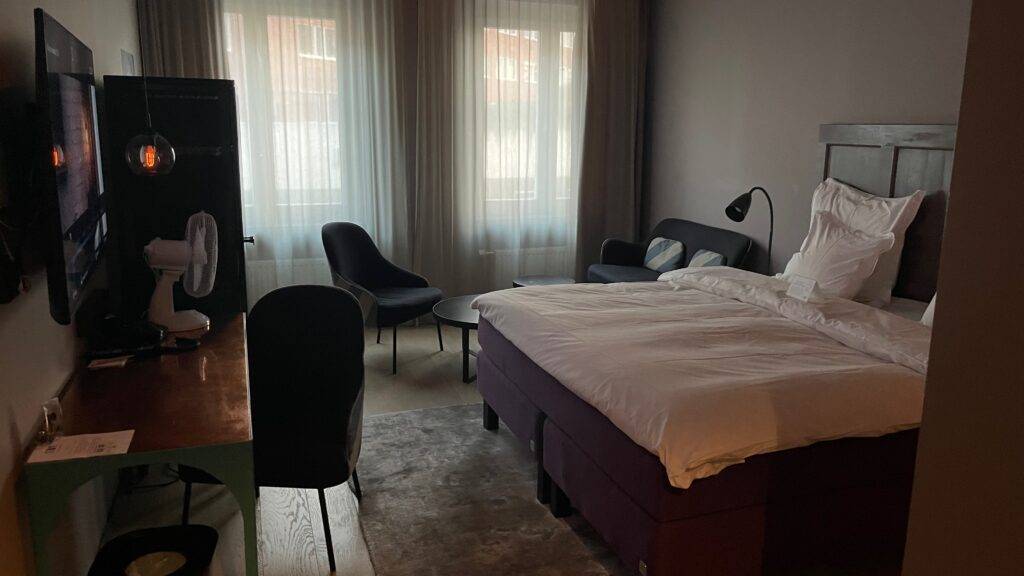 On the desk was a welcome note and a welcome amenity consisting of some candy and a 100 SEK coupon for F&B as a welcome amenity.
I initially thought that the 100 SEK coupon was a Globalist benefit, but apparently, this is offered to all guests who book direct with the hotel.
That's based on a conversation I overheard between the front desk and a guest who was clearly not a Globalist receiving the coupon when they extended a Priceline booking turning it into a direct booking.
There were also two complimentary bottles of sparkling water in the fridge. I'm not sure if this is the standard or if they swapped out non-sparkling for sparkling given a saved preference in my profile.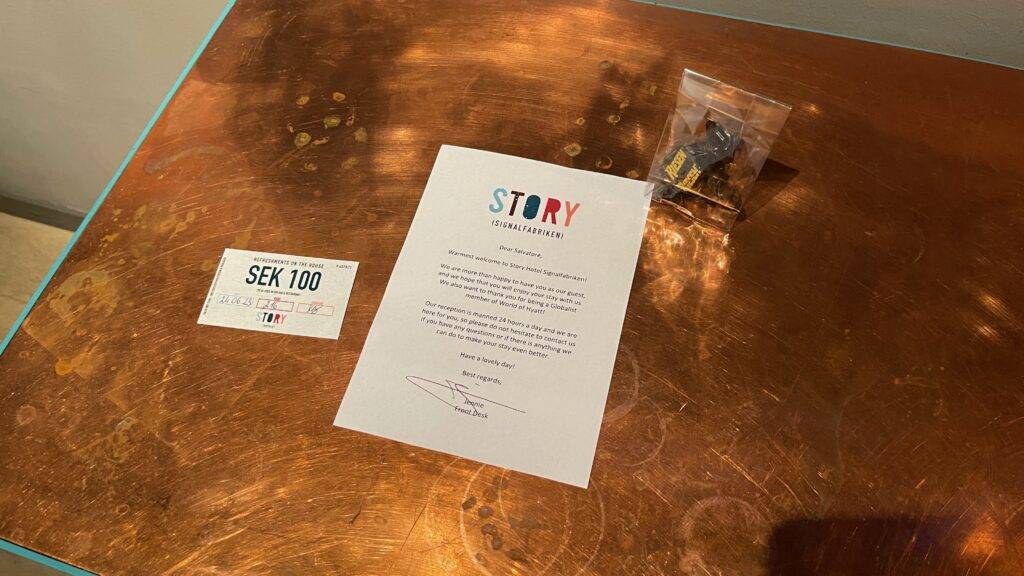 Story Hotel Signalfabriken: No AC in Rooms
While the room is comfortable, it did suffer from one significant drawback. Like many hotels in Northern Europe, it does not have air conditioning in any rooms.
I ended up opening both windows to get some fresh air in the room, but there was no escaping the heat.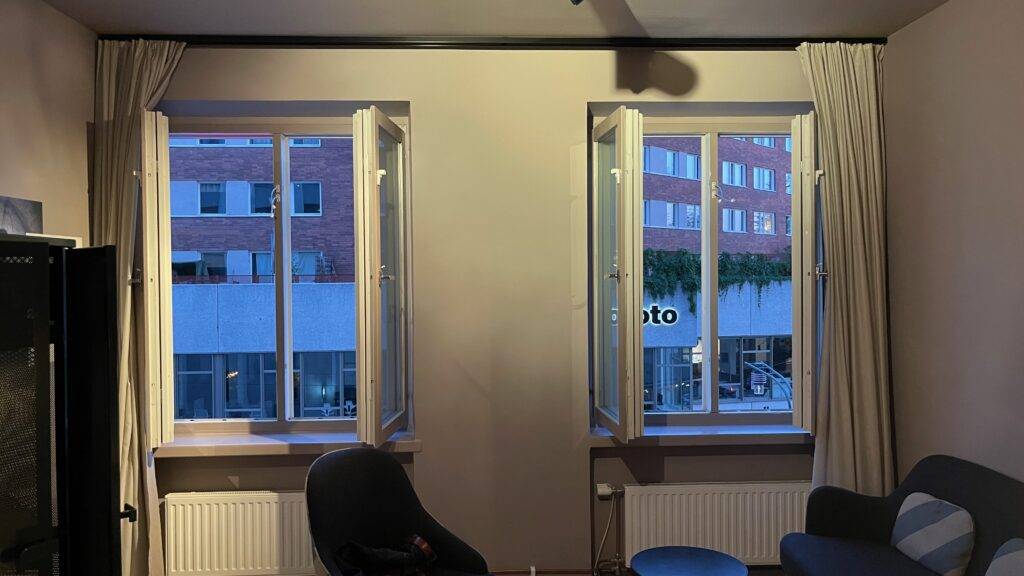 Story Hotel Signalfabriken: King Bed Deluxe Room Bathroom
The bathroom was located to the right when you walked into the room following a standard layout.
It featured a rainfall shower. Toiletries were high-quality products from Grown Alchemist provisioned in bulk bottles.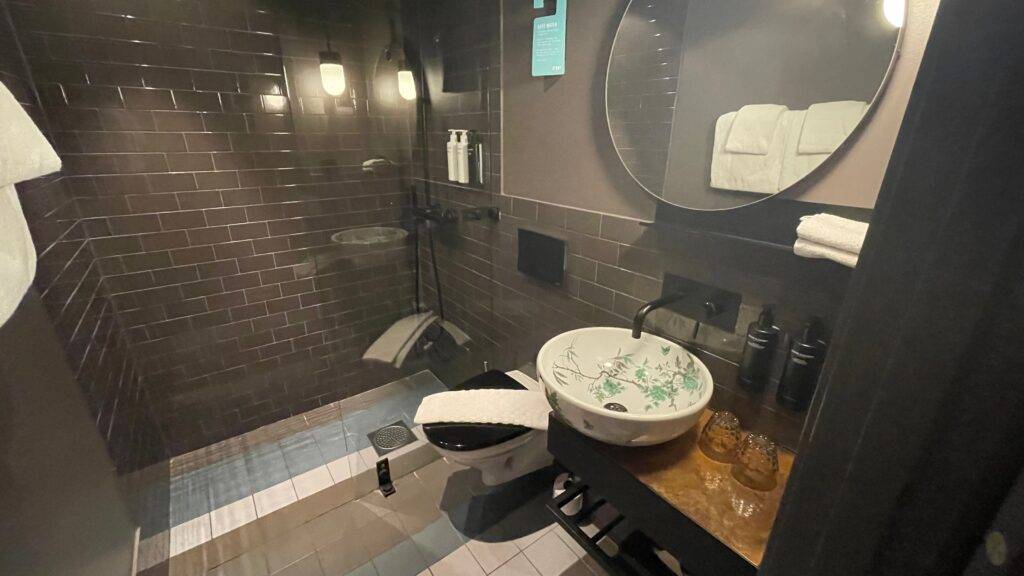 In addition to all the expected amenities, the hotel had a bottle of liquid hand soap mounted next to the sink.
I wish providing hand soap were more common at hotels and it's a mystery to me why it isn't. In any case, I appreciated its presence.
The shower pressure in the rainfall shower had fantastic pressure.
Unfortunately, the shower design wasn't made to handle it. Within a few seconds of starting a shower, water was spilling into the bathroom.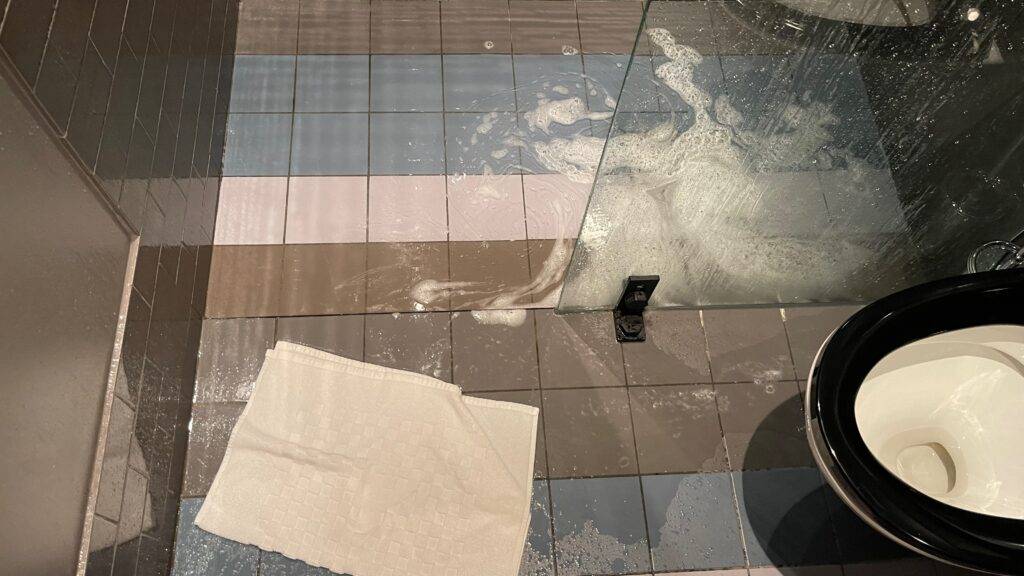 Story Hotel Signalfabriken: Breakfast
A basic buffet breakfast was served in the hotel's casual eatery, Phil's Burger.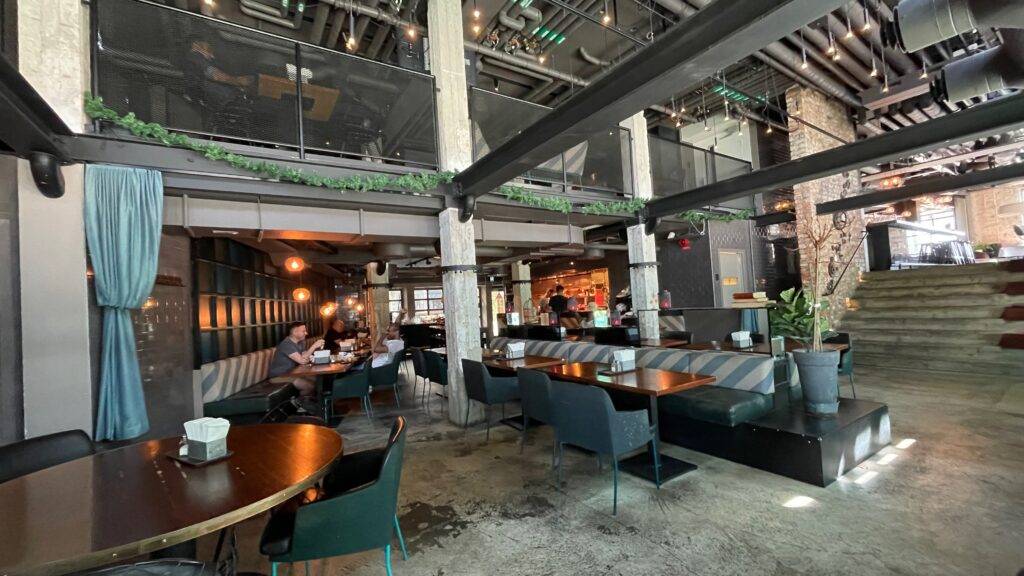 The breakfast is included as a benefit for all guests, not just Globalists.
If you're used to the hotel breakfasts that are complimentary as part of Hyatt's Globalist breakfast benefit (my favorite hotel breakfast benefit), it might leave you a bit disappointed.
I thought it was a strong offering given that it's served to all guests and the hotel's pricepoint and didn't have any complaints. The one improvement I would've liked is the ability to order espresso drinks.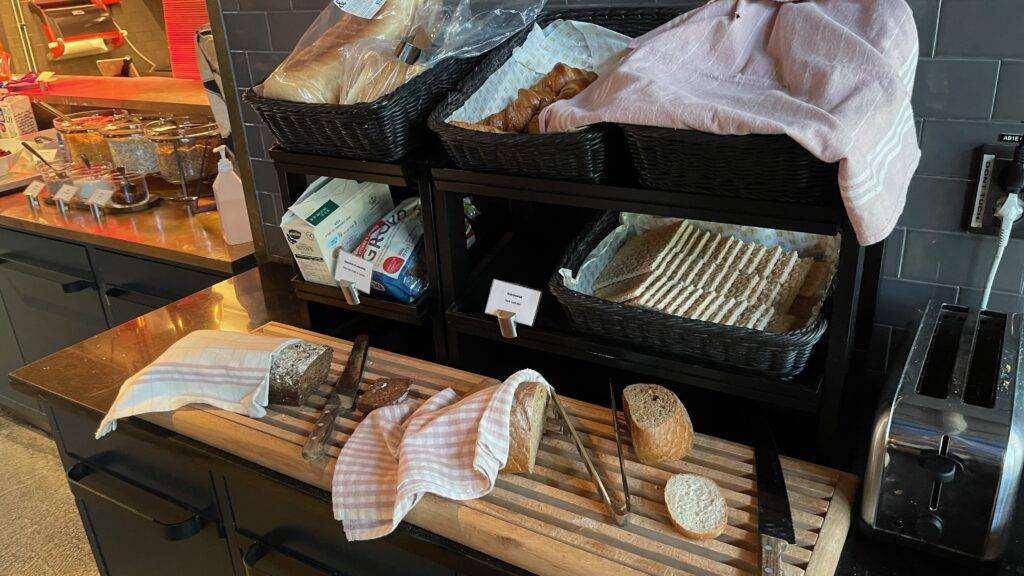 Story Hotel Signalfabriken: Service
Service at the hotel was a combination of casually friendly yet professional that Swedes have perfected and feels incredibly on-brand for Northern Europe.
The host checking me in was efficient and friendly. I was quite exhausted after celebrating the summer solstice the night before without getting much sleep. Not knowing what food would be available at the hotel, I ordered food using Foodora before arrival which I mentioned to the host while checking in.
A few minutes after I arrived at my room, I heard a knock and she was at my room door with my food, and thoughtfully including a pack of napkins and utensils.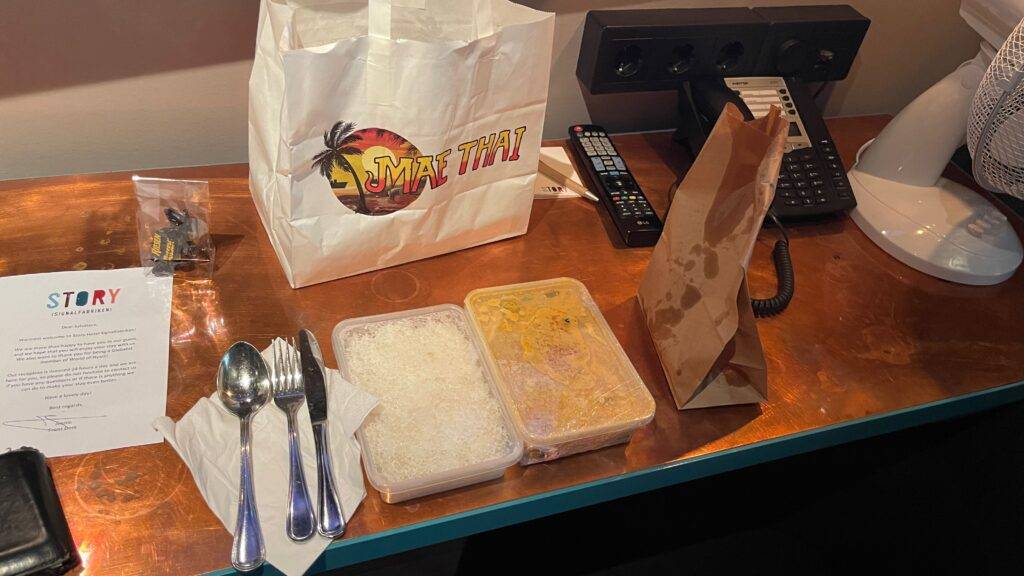 The next morning, I sat in the lobby to get some work done after breakfast before heading to the airport. I thought I'd use the 100 SEK (approximately $9) coupon to order a cappucino but was informed that guests get complimentary coffee in the lobby.
I admittedly zoned out while hotel amenities were being explained to me while checking in so this was probably explained but this was (great) news to me.
I soon had a reasonably well-made oat milk cappuccino to sip on while I got some work done in the lobby. After I finished the first one, I was asked if I wanted another one.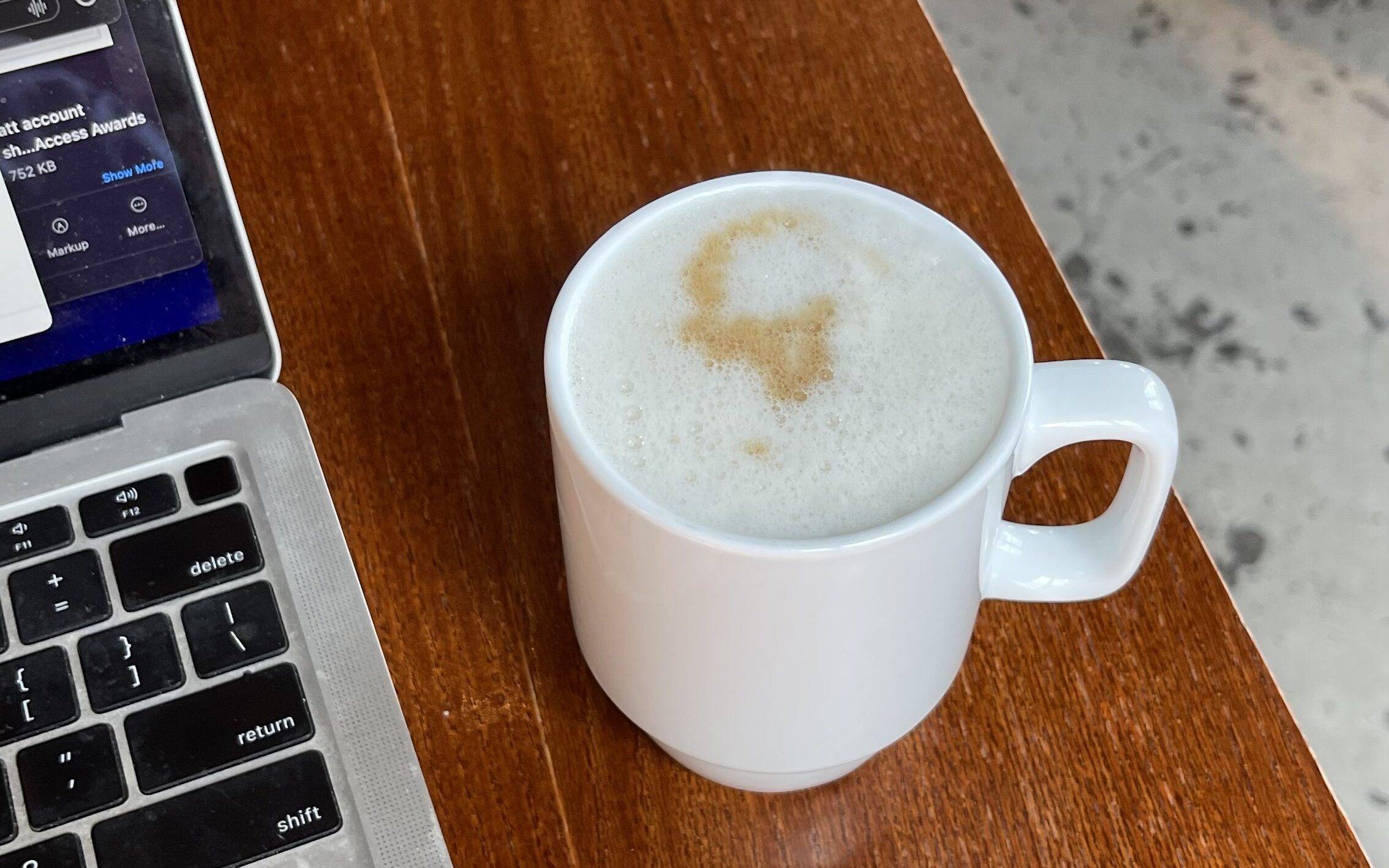 I accepted and appreciated the proactive service which was more proactive than I would've expected at a property like this or in Sweden. All in all, I was quite pleased with everything about the stay and was getting ready to check out…
Story Hotel Signalfabriken: Check Out Incident
The only blip in otherwise great service at the hotel was when I realized that my room key was not working past noon and went to the front desk to get my key reenabled.
Globalists are entitled to late checkout at 4 pm. The benefit is based on availability at resorts, hotels with casinos, and Destination by Hyatt Residences but is guaranteed at all other properties including JDV by Hyatt. I also selected 4 pm while completing my mobile check-in.
When I spoke to the desk agent, she claimed that late checkout wasn't possible due to a lack of availability. I politely pushed back noting that the benefit is not based on availability and is a guarantee. She responded by claiming that "boutique hotels are exempt" and "this hotel is not a Hyatt we're a boutique."
After discussion, she said she could do 2 pm. While that's not the benefit I was entitled to, it worked fine for me since I planned to leave around then anyway to catch a 4:30 pm flight from Arlanda so I accepted and left it at that.
Then, to cap off the strange interaction, instead of extending my key, she strangely said she would walk me to my room and let me in with her key. Before we left, another Globalist stopped by the front desk with the same request and the agent made the same claim about availability.
He also pushed back and was a bit more insistent. In the end, she did honor the benefit for him after an uncomfortable back and forth. 
Ironically, this came after my check-in at the Hyatt Centric Milan Centrale was delayed due to that hotel honoring the benefit due to a late checkout by a Globalist occupying my suite and their limited number of suites.
To be clear, the agent wasn't unprofessional or rude throughout either interaction but I does appear that she was incorrectly trained on the policy and seemed unsure when confronted with the actual text.
I dropped a note to my Globalist concierge letting them know about the incident (not seeking compensation) and have been assured that property staff will be educated on the benefit. Hyatt is generally good at ensuring elite benefits are honored so I expect that this won't be an issue going forward at the property and would return again. If anyone does stay here in the upcoming weeks, I'd love to hear if that's true.
Update (6/30/2023): I received a follow-up from Sofia Svärd, the operations manager of the hotel. For what it's worth, here's the salient part of her email:
Our hotel are a part of JDV by Hyatt which is a collection of independent boutique hotels. Therefore, the rewards and benefits of our loyalty program may differ compared to other hotels. With that being said, the guaranteed late check-out does apply here as well.

Our staff is of course correctly trained on the different benefits we offer our Globalists. However, our front desk agent then and there made the mistake of identifying your reservation as non-eligible for benefits.
This response doesn't quite ring true to me given I overheard the same conversation with another Globalist. That said, it seems that the hotel is owning up to the mistake and, hopefully, this will be corrected going forward.
Bottom Line
The Story Hotel Signalfabriken, part of JDV by Hyatt, offers a solid "industrial-chic" stay located conveniently to Arlanda Airport and a 15-minute subway ride from the city center. The rooms are comfortable (aside from the lack of air conditioning), breakfast is included for everyone, and the staff are friendly. Aside from the minor hiccup with late checkout for Globalist members, I enjoyed my stay at the hotel and wouldn't hesitate to stay here again — especially if it's a redemption for only 3,500 Hyatt points in Stockholm.