Cape Fahn is a luxury island resort located on a small private island boat ride from the mainland of Koh Samui, Thailand. I spent two nights there in February 2022 as part of a trip around Thailand that included three hotels in Koh Samui.
Booking Cape Fahn Hotel
The hotel is owned by Cape & Kantary Hotels, a Thai chain of upscale to luxury hotels. It's part of the Small Luxury Hotels of the World (SLH) collection and participates in their partnership with Hyatt.
I booked the hotel by transferring Chase Ultimate Rewards points into World of Hyatt. Hyatt categorizes the hotel as a category 5 property. That allowed me to secure a villa as a "standard room redemption" for just 20,000 World of Hyatt points a night. That confirmed us to the hotel's entry-level Tropical Pool Villa.
I thought that was fantastic value both in terms of the hotel's quality and relative to the cash price which was in excess of $500 a night when I booked.
Cape Fahn Hotel Basics
Cape Fahn (pronounced koh fawn) is located on a private island located a short boat ride away on the north-east corner of Koh Samui.
The island has a total of 22 villas, each with a private 8m swimming pool. The hotel is on its own private island creating a real sense of privacy and exclusivity combined with personalized service guests. The island is surrounded by lush greenery and has a 360-degree ocean view for a truly secluded and relaxing stay.
The beach is known for its powder-soft sand and clear waters and is perfect for swimming. The resort is located close to Koh Samui's restaurants, bars, and nightlife, meaning its possible to enjoy the total seclusion of a private island when desired and easily access the attractions on Koh Samui off Cape Fahn. That said, Cape Fahn's island has lots to offer and once checked-in, we did not leave the island until it was time for us check out.
Cape Fahn Location & Arrival
Cape Fahn is on a private island but getting there is much easier than usual for getting to a secluded retreat like this. Cape Fahn's private island is located conveniently just north east of the main Koh Samui island off Choeng Mon Beach.
The hotel maintains a hospitality lounge with WiFi on Choeng Mon Beach and offers regular complimentary transfers to the island by boat or truck depending on water tide level. The transfer takes 2-3 minutes.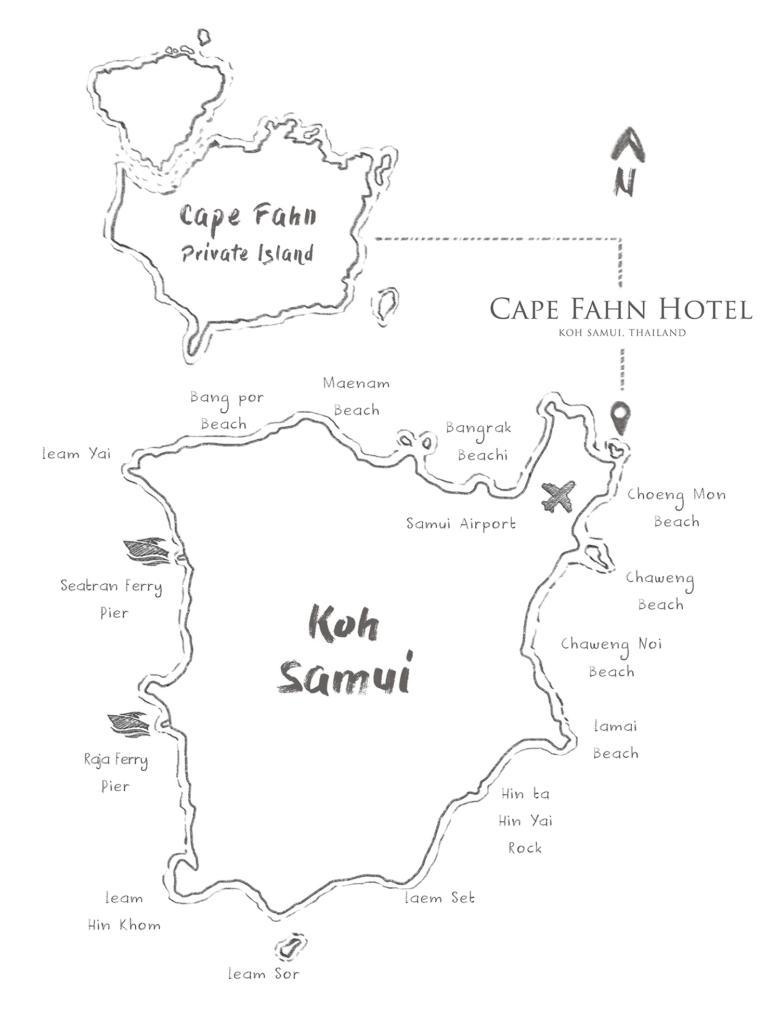 The location page on Cape Fahn's website provides information and hours for the transfers:
The complimentary transfer between the mainland of Koh Samui and Cape Fahn Hotel operates daily between 07:00 a.m. and 11:00 p.m. Should you prefer to use the complimentary transfer at a time other than the official operation hours, please inform Reception.
The description left me unsure how often the transfers operate. Wanting to optimize our arrival to minimize time waiting at the hospitality lounge, I messaged Cape & Kantary hotels on Instagram to clarify the frequency and cadence of transfers or if they were on-demand. They responded with a link to the location page which I had already reviewed but no further information. I replied to them seeking clarification but despite reading the message, they did not respond so I emailed the hotel.
Email proved far more effective. The general manager, Timo Kuenzli, replied promptly that they will arrange it according to our arrival time. He also offered to arrange a complimentary pickup which we accepted. After a couple more emails exchanged, Cape Fahn confirmed that they would send a car to the Hyatt Regency Koh Samui to pick us up on the day of our check-in. I also requested an upgrade to a villa with an ocean view which they acknowledged subject to availability.
A few days later, the car arrived a few minutes ahead of schedule and we were on our way. We didn't have an opportunity to explore the hospitality lounge on Choeng Mon Beach since Timo was waiting to greet us when we arrived.
Cape Fahn Villa Transfer & Check-In
Upon arrival in the Cape Fahn, we were welcomed by Timo the GM who joined his team in assisting us with our luggage and directed us to a small boat that was waiting on the beach. After a short, two-minute ride across the narrow strait, we were scampering up the beach to the hotel's check-in area.
Upon arrival, we were seated and offered welcome drinks and snacks as they explained all of the amenities and facilities available on the island. There was also an assortment of boutique soaps and bath salts that were offered in addition to toiletries in the villa.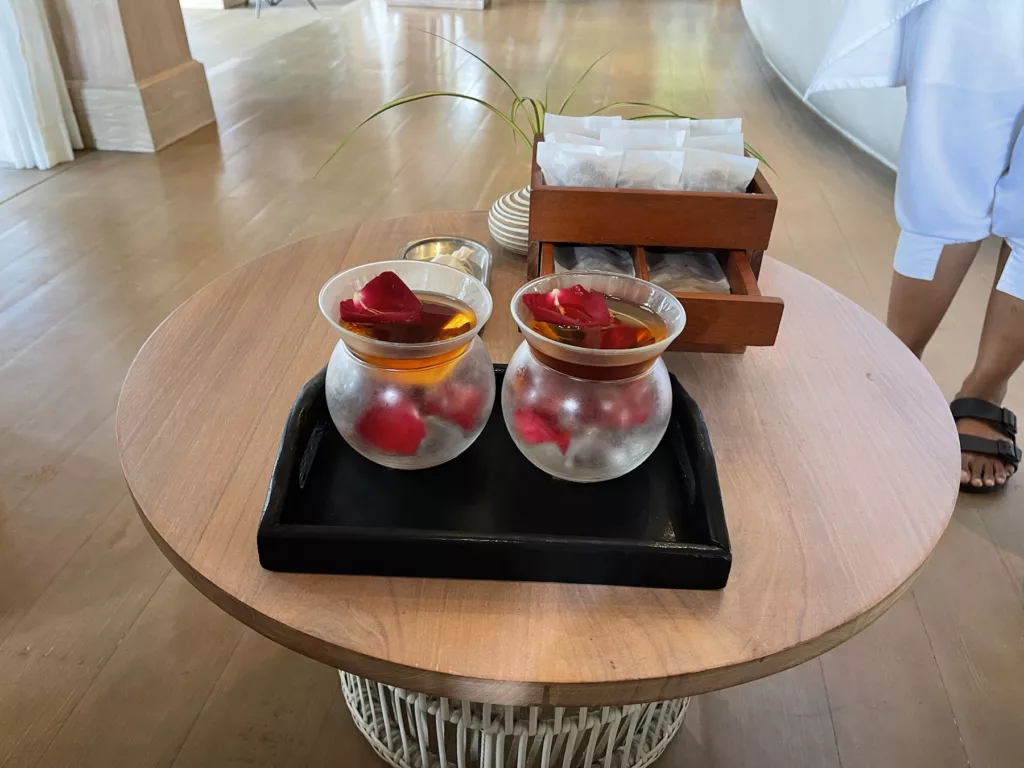 Timo informed us that he had upgraded us to an Ocean View Pool Villa. That represented a 3-category upgrade from the Tropical Pool Villa.
During check-in, they showed us the schedule of transfers between the private island and hospitality suite while noting that transfers outside the scheduled times were available upon request.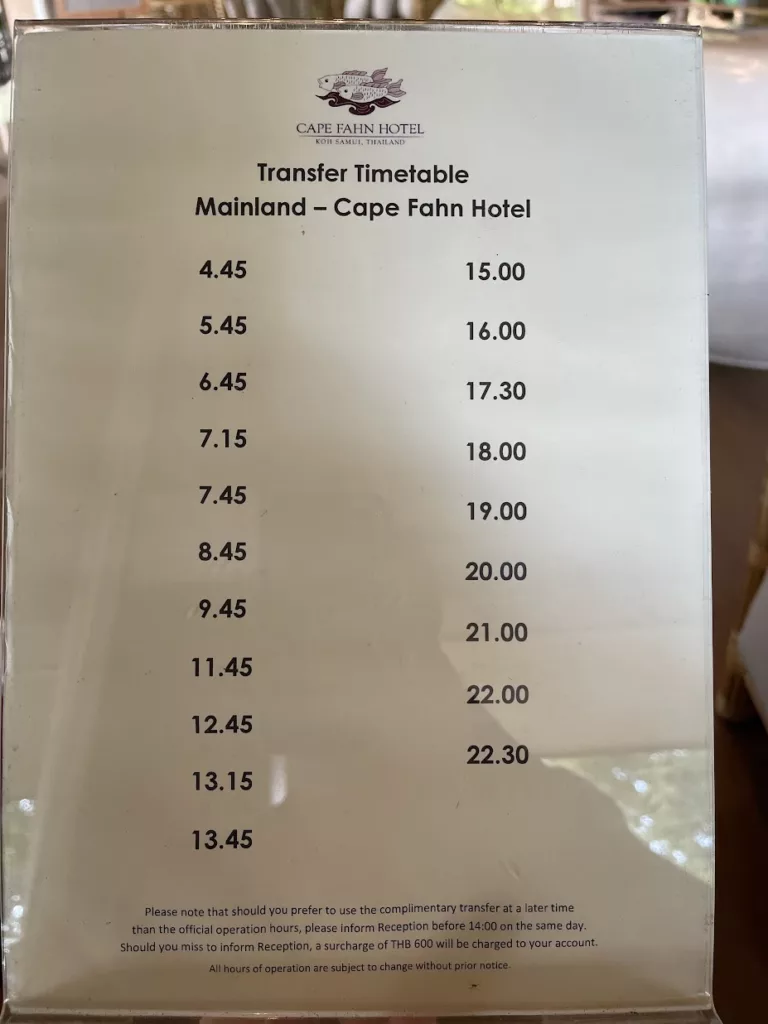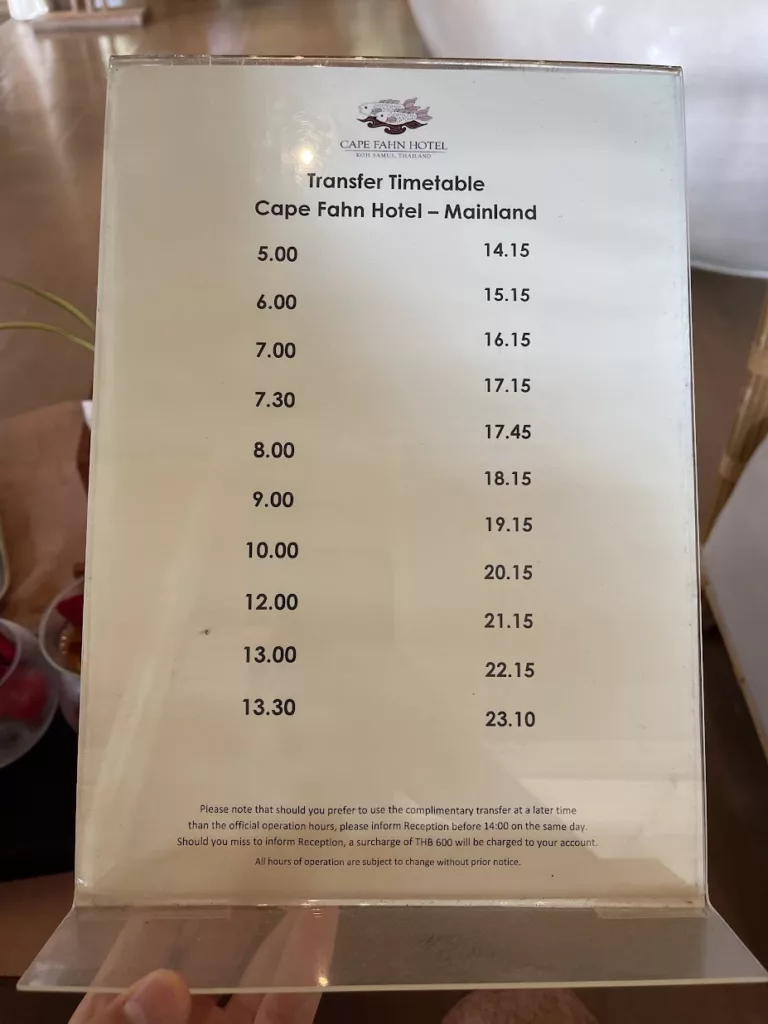 After formalities were completed, we were directed to a golf cart for a tour of the island and transported to our villa.
Cape Fahn Villa Details
Cape Fahn Hotel's villas come in a variety of sizes and views, with some offering panoramic sea views and others offering easy access to the beautiful beaches. They are spacious with a clean and bright design that suggests unostentatious luxury.
Cape Fahn Ocean View Pool Villa Entry, Living Room, and Pool
When you first enter the villa, you enter the living room from which you can walk directly out through double glass doors to the sunning terrace and private infinity pool.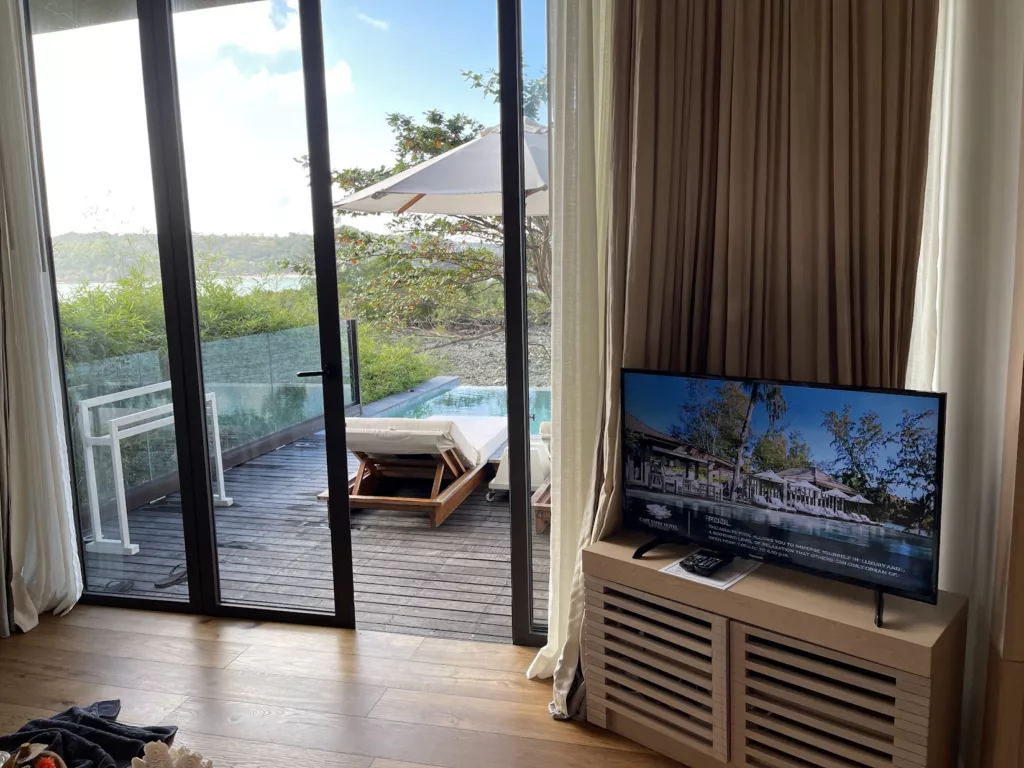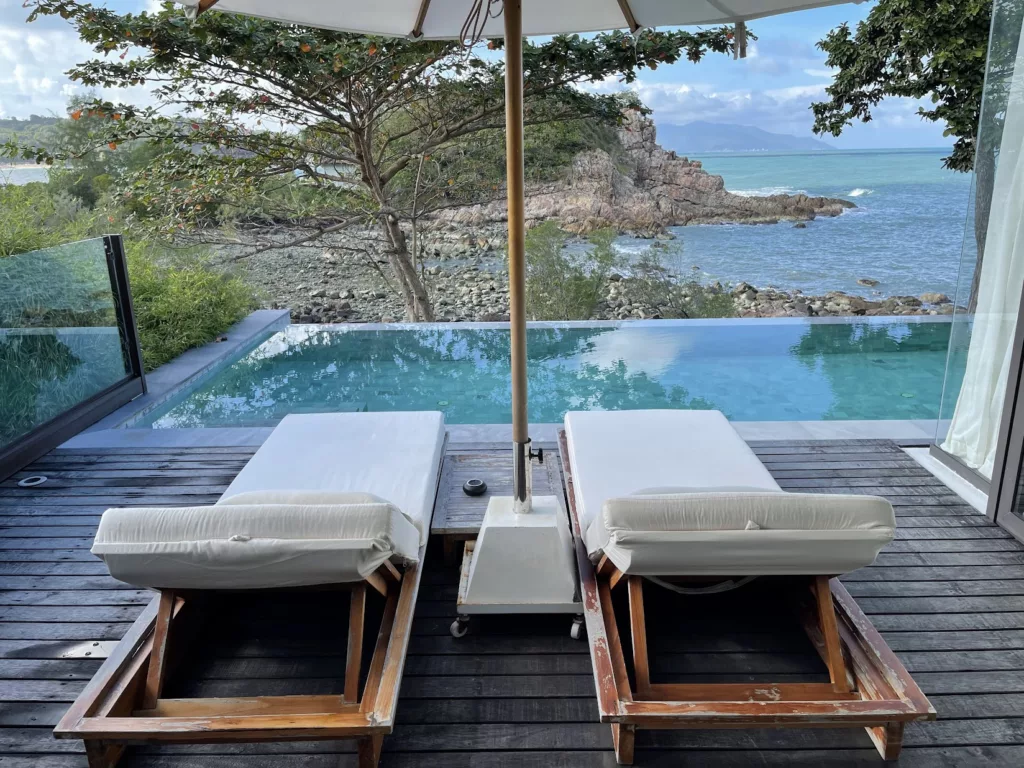 Cape Fahn's villa's come with a minimum of 300 square meters meaning a good amount of space to move around in. Our Ocean View Pool Villa was advertised at 350 square meters which I believe did not account for the substantial outdoor space between the 10 meter pool and terrace. There's even a bonus outdoor shower in a secluded corner.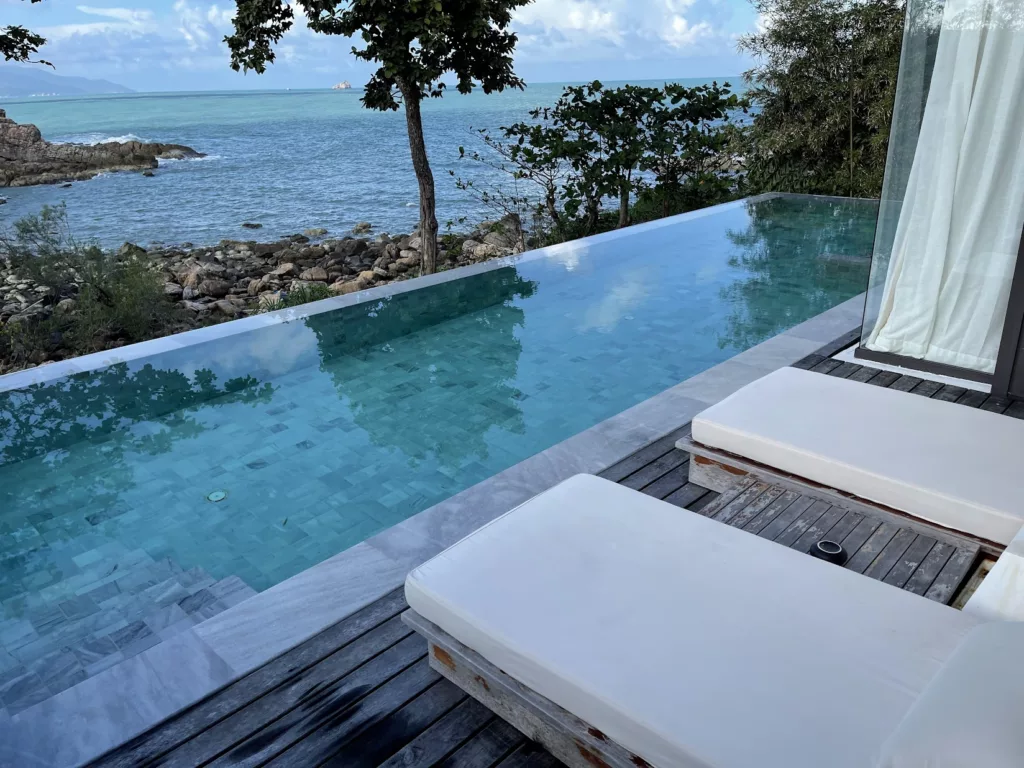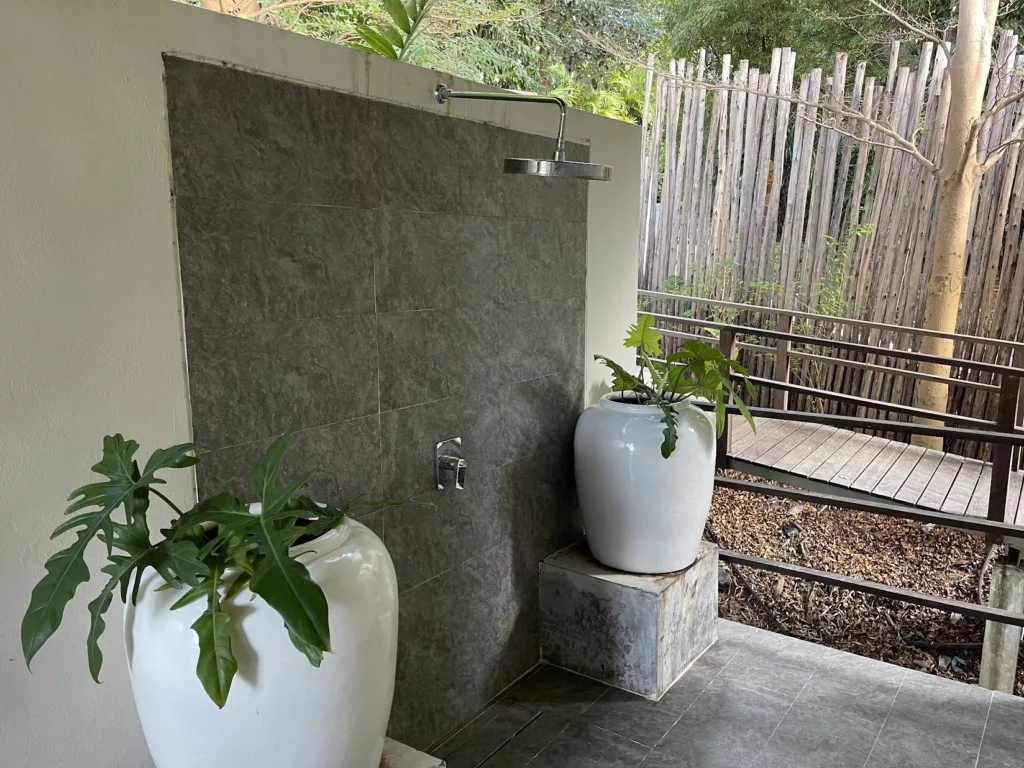 Cape Fahn Ocean View Pool Villa Bedroom
The bedrooms are equipped with a king-sized bed and an amazing view to wake up to. The bedroom has floor-to-ceiling windows facing in 270º making for the possibility to feel like you're literally inside the nature of the island should you wish. The setting is incredibly serene allowing for a peaceful night's sleep.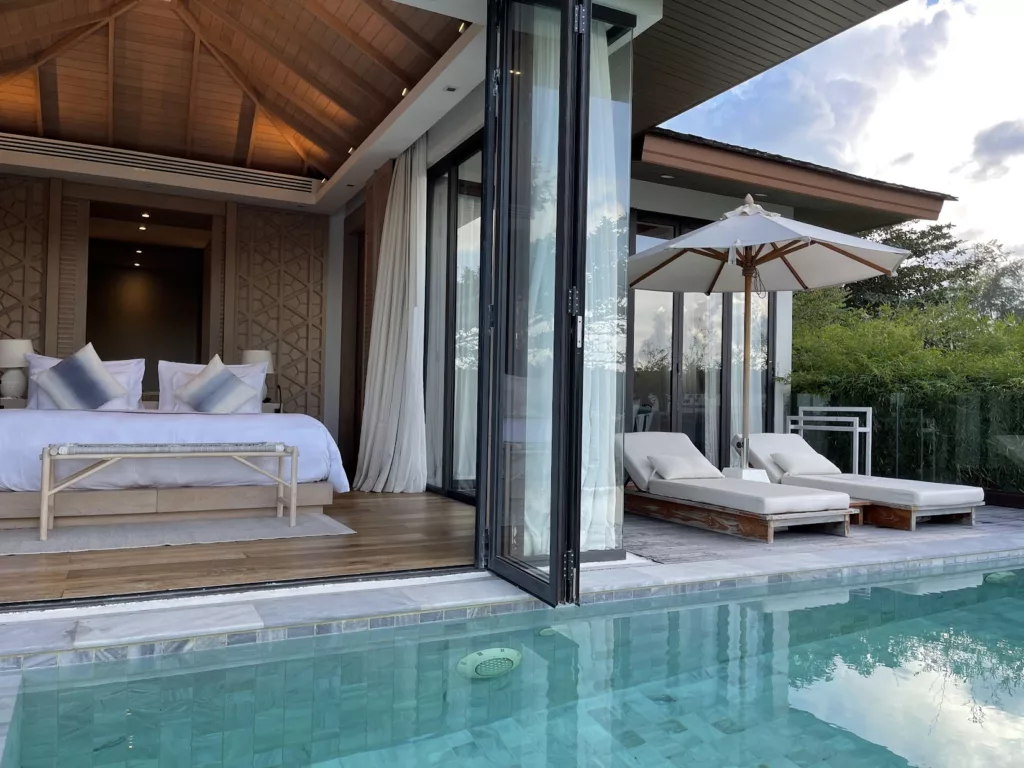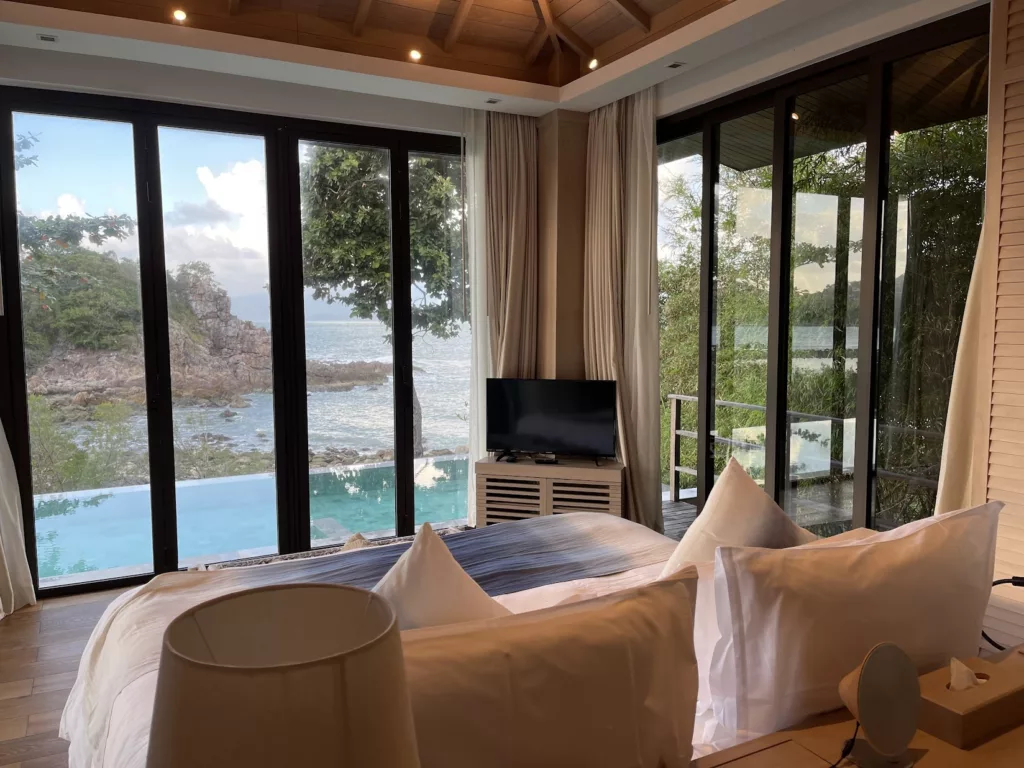 The bed was extremely comfortable.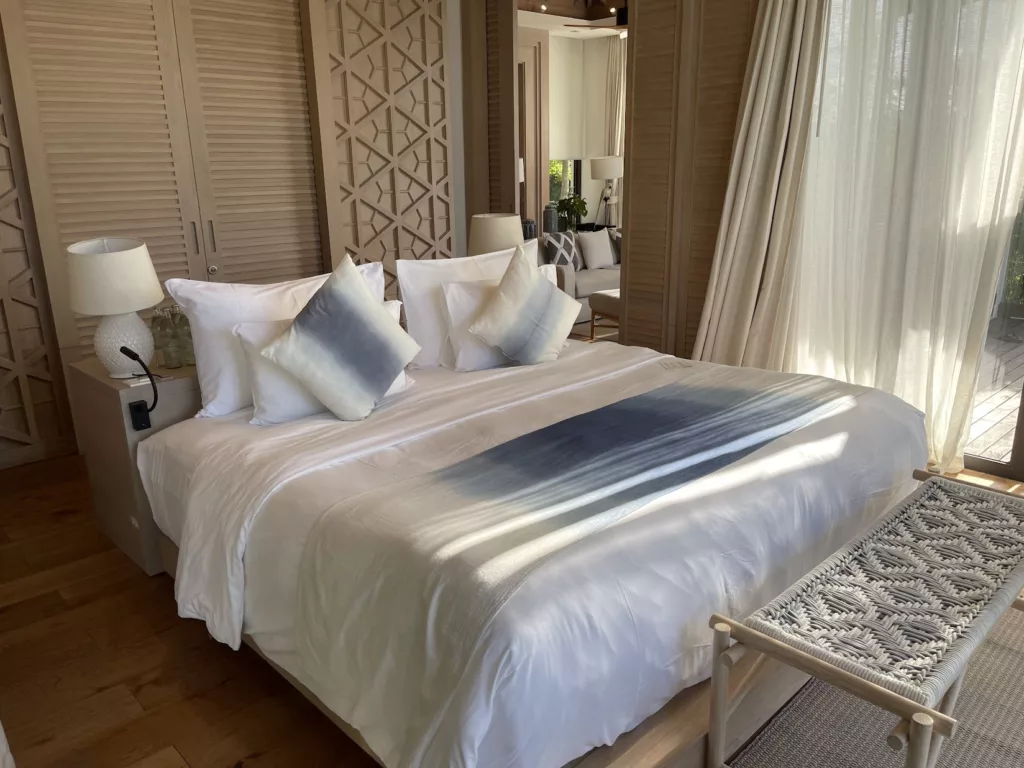 A pillow and mattress topper menu was provided allowing guests to create a sleeping experience that would best support their sleep or lifestyle.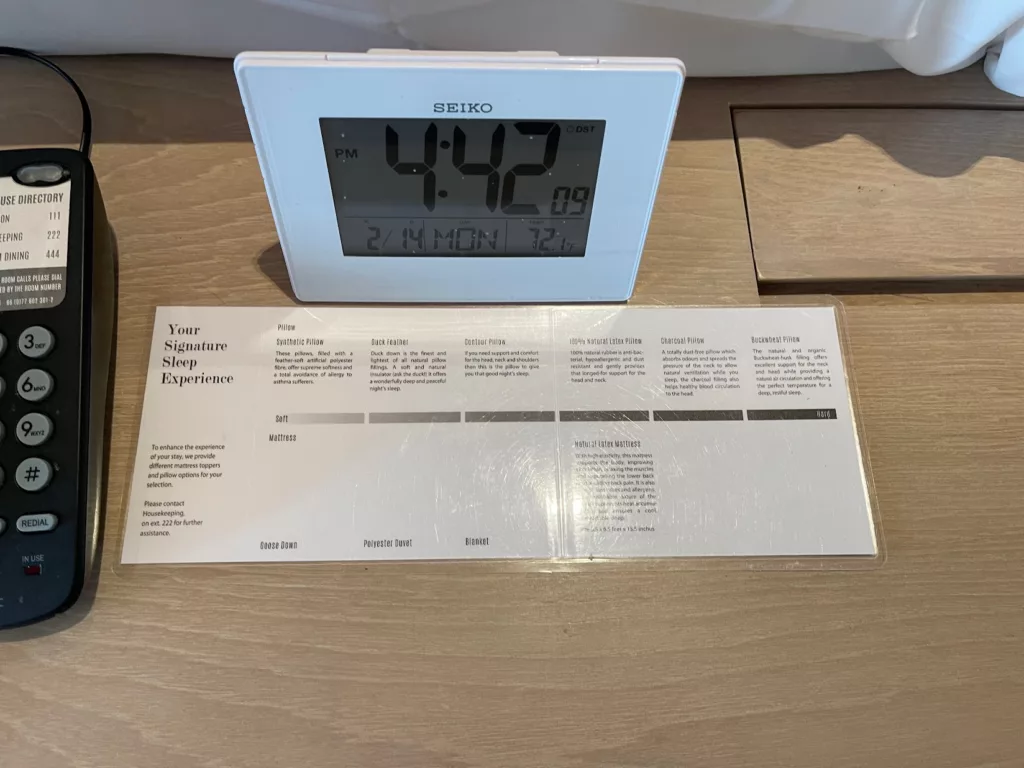 Of course, if you prefer, you can use the blackout curtains and stop all natural light from entering the bedroom. Behind the bed is a large desk which faces towards the sea view, providing a great space for working or relaxing.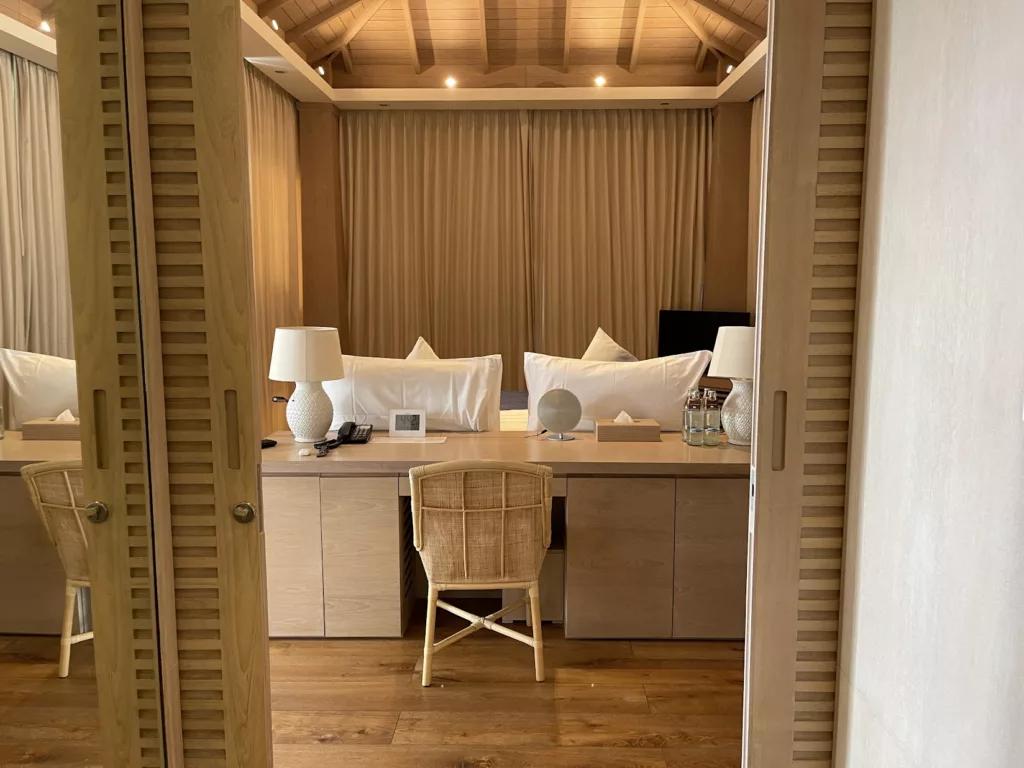 Cape Fahn Ocean View Pool Villa Bathroom
The bathroom sits behind the bedroom. The bathroom is equally impressive to the rest of the hotel, with couples sinks, a freestanding circular bath, and a shower and toilet.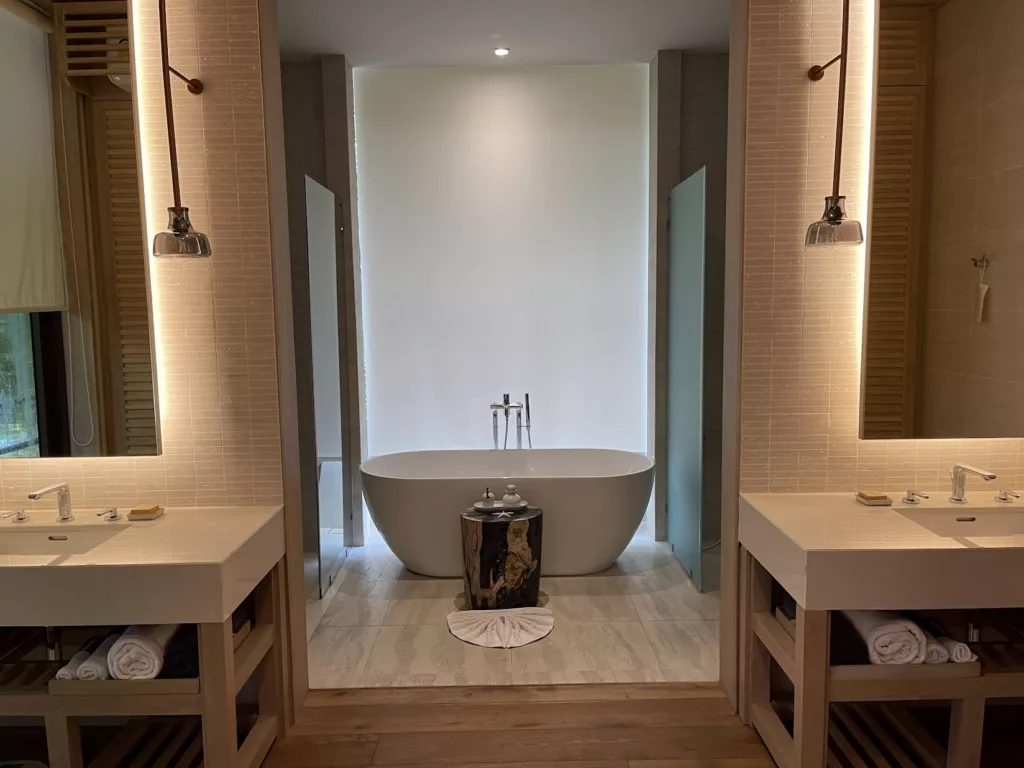 The shower is located to the left facing the tub. The shower is to the left.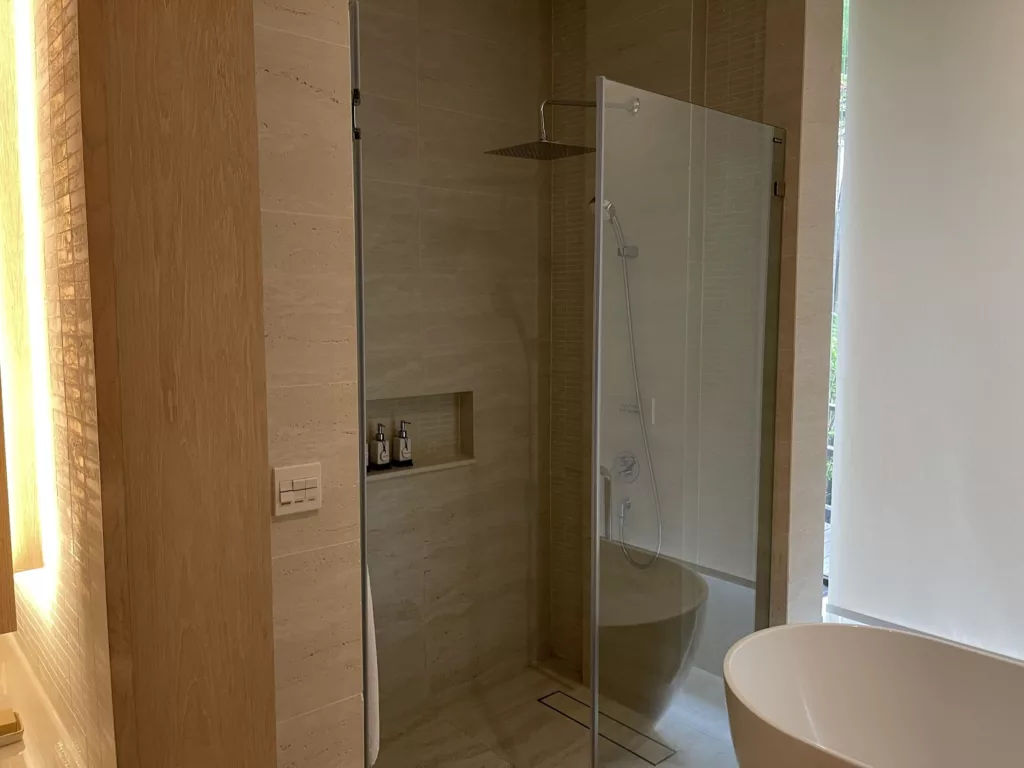 Toiletries were hotel branded and provided in bulk toiletries. Not my favorite but the quality did not seem to have suffered.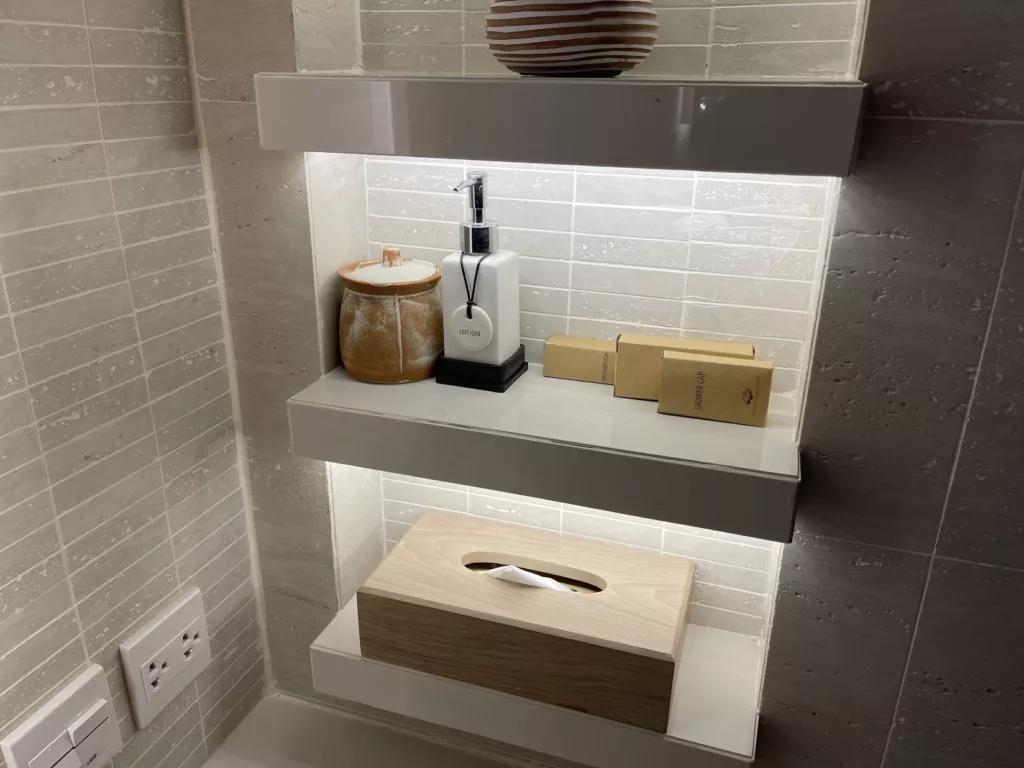 There is ample closet space for personal belongings. This allows for storage of luggage here reducing mess and visual distraction in the bedroom while not impacting your experience. Bathrobes, slippers, flip flops, a beach bag, umbrella, and yoga map are among the amenities provided. I kept the "Laundry Today or Naked Tomorrow" laundry bag from Cape Fahn and use it as my travel laundry bag today 😉
Large mirrors were placed on both sides of the entry-way leading to two separate couples sinks on either side of the bathroom.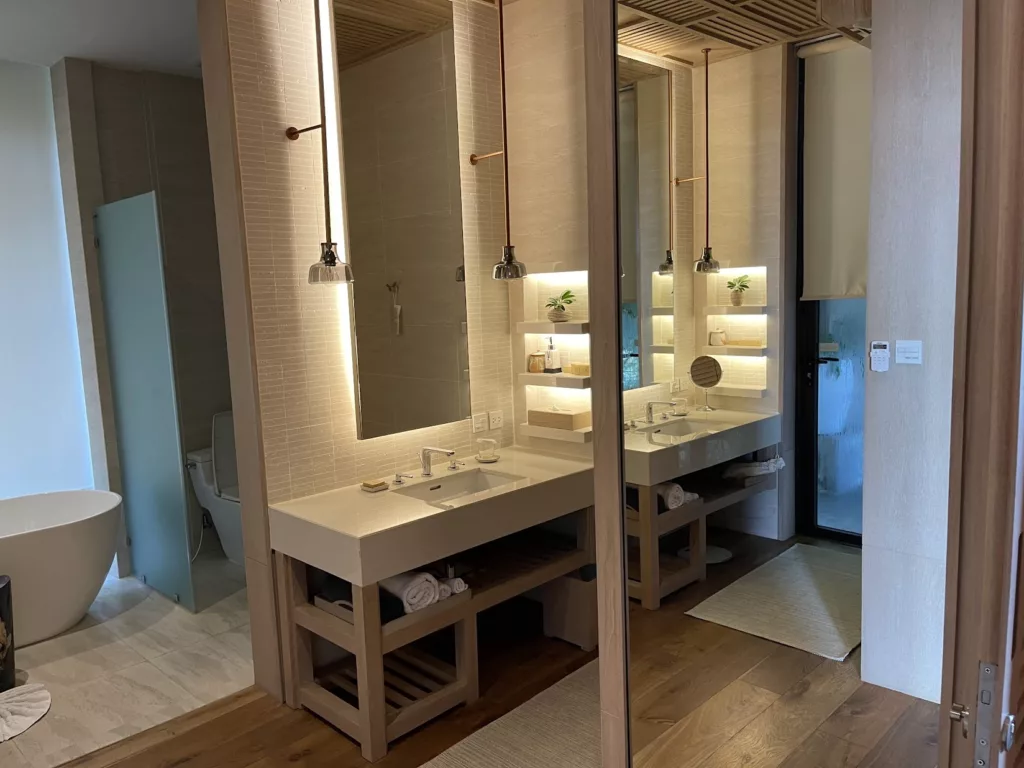 Cape Fahn Ocean View Pool Villa Thoughts
The villa had high ceilings and allowed for plenty of natural light. The thought put into the design was clear throughout Cape Fahn with each section of the villa divided by sliding doors to allow for privacy and separation of spaces if desired.
Cape Fahn Ocean View Pool Villa Amenities
When we arrived at the villa, some pastries, candy, and fruit was waiting for us a welcome amenity.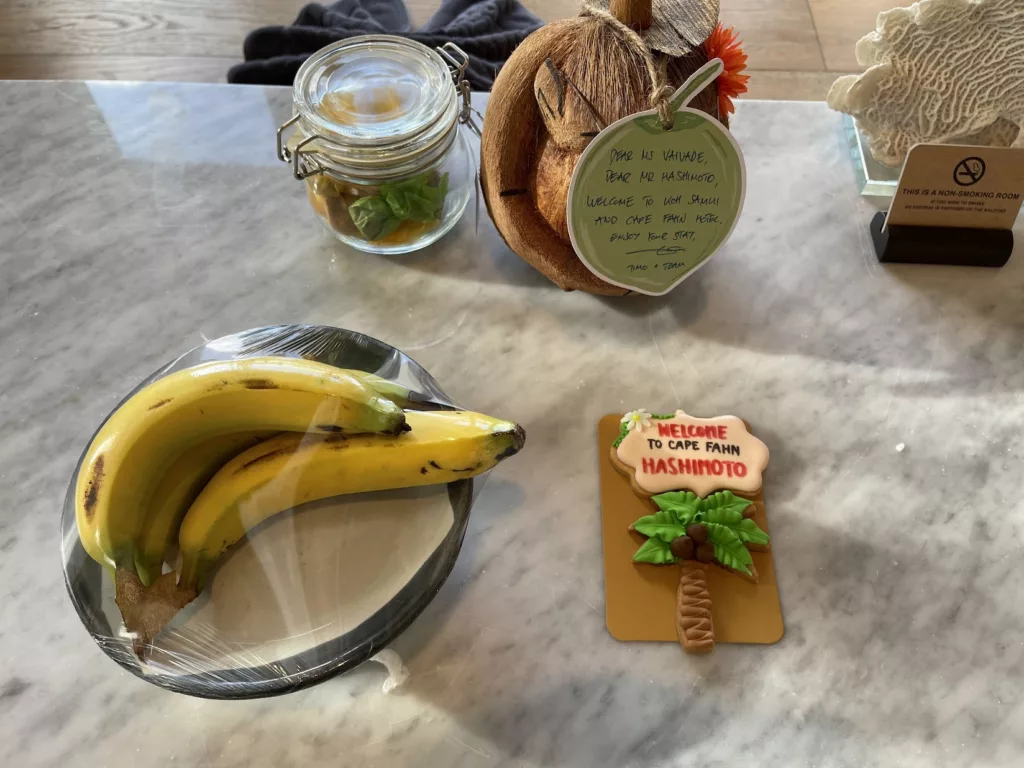 There was also a minibar with complimentary non-alcoholic drinks, beer, and some wine, espresso machine and pods, and kettle with various tea options. The villa was equipped with quite a few types of glasses (including some not pictured) and coffee cups. There was also hard liquor for purchase.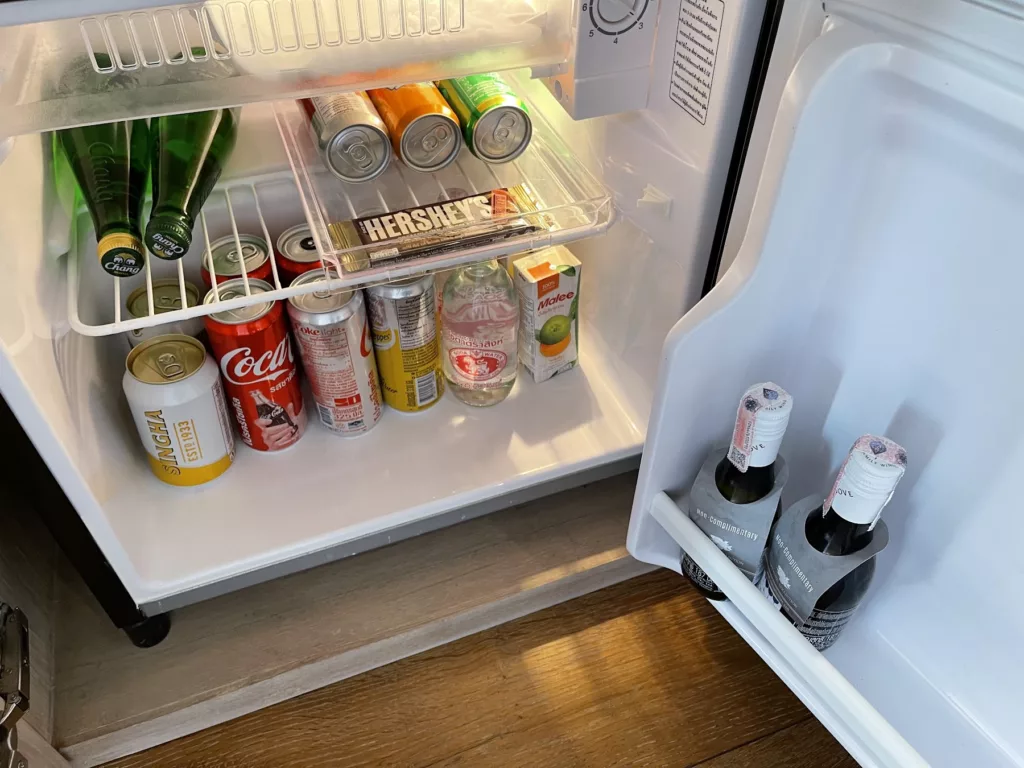 Long Dtai at Cape Fahn
Long Dtai is a seafood restaurant focused on Southern Thai cuisine. Dedicated to serving up fresh, sustainable seafood dishes, it is a partnership with the James Beard Award-winning chef David Thompson. Known for his innovative and creative approach to cooking, Chef Thompson brings his expertise and passion for traditional Thai flavors to the menu at Long Dtai.
The Michelin-award winning chef is a recognized expert on Thai cuisine and is the author of Thai Food and Thai Street Food. His deep knowledge and understanding of Thai flavors and techniques has helped to introduce this cuisine to a wider audience, and his commitment to sustainable seafood practices has earned him numerous accolades.
We went to Long Dtai for dinner the first night of our stay. We were seated outside so unfortunately the lighting was no ideal for photos of the food but needless to say we were impressed by the delicious menu. The menu is full of many dishes that aren't immediately recognizable as many Thai dishes are but was still delicious.
This is a unique and delicious dining experience with a focus on fresh, sustainable ingredients and traditional Thai flavors. Dinner here is not be missed during your Cape Fahn stay.
Long Dtai Cape Fahn Breakfast
Breakfast is included for all Hyatt bookings at Cape Fahn. While we were there, breakfast was served in the Long Dtai. It was an à la carte concept rather than buffet due to Covid-19. I prefer à la carte to a buffet so this was a win for me.
The menu had a quite expansive selection to choose from. I'm a huge fan of Asian food for breakfast so I leaned heavily in that direction, sampling many of the dishes. When informed of my vegetarianism, the staff was extremely accommodating and substituted tofu as a protein in the dishes I ordered. Here's a selection of some of the food ordered over two days. Everything was delicious.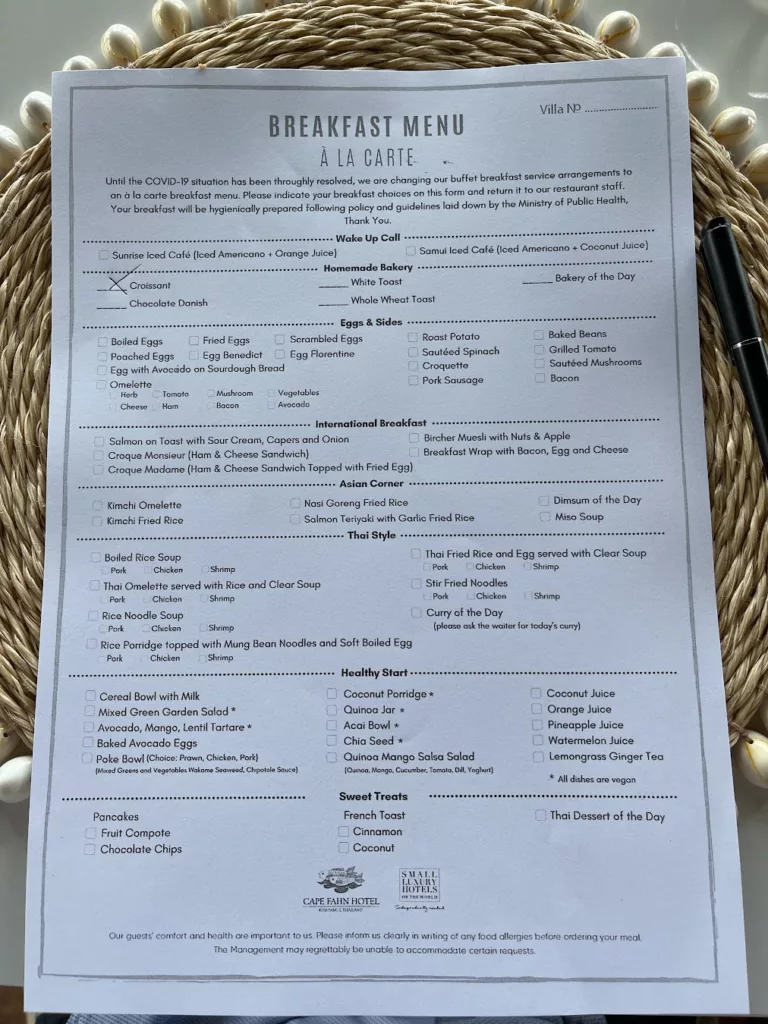 Hue at Cape Fahn
Hue is the other restaurant on Cape Fahn's private island. This hotel features an all-day dining concept that offers both more well-known Thai and international dishes. The restaurant is located near the main pools and recreational areas and is open from 9.00 am to 10:30 pm.
Hue is more informal than Long Dtai but the food quality is still superb. You'll find traditional curries, pad thais, soups like Tom Yum, along with international staples expertly prepared by skilled chefs.
We enjoyed a lunch and a dinner at Hue over the course of our stay. Drinks from the happy hour for cocktails at adjacent Pool Bar (half price) could be delivered to Hue which made for a tempting setup of having cocktails next to infinity pool with fantastic views of Koh Phangnan.
Other Dining Options at Cape Fahn
The resort also offers in-room dining which we tried for both food and cocktails (pisco sours) and had delivered promptly. Room service is 24/7. The hotel also gives the option of setting up a beach dining experience for a romantic dinner or a floating breakfast upon request.
Cape Fahn Hotel Facilities
Cape Fahn has many amenities on the islands for guests.
including a beach, a spa, a gym, fitness classes, three pools, an activities room, a library, a boutique, laundry services, and WiFi. The resort also offers a range of recreational activities, including private Thai dance classes, luxury sea picnics, outdoor poolside movie nights, and day trips to hidden islands in the surrounding area.
Cape Fahn Pools
Cape Fahn has three saltwater pools for guests to enjoy. The central pool has Gulf of Thailand views and plenty of parasols for shade, while the children's pool is perfect for splashing around. The resort also has an adults-only plunge pool for a more serene swimming experience.
All of these pools are in addition to the private pools located in each of the 22 villas.
Cape Fahn Spa
The Cape Spa at the resort is a calming oasis that specializes in Thai massages and aromatherapy treatments. It has two rooms for couples' treatments, a steam room, and a hammam.
Cape Fahn Gym
The hotel had a fully-equipped gym in a standalone building. It was relatively well-equipped with both cardio and weight equipment. During our stay, it required reserving a time slot to utilize (with equipment disinfected during guests) but normally it would be available for use on demand. Given that there can only be a maximum of 22 total villas with guests, reserving a time slot did not pose any issues.
Cape Fahn Bars
Cape Fahn has two bars – the Pool Bar and the Beach Bar. The Pool Bar is located next to the central saltwater pool and offers a variety of refreshing drinks and light snacks.
It's a laid-back environment and we enjoyed happy hour here a couple afternoons during our stay as an excuse to leave our villa. The drinks were excellent.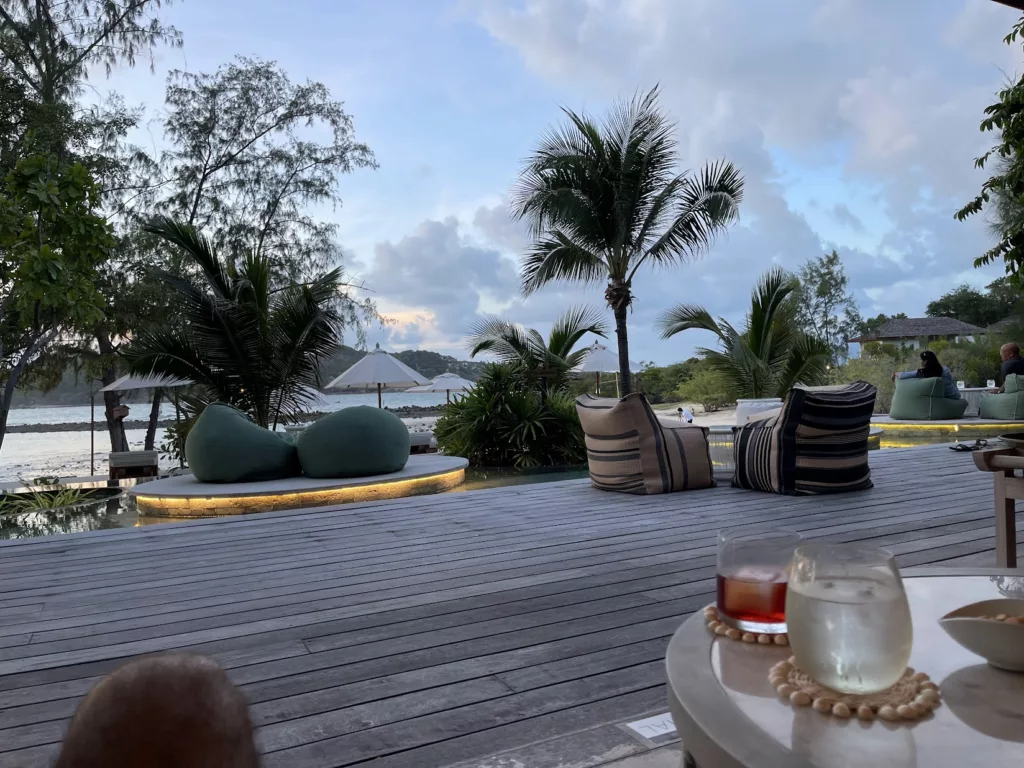 The Beach Bar is located on Choeng Mon Beach and advertises a more laid-back atmosphere for enjoying a drink while watching the sunset. This is probably one of the better beach clubs on Koh Samui but we never made it to visit this bar.
Bottom line
Cape Fahn is a truly luxurious and secluded getaway that offers the best of both worlds – privacy and access to Koh Samui's attractions. The villas are spacious and equipped with all the amenities one could need and the resort has a variety of dining and recreational options. The pools, spa, and other activities provide plenty of ways to stay busy during a stay.
The hotel shows a commitment to sustainability and environmental protection through choices made which I appreciated. They also go a step further and, to prevent of cruelty to animals, they do not serve shark fin, bird's nest, or foie gras in the hotel. Overall, Cape Fahn exceeded my (already high) expectations. Of course a standout factor was the transfer there across the inlet which gave it a more exclusive feeling even before moving into the villa and experiencing Cape Fahn's personalized, boutique service.
If you're traveling to Thailand, put staying on Cape Fahn's private island on your list as a destination in and of itself.