I had a quick stay at the Hyatt Regency London – The Churchill on a recent trip to London. The hotel is located conveniently in the center of the West End of London making it a great base to explore the UK's capital city.
Hyatt Regency The Churchill: Hotel Basics
The hotel is located in the chic Marylebone neighborhood of London, next to Portman Square Garden near Hyde Park and a couple of blocks from Oxford Street. In other words, you couldn't pick a better hotel to use as a base for exploring London's West End. The closest Tube station is Marble Arch on the Central line.
The hotel has 440 guestrooms, including 50 suites, so the all-important suite-to-room ratio is quite positive for elites looking for upgrades. The hotel has a 24-hour gym and outdoor tennis court. There are three food and beverage outlets: the Montagu Kitchen and Lounge with British seasonal dishes, the Locanda Locatelli Italian restaurant offering Michelin-starred fine dining, and the Churchill Bar & Terrace.
Booking the Hyatt Regency The Churchill
To book the hotel, I used a soon-to-expire World of Hyatt Category 1-7 Free Night Award that I had earned when I hit 60 nights last year as part of the Milestone Rewards program.
The hotel is a World of Hyatt category 6 property and cash rates at the time were well over £500, nearing $700 USD, before taxes. While this didn't represent the best value for the Category 1-7 Free Night Award. However, my award was within weeks of expiring so it seemed like the best option on this particular stay.
The stay was only one night so I was able to book it entirely online and apply the award, even before Hyatt's recent upgrade to its booking systems making that possible for longer stays.
Getting to the Hyatt Regency The Churchill
I was arriving from London Heathrow (LHR) with only hand luggage so I opted to take the Underground directly from Terminal 5 and walk to the hotel. The hotel is located an easy 10 mins walk from Bond Street Station on the Tube's Elizabeth Line.
This took about 50 mins which, while being slightly longer than taking the Heathrow Express service would, saved me the hassle of changing trains. As is often the case arriving in London, driving from the airport would've been quite a bit more time-consuming not to mention more expensive and the climate impact.
Hyatt Regency The Churchill: Check-in
One of the key benefits of Globalist status is the complimentary upgrades to suites when one is available at check-in. This is an industry-leading benefit for World of Hyatt and is distinct from the suite upgrade awards which World of Hyatt members can use to confirm a suite prior to check-in for up to 7 days.
Because this was only a one-night stay and I had no intention of spending much time in the room, I decided to try my luck and see what would be available at check-in. A few days before my stay, I received an email from the hotel mentioning the benefit with the caveat that the hotel is experiencing high occupancy.
Dear Mr Hashimoto,

Warm Greetings from Hyatt Regency – The Churchill.

We are always delighted to host our Globalist members and will do our utmost best to ensure that you enjoy your stay with us.

As per your Globalist status we are committed to provide you with the complimentary upgrade to one of our Standard Suites, but please note this will subject to availability on day of the arrival for the full length of stay. We are glad to extend as usual all the other Globalist benefits, such as: late check out until 4pm and access to our Regency Club Lounge.

In order to better prepare your stay, please let us know at your earliest convenience your estimated arrival time at the hotel and any preferences you may have in regards to your room. 

Kindly note that during the current season our hotel is experiencing a very high occupancy. Although we endeavour our best to have your room ready according to your arrival time, we kindly ask you to get in contact with us if you wish to book from the night prior your arrival to have a guaranteed early check in.

Should you have any transportation needs to or from the hotel, please do not hesitate to let us know.  You can also contact our concierge team directly at concierge.hrlondon@hyatt.com; they will be delighted to assist with any transportation queries as well as organizing massages or treatment in our private treatment room.

Should you be interested in dining in our restaurant, we would recommend to book in advance for The Montagu Kitchen, our modern British restaurant.

Our Concierge team would be delighted to assist you in making a reservation. Alternatively, you can book your table online.

We would like to inform you that Room Service is available 24 hours.  Between 22:30PM – 6:00AM there will be a Night Menu.

Please note that we have left the minibar empty for your convenience. Please feel free to stop by our Market Corner to purchase your preferred items or get in touch with us to have it stocked prior to your arrival.  

Should you need further assistance before or during your stay, please do not hesitate to contact us either by email or by WhatsApp or SMS on +44 7883279701.

Kind Regards,

Divya Ravindran 
I generally prefer to do a mobile check-in, so I opened the World of Hyatt app the morning of my arrival.
Hyatt is generally very good about proactively providing upgrades to Globalists, and this stay was no exception. The app showed that I had been upgraded to a Regency Suite Balcony, one of the hotel's standard suites.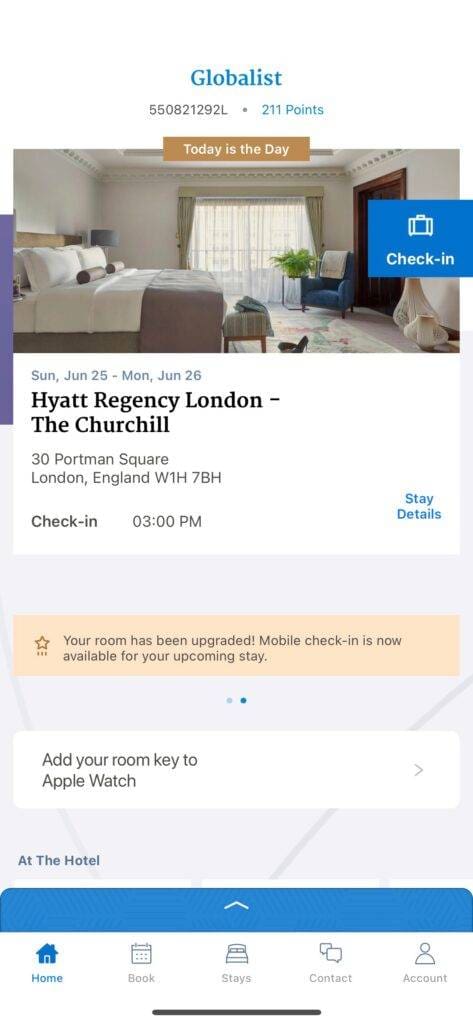 I proceeded to start the check-in process using the app. While my upgrade and room number were confirmed, activating the mobile key still required stopping by the front desk so it wasn't a totally seamless experience.
Luckily, this was handled efficiently and I was quickly headed to my room.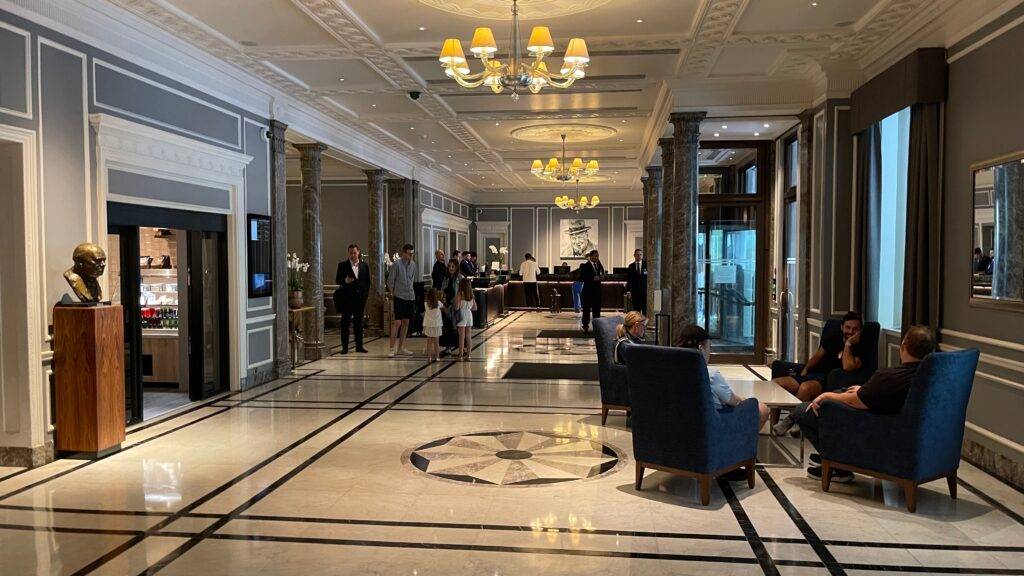 Hyatt Regency The Churchill: Regency Suite Balcony
After check-in, I took the elevators up to my room on the 9th floor of the hotel. This is the hotel's top floor and also houses the hotel's two presidential suites. Finding my room was easy — 934 was directly ahead when you exit the elevators.
The suite is advertised as 53 square meters (~570 sq. ft.), quite spacious by London standards.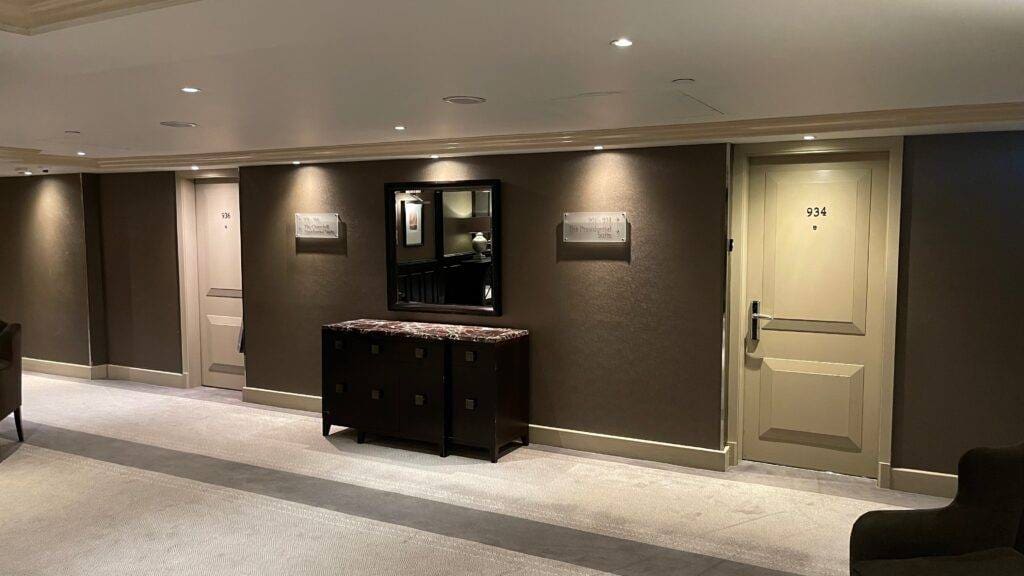 Hyatt Regency The Churchill: Regency Suite Balcony Living Room
The first room you walk into when arriving in the suite is the living room. It's simply and tastefully furnished with a seating area and a writing desk. A welcome note and amenity was waiting on the desk.
There's also a Smart TV with in-room Chromecast through the World of Hyatt app mounted on the wall. Hyatt seems to be most consistent in terms of properties ensuring TVs can be connected to guest mobile devices.
IHG is likely to outdo Hyatt in this department soon with the word they're working with Apple to bring AirPlay to hotel rooms but for now, Hyatt holds the lead.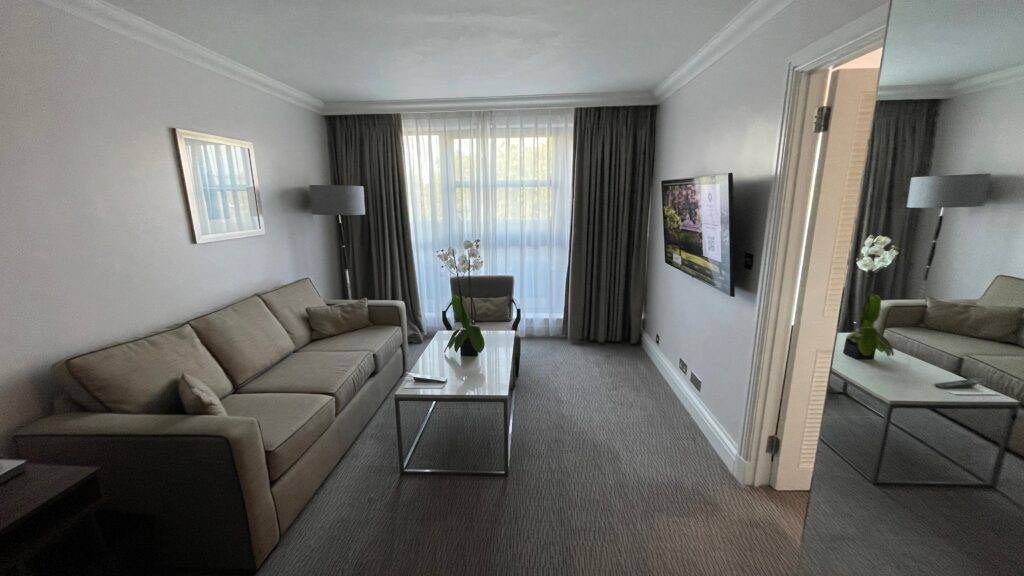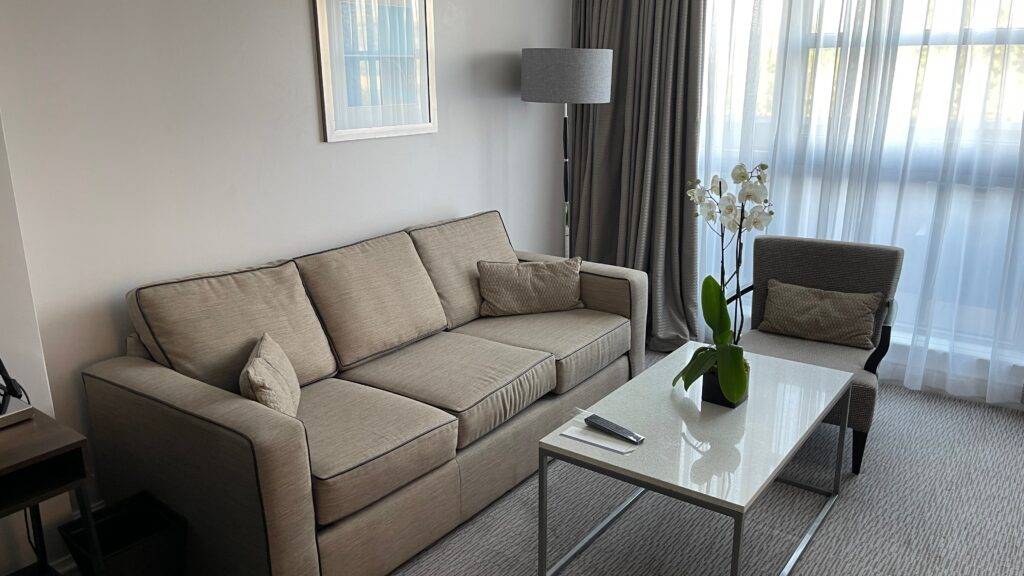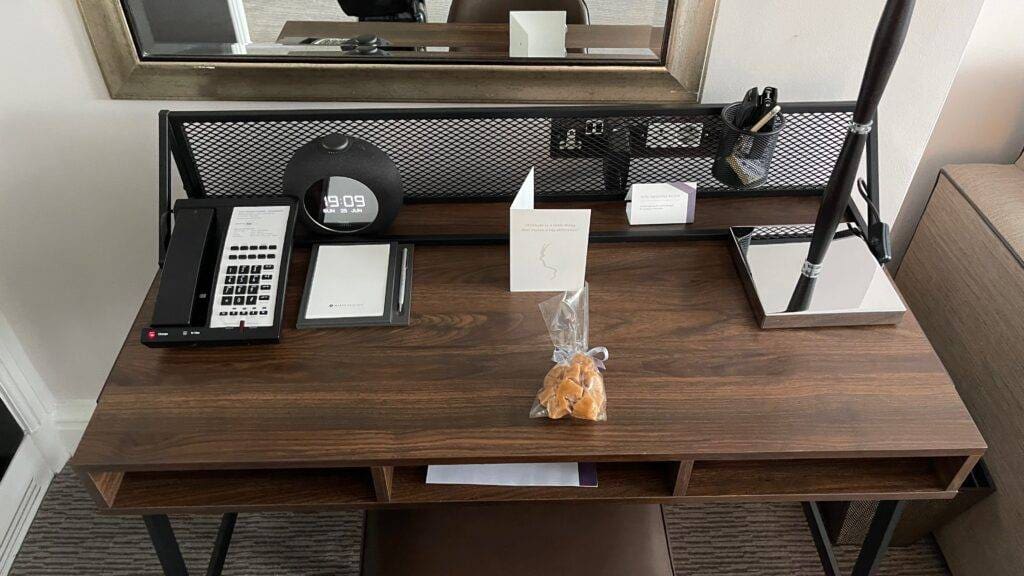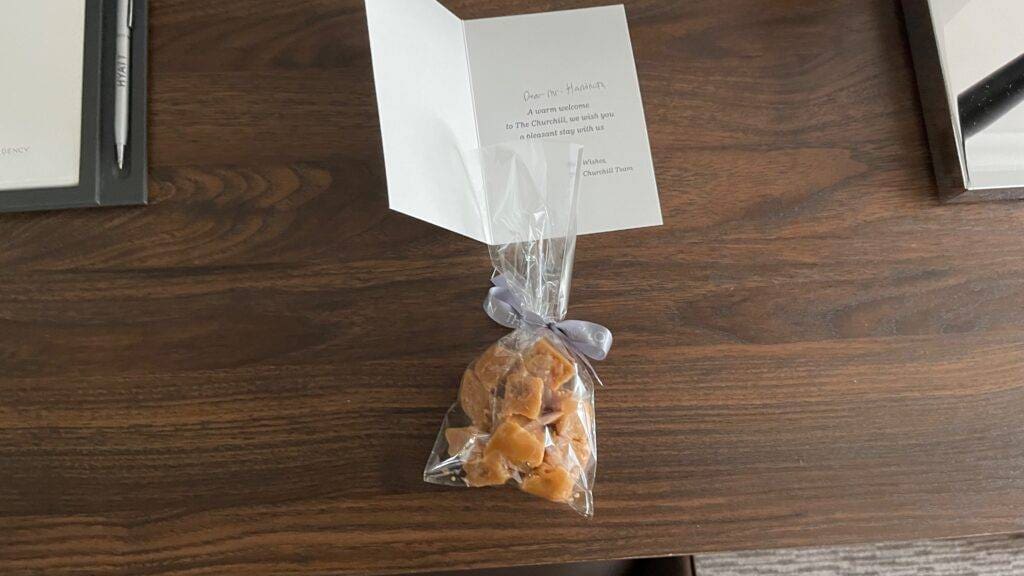 There's a countertop with a Nespresso coffee machine and pods, along with a selection of British tea.
There's no shortage of water in the suite. I counted 15 bottles in total. Not sure if this was personalized to me (I've previously requested extra water at Hyatt properties although never that much) or standard for the suite. Either way, it's enough water to ensure that any one person or couple can stay hydrated without any concern of running out.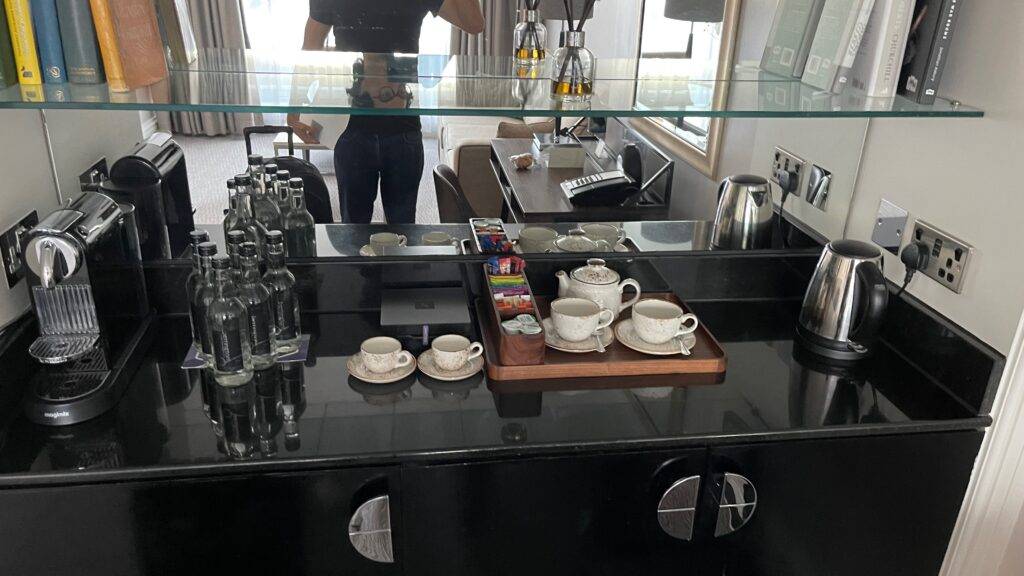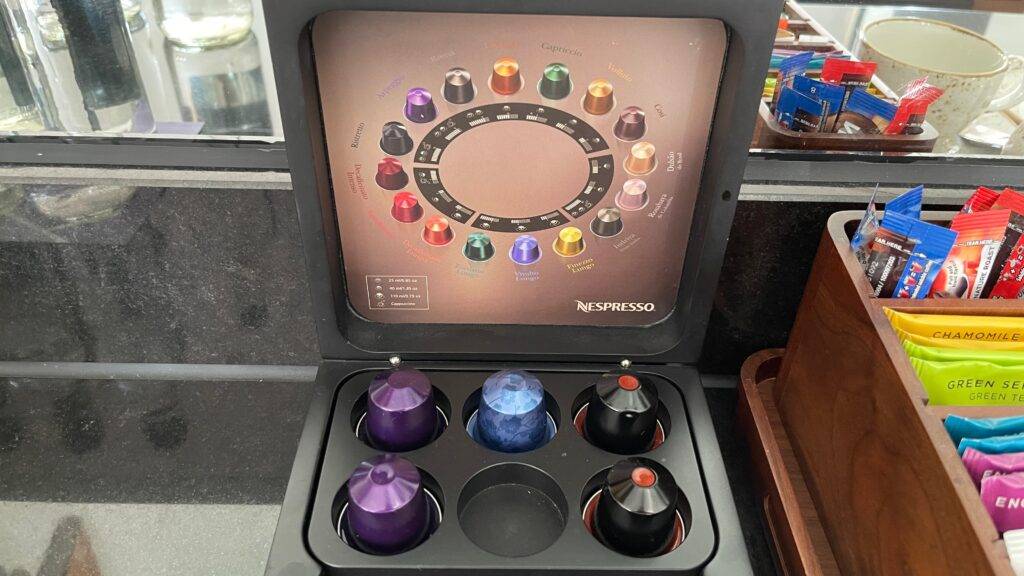 In a nice touch, the bookshelf contained books written by and about Winston Churchill in a nod to the hotel's name and theme. These were real books not just decorative (I checked).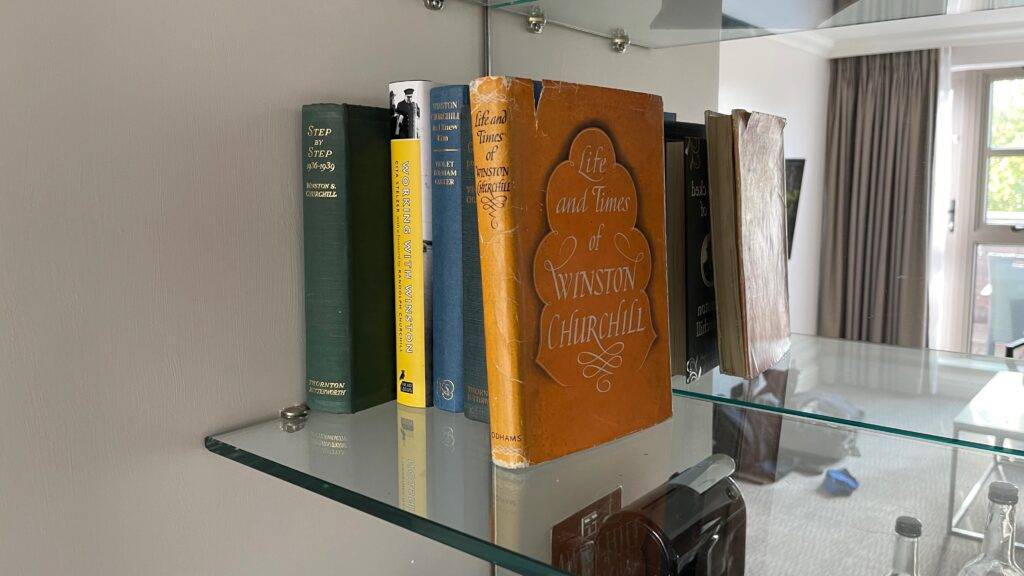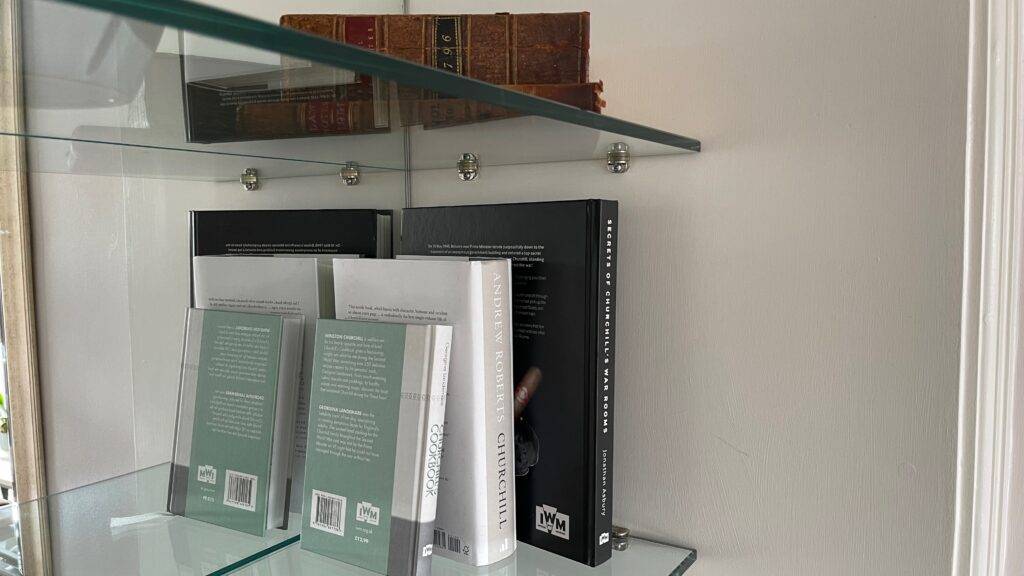 Hyatt Regency The Churchill: Regency Suite Balcony Bedroom
The Regency Suite Balcony at the Hyatt Regency – The Churchill is a true suite. The bedroom is separated from the living room with a closable door in between.
The bedroom's centerpiece is the plush king bed. There's another TV in the room. Both the living room and bedroom have doors to the balcony overlooking Portman Square Garden.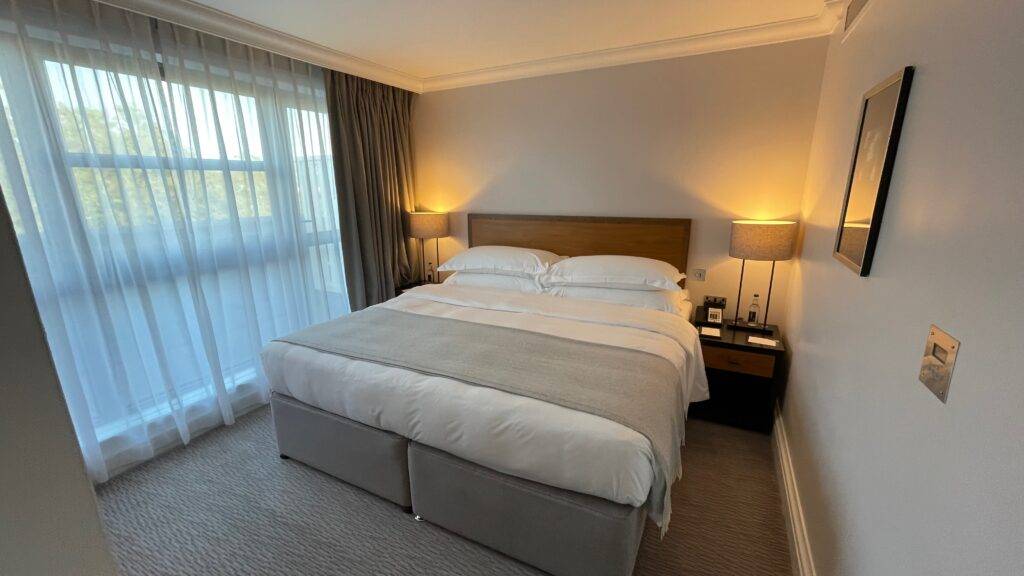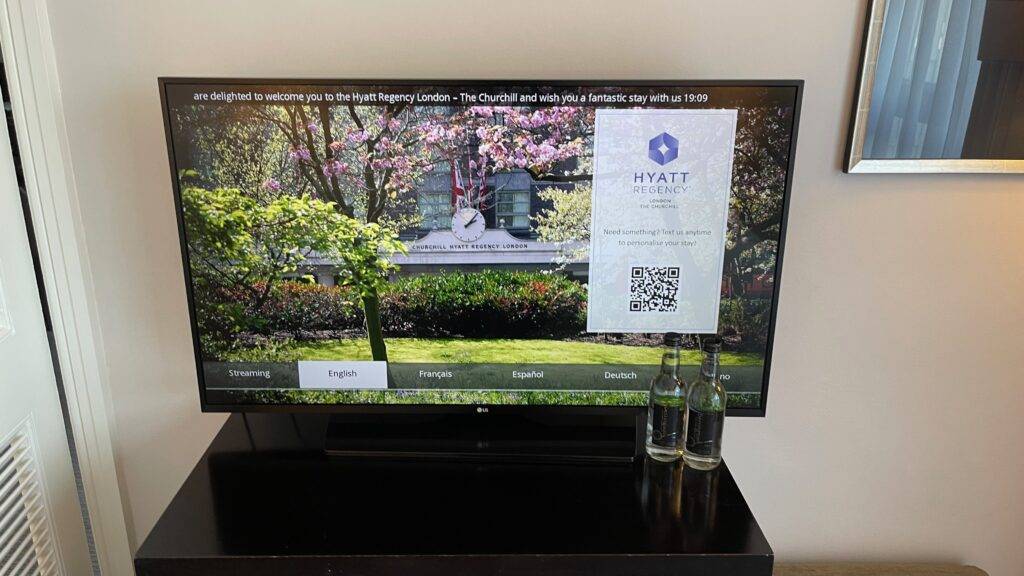 Hyatt Regency The Churchill: Regency Suite Balcony Bathroom
The bathroom is located off the bedroom. There's a bath and shower, as well as a closet. Interestingly, there was only one sink. Not actually a problem for me when traveling solo (or, ever, really).
The bathroom had everything one would want stocked up and the showers had excellent water pressure.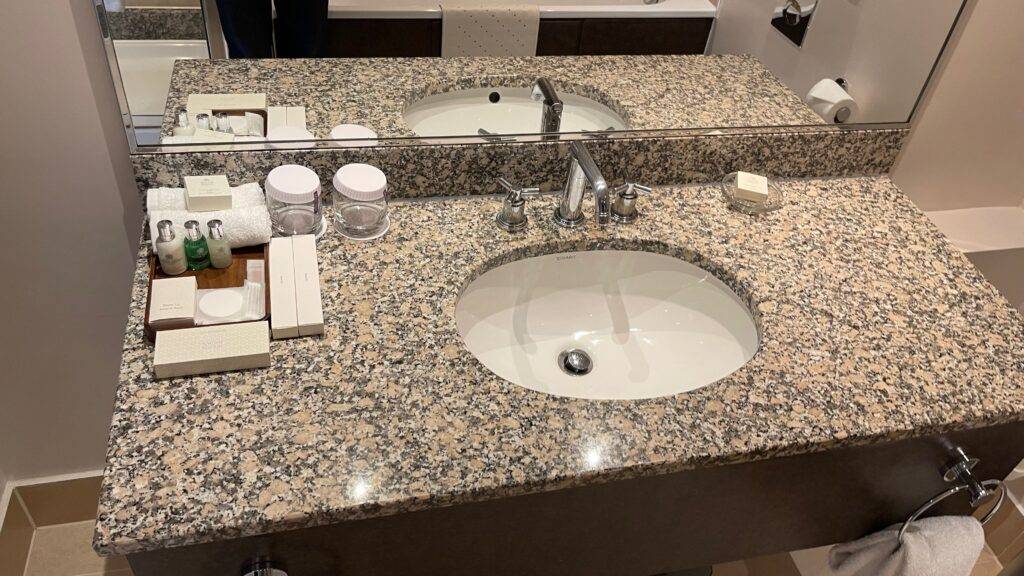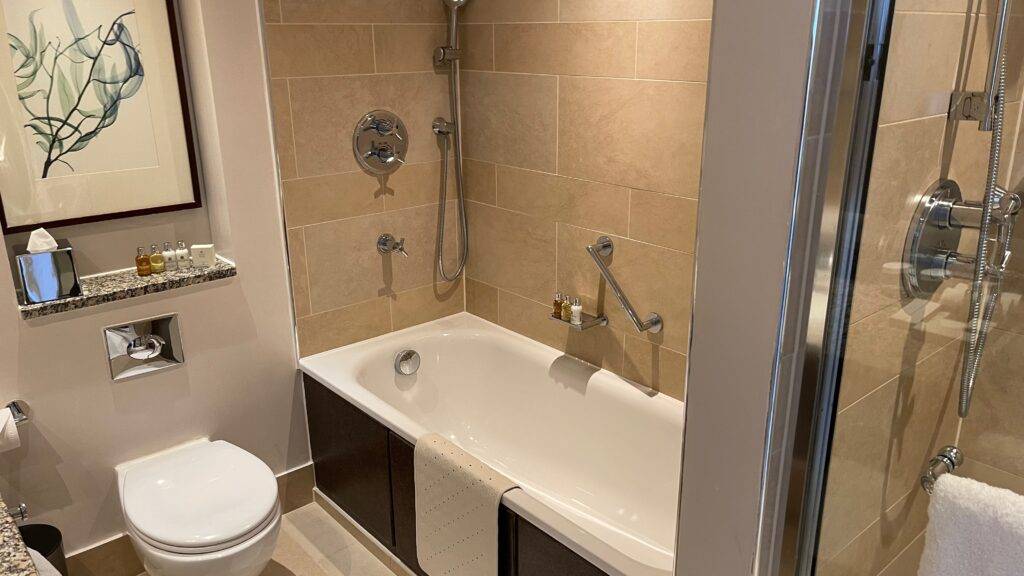 While there was only one sink, there were plenty of toiletries in individual containers from Molton Brown. The quality of Molton Brown products are high quality and I appreciated that this hotel hasn't switched to bulk dispensers, which I detest.
An interesting inclusion was liquid face wash, which was Molton Brown's African Whitewood line. This is a pretty small thing but it was very convenient and I appreciated the thoughtfulness.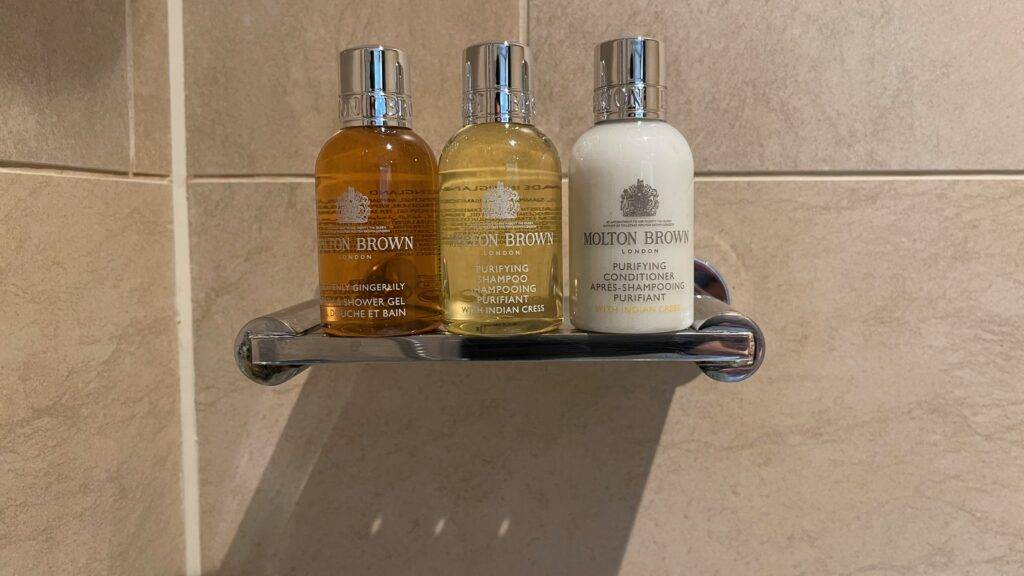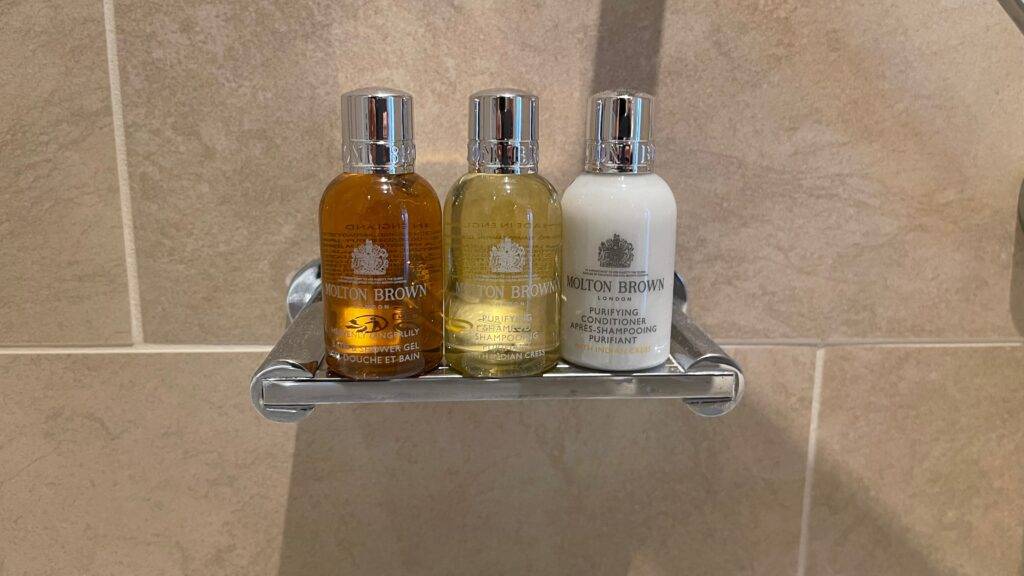 A compact closet was located to the side of the bathroom.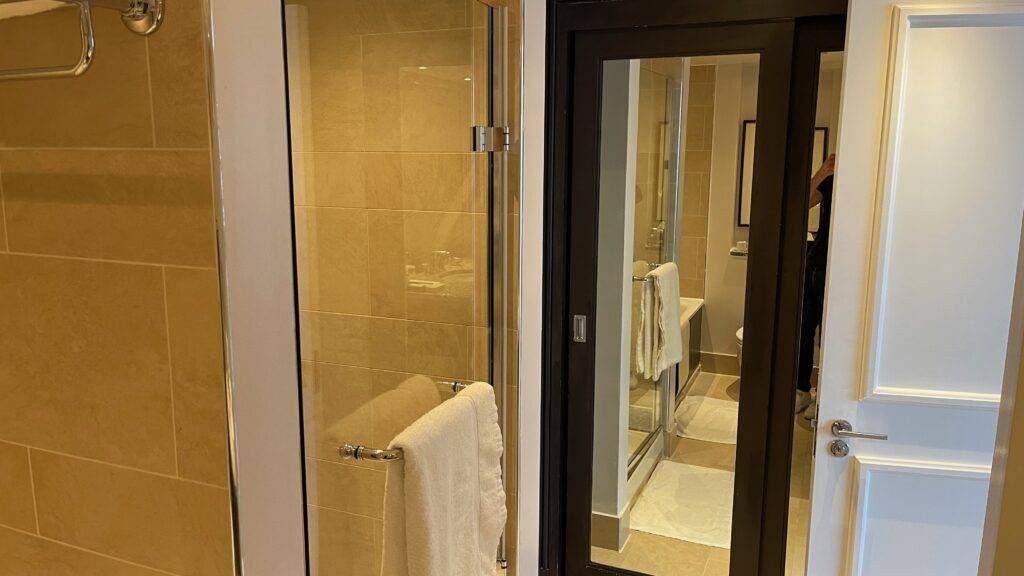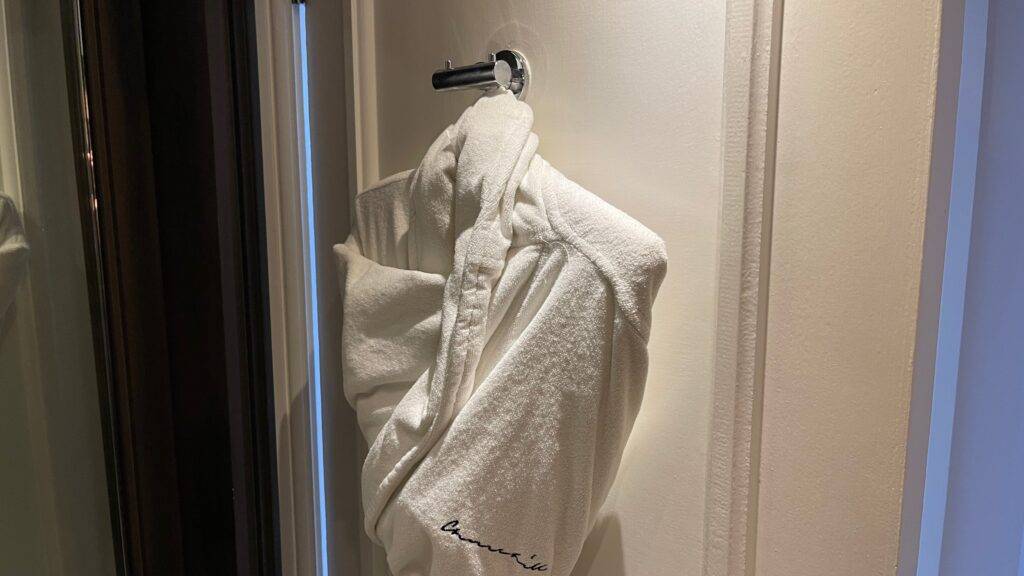 Hyatt Regency The Churchill: Executive Lounge
The executive lounge is located on the 11th floor and has drinks and canapes available for two hours every day. I made a quick stop at the executive lounge to check out the selection.
There's a solid selection of wines, beers, and spirits available along with snacks including sandwiches and canapés available to order from an attendant (no paper menu).
As a gin and tonic drinker, it was nice to see a good-value mid-shelf gin like Tanqueray available instead of the swill that hotels often stock. Of course, that's probably to be expected in London.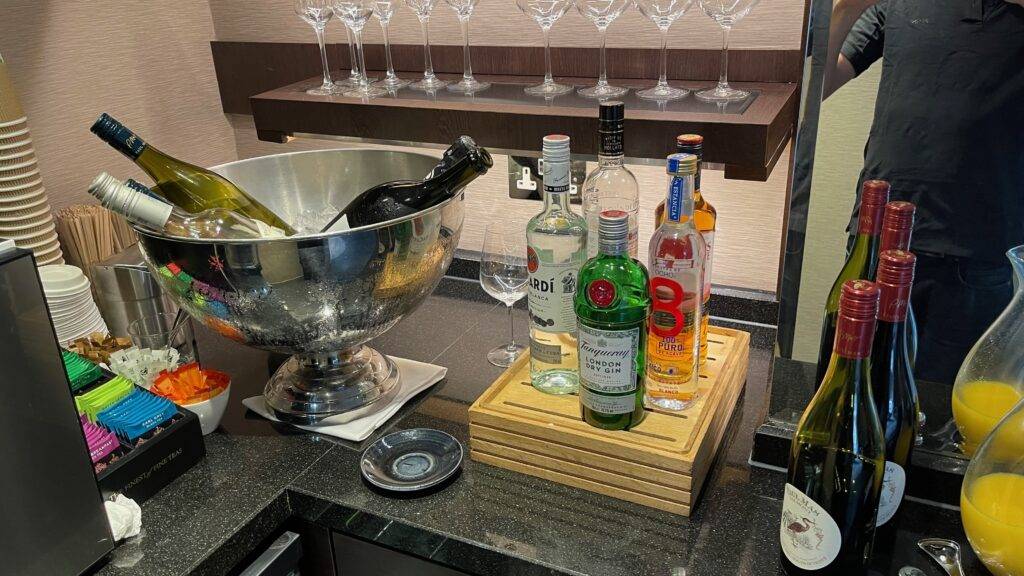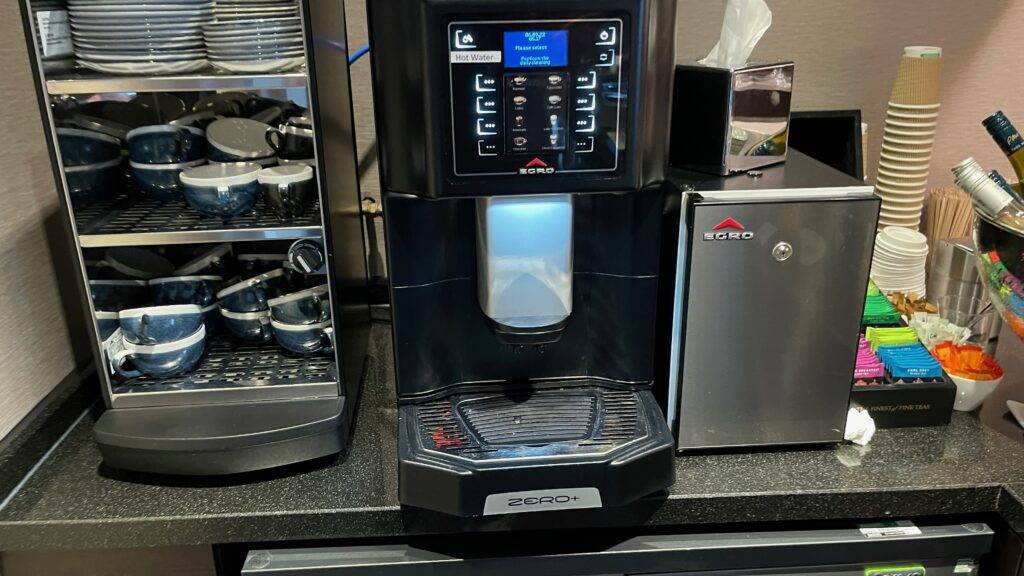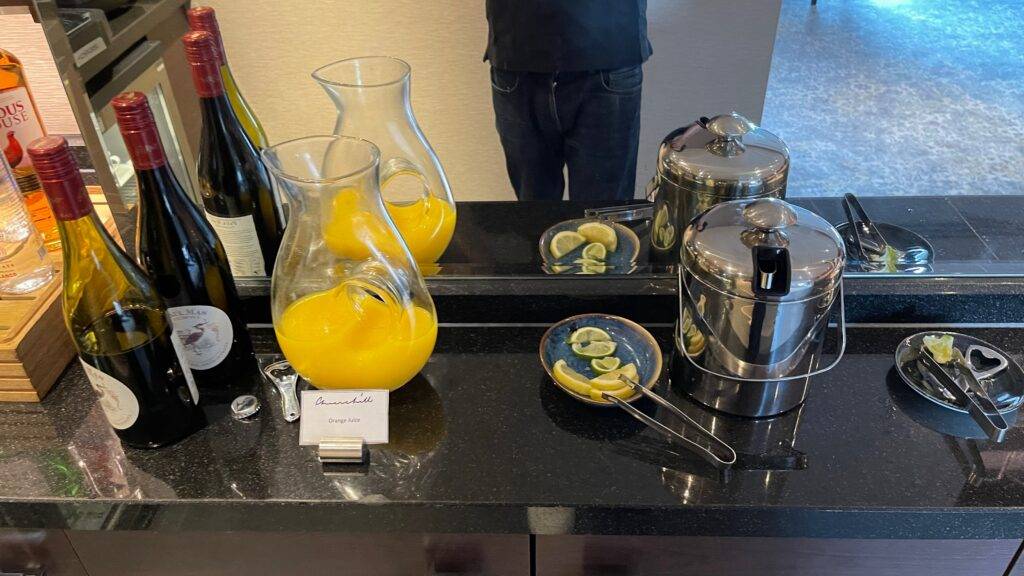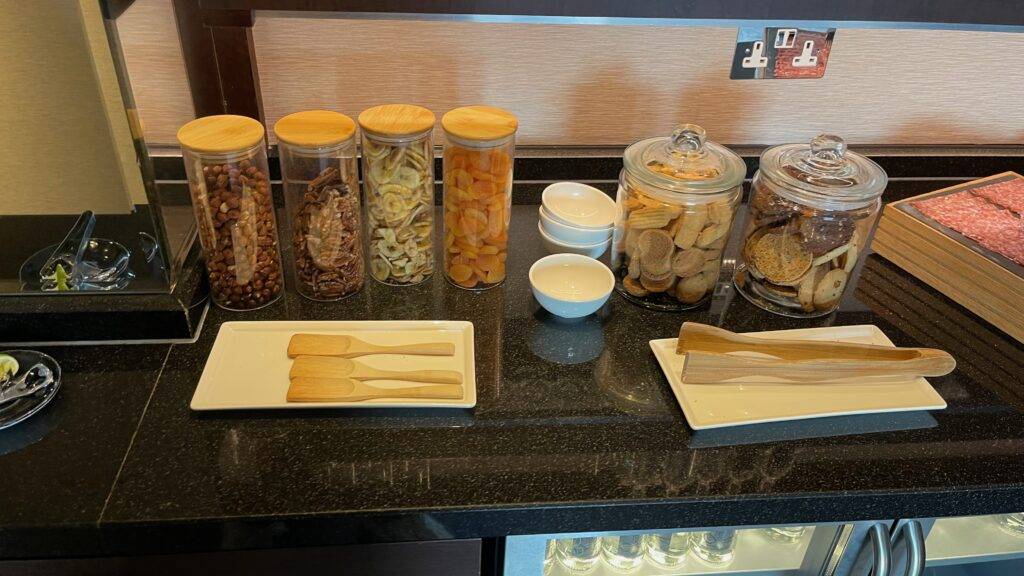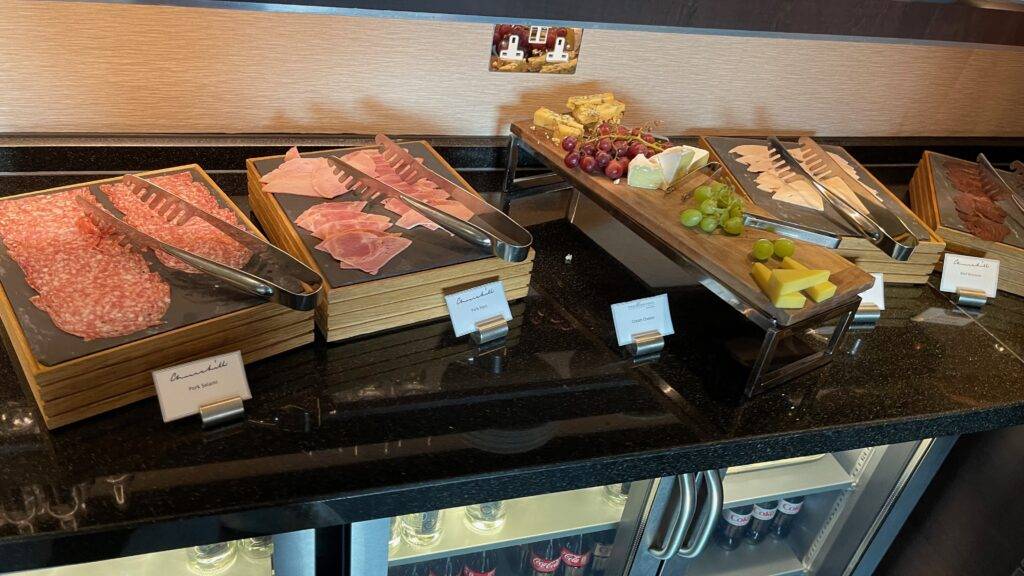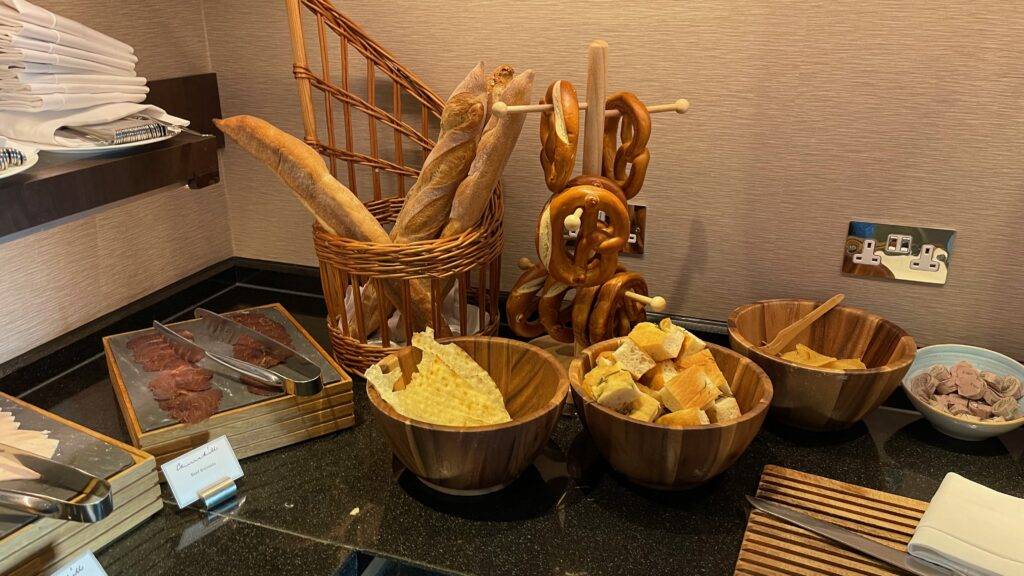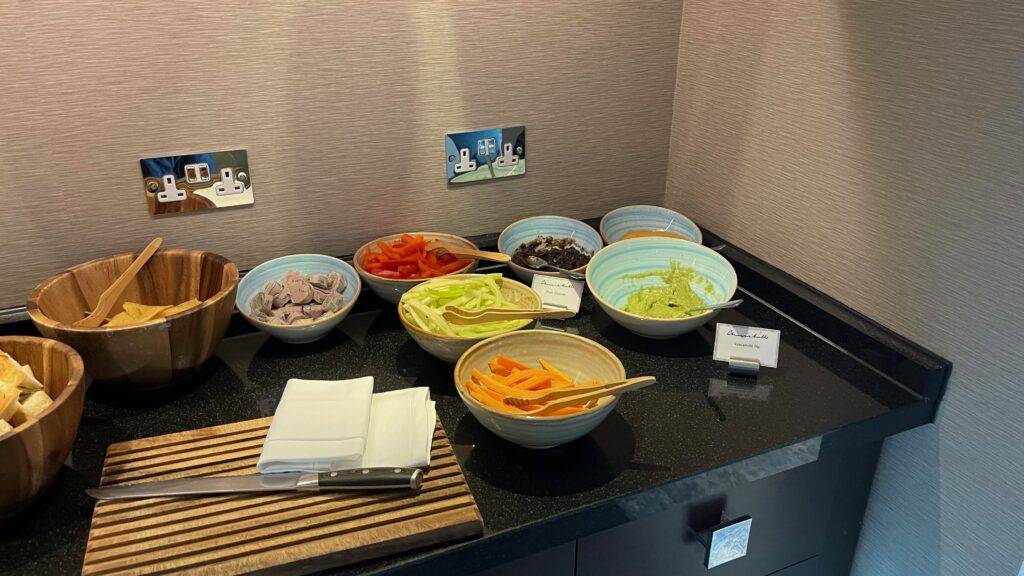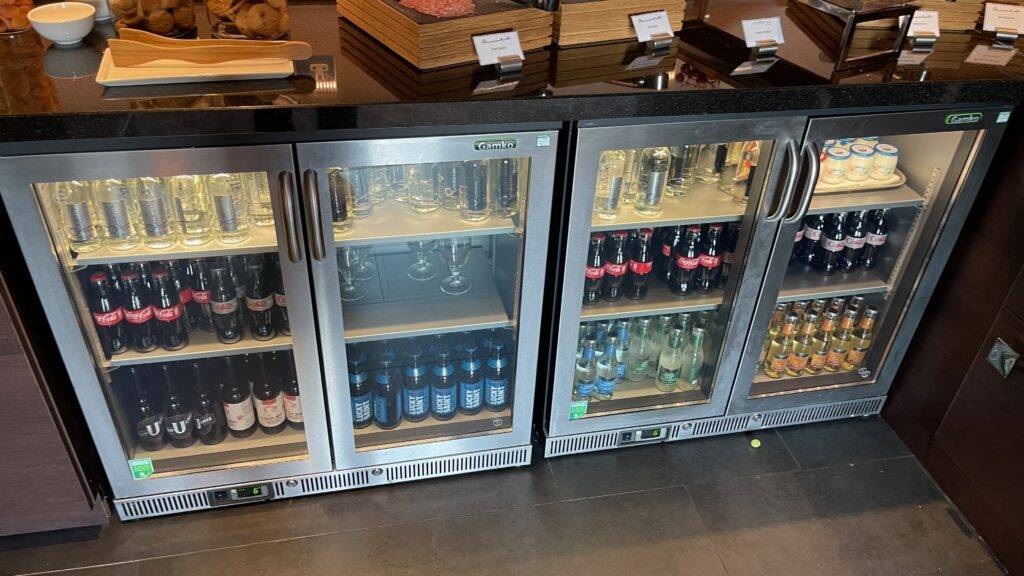 Hyatt Regency The Churchill: Fitness Center
Unfortunately, I didn't have a chance to check out the fitness center at the hotel. However, it's open 24/7 and billed as having a variety of weight training equipment in addition to the cardio equipment seen in the property's photos.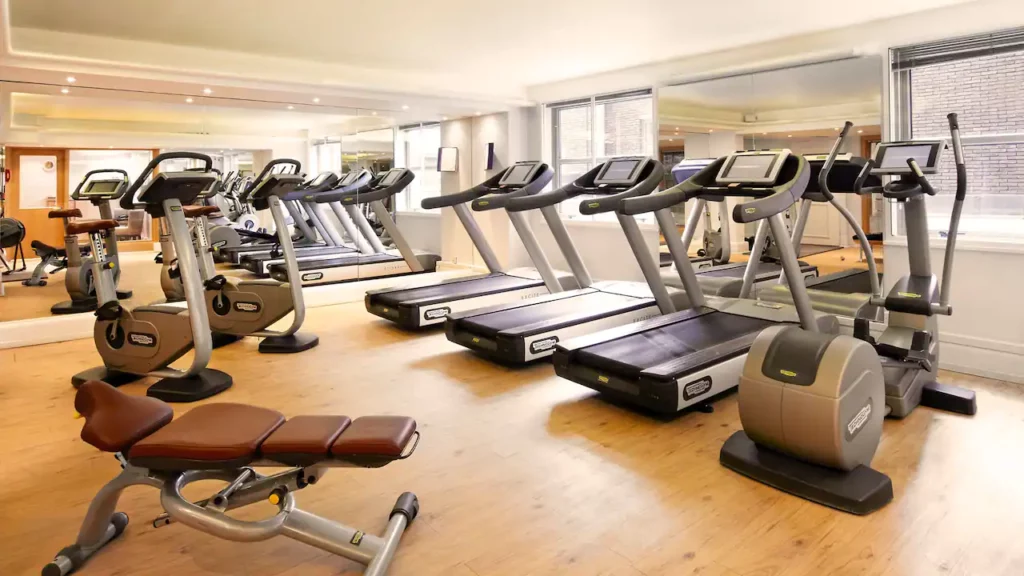 Hyatt Regency The Churchill: Breakfast
Breakfast at the hotel is served at the Montagu Kitchen & Lounge off the lobby. The full breakfast buffet is usually £35 (about $45 USD) with additional items available to order à la carte. However, breakfast at Hyatt is complimentary for Globalists, so this was included in my stay.
The buffet and à la carte options are quite extensive and feature both British Breakfast and more standard Western breakfast items. Service is quite efficient. My coffee (oat milk cappuccino) and egg (vegetable egg-white omelet with a side of avocado) orders were promptly taken before I explored the buffet.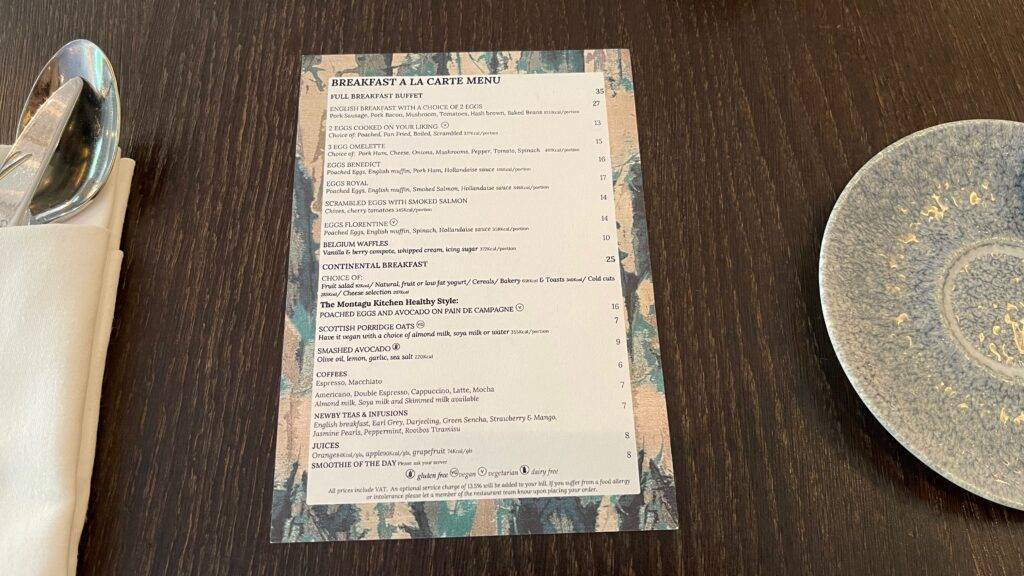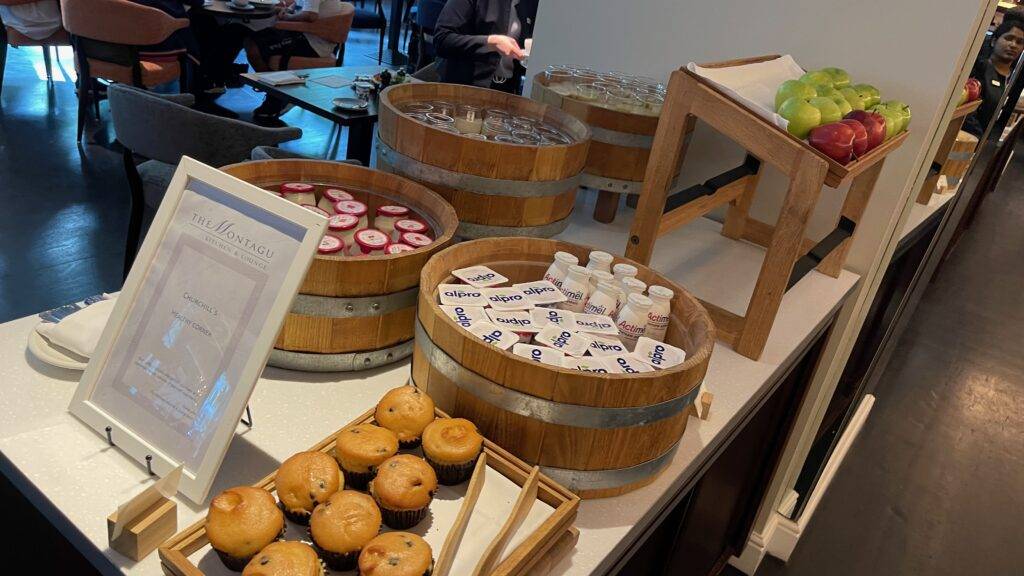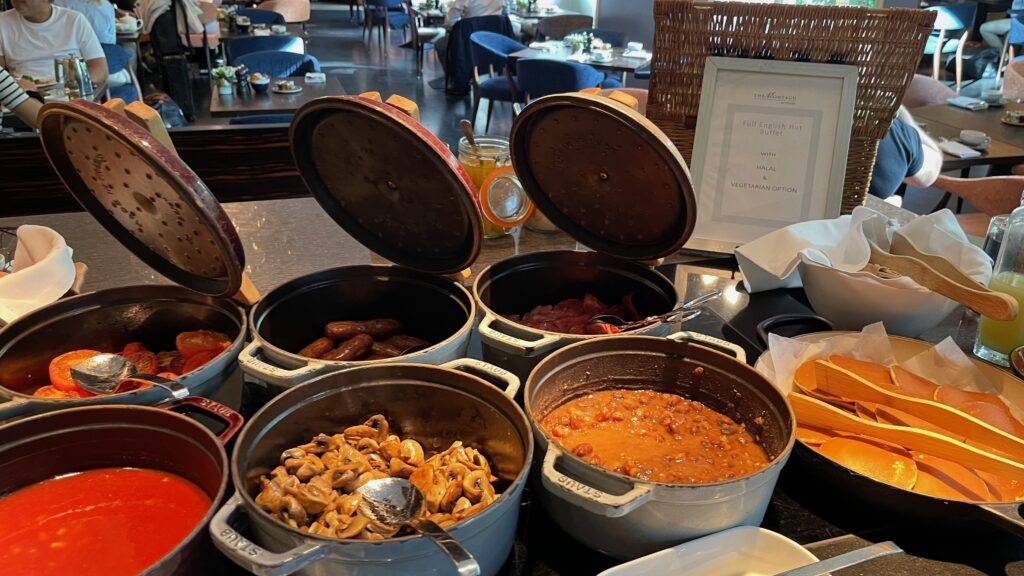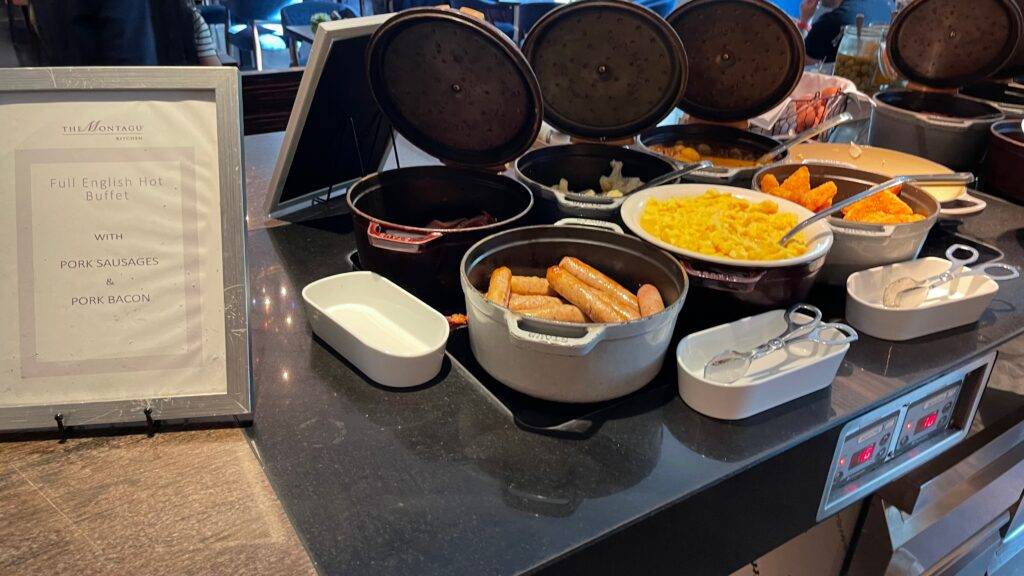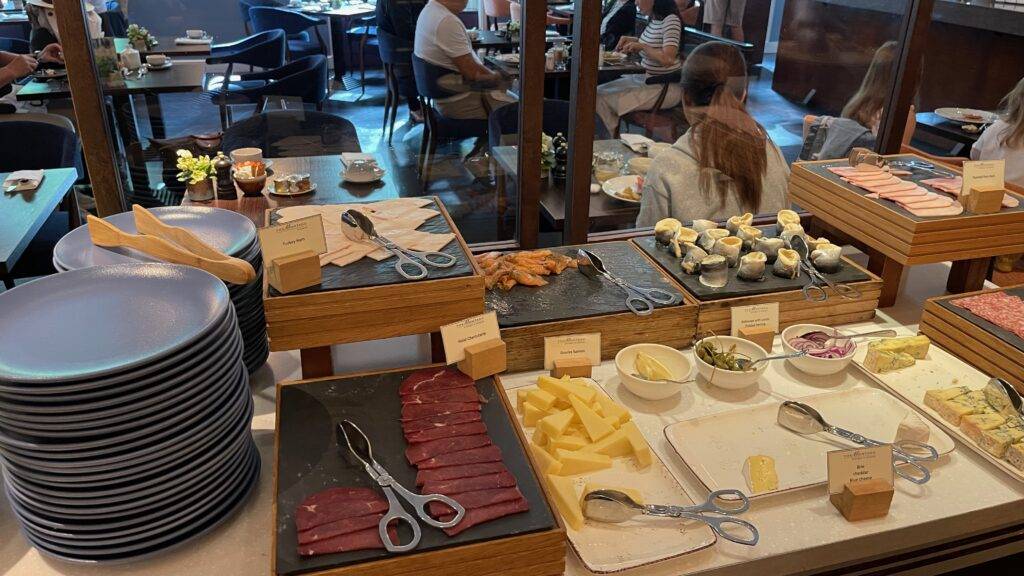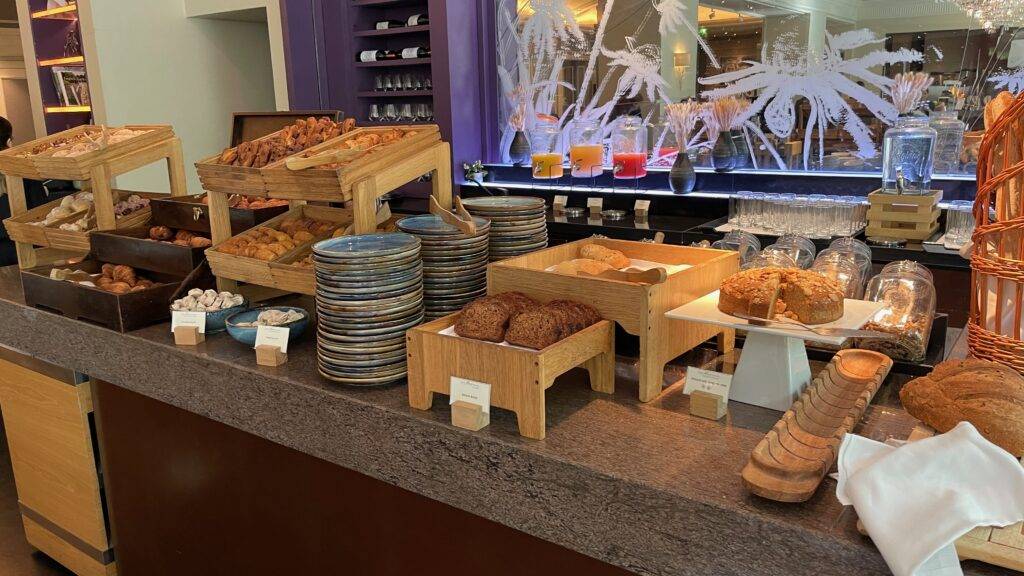 By the time I returned from the buffet, my coffee was waiting at my table. The cappuccino with oat milk was well made and I ordered a second one before I finished my meal.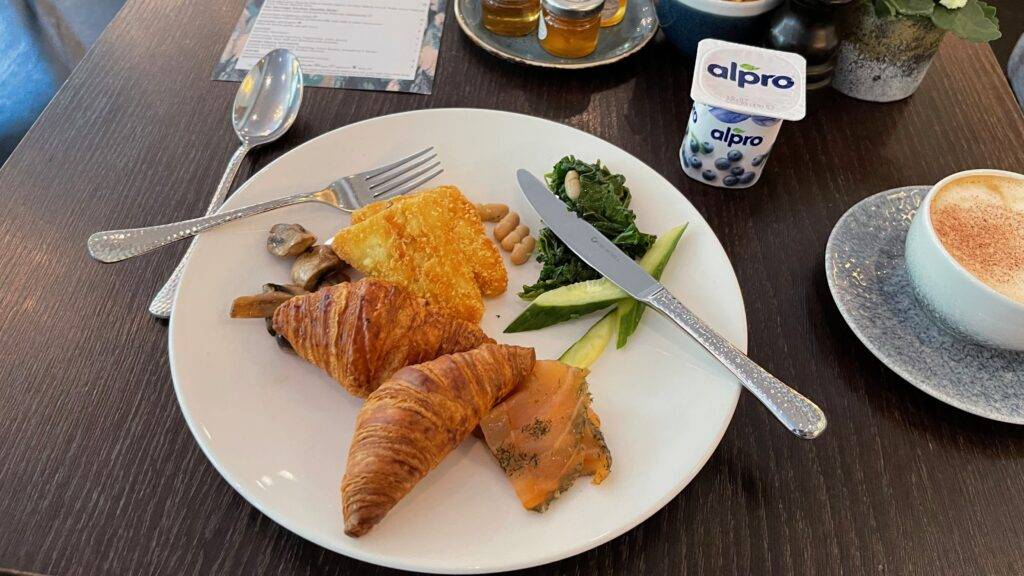 My omelet came shortly after. While there was no issue with the omelet itself, my side of avocado never made it to the table.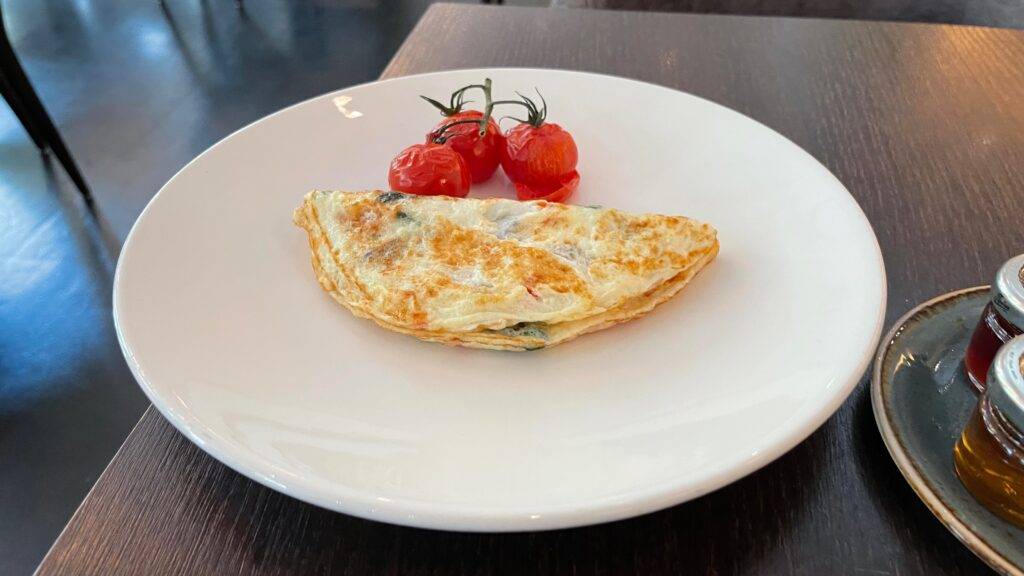 Hyatt Regency The Churchill: Service
In true British fashion, service at the Hyatt Regency London – The Churchill was prompt and friendly across the board but not overly solicitous. If you approached a member of staff, my impression was that they would figure out a way to help you.
That said, it is a large property so service won't necessarily be proactive in the sense that nobody will approach you to offer assistance.
That extended to my experience in checking in along with both the executive lounge and breakfast. At the executive lounge, I didn't realize that there were sandwiches and canapés available to order until overhearing someone else requesting it. Similarly, at breakfast, I was left alone after placing my coffee and eggs order until I flagged someone down to request an additional coffee which promptly arrived.
In other words, it's pretty much in line with what you'd expect from a well-run five-star hotel in Europe even if it wouldn't meet the standards that would be expected in Asia or the Middle East.
Hyatt Regency The Churchill: Bottom Line
Nestled in the stylish Marylebone neighborhood, the Hyatt Regency London – The Churchill made for a great place to stay in the heart of London's West End. As a Globalist, I was proactively upgraded to a Regency Suite Balcony which is a standard suite at the property. Globalists also enjoy access to the executive lounge and complimentary breakfast is honored at the Montagu Kitchen & Lounge which offers a robust buffet. Service is friendly and efficient. All in all, the hotel is a great choice for anyone (but particularly Hyatt loyalists) choosing a hotel in central London.