This is the next installment on my trip report from my February trip to Athens and Israel, experiencing the InterContinental Athenaeum Athens. If you are just joining, catch up on how I planned and booked the trip and prior reviews of the Emirates business class flight from Newark to Athens and the ground experience and the SAS Lounge at Newark.
InterContinental Athenaeum Athens Hotel Basics
The InterContinental Athenaeum Athens is located in the Neos Kosmos neighborhood of Athens, just off the Syggrou highway. The immediate area feels a bit run down and there was a variety of businesses and old buildings. My impression is that most of the guests were attending meetings and events at the hotel's conference center.
The hotel has over 500 rooms and suites, and several restaurants and bars. There is also a pool and extensive conference facilities.
I booked the hotel for 24,000 points a night using points earned from the welcome bonus on my IHG Rewards Premier Credit Card. IHG One Rewards are a fairly easy currency to get and are a 1:1 transfer partner from Chase Ultimate Rewards.
I stayed for just 3 nights, and the public rate was about 170 euros per night.
InterContinental Athenaeum Athens Location
I primarily chose the hotel because it seemed well-regarded and was available on points. While it was easy to get inexpensive cabs to the center of the city, for those who want to walk or use public transportation, I would not recommend this property as a good base for touring.
The hotel website does advertise a shuttle to the city center, but it didn't seem to be available during my stay.
InterContinental Athenaeum Athens Arrival & Check-In
The ride into Athens was pleasant and the traffic late Sunday afternoon wasn't too bad. When we arrived at the InterContinental Athenaeum Athens, there were several bellmen up front and I was quickly assisted with my luggage.
InterContinental Athenaeum Athens Check-In
I have IHG One Rewards Diamond Status but inside, there was no clearly marked elite check-in. That said, the line was not long and I was seen quickly.
I was thanked for choosing to use my IHG One Rewards Points at the hotel and for being an elite member of IHG One Rewards. I was informed I was upgraded on account of my status. However, I was not proactively offered late check out or free breakfast, a benefit of Diamond status in the recently overhauled program.
But when I asked, I was promptly advised of the free breakfast benefit. At this property, the breakfast is a buffet in the lobby restaurant.
The lobby had an interesting sculpture and plenty of seating as well as a bar. The bar seemed to only be open at night, and I did not visit during my stay.
InterContinental Athenaeum Athens Diamond Upgrade
I booked a king classic room on points for this stay. At check-in, I was advised that I had been upgraded to a city view room, which sells for about 50 euros per night more than the classic room.
All in all, not the most exciting upgrade but not unsurprising for IHG. Despite advertising the potential for suite upgrades, IHG does not proactively upgrade Diamond elites in the way World of Hyatt does for Globalists.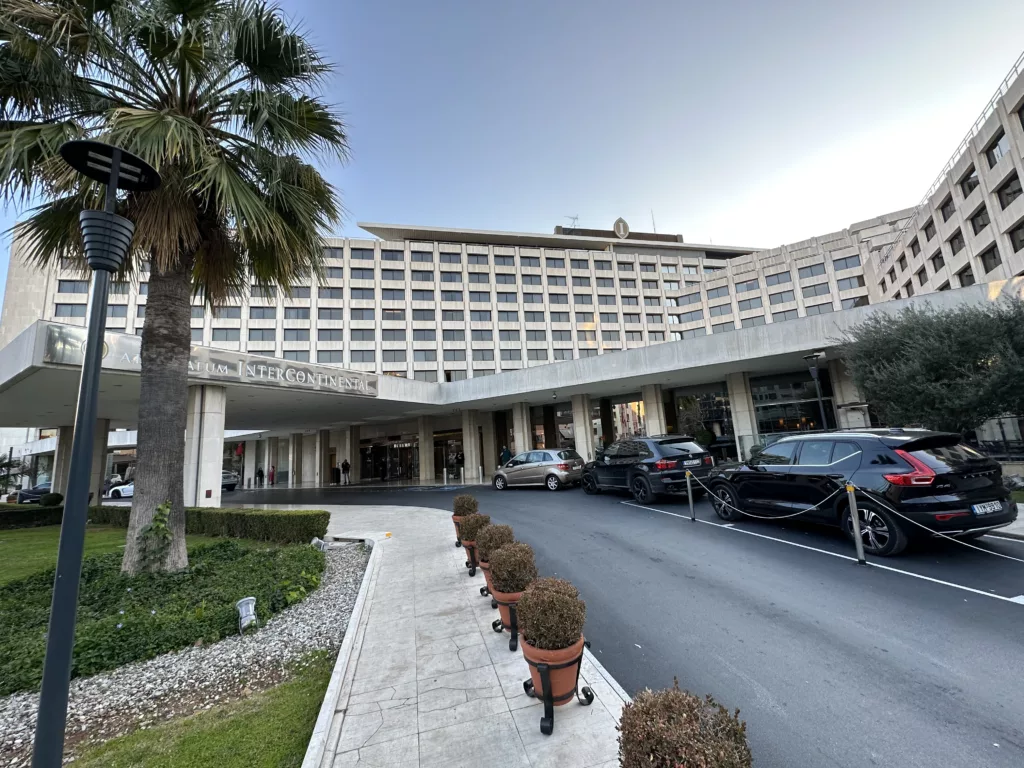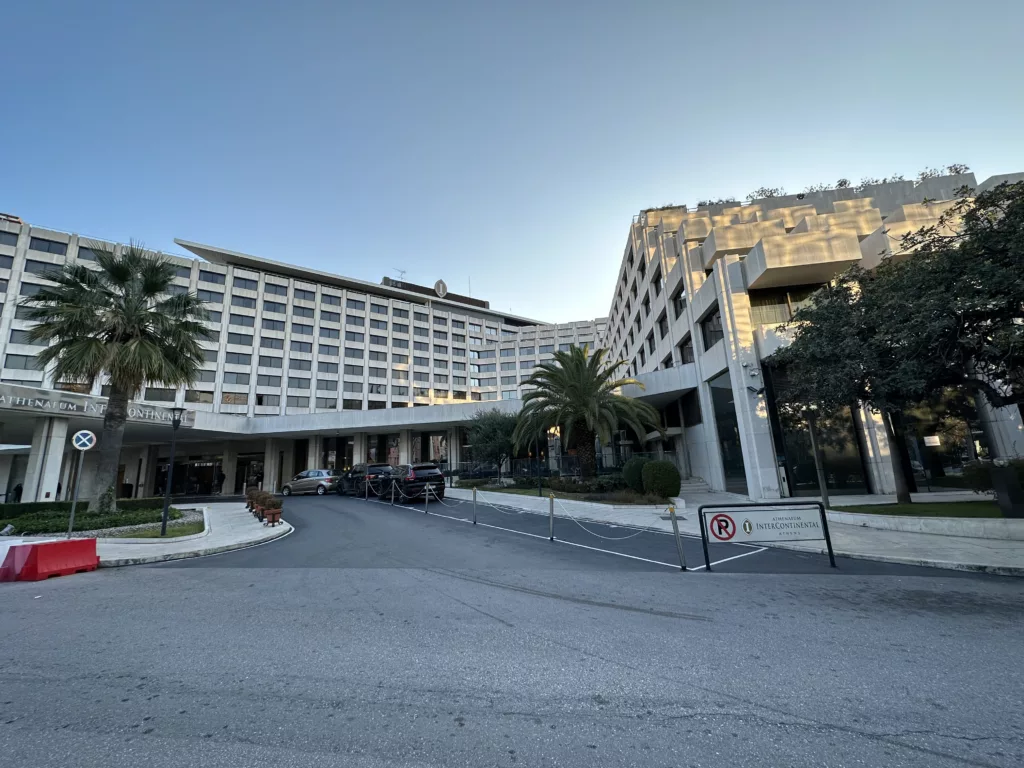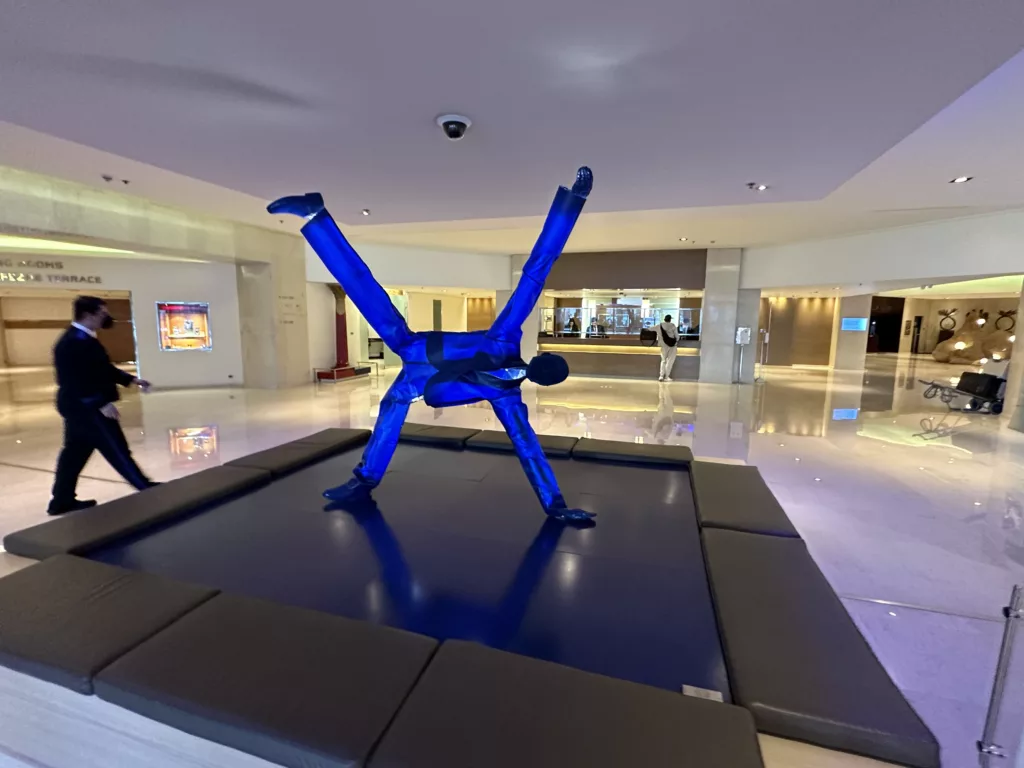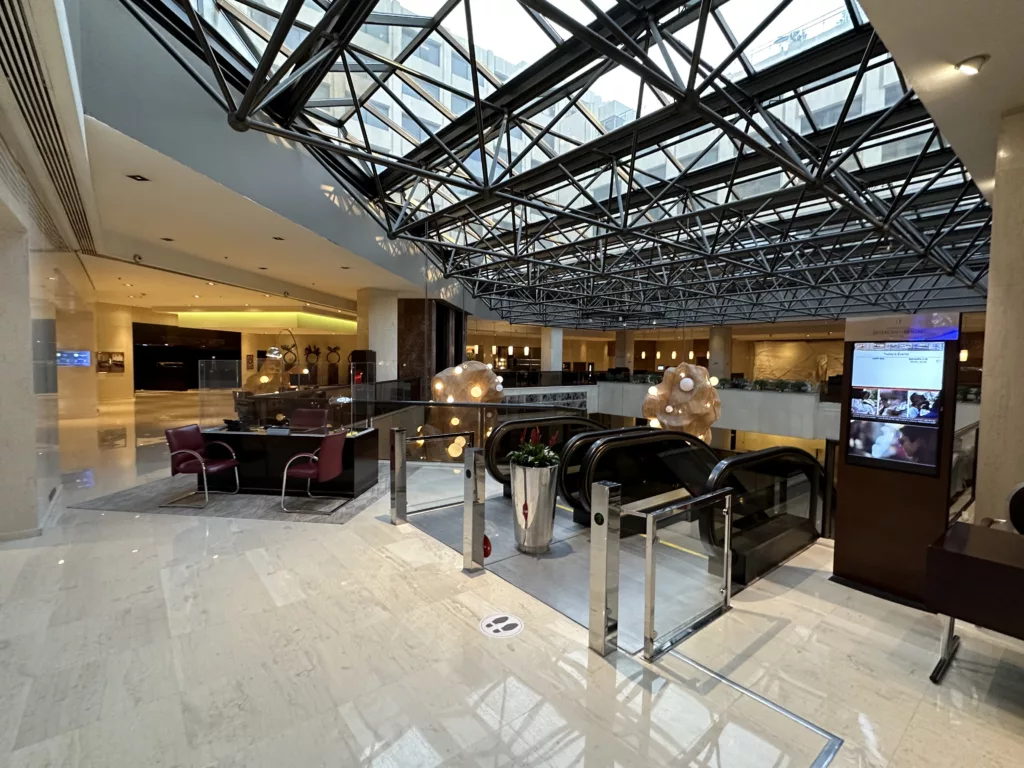 InterContinental Athenaeum Athens City View King Bed Room
After check-in formalities were complete, I was given my room key and sent on my way. I was assigned to room 514.
To get to guest room floors you need to scan your key at the elevator, something I was not advised of at check-in. I found my room quickly and a few minutes later, there was a knock at my door with my bag.
I have stayed at several InterContinental properties and the room felt like some of the others. The decor was nice and unoffensive.
True to its name, the window had an uninteresting view of the city. The blackout curtains on the window were fantastic, something I have found rare these days.
There was a nice sitting area with a couch and coffee table, as well as a proper desk area. I have found that many hotels are cutting desks out of guest rooms in recent years so I definitely did appreciate the desk.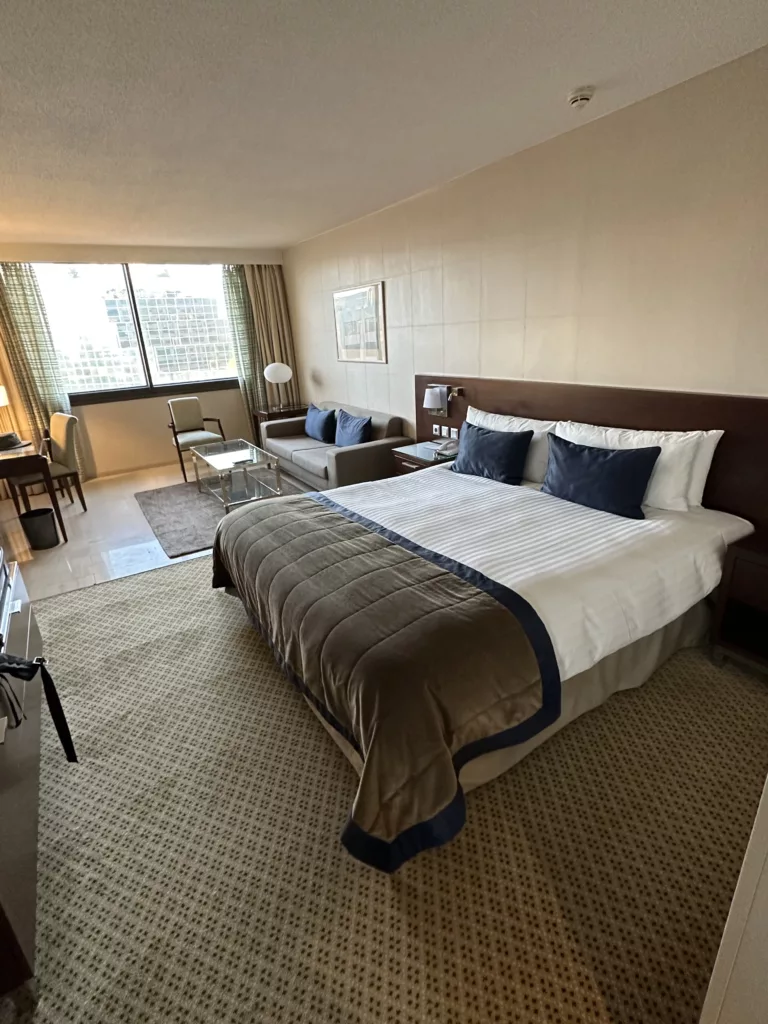 The bathroom had a bidet and bathtub/shower.
Toiletries were in fixed big pump bottles, locker room style. As seems to be standard for InterContinental, they were by Byredo. This is one of my favorite brands, so it was great to see that.
Unfortunately, the bathtub/shower had only a half piece of glass sheet instead of a proper door, a hotel design trend I really hate. My preference is for floor-to-ceiling walls or sliding glass doors.
The bathroom had bathrobes hanging, and in a drawer in the closet just across, there were slippers, which is a nice touch.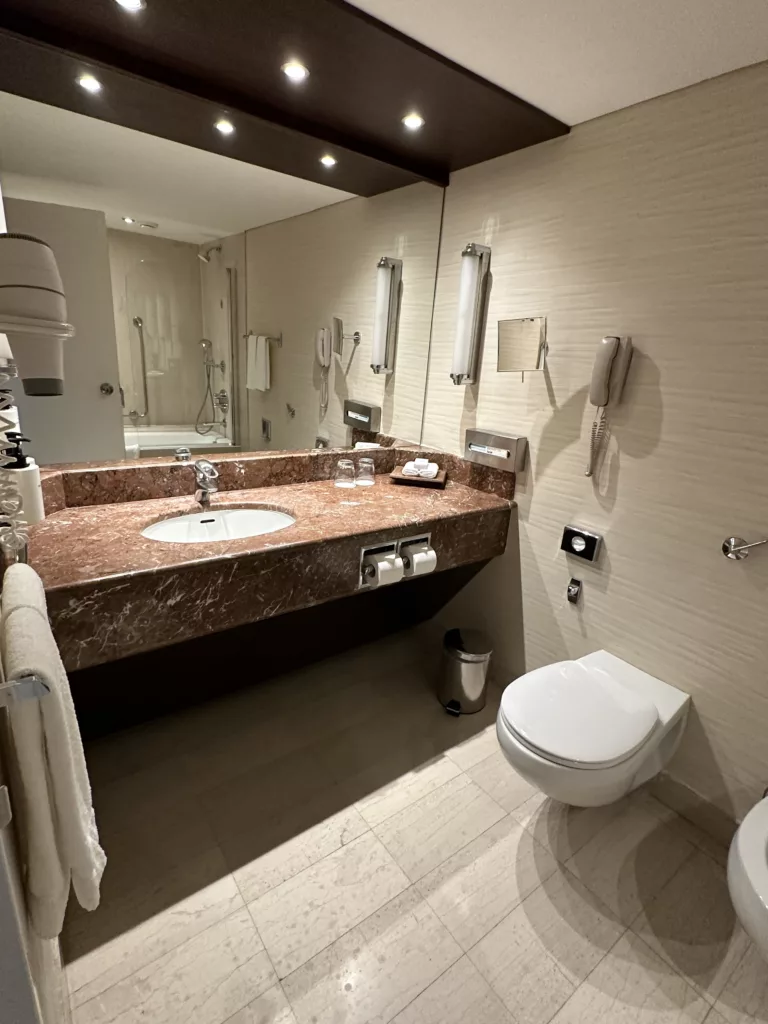 I didn't get pictures of the closet space at the front of the room, but there was a nice amount of storage space as well as a safe. There was also a minibar and an electric kettle with coffee, tea and mugs.
The bedding was fairly comfortable and I slept well on it. As noted the blackout curtains were fantastic and shut out all the light from entering the room.
I didn't use the couch & sitting area much, but I did appreciate having the extra space.
Wifi was free for IHG Rewards members who booked direct, which is standard across many IHG properties. While IHG does not offer complimentary water for elites as some other programs do, I have found some InterContinental and Crowne Plaza properties offer it anyway. This was not one of those properties.
InterContinental Athenaeum Athens Breakfast at Cafezoe
Diamond elite members get free breakfast at Cafezoe, which is on the lobby level and open from 6:30 am to 11 am daily. When I went down, I was seated pretty quickly and never found the restaurant to be too crowded. It did though take some time to be acknowledged by the wait staff and be offered coffee.
This did not end up making much difference. The coffee was pretty mediocre. There was a nice buffet on the side of the dining room as well as a made-to-order egg station.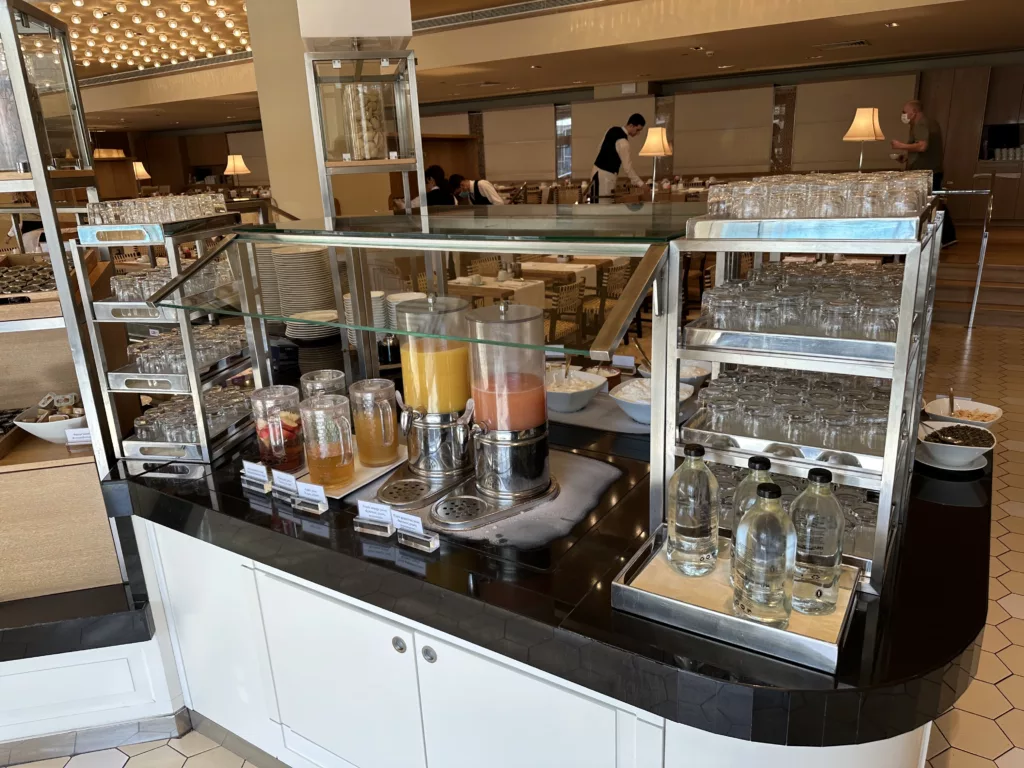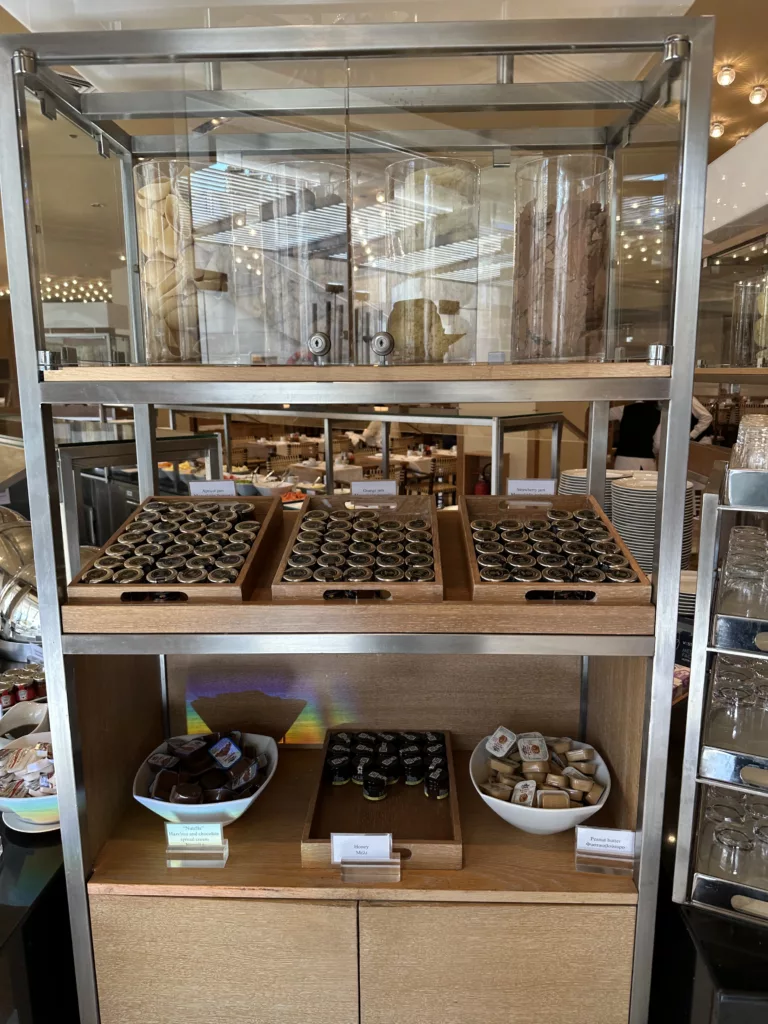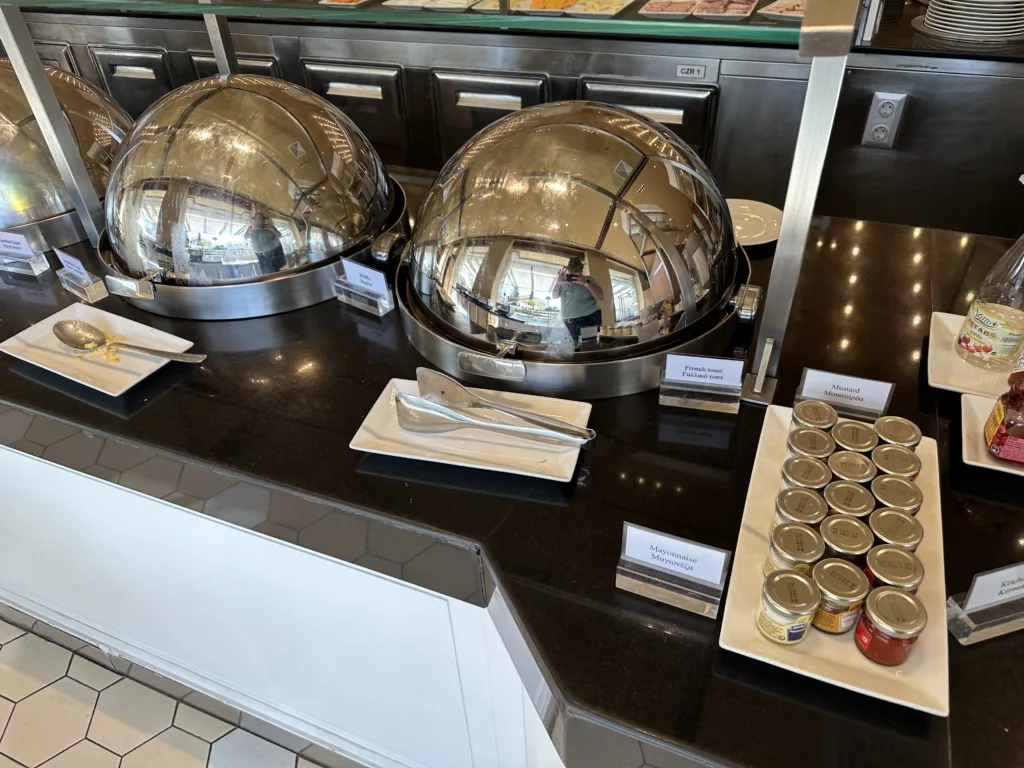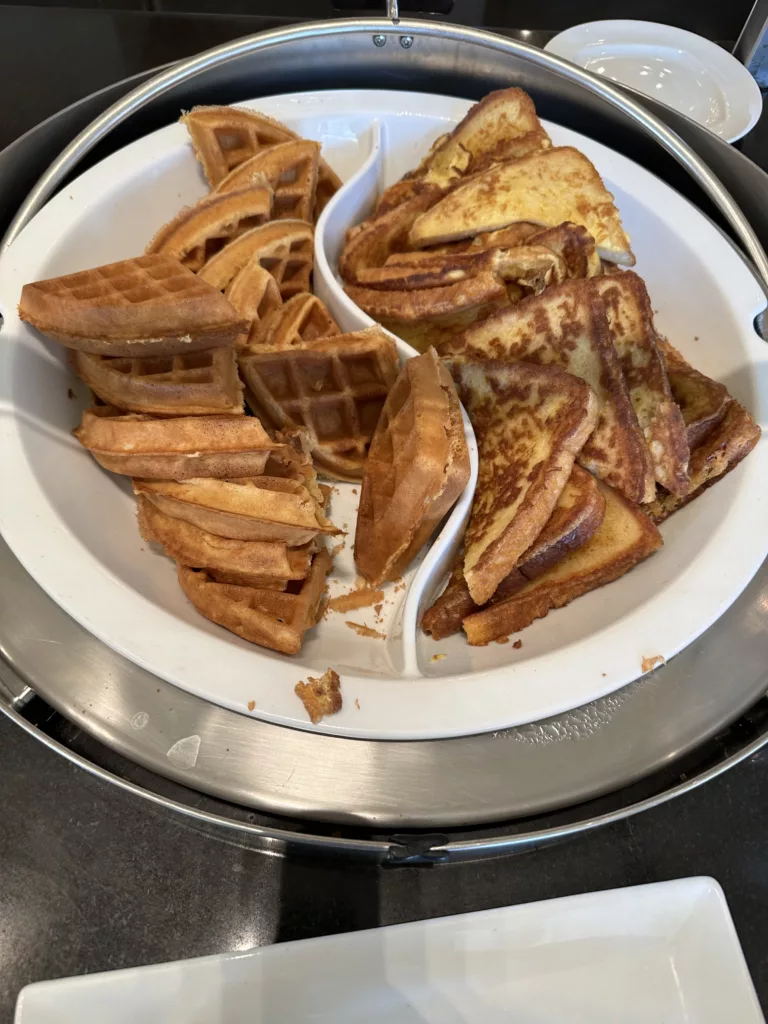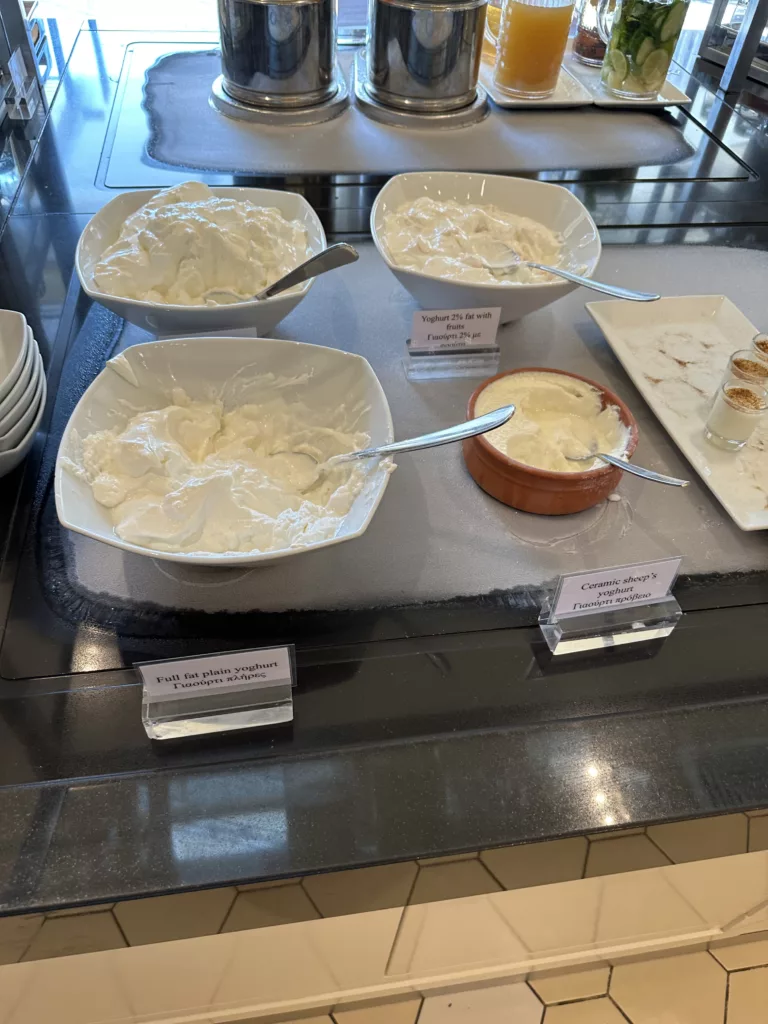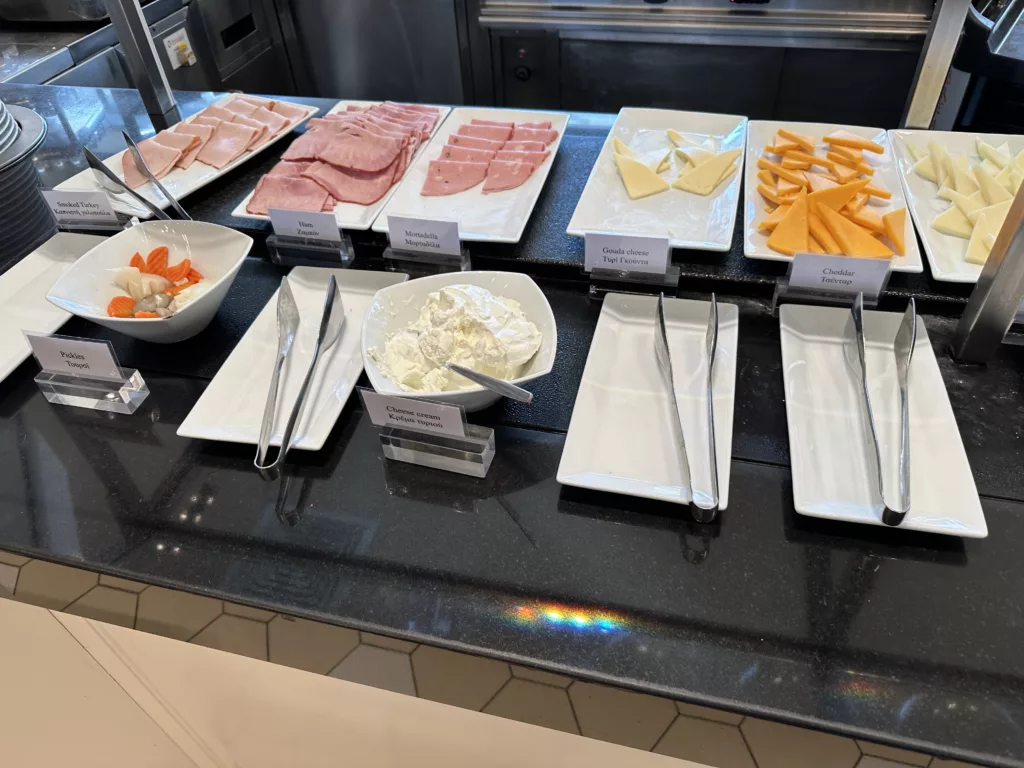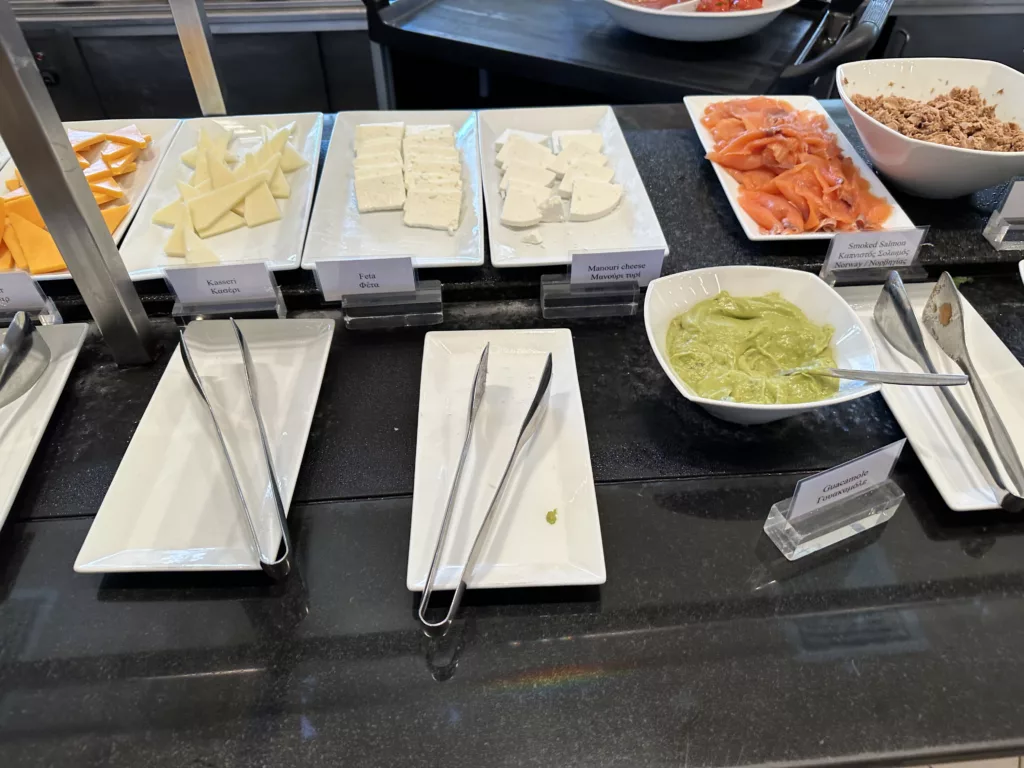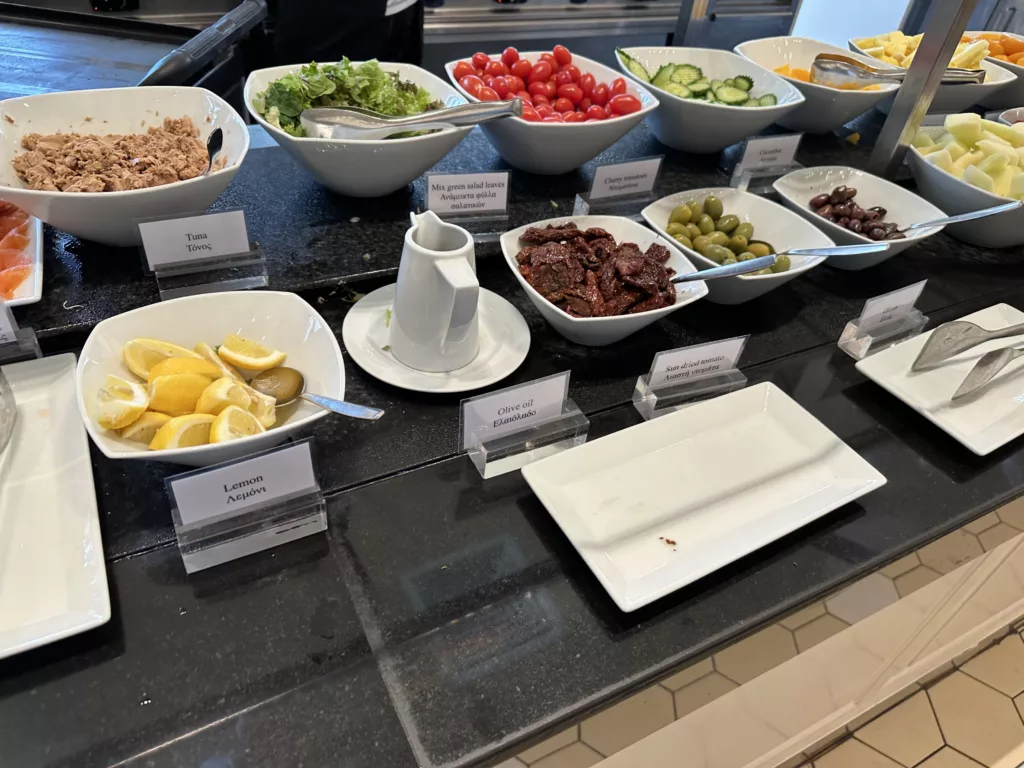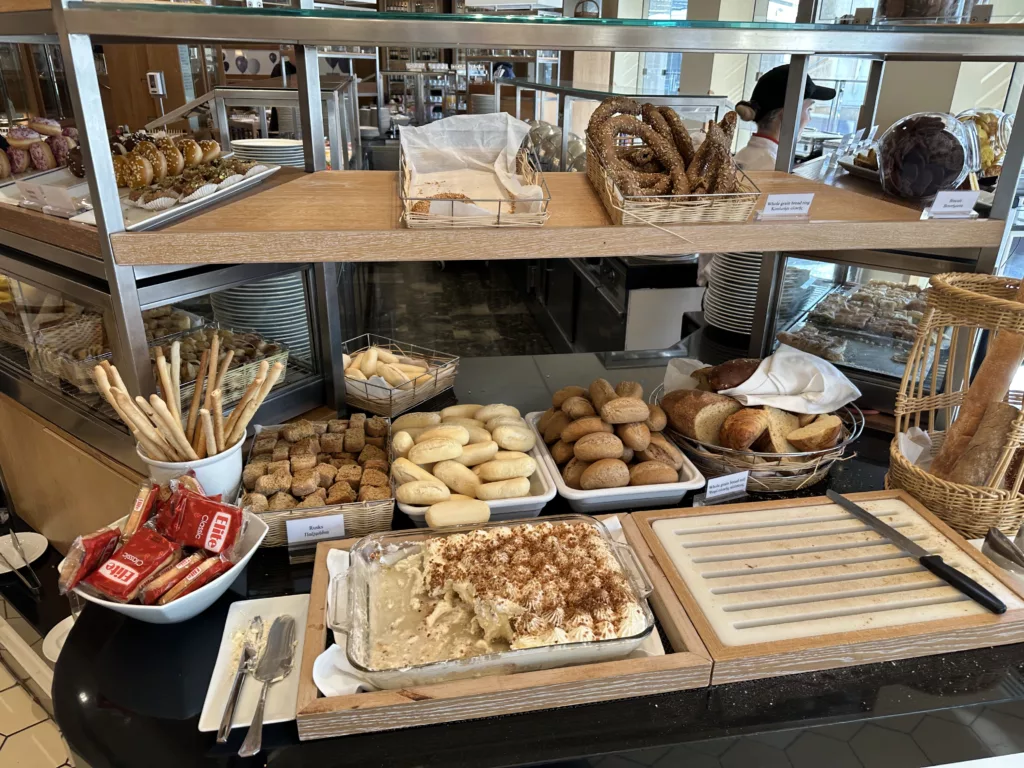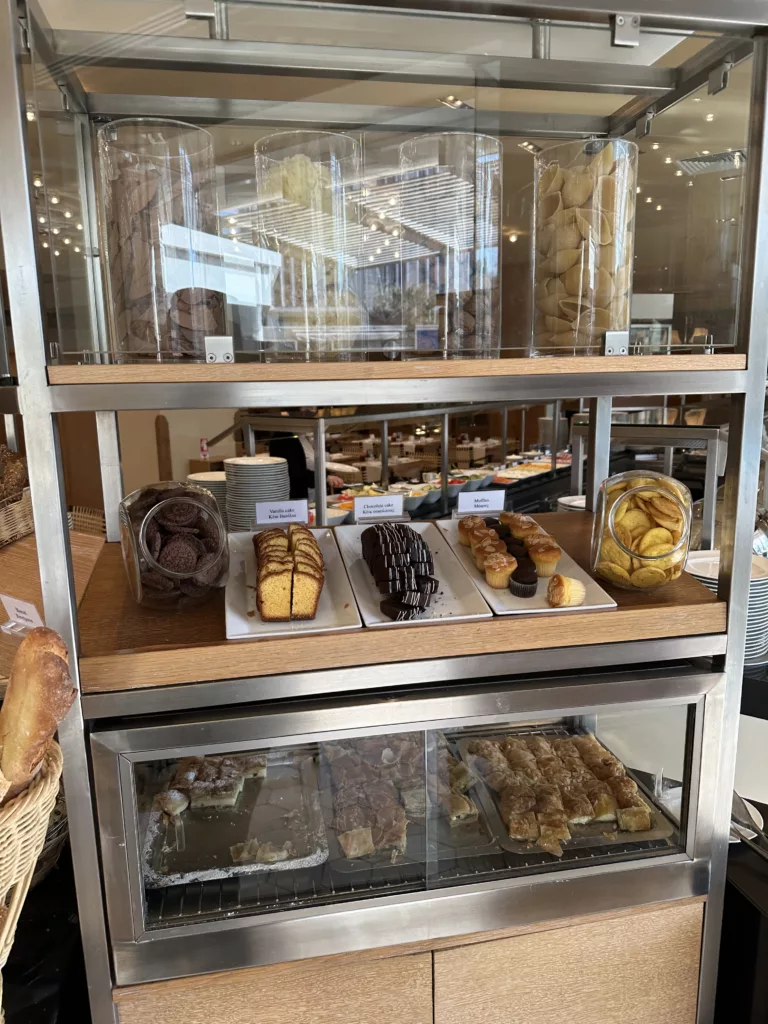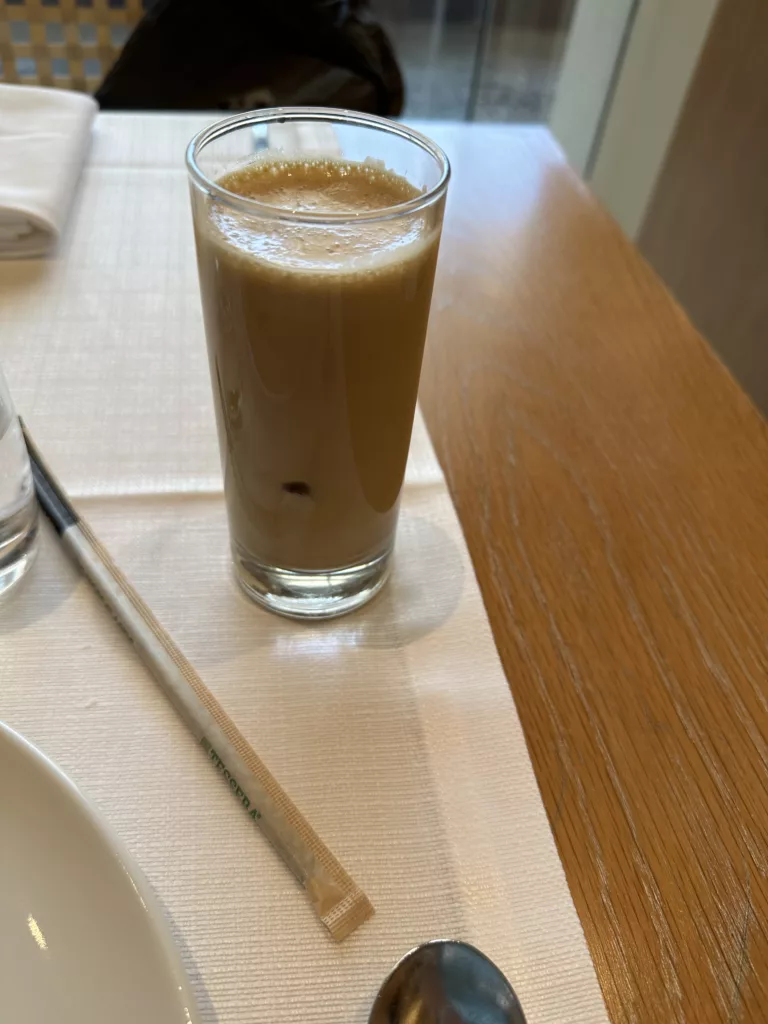 The breakfast buffet was quite extensive, featuring waffles and French toast, several other hot items, and a rather good selection of fresh produce. There were also several cheeses and meats, and a good selection of cereal.
The end of the buffet had a bread station and a good selection of breakfast pastries.
Keeping kosher, I did not eat much but found that the produce was fine. I asked some of my fellow guests what they thought and the consensus seemed to be the food was meh, and not as good as it looked.
InterContinental Athenaeum Athens Amenities
The hotel advertised a fitness center and spa, though I never visited them. The hotel has an outdoor pool, which was not open during my visit.
February is typically the coldest month of the year in Athens, and the pool is open seasonally from May to October. It's located on the lobby level, just outside Cafezoe. It's small, but it looks like it would be rather nice on a hot summer day.
Given the small size of the pool deck, I imagine it wouldn't be easy to score a lounge chair.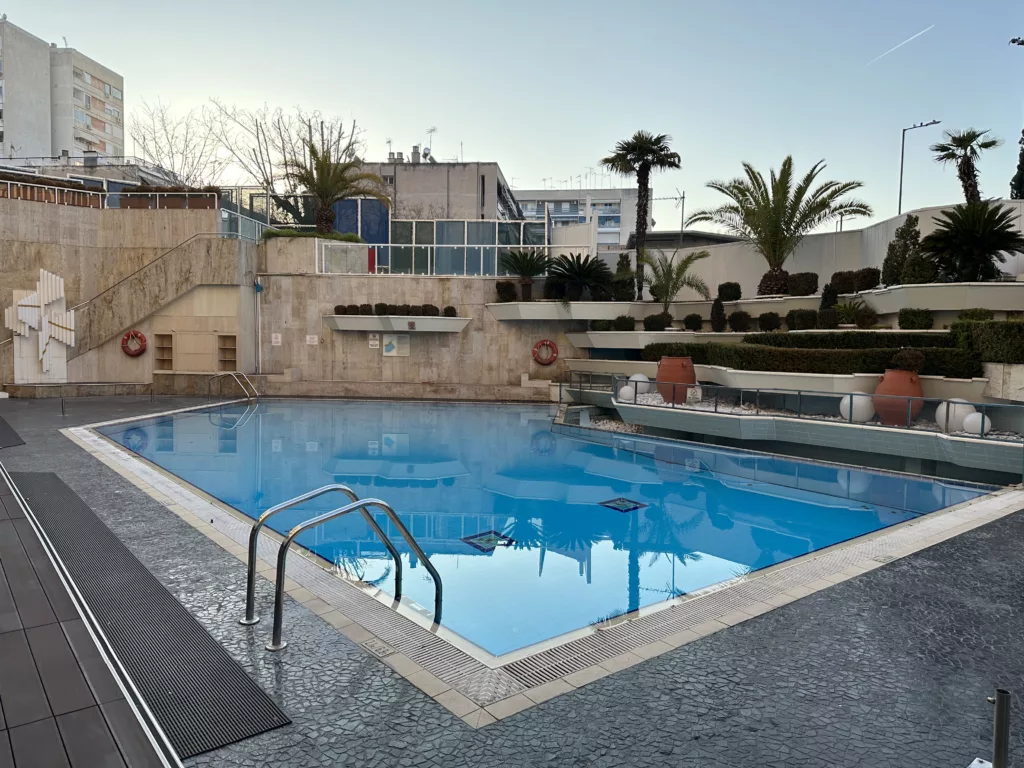 InterContinental Athenaeum Athens Service
All of the staff I interacted with were friendly and helpful, though service was definitely the most proactive or personalized. But I wouldn't really expect proactive or personalized service from a massive 500+ room property operated by IHG.
As noted above, service at Cafezoe for breakfast wasn't the fastest despite the fact the dining room wasn't crowded, but the servers were friendly.
My main gripe is that on the first morning of my stay, I woke up to a housekeeping staff member walking into my room. They did not knock. A few days later, I was taking a quick shower before check out, and a housekeeping employee also just walked in without knocking.
Staff entering guest rooms without knocking is one of my big hotel pet peeves. It should frankly be completely unacceptable at a luxury property.
Finally, on the last day, I had a late checkout and was prepping to head to the airport. After the normal checkout time but ahead of my late checkout, it felt like they were just chasing me out. Not the way to leave a great taste in this Diamond elite's mouth.
In an effort to move on to the next leg of my trip, I opted not to pursue the matter at check out or with management.
Bottom line
The InterContinental Athenaeum Athens is a solid property and a comfortable place to stay in Athens. The rooms are nice. For IHG One Rewards Diamond members, the treatment is okay if not particularly polished or proactive. While the immediate area isn't very nice, it's very cheap and easy to get to the heart of Athens. I would definitely return at the right price, but for my next visit to Athens, I think I'd prefer a more central property.