You've probably seen pictures of the Alila Ubud's iconic infinity pool looking out over the rice terraces of the thick Balinese jungle. It's been on my list to visit since I first saw it. On my recent trip to Southeast Asia over the winter holidays, I finally had the chance to venture into the jungles of central Bali to check it out for myself.
Alila Ubud: Hotel Basics
Alila Ubud is a unique 5-star resort located in the jungles of central Bali, 5 kilometers (~3 miles) north of the town of Ubud. The 25-meter infinity pool is perched high above the Ayung River with views of the jungle and rice terraces in the valley below. It's part of Alila, Hyatt's nature-focused luxury brand, and is intended to have a "community" format.
The hotel has 56 rooms and 18 villas each offering a serene setting for guests. Each room and villa at the hotel come with views of the lush tropical jungle. The guest rooms are laid out in 14 blocks intended to create the feeling of Balinese Village. The rooms and villas all come with a private balcony, terrace, or garden allowing guests to relax and create a real feeling of immersion in the natural jungle.
| Room & Villas | Units | Sq. Mt. | Sq. Ft. |
| --- | --- | --- | --- |
| Superior Room | 28 | 30 | 323 |
| Deluxe Room | 28 | 65 | 700 |
| Valley Villa | 4 | 75 | 807 |
| Pool Villa | 4 | 125 | 1345 |
| Terrace Tree Villa | 5 | 90 | 969 |
| Forest Edge Villa | 4 | 120 | 1292 |
| Two Bedroom Pool Villa | 1 | 240 | 2584 |
Booking Alila Ubud
Alila Ubud is a Category 2 property in World of Hyatt meaning that the standard rate for room redemption at the hotel is 8,000 points. On off-peak dates, the cost is only 6,500 points, while on peak dates, the cost would be 9,500 points.
My date happened to fall on an off-peak date. Cash rates were well over $200 a night plus tax so 6,500 points were clearly the better option.
I was short on World of Hyatt points but luckily, Chase Ultimate Rewards is a transfer partner so I could easily move some points over to book the stay.
Alila Ubud Arrival & Check In
To get to the hotel, we called a car on Grab (the local alternative to Lyft and Uber) which is the easiest way of getting around Bali. Hotel signage is very clear so the driver had no trouble finding the property and dropping us off.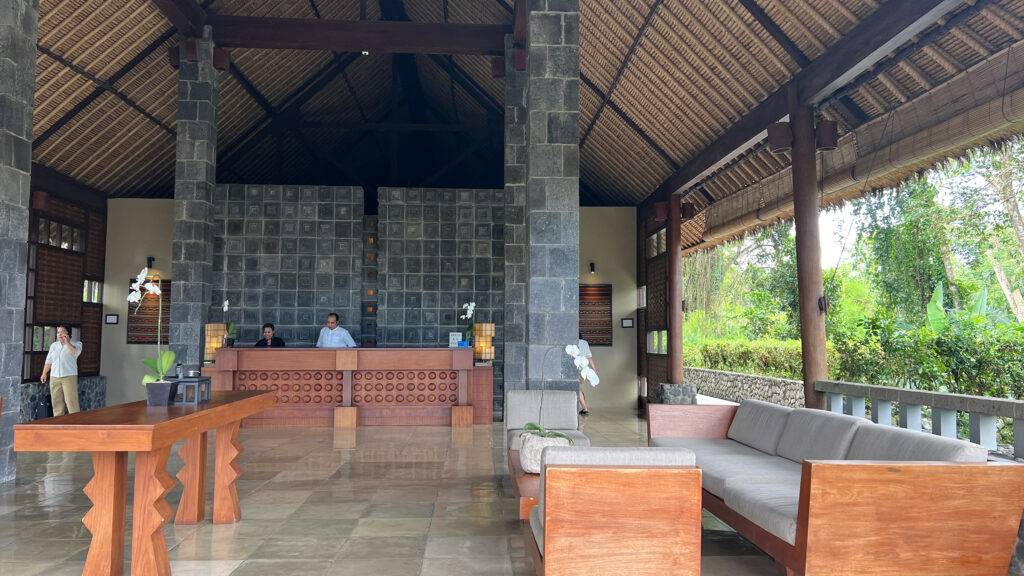 The staff immediately greeted us and took care of our luggage while we were shuffled to one of the couches to complete check-in formalities (taken very seriously in Asia).
For the welcome drink, they brought a non-alcoholic cocktail containing lemongrass, honey, and turmeric. The drink was refreshing although I found the taste of turmeric a bit too overpowering.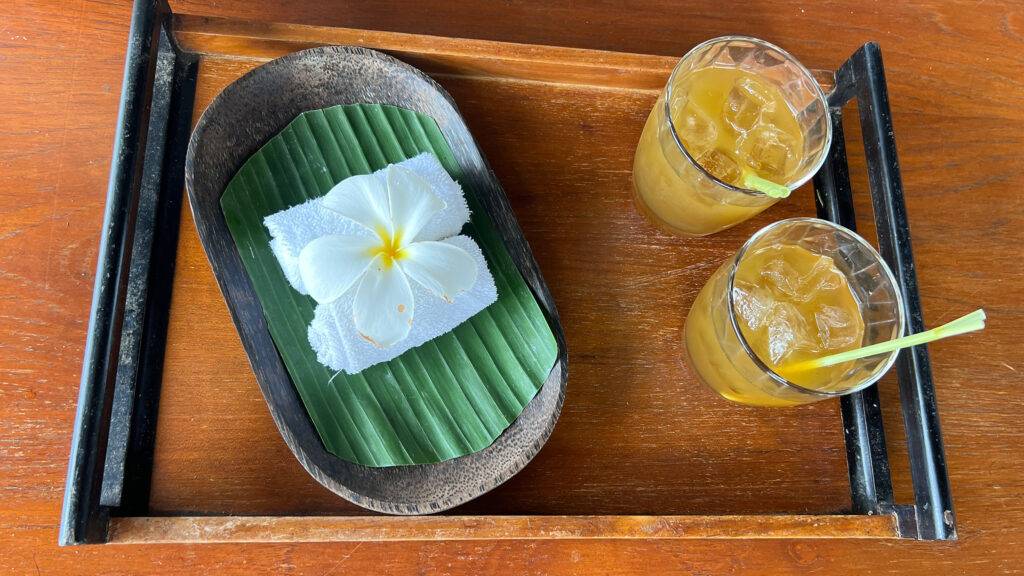 From there, the check-in process continued in a relaxed manner with information on the property, Globalist breakfast, and room upgrade.
The staff also warned us not to keep all windows and doors locked during our stay and not to feed or approach the wild monkeys present throughout the property. They also mentioned that they've delivered some fruit as a welcome amenity which the monkeys can see through the windows and will attempt to access.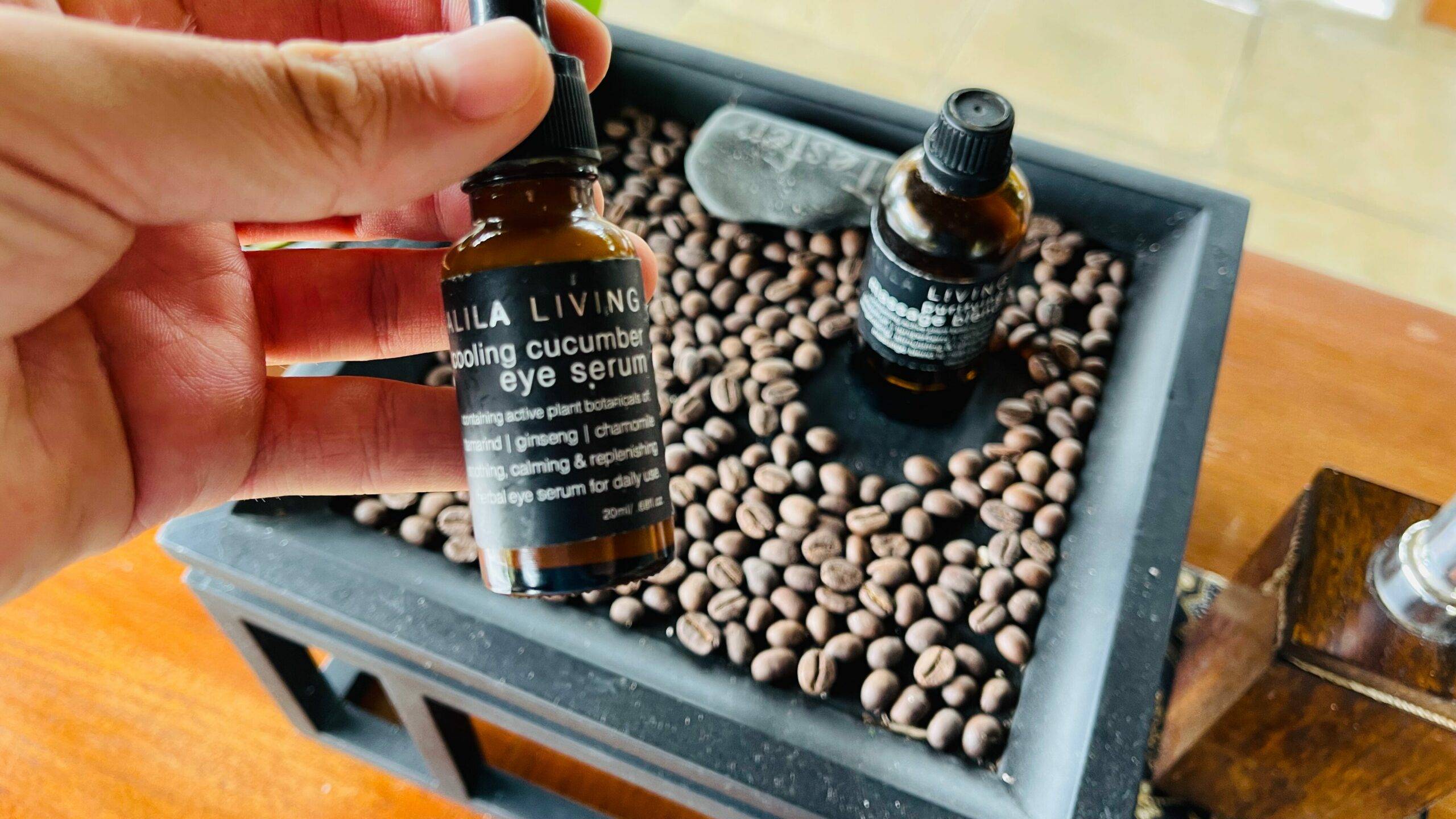 Alila Ubud: Upgrade
As mentioned above, I booked a standard room for 6,500 points a night. As a Globalist, I'm entitled to complimentary suite upgrades at check-in based on availability. Looking at the hotel's availability, I chose to take my chances rather than apply a World of Hyatt Suite Upgrade Award ahead of time. Luckily, this worked out and the upgrade was confirmed before we even arrived at the property (it was reflected in the app).
During check-in, the property confirmed that we had been upgraded to one of the property's five Terrace Tree Villas. Not bad.
Alila Ubud: Terrace Tree Villa
After check-in, we were driven to our villa on a golf cart. We were assigned villa 505, located at the end of the resort, giving us a chance to see how immersed in the jungle the property is. We also had our first sighting of our primate neighbors during the ride.
After arriving, we were shown around the villa. Advertised at 90 square meters, these villas are intended to be at the forest canopy level and create the feeling of living in a treehouse floating in the forest.
Terrace Tree Villa: Outdoor Terrace
The villa is entered through a spacious outdoor sitting area looking out into the forest. To get to our villa, you had to walk down some stairs and around the actual villa meaning this area was private and not visible from the street or any other villa.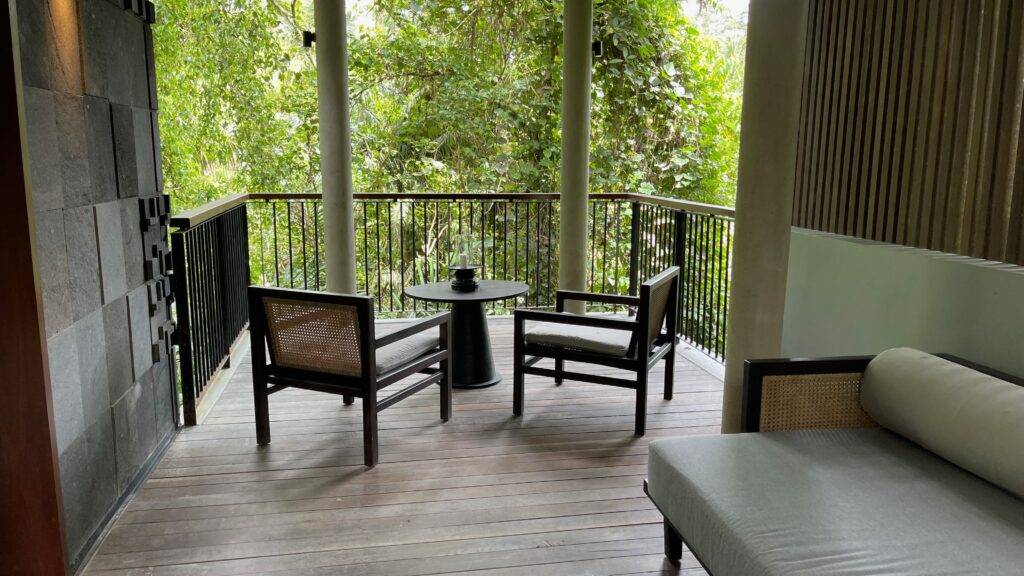 Terrace Tree Villa: Bedroom
From the terrace, the villa opens directly into the bedroom featuring a California king bed with a bedroom bench facing a large (and very comfortable) couch built into the opposite wall facing the forest.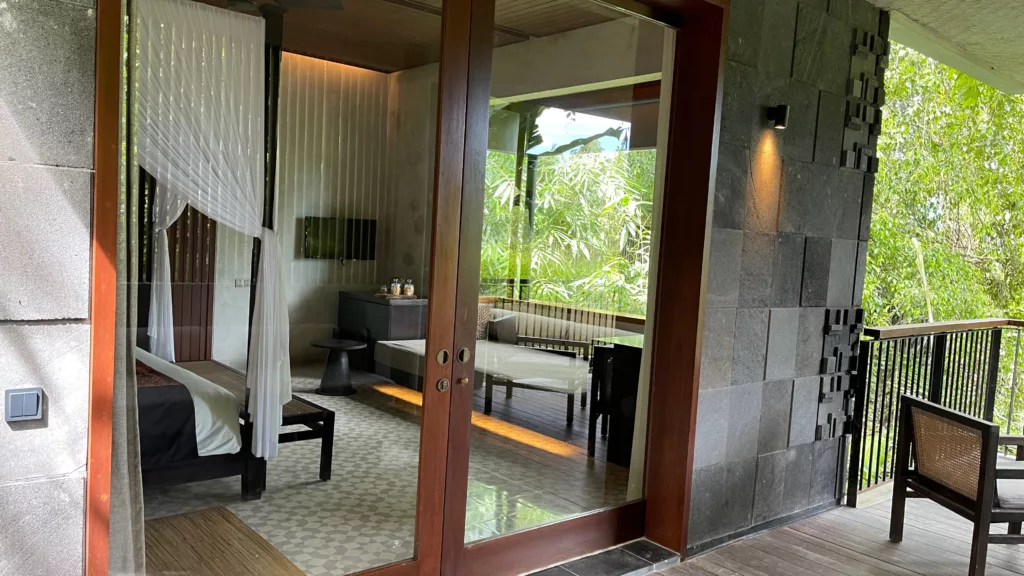 In the corner of the bedroom, the hotel had left the promised welcome amenity consisting of a bowl of fruit along with some Indonesian crackers and a note from the general manager.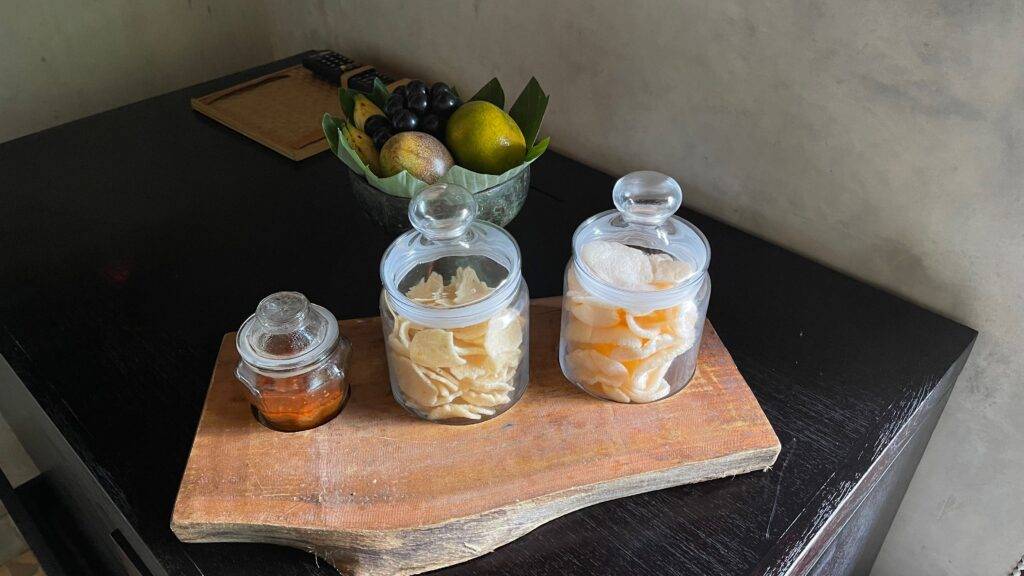 Under that cabinet was the coffee machine and kettle which we quickly set up to make a much-needed cup of espresso.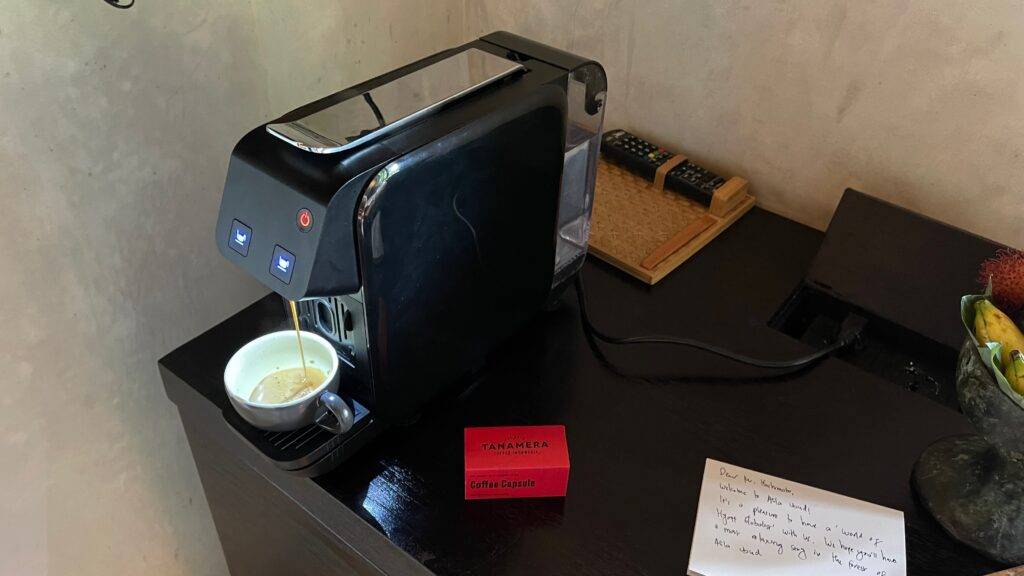 Terrace Tree Villa: Bathroom
Going further into the villa was the bathroom. It featured a full vanity with two sinks, an outdoor shower, an outdoor tub, and enclosed toilet.
A generous supply of cosmetics were provided while toiletries were in non-branded bulk containers. They smelled herbal to me but I couldn't say specifically what's in them beyond the fact that they did the job 😉
There were glass water bottles left on the counter with purified water. We were informed that they could refill these (complimentary) at any time.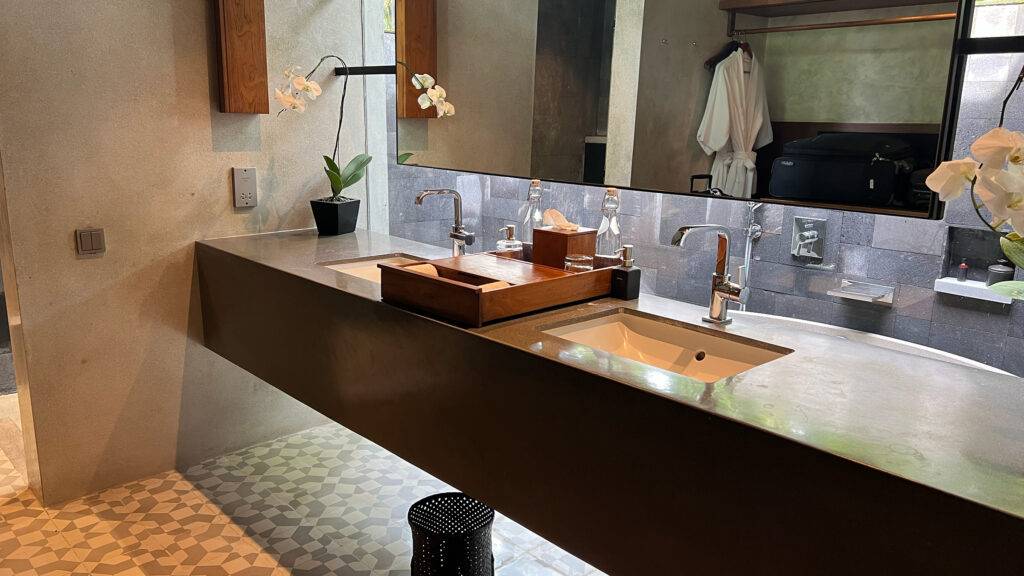 Terrace Tree Villa: Closet Space
Directly behind the vanity was the closet with ample closet space. I would've preferred that this be closed off rather than visible in the mirror but it was in keeping with the open design choices throughout the villa. One of the drawers contains the safe, another contained mosquito repellent coil with matches and a flashlight, and sandals were in another.
Alila Ubud: Dining
The hotel has two dining outlets plus in-room dining. Plantation Restaurant serves a fusion of Asian and Balinese food under coconut pillars and a thatched roof. This is intended to be a brasserie concept and is where breakfast is served, starting at 7 am, and closes after dinner at 10:30 pm. We enjoyed both dinner and breakfast here.
The other dining outlet at the hotel is the Cabana Lounge overlooking the pool which serves comfort foods and is the hotel's pool bar. It is open from 10 am to 11 pm. This is also where the hotel offers complimentary afternoon tea to guests every afternoon. While we never had a full meal here, we frequently had snacks and drinks from the Cabana while enjoying the pool.
Alila Ubud: Dinner at Plantation
Upon arrival to the restaurant, we were greeted by Chef Erwan Wijaya who told us a bit about the menu and the restaurant's "slow food" concept. We were hungry so we ordered all three vegetarian main dishes — Temis Tempe Pelalah, Sayur Mesanten, and Nasi Bakar for dinner. Magnifique! We were happily stuffed. After we finished our mains, Chef Erwan sent a local dessert specialty, Dadar Gulung, to our table. Despite having an unusual taste and presentation, it was quite good and I would order it in the future if I saw it on the menu.
The full dinner menu at Plantation can be seen here.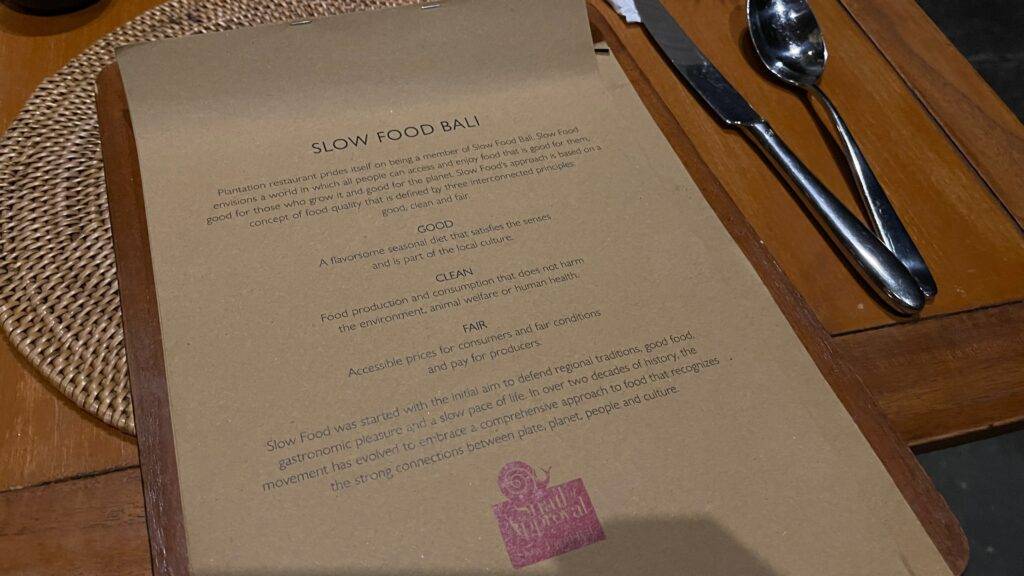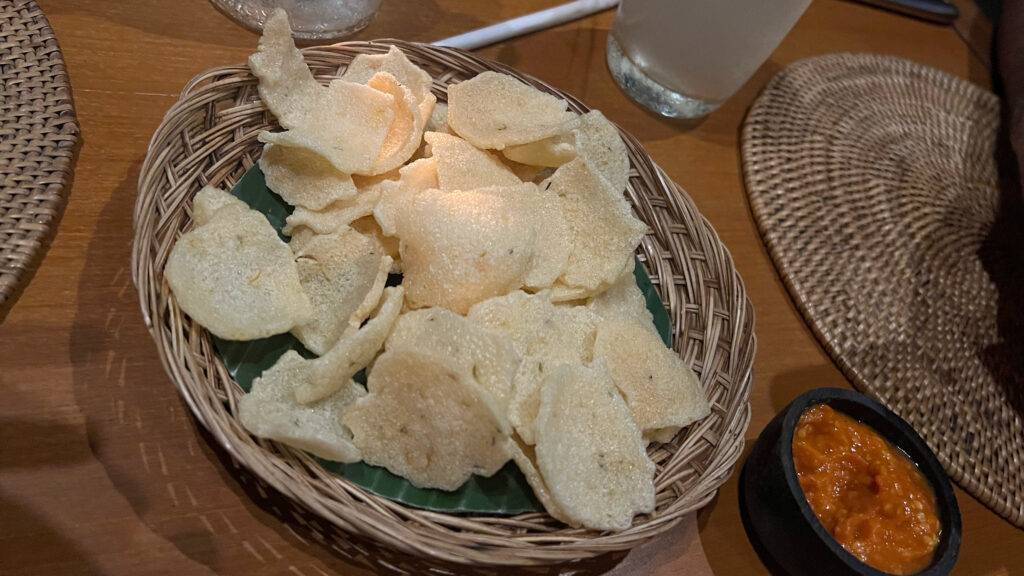 Unfortunately, the cocktails were not nearly as well-crafted as the food. I first ordered a Negroni which tasted very watered down. Not good, and definitely not a negroni.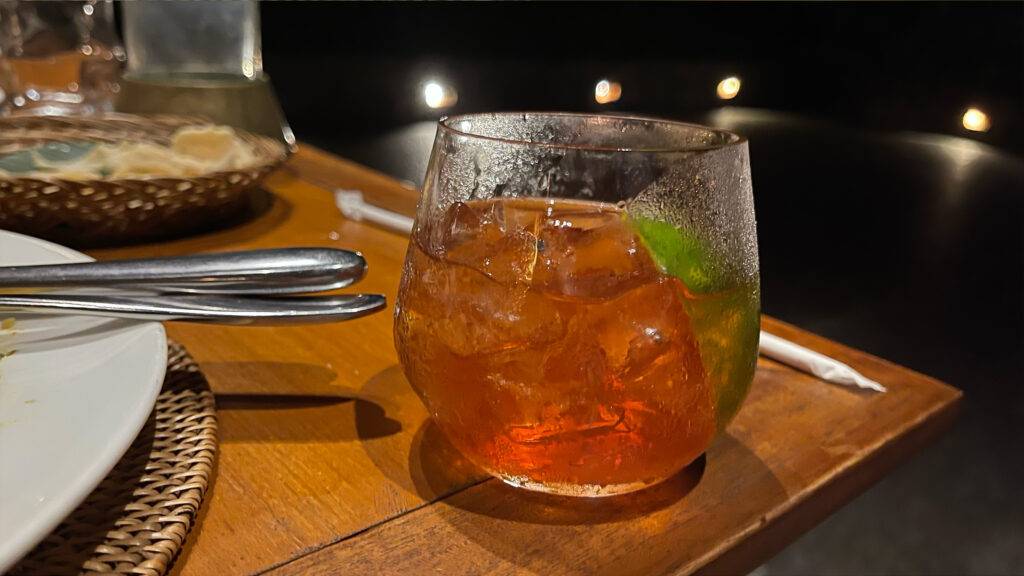 I sent it back and received a second one which initially tasted okay, but it was a race against time to drink it before the crushed ice would overwhelm the flavor. A negroni only works with proper rocks. The pour was also quite miserly in contrast to the generous portions of food served. This was disappointing.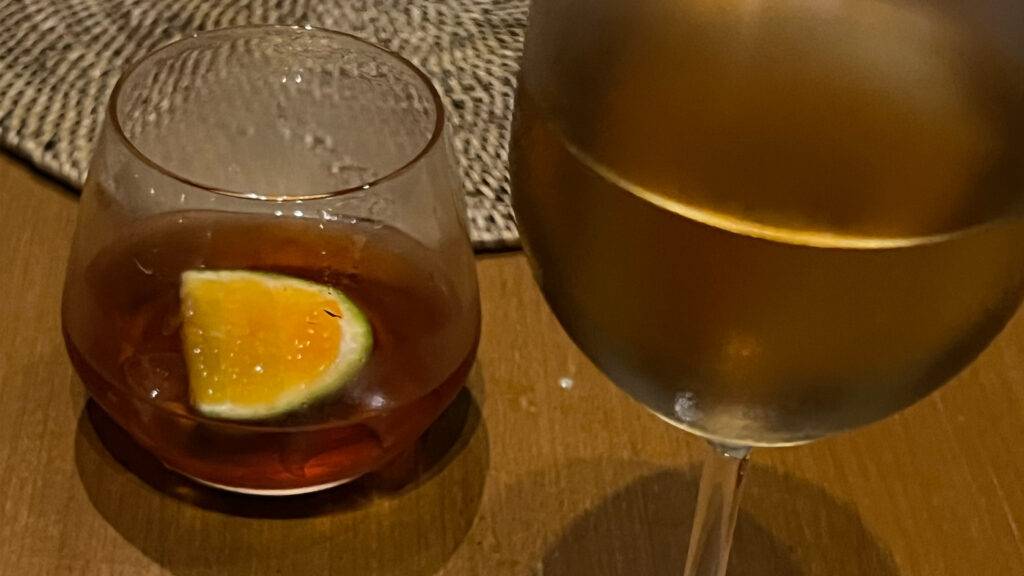 Alila Ubud: Breakfast at Plantation
The next morning we went back to Plantation where breakfast is served. Since I'm a Hyatt Globalist, full breakfast was included. The Alila Ubud features a small plate concept and most of it was quite good. We started by sampling some of the small plates including local dishes but I quickly decided I wanted a traditional egg white omelet which I requested.
The omelet took a very long time to arrive. My friend ordered her eggs after mine but received them significantly faster than I did. By the time my omelet arrived, we were essentially done with our meals. While everyone was very kind, the efficiency of service during breakfast could be improved.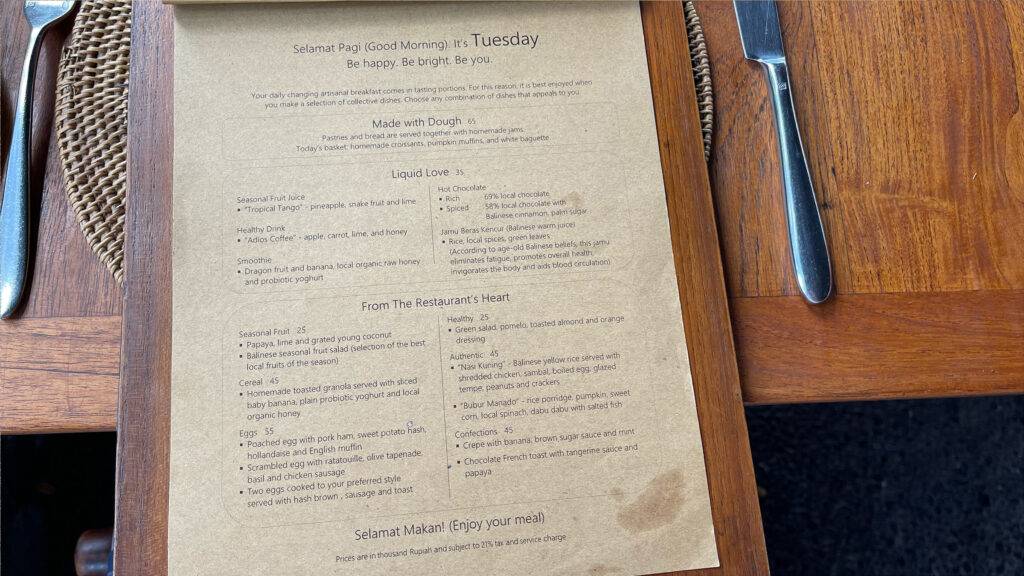 Alila Ubud Breakfast — Mimosa Test
As I often do on holiday, I ordered mimosas during breakfast and these were charged at the end of the meal. Of course, charging for alcoholic beverages at breakfast is perfectly in line with World of Hyatt's terms for the Globalist breakfast benefit (which I believe is the best hotel breakfast benefit).
Alila Ubud: Cabana Lounge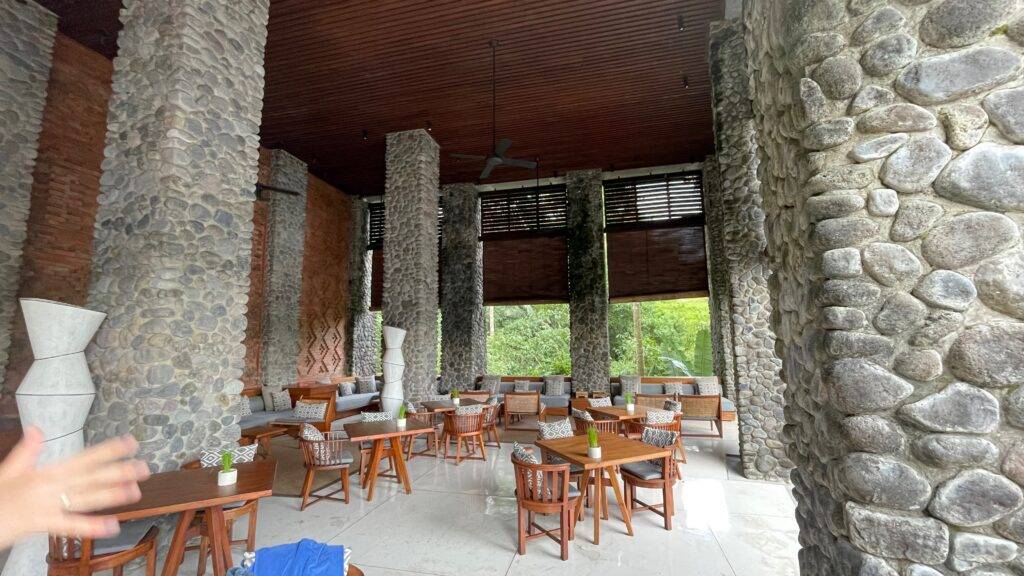 Alila Ubud: Afternoon Tea
Alila Ubud offers a small complimentary afternoon tea to guests every afternoon. This includes a small plate with a snack and a coffee or tea of choice.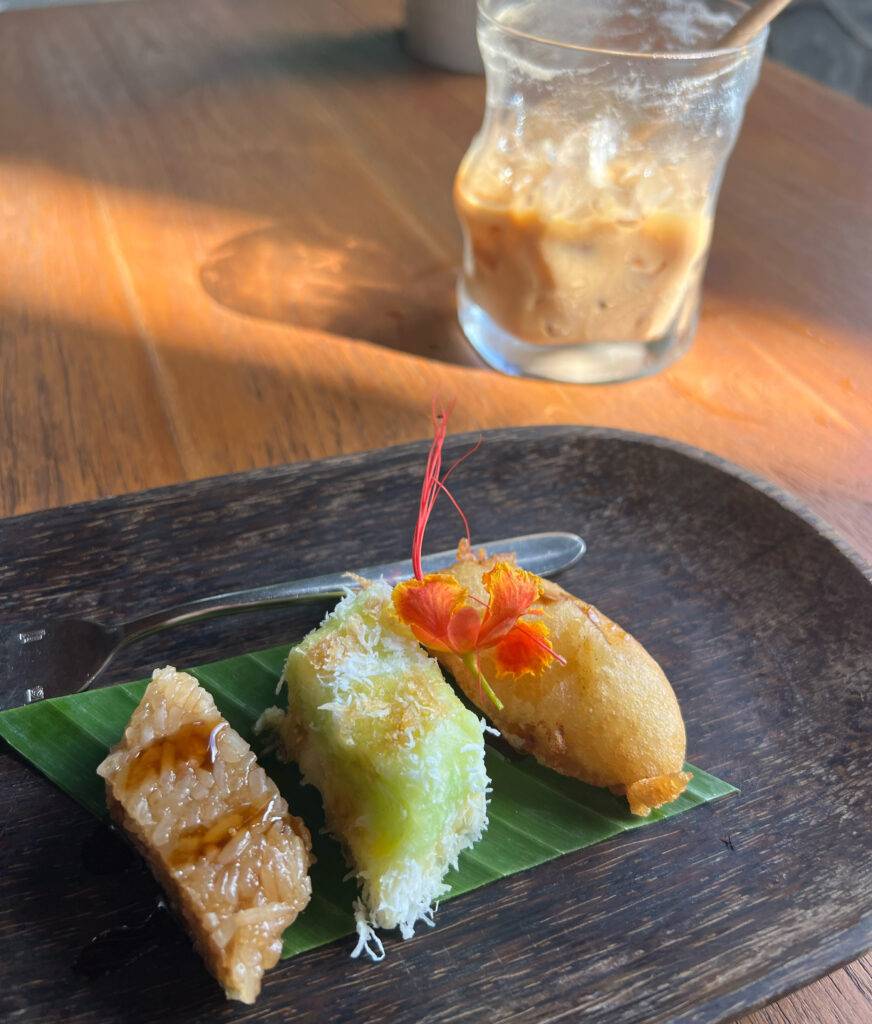 Alila Ubud: In-Room Dining
In-room dining is also available but for only limited hours. Despite having a section labeled "all day" nothing is available between 10 pm and 7 am. We never ordered room service but the in-room dining menu and minibar price list are below. All in all, the prices are not at all unreasonable for this type of resort.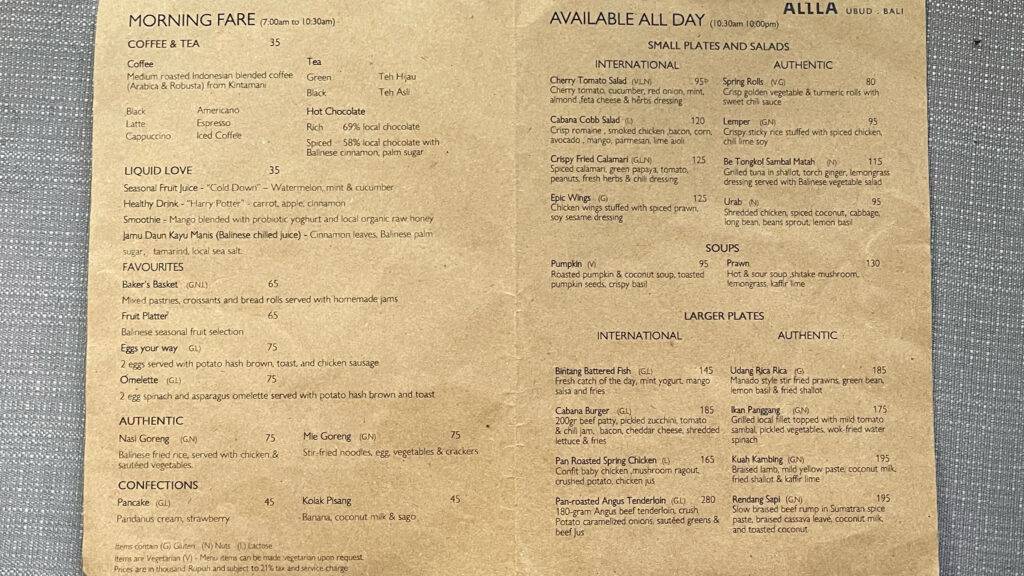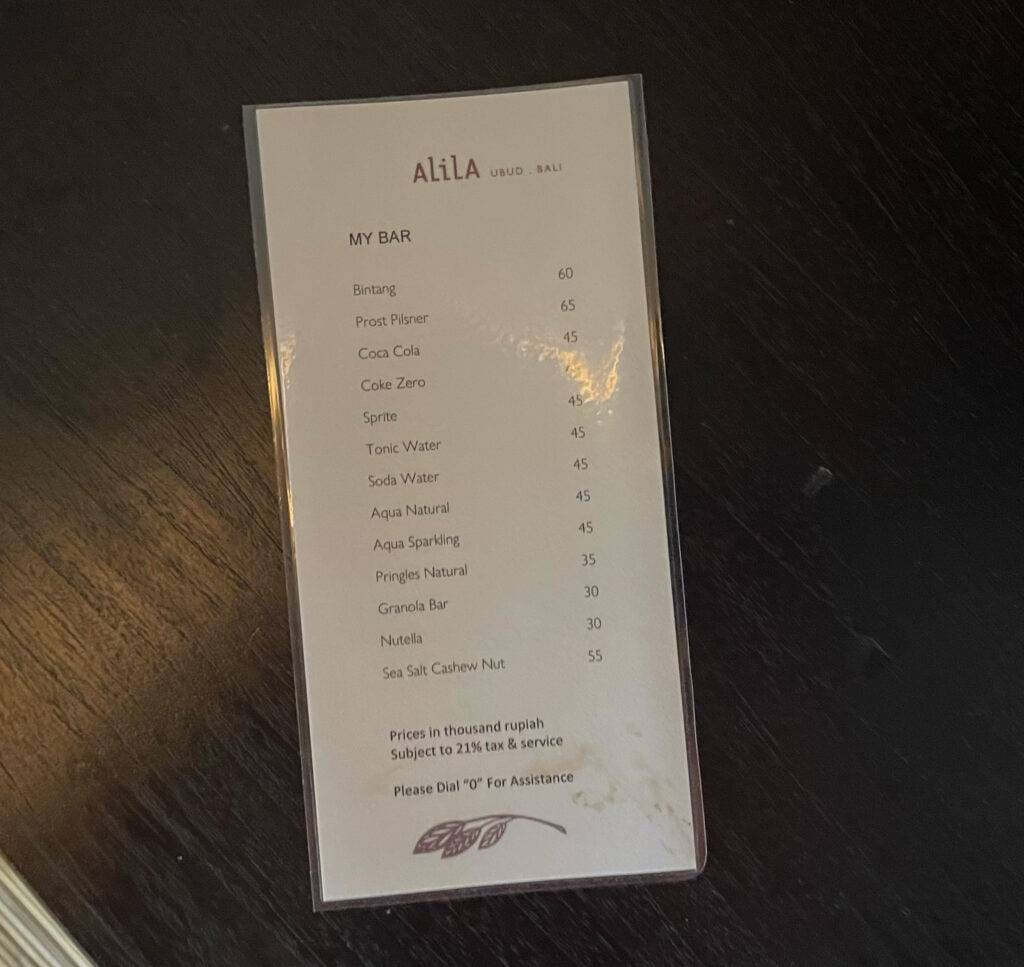 Alila Ubud: Infinity Pool
The dramatic emerald green infinity is a standout feature of the Alila Ubud. If you interact with any frequency with the World of Hyatt program, you've likely seen this pool featured in marketing materials.
The pool didn't disappoint in person. A large portion of the stay was spent relaxing and remote working poolside or in the pool. Sunsets especially were magnificent (even if hard to capture on a phone).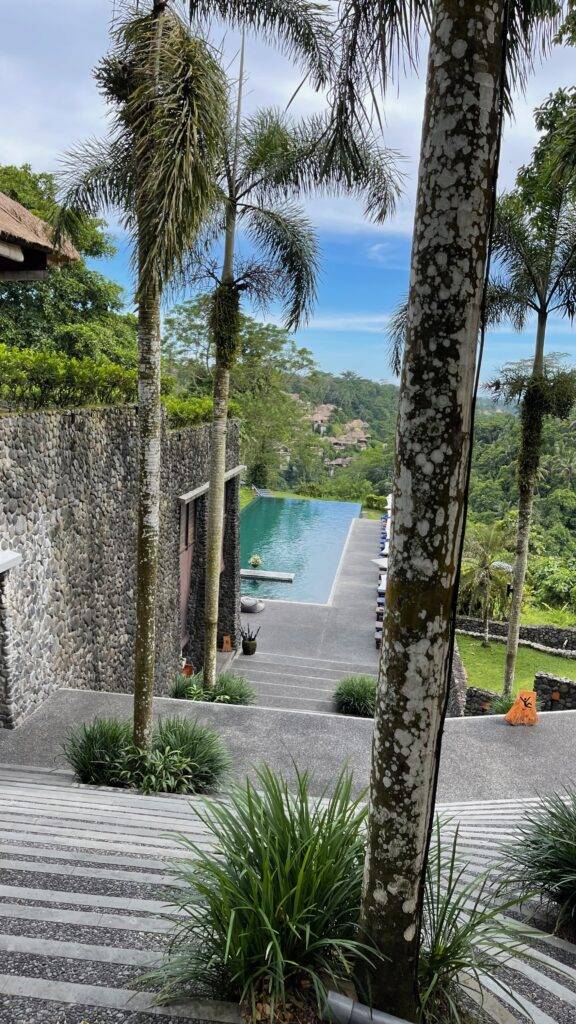 Around the pool, there's plenty of both sunbeds and other seating. Drinks and other refreshments are available from the Cabana Lounge.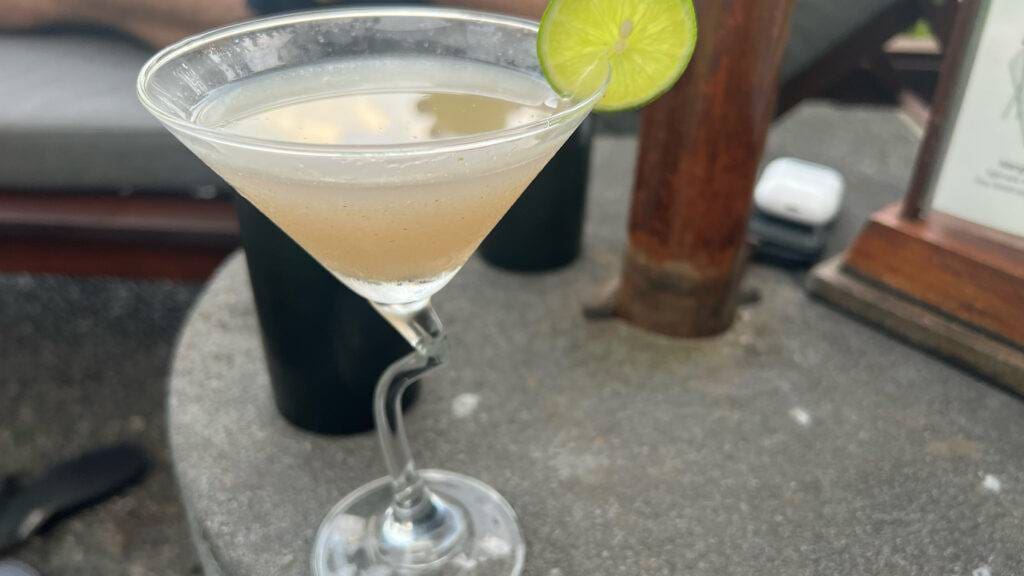 Alila Ubud: Gym
The Alila Ubud's gym is pretty small but is still relatively well-equipped. It's located across from the reception in a building also comparing the Spa Alila, a small art gallery, and the Alila Living boutique.
Despite being small, the gym seemed to get only a small amount of traffic. There were no other guests both times I visited allowing for a focused workout with easy access to all the equipment.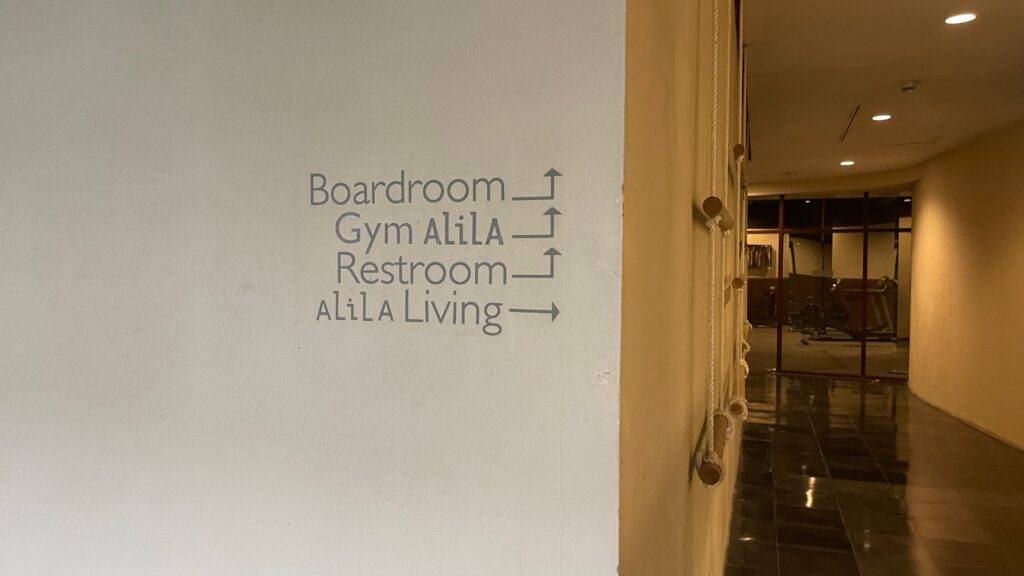 In a unique touch, the gym's sound system has a Bluetooth connection so you can play your own music while you work out – awesome! Water bottles were readily available along with fresh towels and workout snacks consisting of fresh fruit and energy balls.
While it's sustainable, I didn't love the fact that the water in the gym came in glass bottles and ceramic cups. Glass bottles in the gym just strike me as an accident waiting to happen.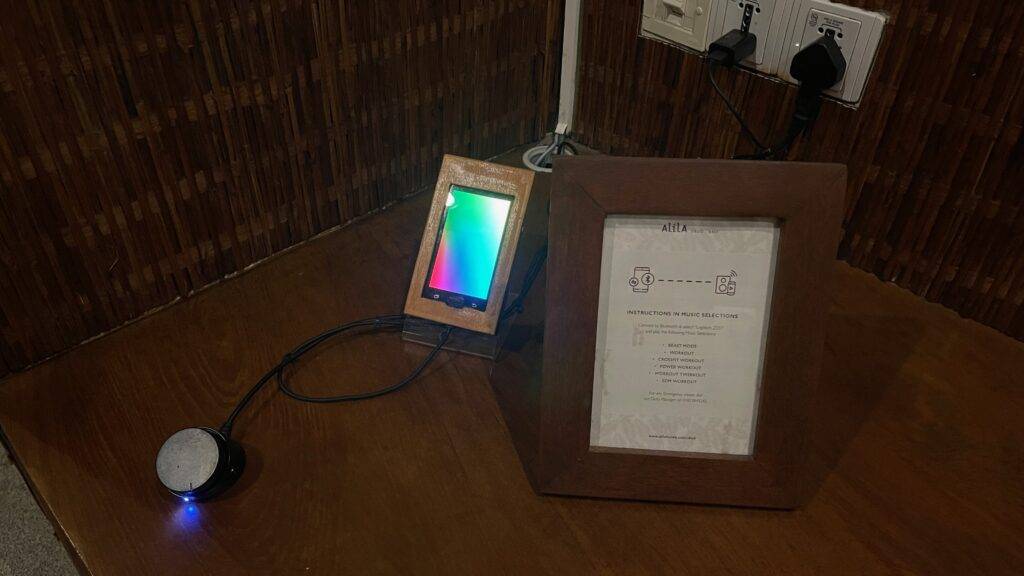 Spa Alila Ubud
Down the hall from the gym is the Spa Alila. We never got the chance to experience any of the treatments but the full spa menu can be seen here. Spa treatments across Bali are almost universally good and, from the comments of other guests, Spa Alila does not seem to be an exception.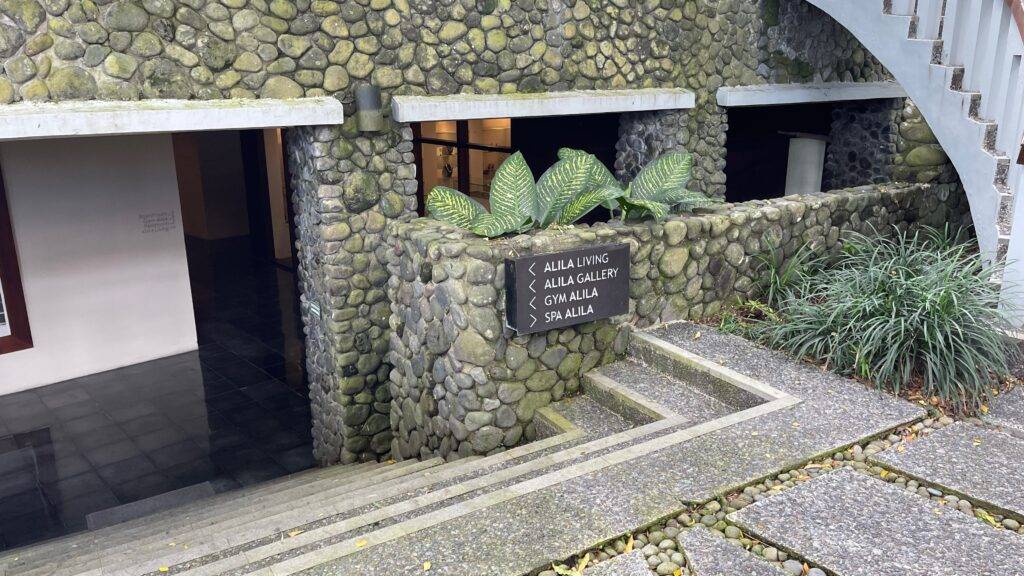 Alila Ubud: Service
Service at the Alila Ubud was generally okay across the board. I didn't have any major complaints.
We did request an even later checkout time of 5 pm instead of the standard 4 pm late checkout benefit for Hyatt Globalists. That was easily granted and definitely appreciated, but a fairly standard consideration at Hyatts. As noted above while discussing breakfast, the speed of service at various points could definitely have been improved.
A highlight was meeting Chef Erwan Wijaya at Plantation Restaurant when he welcomed us for dinner and made suggestions from the menu. It's always great to meet the chef so I appreciated the personal touch along with the excellent food. Bien joué!
Alila Ubud: Monkeys & Natural Vibe
As we were warned at check-in, the monkeys and other wildlife are omnipresent around the Alila Ubud campus. This is definitely the place to stay if you want to get up close and personal with primates.
We first spotted them on our way to the villa after checking in and regularly had other encounters throughout our stay. As we were warned at check-in, monkeys were clearly keeping a close eye on any food kept in our villa through the windows!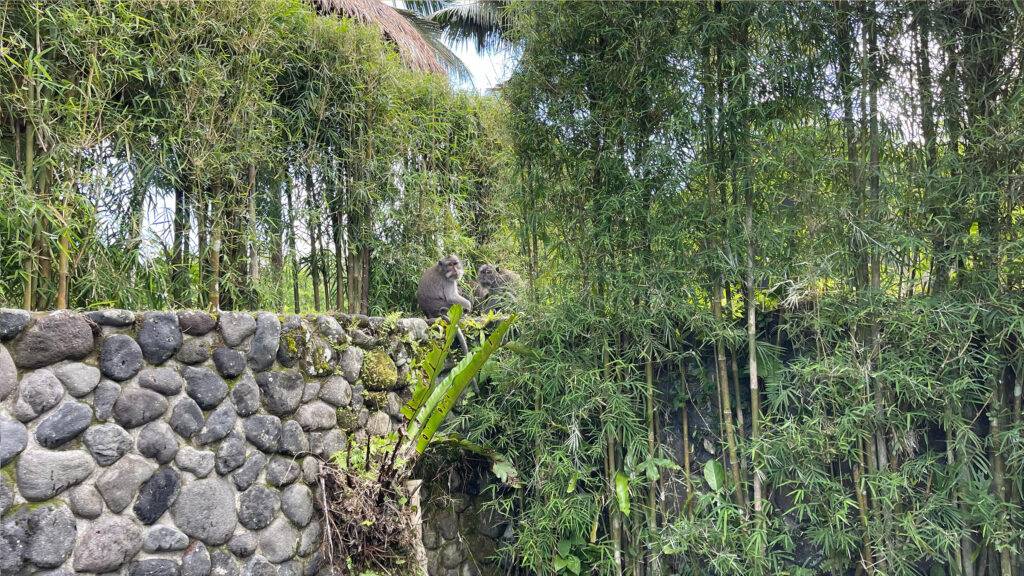 Beyond the monkeys, there's a palpable sense that you're immersed in the jungle with all of its inhabitants.
While this might be a fantastic property if you want to see monkeys, this is not the property to stay at if you'd prefer to observe nature from a distance rather than be embedded in it. The natural surroundings are enhanced by traditional Balinese-style architecture that's contemporary at the same time.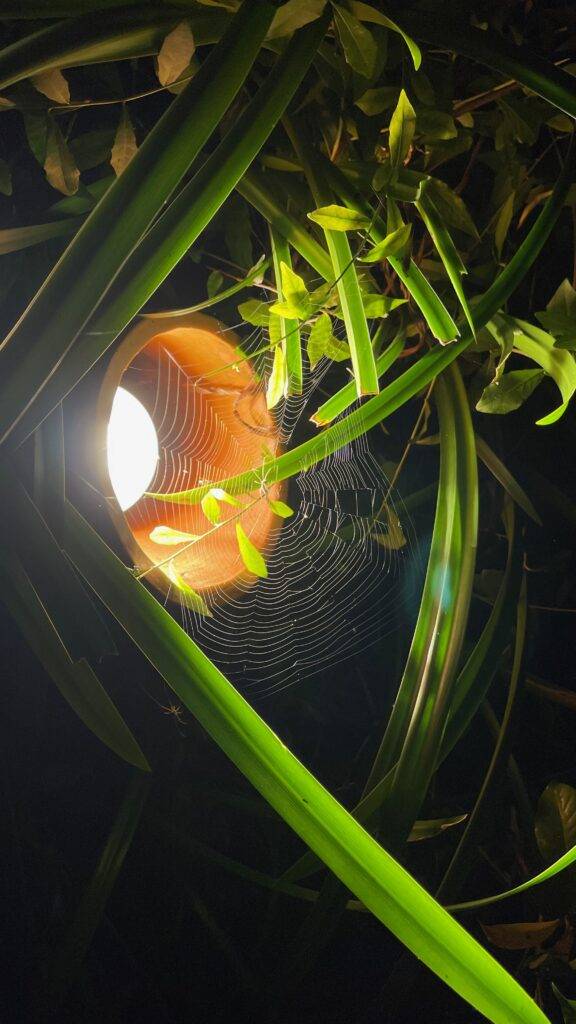 Alila Ubud: Bicycles & Carts
We didn't use them during our stay, but Alila has bicycles available for guests to borrow during their stay.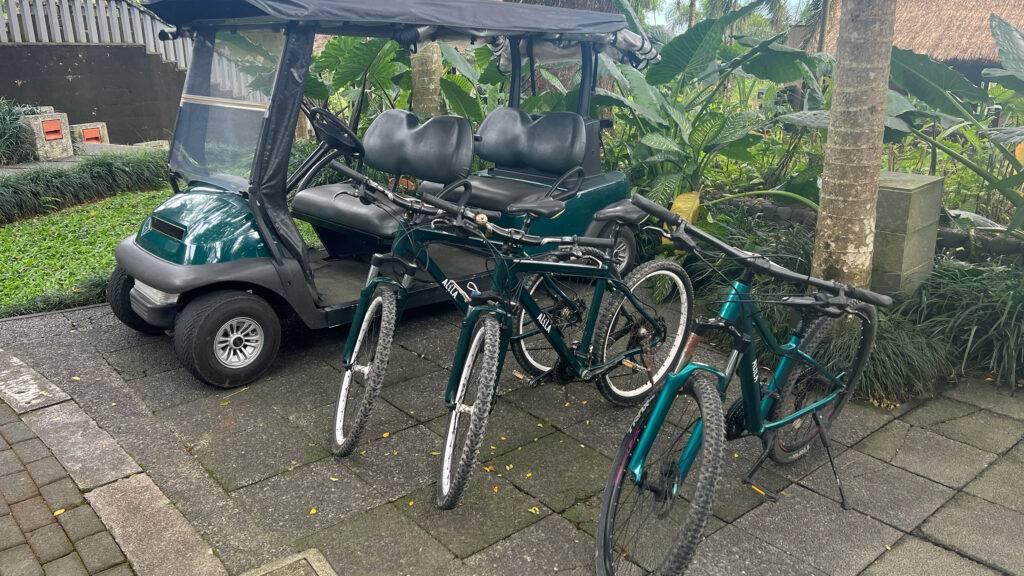 Bottom Line: Alila Ubud
Alila Ubud is a solid choice for a natural retreat in Bali. With affordable prices both using points and cash, it's definitely a property to consider including on a Bali itinerary if you enjoy staying at resorts that include nature. Globalist recognition at the property is quite good with a villa upgrade from standard room. It also features a spa (which I did not visit) and a gym (which I did) along with its iconic infinity pool looking out over the jungle and delicious dining options.
Have you stayed at Alila Ubud or do you have a different favorite resort in Bali? I'd love to hear your thoughts!