I met up with a friend in Vietnam for part of December but my friend had to leave early and I had a few days to myself at the end of the trip. I decided to spend the last night in Ho Chi Minh City and stay at the Park Hyatt Saigon.
While it's a Park Hyatt hotel, the Park Hyatt Saigon doesn't quite have the minimalistic aesthetic you'd expect from the brand and has more of a Colonial vibe. It's known as a sweet spot for free night awards as one of the only Category 4 Park Hyatt hotels.
The stay gave me the chance to make great use of a Chase World of Hyatt Credit Card free night award on a stay that would've cost north of $1000 otherwise. I had a fantastic stay and came away from the stay a big fan of this hotel and particularly the team at the 2 Lam Son martini bar.
Park Hyatt Saigon: Hotel Basics
The Park Hyatt Saigon is a 5-star hotel located in the beating heart of Ho Chi Minh City in District 1. It's built on the site of the former Brinks Hotel, the site of an infamous bombing during the Vietnam War. It's a 10 min walk to popular landmarks such as the Opera House, Saigon Notre-Dame Basilica, and Reunification Palace.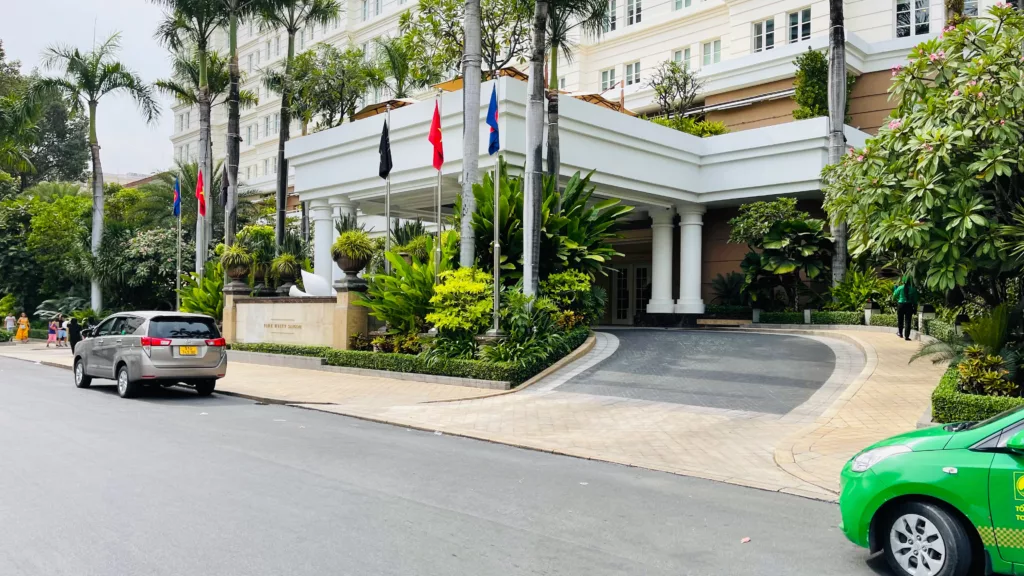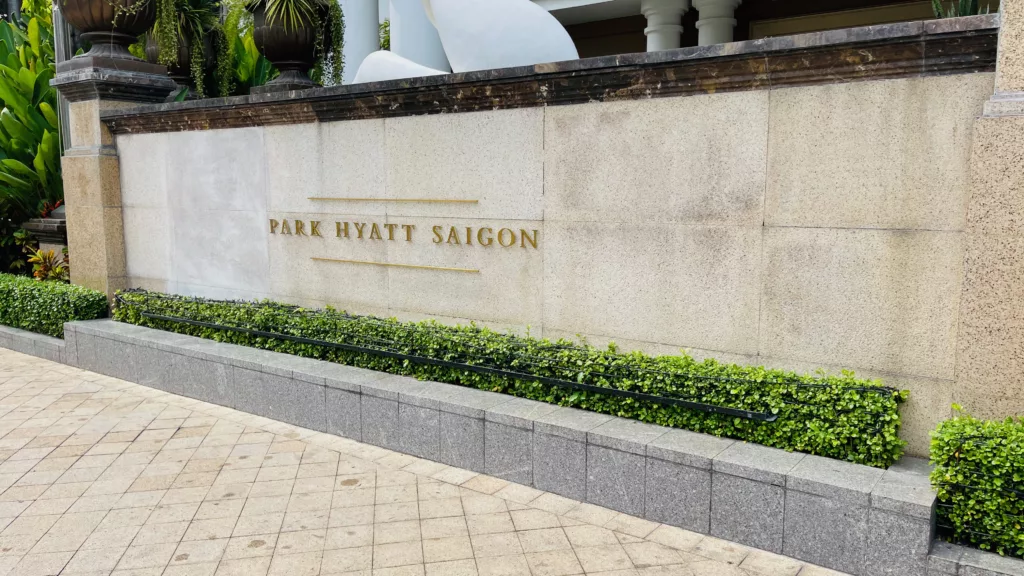 The common areas of the hotel are beautifully designed, featuring beautiful small details and giant vases of (fresh) flowers, floor-to-ceiling windows, and glittering chandeliers. There was also still a huge Christmas tree and gingerbread house.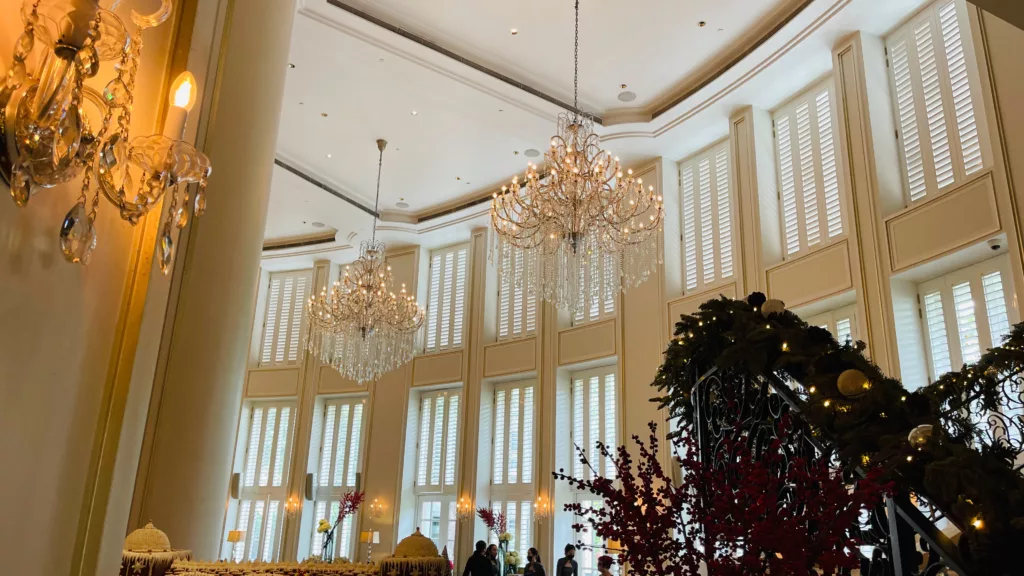 The Christmas tree in the lobby seemed to be a particularly popular spot for a photoshoot.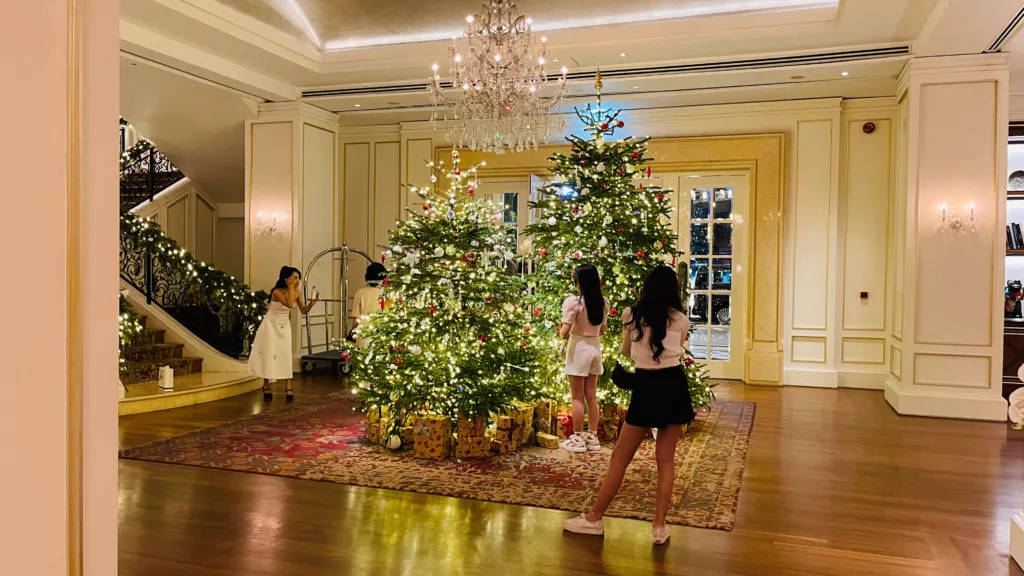 The hotel opened in 2005 and features 245 spacious rooms and suites built in an elegant colonial style. The hotel includes works by local artisans, antiques, and bespoke handwoven carpets as part of its decor. Most interestingly to me, the hotel has a fantastic art collection on display (more on that later).
Its colonial, opulent style is more elaborate than the normal ethos of the Park Hyatt brand which is more understated and modern. That said, there's still a general sense of refined elegance and serenity palpable when walking around the property which feels very Park Hyatt.
Booking the Park Hyatt Saigon
I booked the stay using the annual Hyatt Category 1-4 free night award from my World of Hyatt Chase Visa card. This is a must-have card for anyone who frequently stays at Hyatt properties. It's easy to make this card more than worthwhile to have in your wallet. One of the easiest ways is to maximize the value of the annual free night award. 
On the night of my stay, cash rates were close to $1000 a night before taxes and fees. My stay was over the busiest portion of the holiday season making it a peak category 4 redemption or 18,000 points. Frankly, I was surprised that there was any award availability available. I was booking last minute and the hotel seemed to be close to fully booked. 
Free night awards can be used for any available standard room award within the award's category band. It doesn't matter if it's a peak night. In other words, a Category 4 property during a peak night is the highest value use of a Category 1-4 award. I quickly pulled the trigger and reserved an entry-level king room. 
If I didn't have a free night award, this would have been an easy use for Hyatt points. It's also an example of when buying points would be a great value. At 18,000 points for a peak night category 4 redemption, buying Hyatt points would ordinarily cost $432 but with World of Hyatt's current sale on purchased points, would only cost $324. Significantly better value than the cash rate.
Park Hyatt Saigon Arrival & Check-in
I pulled up to the hotel around 1 pm and was quickly offered assistance with my luggage. I declined since I only had a carry-on bag and backpack and was directed to the check-in area.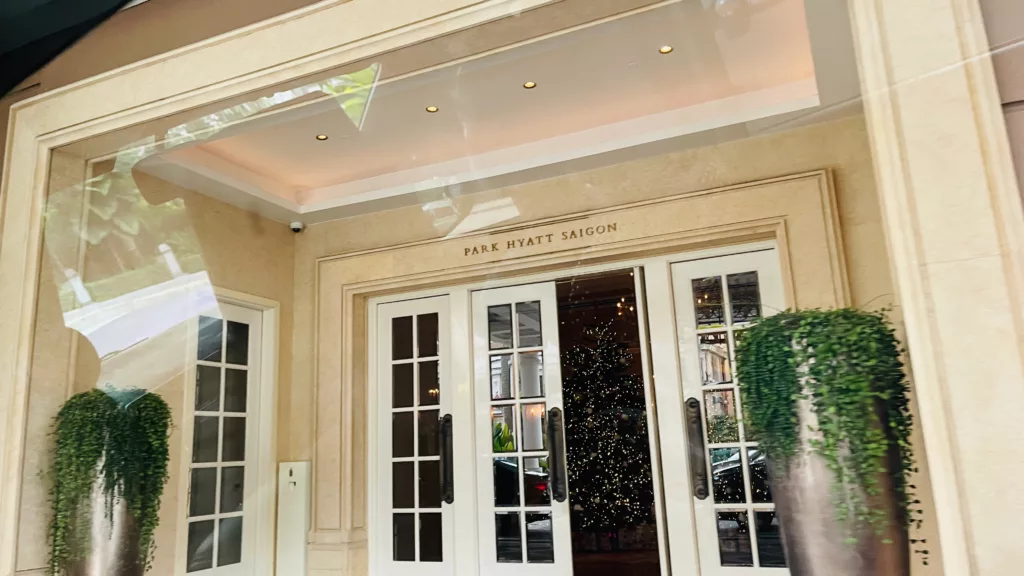 Only two check-in desks were initially staffed so I stood back behind the desk displaying the World of Hyatt signage with elite status categories. Within a couple of minutes, a new front desk agent appeared and gestured me over to an unoccupied desk to be checked in. I handed over my passport and World of Hyatt credit card for incidentals. I also requested a late checkout beyond the guaranteed 4 pm for Globalists which was granted.
Annoyingly, even with elite status, hotels in Asia seem to require you to swipe your card rather than using the card on file. This part of the world also still hasn't caught up with the mass adoption of contactless payment which makes this particularly grating requiring possession of a physical card rather than Apple Pay. That said, hardly a big deal as long as you've brought the appropriate physical card with you which I did.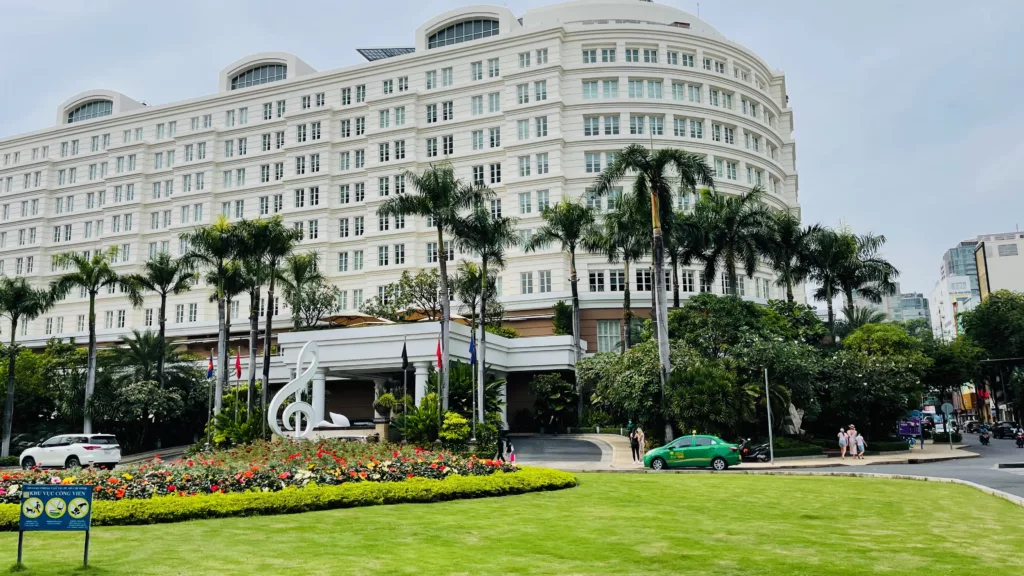 Park Hyatt Saigon: Upgrade
With the hotel seemingly fully booked, I was surprised I was even able to redeem an award for this night. I went into check-in pessimistic about my chances for a complimentary Globalist suite upgrade at check-in.
After a few clicks and confirming my stay details, the agent acknowledged and thanked me for my loyalty to Hyatt as a Globalist member. Then, my suspicions that an upgrade wouldn't happen on this stay were confirmed. Unprompted, he apologized that they didn't have a suite or even a premium room available for me this stay. 
He did provide a one-category upgrade to a "Garden View" room (the basic King rooms have a city view). Nothing to get excited about but about the best that could be expected on a fully-booked night. Luckily, Hyatt Globalist brings plenty of benefits beyond upgrades although it's definitely one of the program's biggest benefits.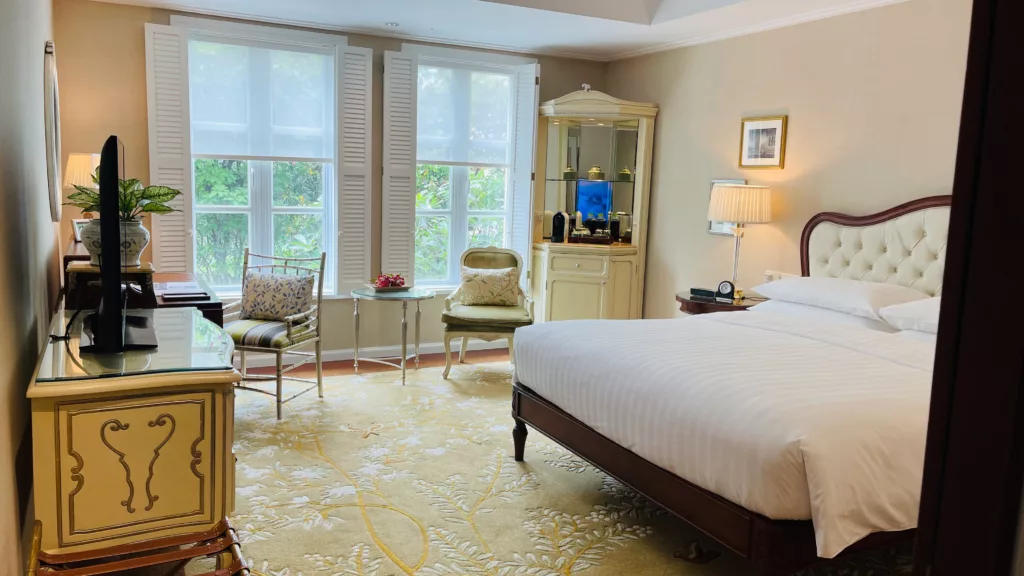 World of Hyatt is usually the best program in terms of following through on upgrades on elites, but no hotel can do it when no space is available. However, the way he discussed it and apologized left me with the impression that on nights without this kind of peak demand, the Park Hyatt Saigon would do their best to upgrade Globalists. 
Park Hyatt Saigon: King Garden View Room
After completing check-in formalities, the agent walked me to my room while giving me a quick overview of the hotel and its history. It's a beautiful property with lots of intricate details. We took the elevator to the 4th floor and were quickly at my 407 which was my assigned room.
Rooms at the Park Hyatt Saigon have a neutral and light style, with a focus on old-world colonial charm with an Indochinese feel. The room is advertised at 365 square feet which means it's not particularly spacious but also not cramped. Most Park Hyatt hotels incorporate design elements that reflect the local culture and surroundings. This hotel certainly did that, the room didn't give off a chain hotel vibe at all.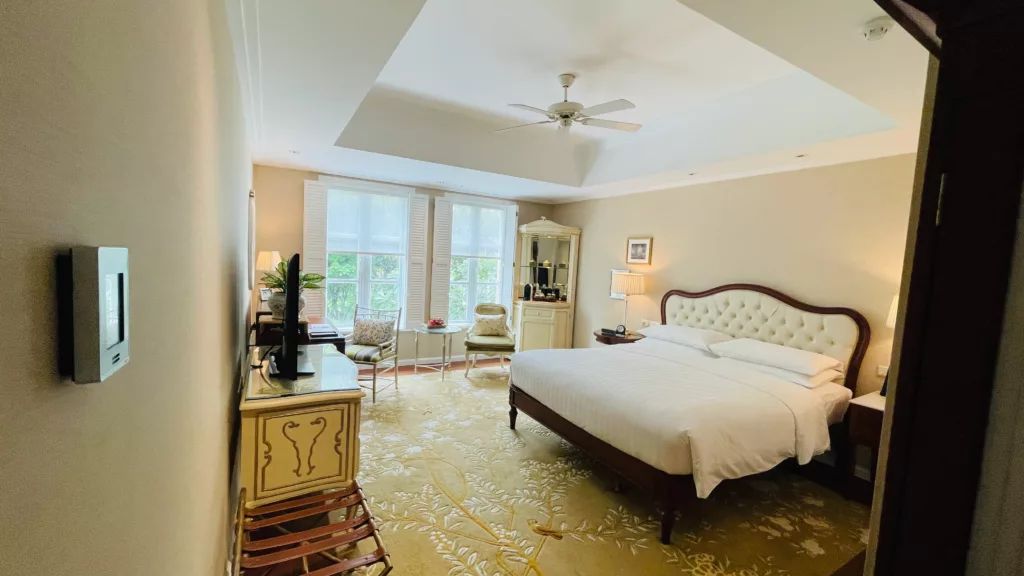 The room featured a rug covering most of the area of the room over polished wooden floors, windows with louvre shades, writing desk, and a ceiling fan. I surprisingly loved the pattern of the rug even though it isn't the most understated. It adds some nice character to the room.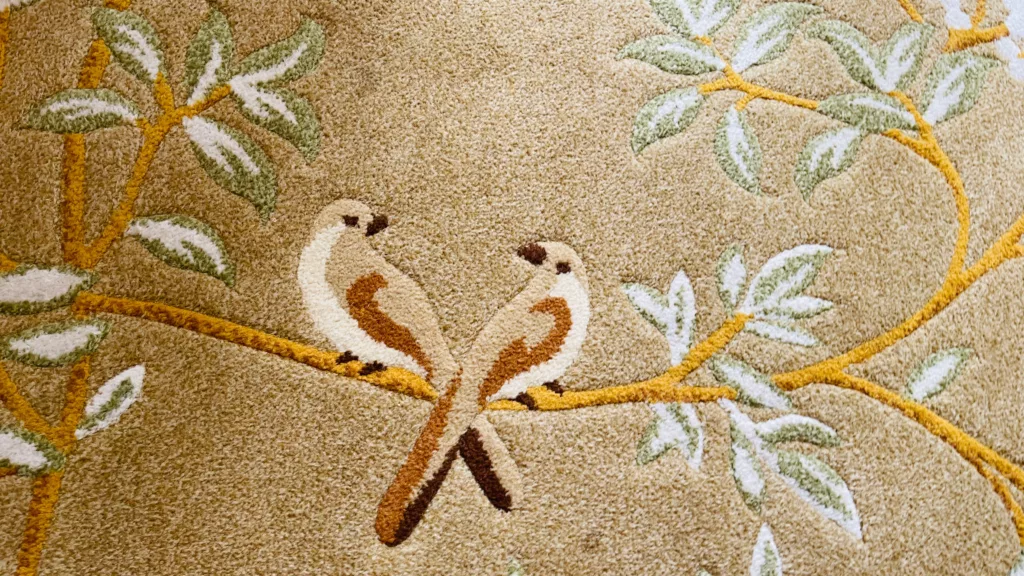 The king-sized bed was invitingly covered in crisp white linens and featured soft feather pillows. The bed is arguably the most important part of a hotel room, and this definitely hit the spot. It's a plush and exceptionally comfortable place to sleep.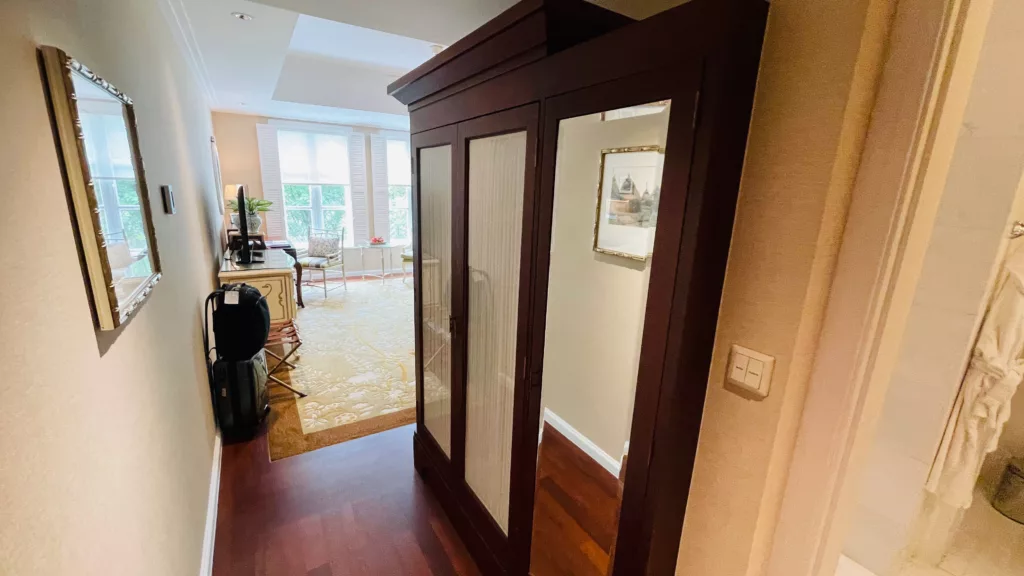 Some dragonfruit was left on the side table as an amenity.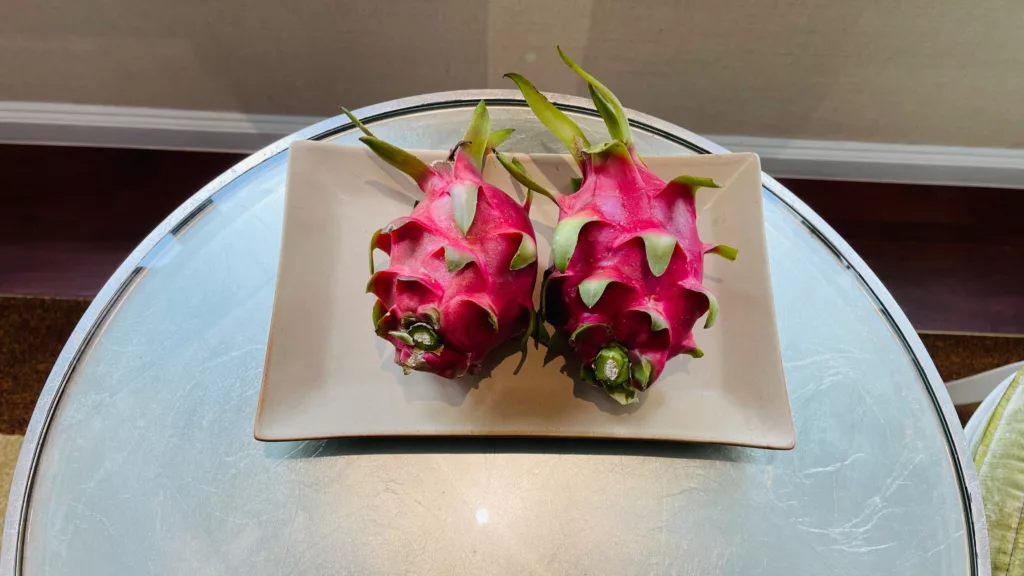 There was a mirrored credenza in the corner of the room with a Nespresso machine and a stoneware tea set was placed on top. If you opened the left-size compartments, a kettle was present in case you wanted to prepare tea. Inside was the minibar and other amenities including coffee pods.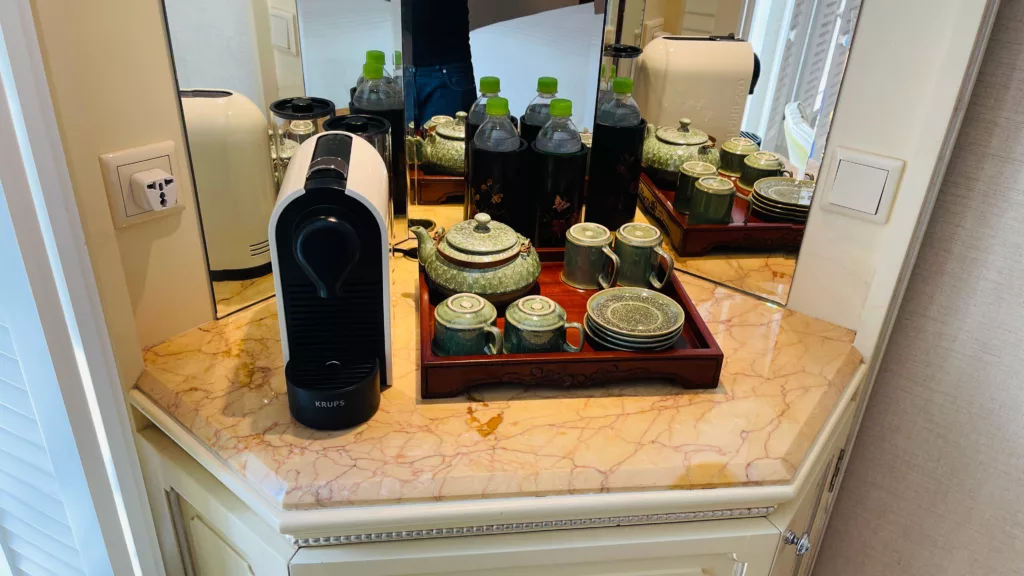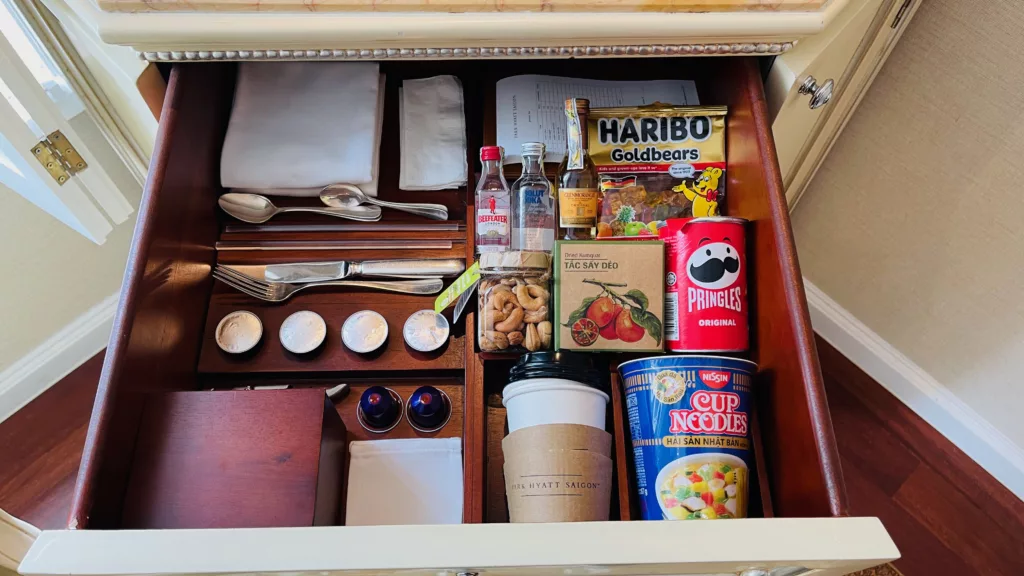 When I went to make myself an espresso shortly after arriving, I realized that despite six coffee pods being present, all of the pods I was provided were decaf. Oh, dear. I was tired and wanted some caffeine quickly so I called down and requested that actual pods of coffee be sent up to my room. They arrived within what felt like a couple. Disaster averted! While a bit of a blunder, the quick recovery illustrates how service across property was prompt across the board.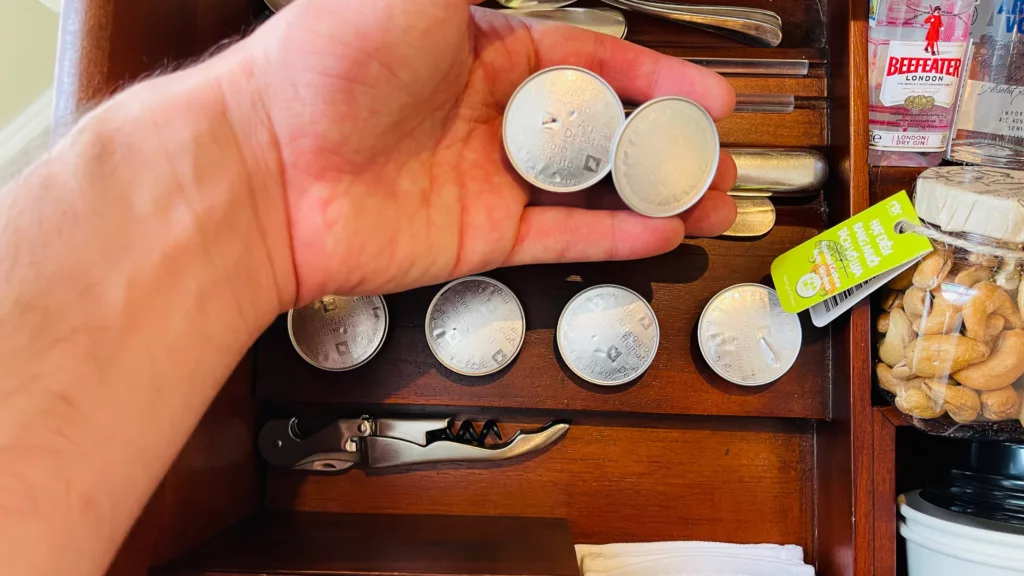 Minibar prices were extremely reasonable for a five-star hotel. I purchased my drinks and snacks at one of the many konbinis (convenience stores) surrounding the hotel where there was a better selection but at these prices, I wouldn't hesitate to utilize the minibar in a pinch. Coke, Coke Light, green tea, tonic water, juices, Evian water, Perrier water, Heineken beer, Saigon beer, Pasteur Street beer, Haribo jellies, dried fruit, chocolate, chocolate bar, potato chips, cashew nuts, and instant noodles were stocked. There were also mini bottles of gin, whisky, and vodka.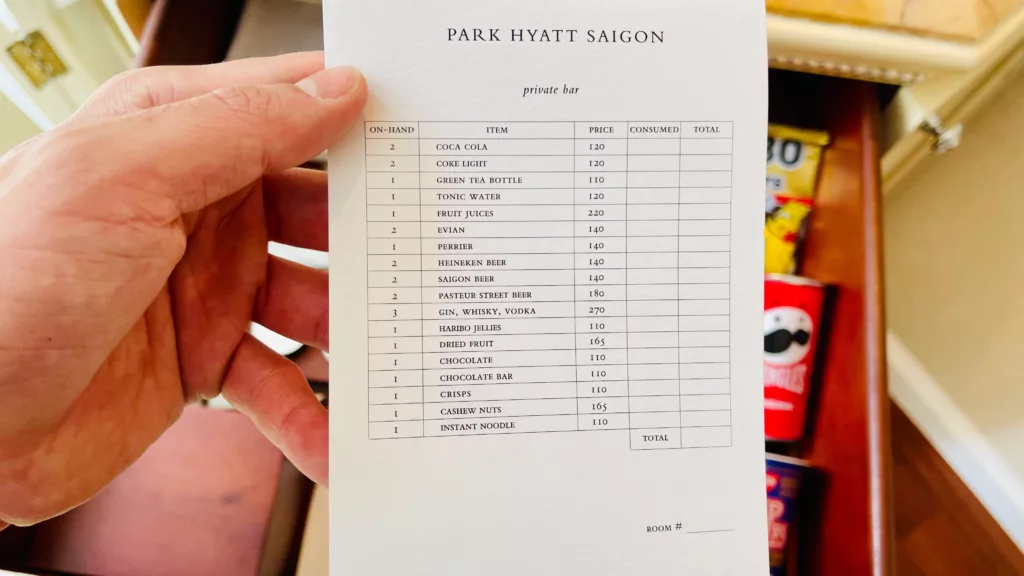 A Bose Bluetooth speaker is provided on the bedside table. There are also universal power sockets and USB-A outlets accessible to the bed. Unfortunately, the TV didn't connect via Chromecast or Apple AirPlay so the speaker was the only way to play music.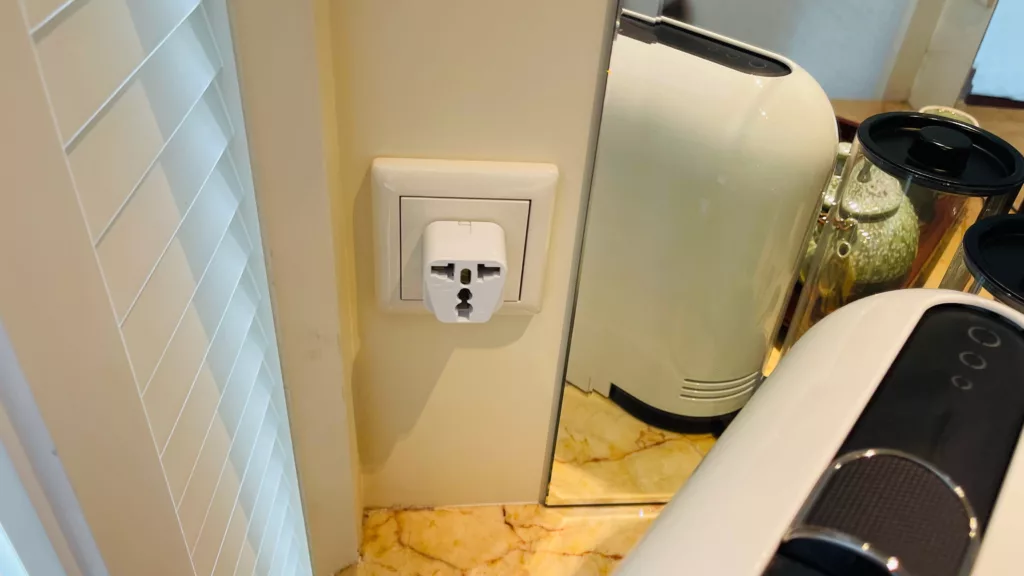 There's an iPad in the room to explore the features of the hotel and view room service menus. Ordering room service and room controls isn't possible, though. It seemed to mostly be there to allow guests to access hotel information "compendium" without scanning the QR code on a personal device.
The wardrobe was located between the corridor to the room and the bathroom and accessible from either side. It was a bit tight. Not a problem for me since I was traveling with just a carry-on bag and backpack but it would clearly be insufficient for anyone traveling with a lot of belongings. An iron and ironing board, safe, along with a horseshoe and shoe brush, were in the closet.
Park Hyatt Saigon Bathroom
The bathrooms are made of sparkling white marble and comes with a tub and rain showers. It's not exactly small and did the job (especially since I was solo in the room) but it's certainly smaller than I've ever seen at a Park Hyatt. There was only a single sink which I could imagine would have made it very tight if I was traveling with a companion.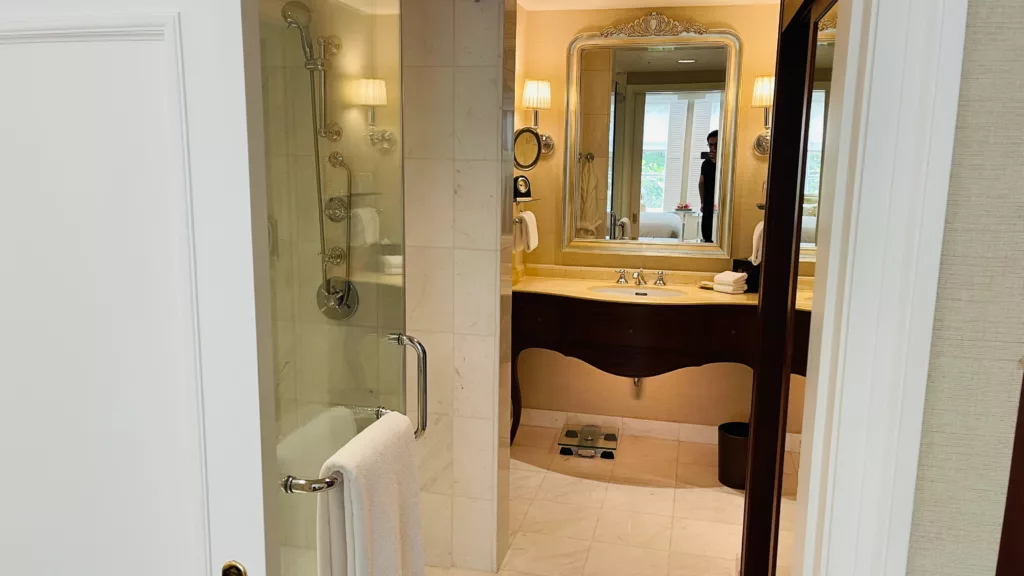 Otherwise, the bathroom was bright and the shower had excellent water pressure.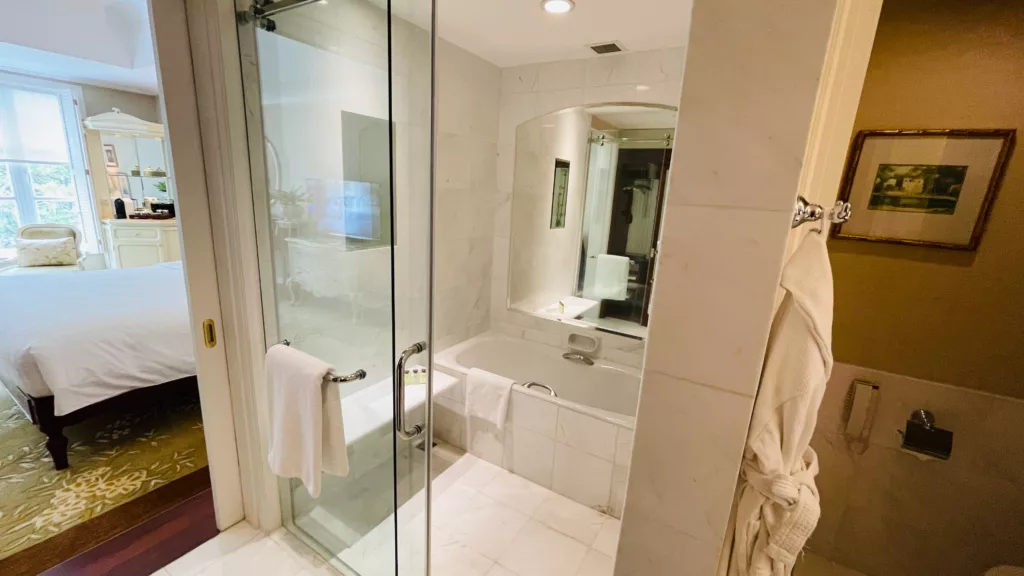 Toiletries come from Cochine, which uses scents inspired by Saigon for its products. I'm no expert but I thought they were great. All the other standard amenities were present along with comfortable, plush towels and bathrobes.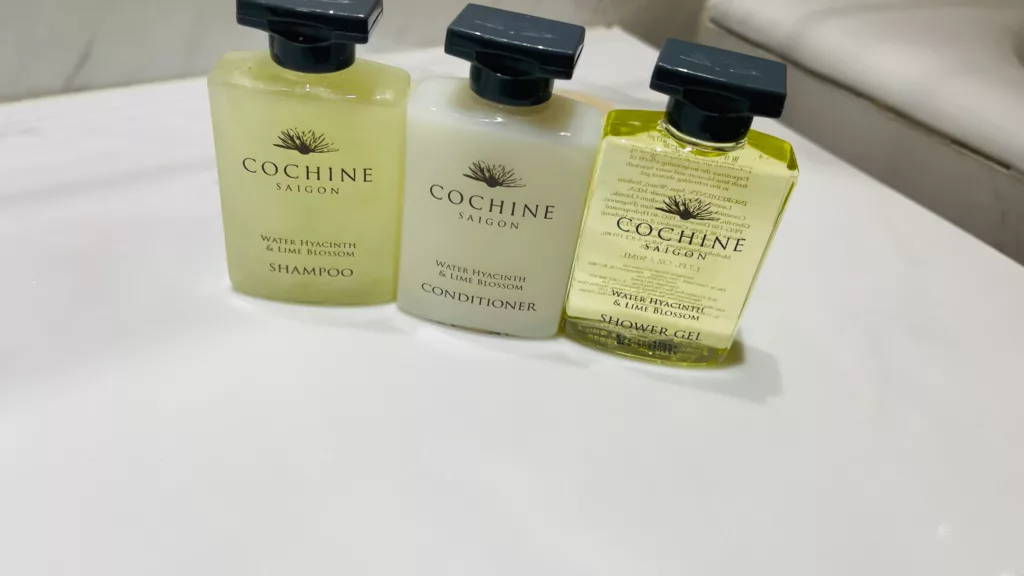 Park Hyatt Saigon: Dining
The Park Hyatt Saigon has 4 bars and 5 food outlets on-site. The hotel's signature restaurant, Square One, features fusion Vietnamese and French food. Opera, where the breakfast is served, is a casual Italian restaurant described as a "trattoria" (I'd say it's a bit more upscale than that). The Park Lounge in the lobby offers an afternoon tea buffet on weekends and a selection of food and drinks starting early in the day till midnight.
The Park Hyatt describes its martini bar, 2 Lam Son, as "the liveliest nightspot in Ho Chi Minh City." That's also debatable but I can definitely attest to the quality of their cocktails. There's a DJ here on the weekends and live musical performances every evening.
There's also a chocolaterie and a pastry boutique. You can see all of the dining and drink options and their menus here.
Park Hyatt Saigon: In-Room Dining
As one would expect at a five-star property, room service is available 24/7 at the Park Hyatt Saigon. The full room service menu can be seen here. Prices are definitely high for Vietnam and Ho Chi Minh City but very reasonable for room service at a five-star hotel. A wide selection of both Vietnamese specialties and international mainstays are available.
The only time I usually order room service is late at night so I took a look at the overnight menu. I'm vegetarian and felt that the overnight menu was light on options which was the incentive I needed to get out of the room and enjoy some of the plentiful nearby options owing to the Park Hyatt Saigon's central location in central Ho Chi Minh City.
It wasn't till putting together this review that I noticed the note at the bottom of the menu: "You love vegetarian dishes and have not yet found what you are looking for? Please ask our associates for more options!" Probably would have taken advantage of the room service had I seen that, but no regrets about venturing out to satisfy the late-night food craving. There's fantastic food available at all hours on the streets of Vietnam!
Park Hyatt Saigon: Breakfast
Breakfast at the Park Hyatt Saigon is served at Opera, the hotel's casual Italian restaurant.
There was an expansive selection of items available from the buffet along with an á la carte menu with international favorites and selections of popular breakfast items from across Asia. Click here for a copy of the full breakfast menu.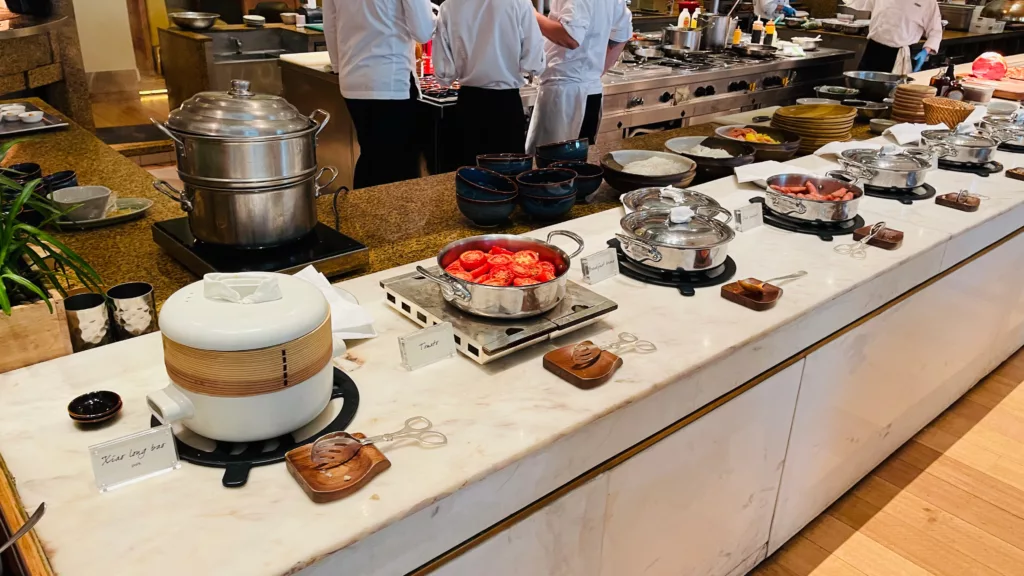 Breakfast is included for Globalists. At the Park Hyatt Saigon, that means access to the buffet and ordering freely off of the á la carte menu. I ordered a cappuccino with oat milk which promptly came out perfectly.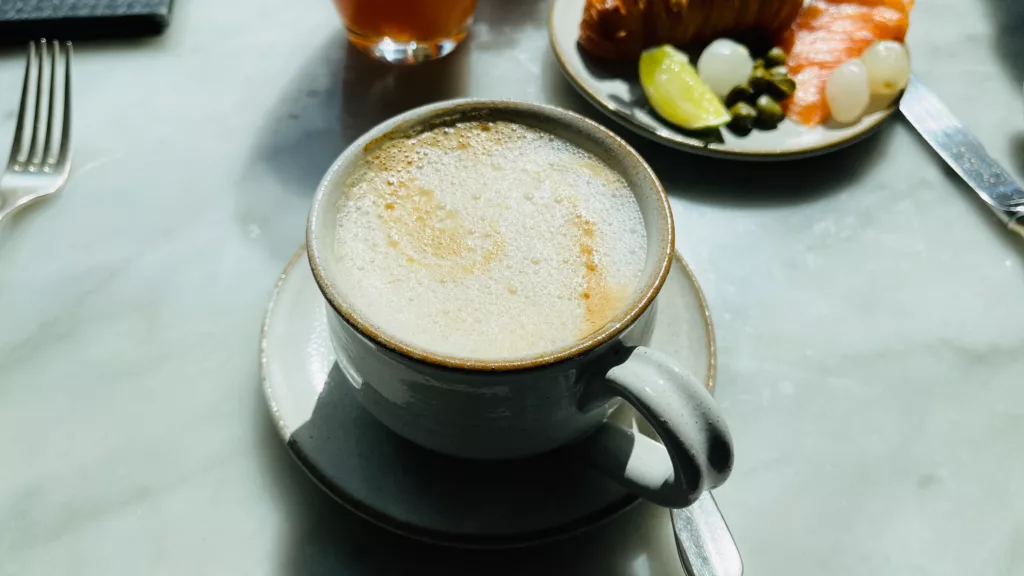 Coffee is a very important part of my morning but as someone who requests plant-based milks, it's surprising how many upscale properties are unable to accommodate what is an increasingly common and simple request.
I proceeded to order some plant-based items from the á la carte menu while also enjoying some items from the buffet. Everything was prepared delightfully. The wait staff at Opera were excellent. Despite a full house, they provided proactive service, clearing plates as soon as they were empty and asking if you wanted anything else.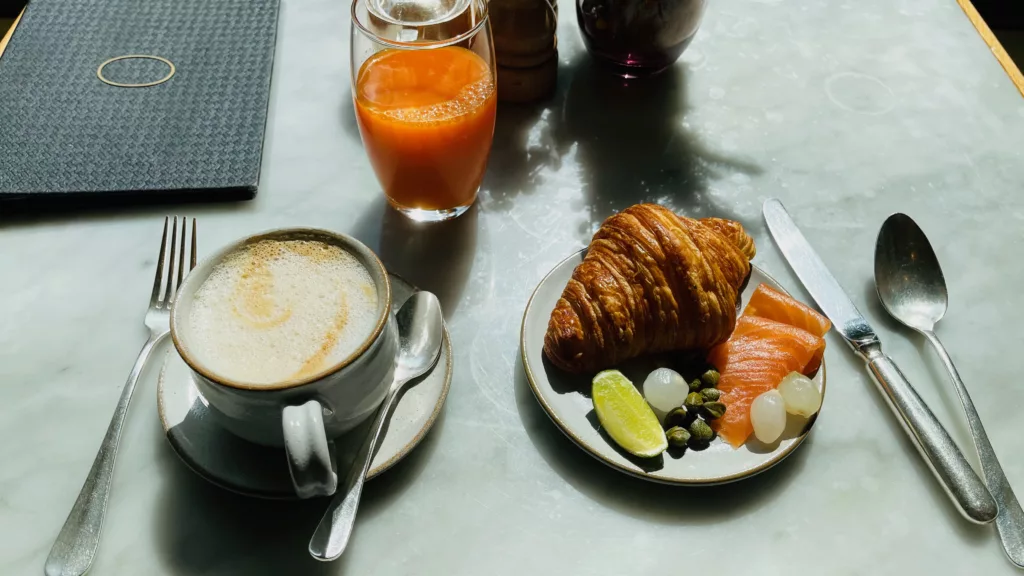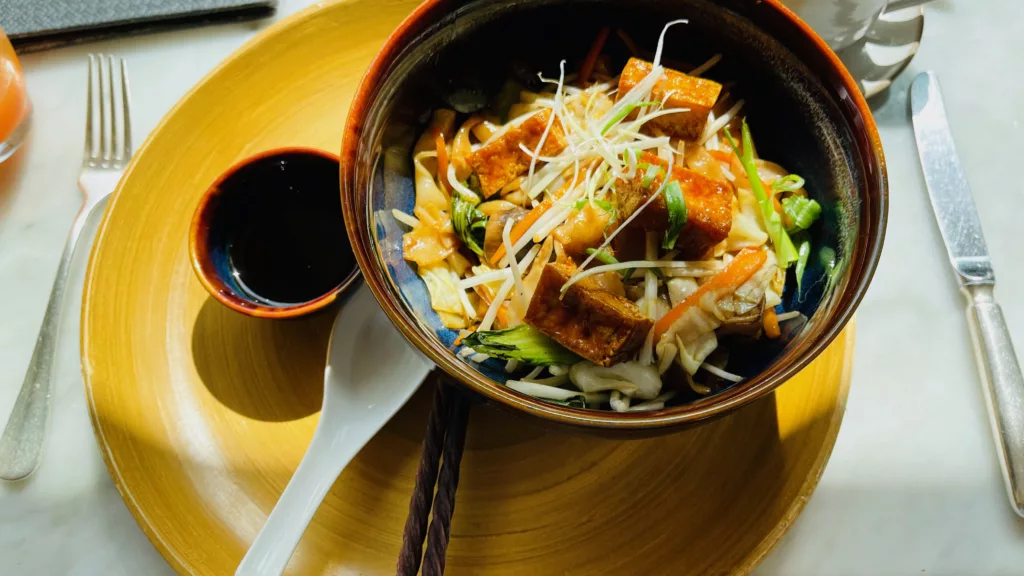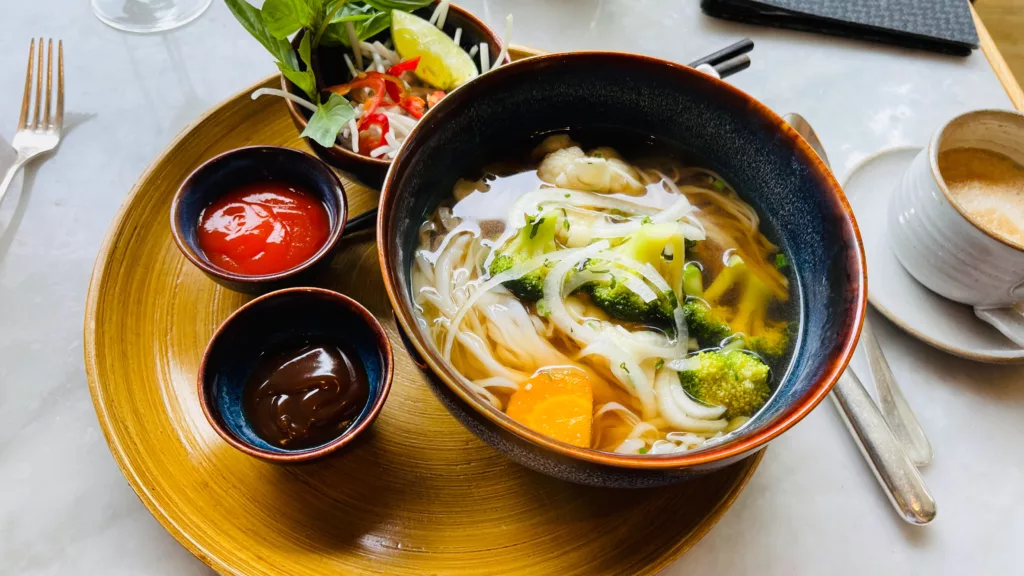 Park Hyatt Saigon Passes The Mimosa Test
I ordered a mimosa with my breakfast at the Park Hyatt Saigon. After all, who doesn't like a mimosa with breakfast on holiday or on the weekend? I certainly do. I'm happy to report that this hotel did not charge for my mimosa with breakfast.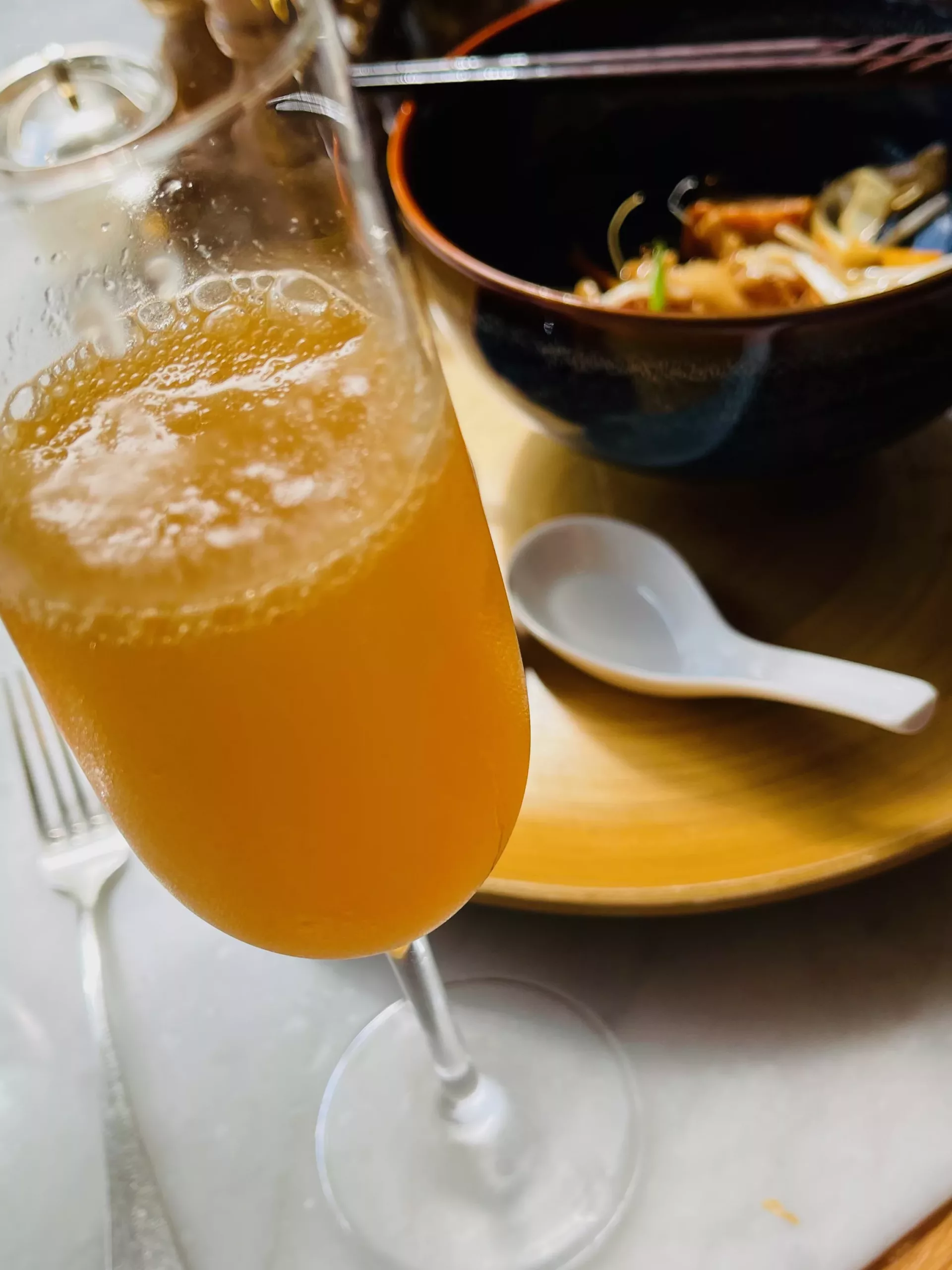 At Hyatt, the Globalist breakfast benefit is defined as one entree or a standard breakfast buffet, juice, and coffee or tea. Most properties do a lot better than this and go above and beyond. And some will even include a mimosa with breakfast (including the Park Hyatt Saigon).
I've stayed at quite a few Hyatts where there was no charge for alcoholic drinks ordered at breakfast for Globalists including the Hotel Martinez in Cannes, Park Hyatt New York, Grant Hyatt Sao Paulo, Grand Hyatt Bogota, and the Andaz Los Angeles. On the other hand, most Hyatts will charge additionally for non-alcoholic drinks at breakfast. It's a bit silly and there's no entitlement here but it's a fun point of differentiation that certainly improves the breakfast experience for a lot of us 😉
Park Hyatt Saigon: 2 Lam Son
Shortly after checking into the Park Hyatt, an envelope was slid under my door. Inside was a note inviting me to stop by 2 Lam Son and enjoy a drink on the house as a benefit thanks to my World of Hyatt elite membership.
Anyone who knows me I can't resist a free drink so I duly made my way to the bar to redeem the voucher. The full bar menu can be viewed here. The bar also offers a happy hour with a 50% discount on all snacks and drinks (except bottles) between 5 pm and 8 pm.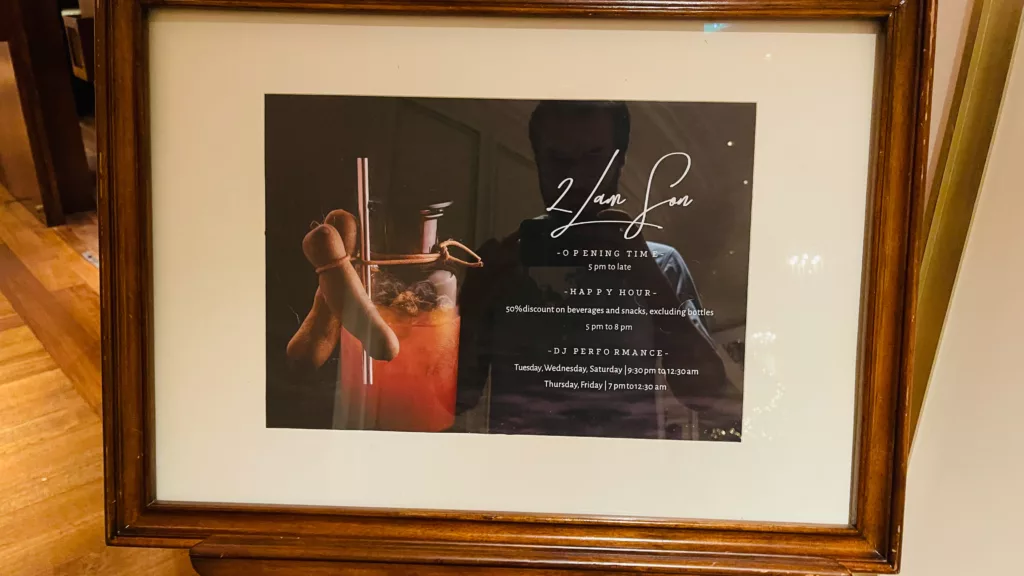 This bar could easily rank as one of my favorite hotel bars in the world. The bartenders Bee and Brian were both engaging and happy to chat as they worked.
I used the voucher to order a Litchi Negroni from their signature cocktail list. I went to university in Milan where both the Negroni and Negroni Sbagliato originated so I couldn't resist checking this variation with a local tie-in. Not bad!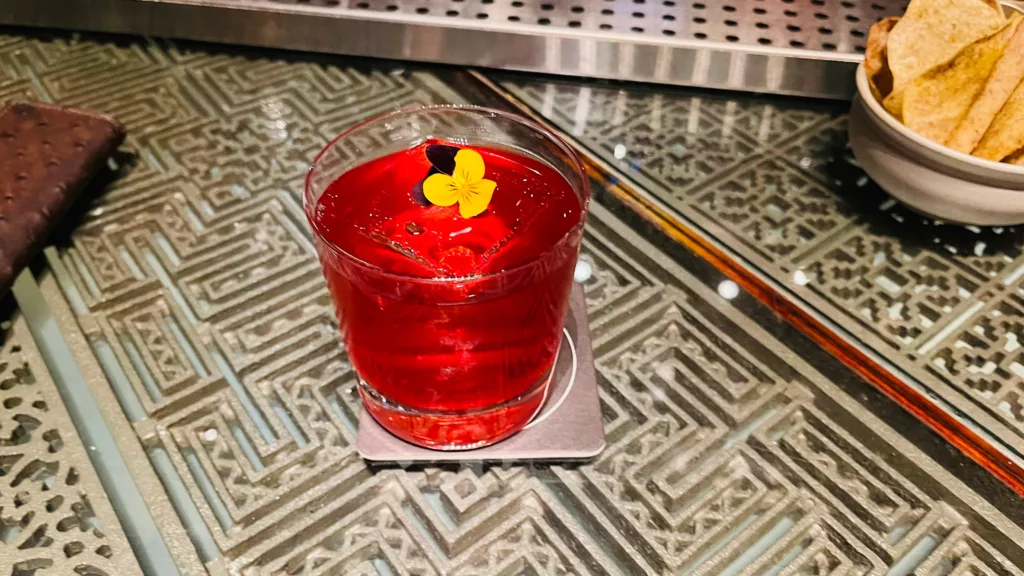 I also watched as Bee prepared another of their signature cocktails, the Saigonese Mai Tai. Not exactly my style but definitely a unique presentation.
I was chatting with Brian while drinking my Litchi Negroni, when we began talking about the selection of spirits they had on offer which include over 20 varieties of gin listed on the menu. I'm a bit of a gin enthusiast so I asked if there were any local gins that I should pair with a gin and tonic for my next drink. This was a fantastic topic as it turns out, Brian shares my passion for gin.
Soon, he had laid out six varieties of local craft gin in front of me. Brian walked me through each one and gave me a little background before pouring me half a shot to taste as a personal gin tasting to decide which one I should have with my gin and tonic.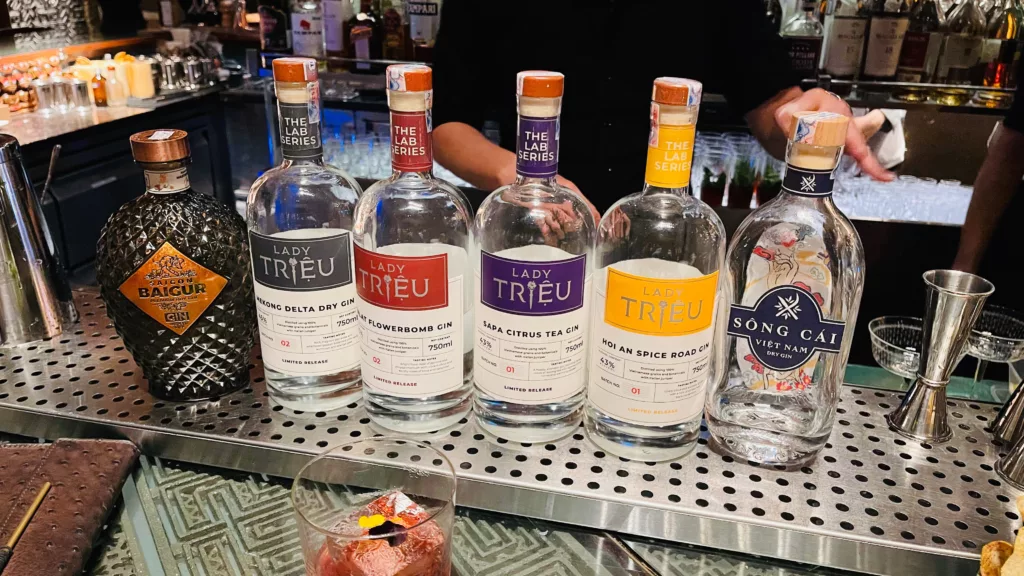 I selected the Saigon Baigur. It apparently began production in 2020 as the first premium gin from Vietnam. It has a very herbal taste with a strong juniper base. Brian paired it with some Fever Tree Indian Tonic and prepared a gin and tonic for me which I thought was fantastic.
Prior to my conversation with Brian, I didn't realize Vietnam produced craft gin let alone anything of this quality. If there's any area for improvement I'd suggest to the Park Hyatt Saigon and 2 Lam Son team, it would be to utilize the local gins in their signature cocktails or otherwise more prominently highlight them in the menu.
I'm sure I'm not alone in among the hotel's international guests in being a gin enthusiast without much knowledge of the local gin culture. It would be a great way for Hyatt to promote the budding local craft gin industry in Vietnam that's producing some excellent products.
Park Hyatt Saigon: Gym
The Park Hyatt Saigon has a well-equipped fitness center on the third floor, just adjacent to the swimming pool. The gym is open 24/7.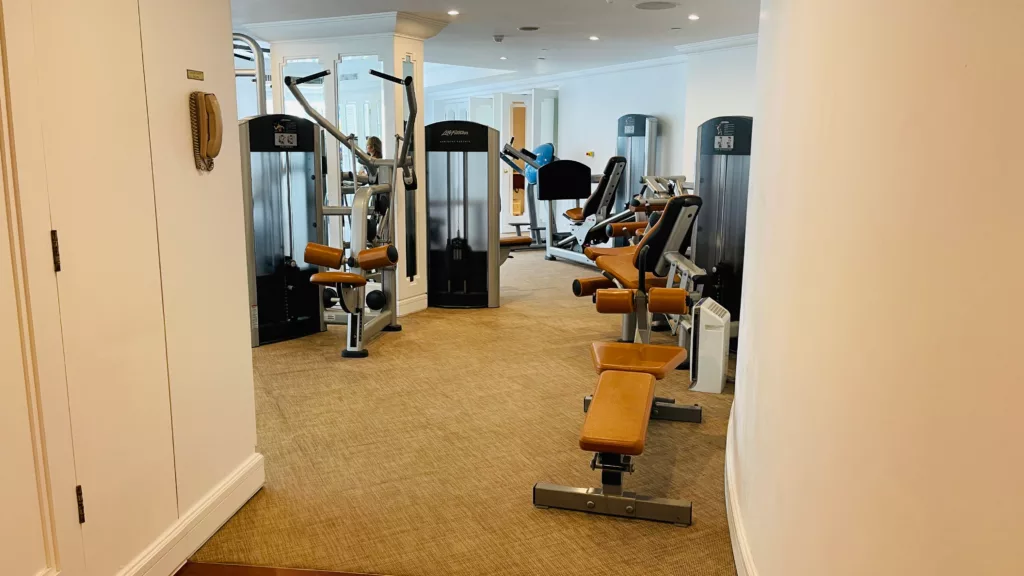 The gym isn't large coming in at 1,830 square feet, but it's adequate for getting in a good workout on the road.
It features a variety of Life Fitness weight machines, free weights, medicine balls and kettlebells. There's a cardio deck with ellipticals, stationary bikes, treadmills, and a stairmaster. There's plenty of natural light flowing in through the windows and there are lots of mirrors giving the gym a cheerfully bright atmosphere.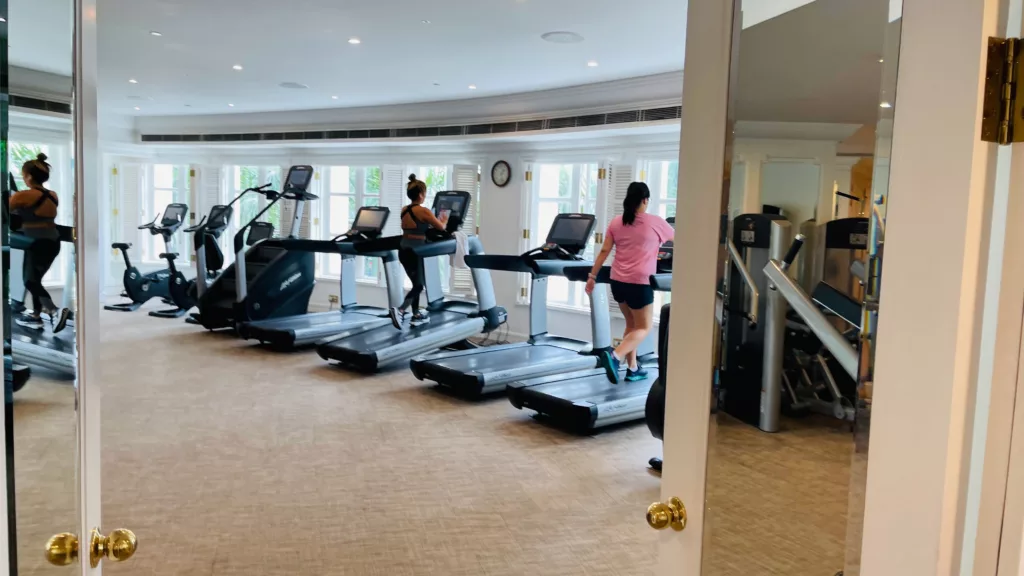 Amenities such as bottled water, infused water, headphones, cold towels, and fresh fruit are available. I enjoy a snack with my workouts so I really appreciated the availability of fruit in the gym.
Park Hyatt Saigon: Xuan Spa
The spa is located on the third floor next to the pool and gym. It offers a full range of treatments with prices starting about $60 USD for 30 minute treatments and about $100 for 60 minute treatments. The hotel has a partnership with Anne Semonin Paris which uses vegan ingredients to create "tailor-made mixology for radiance and healthy skin." The following is how they describe their offering.
The Anne Semonin treatment collection combines an ingenious blend of aromatic essential oils, trace elements and marine ingredients with the classic French touch and a holistic approach to treating the individual needs of your body and skin. Anne Semonin treatments are designed to be "tailor made" and are focused on maximum comfort, absolute luxury and outstanding results.

Because each skin is unique, l'Experience Anne Semonin allows your therapist to personalize and blend a synergy of selective active ingredients to suit your skin in different moments and needs. These bespoke treatments selection will not only revitalize the skin but energize and balance the mind and spirit providing total relaxation.

Immerse into the tranquil world of Xuan Spa to rediscover the senses and emerge relaxed, recharged and glowing.
I didn't have time to fit a treatment into my time at the hotel. It's worth noting that there are plenty of options available at a fraction of the price at spas near the hotel, but you'd certainly get a more refined experience at the Park Hyatt.
A steam room and soaking bath is located inside the Xuan Spa. Access is, of course, included for hotel guests. I enjoyed some relaxation there after one of my workouts.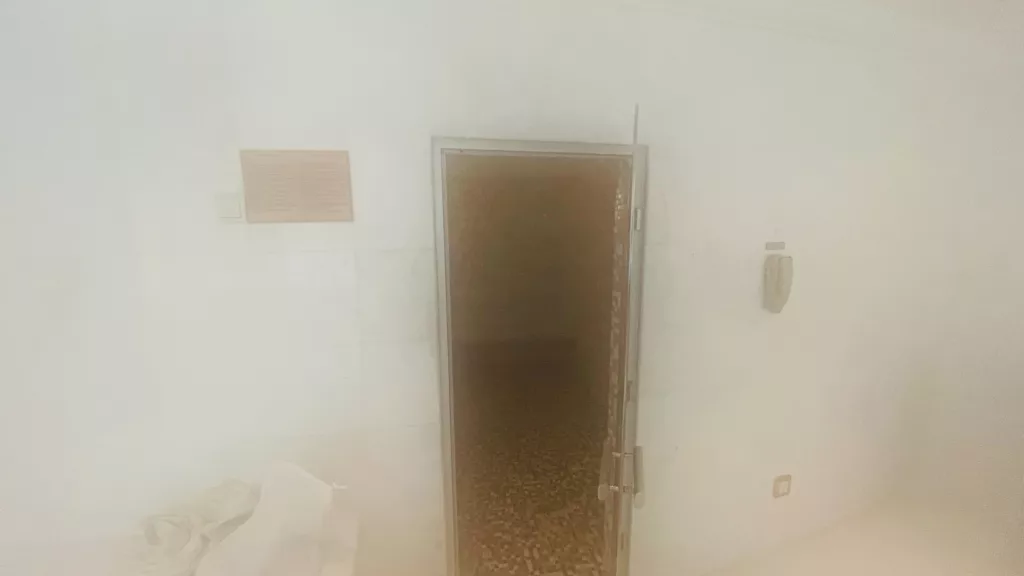 Park Hyatt Saigon: Swimming Pool
The Park Hyatt Saigon has a 65-foot pool located on the 3rd floor. It opens at 6 am and closes at 8 pm. The reason for its early closure is to prevent noises in the evening for some of the rooms that have direct pool access.
The sun loungers around the pool looked extremely comfortable and a stand with complimentary infused drinking water is available.
I never actually took advantage of the pool since it was quite crowded every time I stopped by. Not surprising over a holiday where people would want to enjoy some of the balmy weather and take a dip.
Park Hyatt Saigon Art Collection
One thing to know about this hotel is that it houses a fantastic collection of Asian and Vietnamese art. While checking me in, the agent noticed my interest in one of the pieces and provided me with a guide to some of the highlights of the hotel's art collection. There's a wide selection of pieces in the collection.
Like other Park Hyatts I've stayed at, the room keys highlighted a piece from the collection.
Bottom line
The Park Hyatt Saigon is a fantastic 5-star hotel located in the heart of Ho Chi Minh City's District 1. Both in terms of the property details and the fantastic value in relation to the cash price, this is probably the best value I ever got from a Chase World of Hyatt annual category 1-4 free night award.
The hotel features elegant colonial-style architecture and decor, an extremely comfortable and adequately sized room, excellent dining, and a well-equipped spa and fitness center. This is definitely one of the very best Category 4 World of Hyatt properties in the world and might be the best hotel in Asia. I wouldn't hesitate to come back, preferably for a longer stay.