I've been visiting Sweden more frequently recently. On my most recent visit, I booked the Hotel Reisen in the heart of Stockholm Old Town. The hotel was the first hotel to join Hyatt in Scandinavia after an extensive renovation. It was a short stay, but the hotel provided an excellent base for exploring everything Stockholm has to offer. Here's everything you need to know about Hotel Reisen.
Hotel Reisen Hotel Basics
Hôtel Reisen is nestled on Stockholm's scenic waterfront. The structure's foundation apparently can be traced all the way back to 1617, when Gustavus Adolphus the Great ruled Sweden. The hotel describes itself as a fusion of "historic elegance combined with a modern surrounding." Each space is designed to have its own historical touchpoint, whether it's a handcrafted brick wall from 1690 or panoramic views of Stockholm's waterways or down one of the old town alleys.
The hotel has had many lives before becoming the modern-day Hôtel Reisen. Named after Fredrik Reiss, a Dutchman who ran what is described as a "semi-legal" coffeehouse in the 1750s, the venue has also functioned as a storeroom, drinking den, and muse for notable poets.
In its past lives, the hotel operated under the different variations of its name (officially Hôtel Reisen with the accent) using Reisen Hotel or sometimes Hotell Reisen branding and played host to Carl Michael Bellman, known for his poetic toasts to life, and Fritiof Nilsson Piraten, who reportedly cleared his writer's block in room 705 with half-bottles of Château Margaux. Joseph Brodsky, who won the Nobel Prize in Literature, stayed here in 1987 drafting poems that took aim at the Evil Empire.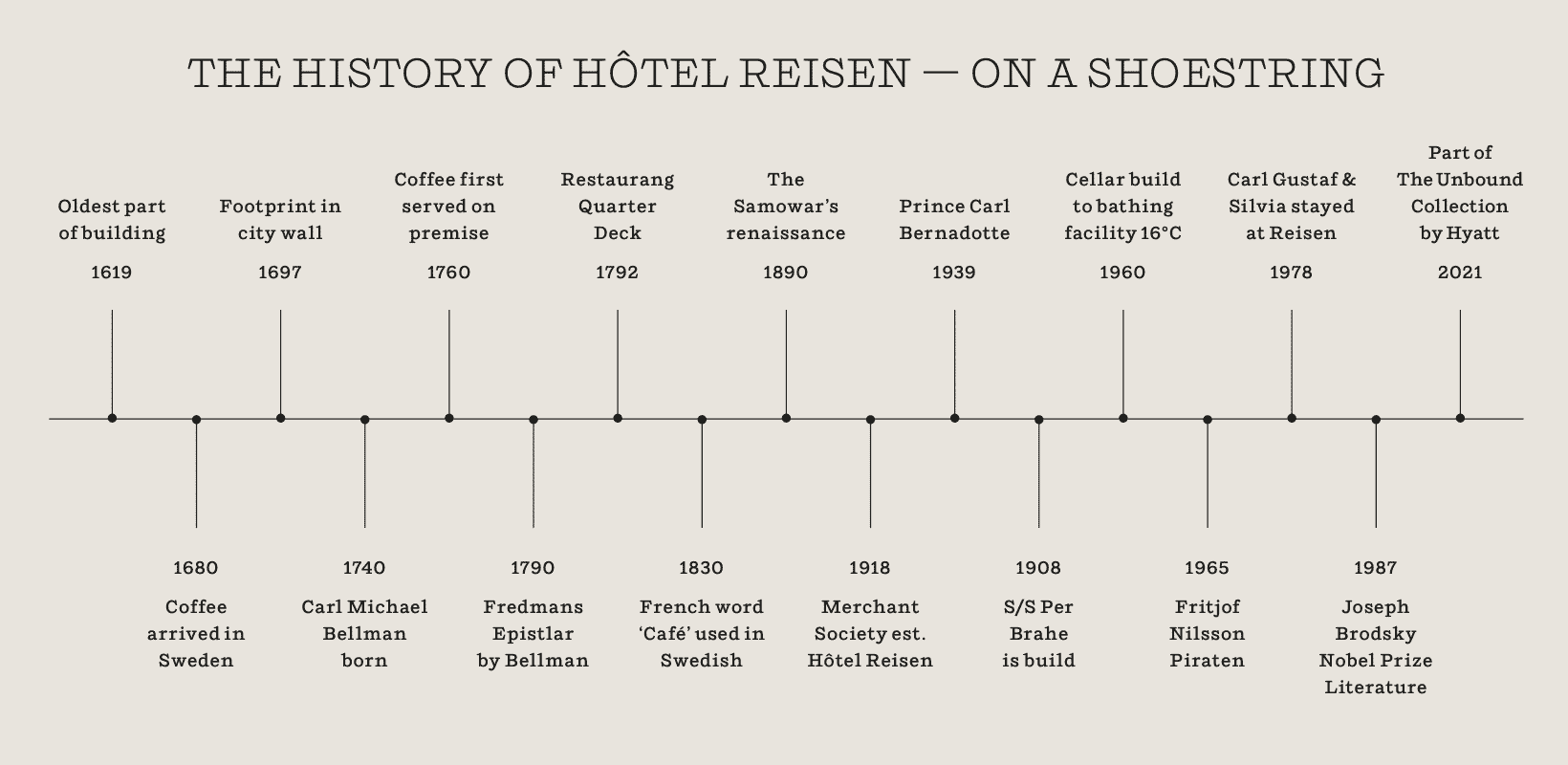 The hotel officially joined the Unbound Collection of independent hotels in Hyatt's portfolio in 2021. While it was Hyatt's first hotel in Scandinavia, it didn't stay that way for long.
The Story Hotels collection, which includes Story Hotel Signalfabriken (where I recently stayed) and Riddargatan (which I hope to experience soon), joined up shortly thereafter.
In Swedish, "Reisen" translates to "the Journey" — the hotel tries to adopt this as a metaphor for the guest experience it aims to offer. Rather than encouraging guests to relive its storied past, the hotel describes this as an invitation to create their own narratives. Whether that's a journey of leisure or one of poetic inspiration is up to the guest.
Booking Hotel Reisen
Hotel Reisen is a Category 4 hotel in the World of Hyatt program. That means that one night at the hotel costs 15,000 Hyatt points with the cost going up to 18,000 on peak dates and 12,000 points on off-peak dates.
For comparison purposes, on my stay dates, the nightly cash price at the hotel was about $245 USD.
For the first night of my stay at Hotel Reisen, I used a Category 1-4 award earned by holding the World of Hyatt credit card from Chase. The credit was about to expire so it was use it or lose it.
For the second night, I chose to pay cash. Given that I value World of Hyatt points at approximately 1.5-2 cents per point, I could make an argument for paying either with cash or using points. However, I like to save my Hyatt points for higher-value redemptions.
While I would usually use my Hyatt credit card for any cash, I had an Amex Offer to get back $100 by spending $400 or more at Hyatt's Independent Collection hotels on my Business Platinum card which I utilized.
Getting to Hotel Reisen
After landing at Arlanda Airport, we took the Arlanda Express to Stockholm Central Station (Stockholms centralstation). From there, getting to the hotel takes 10 minutes by taxi, 15 minutes using public transport, or 20 minutes by walking.
The weather was beautiful and not too hot. Since we packed lightly for our 2-night stay, we decided to walk to the hotel on gamla stan island and enjoy Stockholm's beautiful scenery. For reference, if we had chosen to take a taxi the cost would have been about $10 but after sitting for hours it was nice to stretch our legs.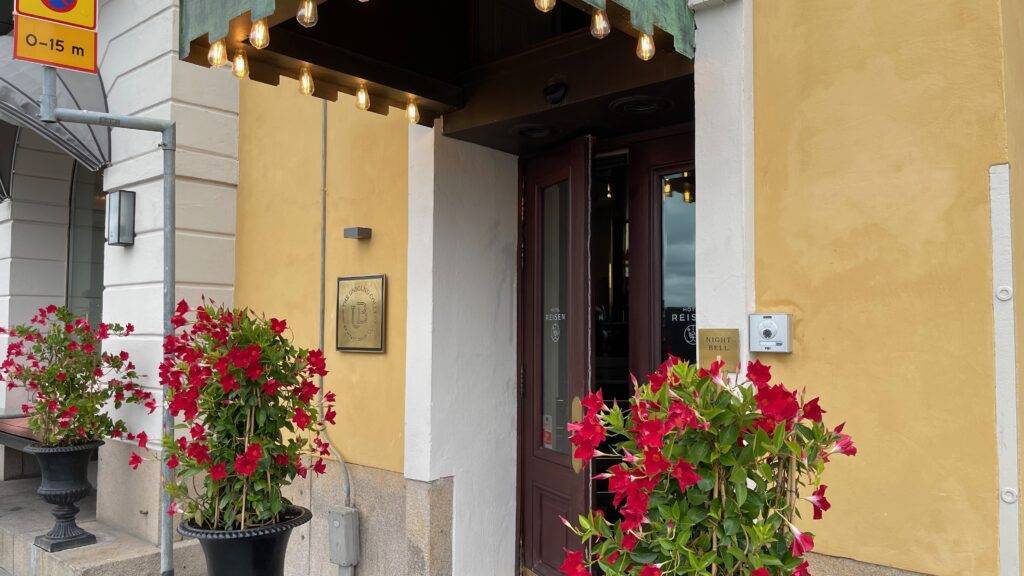 As you can probably guess, the hotel is centrally located in Stockholm Old Town. The Stockholm Palace, Parliament House, National Museum, Nobel Prize Museum, Swedish History Museum, Royal Swedish Opera, and other attractions are an easy walk from the hotel.
Hotel Reisen Check-in
We arrived at the hotel shortly after the 3 pm standard check-in time (although Globalists are entitled to check in early depending on availability).
The hotel did not send any sort of personalized welcome email (beyond the standard Hyatt confirmation) prior to my arrival. That's not a big deal but it is something that most Hyatt properties seem to do. It's an easy touchpoint that I appreciate so it's noticeable when a hotel does not send a note prior to arrival.
Check-in was efficient. The agent informed me that we had been upgraded to a Sea View room. According to her, the hotel was fully booked so no further upgrade was possible despite the suite upgrade benefit for Globalists (there did appear to be a standard suite bookable online but I didn't press the issue).
We collected our keys and headed to the elevators up to our room.
Hotel Reisen 1 King Sea View
We were assigned room 508 which is a 1 King Sea View room. After a quick trip up the (old but well-maintained) elevators, it was a short walk down the hall to the room.
Like many places in Northern Europe, it's uncommon to find air conditioning in Sweden. This meant that the hallways and room could get quite warm.
Aside from the lack of air conditioning, the room is very comfortably designed. There's an entryway with the bathroom to the left and a walk-in closet area to the right.
The sea view rooms at Hotel Reisen have really awesome views on the waterfront, overlooking the islands surrounding Stockholm. If there wasn't so much to explore and enjoy within Stockholm, you'd probably be entirely satisfied sitting next to the window watching the world go by.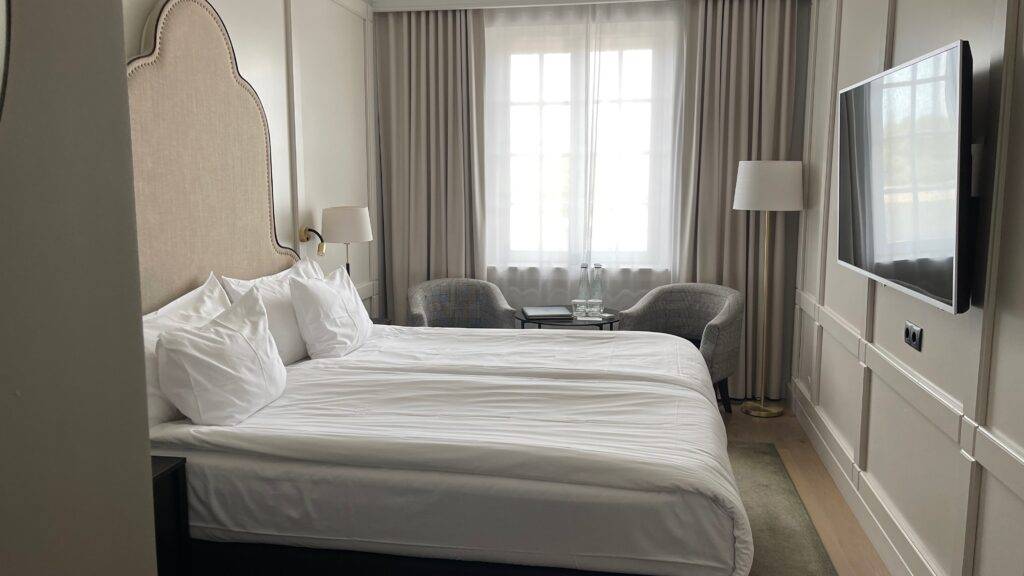 The bed was comfortably laid out. Interestingly, two mini duvets were on the bed (a thing in Northern Europe) rather than one large duvet. There were light switches and a lamp on either side of the bed.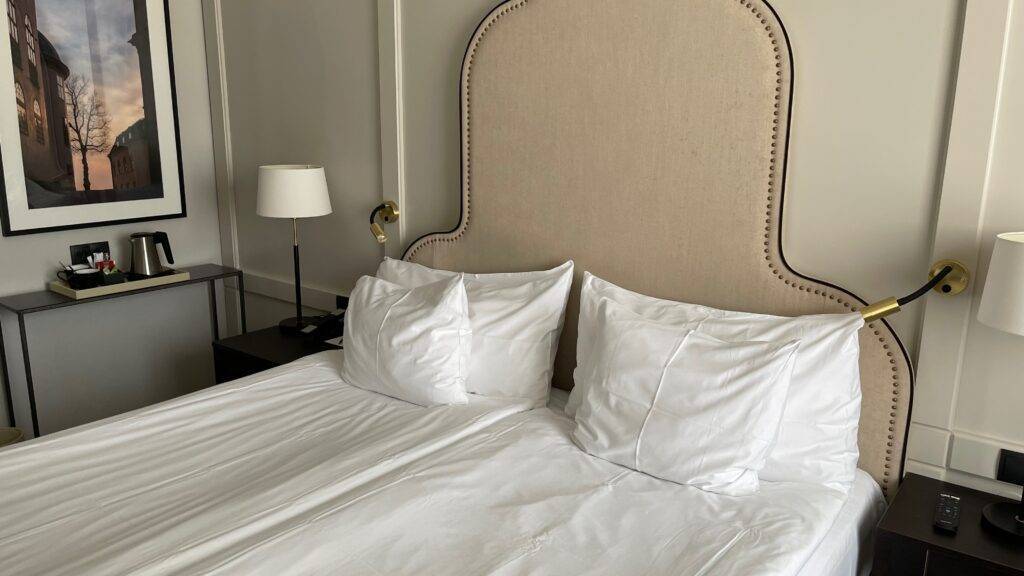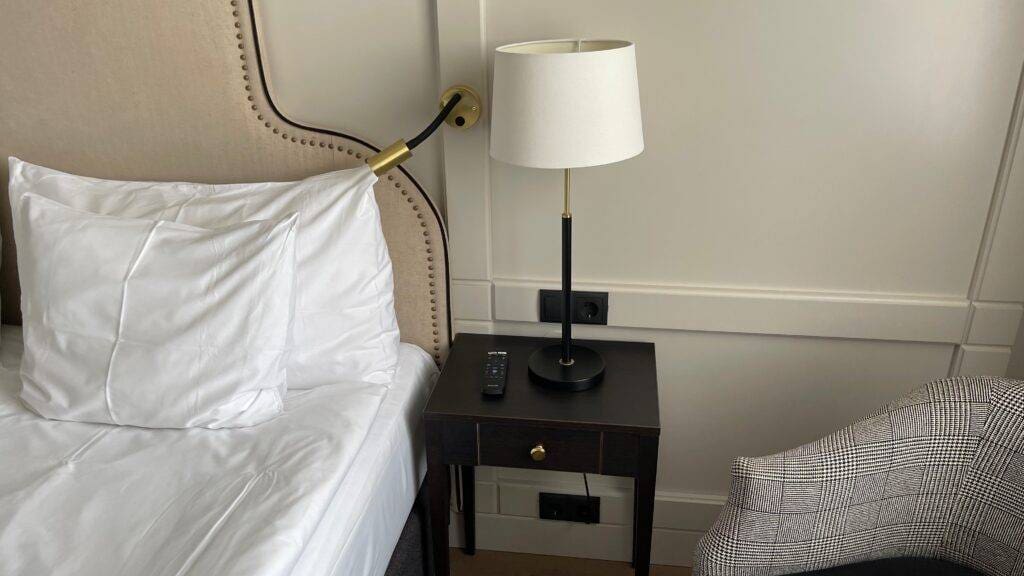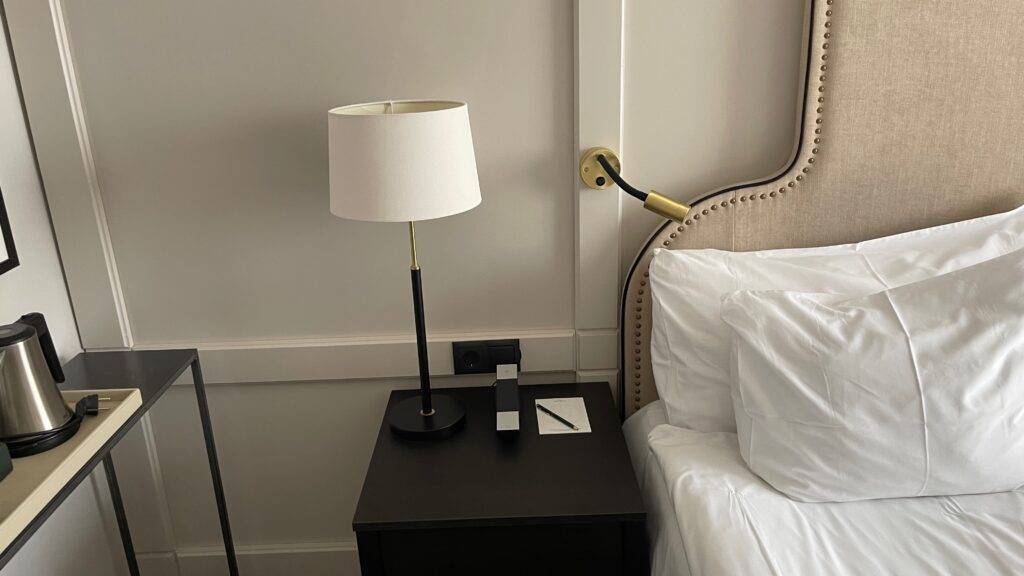 A welcome amenity of local chocolates was left on the table next to the window along with a note.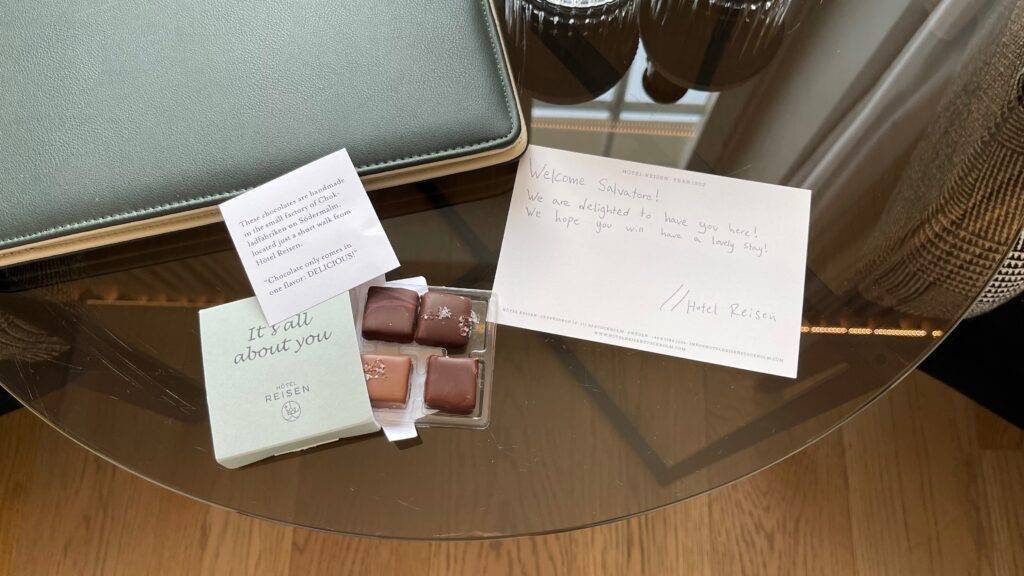 There were six (!) bottles of sparkling water in the room. Globalists are entitled to two bottles of water a day but I've been consistently getting more on my recent stays with Hyatt (for example, during my stay at the Hyatt Regency The Churchill in London there were 15 bottles left in my suite).
I'm not sure if this is the standard at these properties or if Hyatt has inserted a note to my World of Hyatt account that I'm very thirsty and enjoy sparkling over flat water. Either way, no complaints here.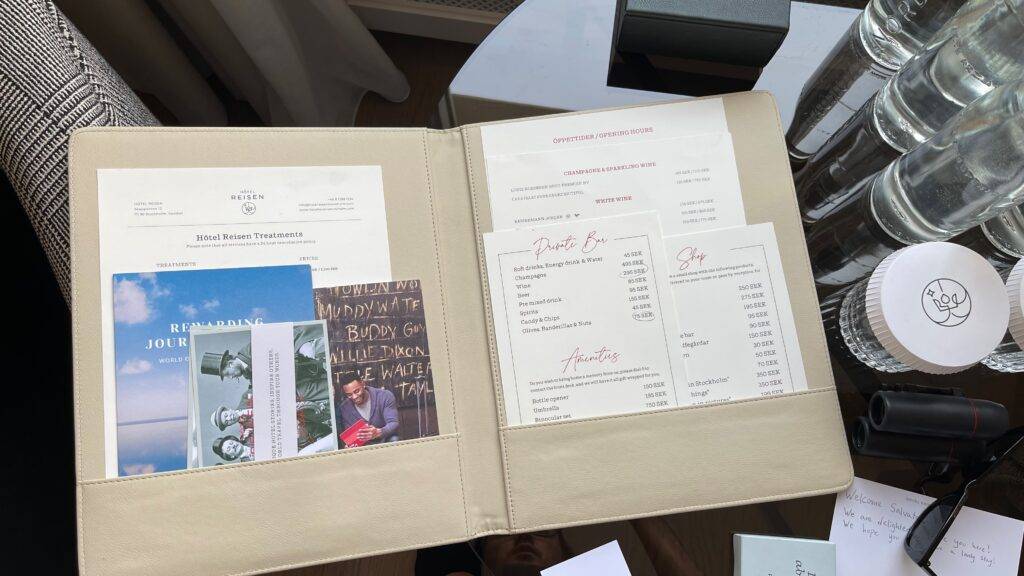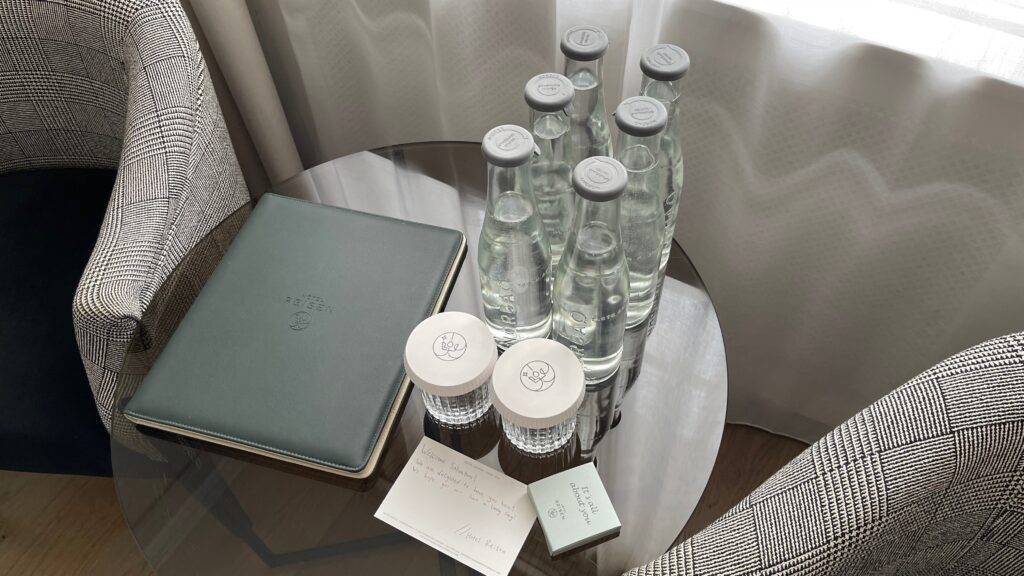 While the hotel promised an in-room coffeemaker on its website, this was missing in our room. Instead, there was simply an electric kettle with some tea and instant coffee (yuck). If it were a longer stay, I likely would have called down to request a proper coffee machine but since it was just two nights, we made due.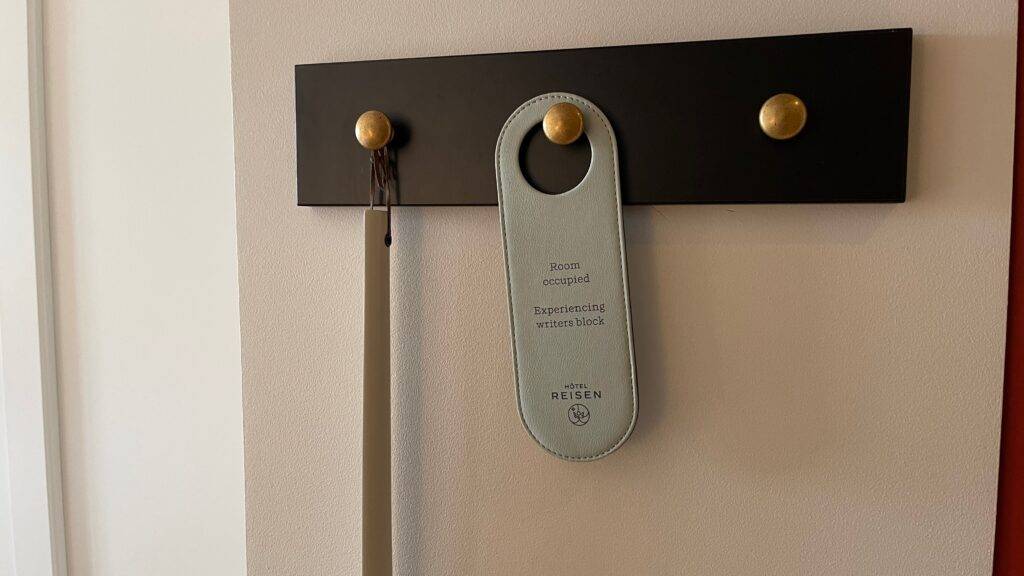 Hotel Reisen 1 King Sea View Closet
The walk-in closet is to the right of the entryway. There's plenty of space here and some additional room-temperature items that are part of the minibar.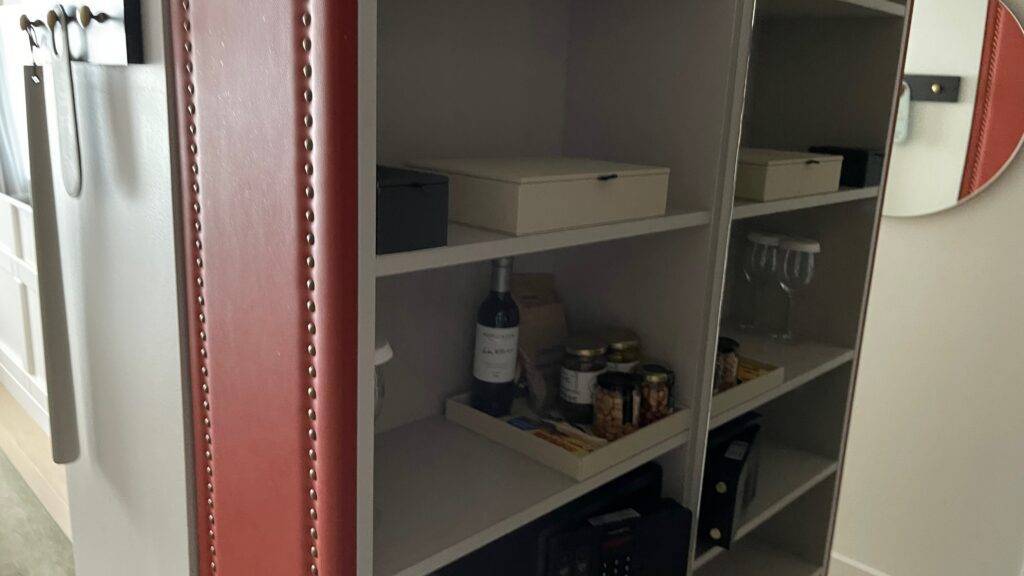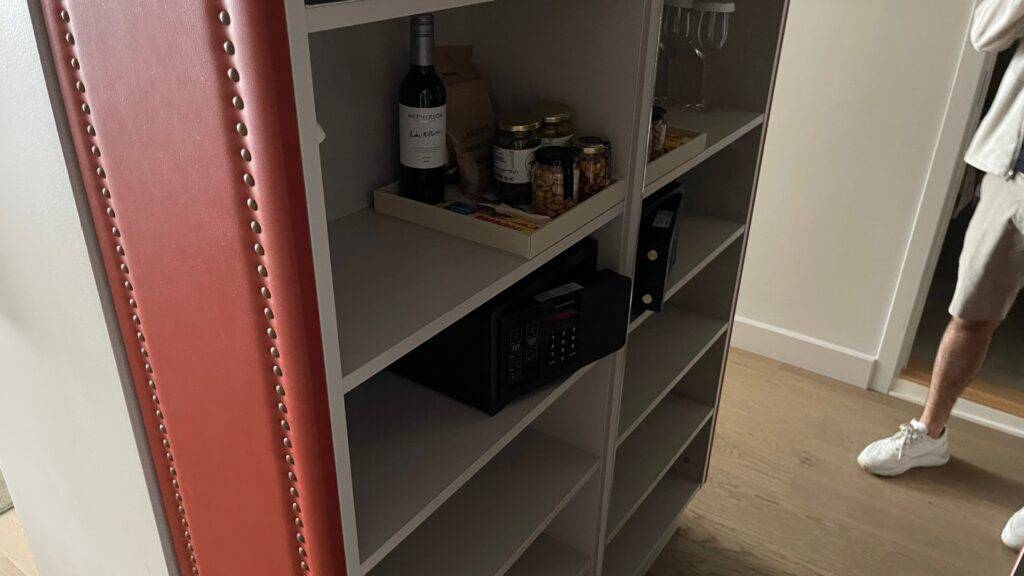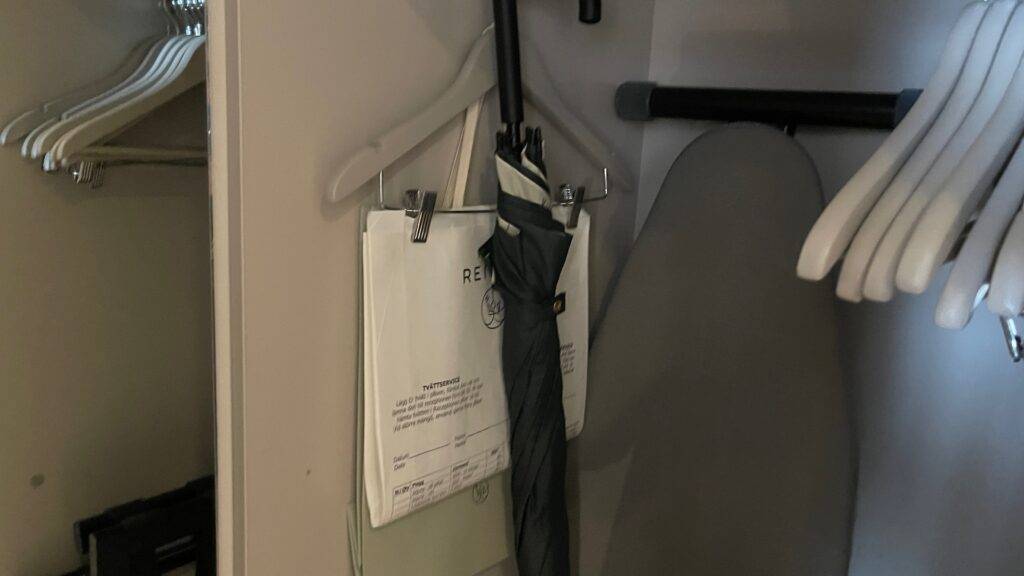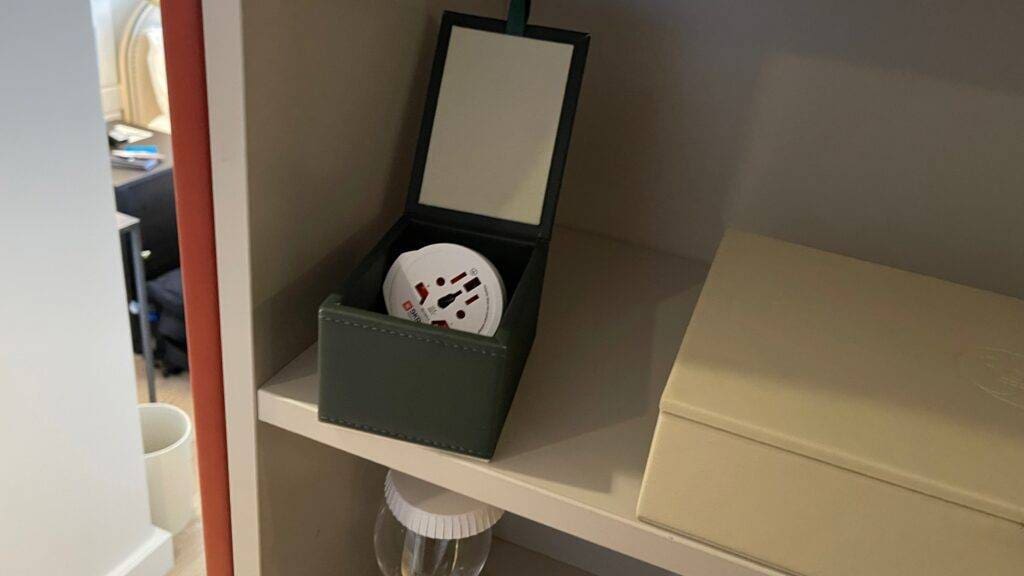 Hotel Reisen 1 King Sea View Scenery
With the lack of air conditioning, one of the first things we did was open up the windows to let the breeze in and take in the Stockholm scenery outside.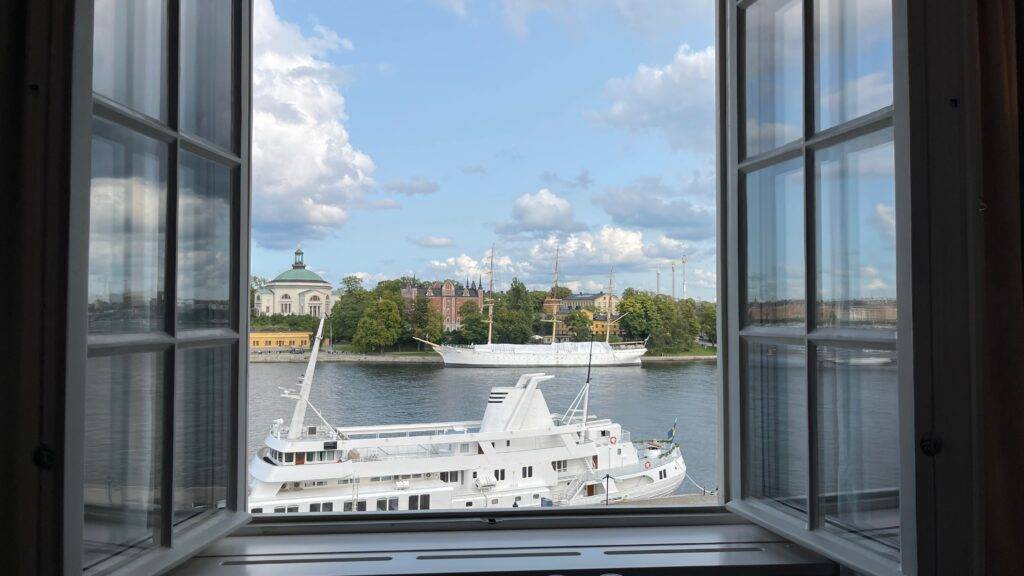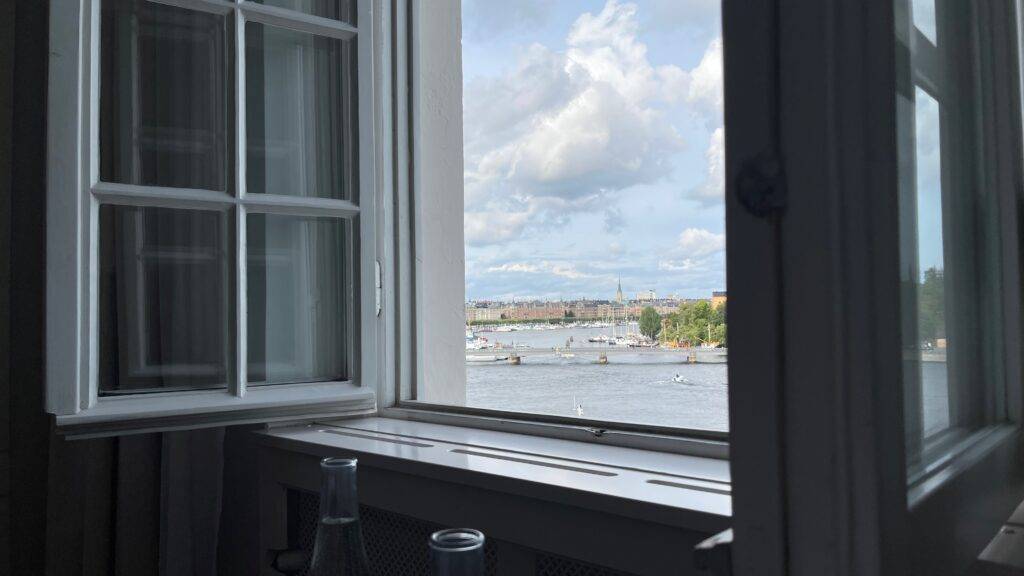 A pair of binoculars was in a box placed on the windowsill in case you want to take a better look at something in the distance.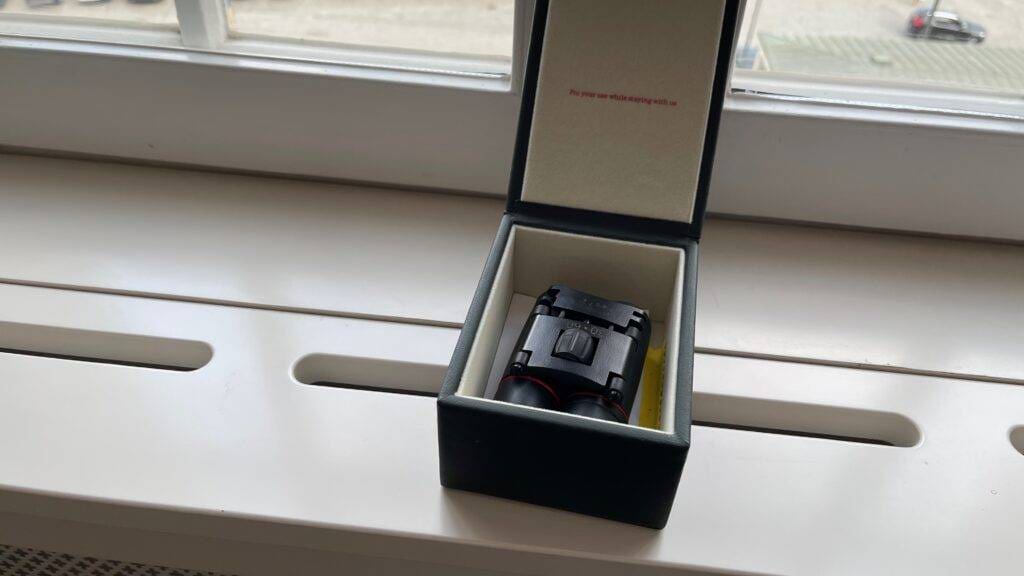 Hotel Reisen 1 King Sea View Bathroom
The bathroom in the Sea View room is located to the left of the entryway. It's just your standard hotel bathroom with a sink, walk-in waterfall shower, and toilet.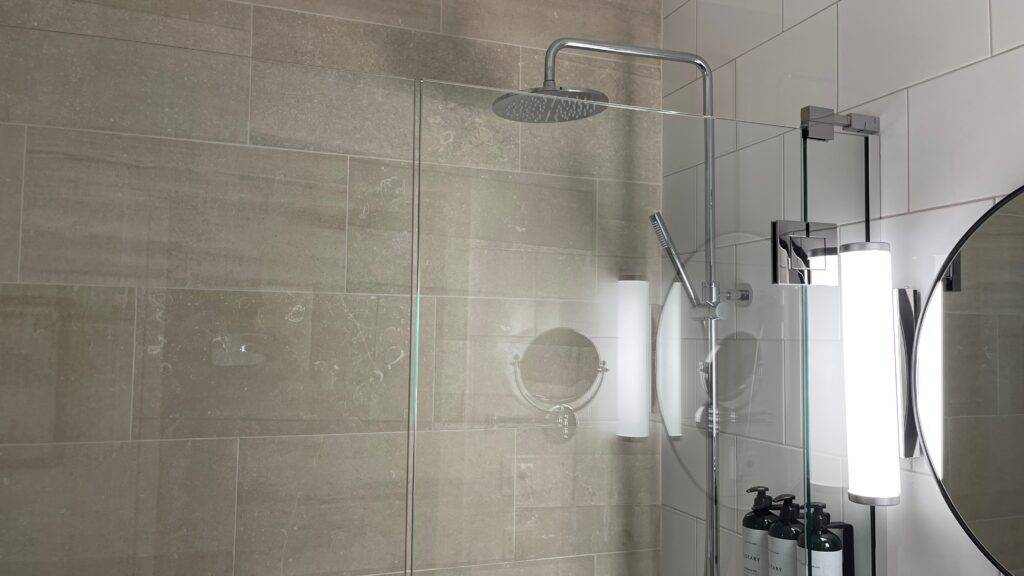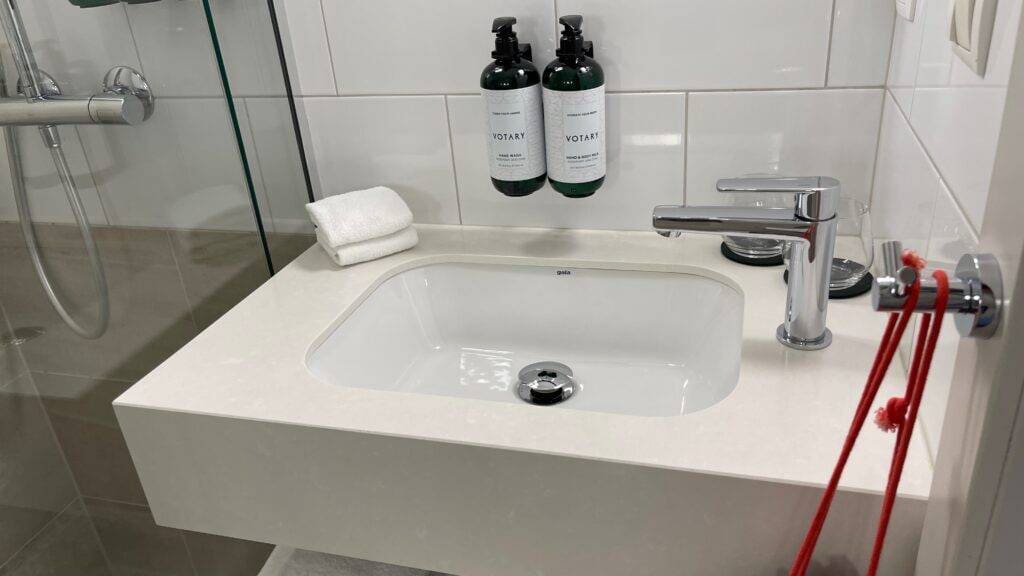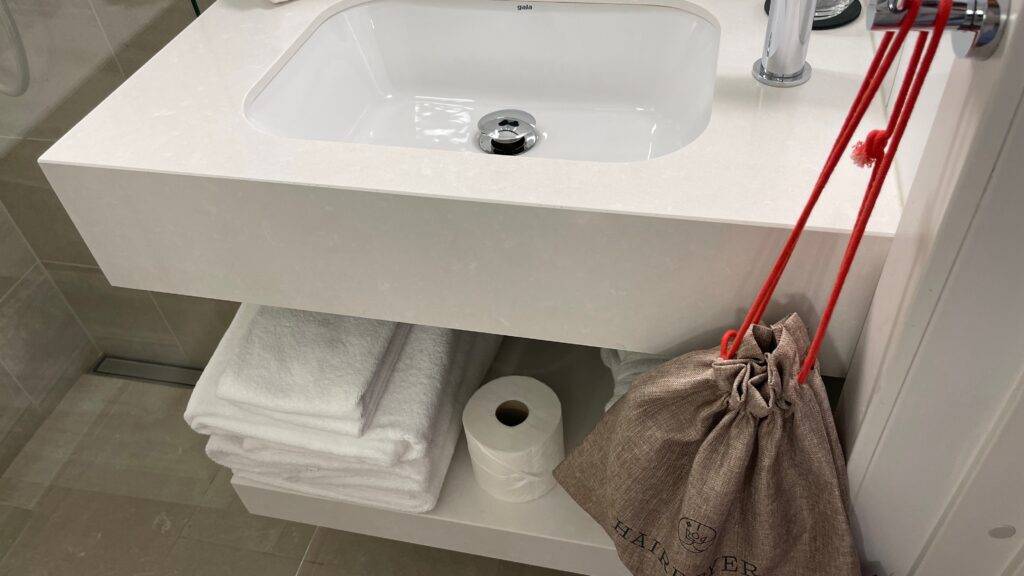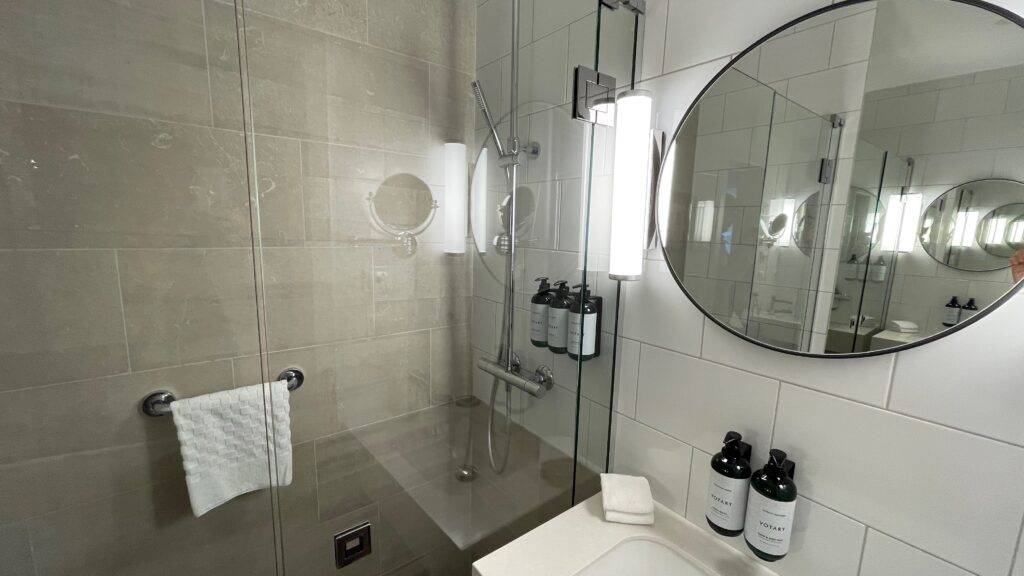 Toiletries
Toiletries were from Votary, which is a plant-based cosmetics line created by British makeup artist Arabella Preston. I enjoyed the products but I'm not quite sure what the story is behind the selection. The hotel otherwise does an excellent job highlighting its Swedish heritage throughout the experience. I would think that pursuing a collaboration with a local brand would help stay consistent with the theme.
In addition to the standard shower gel, shampoo, conditioner, and lotion (hand and body milk in this case) the hotel also provided liquid hand soap. I always appreciate when hotels provide this (I'm not a fan of bar soap for hand washing).
Unfortunately, the products are provided in wall-mounted containers rather than individual containers, which is my preference.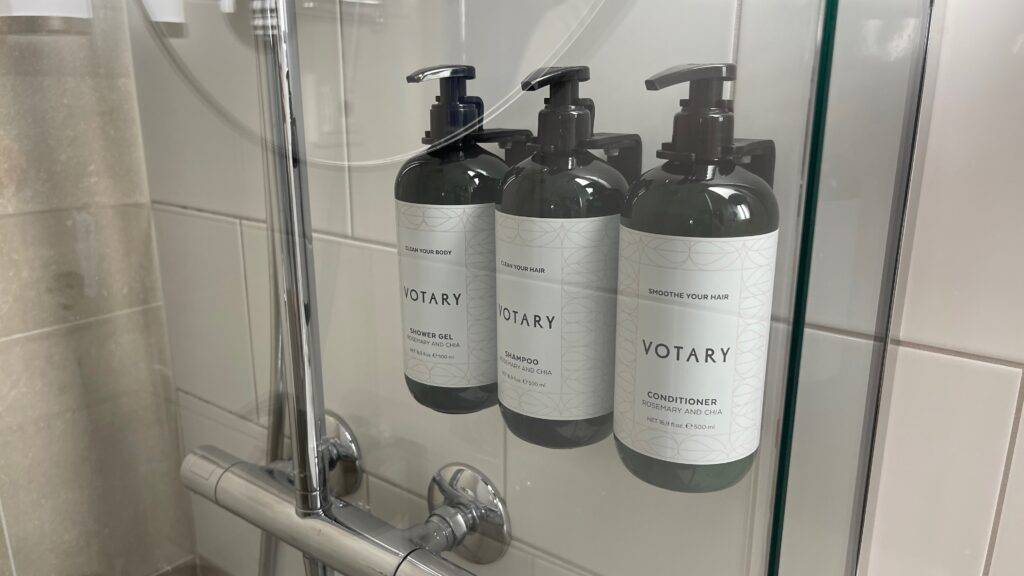 Hotel Reisen Fitness Center
The fitness center is located in the basement and is open 24/7. It has a basic selection of free weights, stall bars, a bench, a stationary bicycle, a treadmill, and a cable crossover machine. In addition, there were some mats and weightbags. Like the rest of the hotel, there was no air conditioning in the gym.
It's a pretty small yet functional gym. At least during my stay, I never saw anyone else using the gym (potentially due to the lack of air conditioning making it hard to get a full workout in).
There's also a small bathroom attached.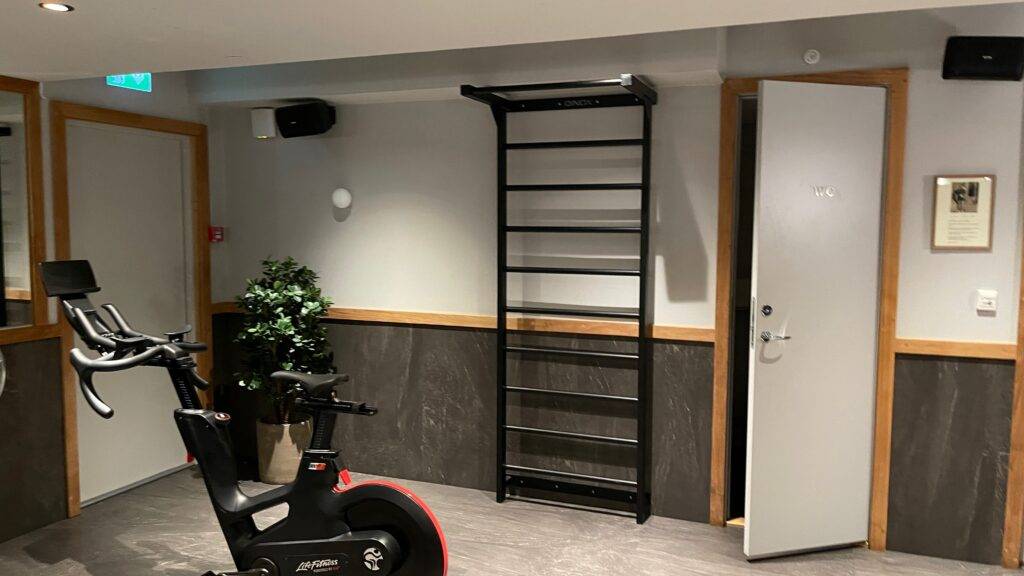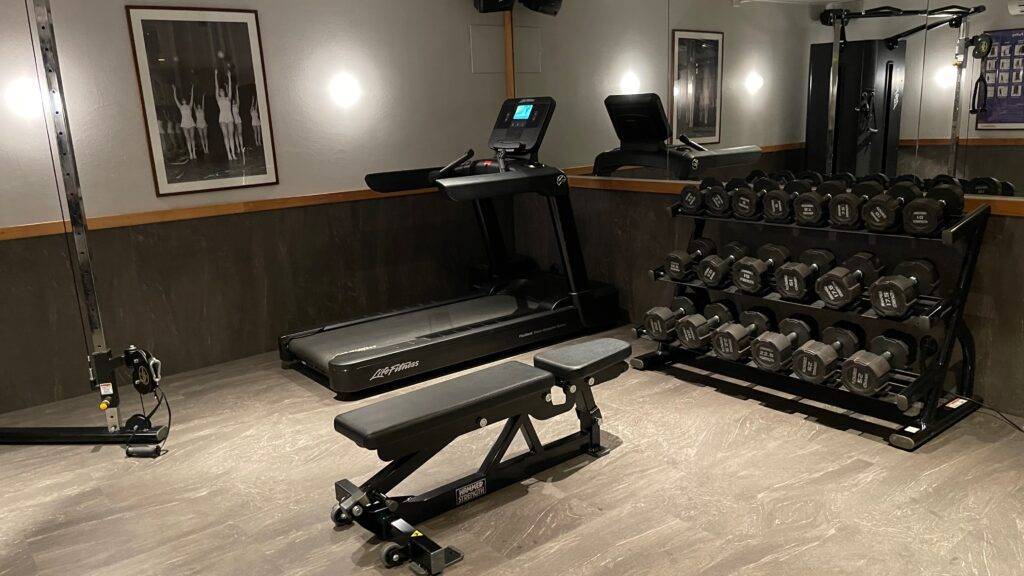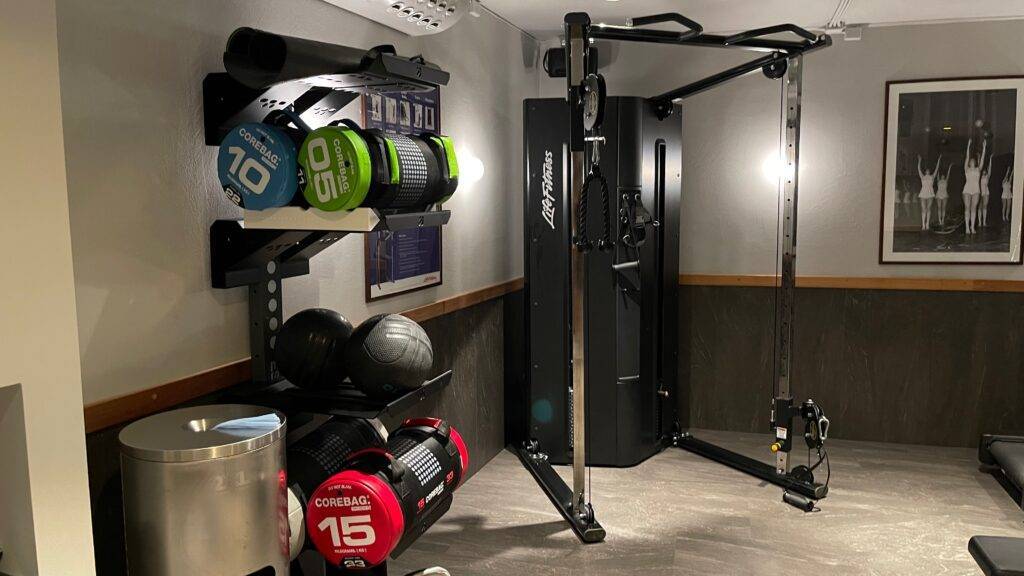 Hotel Reisen Spa (Sauna & Plunge Pool)
The spa area at Hotel Reisen is located adjacent to the gym and adds a really nice touch to the hotel. While the hotel doesn't have a swimming pool, there's a quite aesthetic cold plunge pool in the basement along with the Swedish sauna.
Amusingly, signs throughout the spa area let guests know that swimsuits are mandatory "including in the sauna."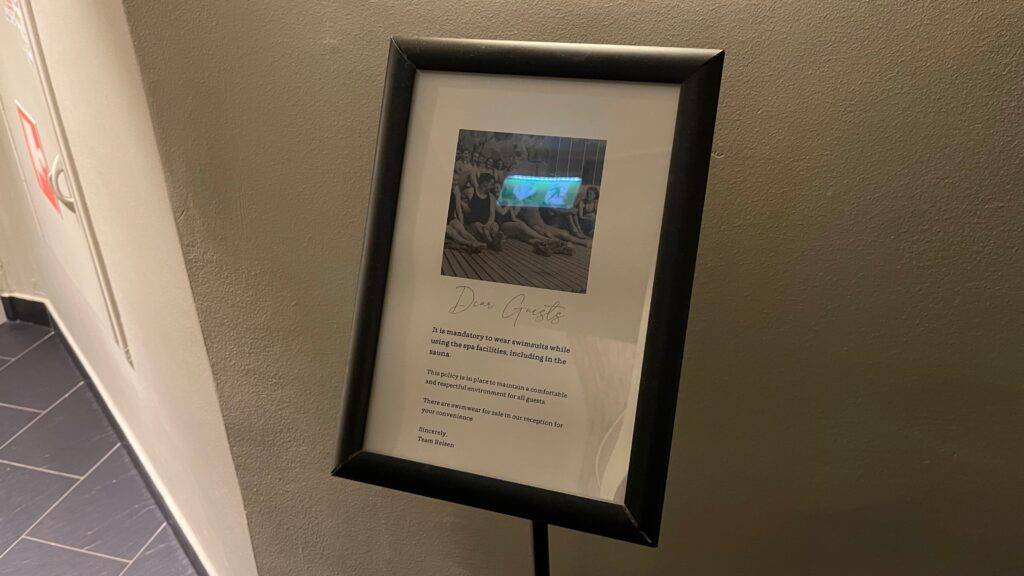 The cold plunge pool is kept at a temperature of 59° F (15° C). While it's great for a quick dip or plunge, I wouldn't describe it as an indoor swimming pool. Since the hotel lacks air conditioning, the cold plunge is a great way to cool off after a workout.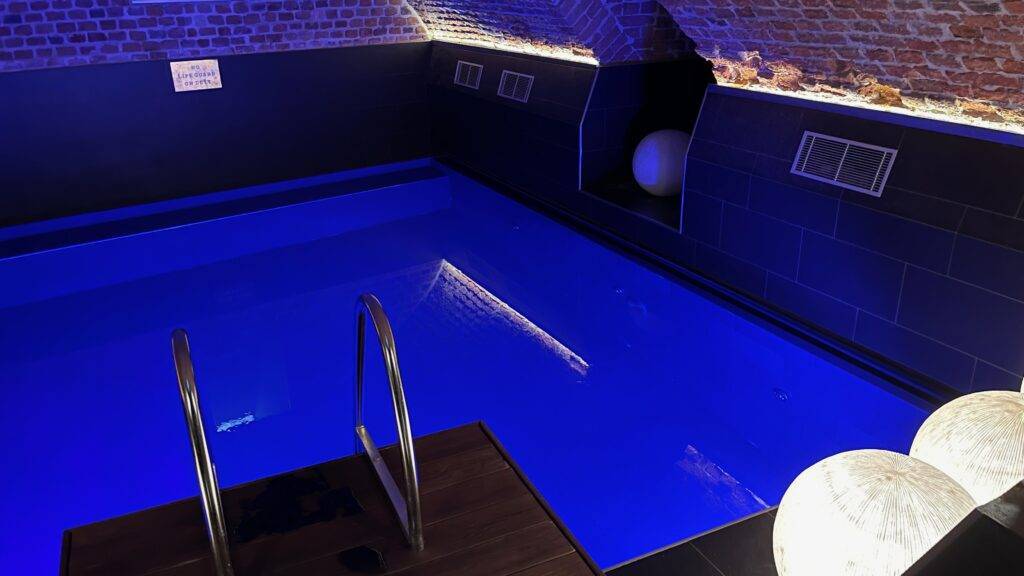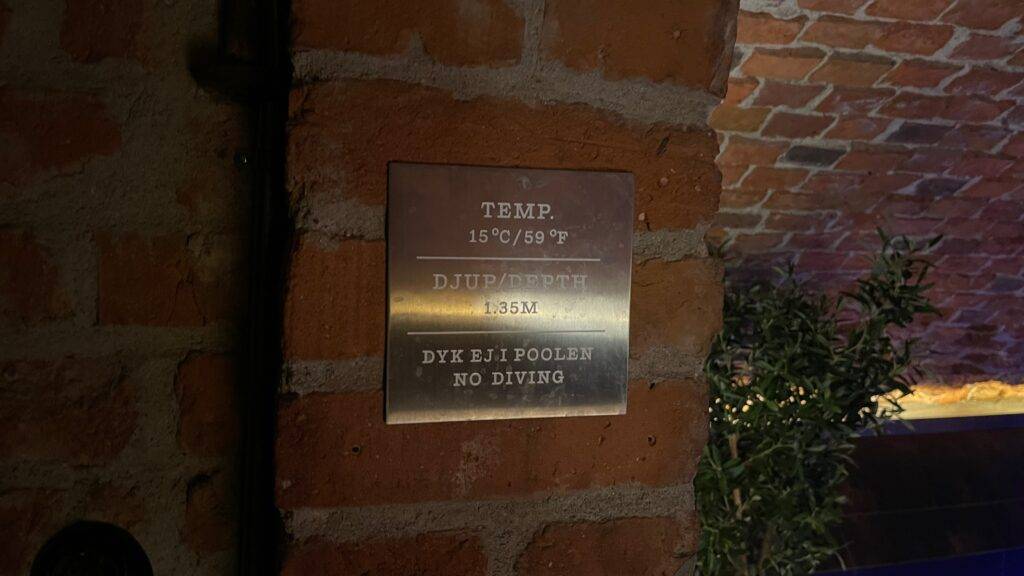 In addition to the wooden Swedish sauna, there is a relaxation area (presumably intended for those who book treatments).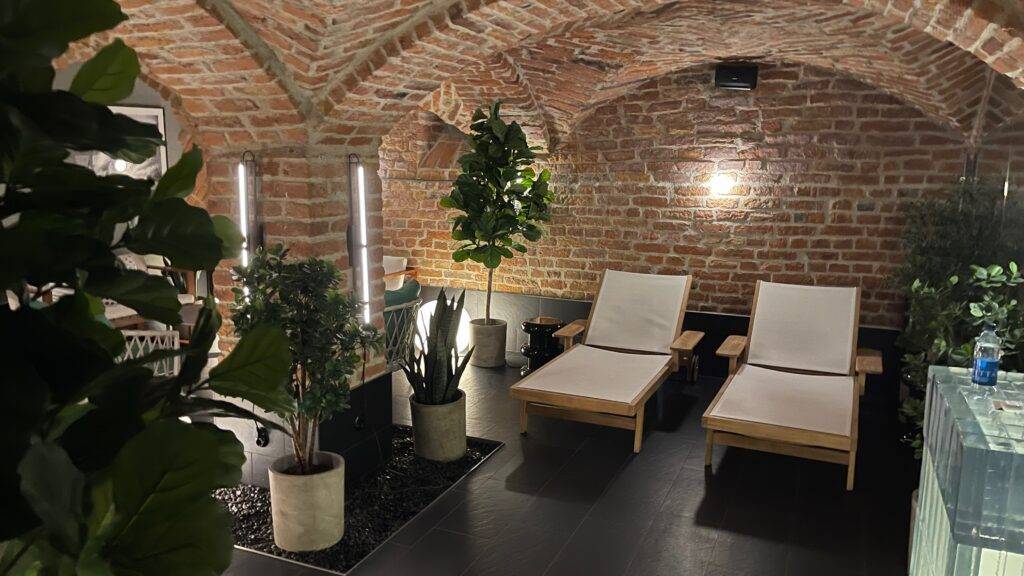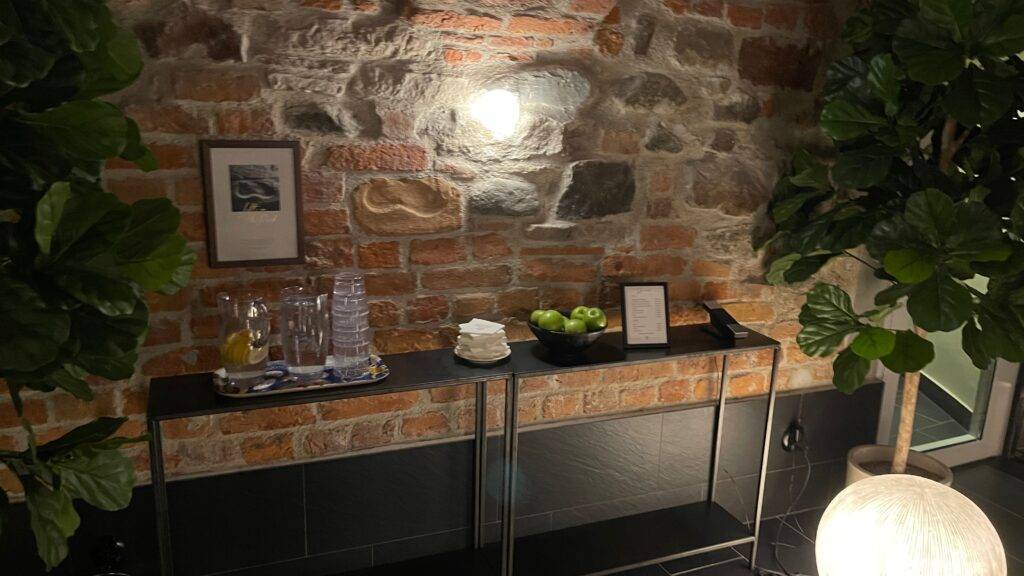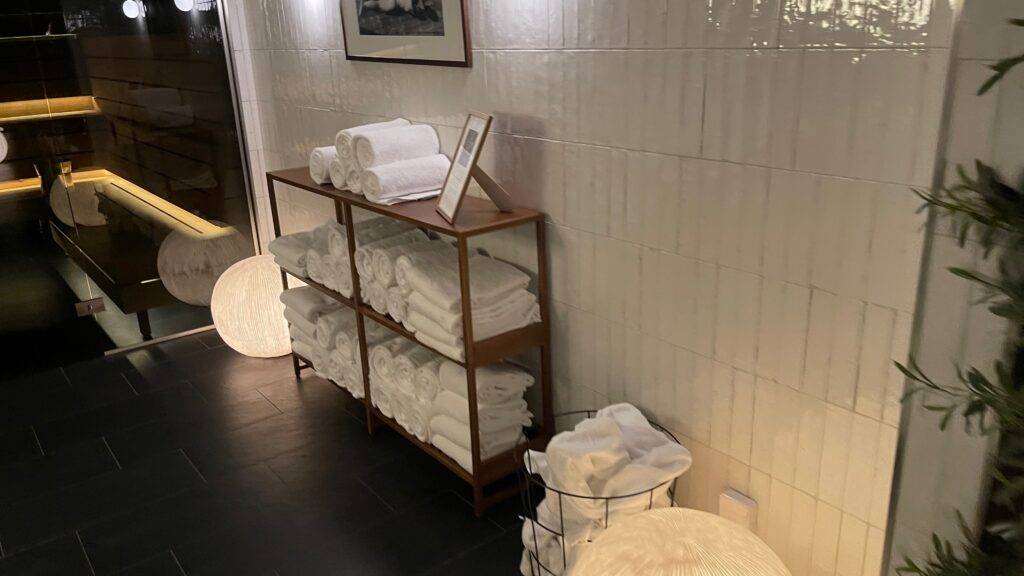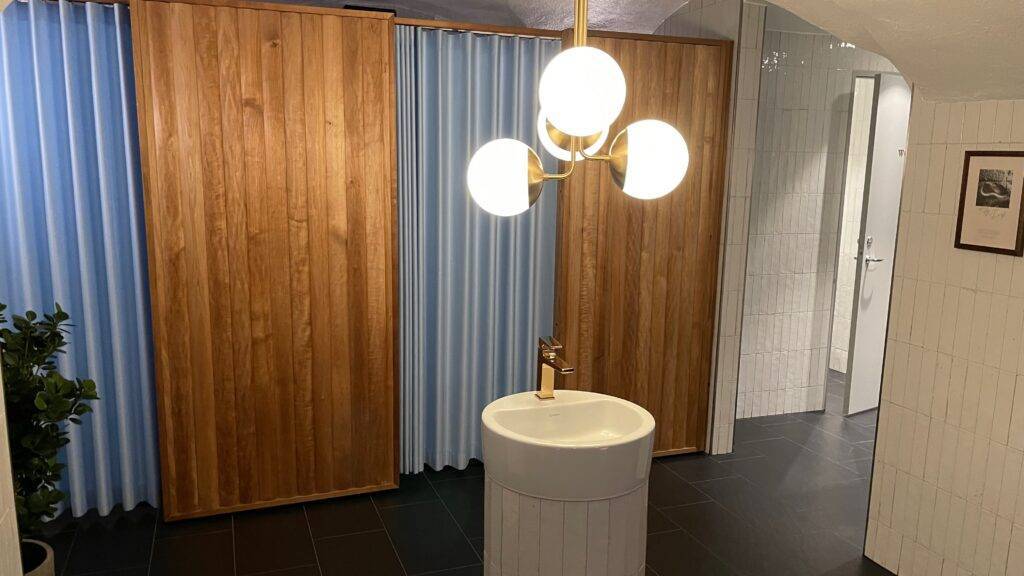 Bar Reiss at Hotel Reisen
Bar Reiss is the lobby bar at Hotel Reisen. (Unfortunately, the "semi-secretive" Bar Brahe in the back was closed during my stay). We had our fair share of cocktails here during our stay and they were consistently excellent.
There's a wide selection of local Swedish and Finnish gins (including Valteri Bottas' Oathgin) which the bartenders are happy to chat about and provide tastings of.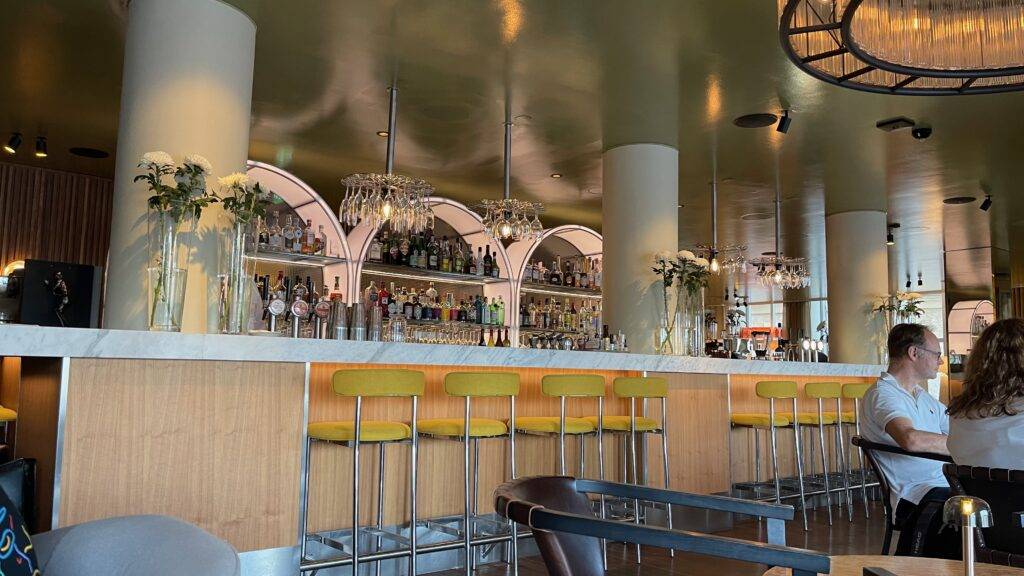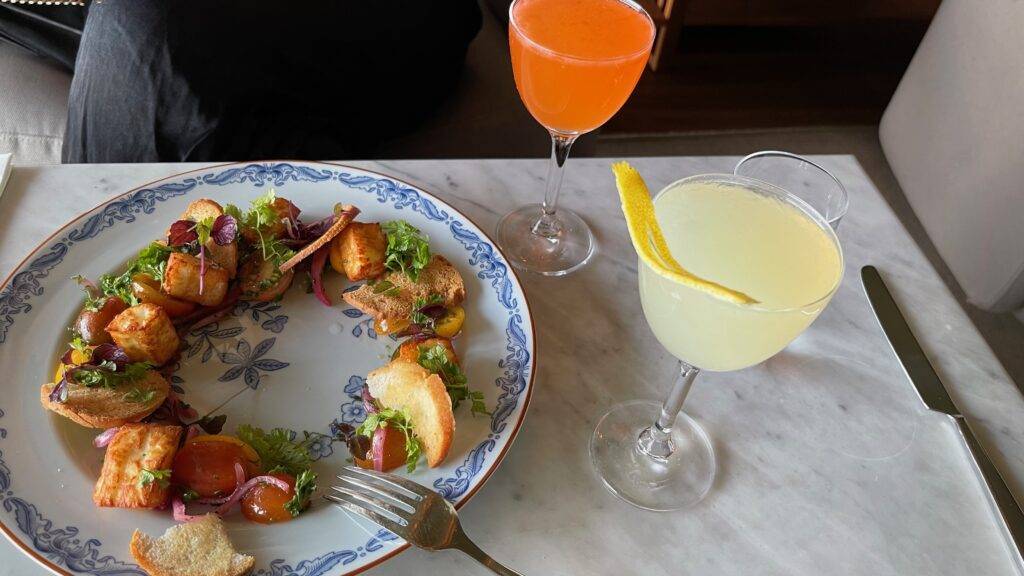 While the creations and various gin and tonics are excellent, I was particularly pleased with the Negroni which was served with a rock embossed with the hotel's emblem.
Hotel Reisen Breakfast at Restaurant Reiss
A buffet breakfast is served every morning from 6:30 to 10 am Monday to Friday and 7 to 11 am on Saturdays and Sundays. The breakfast costs 350 SEK (a bit of $30 USD) per person. Of course, breakfast is included at all Hyatt hotels (including independent collection properties like Hotel Reisen) for Globalists.
The breakfast buffet features a wide selection of pastries, bread, fresh fruit, cold cuts, and more. Made-to-order eggs and coffee can be ordered from the waiters.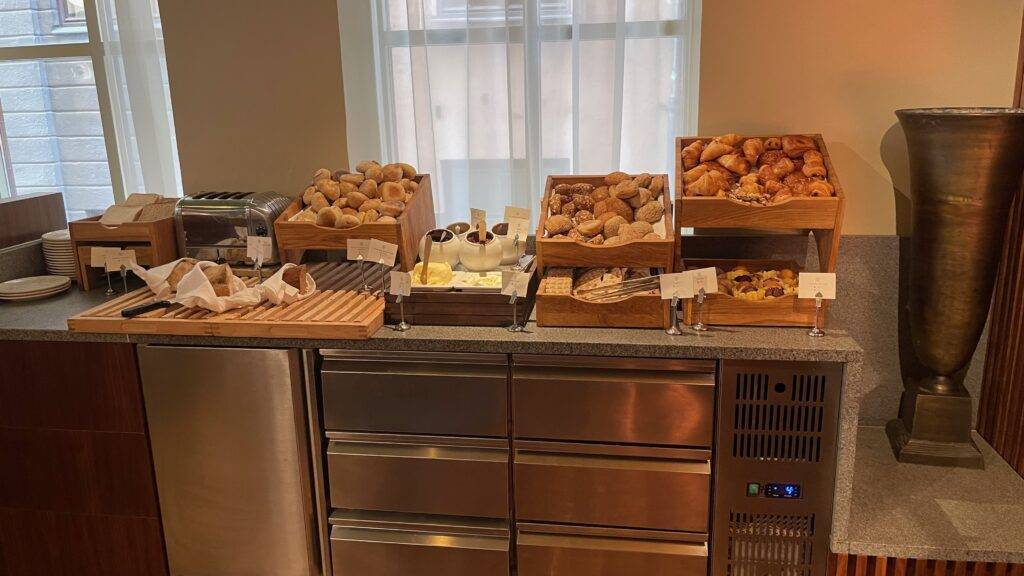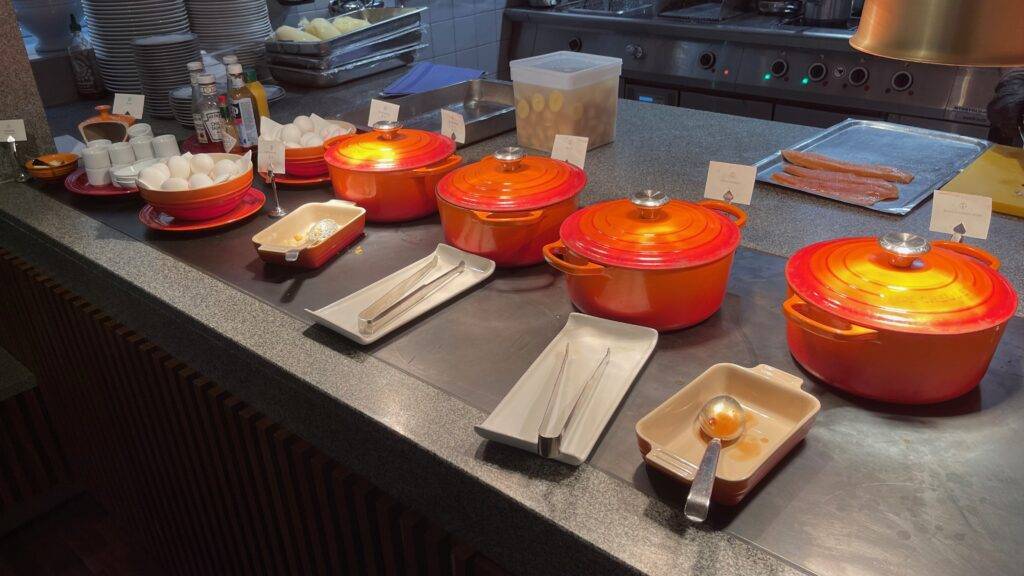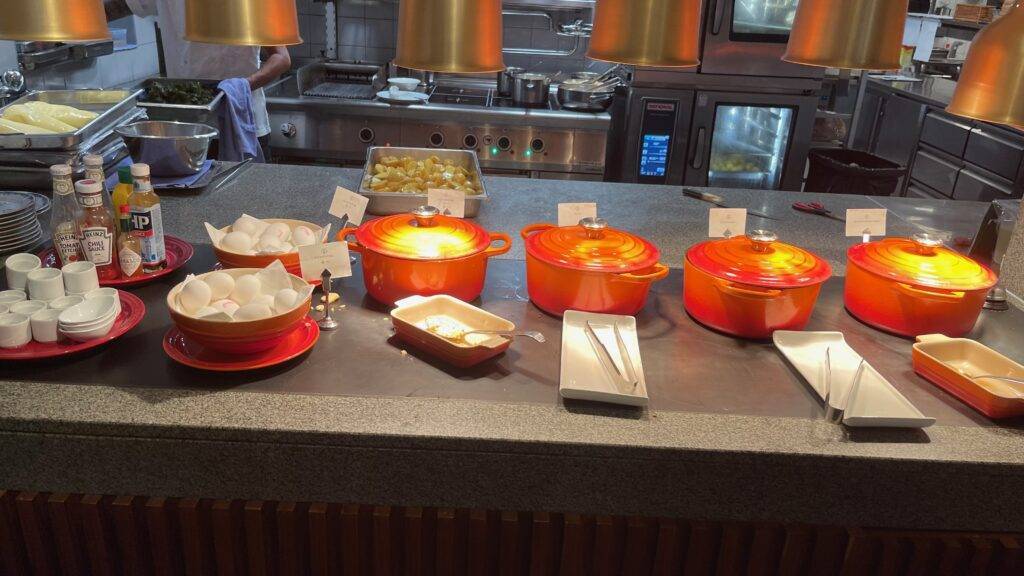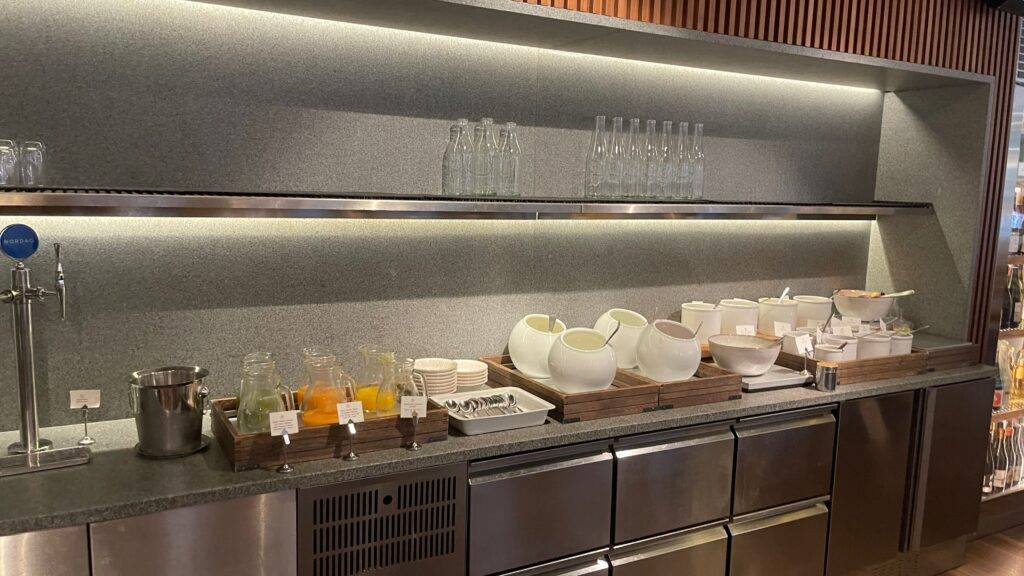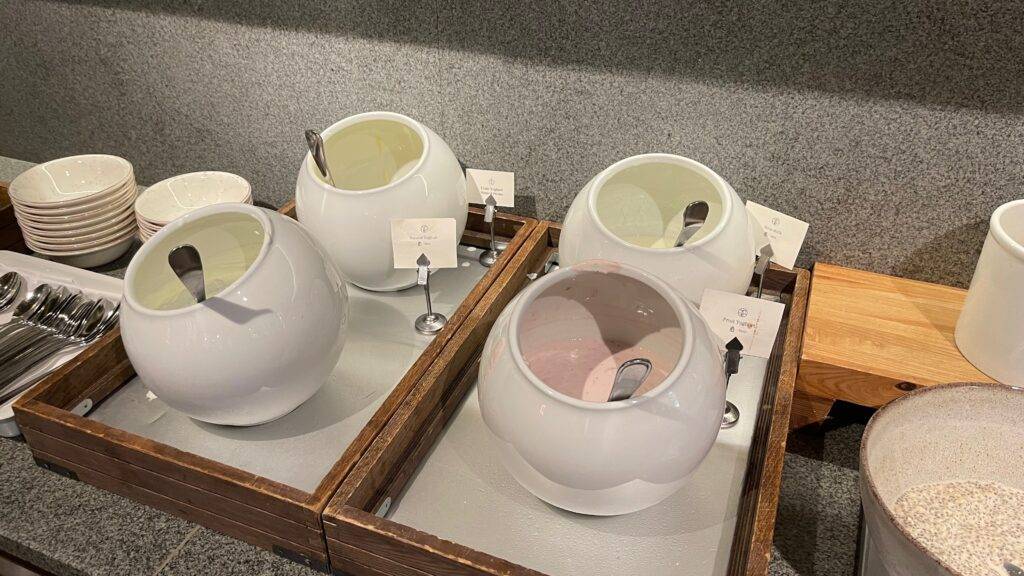 Hotel Reisen Service
Service at Hotel Reisen was always well-meaning although the hotel did seem understaffed at times. For example, there were multiple occasions when my key would stop working and there would be a line at the reception desk meaning getting a key made would take longer than it should have.
On the other hand, the restaurant and bar team couldn't have been better. During breakfast, the waiters promptly cleared tables of empty plates and were available to take additional orders for coffee or à la carte menu items. I also really appreciated the bar team who not only whipped up excellent cocktails but were personable and helpful (even providing suggestions of other bars to explore in Stockholm).
While the hotel offers 24-hour room service, I didn't get a chance to check that out (we ate most of our meals out or at the bar). As a five-star hotel, daily housekeeping is provided. However, there is no turndown service. As you'd expect, there is free WiFi throughout the property (the speeds were good, roughly 50 mbps download and 20 mbps upload).
Hotel Reisen Bottom Line
Hotel Reisen is a historic gem in Stockholm's Old Town and a new addition to Hyatt's Unbound Collection. The hotel blends old-world charm and modern amenities, offering a unique experience for travelers. The sea view rooms have stunning views over Stockholm's islands and while the hotel lacks air conditioning, it's still a comfortable stay with rich history, excellent service, and a prime location. From the well-crafted cocktails at Bar Reiss to an excellent breakfast at Restaurant Reiss, the hotel is an excellent choice for anyone looking for a five-star hotel in Stockholm and definitely a top choice for any World of Hyatt loyalists.