Among travel hackers, there's no elite hotel loyalty status that's quite as popular as Hyatt Globalist. While every program has its flaws, World of Hyatt is arguably one of the best programs for elite recognition and I think that's definitely true if you value complimentary breakfast.
Access to a complimentary breakfast is a pretty common perk for elite members in many programs. It's a benefit that many frequent travelers put a lot of value in since it's more convenient to have access to a high-quality hotel breakfast without worrying about the cost than venturing off-property in the morning. With the prices at some properties, having breakfast included can result in some significant savings.
Not every program's breakfast benefit is the same. At some brands, utilizing the benefit might leave you disappointed if you were hoping to enjoy a complete breakfast but that's rarely an issue a Hyatt Globalist will run into. This is an area where World of Hyatt clearly differentiates itself. In this guide, we'll take a closer look at what World of Hyatt promises as part of the Hyatt Globalist breakfast perk, how it works, and how it's implemented at properties in the brand.
Basics of the Hyatt's Globalist Breakfast Benefit
The Hyatt Globalist free breakfast benefit is pretty straightforward in its simplicity. Hyatt Globalists get a free breakfast on stays at almost every World of Hyatt property. If the property is serving breakfast in a club lounge, that's where the breakfast is offered. If the property doesn't have an open club lounge, Hyatt Globalist members will be offered a "full breakfast" in the hotel's restaurant.
World of Hyatt provides a clear definition of what it considers the minimum offering to be considered a "full breakfast" in its terms.
A full breakfast must include a minimum of "one entrée or standard breakfast buffet, juice, and coffee."
Taxes, service charges, and gratuity are included in the benefit.
The benefit is for every registered guest in the room, up to a maximum of two adults and two children.
Breakfast is included for Globalists in almost every hotel that participates in World of Hyatt with only a few exceptions (listed below).
Hotels that participate in the Small Luxury Hotels of the World collaboration with World of Hyatt do not provide Globalist benefits. However, rates booked through Hyatt generally include breakfast.
Breakfast is not included as a Globalist elite benefit at Miraval Resorts, Hyatt Place, and Hyatt House. That's because all Miraval Resorts, and most Hyatt Place and Hyatt House hotels, breakfast is already included as a benefit for all guests meaning this isn't a Globalist-specific benefit. Meanwhile, Hyatt Place and Hyatt House hotels in the Asia-Pacific region and Hyatt Place hotels in Europe, Africa, Middle East, and Southwest Asia region, breakfast isn't necessarily included for all guests. In such cases, Hyatt Globalists will still receive free breakfast but it might not meet the definition of "full breakfast" given in the terms above.
At Caption by Hyatt, Globalists get a smaller breakfast benefit with an "elevated coffee" and a "small plate" per guest. Caption by Hyatt is a new brand with only 3 locations globally so while the limit is unfortunate, it's also rare.
The Hyatt Globalist breakfast perk doesn't apply at most vacation ownership properties. The exceptions to this (meaning that they do provide the free breakfast benefit) are The Lodge at Spruce Peak; Resort at Squaw Creek; Wild Dunes Resort – Sweetgrass Inn and Boardwalk Inn; Wild Dunes Resort Vacation Rentals; and Wild Dunes Resorts – Residences at Sweetgrass Inn. The AluaSun Far Menorca resort provides the breakfast benefit at its nearby sister resort, AluaSun Mediterráneo.
Hyatt Globalist Breakfast Benefit: Actual Experiences
While the guidelines above are the minimums required by the World of Hyatt terms, most properties go above and beyond with the free breakfast benefit in my experience.
In dozens of hotels I've visited since becoming a World of Hyatt Globalist, I've never been limited to only one entreé or just the buffet. In practice, most Hyatt hotels seem to give Globalists a full selection of both á la carte breakfast items and the buffet should it be available. Of course, it's important to clarify if you're not sure of a hotel's practices.
Other hotels go even§ further. What's more convenient than ordering breakfast to your room?
The Park Hyatt New York allows Globalists to enjoy their complimentary breakfast via room service. On my last stay, even a bottle of sparkling wine ordered with breakfast was removed from the final bill. During a recent stay, the breakfast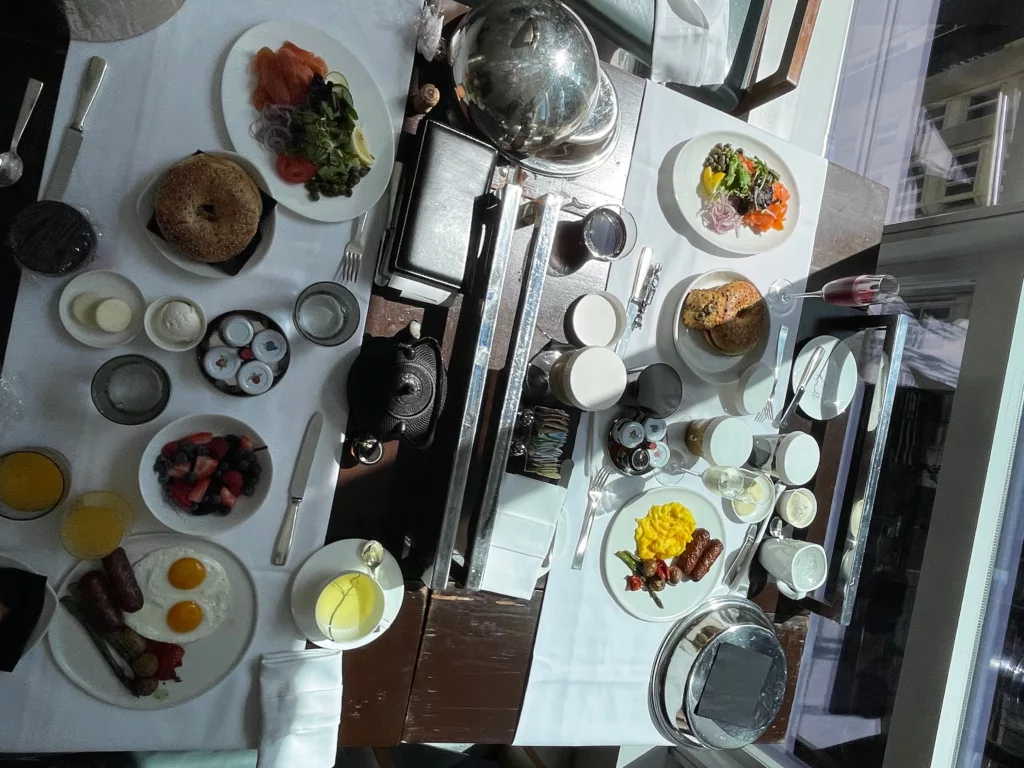 Turns out allowing some alcohol to be included with the complimentary breakfast for Globalists isn't exactly unique to the Park Hyatt New York. I've stayed at quite a few Hyatts where there was no charge for alcoholic drinks ordered at breakfast for Globalists.
Hotel Martinez in Cannes, Park Hyatt New York, Grant Hyatt Sao Paulo, Grand Hyatt Bogota, Andaz Los Angeles, and most recently, Park Hyatt Saigon, are among the hotels where I've ordered a mimosa with breakfast without a charge. This isn't a published Hyatt benefit and there's no entitlement but it's a fun thing to keep track of and definitely appreciated.
How To Earn Hyatt Globalist Status
To be eligible for the complimentary breakfast perk in the World of Hyatt program, you'll need to earn Hyatt Globalist status. This is the top published tier of the World of Hyatt loyalty program and requires 60 qualifying nights or 100,000 base points in a calendar year.
There are some ways to fast-track your way to Globalist status.
World of Hyatt Credit Card: Holding the World of Hyatt Credit Card will automatically bump you out to the lowest of three elite statuses at Hyatt, Discoverist. In addition to numerous other benefits that make this card worthwhile, it will automatically credit you 5 qualifying nights each year and 2 additional qualifying night credits for every $5,000 in spend.
Status Challenge or Fast Track: If you're close to earning Globalist status, you might be able to request a status challenge or fast track, which allows you to earn status in a shorter timeframe.
AAdvantage Status: Speaking of fast tracks, World of Hyatt regularly offers status fast tracks to AAdvantage elites as part of their partnership with American Airlines. Even better, American Airlines Concierge Key members receive automatic Globalist status.
Promotions: World of Hyatt is currently targeting some members with an offer to count each qualifying night twice as part of its current targeted promotion. This is a great way to quickly get the nights needed for Globalist.
Otherwise, most World of Hyatt members will need to achieve Globalist status the traditional way — by staying the needed 60 qualifying nights or earning 100,000 base points in a calendar year.
See also: Offer: World of Hyatt Points On Sale For 25% Off
Bottom line
World of Hyatt limits its complimentary breakfast benefit to only its Hyatt Globalist members, the highest published elite status in its program. This is the most comprehensive breakfast benefit offered by any hotel loyalty program with a "full breakfast," including service charges and gratuities, available for up to two adults and two children per room. The breakfast benefit is available at most Hyatt properties, with a few exceptions. In fact, most properties go above and beyond the minimums required by World of Hyatt, providing a high-quality breakfast experience. This helps make Hyatt Globalist one of the most valuable elite statuses for frequent travelers.