I recently stayed at the Hyatt Centric Milan Centrale for two nights while visiting Milan and wrapping up a short trip around Italy.
In terms of practical hotels in Milan, the Hyatt Centric Milan Centrale is one of my favorites and is located just a few blocks away from Milan's Central Train Station. It certainly isn't the luxury experience that you'll find at the Park Hyatt Milan and you won't find yourself inside history like at the Galleria Vik Milano but it's a comfortable and practical place to stay.
As that statement implies, I've stayed here before, most recently in the immediate aftermath of the pandemic which hit Milan particularly hard as the first city in the west to experience
Hyatt Centric Milan Centrale: Hotel Basics
Nestled in one of Milan's bustling business districts, the Hyatt Centric Milan Centrale features sleek common areas in a modern aesthetic hotel.
One of its primary selling points is that it's a five-minute walk from the Central Station and about the same distance from Piazza Gae Aulenti and the Porta Nuova area of Milan, making it an ideal hotel for anyone with business in these areas.
The Piazza Duomo and Fashion District of Milan is a 20-minute walk or two stops on the Metro to the Via Montenapoleone station.
The hotel's accommodation reflects modern Milan with compact, modern rooms. The hotel's rooftop terrace, Organics SkyGarden @Cielo, boasts panoramic views of the city skyline and is certainly one of Milan's best rooftops. This urban oasis serves handcrafted cocktails and savory food bites with almost daily DJ sets, 40 meters​ above street level.
The hotel has a wellness area, complete with a Roman bath, sauna, Turkish bath, salt cave, and sensory showers along with a small 24-hour fitness center​.
Booking the Hyatt Centric Milan Centrale
The Hyatt Centric Milan Centrale is a World of Hyatt Category 4 property meaning that standard redemptions cost 15,000 with it dropping to 12,000 points on off-peak days and going up to 18,000 points on peak days.
Summer 2023 is clearly going to be a year of high demand in Euope. That was clear when I started looking at the hotel for my two-night stay. The lowest cash price for the room available was €860 for two nights plus €20 in taxes & fees (Milan's City Tax).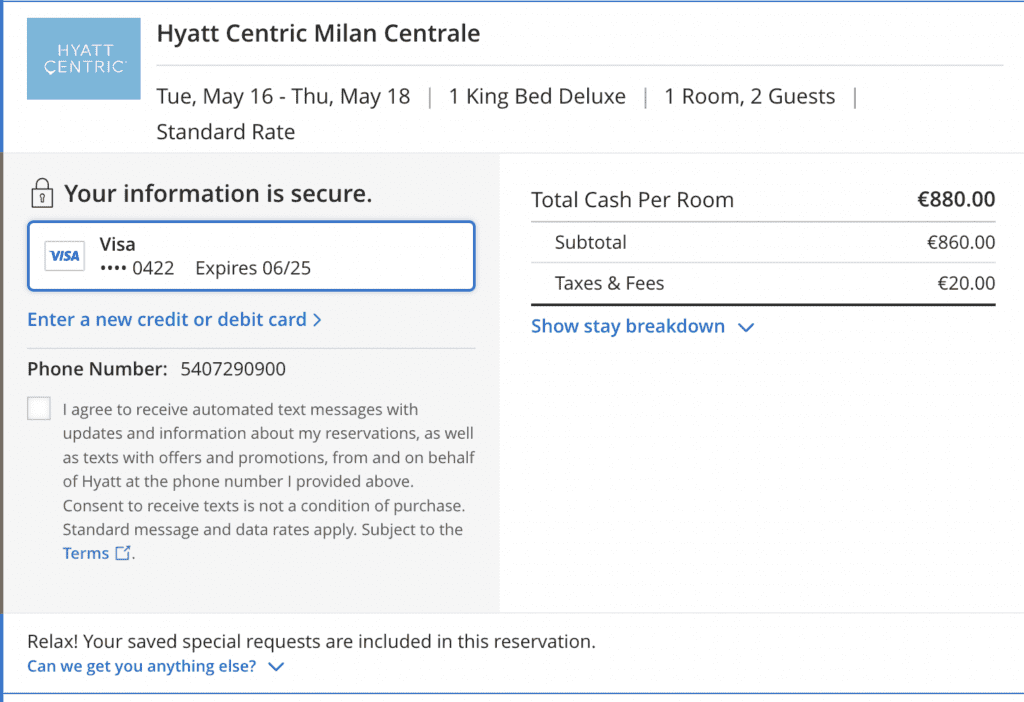 Luckily, award space was also available. Given that these were off-peak dates, I was able to secure a room at the hotel for just 30,000 World of Hyatt points transferred from Chase Ultimate Rewards.
When booking a World of Hyatt award, all taxes and fees are supposed to be waived for award stays. For some reason, the Milan city tax was not removed from the bill at checkout despite this being an award booking. This is my first time encountering the issue with Hyatt so I have raised it with my Hyatt Concierge — not so much because the €10 is a concern but because I'd like clarity on this point for future bookings.
Like any transaction at a Hyatt property, I charged incidentals on my The World of Hyatt Credit Card from Chase which earns a total of 4x World of Hyatt points per dollar spent in addition to the normal World of Hyatt earning rates.
Hyatt Centric Milan Centrale: Arrival & Check-in
The Hyatt Centric is conveniently located just about a 5-minute walk from Milano Centrale, the city's Central Train Station. In this case, we were arriving at the station after a trip on Italy's fantastic Frecciarossa high-speed rail network making the hotel exceptionally well-located.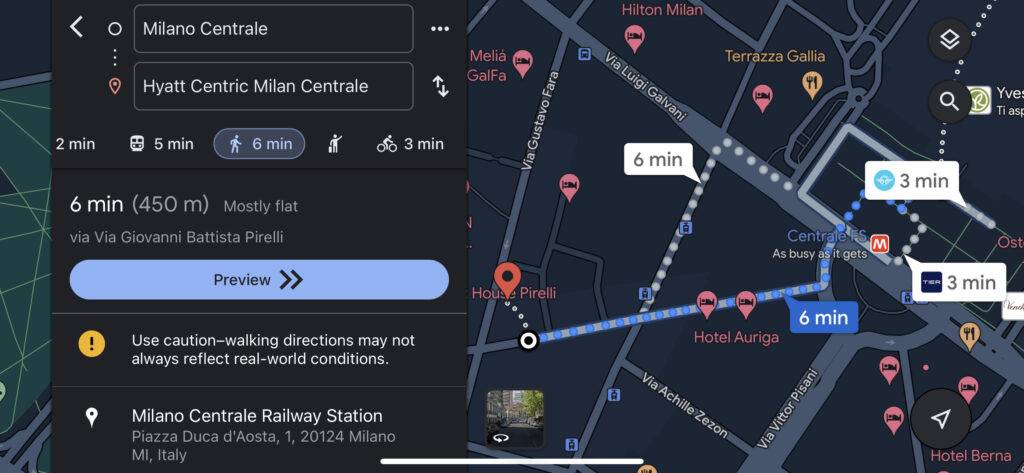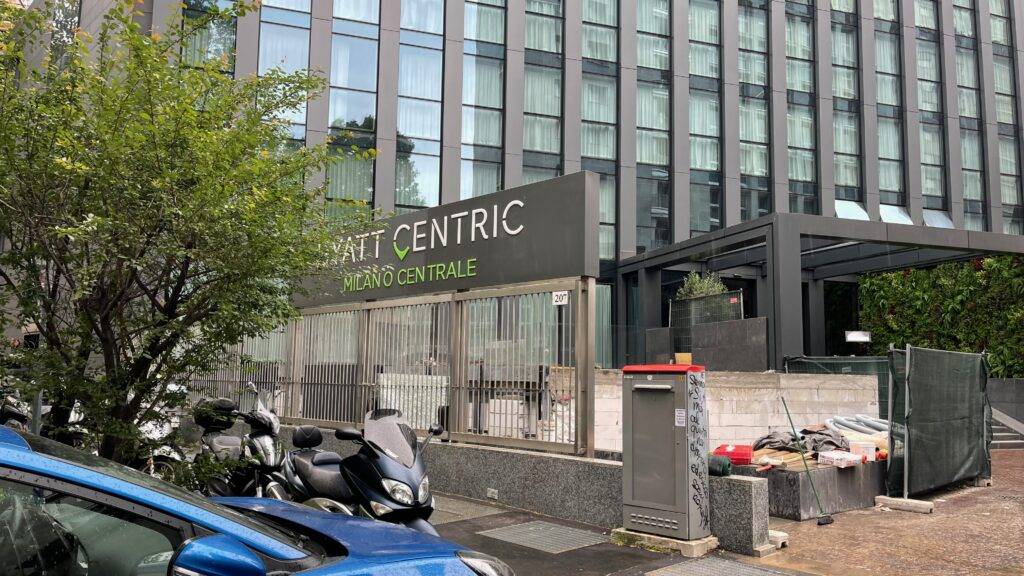 Milan Centrale is also the terminus of the Malpensa Express train from Malpensa Airport (MXP), Milan's international airport with daily service from the United States by American Airlines, Delta, United, and ITA Airways along with a fifth freedom service on the A380 on Emirates. If your trip to Milan begins or ends there, a hotel with easy access to the Central Station like the Hyatt Centric will serve you well.
We arrived around noon and were informed of a proactive upgrade to a Premium Suite but, unfortunately, the room was still unavailable. The host informed us that another Globalist with a 4 pm checkout was occupying it so he couldn't even guarantee that it'd be available by the standard 3 pm check-in time.
Given that, we took advantage of the free luggage storage offered at the Hyatt Centric Milan Centrale and headed out to grab a bite and enjoy the city. I attended university in Milan and it continues to be one of my favorite cities in Europe — probably the one I visit most frequently — so thinking of a place to go was no problem. We grabbed a bite, then enjoyed a drink at Terrazza Aperol overlooking the Duomo, one of Milan's many fantastic rooftop bars, before heading back to the hotel around 5 pm.
We returned and, as expected, our room was ready and we completed check-in formalities and headed to the room with our luggage delivered promptly after.
Hyatt Centric Milan Centrale: Upgrade
The hotel was fully booked on our dates so a complimentary Globalist suite upgrade was no guarantee. Even applying a suite upgrade award as a Globalist wouldn't have been possible given availability at the time of booking.
That said, I crossed my fingers. I'd stayed at the hotel three times before and each time was rewarded with a suite upgrade so I knew the team here would do their best.
Luckily, they came through. I opened the World of Hyatt app ahead of arrival and saw the upgrade to the premium suite. This was confirmed at check-in and we were assigned room 1012, which also happened to be the suite I was assigned on my last stay at the hotel 😉
Hyatt Centric Milan Centrale: Premium Suite
The Premium Suites at the Hyatt Centric Milan Centrale is marketed at 365 sq ft and are found on the 7th to 11th floors of the hotel. I was assigned the one on the 11th floor, just two floors below the hotel's 13th floor rooftop.
When you step into the room, you'll find an expansive closet space to your left and a massive floor-to-ceiling mirror to your right.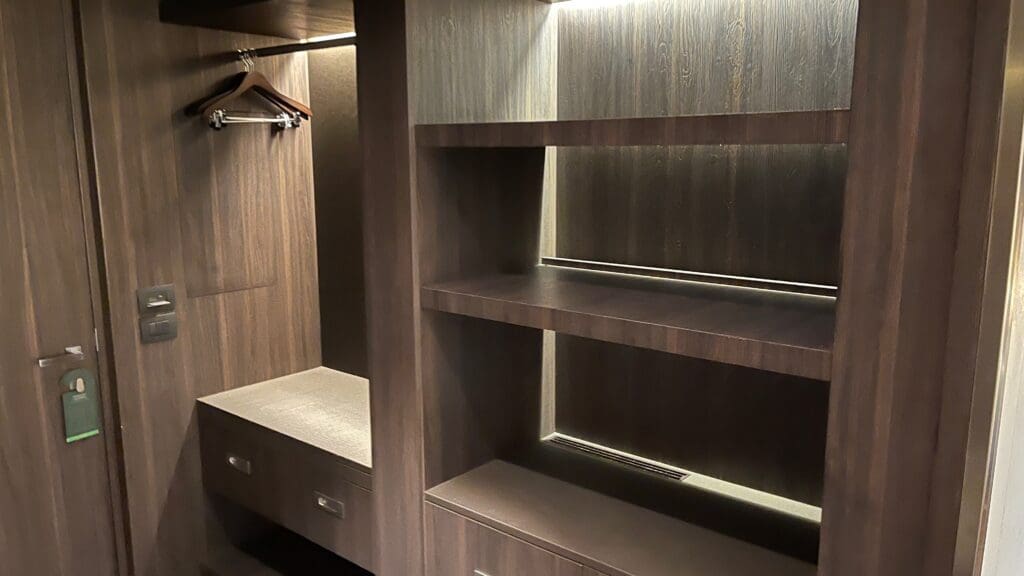 As expected for a city hotel, the suite is quite compact and feels less like a suite than a room but it does offer a significant space premium over standard rooms at the property.
The non-alcoholic minibar is located inside the cabinet to the left. The contents are free for Globalists.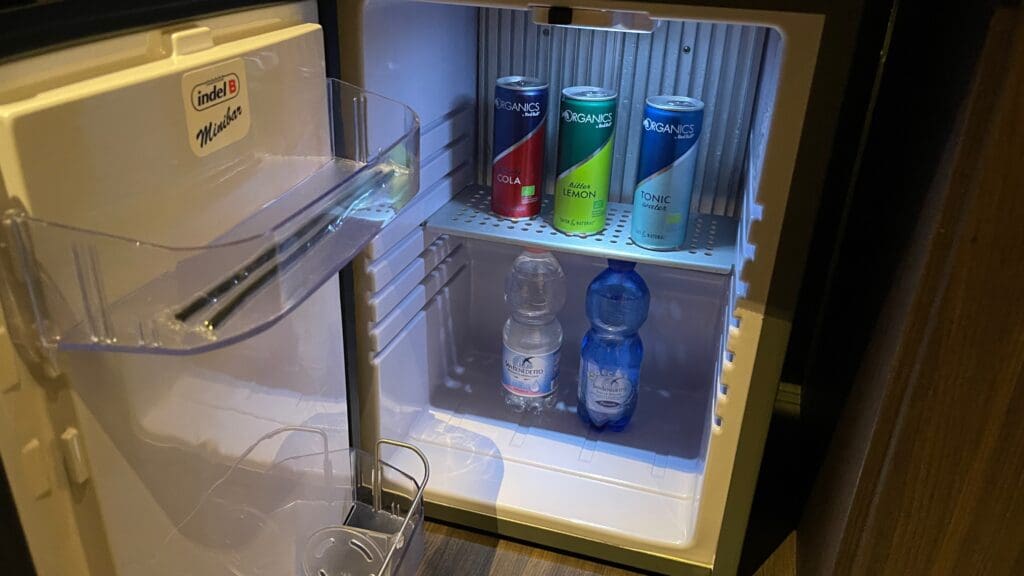 Beyond the hallway was the desk and the hammam. Yes, the Hyatt Centric Milan Centrale offers in-room Turkish hammams in select suites. No, I'm not sure why.
The hammams seem to predate the hotel's branding as a Hyatt Centric and were present prior to its conversion from Sofitel to Hyatt.
On the desk, is a Lavazza coffee machine and a welcome gift of boxed cocktails along with a thoughtful note welcoming me back to the property as my "Milanese" home.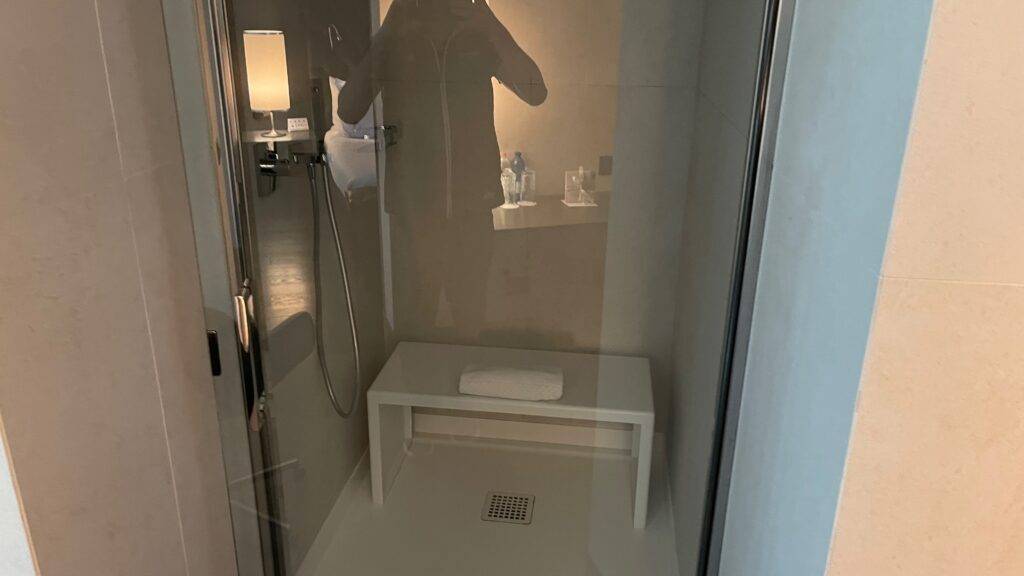 The suite doesn't have a separate bedroom and living room area (or a living room area at all). Instead, the bedroom area is to the left entering behind a partition wall.
The smart TV faces the bed but, unfortunately, the hotel has not enabled Hyatt's StayCast Chromecast integration so connecting your phone to the TV isn't readily possible.
Full light controls and outlets are located on both sides of the bed.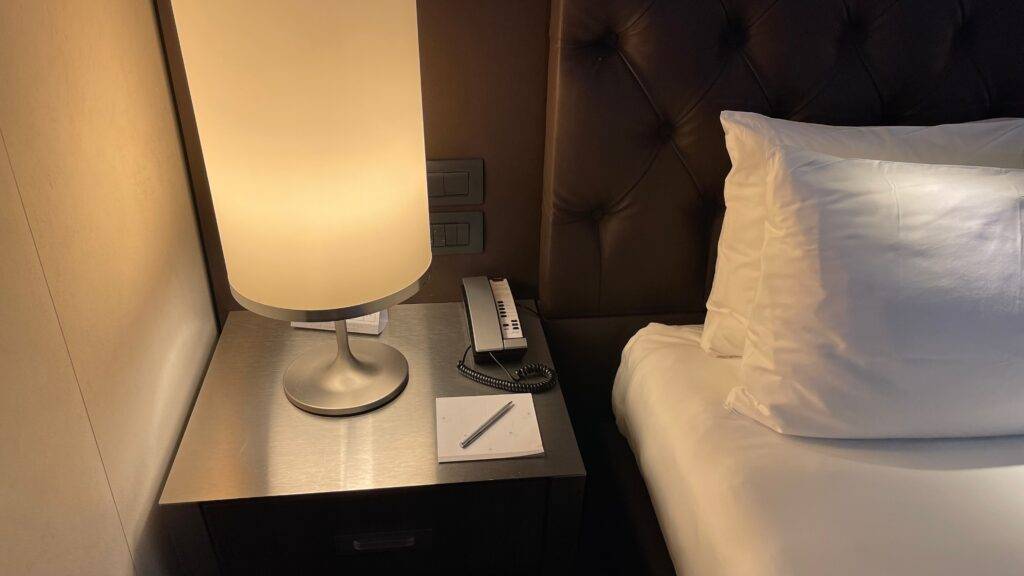 The Hyatt Centric Milan Centrale is one of those hotels where you'll need to insert a key to turn on the master power in the room. If you're like me and prefer to put the hotel room key in your wallet and forget about it, you'll want to request an extra key at check-in to avoid locking yourself out.
The view from the room showed part of the skyline of Milan including Stefano Boeri's Bosco Verticale (Vertical Forest), one of the world's foremost examples of biophilic architecture, and tower cranes in the distance
Hyatt Centric Milan Centrale: Premium Suite Bathroom
The bathroom in the premium suite is located to the left facing the bed. Inside, there's a spacious vanity with one sink, a bidet, and a walk-in shower. The shower pressure was excellent.
Bath products from BeeKind, produced by Gilchrist & Soames. Soap, shampoo, and conditioner are provided in bulk bottles rather than individually.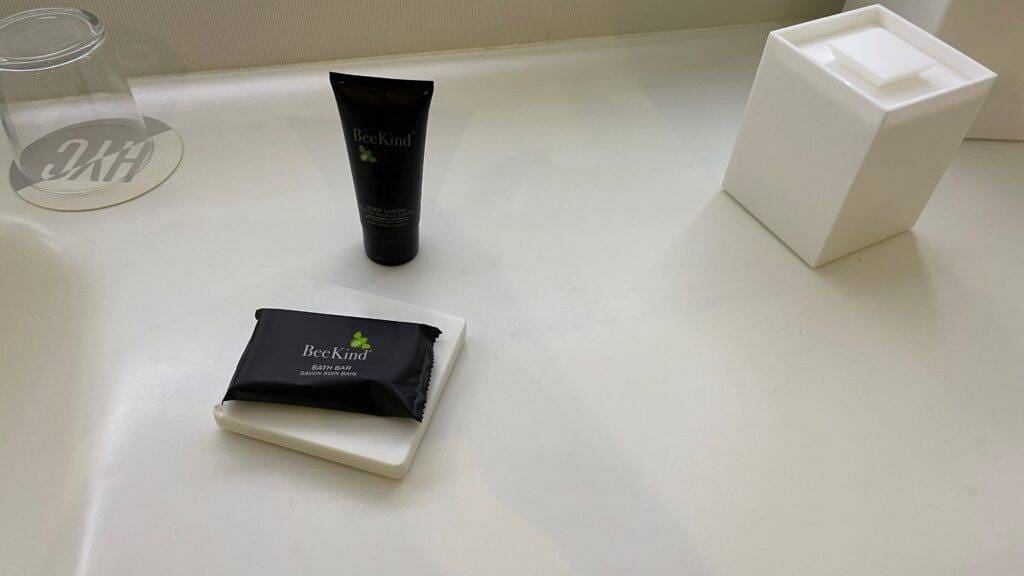 Hyatt Centric Milan Centrale: Breakfast
Breakfast at the Hyatt Centric Milan Centrale is served from 7 am to 10:30 am in the 4th-floor restaurant. Since I was last at the hotel during the pandemic, it's gone from à la carte to a buffet style with made-to-order egg dishes and espresso drinks.
Anyone who knows me knows that coffee is an incredibly important part of my morning so a big part of how I judge a hotel breakfast is the coffee on offer. As one might expect in Italy, the hotel knows how to make a good cappuccino and other espresso-based drinks including with plant-based milk. Perfection.
The breakfast buffet is robust. There are plenty of typical Italian breakfast options along with almost everything you'd expect from a Western breakfast.
One thing you won't find here is a croissant. Instead, you'll find the brioche — while Milan's version of the croissant looks like a croissant, it's much sweeter (even if empty or "vuoto") and doesn't have the same buttery consistency and texture. Think of it as a cross between a croissant and the Neapolitan "cornetto".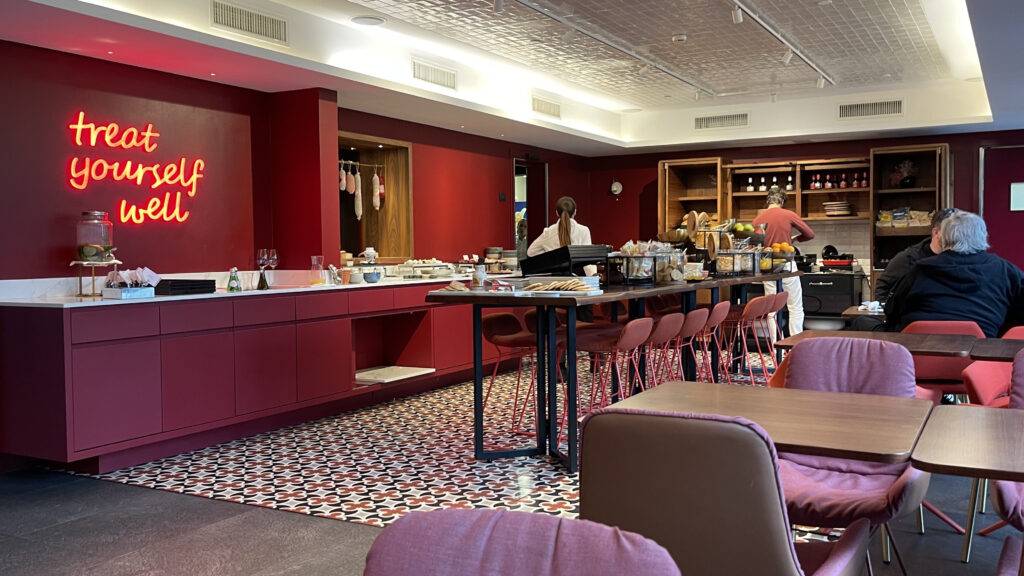 As mentioned before, made-to-order egg dishes are also available so I had my usual vegetable egg white omelet.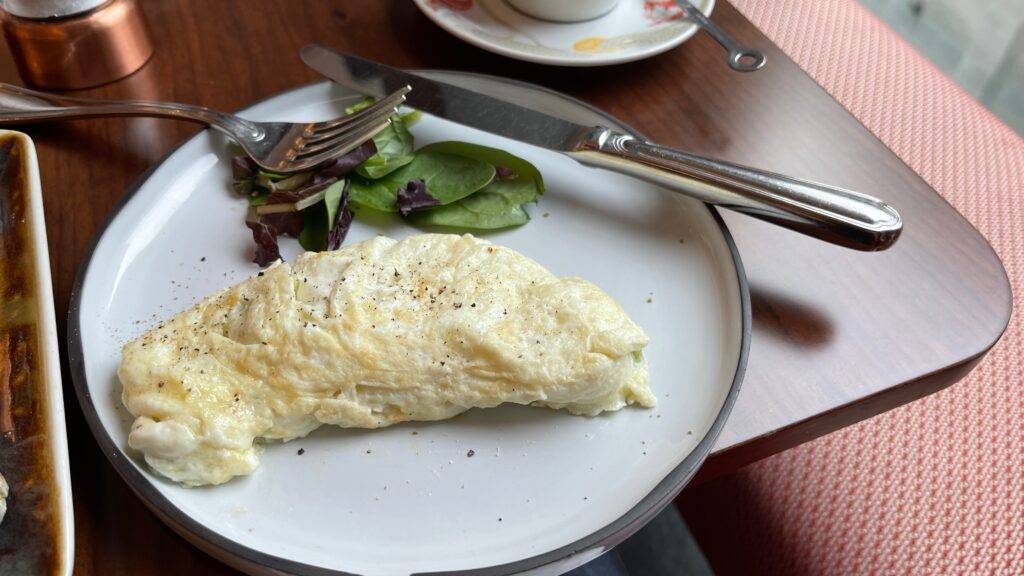 Hyatt Centric Milan Centrale: Mimosa Test
When I stay at hotels I often enjoy a breakfast mimosa. At Hyatt hotels, the Globalist breakfast benefit doesn't specify whether alcoholic cocktails are included at breakfast although in my experience many hotels do include at least a mimosa. It's also interesting to see how it's handled by hotels in the context of various breakfast benefits.
At the Hyatt Centric Milan Centrale, the bar is not open at breakfast but prosecco is available at the buffet along with fresh orange juice and other juices, still and sparkling water, and milk.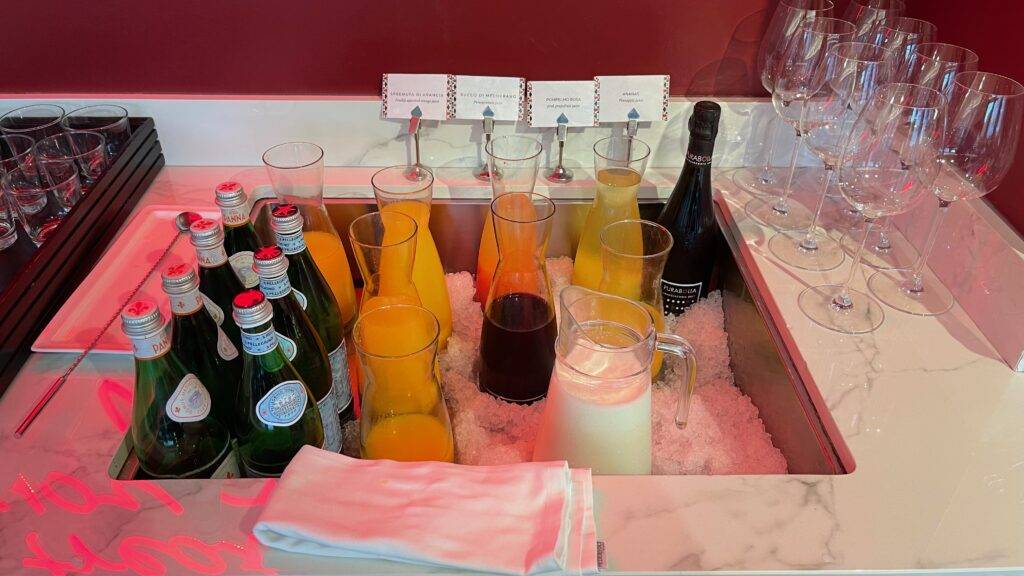 Hyatt Centric Milan Centrale: Fitness Center
Hyatt Centric Milan Centrale has a very small fitness center located in the basement of the hotel along with a spa wellness area that's available for an extra cost. While I never visited the spa, I did use the gym one night for a workout.
The space is very small. In terms of cardio, there are two treadmills, an elliptical, and a stationary bicycle. In terms of weight training, there's an all-in-one gym machine as well as some dumbells and a bench.
I wasn't able to get any photos inside the gym since there was another guest, so these photos are from the hotel website (they don't show a bench so it appears that's been added).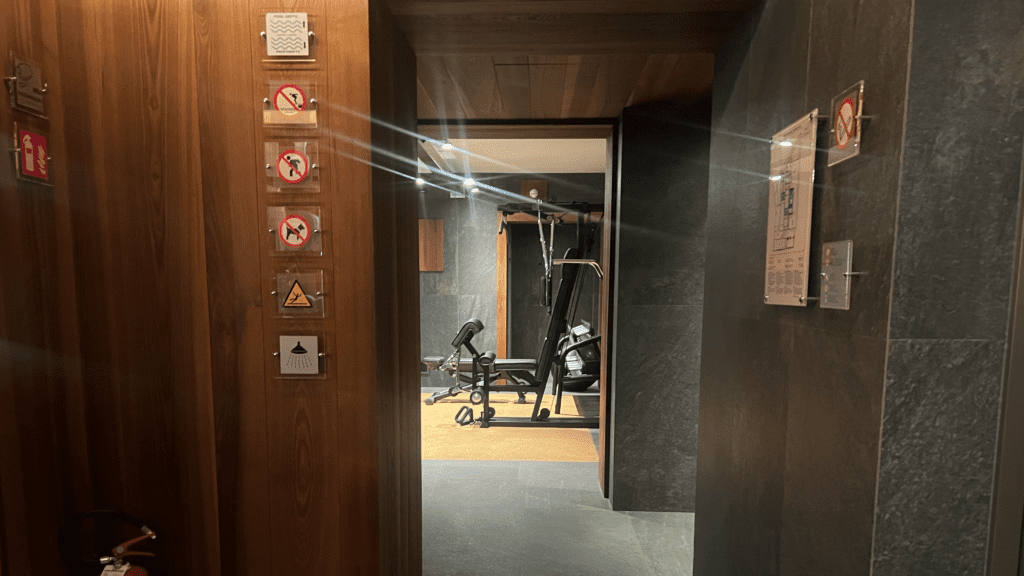 Hyatt Centric Milan Centrale: Service
While you shouldn't show up at this hotel expecting white glove treatment of a Park Hyatt, the Hyatt Centric has an engaged and friendly team. Everyone I interacted with was unfailingly helpful and efficient from the front desk team to the servers at breakfast.
The one exception is the Organics SkyGarden @Cielo rooftop. Globalists are given two complimentary drinks on the rooftop at check-in, so we went up to redeem them on our second evening. It's the first SkyGarden by Red Bull in Italy and it has exactly the type of aloof service that predominates in certain supposedly chic establishments complete with an uninterested hostess. However, it's still worth a visit with well-made drinks and a fantastic view over Milan.
Hyatt Centric Milan Centrale: Bottom Line
The Hyatt Centric Milan Centrale offers a comfortable and practical stay for visitors to Milan. Located just a few blocks from Milan's Central Train Station, the hotel has an ideal location for business travelers and vacationers. The hotel features modern rooms, a modern lobby with coworking area, restaurant, and a rooftop terrace. The Hyatt Centric Milan Centrale is a World of Hyatt Category 4 property, with standard redemptions costing between 12,000 to 18,000 points depending on the dates.