As part of my President's Day kosher getaway trip, I flew Emirates in business class on its fifth-freedom route from Newark Airport (EWR) to Athens (ATH).
Booking Emirates from EWR to ATH
For those just catching up, previous posts detail how I planned and booked the February trip to Athens and Israel along with reviews of the Emirates ground experience and the SAS Lounge at Newark.
I booked this trip via Emirates Skywards miles. I paid 72,500 miles and $102.80 in taxes. I transferred 73,000 Capital One Venture miles from my Capital One Venture X card to Emirates, and charged the taxes to my Amex Platinum, to take advantage the 5x points per dollar and generous travel insurance protections.
Emirates Boeing 777 Business Class from EWR Review
After boarding, I was welcomed at the door by an Emirates crew member who pointed me to my seat. Emirates uses a Boeing 777 to operate its Newark Airport (EWR) to Athens Airport (ATH) fifth-freedom route, mostly the older ones that haven't been configured with Emirates' new business class and first-class products.
That means seating features its old 2-3-2 configuration in business class. Yes, Emirates still operates longhaul flights with middle seats in business class.
The seats were comfortable and nice, but the middle seat definitely seemed narrow and I would not have been comfortable in it. I was seated in 10D and lucked out with an empty middle seat next to me, affording me a little more space.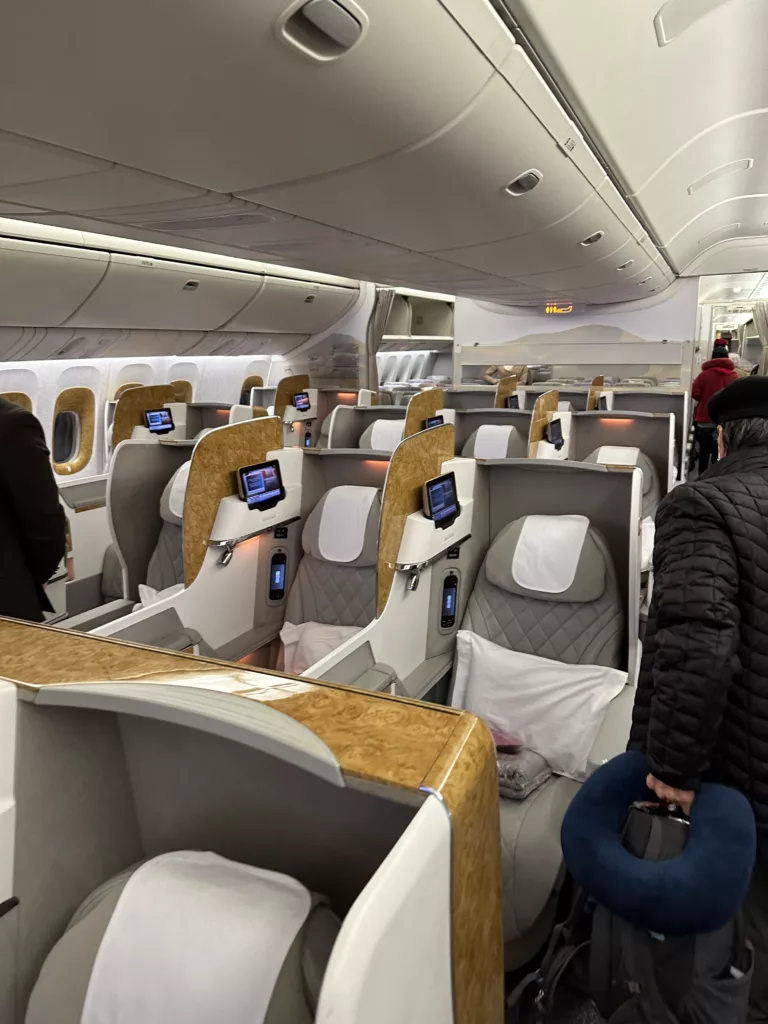 Awaiting me at my seat was a pillow, blanket, and headphones. I also noticed that Emirates' famous in-seat mini bar was stocked with Perrier and 7 Up.
I first encountered this on the Emirates A380. It feels kind of gimmicky, but it can actually be very convenient. That said, it would be great if Emirates allowed you to customize it pre-flight. At least for Skywards general members or elite members.
Emirates Boeing 777 Business Class Pre-Flight Service
Emirates partners with the famed Italian jeweler Bulgari for their amenity kits. The kit was stocked with eyeshades, a razor, shaving foam, deodorant, a comb, and tissues. It also had some Bulgari cosmetics like cologne, shave balm, and lip balm.
The amenity kits were passed out with the menus shortly after boarding.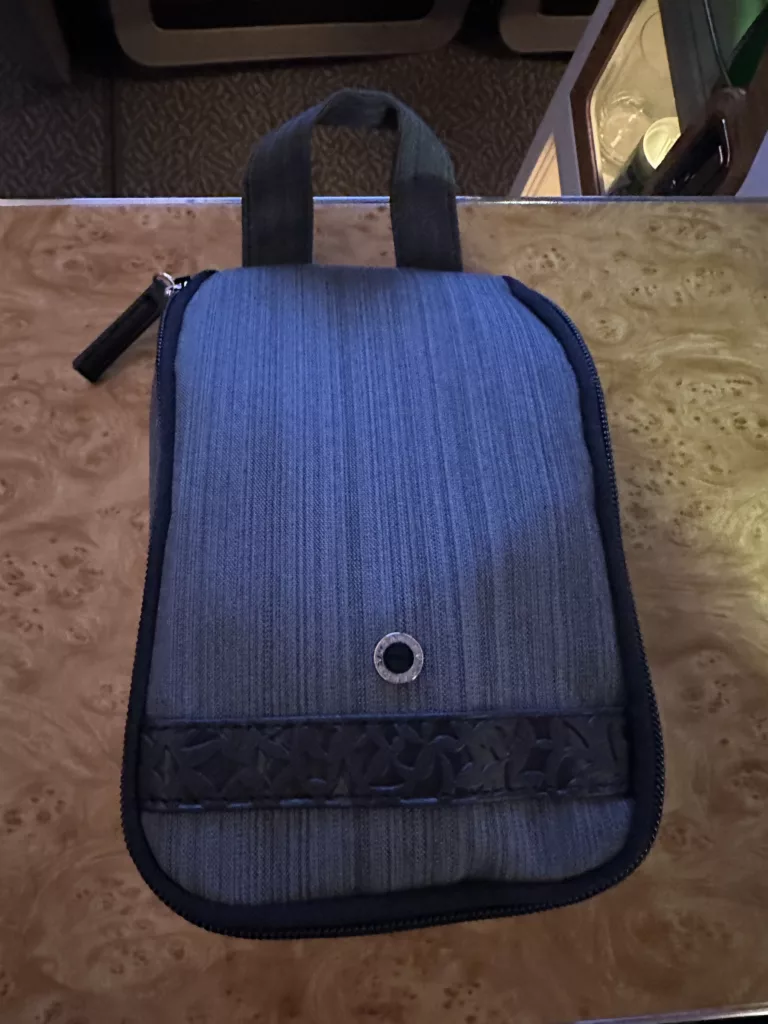 Pre-departure beverages were offered, with a choice of water and champagne. I have found that Emirates feels less culturally authentic than Etihad, and I like the Arabic coffee and dates that Etihad welcomes customers with, in addition to champagne.
Another cultural touch I like on Emirates' UAE rival Etihad is that they play a pre-flight prayer from the Quran on Etihad before take off, which Emirates does not do.
Emirates Boeing 777 Business Class In-Flight Service
Once boarding was completed, we moved pretty quickly and took off smoothly.
Once we were in air, after a bit of a wait, the crew walked up the aisle offering passengers a "mattress". I thought it was a mattress pad, as we have seen some airlines start to introduce in premium cabins. It turned out to be essentially a thick sheet.
I asked if I can have mine after dinner, but they insisted on setting it up prior to beginning the service. I obliged.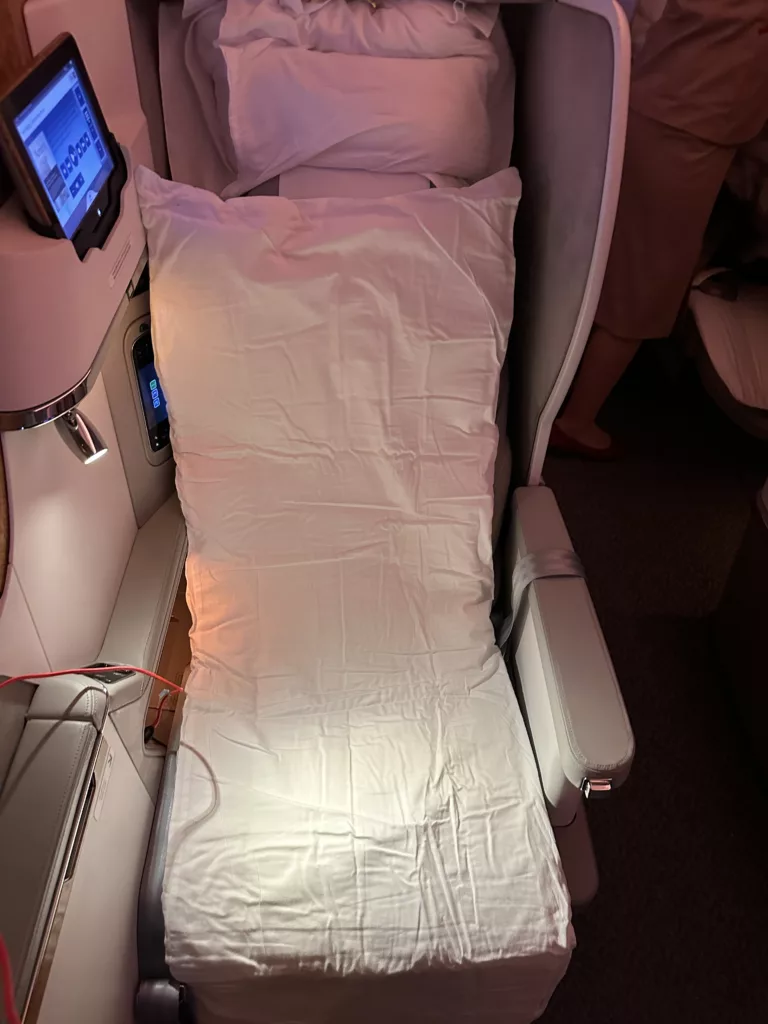 After distributing the mattress/sheet, the crew quickly offered pre-dinner drinks and nuts.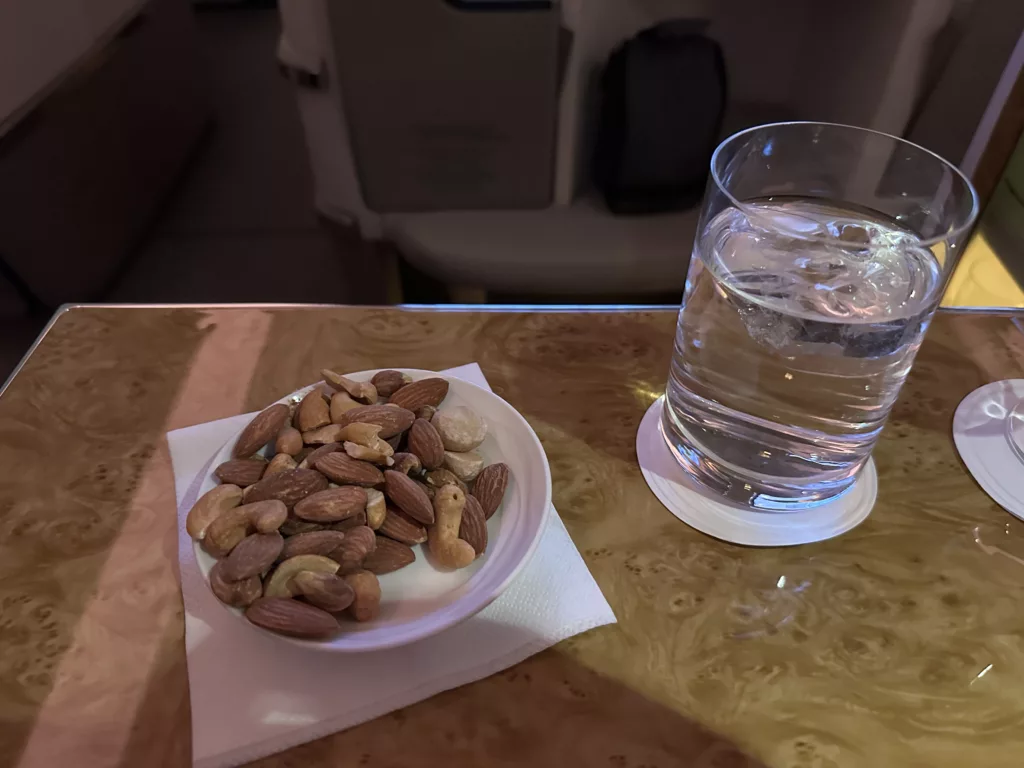 Emirates Business Class Kosher Meal Service & Drinks
As is standard on most airlines, as a kosher traveler, I was served my special meal first. This is actually where the Emirates minibar went from gimmicky to handy.
Because other passengers were served dinner right after I was given my meal, it was a fairly lengthy wait before Emirates refilled drinks, and it was nice to have Perrier with dinner that was available right at my seat.
Here is the menu for the standard service, though aside from drinks, I did not order off it. For what it's worth, I asked a few passengers and they reported being quite pleased with the food. The main menu was in Arabic and English while the wine menu was only in English.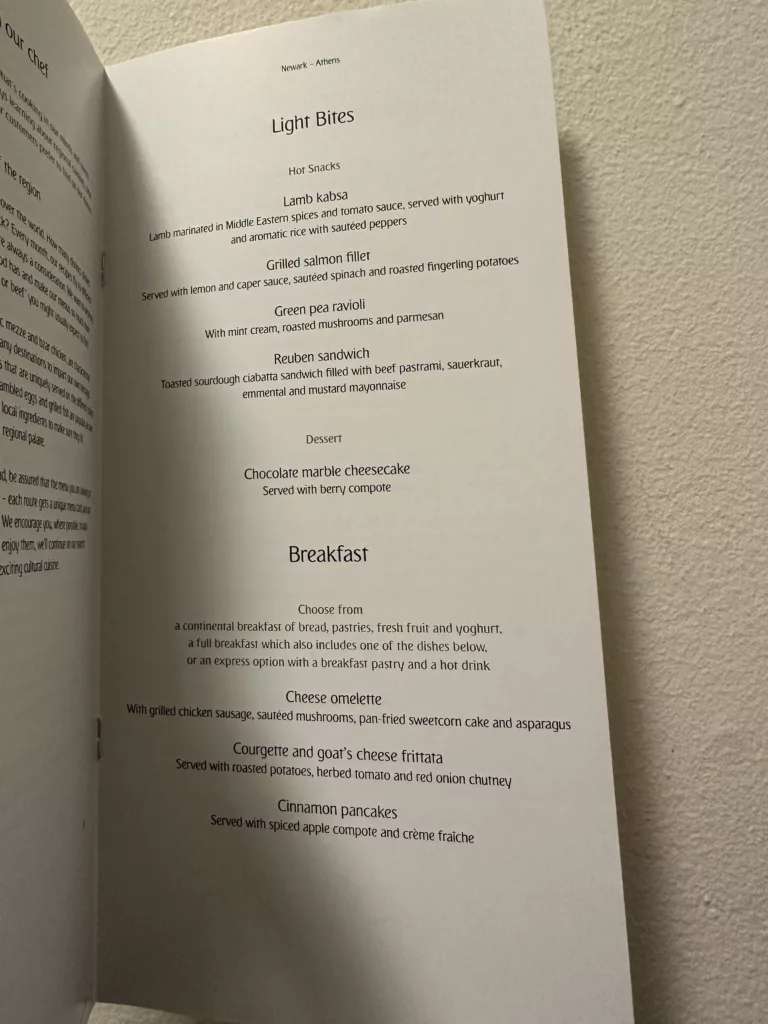 Out of Dubai, kosher food on Emirates is excellent, with the airline having access to an exclusive kosher kitchen on-site at DXB.
Doing some research before this flight, I found that Emirates kosher food out of Newark isn't known for being great. So I packed my own food, which is something kosher travelers should always plan to do anyway. I figured they would have a salad, ice cream, or something else I'd like on board.
My Emirates Skywards account had my kosher meal preference saved, so it was automatically ordered despite my not requesting one.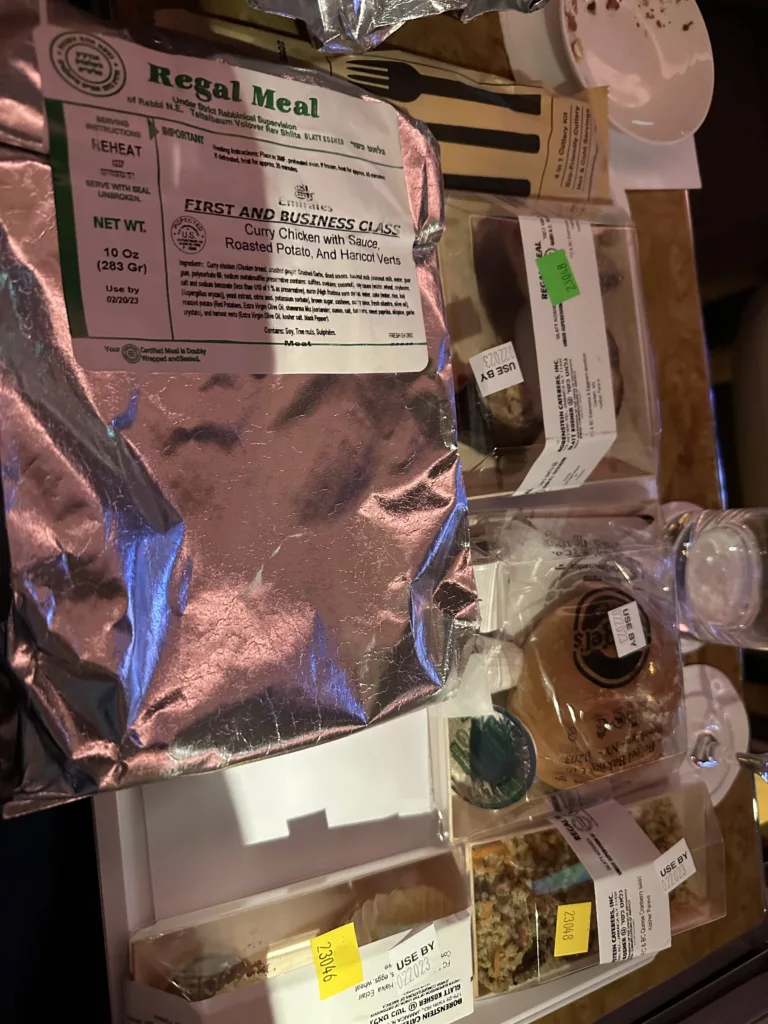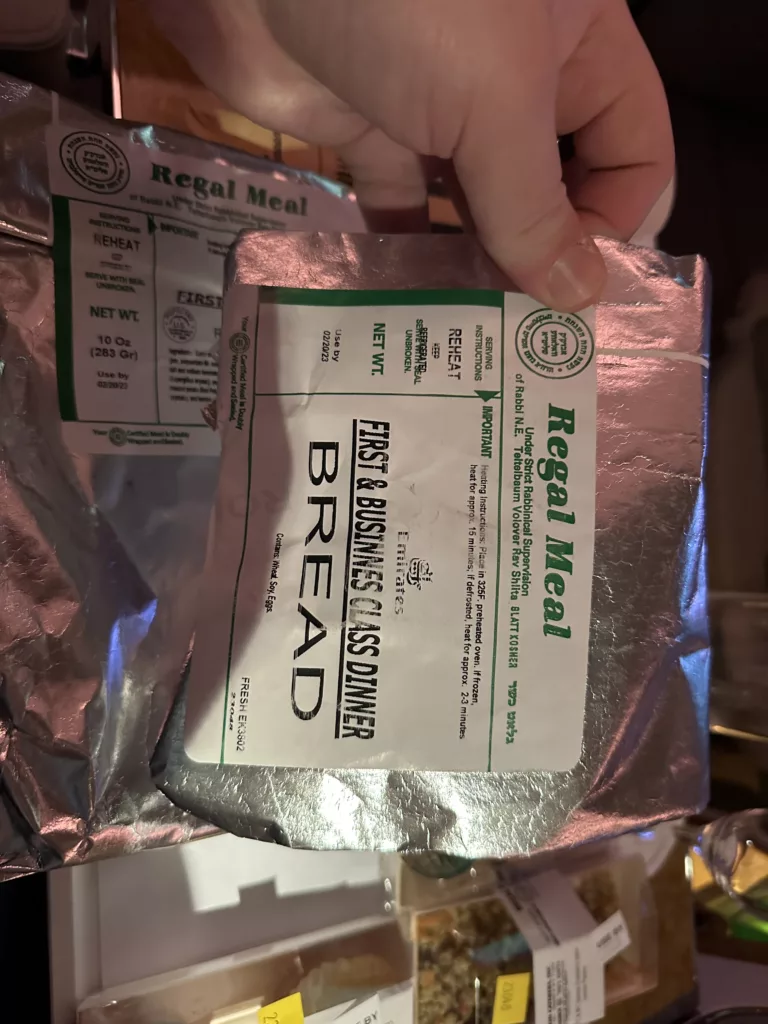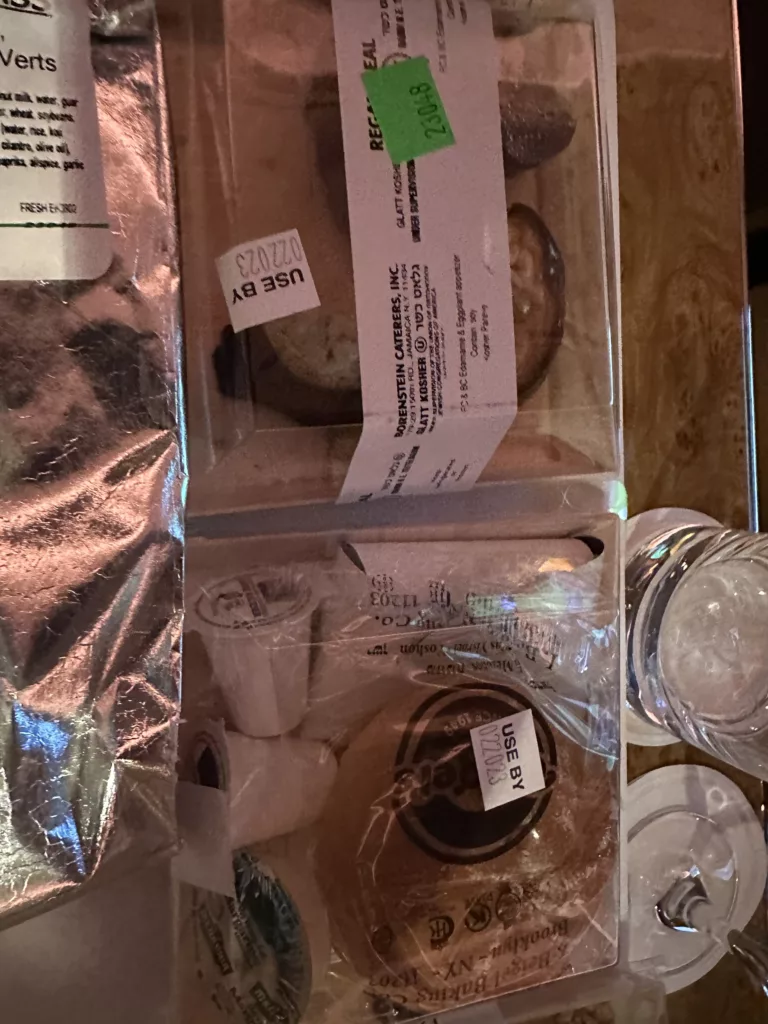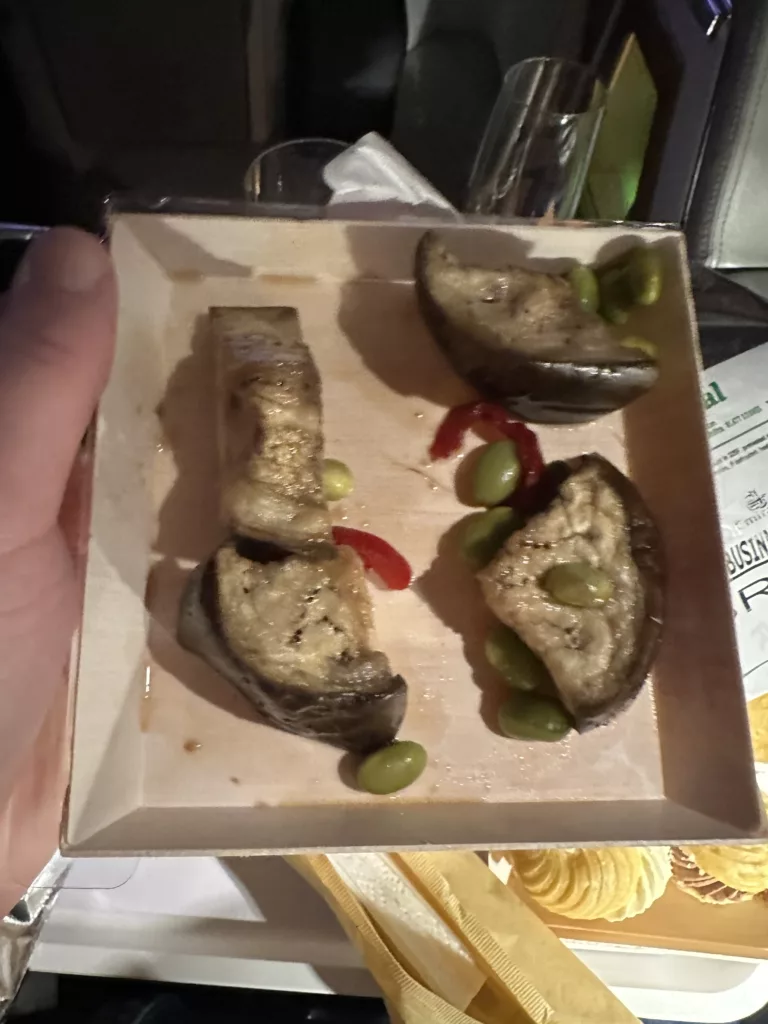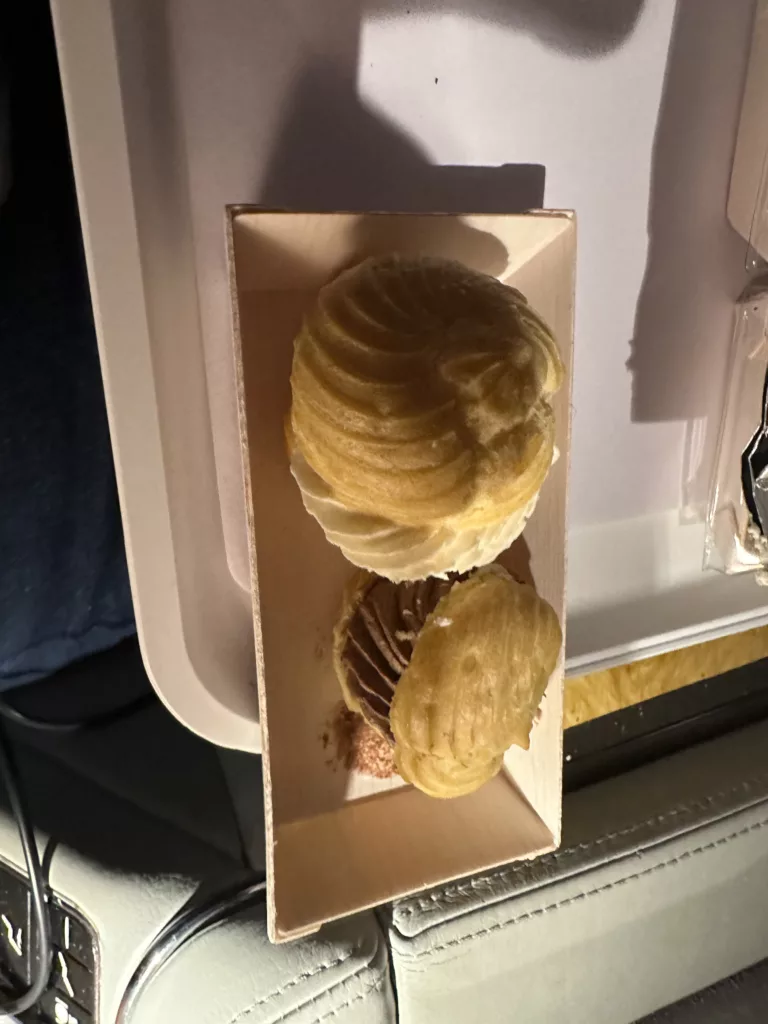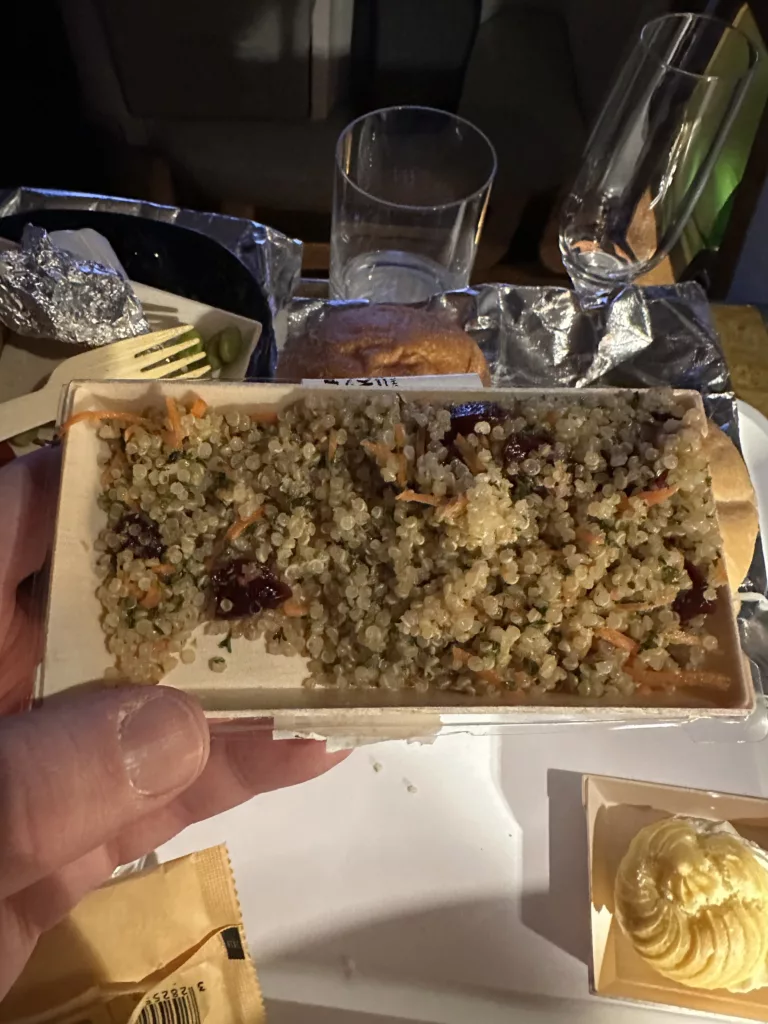 The Kosher meal, or KSML in airline parlance, was supplied by Regal Meal. Despite appearances, it was actually surprisingly pretty good!
The curry chicken and roast potatoes entree were quite good, and it was nice it didn't come frozen as so many airlines have a tendency to do with KSMLs. The bread was also okay. On the side were eggplants, couscous, and some cupcakes for dessert. The cupcakes were a bit meh, but the couscous and eggplant were great.
Emirates impressed me here, and I almost didn't need to look to the main menu for anything kosher-friendly.
If only Emirates refilled the minibar!
Emirates Business Class In-Flight Entertainment
Emirates had a pretty solid selection of TV and movies on the IFE. I was pleasantly surprised to see they even had Hebrew content.
Emirates recently launched service between Dubai and Tel Aviv, so it was cool to see the effort to accommodate Israeli passengers in this way. As is standard for Middle East carriers, the Quran was also an option in the system.
Emirates offers Wi-Fi on board, but I actually didn't even try to get on it. I know many people hate being disconnected in the air, especially business travelers, and this is increasingly something that travelers look for.
I personally very rarely use in-flight wifi. I like the idea of planes being a place where you are out of touch and have always liked the fact that I get to be totally disconnected while in the air.
I did try to sleep, and the seat and bedding were reasonably comfortable although definitely not the best I have experienced. Even in business, I have never slept well on planes. I wound up watching movies most of the way to Athens.
Emirates Boeing 777 Business Class Restrooms
I dipped into the forward restroom. It wasn't the roomiest I have experienced but it was reasonably well-sized. However, it was nicely appointed.
The sink had a large basin and there were also some additional amenities on the shelves, like perfume and towels.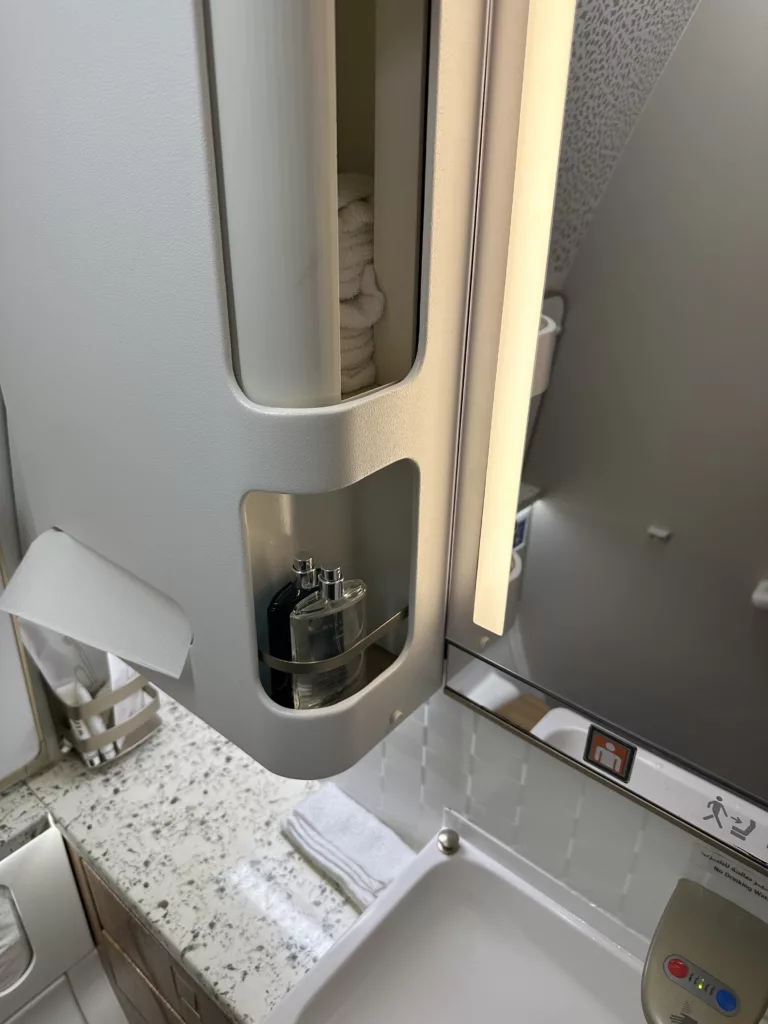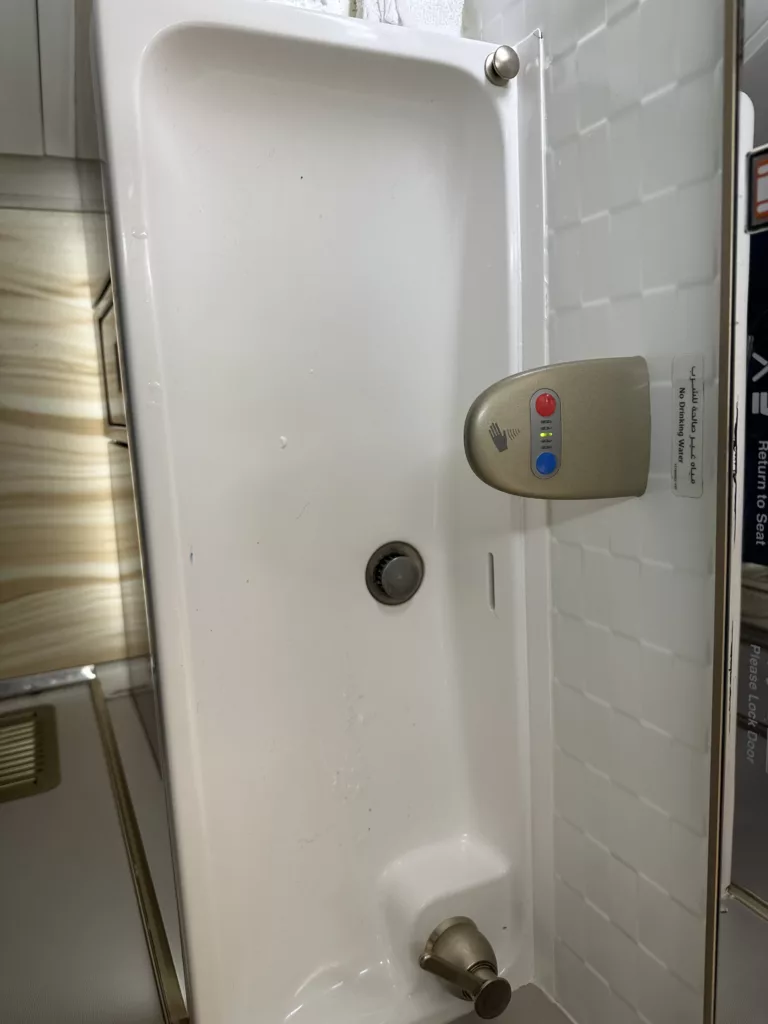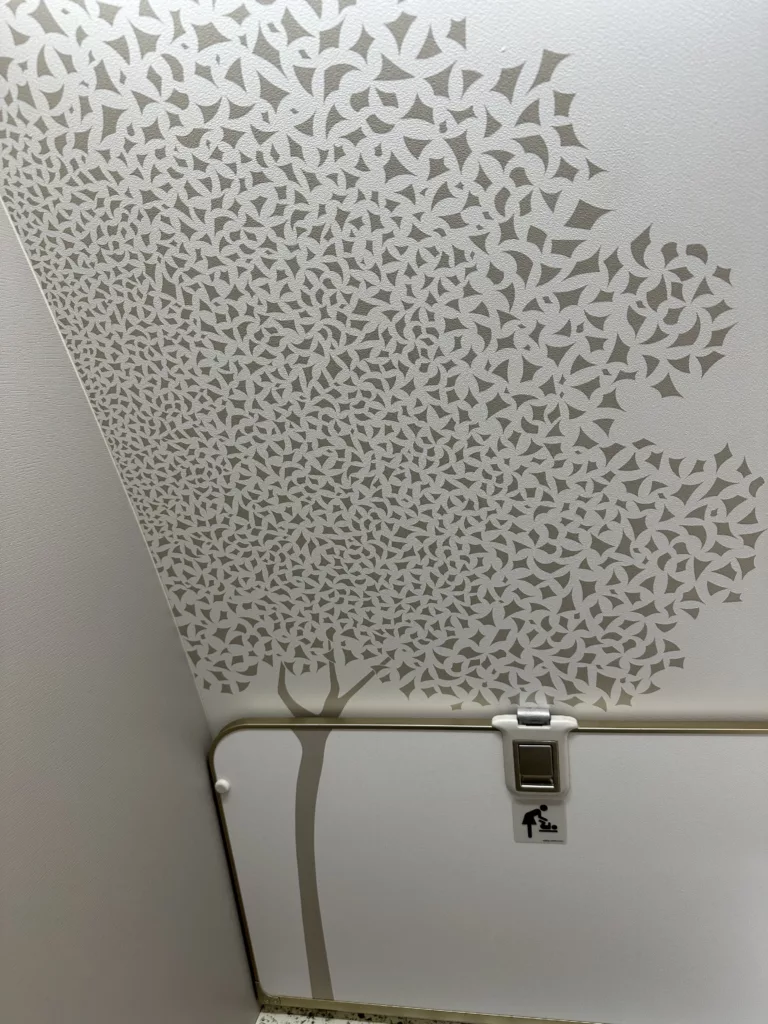 Emirates Boeing 777 Business Class Breakfast
As we neared landing breakfast was served. I again was impressed by the fact that the kosher breakfast was actually pretty decent. Emirates crew also made a very solid iced coffee, something that is not guaranteed in the air, even in premium cabins.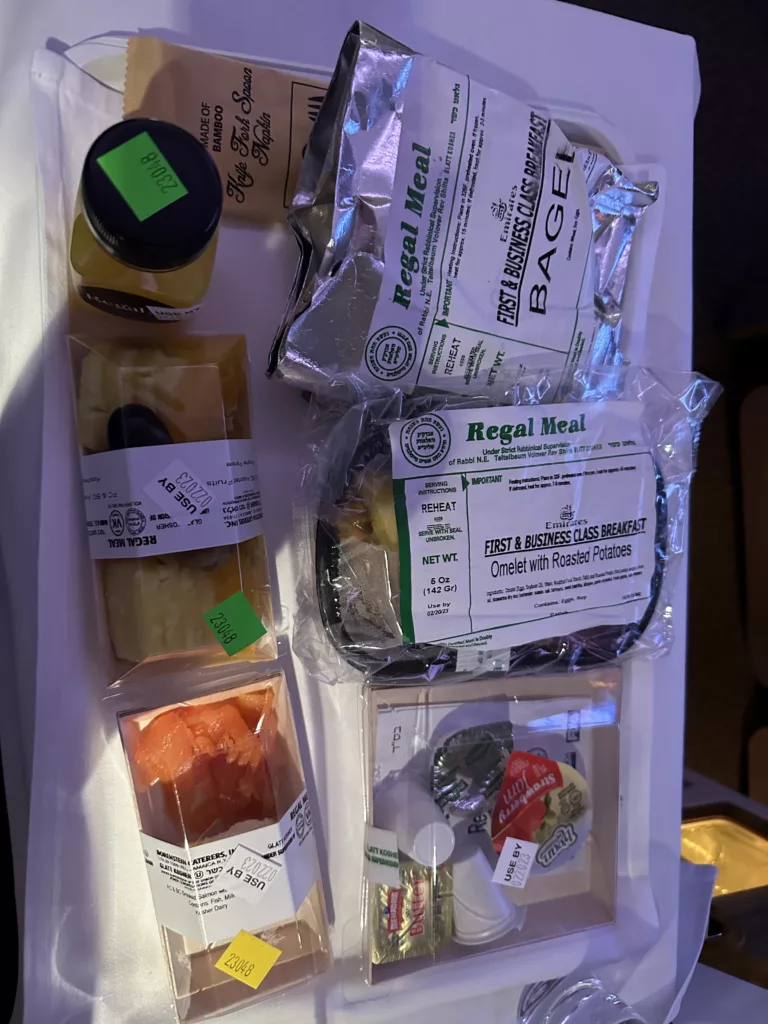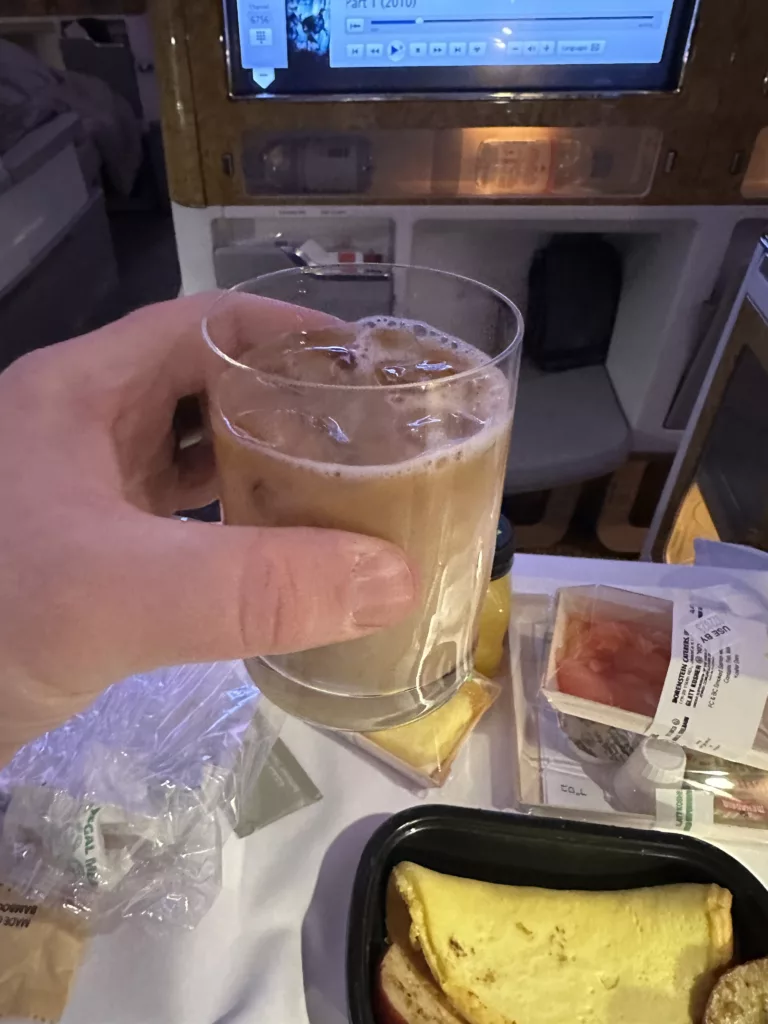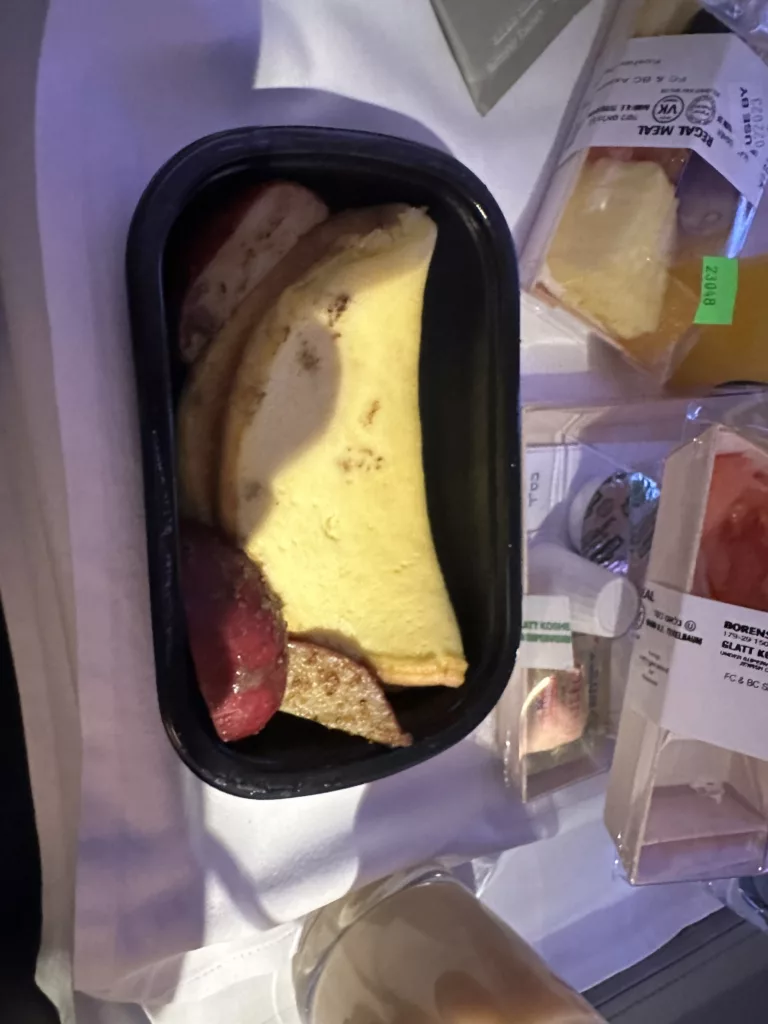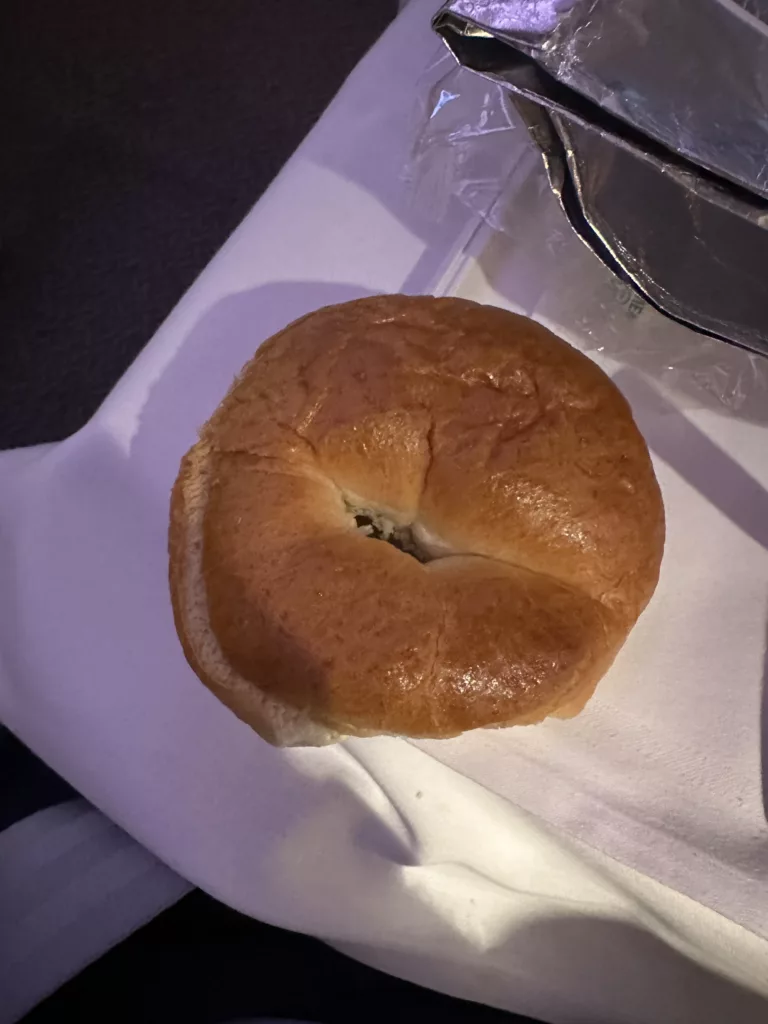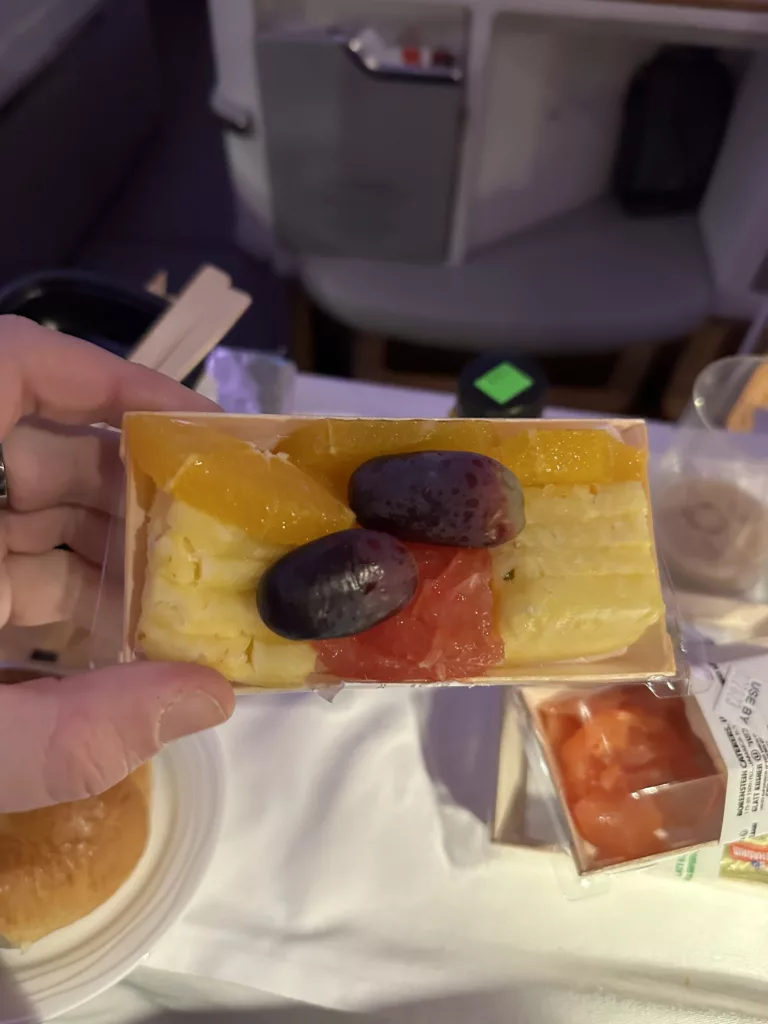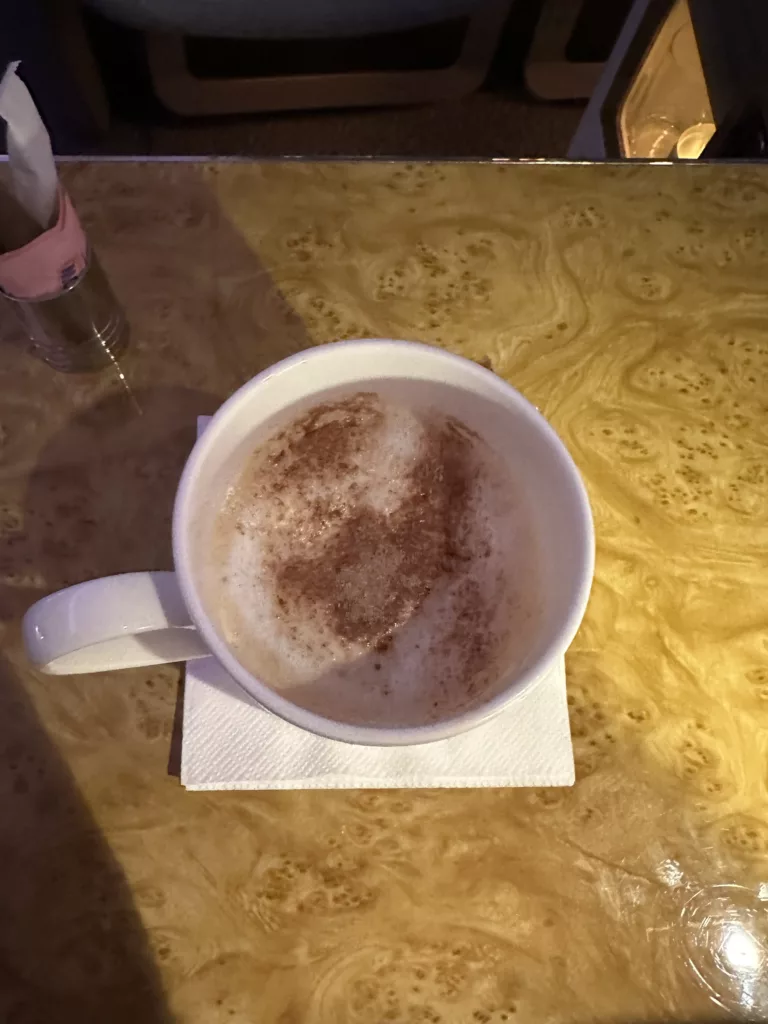 For breakfast, a plain omelet with potatoes on the side was served, pretty standard for kosher plane breakfasts.
The tray also had a bagel that was pretty good, as well as a little fruit plate. There was some fish on the tray as well, but I did not try it.
I ordered a cappuccino, which was simply average. Definitely have had better ones in the sky. I stuck to iced coffee.
Emirates Boeing 777 Business Class Landing
Not long after breakfast, we landed at Athens Airport. We got a gate pretty quickly, and I was actually off the plane a half hour early.
There was no priority queue for customs, but the line was not too long, and I was through pretty quickly.
My bag also came out relatively quickly, which was nice. My general experience is that priority bags seem to come out last.
I arranged a pick-up at the airport through a service called Welcome Pickups, which I found through TripAdvisor, the parent company of Viator. I paid 44 euros for the ride to my hotel, which seemed reasonable compared to taxis. I would have looked to public transportation options but with a big suitcase, a pickup was just easier.
To maximize value on your TripAdvisor or Viator bookings, I would recommend using Rakuten for cash back, which can be earned as American Express Membership Rewards points. Sign up for Rakuten here.
My driver was waiting in the arrivals hall, holding a sign with my name, and quickly grabbed my bag and escorted me to his car to drive me to the InterContinental Athenaeum Athens.
Bottom line
Emirates is a great way to fly between Newark and Athens. The plane is old and it's not the most cutting-edge hard product on the market, but Emirates does a great job with it overall. Bonus points for having solid kosher food onboard too, which is never a guarantee. It was especially cool that this is a fifth freedom flight, so it allows you to enjoy the Emirates experience and a taste of their hospitality on a nontraditional route for the Middle Eastern carrier.