To kick off my midwinter holiday planned around President's Day, I booked the Emirates fifth-freedom flight from Newark Airport (EWR) to Athens International Airport (ATH).
I've reviewed the overall Emirates ground experience at Newark Airport in a prior post so now I'm reviewing the SAS Lounge which Emirates premium passengers get access to when flying from the airport.
SAS Lounge Newark Access Requirements
In addition to premium passengers flying Scandinavian Airlines (SAS), the SAS Lounge is the contract lounge used by Emirates for premium passengers and is also accessible to elite Skywards members flying Emirates. Since SAS is a member of Star Alliance, the lounge is also accessible to Star Alliance premium cabin passengers and those with Star Alliance Gold status flying on a Star Alliance carrier.
This lounge could get busy at peak hours but it is not accessible via Priority Pass or Lounge Buddy meaning numbers are pretty controlled.
SAS Lounge Newark Location
The SAS Lounge is located airside in Newark Liberty International Airport (EWR) in the B3 Satellite of Terminal 3 near gate 60. The lounge is easy to find with both large blue SAS branding and red Emirates signage leading to the entrance.
I found it easily after clearing security with TSA PreCheck but no priority line (Emirates does not appear to offer this as part of its ground experience at Newark).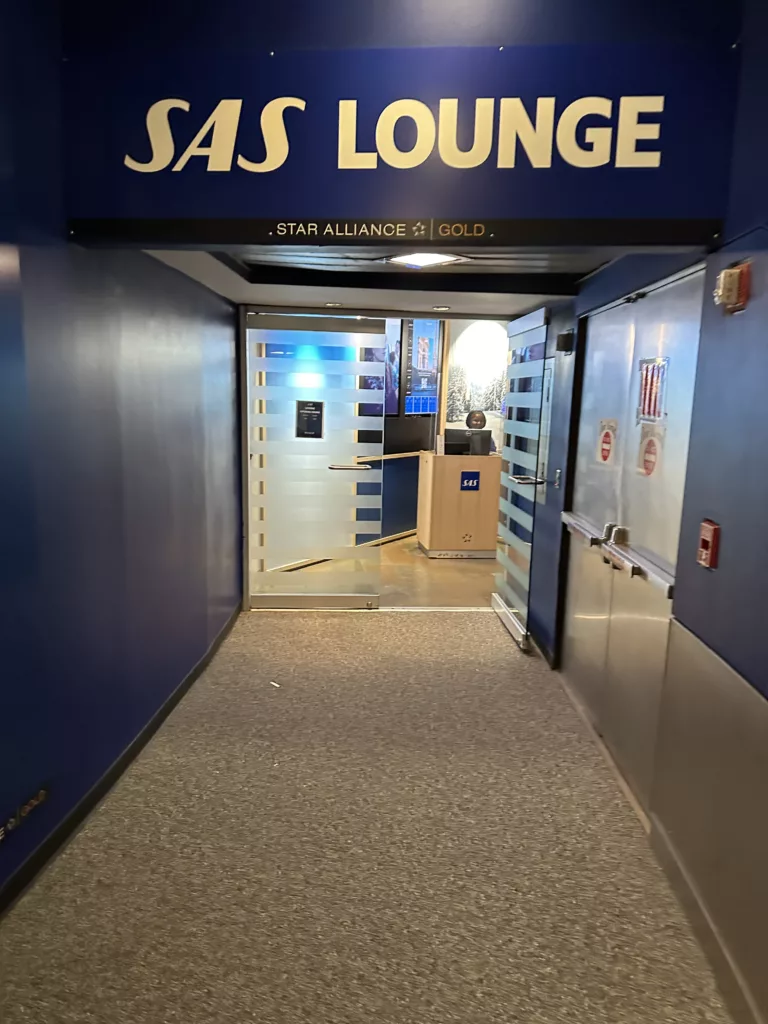 SAS Lounge Newark Layout
Having visited the SAS Lounge in Chicago a few times, the Newark location felt familiar. It sort of had a Scandinavian, spritzed-up IKEA sort of vibe. As an Emirates business class passenger, I was quickly welcomed inside by the desk staff.
The food & drinks were just past the front desk on the left, with a large seating area on the right and just past the food & drink area. Down the hall to the left was another seating area as well as bathrooms. The lounge does not offer showers or a spa, though frankly not at all unexpected for a small outstation lounge.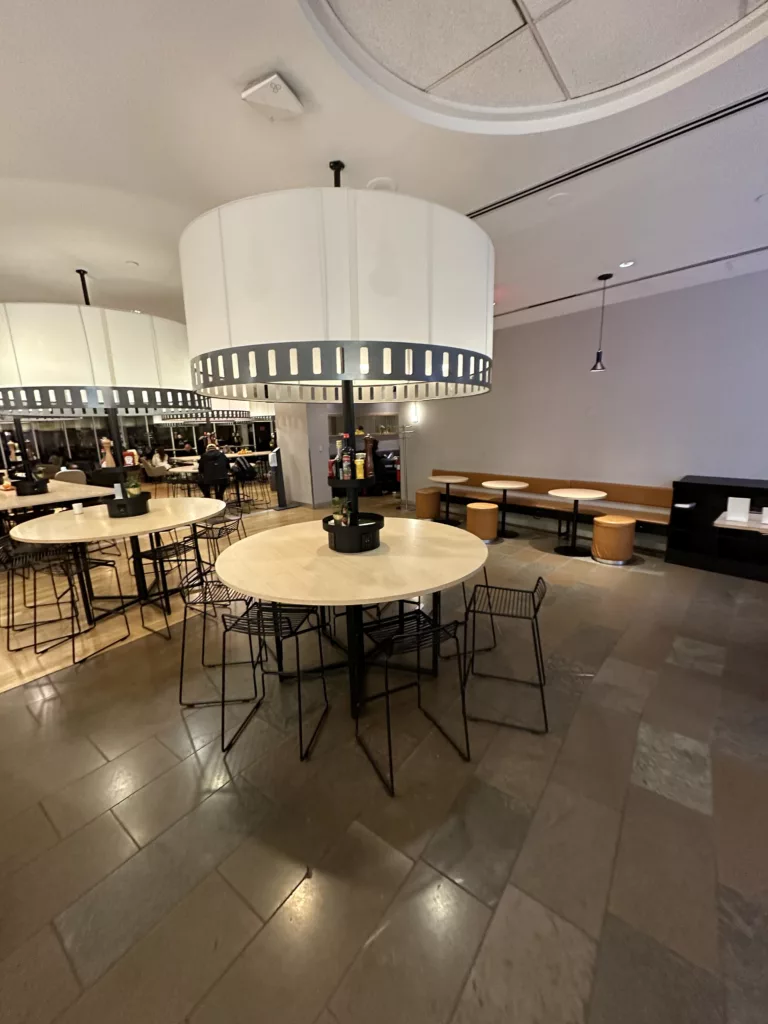 SAS Lounge Newark Dining
SAS Lounge Newark offers a limited selection of food in a buffet format.
On offer were bread, cold cuts, and some cheeses. There was a salad bar with a variety of fresh veggies and salad fixings. Otherwise, the lounge just offered a few cookies, potato chips, and pretzels.
I did not partake in the cold cuts or cheeses, but they looked reasonably good.
Keeping kosher, I was somewhat limited in partaking in the food selection. I ended up with a bowl of pretzels and a glass of Diet Coke to nibble on while I waited for boarding.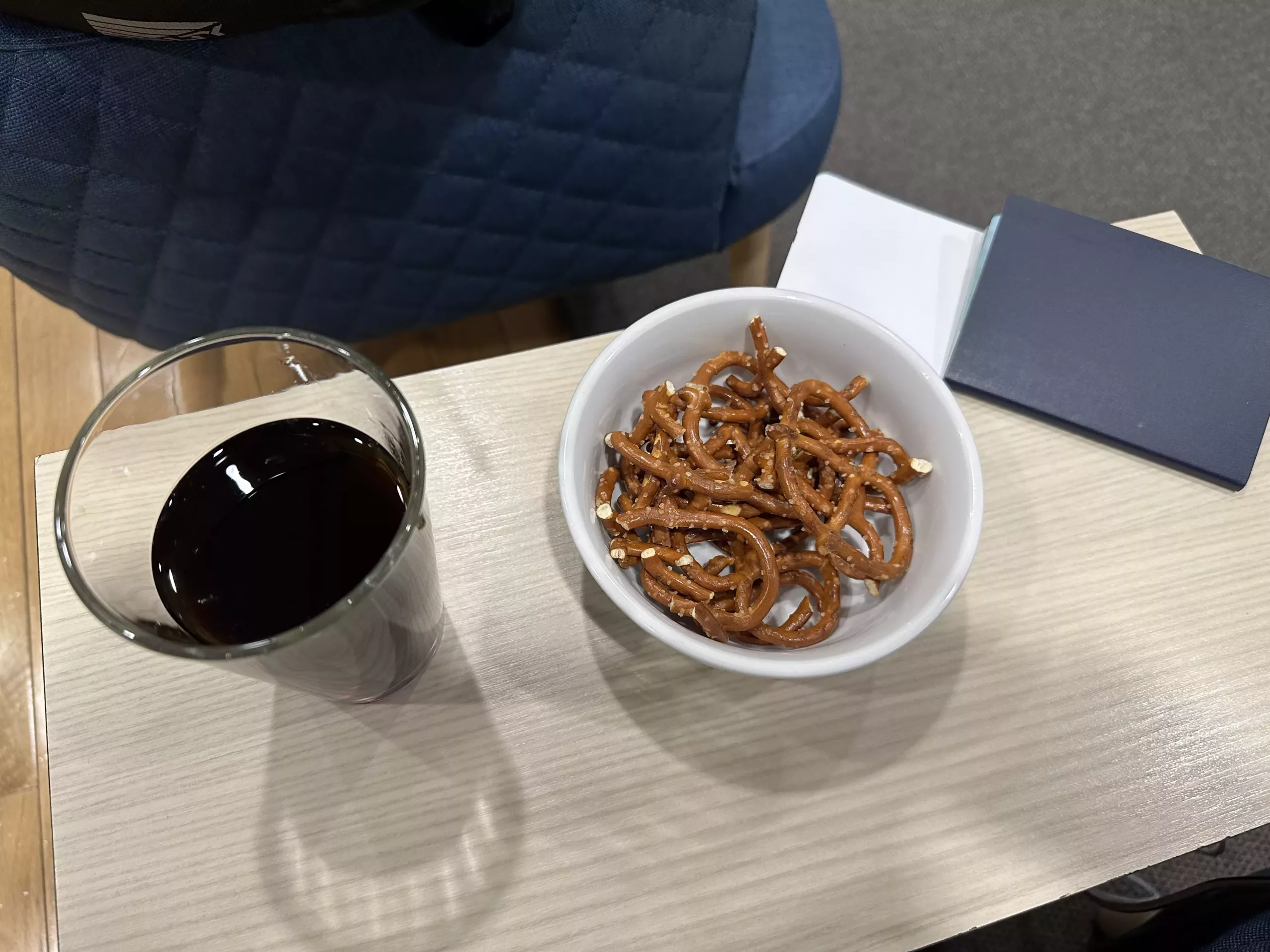 SAS Lounge Newark Drinks
Dubai this is not. Emirates is known for one of the best wine programs in the sky, but the SAS Lounge did not offer names like Chateau Lafite or Dom Perignon.
Behind the food was a self-service bar area with a variety of wines and spirits, fountain soda, and a coffee machine. The selection of self-serve middle-shelf alcohol was good. There were also a few mixers on hand.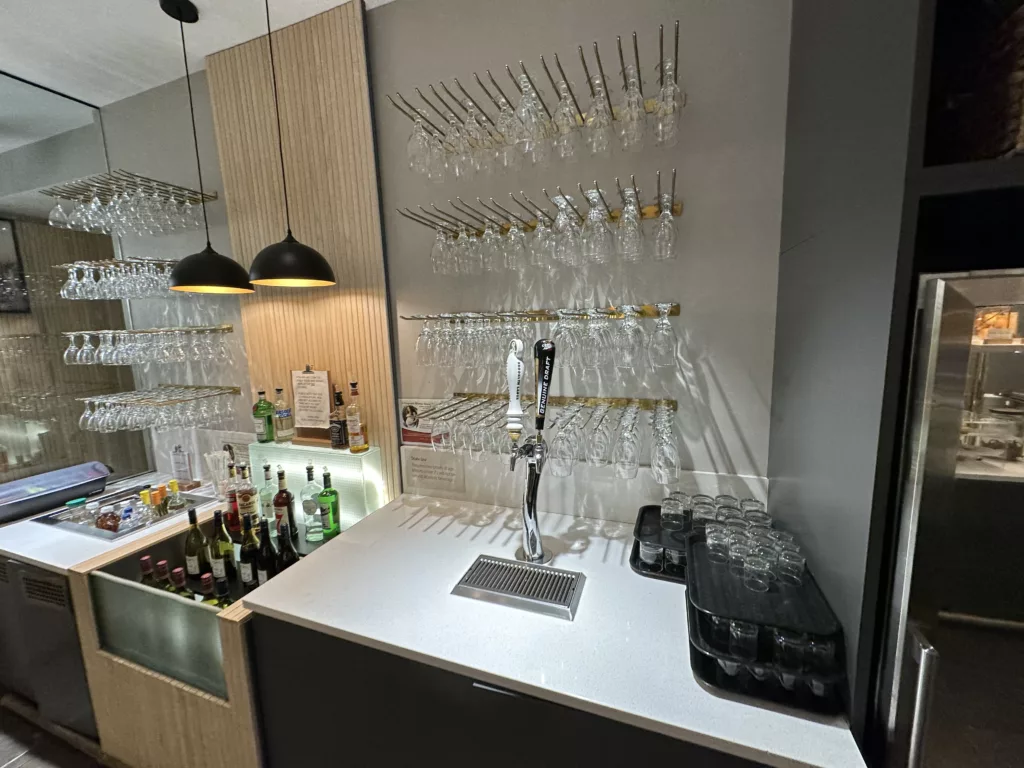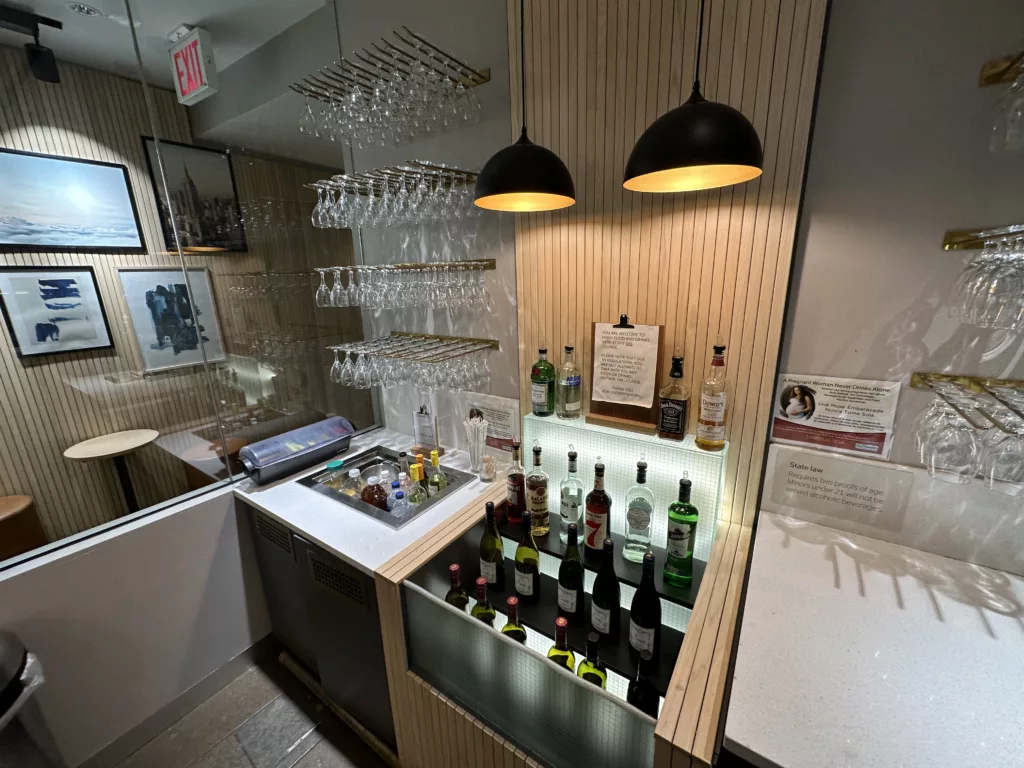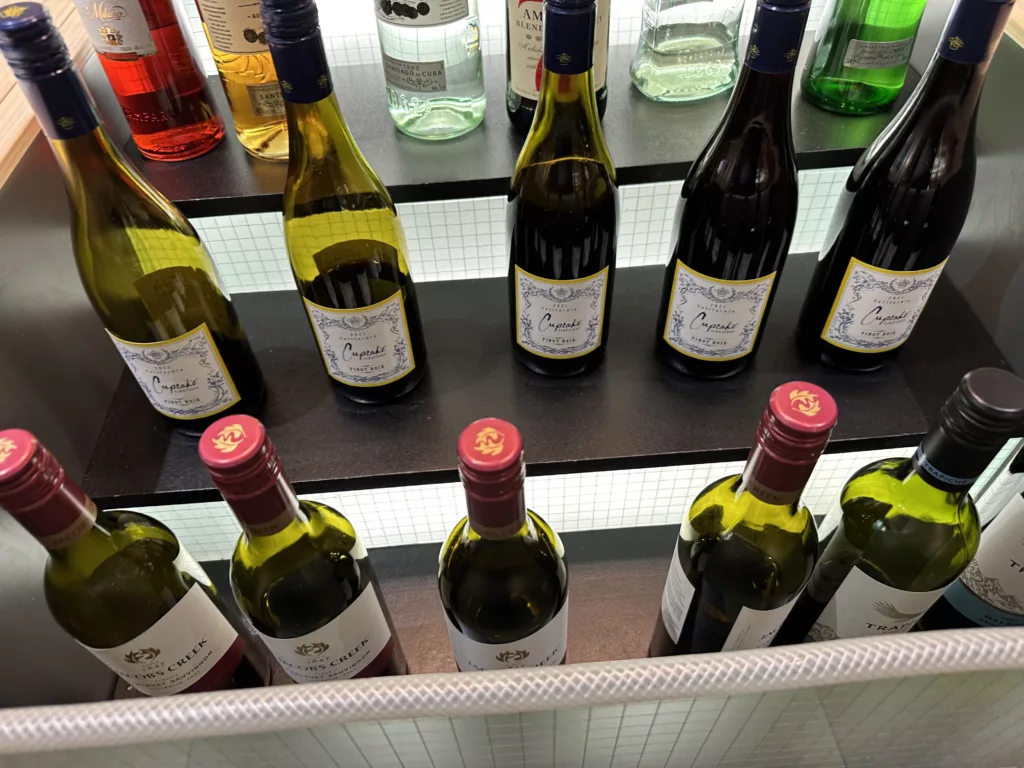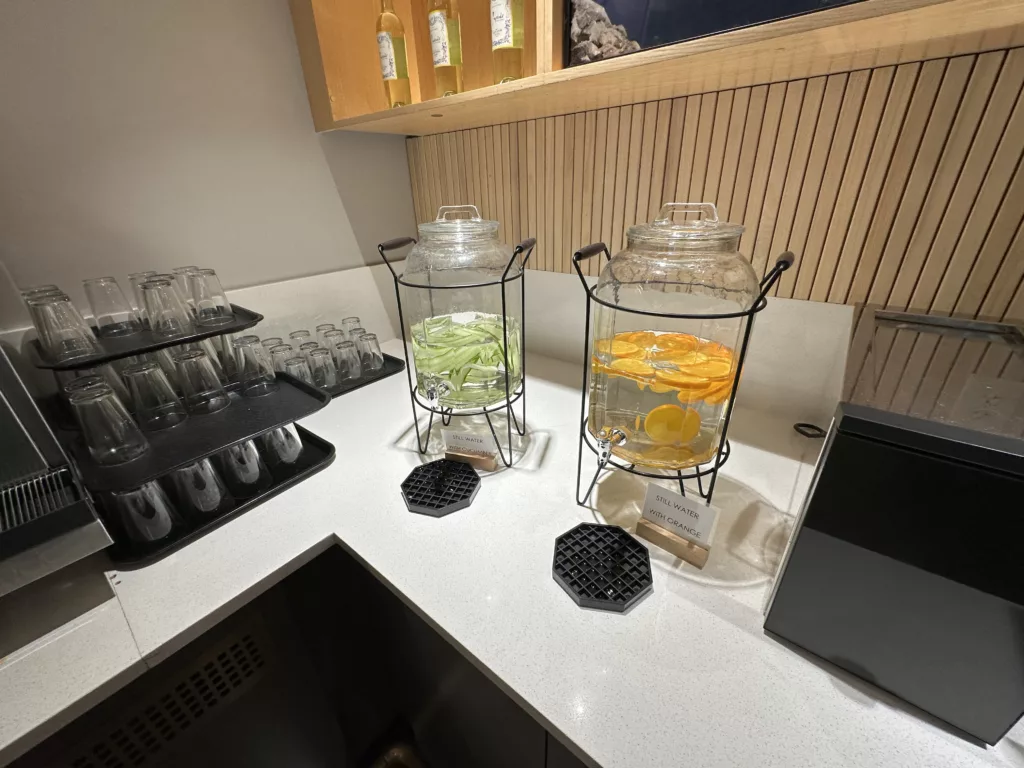 SAS Lounge Newark Bottom Line
As a kosher passenger, the SAS Lounge Newark doesn't have much to offer in terms of food, but in this regard, it's pretty in line with the competition. Overall, this isn't a bad place to spend some time before a flight. I wouldn't avoid this lounge but it's not a lounge to get excited over or arrive early at the airport to experience.