After getting checked in and through security for my LOT Polish Airlines, my next stop was spending a couple of hours at the Dan Lounge at Ben Gurion Airport (TLV). The contract lounge is the only lounge at the airport except for El Al's King David Lounge and is the lounge accessed by passengers flying all the other carriers at Ben Gurion.
Dan Lounge Ben Gurion Airport (TLV) Location
The main terminal has 2 Dan Lounges, located in different concourses. One is located in Concourse C while the other is located in Concourse B.
I've visited both many times and they are mirror images of each other. There's plenty of signage and Ben Gurion is a simple airport to navigate so you should be able to find the lounge easily after clearing security. The lounge in Concourse C is located near Gate C2 while the Concourse B lounge is located near Gate B2.
Dan Lounge Ben Gurion Airport (TLV) Access Rules
Dan Lounge is the only contract lounge available at Ben Gurion Airport (TLV). Aside from El Al's King David Lounge, this is the lounge accessed by all eligible airline passengers on other carriers.
It's also available to Priority Pass members. In other words, the access requirements are quite they can get quite busy.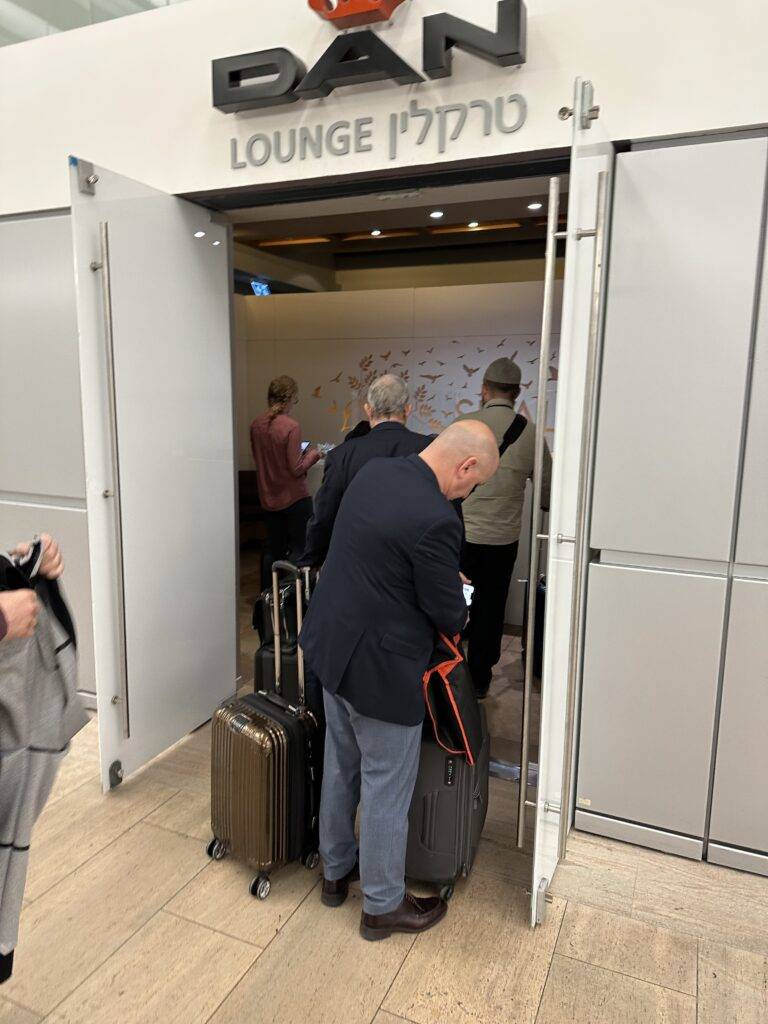 Dan Lounge Ben Gurion Airport (TLV) Hours
The Dan Lounge Concourse C is open 24 hours a day with the exception of Yom Kippur. Meanwhile, the Concourse B lounge opens at 2 pm and closes at 1 am the following day every day except Friday and Saturday when it is closed. It's also closed on Yom Kippur.
Dan Lounge Ben Gurion Airport (TLV) Seating
I entered the lounge and after my boarding pass was verified, I was quickly invited in.
The lounge is essentially one very long room, which clusters of chairs around a table, as well as some bar-style seating.
The lounge was not too full when I arrived, but over time it filled up.
One thing the Dan Lounge does lack is outlets. That's unfortunate as charging is a necessity before boarding a 4-hour flight to Europe.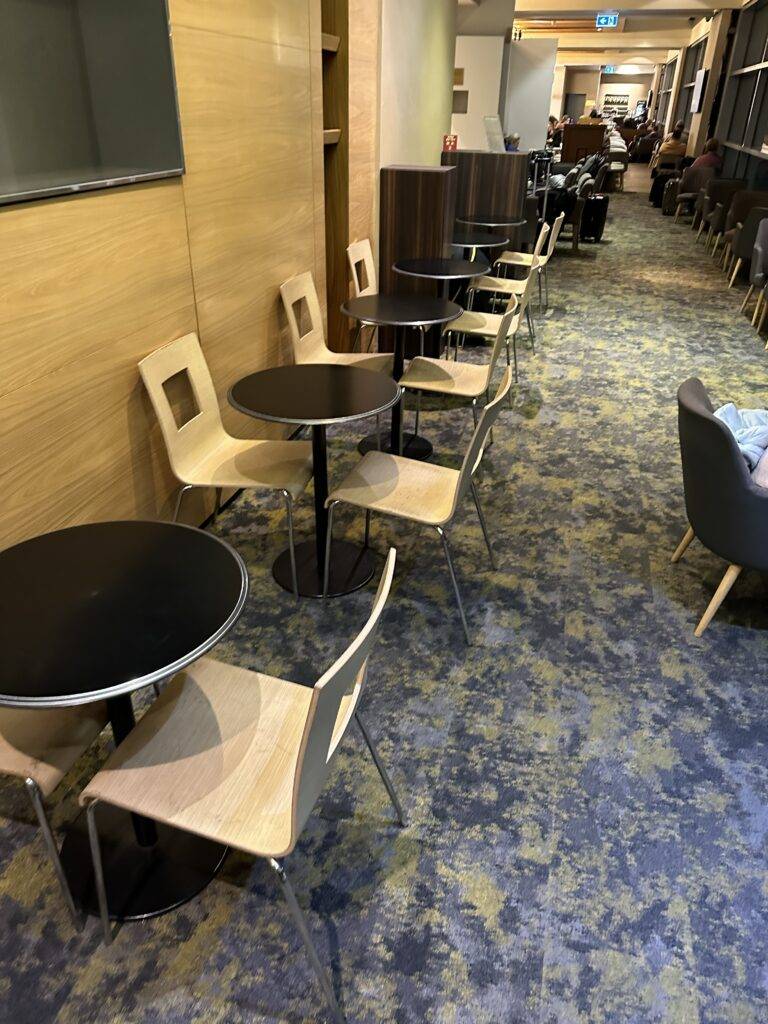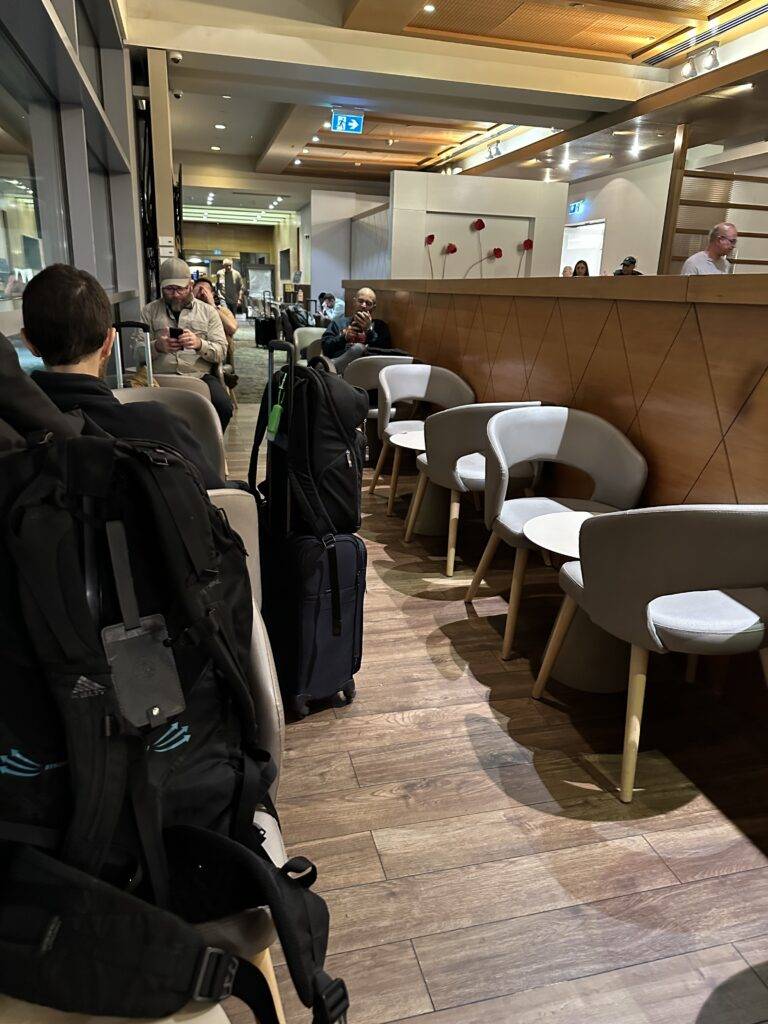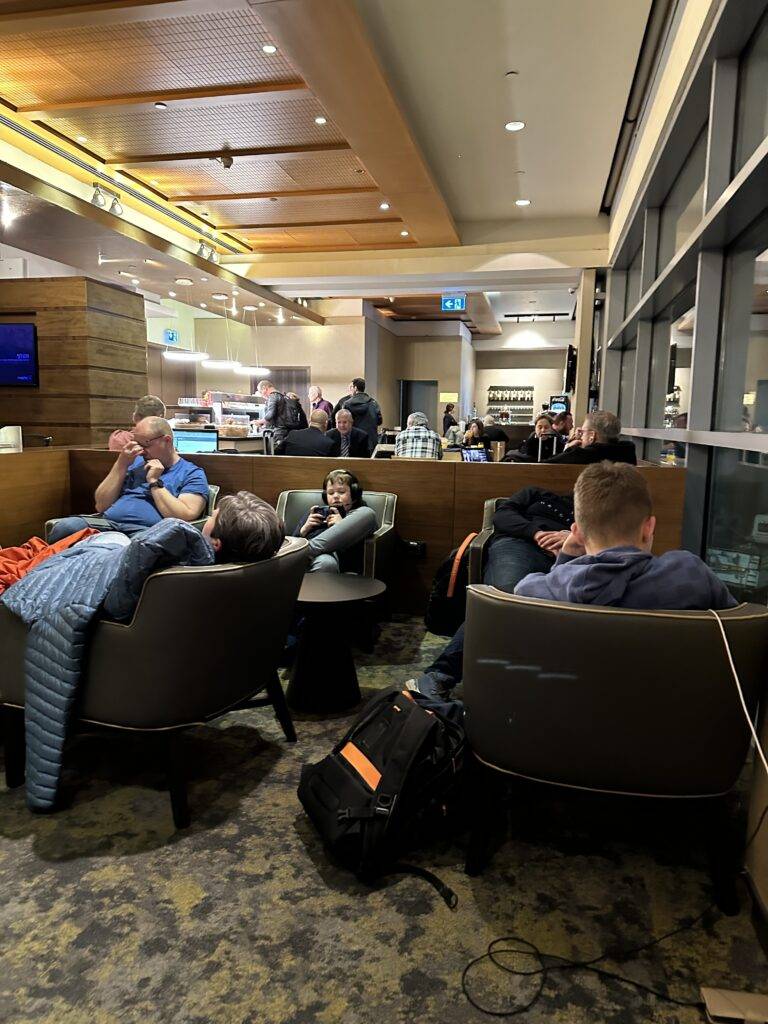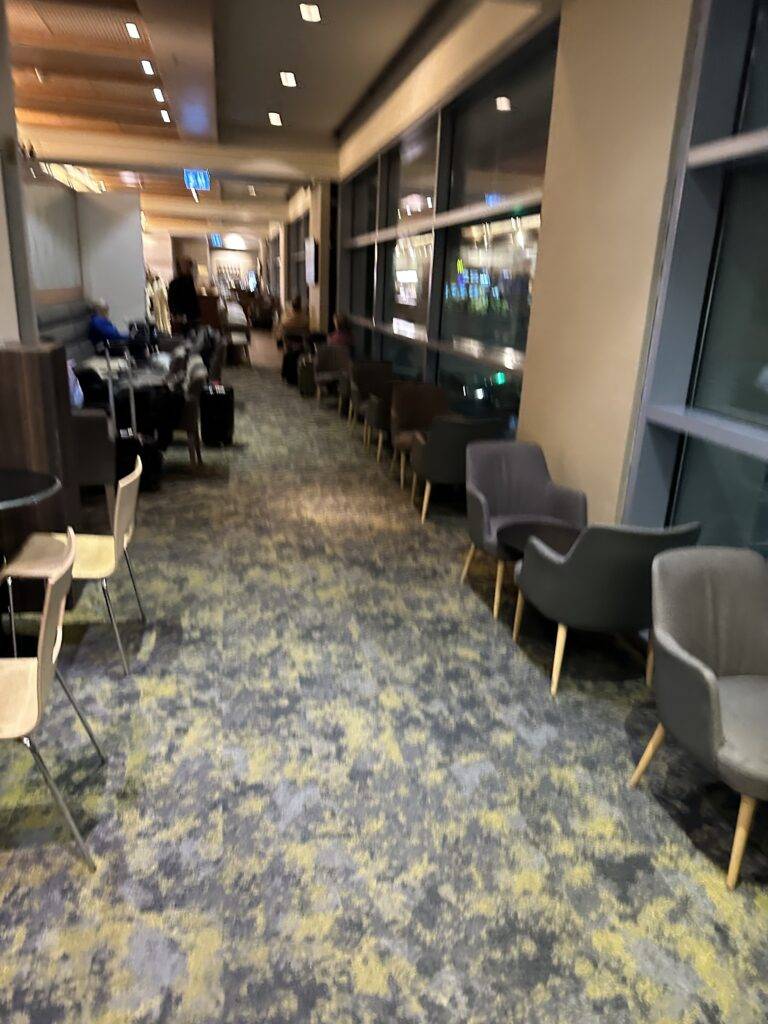 The lounge has small bathrooms inside, and the free wifi worked pretty well.
At one point, Dan Lounge had a small room reserved for first class, but it's not clear if the room still exists. I was in it once some years ago, and other than furniture, all it offered was some higher-end wine than the main bar.
Dan Lounge Ben Gurion Airport (TLV) Buffet
As a kosher traveler, one thing that's exciting is that all of the food in the Dan Lounge is kosher. That made this a rare moment where I get to eat as I please when on the road. Unfortunately, that's as far as it goes.
The Dan Lounge doesn't exactly have a robust buffet. At this early hour, the buffet featured soup, a selection of bread, yogurts, cheeses, olives, cereal, and pastries. It was sort of a very boring version of an Israeli breakfast.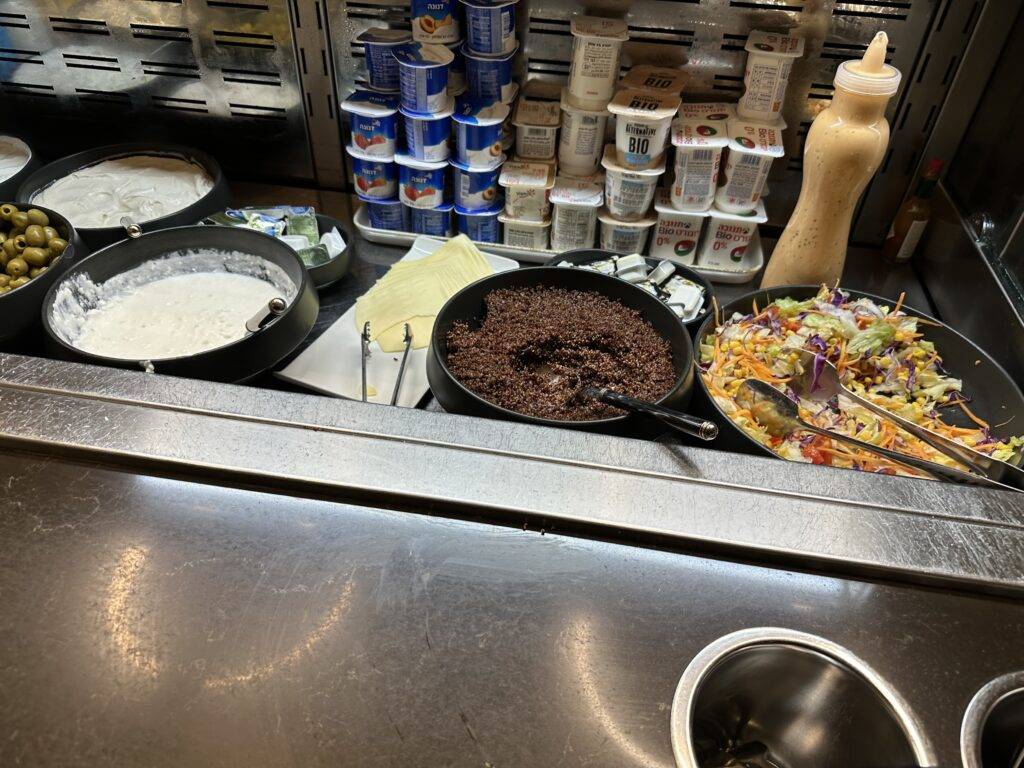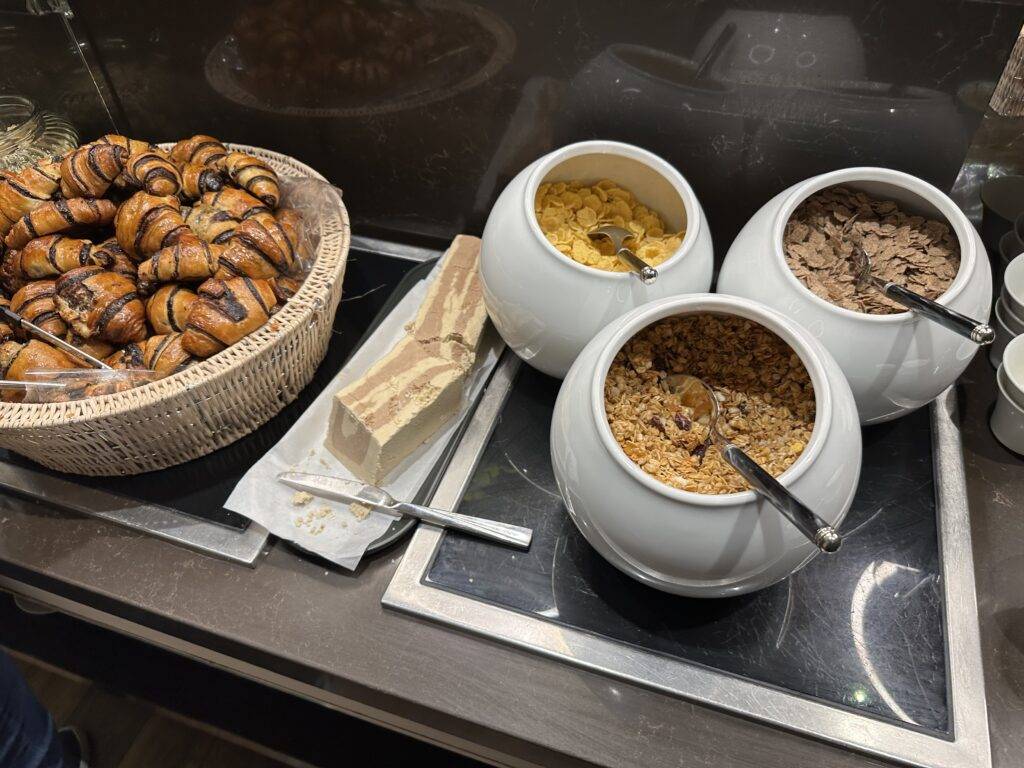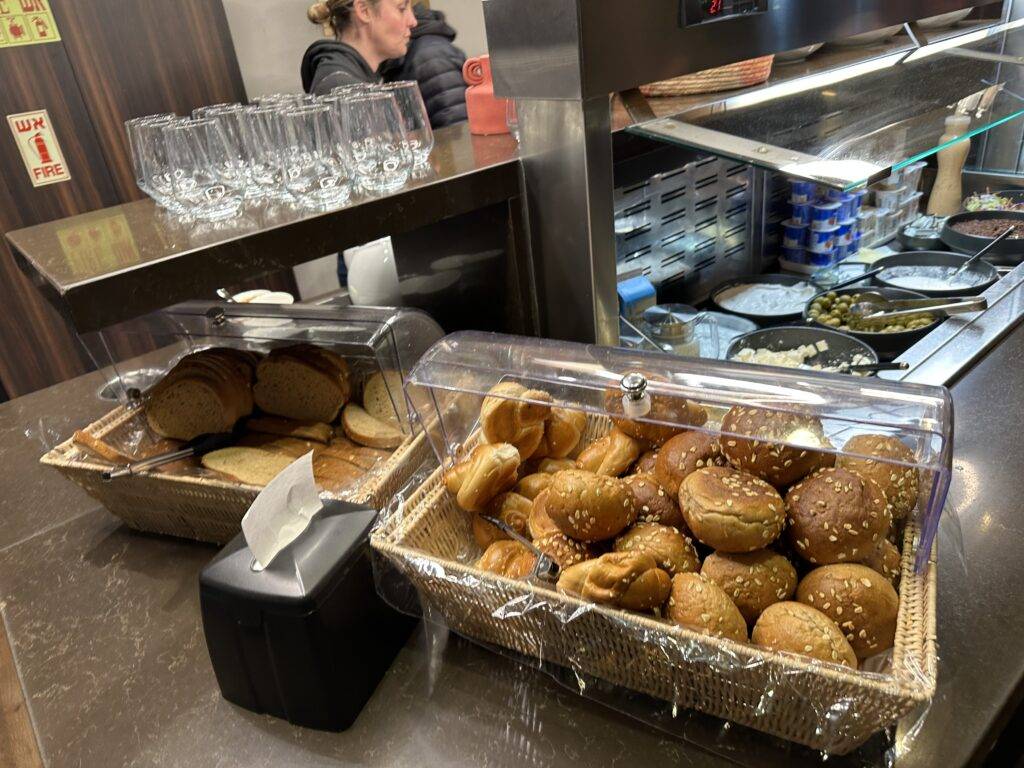 I didn't get pictures, but there was also a coffee machine and a fridge of soda. There was also still and sparkling water. There was a bar area, but given the hour, I chose not to look very closely.
I made myself a plate and settled down till boarding. The lounge is certainly not the nicest, but it does the job and is a comfortable place to relax before boarding.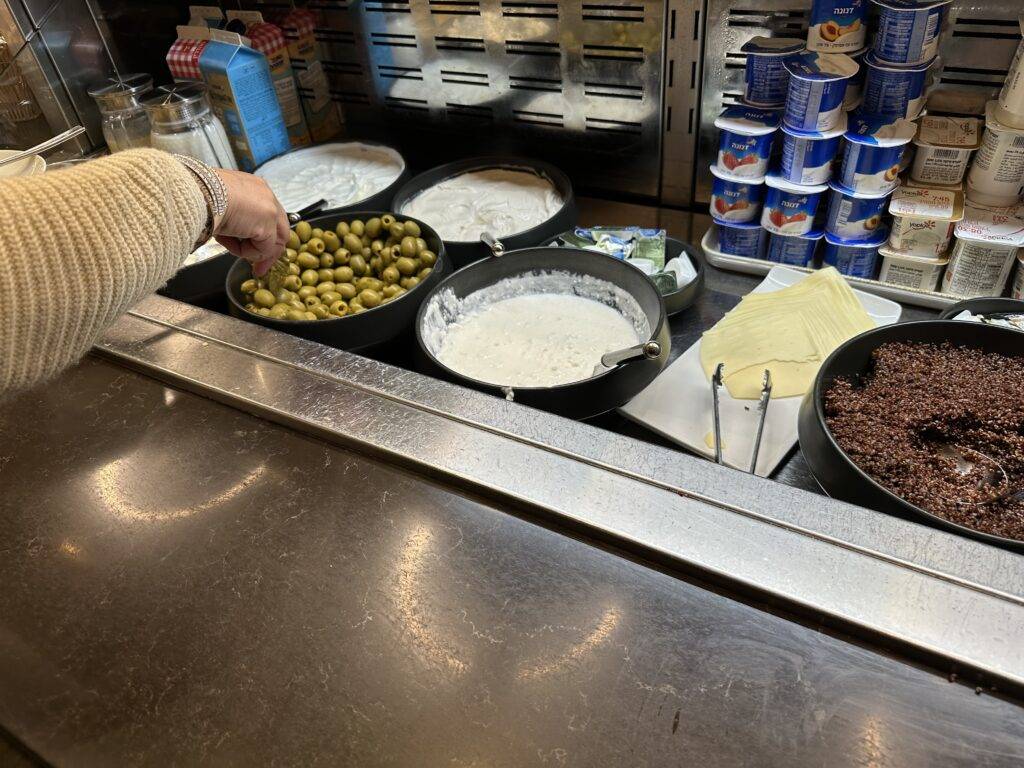 Dan Lounge Ben Gurion Airport (TLV) Other Amenities
Boarding announcements were not made, but there are screens to monitor departures. The lounge does not offer showers. While it would be nice to have the option of taking showers, there aren't too many long-haul flights departing Tel Aviv and most connecting passengers would be in El Al's King David Lounge.
Dan Lounge Ben Gurion Airport (TLV) Bottom Line
Dan Lounge at Ben Gurion Airport (TLV) is the primary contract lounge at the airport and is open to all eligible airline passengers except those flying El Al and Priority Pass members. Despite comfortable seating and kosher food, a lack of outlets for charging and a basic buffet make it a place suitable for short stays but not for long layovers. It's a decent place to spend a little time in but it's not a place I'd want to spend a long layover. While it's better than spending time in the terminal, Dan Lounge isn't a lounge that you want to make a point of arriving early for.