After clearing security at Ben Gurion Airport and a short stop in the Dan Lounge, it was time to board my flight to Europe on LOT Polish Airlines to Warsaw operated on the airline's Boeing 737 aircraft.
If you are just joining, you can catch up on my complete itinerary and the points I used to book this trip here. Previous installments include the ground experience in Newark for Emirates passengers, SAS Lounge at Newark, the Emirates business class flight from Newark to Athens, my stay at the InterContinental Athenaeum Athens, the Aegean Business Class Lounge Athens, and my Aegean Business Class Flight to Tel Aviv.
LOT Polish TLV Boarding & Pre-departure Beverage
I exited Dan Lounge shortly before boarding to browse duty free before heading to the gate. A few minutes past the posted time, LOT Polish staff started boarding. Priority boarding was enforced.
Boarding moved pretty quickly, and we pushed back, with announcements made in English, Polish, and Hebrew. Unfortunately, no pre-departure beverages were offered.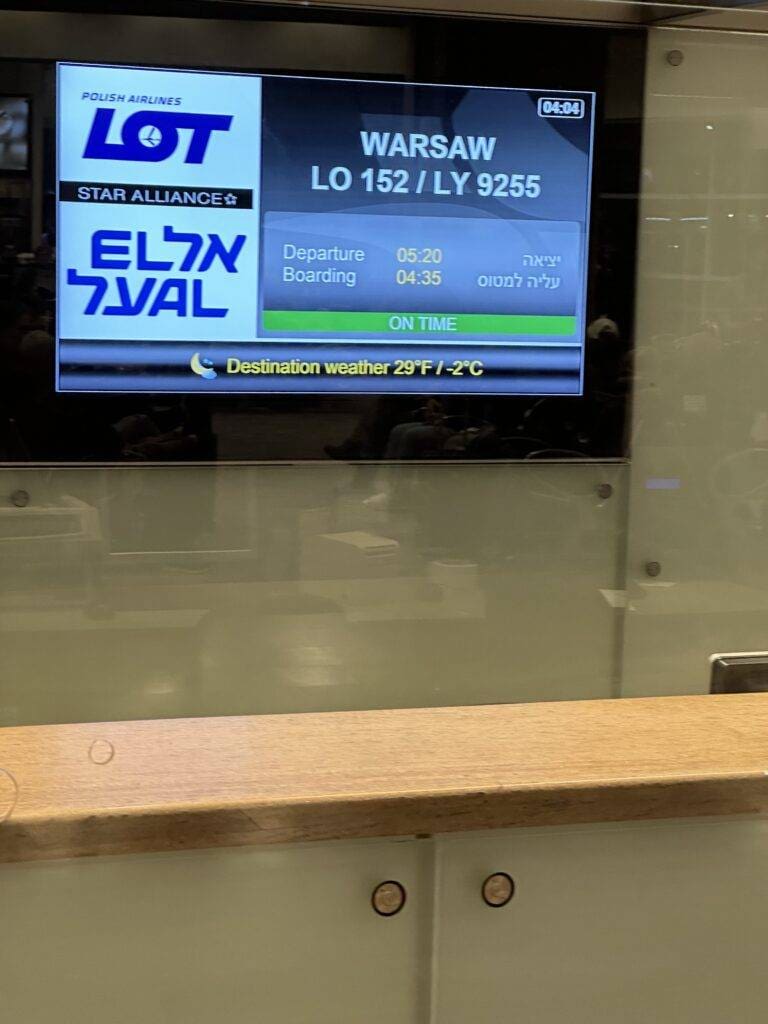 LOT Polish B737 Business Class Cabin & Seats
After stepping onboard the Boeing narrow body, I quickly found my seat in business class.
LOT flies its Boeing 737 aircraft to Tel Aviv. As is standard for European carriers on their shorthaul fleet, the business class is just coach seats with a middle seat blocked with a table. I honestly wish they would take out the table and leave the middle seat actually empty.
The cabin was nice and I appreciated that the seats had an outlet and USB port at eye level. There has been a recent trend in narrow-body aircraft to put in-seat power below the seat. I don't like this as it can be annoying to fidget around and look.
LOT Polish B737 Business Class Breakfast
Once in the air, packaged moist wipes were distributed and the meal service began. I did opt to order a kosher meal on this flight. From what I remembered, the kosher food on LOT Polish was usually passable.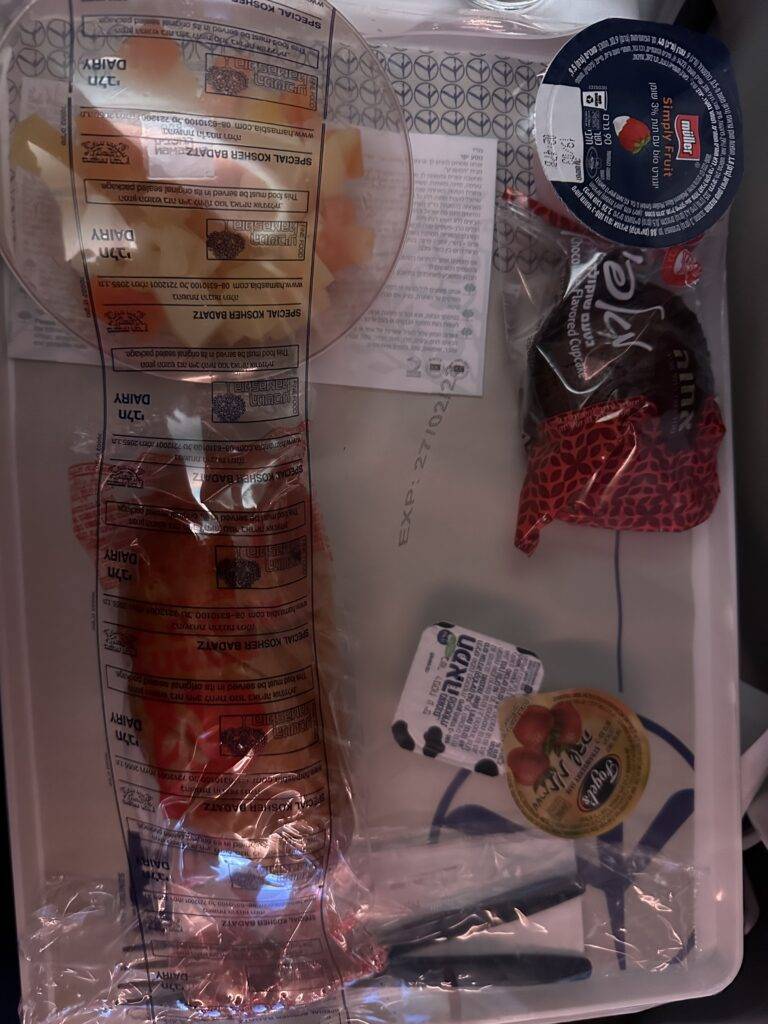 As is standard, my special meal was served first. The perennial downside of this is that you can get quite thirsty while you wait for the beverage service, which follows the main meal service.
The business class kosher meal on LOT Polish consisted of a cold tray with pastries, condiments, and a fruit cup. There was also a hot meal which was an egg, cheese, and vegetables. The food was fine, but I am glad I ate before leaving Jerusalem and again in the lounge.
No paper menu was offered for the standard meal service, but breakfast was served for general guests as well. My seatmate expressed that they enjoyed their meal.
LOT Polish B737 Business Class Service
In-flight service was friendly. Once the meal wrapped up, the crew mostly kept to themselves in the galley.
I didn't manage a picture of the bathroom, but it was nothing remarkable. Just a cramped lavatory you might expect on a narrowbody aircraft.
LOT Polish B737 Business Class IFE & Wi-Fi
While Wi-Fi was available, it was not free. Keeping with my personal interest in generally avoiding in-flight wifi, I passed the time reading and listening to podcasts.
The in-seat power was definitely helpful. That's, unfortunately, something that's still not guaranteed on European short-haul flights.
Soon enough, we landed in Warsaw. We briefly taxied to a gate and deplaned after a reasonable amount of time. I had a lengthy layover, close to 10 hours, I chose to exit the airport and visit Warsaw for a few hours. There was no priority line at customs for premium passengers, but the wait wasn't too lengthy before I was landslide. I put my carry on into a storage locker and grabbed a cab to the city center.
LOT Polish B737 Business Class Bottom line
LOT Polish is a safe and comfortable way to fly out of Tel Aviv and the onboard product on business class is pretty similar to its peers flying to the continent. While better seats would be nice, given the prevailing mediocrity of European carriers, I would settle for a hot meal (something US carriers don't necessarily offer in short-haul premium cabins). It helps that LOT Polish has decent transatlantic award space availability so it's a good way to redeem points on Star Alliance.