To start my midwinter kosher getaway, I began my trip at Newark Liberty International Airport (EWR) on Saturday night, February 18 allowing me to maximize my week of holiday. For some years now, Emirates has offered a fifth freedom route between Newark and Athens, departing in the middle of the night.
There aren't many nonstops between the New York City area and Greece, especially in the winter, making the Emirates flight an even more attractive option. Plus, I had never flown a fifth freedom route before and was curious about the experience. See my previous post for my full itinerary and how I booked this flight.
Check-In & Arrival at Newark Airport (EWR)
Emirates Terminal at Newark Airport (EWR)
If you're flying with Emirates from Newark Airport, you may be wondering which terminal to go to. Emirates operates out of Terminal B at Newark Liberty International Airport, and as it does in other outstations, it attempts to offer an industry-leading ground experience for its passengers at the airport. Here's what you can expect from check-in to boarding.
Emirates Check-In at Newark Airport
I arrived at Newark Airport a few minutes after 9 pm for my 11:55 pm departure. It took a few minutes to locate the Emirates check-in area.
I found the signage at EWR a little unclear and almost went to the wrong terminal instead of Terminal B after getting incorrect advice from an airport staffer. The Emirates check-in area was busy, with dedicated lines available for first class and business passengers, as well as for elite members of Emirates Skywards.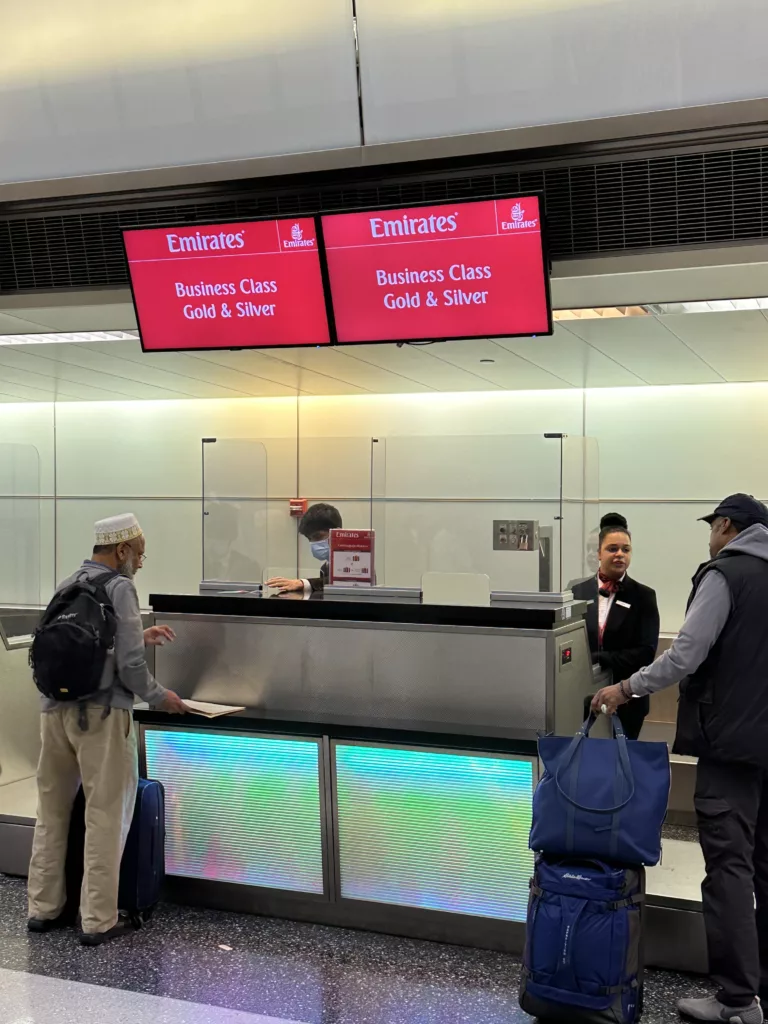 Luckily, the business class check-in line was short and I was soon speaking with an agent. The check-in agent seemed surprised Athens was my final destination, so I suspect most customers on this route are terminating in Dubai or further connecting from there.
The agent was friendly, although not especially polished. She worked efficiently and informed me that I can access the SAS Lounge, which Emirates uses at the outstation.
Security
There was no mention of the availability of a premium security line, although I did see my boarding pass did reflect TSA PreCheck which comes with my Global Entry membership. I proceeded through the standard security line which moved fairly quickly. The TSA line was about what you would expect. While the PreCheck line was closed, having PreCheck on my boarding pass did mean a slightly more humane experience like leaving my shoes on, but still had to remove my laptop and liquids.
SAS Lounge
As mentioned above, Emirates uses the SAS Lounge at Newark Airport for its premium passengers.
Newark is a major United hub and Emirates has a new partnership with United (which includes a flight from Newark to Dubai operated by United). While United's well-regarded Polaris lounge is over in terminal C and a bit of a hike from Emirates, it's possible we may see Emirates partnering with United for lounge access. For now, Emirates does not work with its new partner for lounge access so, after clearing security, I proceeded toward Gate 60 and quickly found the lounge. Read more about the lounge and my experience in the full review here.
Boarding
I left the SAS Lounge for the gate around 10:50 pm for the gate, which was a very short walk away.
Emirates is one of the most punctual airlines in the world. Boarding was called promptly at 10:55 pm but ended up starting about 10-15 minutes late. Emirates had dedicated premium lines. However, it did not seem like these were being enforced during boarding, making for a bit of a chaotic boarding experience.
The signage was a little unclear in terms of where everyone was expected to line up. However, after the pre-board for disabled passengers and families, premium passengers were quickly welcomed on board.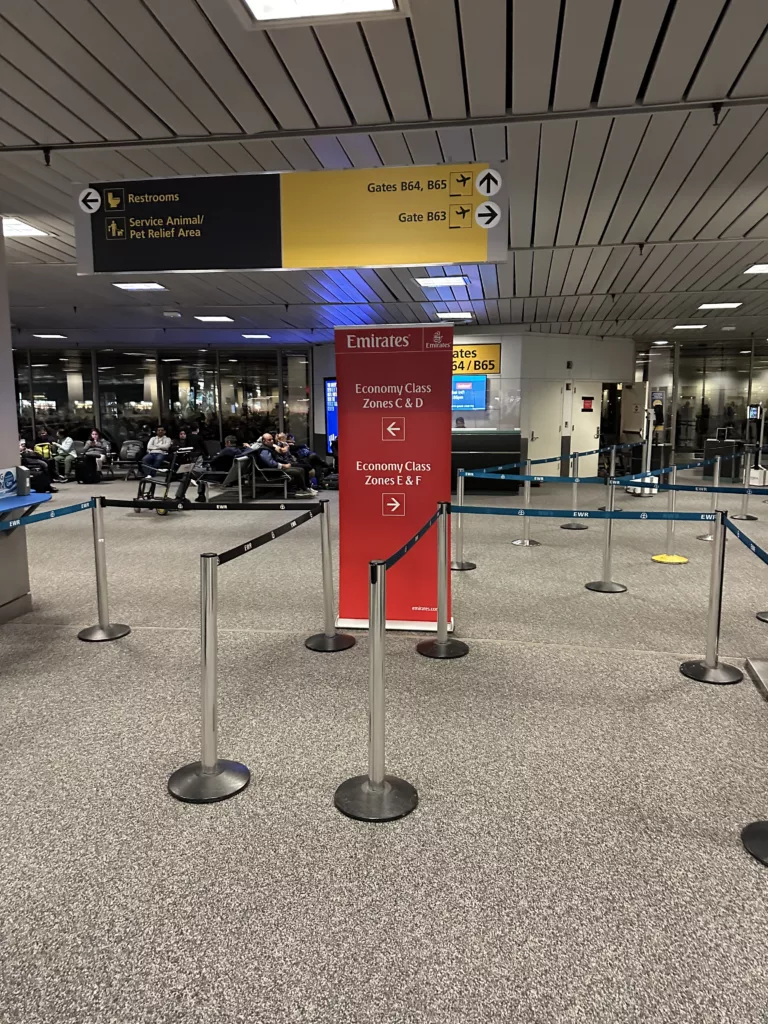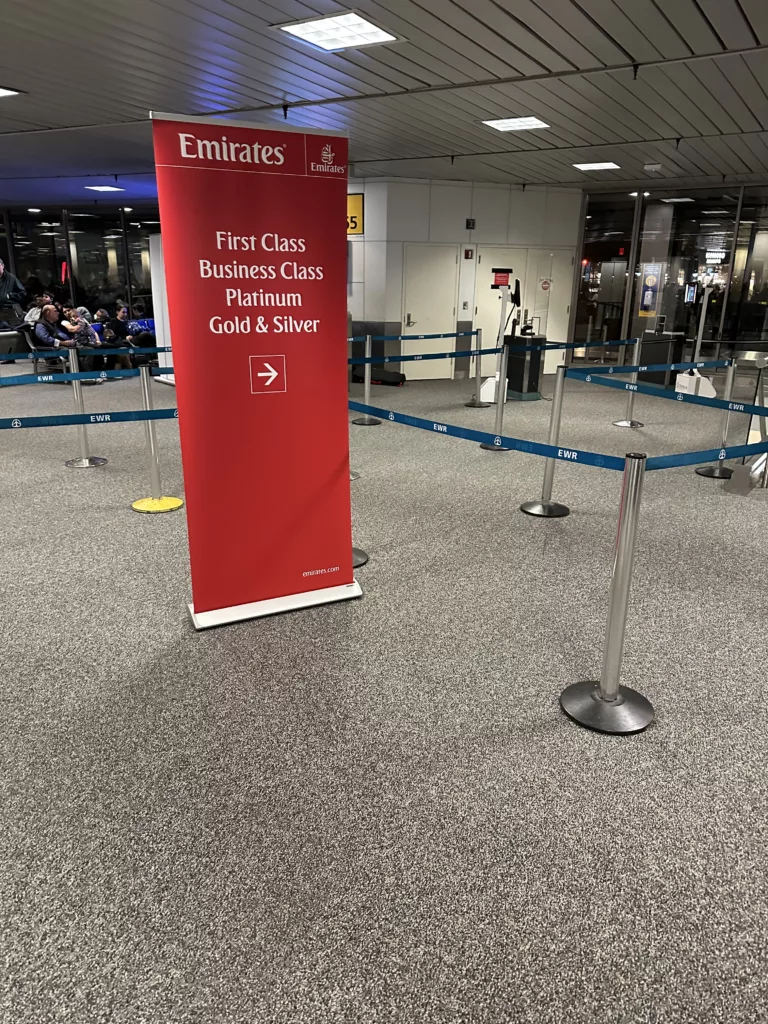 After boarding, I settled into my seat and prepared for the flight to Athens International Airport (ATH) blocked for 9 hours and 10 minutes. Stay tuned for my review of that flight coming soon.
We did take off a little late, but things seemed to move pretty smoothly once we were on board.
Bottom Line
The Emirates ground experience for premium passengers at Newark is perfectly acceptable but might not be to the standard many Emirates passengers would expect from the airline. Those who have experienced Dubai or other airports where Emirates has a stronger presence may be disappointed at Newark. However, if you go into the experience knowing that Newark is an outstation where Emirates has limited operations and options, the airline does line up well against its competition — especially at Newark.