For the next piece of my President's Day getaway to Greece and Israel, I flew from Athens International Airport on Aegean to Tel Aviv, giving me a chance to check out the Aegean Business Class Lounge and the Aegean ground experience at its primary hub airport ahead of my flight to Tel Aviv.
If you are just joining, catch up on my flight on Emirates from Newark to Athens, the Emirates ground experience at Newark, SAS Lounge at Newark, and stay at the InterContinental Athenaeum Athens.
Aegean Athens Check-In & Security Experience
I booked Welcome Pickups for my transfer from the InterCon to Athens International Airport (ATH). I scheduled a 2 pm pickup for my flight departing at 5:20 pm. The driver arrived promptly at around 1:45 pm. The ride to Athens airport was smooth and the traffic wasn't too bad.
I booked the flight using American Express Membership Rewards earned on my American Express Platinum Card transferred to Aeroplan.
I found the check-in area quickly. Aegean had dedicated lines for its business-class customers as well as Star Alliance Gold customers. The line wasn't too long when I arrived and I was served quickly.
I was not advised of any priority passport control or expedited security lanes for premium passengers. They also didn't inform me of any lounge access despite its inclusion in my business class ticket.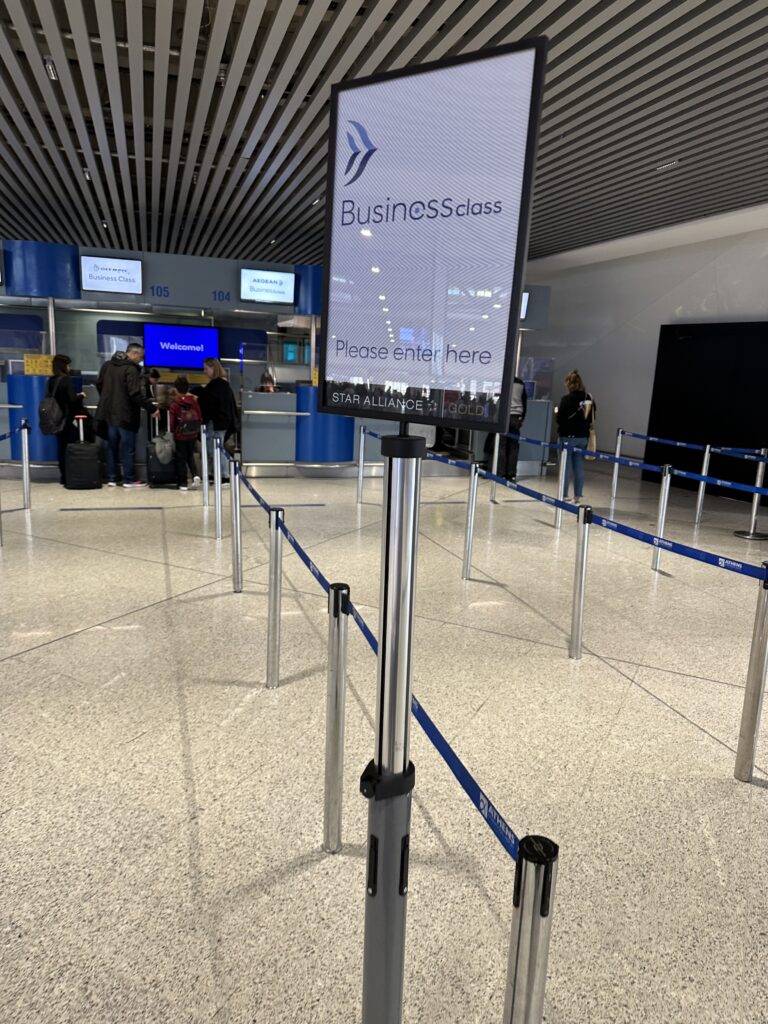 There was no fast track for immigration, but I made it through pretty quickly. I didn't initially see the signage for business class security so I got in the main line. When I did eventually notice signage for the business class line, I was already in the general line which was short so I stayed in it and did not move.
Once I cleared the formalities, I was inside the terminal. The Athens airport terminal was nicer and airier than I expected. I quickly found the entrance to the Aegean business lounge and made my way upstairs.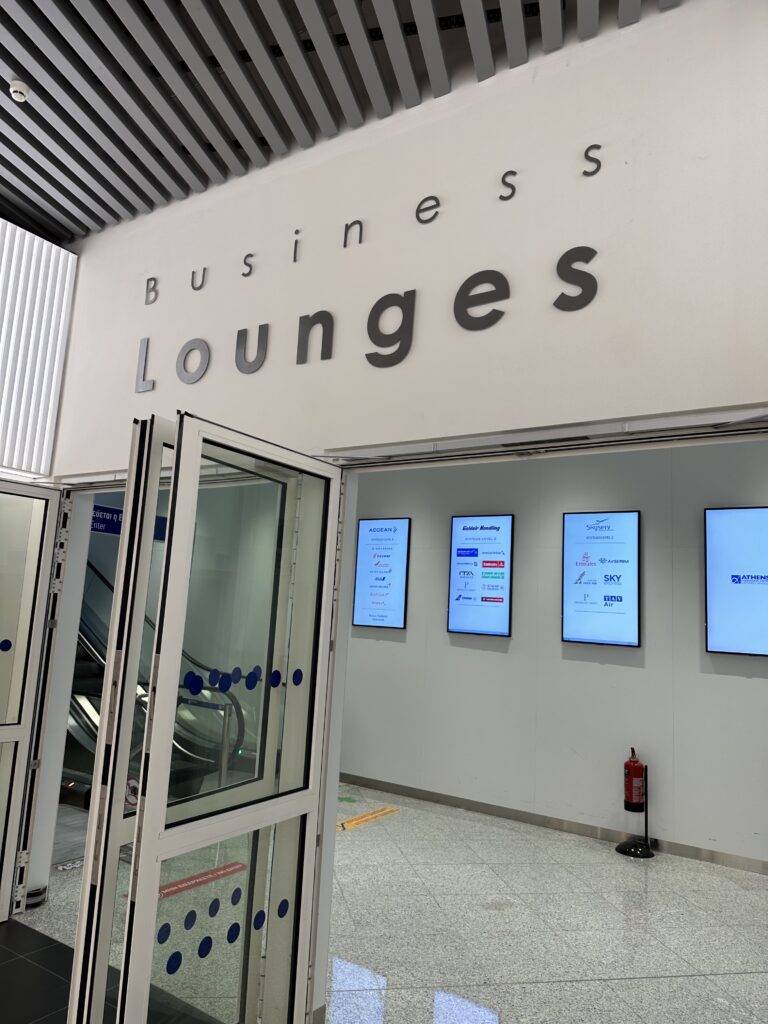 Athens Aegean Business Class Lounge: Location
There were several lounges in the same area on a level above the terminal, and the Aegean lounge was clearly signed, but also recognizable from the strong Aegean blue. They are very consistent with their branding.
Curiously, the signs outside did not specifically note that Star Alliance Gold and premium passengers were welcome, as is common at Star Alliance lounges. This lounge, however, is indeed open to them and follows standard Star Alliance lounge access rules.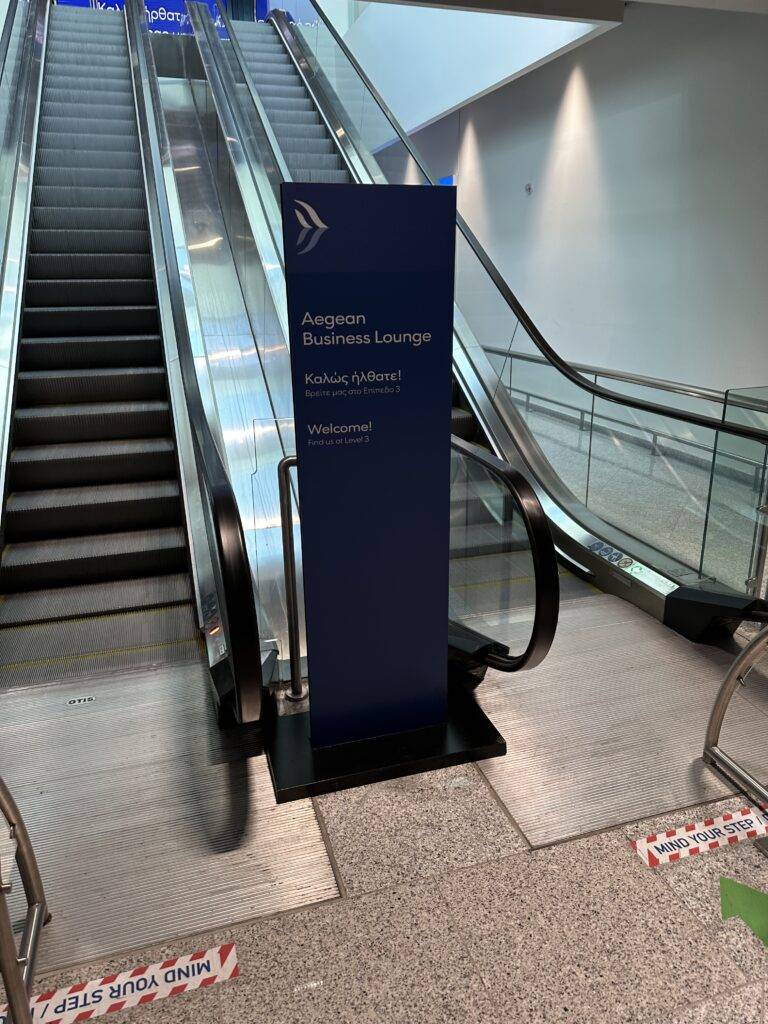 The lounge is accessed through automated electronic gates where your boarding pass is scanned, though staff was on hand.
Personally, I don't mind the electronic gates as they allow quick entrance if your boarding pass is coded properly. But I do think being greeted by airline staff and thanked for your business is a nice touch that seems to be going away.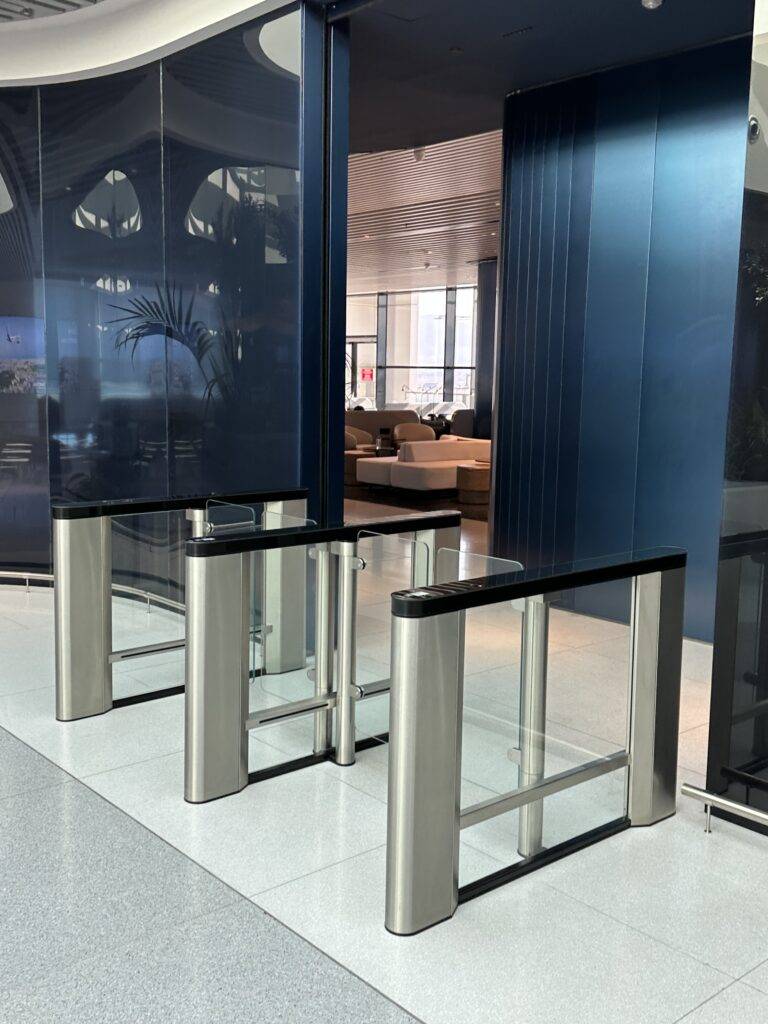 Athens Aegean Business Class Lounge: Layout & Seating
While Athens is Aegean's primary hub, it's primarily a medium and short-haul carrier and operates no widebody aircraft so my expectations for this lounge were measured. I was pleasantly surprised at the size of the lounge, and the offerings. This is notable since I don't think Athens sees much connecting traffic either, save for passengers traveling domestically within Greece.
The lounge was a very large space with several areas and buffet stations, with great views of the runway.
The restrooms were hidden in a corner. They were small considering the size of the lounge, though well appointed. Showers did not seem to be available.
Wifi was free and fast. Many seats were available with easy access to outlets which I always appreciate.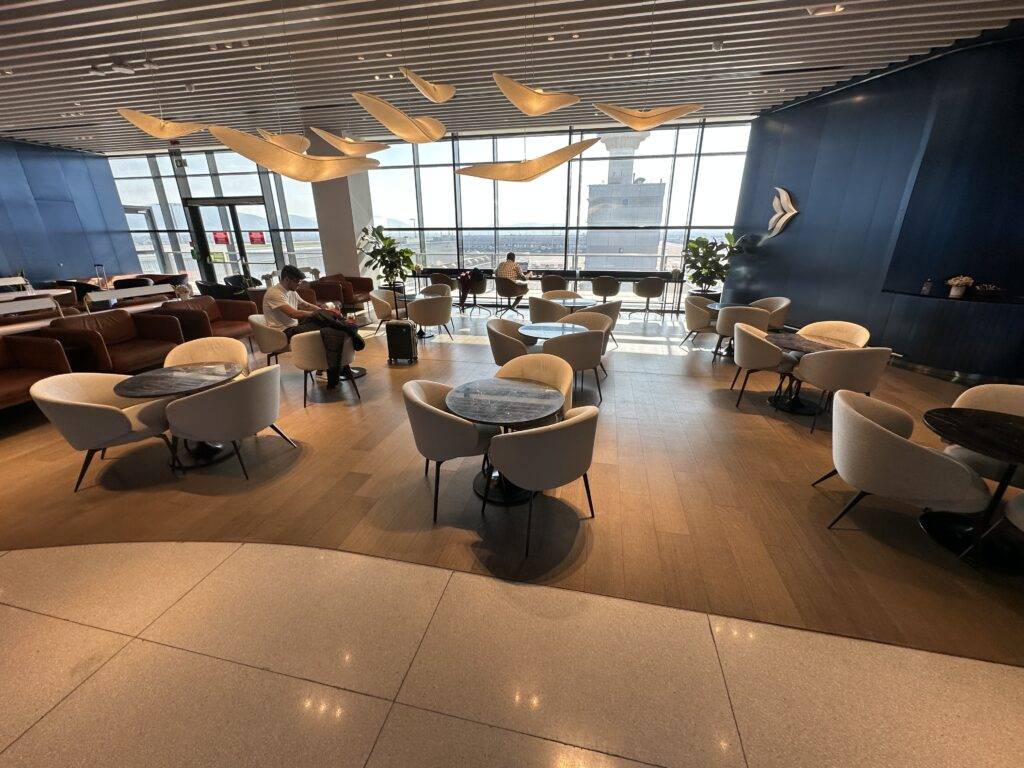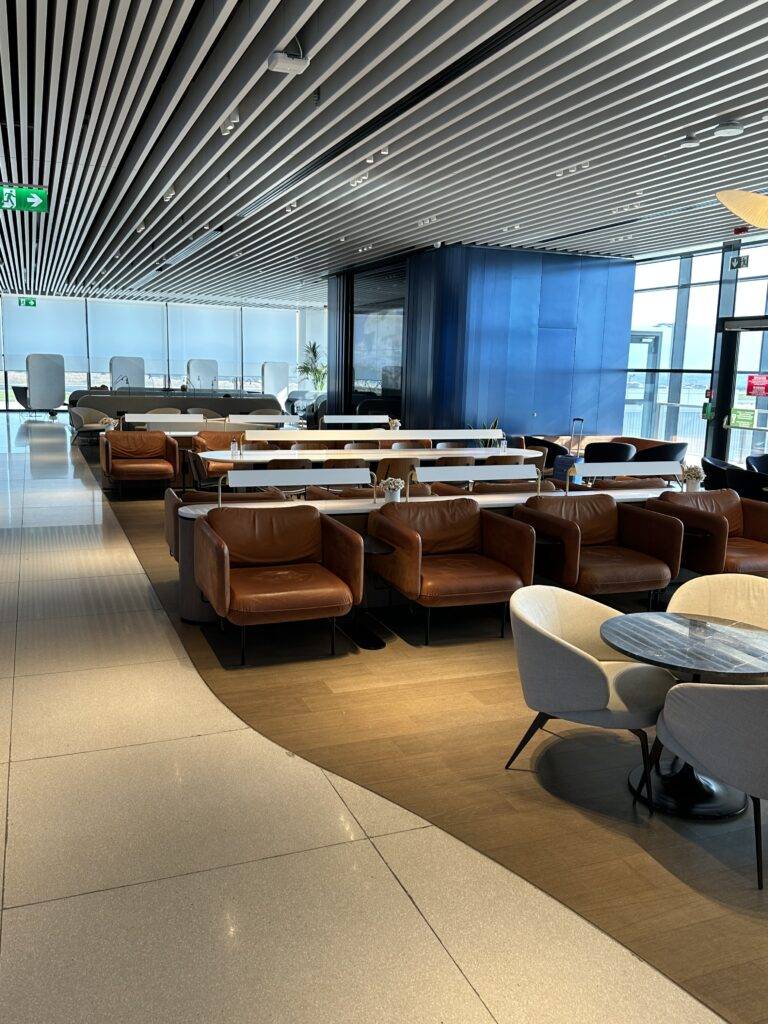 Athens Aegean Business Class Lounge: Refreshments
There was a large hot beverage area with a massive Nespresso machine and a very solid tea selection. For Americans, there was also drip coffee on hand.
I prefer cold coffee so I would have awarded bonus points if they had iced coffee or cold brew on hand, but that's very rare in Europe, unfortunately.
A variety of mugs and glassware were available for the hot drinks. The hot beverages area also had various cookies and croissants.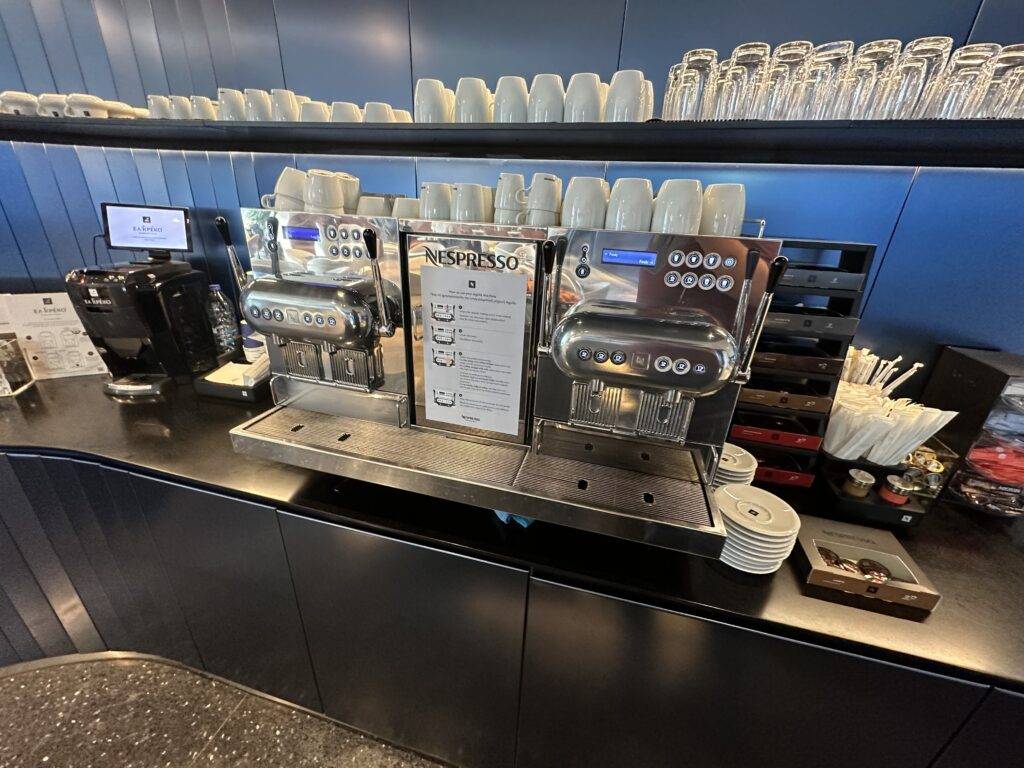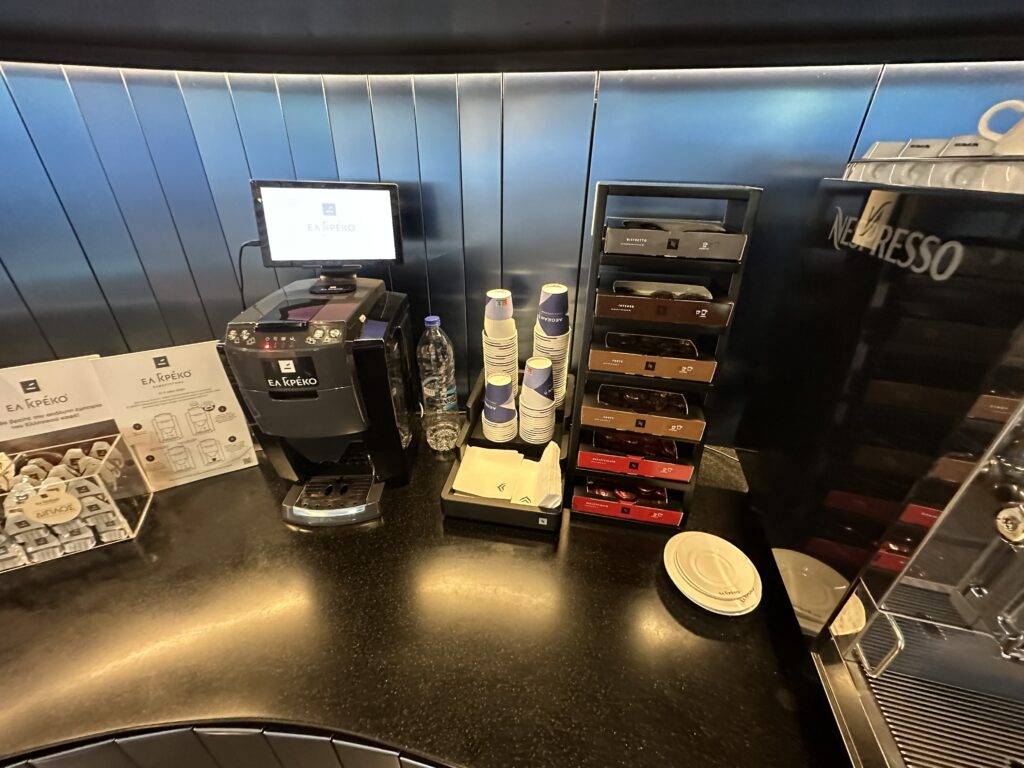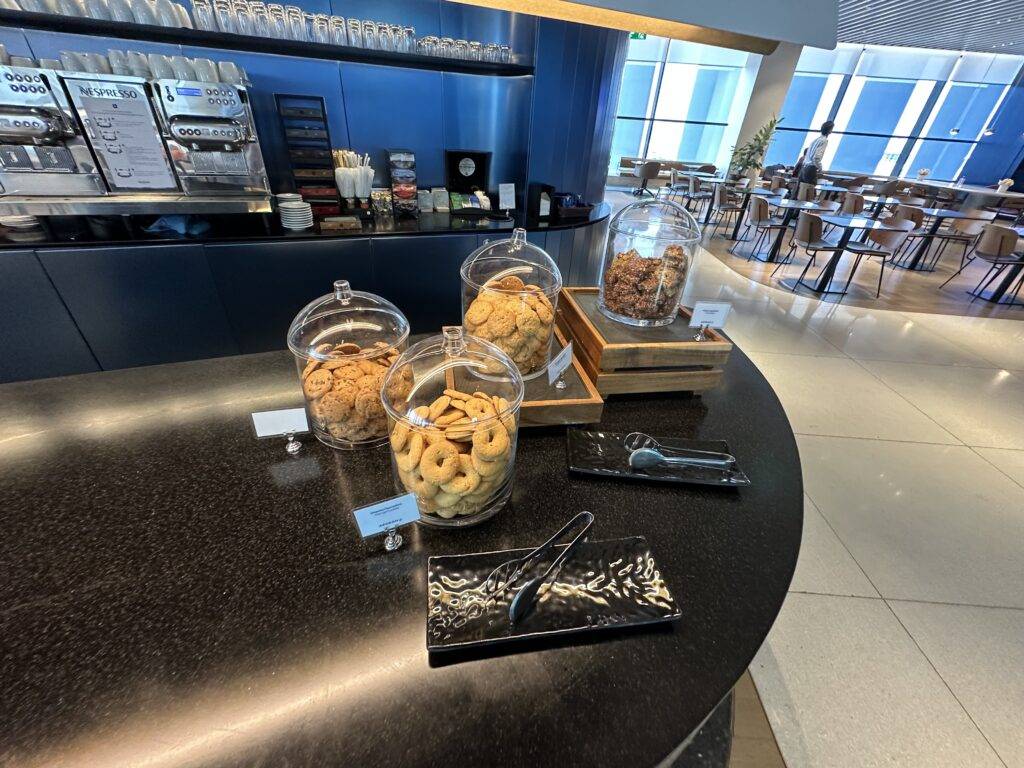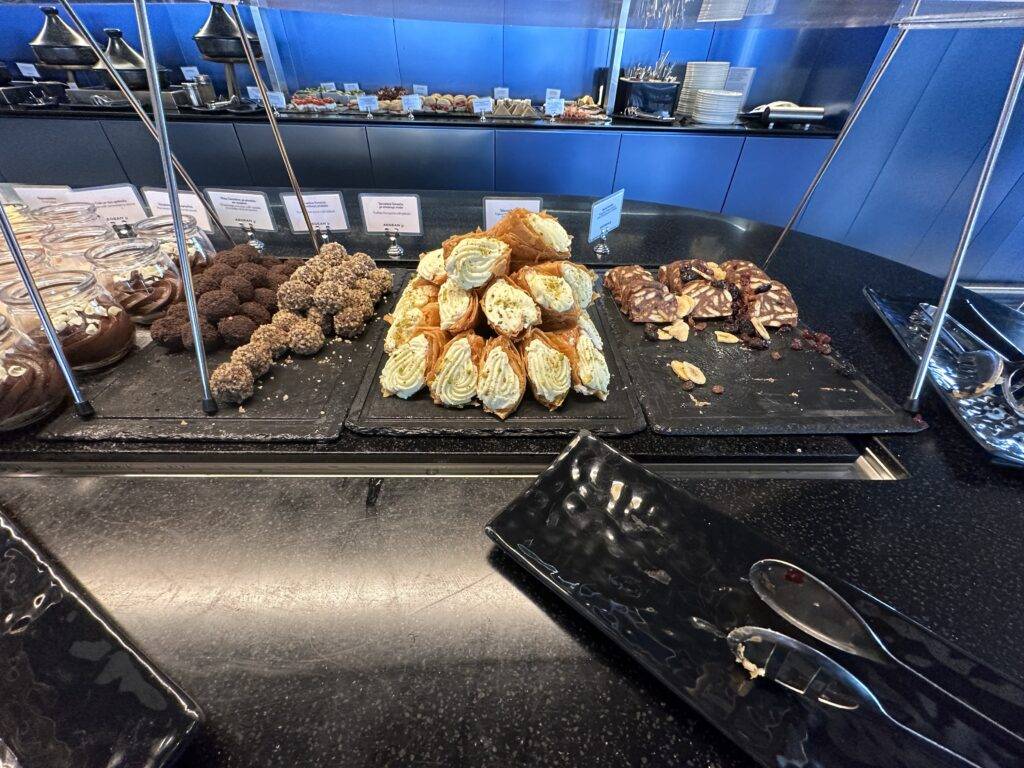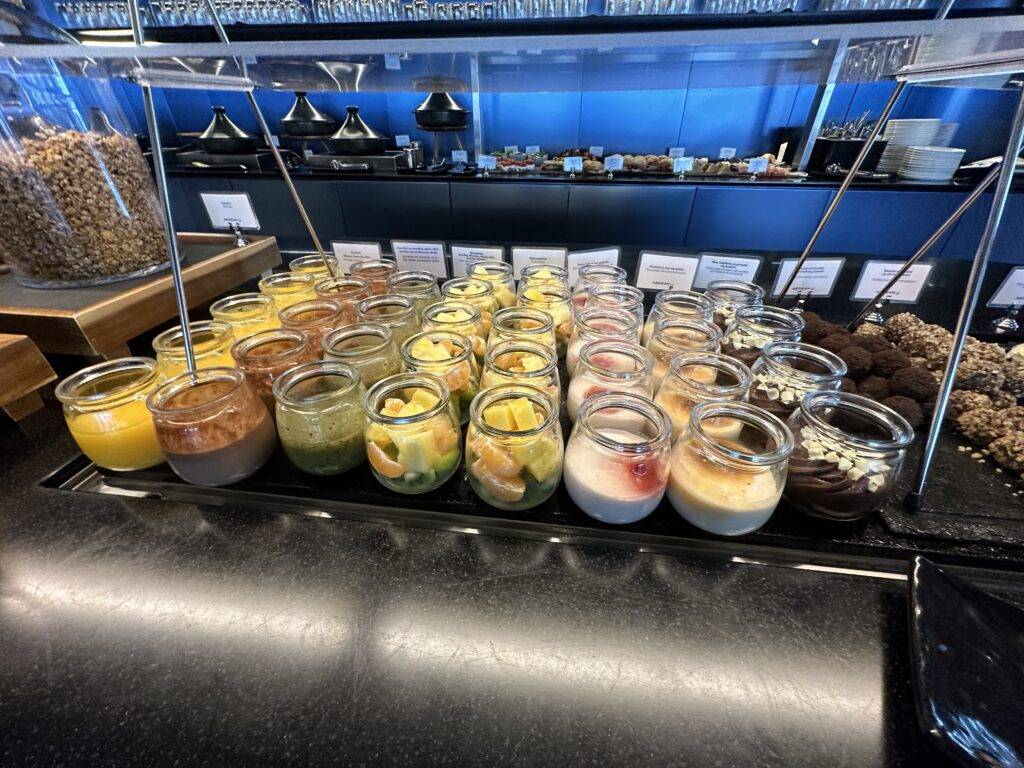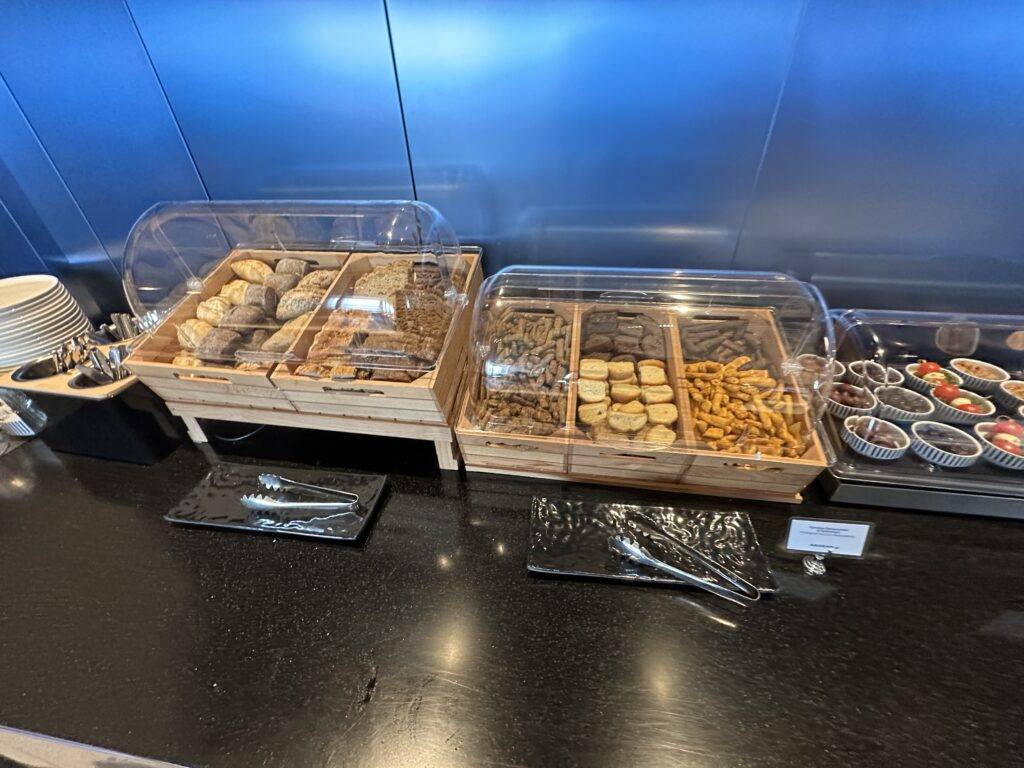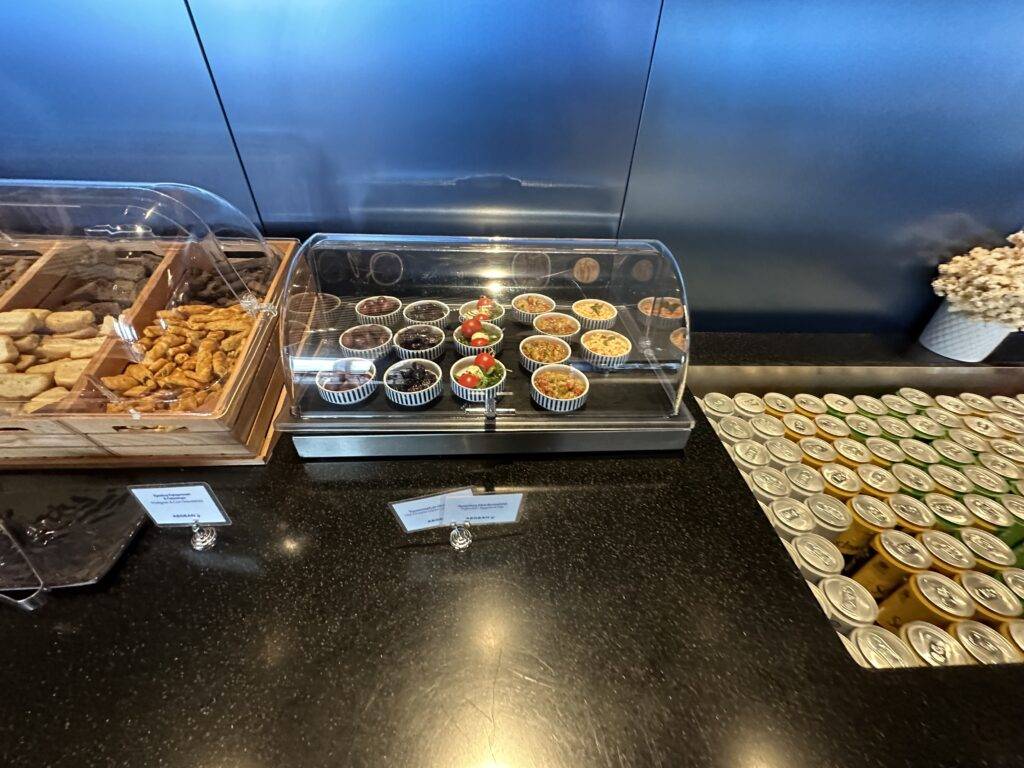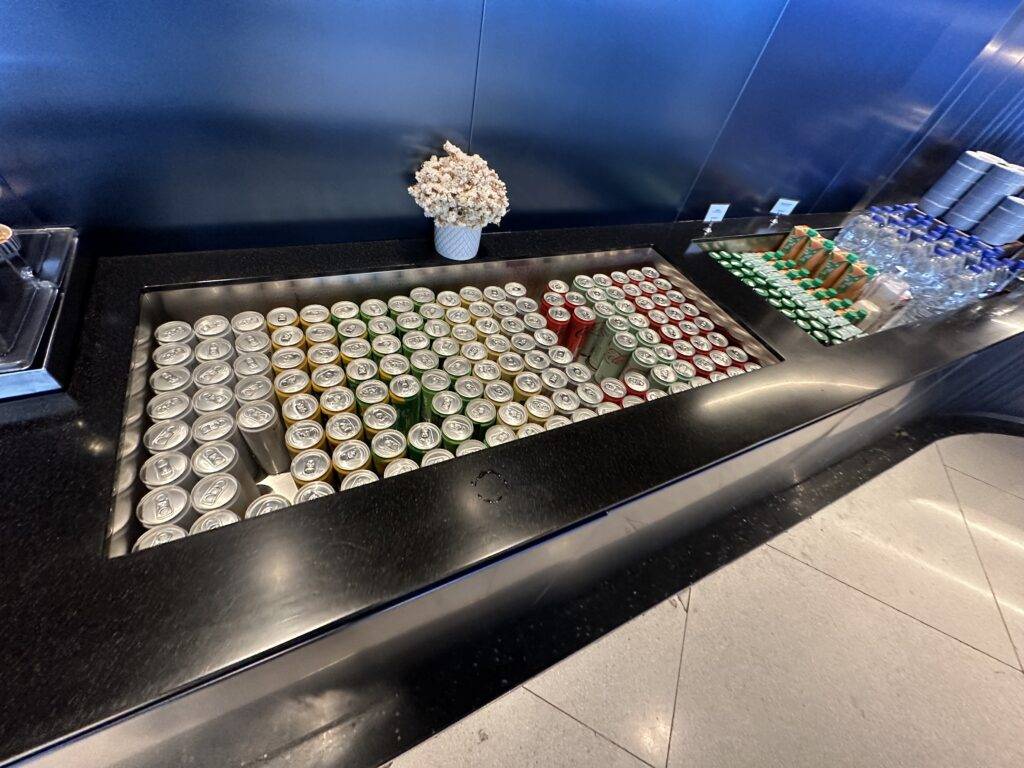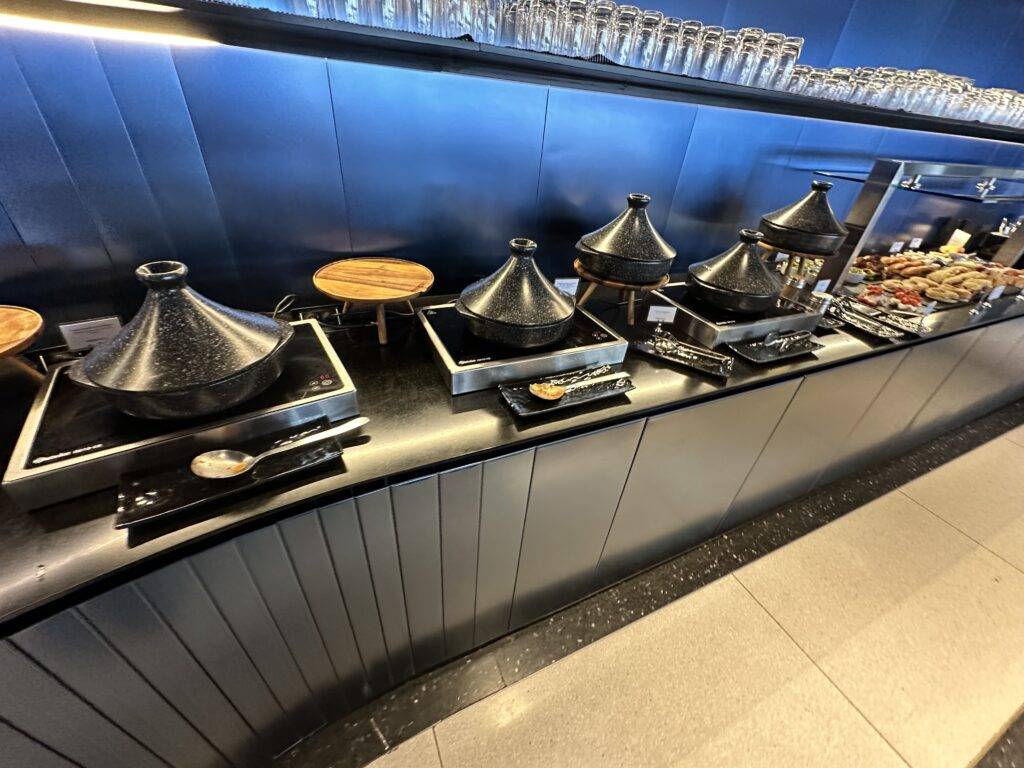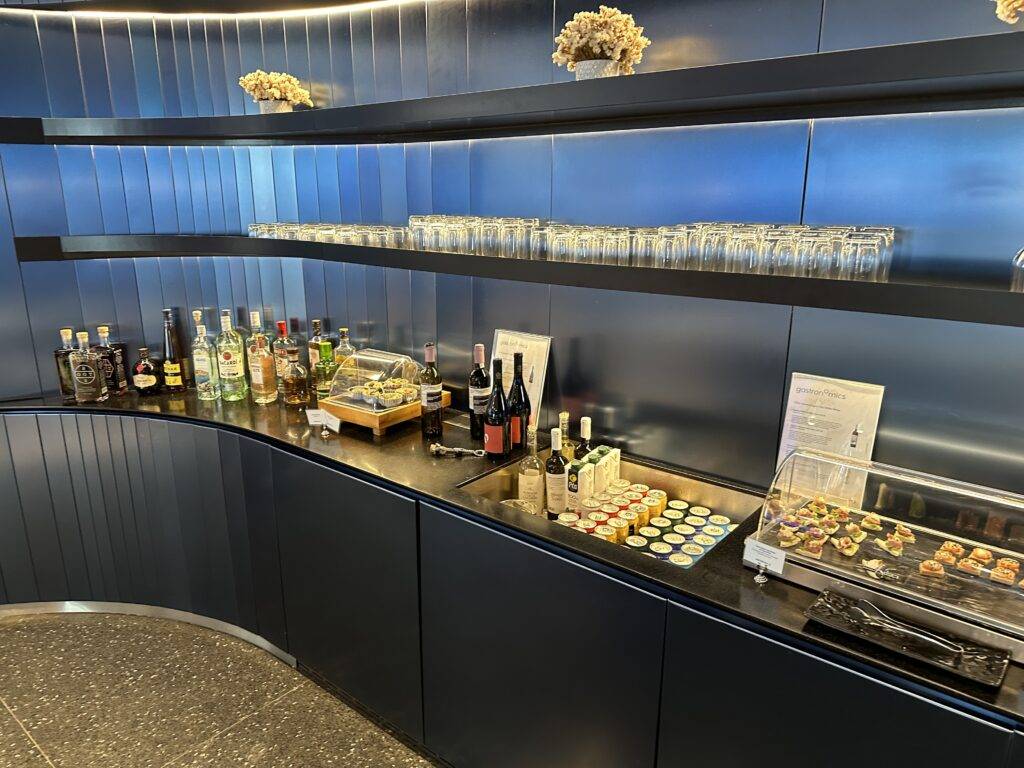 Past the coffee station, there was another buffet area with a variety of pastries, yogurt, and prepared foods.
There were also salads, fresh chocolates, and finger foods. The hot food station had several items, though keeping kosher, I didn't look too closely.
There was a great selection of beverages and a self-serve collection of wines and spirits. I appreciated that they had Greek beer and wine, and a lounge employee was happy to explain the different Greek beers to me and point me to his favorite.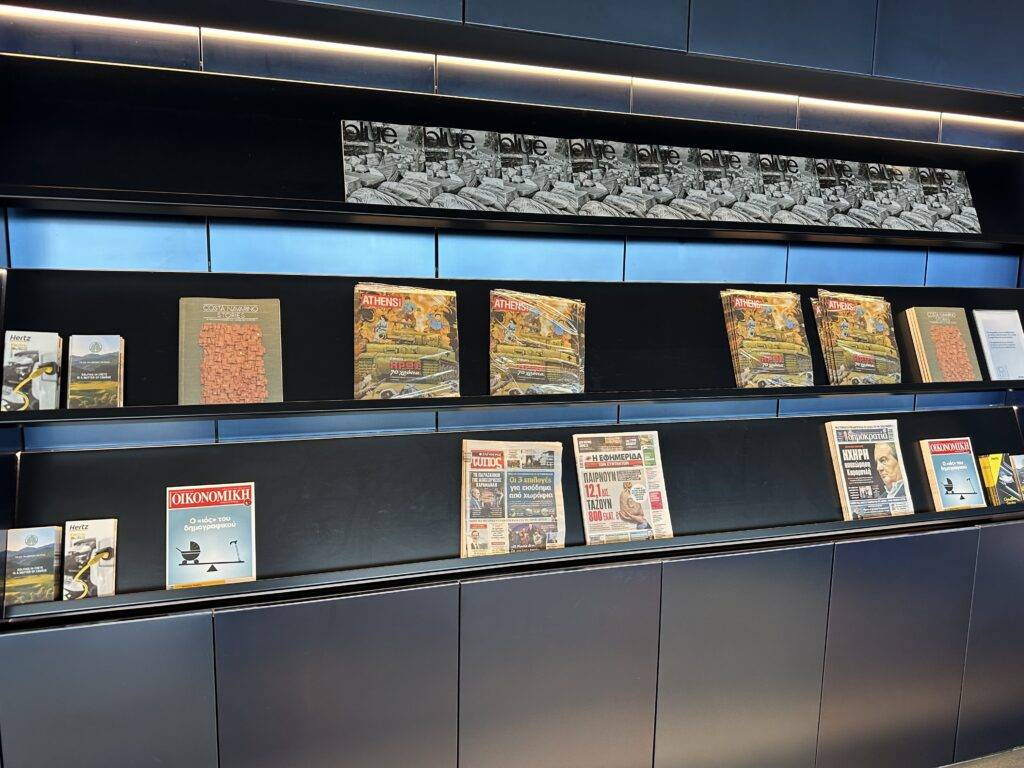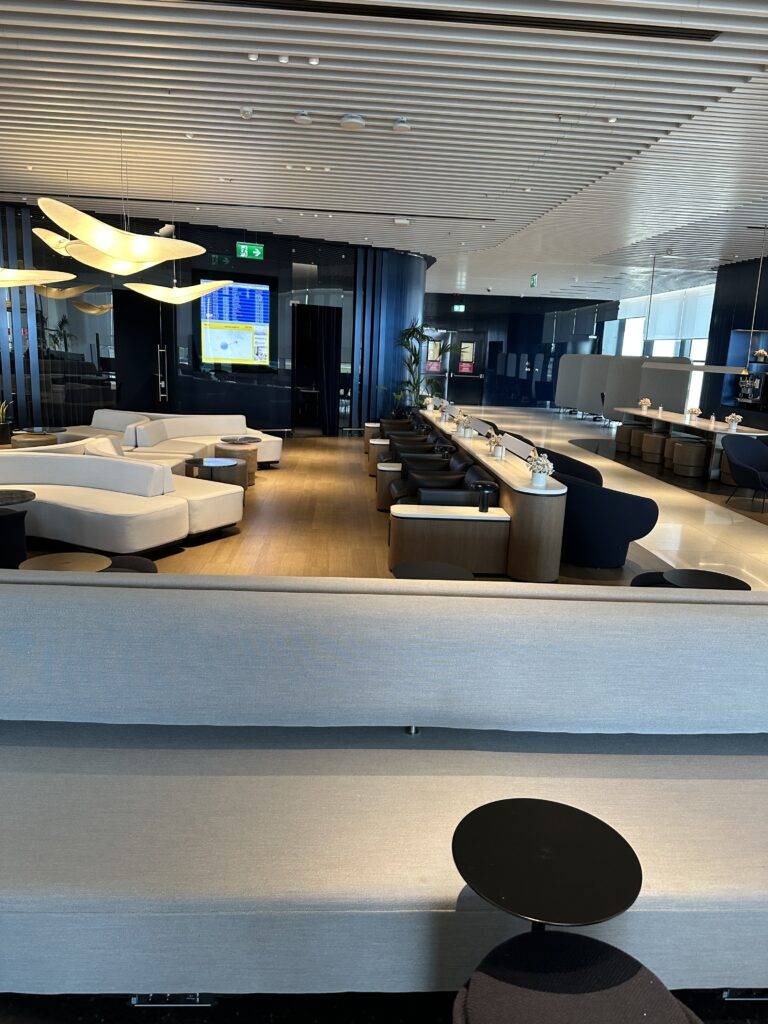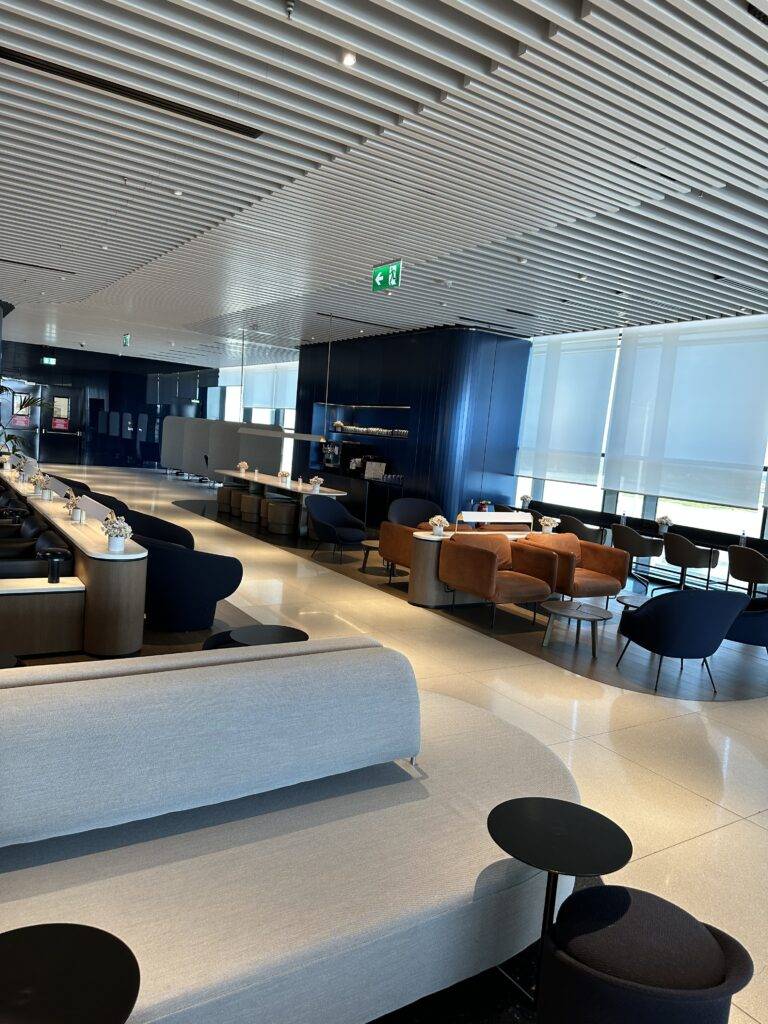 There was also a selection of various newspapers and magazines, primarily in Greek. It would have been nice to see some English or international offerings though.
Keeping kosher, there was not much I can eat from the buffet, but reviews of the spread from my fellow passengers were pretty positive. I left the lounge around 4:25 pm to browse duty-free and head to the gate ahead of my 5:20 pm flight to Tel Aviv.
Bottom line
Aegean does a reasonably good job with its business lounge, especially given its lack of widebody service. The space is large and comfortable space to relax before your flight. With plenty of seating, fast wifi, and ample food and beverage, it's pretty solid for a long layover too. While the lack of showers was disappointing, there isn't much long-haul traffic here so its less of an issue. I would not come early to experience this lounge, but I was very impressed by the offering given Aegean's foot print.