After checking out the Aegean Business Class Lounge it was time to board my Aegean business class flight from Athens to Tel Aviv.
If you are just joining, catch up on my itinerary and how I booked the trip. Also see previous reviews of the ground experience in Newark for Emirates passengers, SAS Lounge at Newark, the Emirates business class flight from Newark to Athens, and my stay at the InterContinental Athenaeum Athens.
Booking
I booked this flight by transferring my Amex Membership Rewards points to Aeroplan, a program that typically has good redemption values.
In this case, the cost was 15,000 miles for business class, plus $86.50 in Canadian dollars in taxes and fees. I charged the taxes and fees to my Amex Platinum to take advantage of the 5x per dollar on airfare, no foreign transaction fees, and the generous travel protection benefits it offers.
For this flight, there was a coach seat available for 7,500 miles. And as a Star Alliance Gold member, I would have received priority check-in, baggage handling, and lounge access anyway. However, I decided the premium of 7,500 miles was worth it to try the experience, even if it only consisted of a blocked middle seat and perhaps better food for the 2-hour hop. This was my first flight on Aegean so I wanted the full experience.
Boarding
I left the lounge around 4:25 pm to browse duty-free and head to the gate for my 5:20 pm flight to Tel Aviv Ben Gurion International Airport (TLV).
At the gate, I was surprised that there was not much by way of added security. Usually, flights to Israel feature additional security.
Boarding began relatively on time. Aegean elites, Business Class, and Star Alliance Gold passengers were invited to board immediately after the pre-board for young families and the disabled.
Priority boarding did seem to be enforced by the Aegean gate crew which is always appreciated.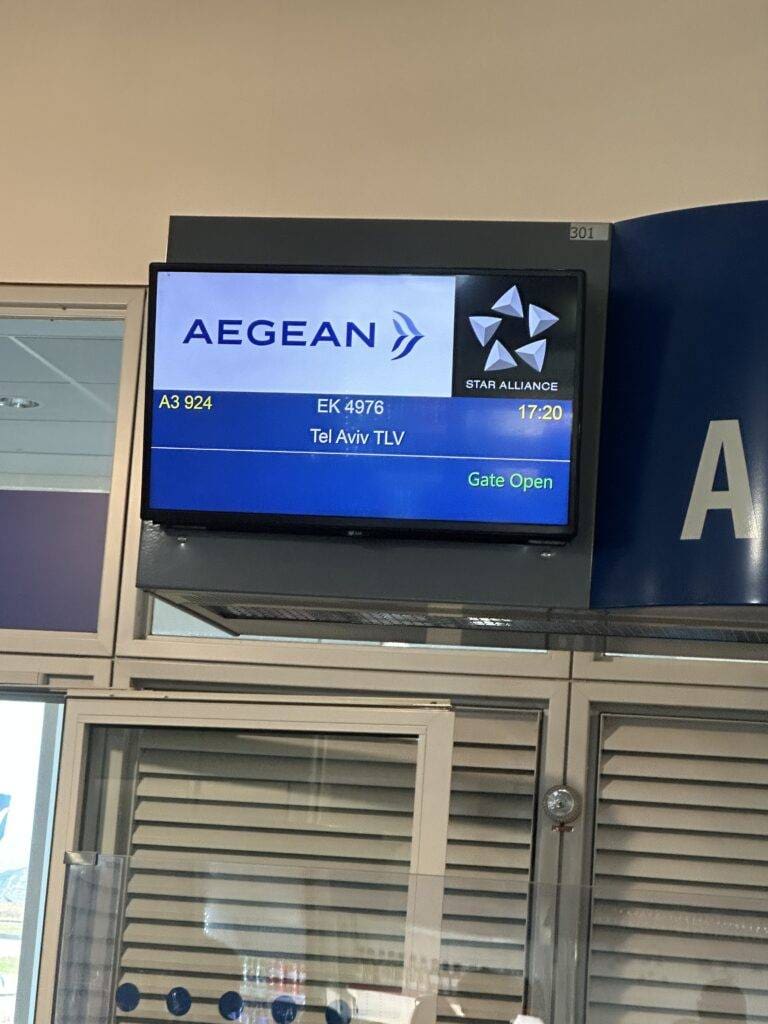 Boarding moved pretty quickly and we pushed back relatively on time. There was a safety demonstration in Greek and English and we briefly taxied before taking off.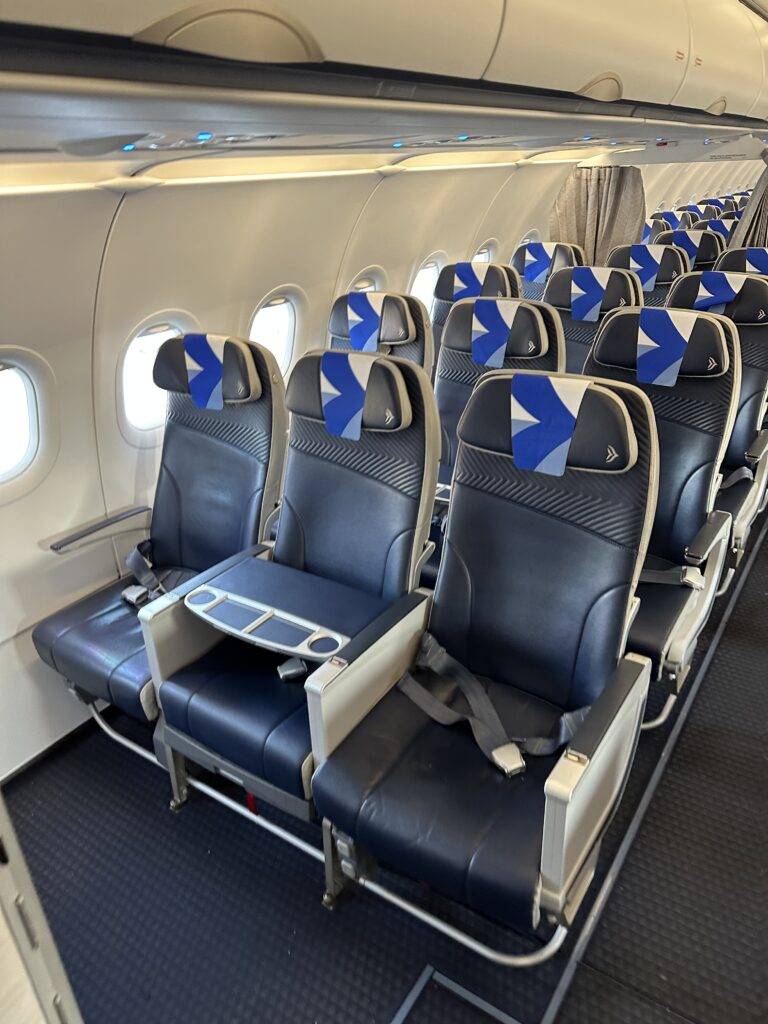 Seating & Predeparture Beverage
I was welcomed at the cabin door and directed to my seat in the small forward cabin. Aegean has an exclusively narrow-body fleet and even a few propeller planes. This flight was operated by one of Aegean's Airbus A320 aircraft.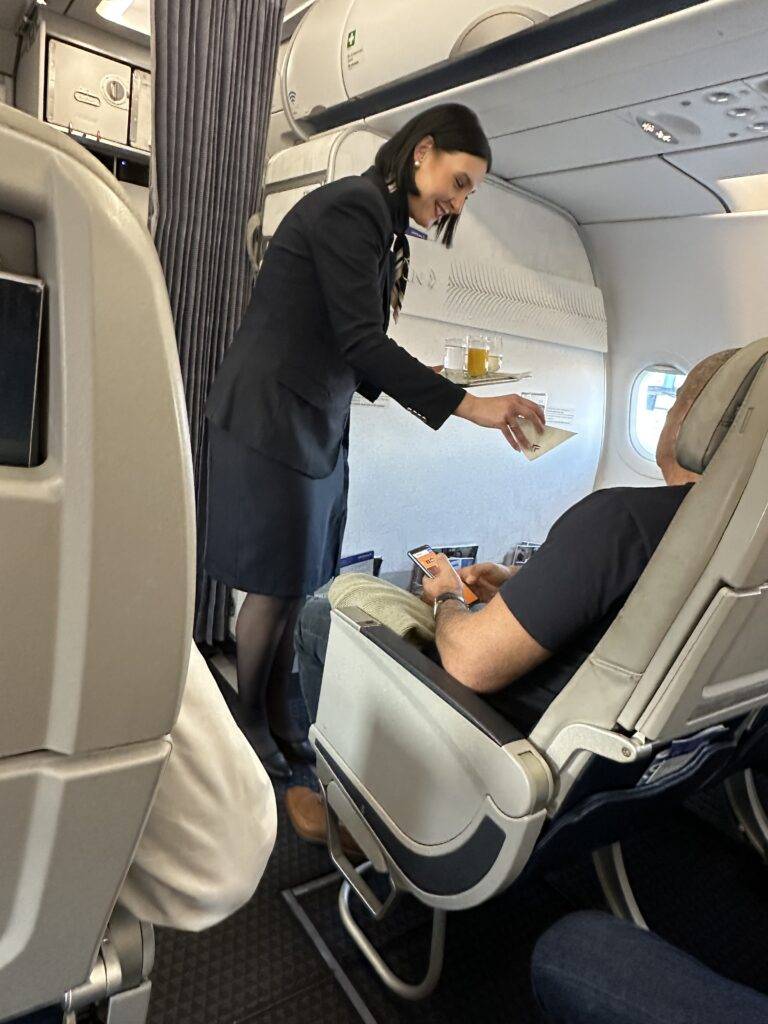 As is standard for European short-haul business, the Aegean business class cabin was standard coach seats with a blocked middle. While people love to make fun of the recliners in domestic forward cabins in the United States, they are an upgrade over the European standard.
I assigned myself 2C. As boarding slowed, the Aegean crew quickly welcomed us aboard and offered orange juice, sparkling wine, and water (served in real glassware).
The seats offered USB-A ports, which while not a full outlet, is great to have, but somewhat outdated with the move towards USB-C.
It's also not guaranteed on short-haul flights in Europe, even on mainline carriers. While the extra space of an empty middle was nice, I hate how some airlines put a tray in. It would be nice to be able to lift the armrest and be able to spread out (as you can on British Airways Club Europe).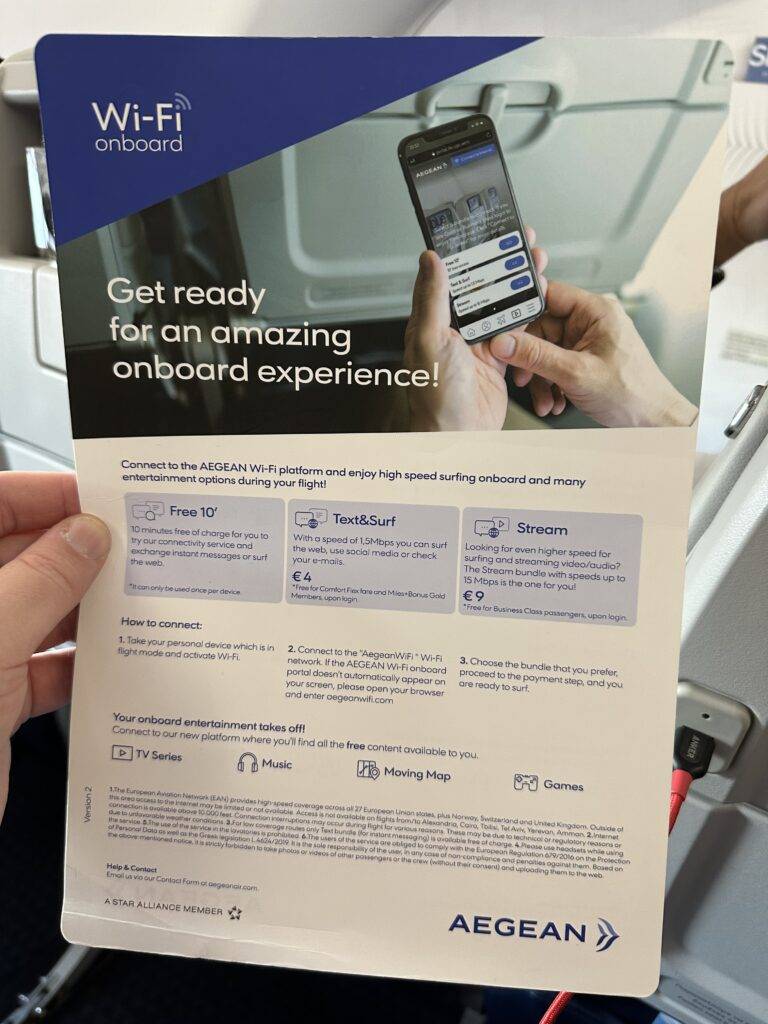 There was a card in the seat pocket advertising wifi and what's available on the portal.
It was cool to see Aegean offer 10 minutes of free connectivity onboard. While a few carriers make wifi free in premium cabins and others are aiming to make wifi free for everyone, it's nice that Aegean gives everyone a few minutes free.
Unfortunately, the wifi was not working on this flight, so I couldn't test the connectivity. Most of the flight was over the Mediterranean, so I can't say I'm too surprised that wifi was not working.
Dining
Aegean distributed paper menus that were printed in English and Greek. Despite the destination being Israel, they did not have menus in Hebrew.
I was impressed by the 3-page paper menu for such a quick flight. And while US carriers have European carriers beat in terms of the seat, European carriers usually beat on service and soft product in Euro-business.
I liked that there were 2 hot entrees available to choose from. Both, however, were animal protein so if you are vegetarian or vegan, I would recommend packing your own food or ordering a special meal. The 4 wines were all Greek or from the region, a local touch I liked.
There was an extensive drinks selection of soda, coffees, teas, beers, and spirits. Having espresso drinks on board is also a nice touch of European carriers. I wish US carriers had espresso on board short-haul flights.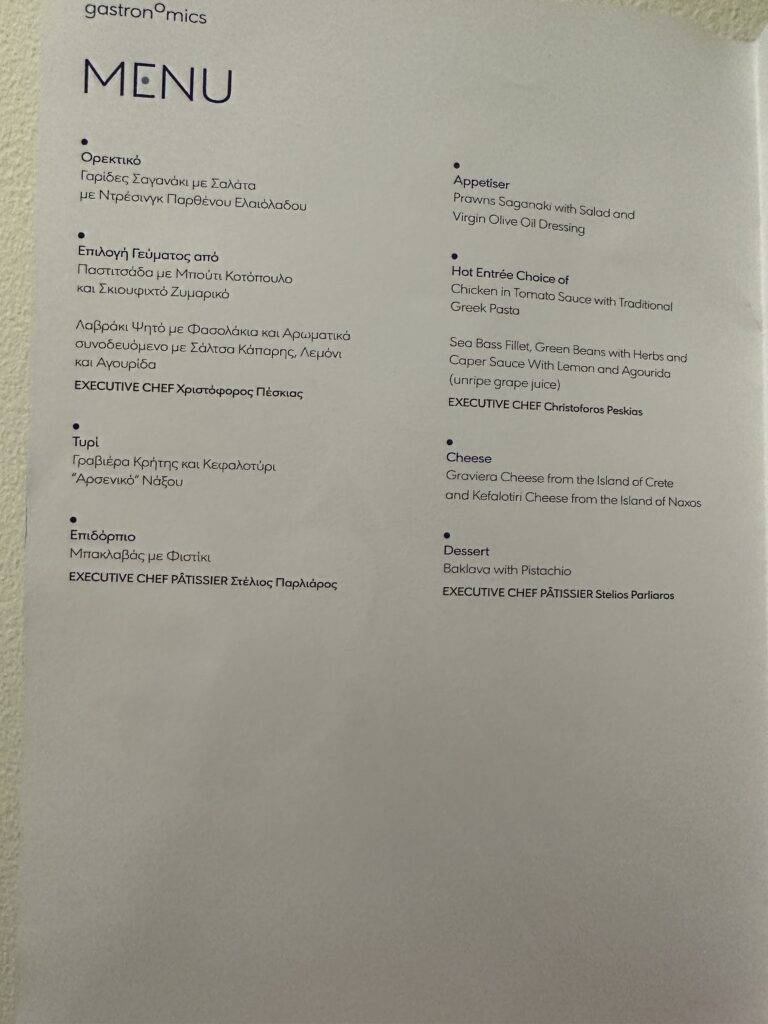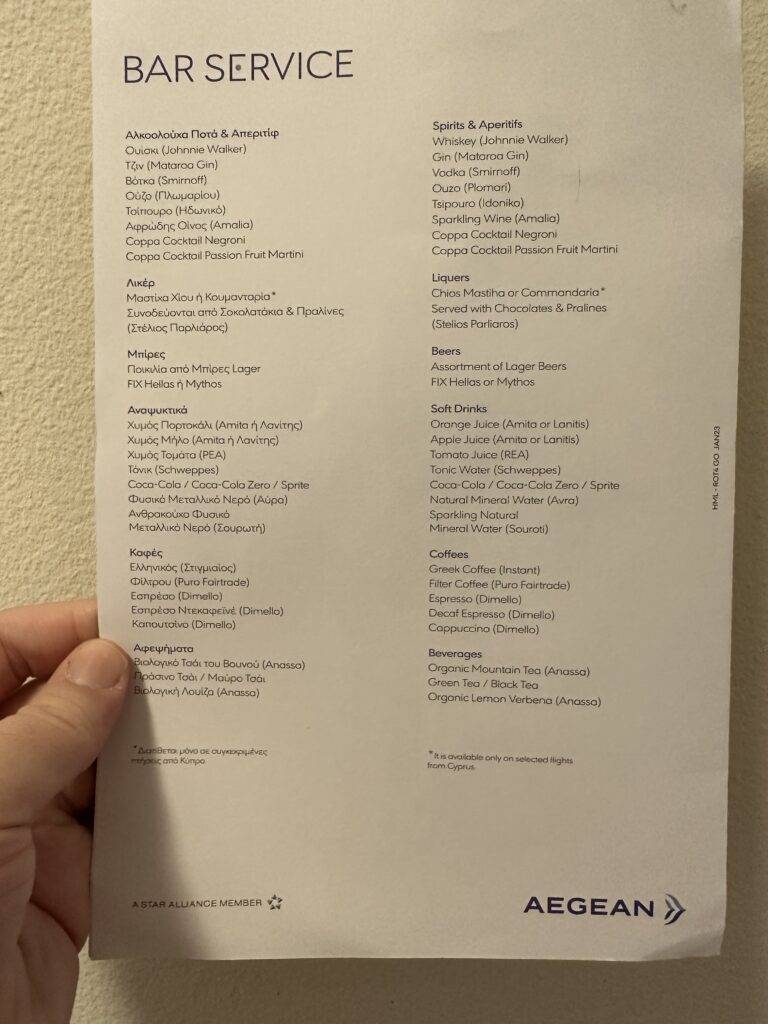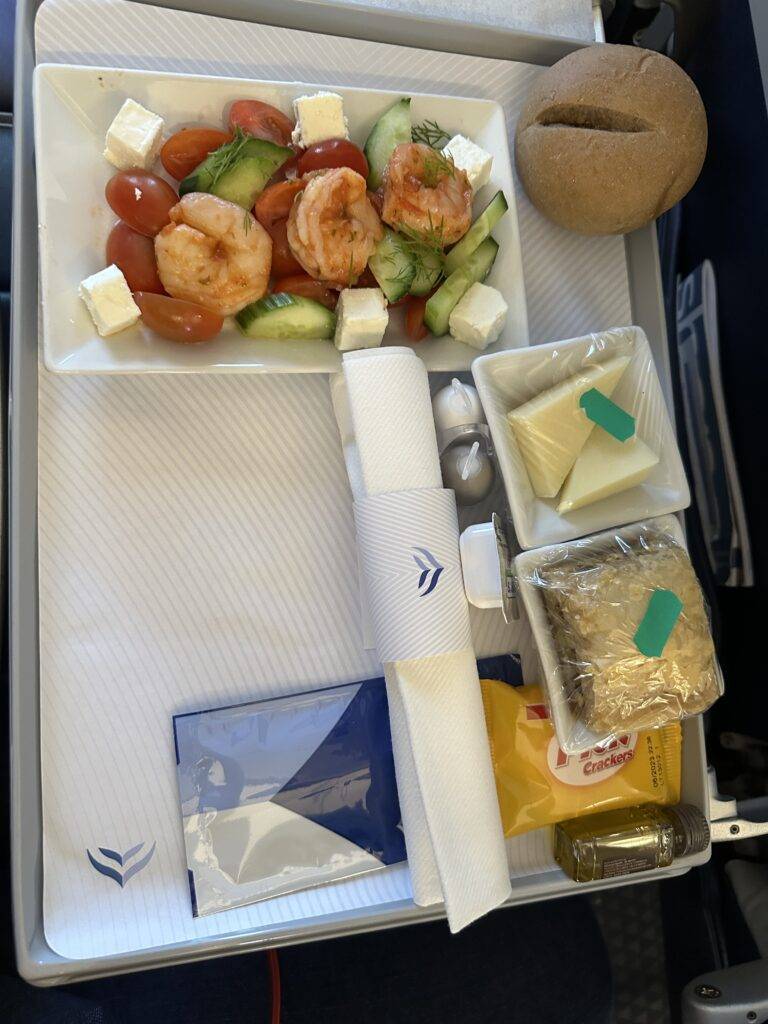 Based on my pre-flight research, I determined Aegean uses Stogel for their kosher meals out of Athens. My general experience with Stogel is that the food is not great, so I did not order a kosher meal ahead of time. I took a picture of the base tray set up from my seatmate, but nothing else from the service. My seatmate reported that they enjoyed the food.
I self-catered, and just ordered some beverages.
Service
The crew very were friendly and checked back to top up beverages. As it was a quick flight, the service wrapped up pretty fast, and I passed the time till landing by reading. I did dip into the forward lavatory, which was pretty tight, but nicely appointed.
Arrival
When we landed, we didn't spend too long taxiing before deplaning at a gate. Unfortunately, Israel does not offer fast-track immigration for premium passengers and waits can be quite lengthy. However, I was lucky to have a relatively quick queue and the wait for my bag wasn't too long once I was through.
Given the tight security entering Israel, I did not take any photos of the arrival experience in Israel.
Bottom line
Aegean offers a very solid business-class product, especially given that short-haul routes dominate its network. While a more premium seat would be appreciated, the friendly crew, paper menus, and meals served on real glass and china gave the overall experience a premium feel. While Athens isn't a major connecting hub, I would not hesitate to fly Aegean in the future.