After spending a few days in Jerusalem, it was time to head to Ben Gurion Airport (TLV) for my flight back to the United States. At Ben Gurion Airport, the experience is virtually the same for all premium passengers regardless of airline. There is no priority line for security or customs, and all carriers besides Israeli flag carrier El Al share the Dan Lounge.
That's why this post is about the Business Class Ground Experience at Tel Aviv Airport generally rather than specific to LOT Polish Airlines who I flew with.
Trip Background & Booking
If you are just joining, this trip has taken me from New York to Greece and now to Israel. From New York, I started the trip with the ground experience in Newark for Emirates passengers, the SAS Lounge at Newark, and my Emirates business class flight from Newark to Athens.
In Athens, I stayed at the InterContinental Athenaeum Athens before flying Aegean business class (and experiencing the Aegean Business Class Lounge Athens) en route to Tel Aviv. In Jerusalem, I had two sleepless nights at the Prima Kings Hotel Jerusalem before this flight.
For my flight back, I booked LOT Polish Airlines. I used my American Express Membership Rewards points for this flight. I went to Warsaw in 2012, and was feeling in no rush to return, but thought it would be fun to see the city again after a decade. I also figured it could be a placeholder booking I could always change if better options opened.
Getting to Ben Gurion Airport (TLV) from Jerusalem
While I took the train before taking a taxi on the way to Jerusalem, given I was headed back to the airport in the middle of the night, I opted for a taxi the whole way.
I paid about 200 shekel (roughly $56 USD) for the trip around 2 am Sunday. I used an Israeli service called Daka 90, which connects travelers with drivers going on a similar route anyway, usually to go home, and charges a lower price than is typical.
The downside is that there may not always be a driver available, and the dispatch staff don't speak English. Still, this represented some significant savings. The standard rate for a taxi from Jerusalem to Ben Gurion airport is closer to 300 shekel.
Checking In at Ben Gurion Airport (TLV)
Despite the hour, 2 am at Ben Gurion tends to be chaotic. Most major European carriers have flights between 4-6 am. El Al, Israel's national airline, also has an active departure schedule in the early morning.
The premium experience is virtually the same for all premium passengers regardless of the airline at Ben Gurion. Unfortunately, there is no priority line for security or customs. And, aside from El Al, all carriers use the same contract lounge.
I quickly located LOT Polish's check-in desks and appreciated that they had a dedicated line for business class and Star Alliance Gold customers.
Still, the line moved pretty slowly.
As is standard in Israel, the check-in line feeds into a series of podiums where you have a brief security interview, before being able to approach the check-in counters.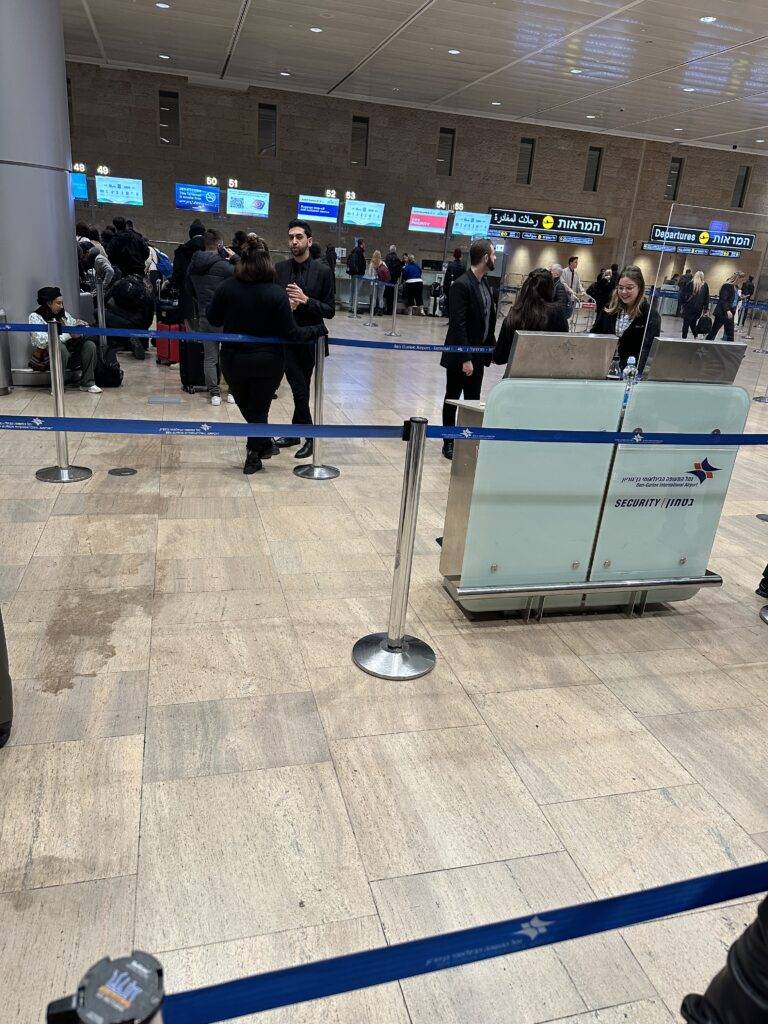 Ben Gurion Airport Security (TLV)
Once I was through check-in, I proceeded to security and customs.
Ben Gurion does not have priority lines for premium customers, but thankfully the lines were not too long and I was airside in a reasonable time.
Owing to the sensitivity of security in Israel, I did not take pictures of security or customs.
Just before heading to the lounge, I made a pit stop at Aroma Espresso Bar, for one last Israeli iced coffee before heading home.
Aroma is one of Israel's most popular coffee shop chains. Their Ben Gurion location is a busy spot for folks traveling. Israeli ice coffee is well known for its slushy-like consistency and sweetness. There's nothing like it stateside.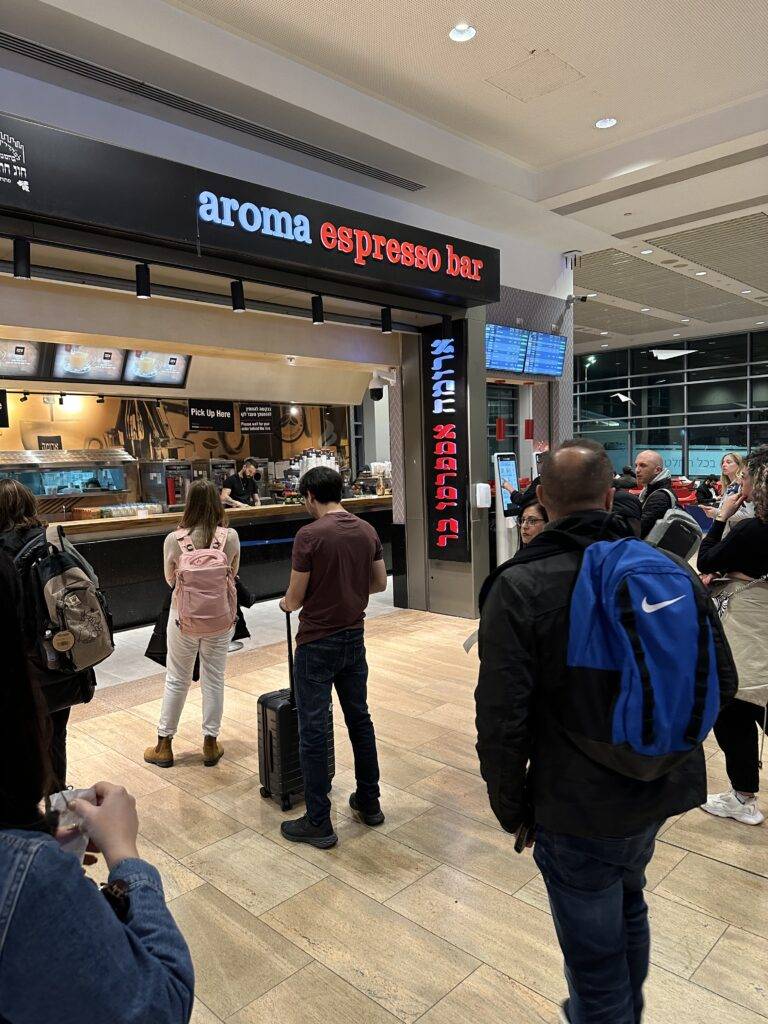 Bottom Line
Departing Ben Gurion airport can be chaotic and include lengthy waits, but this time I got lucky and moved through at a relatively decent rate. The experience would definitely be helped by priority lines for premium customers, but it doesn't seem like this is likely any time soon. In the meantime, regardless of what airline you're flying with or what cabin, you'll be in the general security line when flying out of Tel Aviv.