As part of my trip earlier this year to Israel and Greece, I booked a stay at the Prima Kings Hotel in Jerusalem's Rechavia neighborhood. While the hotel offered a reasonable rate and a great location in a city generally devoid of good value points options, my stay was marred by a pretty serious issue.
Prima Kings Hotel Jerusalem basics
The Prima Kings Hotel is located in the Rechavia neighborhood of Jerusalem, Israel. The neighborhood is affluent and residential, just a stone's throw from the city center, and is a good base to explore the city.
The hotel has 213 rooms and suites, conference rooms, a dining room, and a lobby bar. The hotel also has a lobby bar and executive lounge.
The hotel sits on King George Street, a main thoroughfare in central Jerusalem. The immediate area has a large supermarket, a few small restaurants, and residential buildings.
The hotel is part of Prima, a local chain in Israel. The chain isn't very well known internationally but has quite a few locations in Israel with 14 hotels throughout the country including major cities like Tel Aviv and Eilat.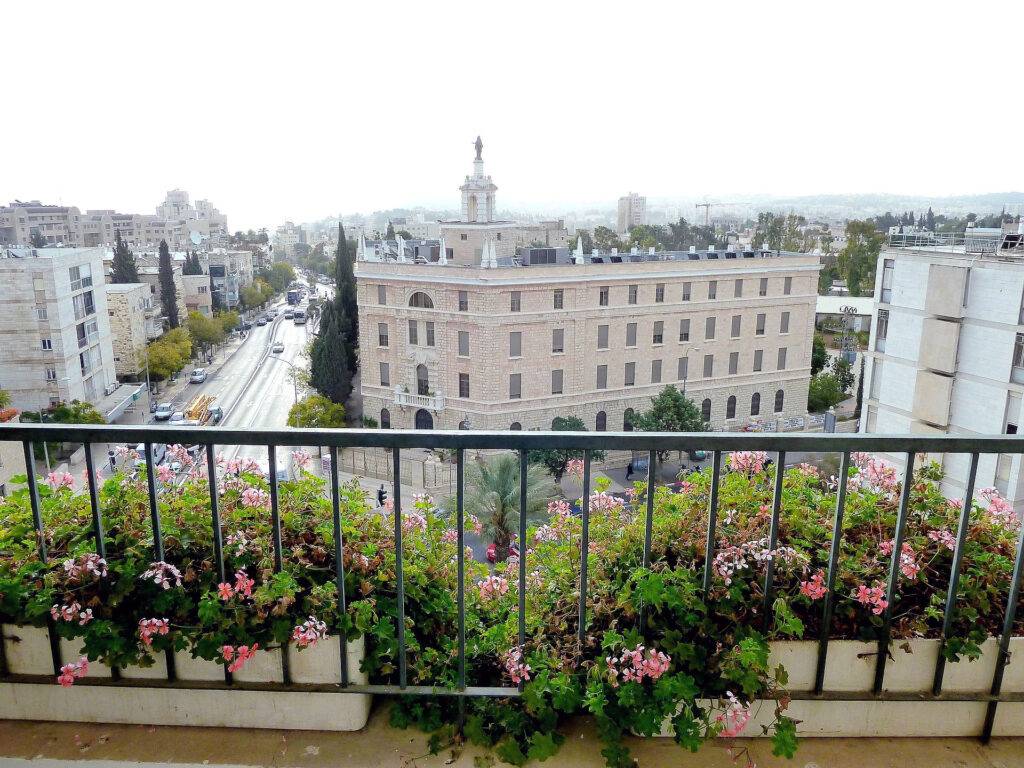 Booking the Prima Kings Hotel Jerusalem
As I noted in the intro post to my trip, Jerusalem does not have a great points hotel scene, and I paid cash for the hotel.
While Accor has a few Jerusalem properties, none of them were well located for me. And while I could have transferred my Capital One Venture miles to Accor, I usually don't find Accor redemptions to be a great value for me. The city does have a Waldorf Astoria, but I was poor in Hilton points, and redemption rates didn't represent a good value. I was left to pay cash for a hotel room for 2 nights.
The rate was 1,158 NIS for 2 nights, which is about $320 USD. I booked the members rate for Prima Club, the chain's bare-bones loyalty program. The Prima Club rate included a discount of 10% and a welcome amenity of a bottle of water and a box of chocolates.
If you're just joining, check out my earlier posts from the trip including reviews of the Emirates business ground experience in Newark, the SAS Lounge at Newark, the fifth-freedom Emirates business class flight from Newark to Athens, the InterContinental Athenaeum Athens, the Aegean Business Class Lounge Athens, and Aegean Business Class Flight to Tel Aviv.
Getting to Prima Kings Jerusalem
After exiting Tel Aviv airport, I made my way to the new train station which offers frequent service to Jerusalem.
The train takes about 20 minutes and leaves every half hour or so. It costs about 24 shekels, about $7 USD, and is a quick and cost-efficient way to travel from the airport to the center of Jerusalem.
From the Jerusalem bus station, it was easy to hail a cab to the hotel, just a quick drive away.
While Uber is available in Israel, there are very few cars and waits can be lengthy if there is a car available at all. Note that in Jerusalem, cabs generally don't take credit cards, so have cash or download the Gett app before your trip.
Prima Kings Jerusalem Arrival & Check In
When my cab pulled up at the hotel's entrance, the entrance was a bit busy, with no bellmen out front. I carried my own bags in and had a brief wait at the front desk before checking in.
The check-in process was quick and friendly and I was assigned the basic king room I had booked. The lobby was pretty busy and I was tired, so I didn't take any photos.
Prima Kings Jerusalem Classic Room
I was assigned room 511 and headed to the lobby elevators. The two elevators were pretty small, and when I stepped off the elevator, the hallway smelled slightly of smoke.
The room was at the end of a very plain hallway.
The room had 2 twins pushed together, and a desk area with a TV and a chair. To the right of the entrance, there was a closet with plenty of shelving, room to hang clothes, and a safe.
For coffee, there were Nespresso pods with a small machine, as well as an electric kettle to make tea or hot water. The room's view was of King George Street.
Off to the right after entering the room was the bathroom.
The bathroom had a bathtub with a shower head, a toilet, and a decent-sized countertop with one sink. The toiletries were not memorable but did the job.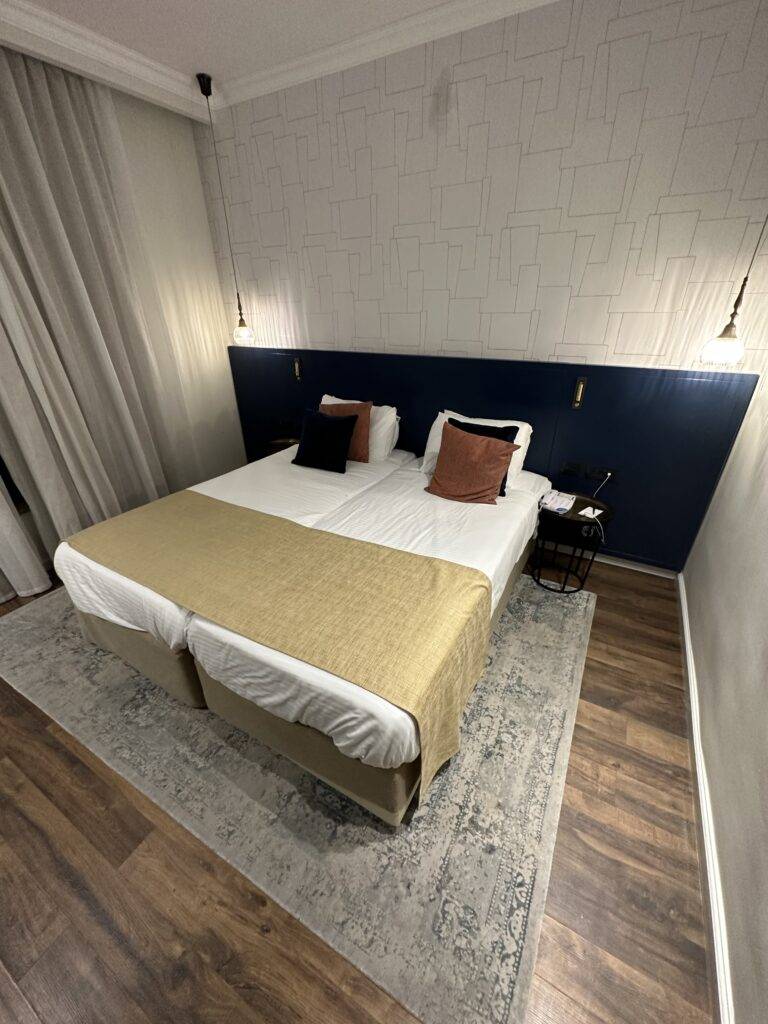 As promised as part of the Prima Club rate I booked, a welcome amenity consisting of chocolate and water was in the room.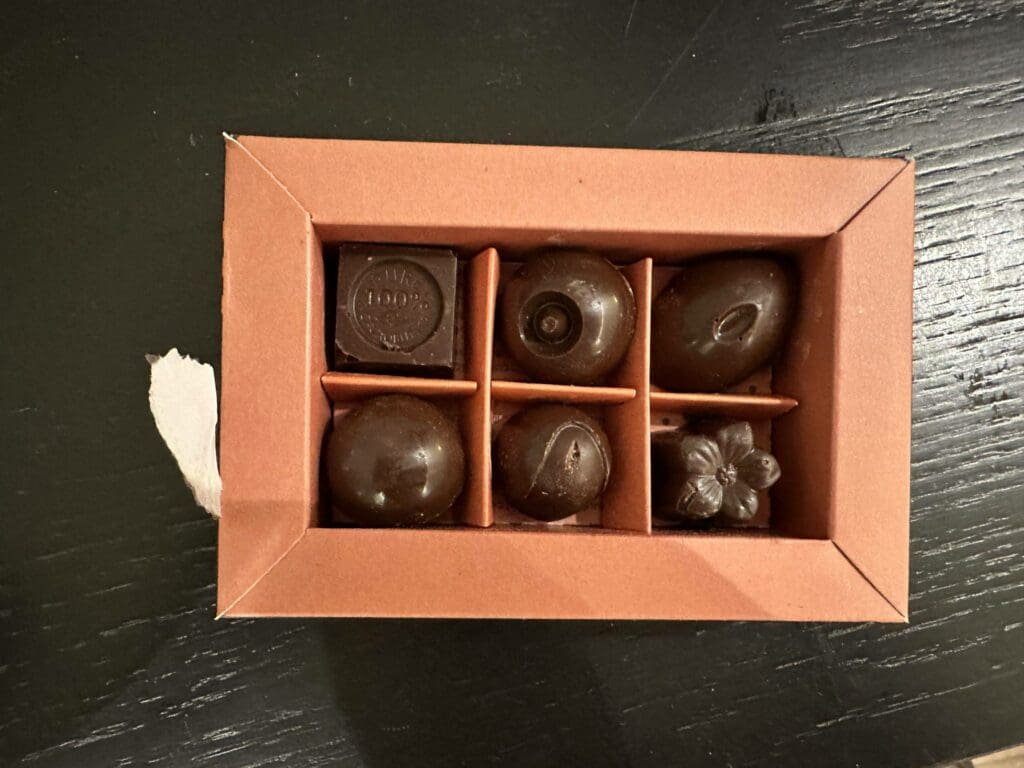 The hotel's WiFi was free and generally worked pretty well. However, the room did not have enough outlets.
The room was nothing elaborate, but perfectly fine for my purposes. I didn't come to Jerusalem planning to sit in my hotel room and mostly needed a clean and affordable place to sleep and shower.
Unfortunately, I only succeeded at one of those things.
Two Sleepless Nights at the Prima Kings Hotel Jerusalem
The first night of my stay, I came back to the room, exhausted from the travel and several hours out enjoying Jerusalem at night, ready to hit the hay.
But when I tried turning off the lights, I couldn't figure out how to turn off the 2 hanging lights on either side of the bed. Not a single switch worked, and there didn't seem to be any cord I was able to pull.
Many hotels are plagued with overly complex light switch situations so I'm used to that and thought I just needed to do the right combination of switch flipping.
To my chagrin, they did not even flicker and continued shining brightly. I called the front desk and was told to try the bedroom switches. I hung up, had no luck, and called back to ask for help. I was told that it was late and engineering had gone home and nothing could be done to help.
Not wanting to sleep under bright lights, I asked to be assigned a new room. This request was flatly denied. I asked for a manager, which was also denied.
By that time, I had taken out my contacts and was beyond exhausted. So I whipped out an old eye mask from a Lufthansa first-class flight years ago that I always carried with me, a precaution for exactly this situation. I slipped it on and while things were not great, I got a few hours of rest.
In the morning, I went to the front desk and asked them to send people up to look at my lights. They said they would.
When I returned that night, I found that once again, try as I might, there was no way to turn the lights off. I called the front desk, and this time they did send up an engineering crew.
After repeating my steps of flipping light switches, they took some panels off the roof and began working with the wires. At one point, they tried to unscrew the bulb on one light, but the engineer's hand immediately recoiled at touching the bulb.
The heat was apparently searing, which indicated to me that this had probably been an issue for some time. After some time, they were manually able to turn the light switches off.
I was grateful. But that lasted for about a half hour, at which point the lights flickered on, brightening up the room.
I called the front desk. They said I was out of luck and would have to wait for the morning, which was also when I was checking out. My pleas to be assigned a new room or speak with a manager were once again rejected, and my trusty Lufthansa eye mask saved the day (or night).
At check out, I briefly spoke with the front desk who gave a meek apology but offered me nothing.
After my return to the US, I emailed the hotel to complain and was offered a 20% discount on my next stay as compensation. That didn't sit right with me so I asked for a partial refund. They agreed to 20%. I didn't love that outcome, but I didn't think they would do better so I accepted it.
Prima Kings Jerusalem Amenities
Given my quick stay which was focused on exploring the city of Jerusalem, I did not use any of the hotel's facilities. But the hotel offers a lobby bar, which seemed pretty busy both nights I was there, as well as a gift shop.
Behind the main lobby, there is also a dining room. Most rates here include breakfast, though given Jerusalem's restaurant scene, I opted to book a rate without breakfast, so did not visit that.
As the hotel is popular with tour groups, it's also common to book half-board rates inclusive of dinner. The hotel has a spa and gym, but I did not visit either.
The hotel has a club lounge on the first floor, but I did not book a rate inclusive of club lounge access. There's also a small synagogue.
Bottom line
The Prima Kings Hotel Jerusalem is a good option in theory for someone looking for an affordable hotel near the action of central Jerusalem and the Old City. As I noted above though, it's a popular property with group tours and families, so it can get quite busy. However, given my experience with lights and the resolution, I don't know that I would rush to return here. But from what I've heard from friends and family who have stayed here without incident, so it seems my experience was an aberration. If you're looking for a Jerusalem hotel, the location can't be beat and pricing is very reasonable, with decent amenities.