The towering skyline of London is a sight to behold, but the rooftops of the city offer an even more breathtaking experience. Rooftop bars are the perfect way to explore the city's nightlife, sip on a cocktail, and take in stunning views.
From towering skyscrapers to charming garden rooftops, London has a variety of rooftop bars to choose from that cater to everyone's taste. This list of the 10 best rooftop bars in London not only offers stunning views but fantastic ambiance, decor, drinks, food, and more. This list ensures that you have the best rooftop bar experience while enjoying the pinnacle of London's nightlife. So sit back, relax, and get ready to indulge in the magic of London's best bars with a view.
Aqua Spirit
The city of London is a hub for countless rooftop bars that are perfect for relaxing and indulging in some delicious cocktails while admiring the beauty of the skyline. First up, we have Aqua Spirit, situated in the heart of Soho. This rooftop bar is known for its Japanese ambiance, making it a great place to unwind and enjoy a drink after a long day.
As you step into Aqua Spirit, you're greeted with a mix of modern design and traditional Japanese decor that'll transport you to Tokyo. The best part? The stunning views of Regent Street. But the real highlight of Aqua Spirit are the signature cocktails. They're certain to leave you wanting more. From the classic Lychee Martini to the refreshing Kiwi and Basil Sour, you can be assured that the drinks are top-notch.
If you're feeling peckish, there's an assorted food menu that includes dishes like sushi, sashimi, and tempura. The atmosphere is perfect for a date or a night out with friends. Just remember, the dress code here is quite strict, so dress to impress!
Address: 5th Floor 240 Regent Street (Entrance, 30 Argyll St, London W1B 3BR, United Kingdom
Instagram: @aquakyotolondon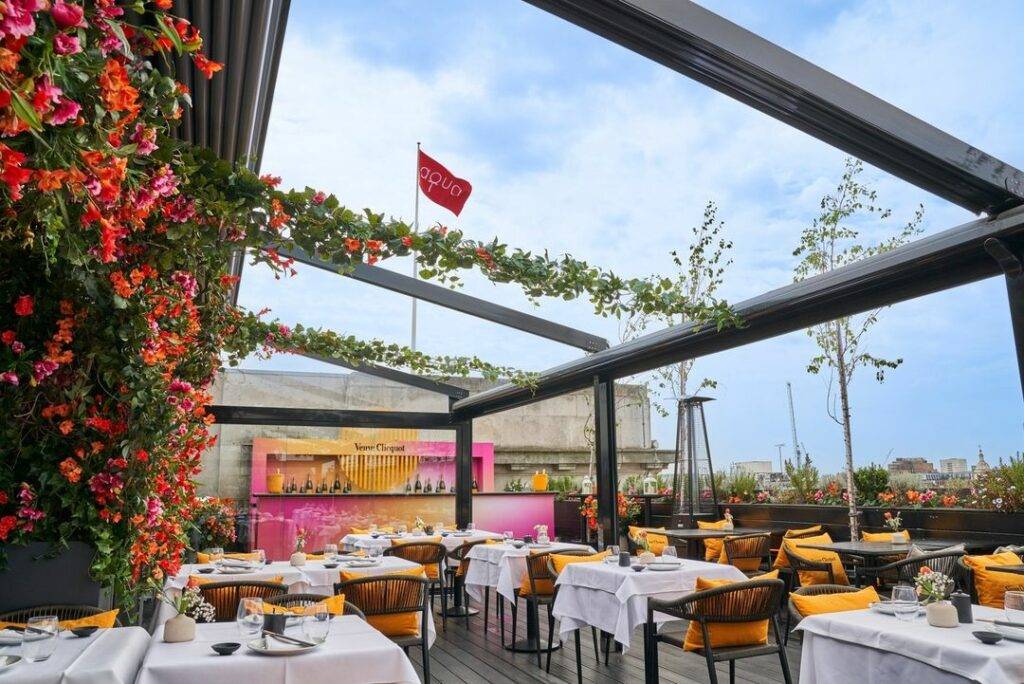 Frank's Cafe at Bold Tendencies
When it comes to rooftop bars in London, Frank's Cafe at Bold Tendencies is a must-go. Situated atop a multi-story car park in Peckham, Frank's Cafe boasts a stunning view of the London skyline. The ambiance is unique, as the setting is minimalistic with some colorful chairs and tables around the bar. But don't forget to bring a jacket, it can get breezy on the rooftop.
When it comes to drinks and snacks, Frank's Cafe has got you covered with its extensive menu. Enjoy their signature cocktails, Ginger and Rhubarb Swizzle, or opt for something a bit more classic but equally refreshing like a G&T. Accompany your drinks with some Spanish-style nibbles such as crispy squid, aubergine fritters, and Padróns peppers. And if you're not in the mood for tapas, you can always opt for some popcorn.
Frank's Cafe is more than just a place to sip drinks, it's home to many exciting events. From art exhibitions to live jazz performances and movie screenings, there's always something going on at Frank's Cafe. If you're looking for a unique rooftop bar experience with great drinks, snacks, and events, make sure to pay a visit to Frank's Cafe in Peckham.
Address: Bold Tendencies, 7th-10th Floor Multi Storey Car Park, 95A Rye Ln, London SE15 4ST, United Kingdom
Instagram: @frankspeckham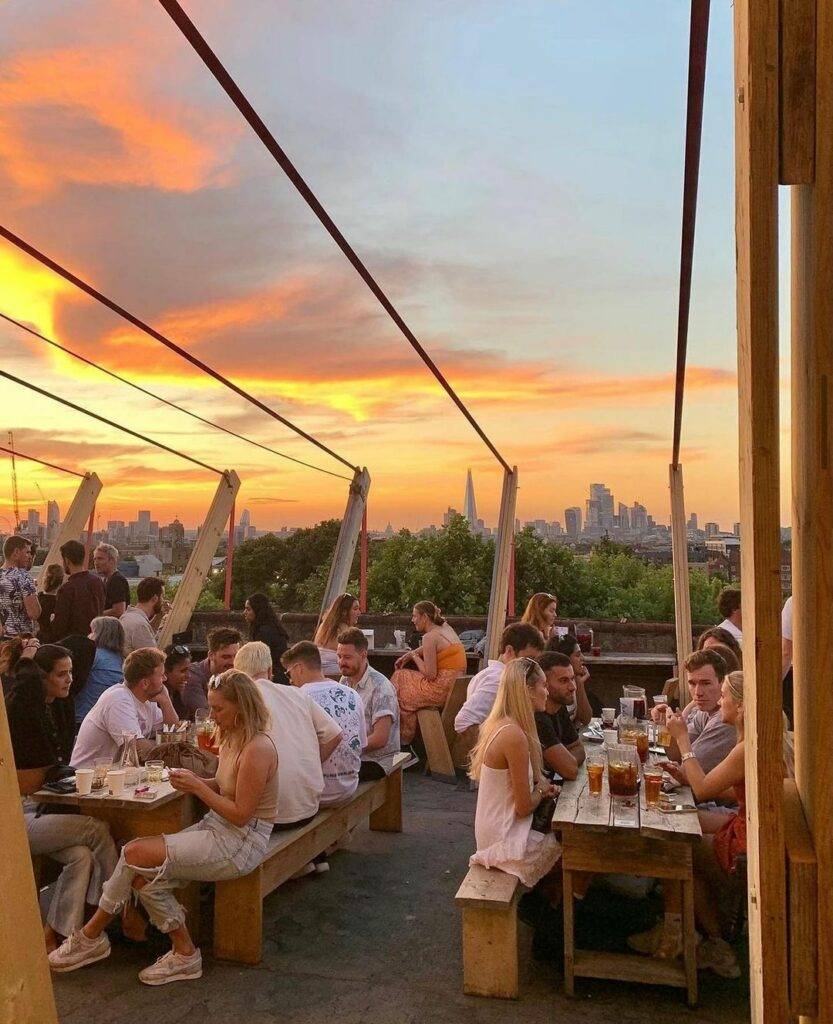 Madison
Madison is a popular rooftop bar in London that offers a breathtaking view of St.Paul's Cathedral, the Shard, and the rest of the city. It's located at the top of One New Change and is a great place to enjoy a drink or some food. The bar has both indoor and outdoor seating options, ensuring that you can enjoy your drinks and food comfortably, no matter the weather. Madison offers a massive range of signature cocktails, from sweet to sour, strong to mild, providing something for everyone.
Madison's bartenders know the art of crafting the perfect cocktail so you're in good hands. The menu also includes a wide range of beers, wines, spirits, and champagnes, providing drinks to suit everyone's taste buds. The food menu at Madison is equally exquisite, with a carefully crafted menu of modern European dishes. From juicy burgers to delicious pasta, and everything in between, Madison's chefs ensure that your taste buds get a smashing experience. The music and atmosphere complement the drinks and food, providing a relaxing and melodious vibe.
It's the perfect place to catch up with your friends, family, or colleagues, or even take your special one on a romantic night out. It's busy and upmarket so a reservation is definitely advised, but once you're at your table, you'll enjoy a perfect evening with a perfect view.
Address: Rooftop Terrace One, New Change, London EC4M 9AF, United Kingdom
Instagram: @madisonlondon1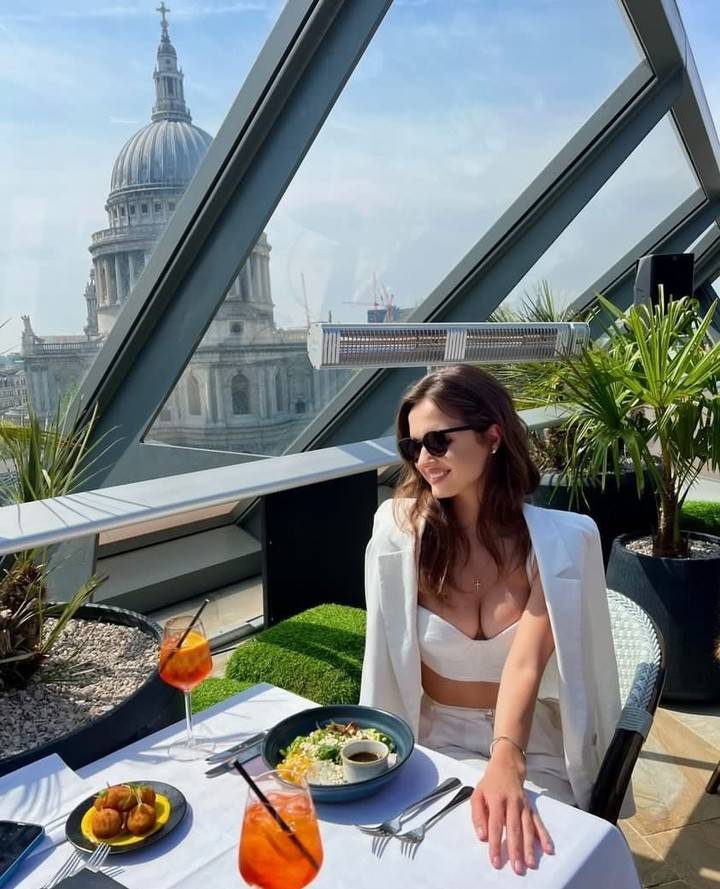 Radio Rooftop
Radio Rooftop, perched atop the ME Hotel near the Strand, provides a high-end social haven in London. This venue, known for its captivating city views encompassing the Thames and St. Paul's Cathedral, radiates elegance with its sleek modern decor and sophisticated ambiance. It's the sister bar of the chic Radio Rooftop in Milan, one of Milan's best rooftop bars, and it has the same fashionable reputation, attracting a chic crowd seeking a refined and glamorous night out.
The experience at Radio Rooftop extends beyond the aesthetics, backed by an impressive cocktail menu. It covers an array of preferences, from the effervescent Gin Fizz to the tropical Pina Colada. Pair these tantalizing beverages with a selection from their menu of light bites and sharable plates. Options such as luxurious Oysters Rockefeller and flavorful Lamb Koftas elevate the overall dining experience.
The venue amplifies the nightlife vibe with live music throughout the week, blending everything from laid-back beats to energetic performances. Radio Rooftop has established itself as an essential stop for those looking for an elevated, stylish rooftop bar experience in London. With the combination of stunning city views, skillfully mixed cocktails, delectable cuisine, and vibrant music, it undoubtedly promises an unforgettable night out on the town.
Address: 336-337 Strand, London WC2R 1HA, United Kingdom
Instagram: @radiorooftoplondon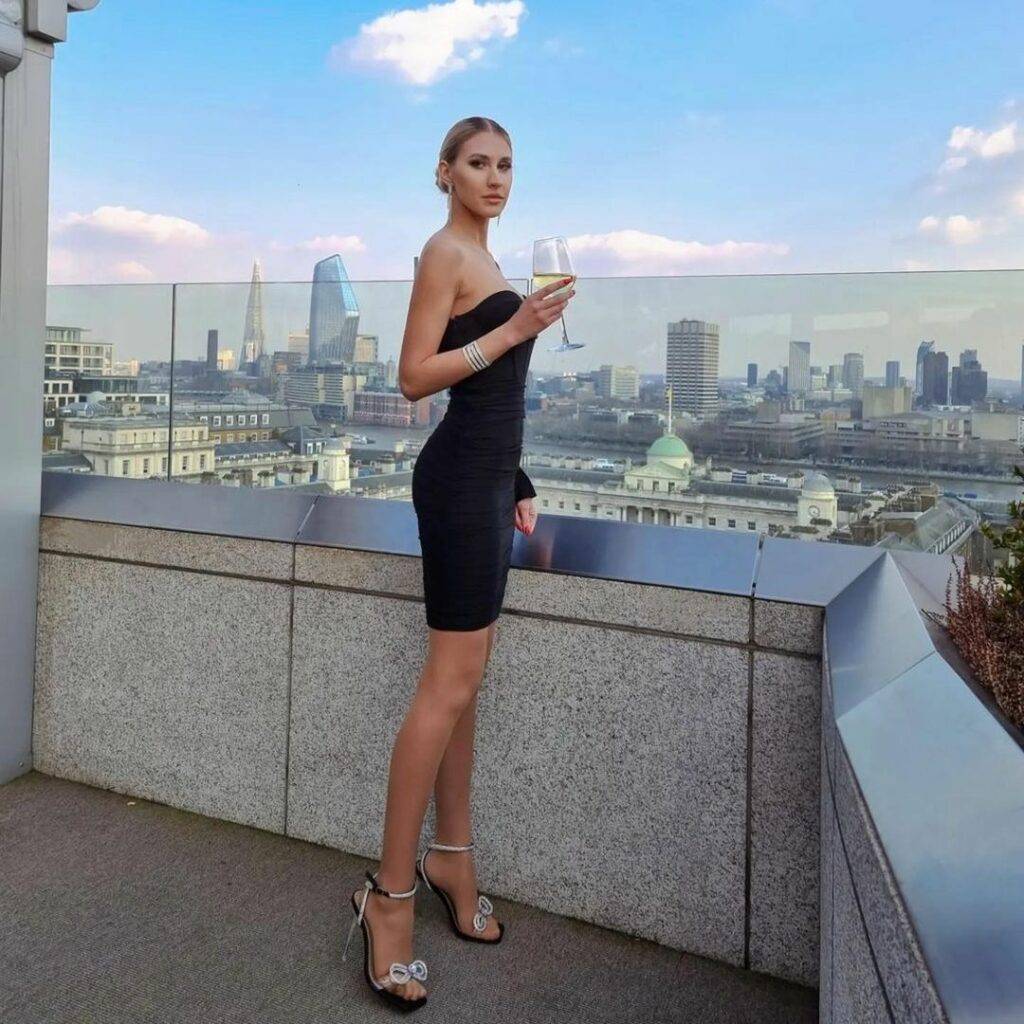 Pergola Paddington
Perched atop a multi-story car park, Pergola Paddington is a rooftop bar that defies expectations. As you ascend, you're transported into a lush, green oasis, a stark contrast to its urban setting. The decor is a stunning blend of verdant greenery and twinkling fairy lights, creating an enchanting ambiance that's both glamorous and inviting.
The drinks menu at Pergola Paddington is as diverse as it is extensive. Whether you're in the mood for a refreshing beer, a crisp glass of wine, or a unique cocktail, you're sure to find a beverage that suits your palate. The food scene is equally impressive, with a rotating roster of street food vendors serving up everything from juicy burgers to authentic Italian pizzas. Each visit promises a new culinary adventure, making Pergola Paddington a must-visit on our list of the best rooftop bars in London, even if it doesn't come with a view 😉
Address: 5 Kingdom St, London W2 6PY, United Kingdom
Instagram: @pergolalondon
Roof East
Nestled in the heart of Stratford, Roof East is a rooftop bar that offers more than just stunning skyline views. The laid-back — almost funky — atmosphere, complete with bean bags and deck chairs, is the perfect setting for relaxing with friends if you don't take yourself so seriously. The drinks menu boasts a wide variety of cocktails and beers, ensuring that every guest can find their favorite tipple.
But what truly sets Roof East apart is its outdoor cinema. Imagine lounging under the stars, drink in hand, and watching your favorite movie. It's a unique cinematic experience and family-friendly to boot. If you're looking for a posh spot to brush shoulders with London's fashionable crowd, this probably isn't the rooftop bar for you. But if you're looking for a fun crowd in a high setting with some fantastic food and drink offerings, then be sure to make Roof East a stop on your London night out.
Address: 7 & 8 Stratford Multi Storey Car Park, Great Eastern Rd, London E15 1XE, United Kingdom
Instagram: @roofeast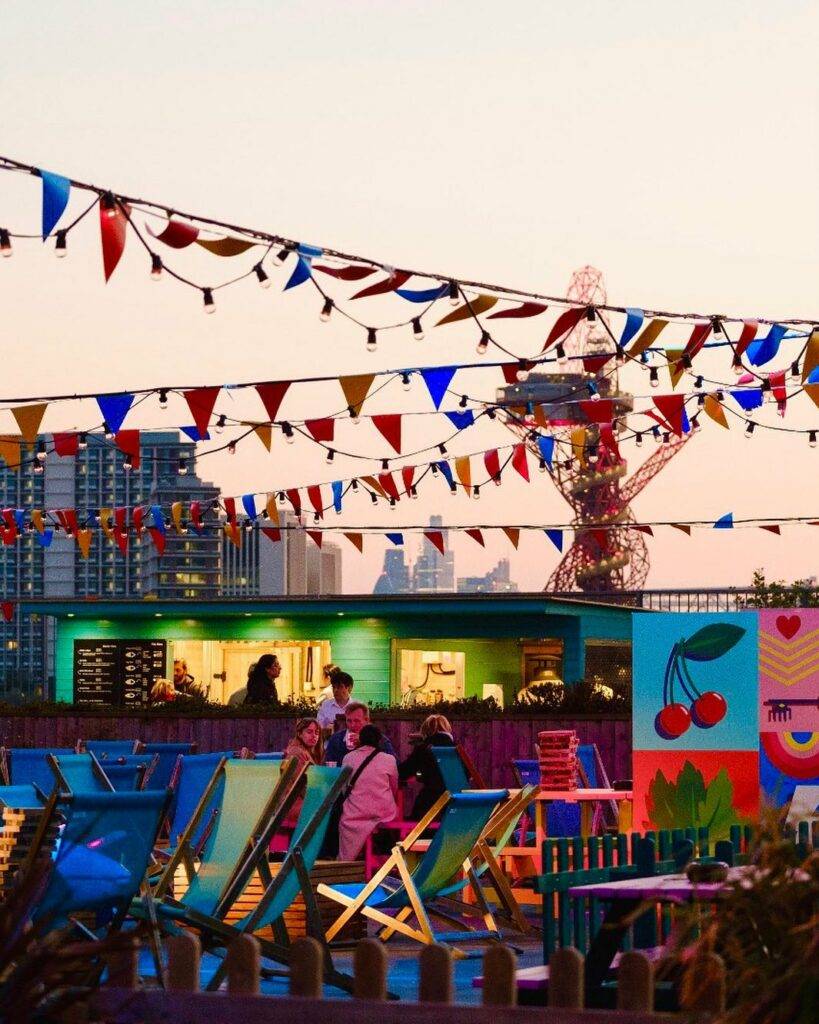 Selfridge Roof Terrace
Perched atop the iconic Selfridges Oxford Street, the Selfridge Roof Terrace is ideal for those seeking a relaxing retreat in the heart of London after a day of shopping or sightseeing. This rooftop haven offers stunning views of the city skyline paired with delicious food and drinks, making it an ideal spot to unwind.
The terrace is home to Alto by San Carlo & The Roof Deck Restaurant and Bar. We're told they have the best guacamole in London, and while I've never had the guacamole, the drinks are definitely worth the stop. With a menu featuring seasonal Italian dishes and authentic gelato desserts, it's a hit with both adults and kids alike. The sophisticated yet vibrant atmosphere makes it a popular spot for a shopping break but it can get busy. Reservations aren't the worst idea, but you're still likely to be seated if without one. Whether you're looking to enjoy a delicious meal, sip on a seasonal cocktail, or simply take in the views, the Selfridge Roof Terrace has something for everyone.
Address: Selfridges Roof Top, 400 Oxford Street, London
Instagram: @alto_selfridges
Duck and Waffle
For a rooftop bar that combines breathtaking views with a unique dining experience, look no further than Duck and Waffle. Situated on the 40th floor of 110 Bishopsgate, this restaurant offers a panoramic view of London's iconic landmarks, including the Tower Bridge, the Gherkin, and the River Thames. The bar is one of two locations run by Duck and Waffle with another outpost located across the United Kingdom in Edinburgh, Scotland.
The cocktail menu at Duck and Waffle is as impressive as its views, with expert mixologists creating unique and refreshing concoctions. The restaurant also boasts an extensive wine menu, perfectly complementing their modern take on British cuisine. Using seasonal and locally sourced ingredients, each dish is a feast for the senses. Their signature dish, the Duck and Waffle, is a delightful blend of confit duck leg, crispy waffle, fried duck egg, and mustard maple syrup.
Address: http://110 Bishopsgate, London EC2N 4AY, United Kingdom
Instagram: @duckandwaffle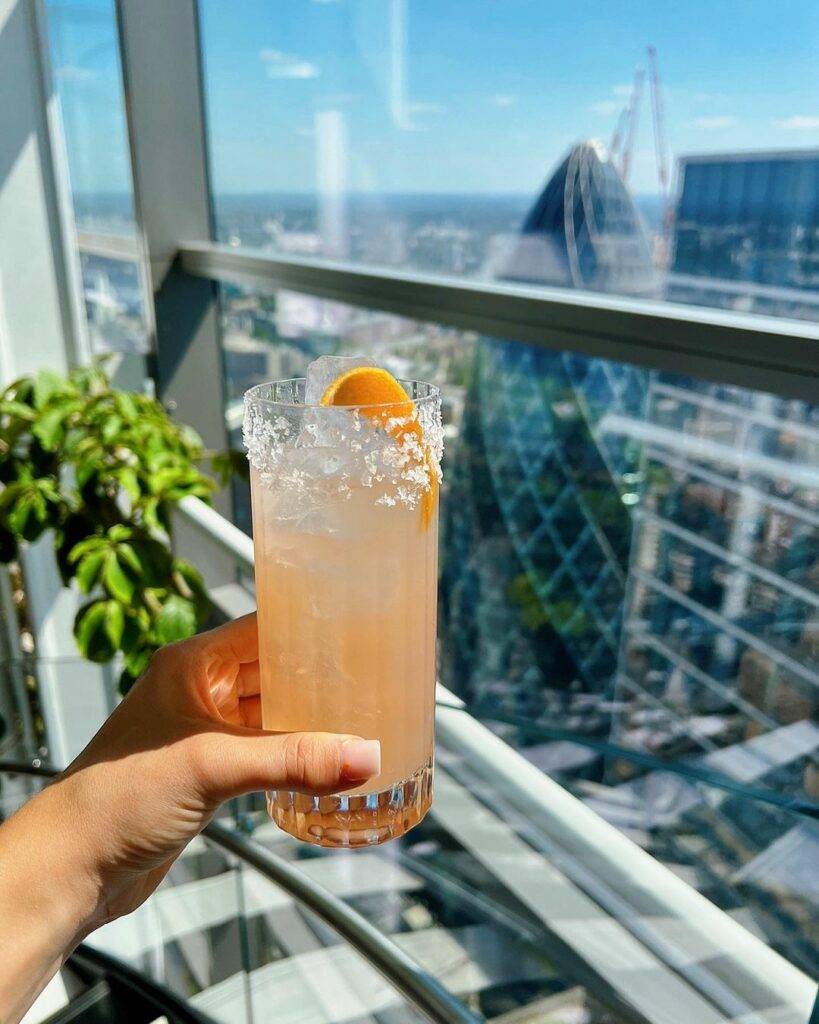 Aerial Rooftop at The Broadcaster
Aerial Rooftop at The Broadcaster is a stunning rooftop bar nestled in the heart of West London. This gorgeous venue offers jaw-dropping views of the city, making it a must-visit destination for both locals and tourists alike. As you step onto the rooftop, you're greeted with a breathtaking panorama that captures the essence of London's skyline.
The drink and dining options at Aerial Rooftop are as impressive as the views. The bar boasts a diverse menu of cocktails. Whether you're in the mood for a classic concoction or a unique mix, you're sure to find a drink that hits the spot. Maybe even a Hugo Spritz! The food menu is equally diverse. From light bites to hearty meals, there's something for everyone at Aerial Rooftop.
What sets Aerial Rooftop apart is its vibrant atmosphere. The venue regularly hosts live DJs, adding a touch of excitement to your rooftop experience. And if you'd like to get your rooftop fix without necesarily imbibing, get in touch — they've been known to host rooftop yoga! Whether you're looking to unwind after a long day or celebrate a special occasion, Aerial Rooftop provides the perfect backdrop. With its stunning views, delicious food and drinks, and lively atmosphere, Aerial Rooftop at The Broadcaster is a standout recent addition to London's rooftop bar scene.
Address: 89 Wood Ln, London W12 7FA, United Kingdom
Instagram: @aerialrooftop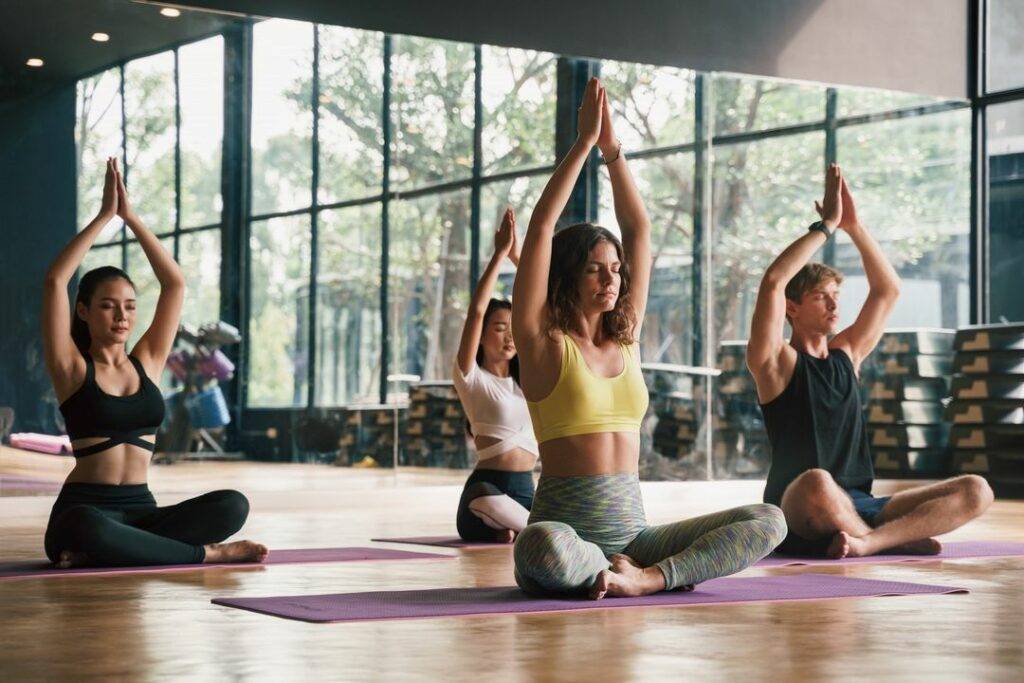 Queen Elizabeth Roof Gardens
Tucked away above the bustling streets of Kensington right along the River Thames, the Queen Elizabeth Roof Gardens offers a tranquil escape from the city's relentless pace. This rooftop bar is a hidden gem, a secret garden nestled in the heart of London. Its location, just a few minutes from the tube, makes it a convenient retreat for those seeking a serene spot amidst the urban jungle.
The gardens have a rich history, dating back to the 1930s. They stand on the site of what was once the department store Derry and Toms, adding a touch of historical charm to the venue. As you explore the gardens, you'll be transported back in time, on the same paths that Londoners have trodden for nearly a century. Meanwhile, the culinary offerings are as exceptional as its views. The menu features freshly-squeezed juices, organic teas and coffee, seasonal sandwiches, and salads.
Whether you're in the mood for a light salad or a hearty sandwich, you'll find something to satisfy your palate. And what better way to enjoy your meal than with a refreshing drink in hand? The bar offers a selection of cocktails, each crafted to perfection. From classic concoctions to innovative mixes, there's a drink for every taste. It's more than just a rooftop cocktail experience; it's an opportunity to unwind and soak in the stunning views of London. The rooftop offers a panoramic view of the city, providing a unique perspective that's hard to find elsewhere. As you sit back and relax, you'll have a breathtaking vista of the city's iconic skyline.
Address: Southbank Centre, Belvedere Rd, London SE1 8XX, United Kingdom
Instagram: @southbankcentre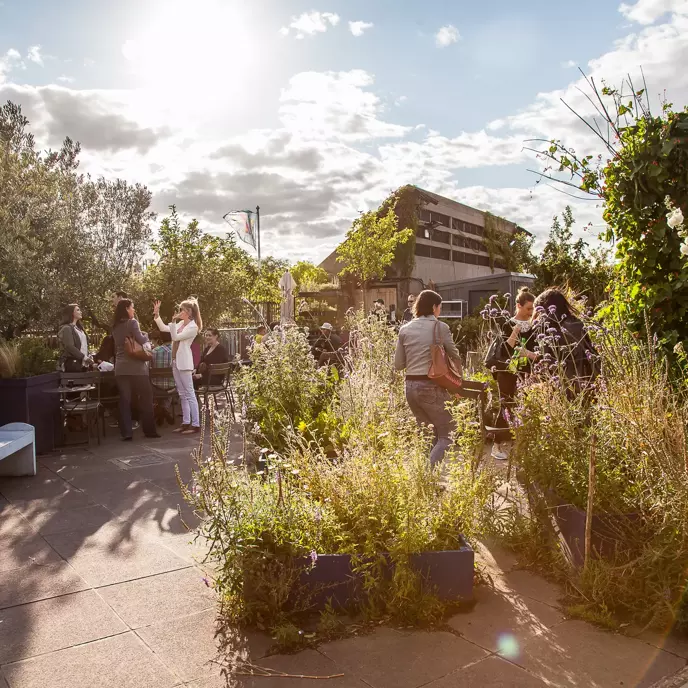 Bottom Line
From stunning views and elaborate cocktails to delicious food and live music, each of the best rooftop bars in London has its unique vibe and appeal. We're big fans of bars with a view but there's no doubt that London's nightlife is undoubtedly one of the most dynamic in the world, and these bars add more to the vibrancy of this global city. The architecture and decor of the bars we explored were exceptional, giving us a real taste of London culture. Whether you're local or just visiting, these spots are a great place to indulge in the London nightlife and visit some of the most iconic bars this city has to offer, with a view.