Hyatt has completed its acquisition of Mr. & Mrs. Smith, a hotel platform with agreements with more than 1,500 carefully curated luxury and boutique properties worldwide.
This is a strategic, asset-light acquisition that should significantly increase Hyatt's position in the luxury segment and add a lot of options for World of Hyatt members. The acquisition officially closed yesterday.
Hyatt Acquires Mr. & Mrs. Smith
Hyatt has acquired the London-based Mr. & Mrs. Smith platform for £53 million (cash consideration) giving it direct booking access to over 1,500 luxury and boutique independent properties around the world. The asset-light acquisition will increase Hyatt's footprint including in over 20 countries where Hyatt currently has no hotels.
Here's how Hyatt describes the acquisition:
"We are excited by this planned acquisition and to explore bringing guests and World of Hyatt members even more global luxury offerings across hundreds of geographies – including over 20 countries where there are currently no Hyatt hotels such as Fiji, Croatia, Iceland and Anguilla.

Founders Tamara and James Lohan alongside their impressive team have built the ultimate global direct booking collection of truly unique stay experiences including rooms located in treehouses, within caves, and underwater suites. Importantly, we see a lot of synergy between our collective ethos of care, and we look forward to working together to bring our shared focus to new, memorable stay experiences for guests and World of Hyatt members – and introduce new guests to Hyatt hotels around the world."

Mark Vondrasek, Hyatt Chief Commercial Officer
This is the latest step in Hyatt's transformative growth journey according to the company. Over the past five years, Hyatt has doubled the number of luxury rooms, tripled the number of resort rooms, and quadrupled the number of lifestyle rooms in its portfolio. The brand expects to use Mr. & Mrs. Smith to continue to deliver industry-leading net rooms growth.
Mr. & Mrs. Smith World of Hyatt Integration
While specific details about the integration of Mr & Mrs Smith hotels into the World of Hyatt loyalty program have not yet been disclosed, members will be able to earn and redeem points across eligible hotels in the Mr. & Mrs. Smith collection. Hyatt promises that members "will soon have even more rewarding stays and experiences to choose from."
It's still unclear how Mr. & Mrs. Smith's collection of hotels around the world will be integrated to World of Hyatt.
For earnings, it's likely that Hyatt will offer points for Mr. & Mrs. Smith bookings when they're booked through Hyatt like its current partnership with Small Luxury Hotels of the World (SLH) properties works.
For redemptions, it's still unclear how these properties will be integrated into World of Hyatt. So far, all properties offering World of Hyatt redemptions are categorized and the points cost is based on an award chart. It's possible that World of Hyatt will introduce redemptions at a set point cost per dollar amount. Stay tuned…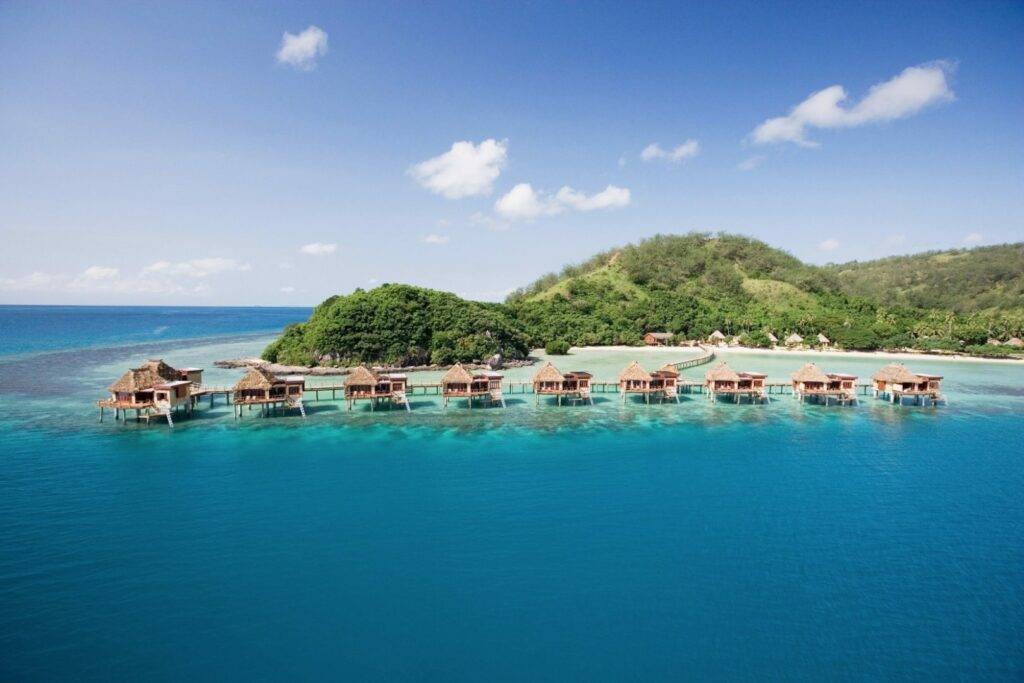 World of Hyatt Elite Benefits at Mr. & Mrs. Smith
While nothing has been announced, it's unlikely that benefits for World of Hyatt elites will be recognized at Mr. & Mrs. Smith properties. So we wouldn't expect suite upgrades, complimentary or confirmed, at Mr. & Mrs. Smith properties although we might be pleasantly surprised. Keep an eye on this space for updates.
What About Mr. & Mrs. Smith's IHG One Rewards Partnership?
You might be wondering what the acquisition means for Mr. & Mrs. Smith's partnership with IHG One Rewards. Unfortunately for IHG members, World of Hyatt's gain is likely IHG's loss. While nothing has been announced yet, it's extremely likely that we'll soon get details about the wind-down of the Mr. & Mrs. Smith partnership with IHG One Rewards.
If you've been eyeing a Mr. & Mrs. Smith property redemption with IHG points, it's probably worth booking asap although we can't say for certain whether bookings will be honored.
Bottom Line
The acquisition of Mr. & Mrs. Smith by Hyatt might be asset light, but it comes packed with potential as Hyatt works to expand its luxury and lifestyle offerings. For World of Hyatt loyalists, this means the addition of new opportunities for earning and redeeming points at over 1500 unique properties worldwide including in 20 countries Hyatt hitherto had no presence in. We'll keep a close eye as more details become available…