Delta Air Lines has announced that it will retrofit its ex-LATAM A350 fleet consisting of nine aircraft acquired from LATAM Airlines to bring them in line with the rest of its Airbus A350 fleet.
This retrofit is expected to be one of the largest and most comprehensive ever launched on an A350, with Airbus Services, a division of Airbus, selected to lead the project.
Airbus Services To Retrofit Delta's Ex-LATAM A350 Fleet
Delta Air Lines has selected Airbus Services to retrofit nine acquired Airbus A350 aircraft from LATAM Airlines to bring them into line with the rest of the airline's A350 fleet.
Delta's ex-LATAM A350 fleet originated during the pandemic in June 2021 when Delta began acquiring additional A350s from LATAM Airlines as the leases for the Brazilian carrier's fleet were terminated.
However, these new additions to the Delta fleet offered a substandard cabin configuration to compared to the rest of the airline's A350s. This undermined Delta's passenger experience.
Delta is finally addressing the issue by selecting Airbus Services to retrofit the newly acquired A350s and bring them in line with the rest of its fleet. According to Airbus, the retrofit is one of the world's largest and most comprehensive cabin upgrade programs ever launched on an A350 fleet.
"This partnership with Airbus Services will ensure the A350 cabins are harmonized with the rest of our international fleet. The A350 is a critical part of Delta's network and this retrofit allows us to continue delivering the premium experience that our customers value."

Kristen Bojko, Delta's Vice President of Fleet
The retrofit program will involve a total nose-to-tail cabin modification, including seats, lavatories, galleys, overhead bins, and more. When it's complete, the ex-LATAM A350 fleet should be indistinguishable from the rest of Delta's fleet in terms of passenger cabin experience, connectivity, avionics, and systems configuration.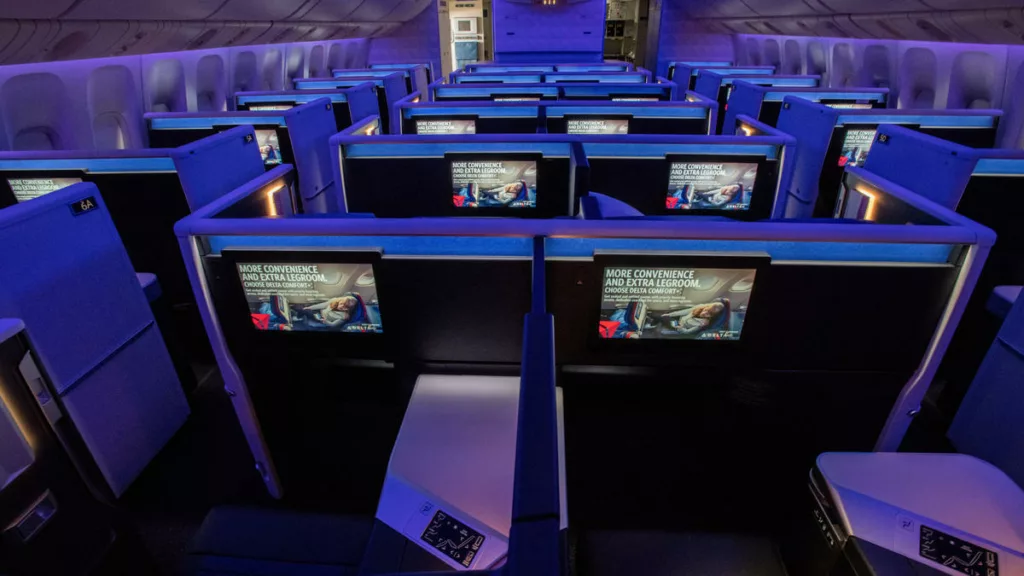 Airbus says its experience as the Original Equipment Manufacturer (OEM) of the Airbus A350 makes it uniquely positioned to manage and deliver the project.
"Delta's confidence in Airbus Services shows that we can successfully provide our customers with incredibly thorough upgrading options. We respect our close working relationship with the Delta teams since it will make this program successful."

C. Jeffrey Knittel, Chairman & CEO of Airbus Americas
Once the retrofit is complete, passengers will be able to enjoy a consistent experience when flying on Delta's A350 fleet, regardless of which aircraft they are on. That means no more worrying that your flight, like the new service to Auckland, are being operated with the ex-LATAM. This also allows Delta to offer a similar hard cabin experience to its transatlantic joint venture partner as Air France plans to begin installs suites.
Delta Air Lines is the largest Airbus wide-body operators in the US, choosing the foreign-made aircraft over US-produced options despite receiving billions in aid from the US government. It's unclear whether Airbus will perform the retrofits in the United States or not.
Bottom line
Delta Air Lines has announced that it will be retrofitting a subfleet of nine Airbus A350 aircraft acquired from LATAM Airlines to bring them in line with the rest of its Airbus A350 fleet. It will use Airbus Services to lead the project. This retrofit is expected to be one of the largest and most comprehensive ever launched on an A350, with improvements to seats, lavatories, galleys, overhead bins, and more. When complete, Delta will be able to offer a consistent cabin experience to passengers on its A350 aircraft. Delta Air Lines has announced that it will be retrofitting its recently acquired Airbus A350 fleet from LATAM Airlines