The new cabins feature the redesigned business suite, with even more enveloping curves and extra comfort. Significantly, the addition of sliding doors making Air France the latest airline to turn its business class seats into suites, increasingly a requirement for premium carriers.
Air France's new Business Class Suites are taking to the skies today for the first time as the airline's first Boeing 777-300 ER equipped with the latest cabins departs from Paris-Charles de Gaulle to New York-JFK.
Air France's New Business Class Suites Take Flight
Today, the first aircraft equipped with Air France's new Business Class Suites will take off from Paris'-'s Charles de Gaulle Airport to New York's Kennedy International Airport (JFK). The aircraft is a six year old Boeing 777-300 ER, nicknamed "Fontainebleau."
It's the first of 12 Boeing 777-300 ERs in Air France's long-haul fleet that are being retrofitted with the new business class suites.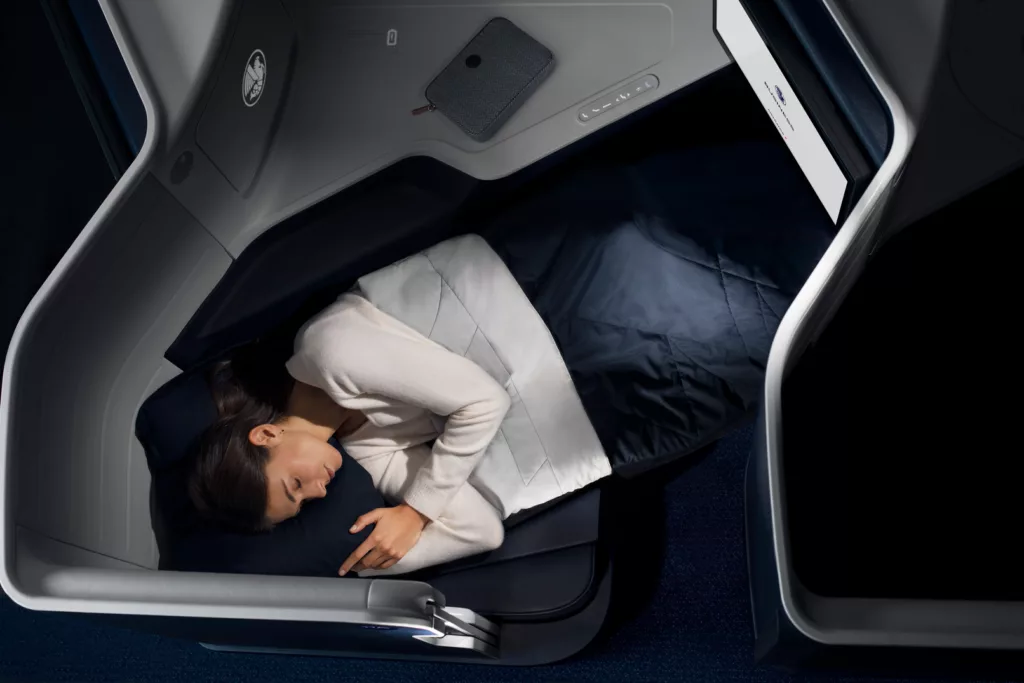 After serving JFK, the new aircraft will is scheduled for trips to Rio de Janeiro in Brazil on January 21st and Dakar, Senegal on January 22nd.
The airline plans to roll out the new cabins first to New York City, Rio de Janeiro, and Dakar during the winter season. It'll expand the upgraded cabins to more destinations throughout the year as more aircraft get the retrofit.
New Air France Business Class Suite
The new cabins are a major step in what Air France describes as its move upmarket. While Air France has always had a premium reputation and offers one of the best first class products in the world with La Première, it's business class cabins have felt a bit retro in recent years.
When this retrofit is complete by the end of 2023, all of the company's long-haul business class cabins will finally feature seats that transform into full-flat beds (Air France is currently at 90%). The airline also expects to have the entire fleet (excluding regionals) equipped with in-flight Wi-Fi by the end of 2023. No word yet on whether Air France will join many of its competitors and offer free in-flight Wi-Fi.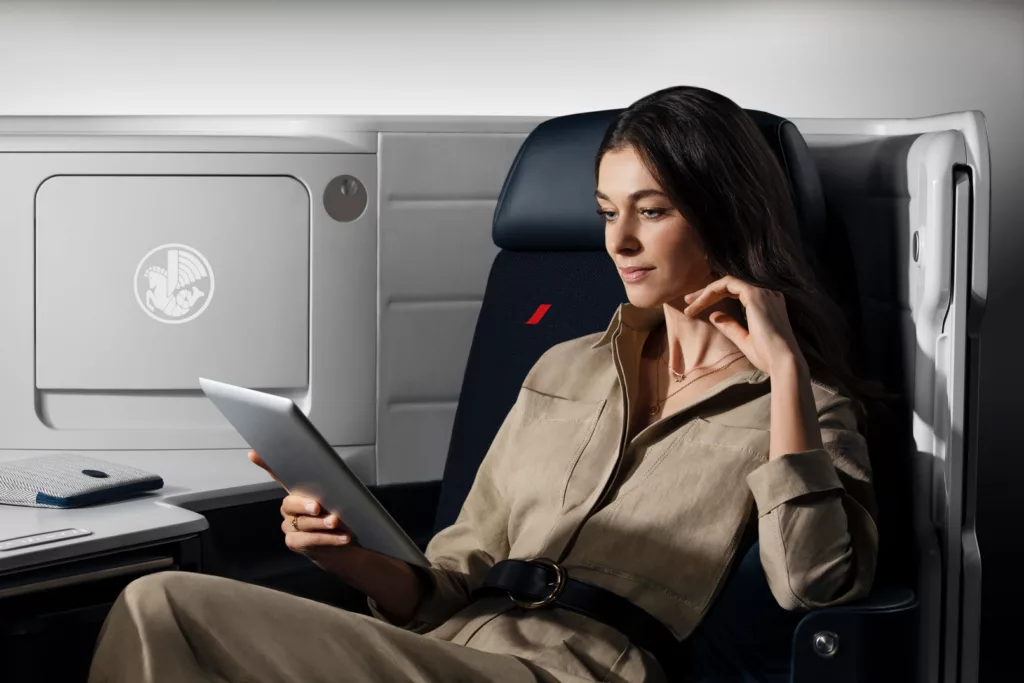 The airline explains that the new seats are designed around the 3Fs: fully flat, full access, and full privacy. The seats are the well-regarded Safran Versa which is similar to the current Air France seat.
This seat's design is based on the 3 "F"s – Full Flat, meaning that the seat transforms into a real bed almost two metres long, Full Access, providing all passengers direct access to the aisle, and Full Privacy, ensuring optimal privacy.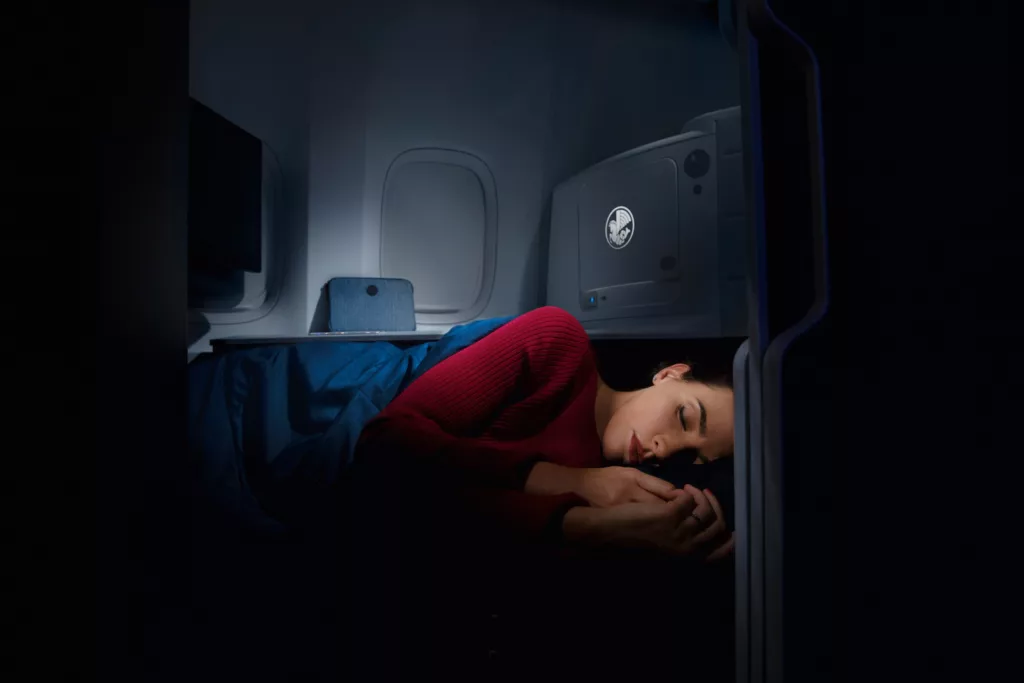 The most significant improvement in the new seats is what transforms them into suites: a sliding door creating more privacy from other passengers. Since Qatar Airways first introduced this revolution with the Q-Suite, it's been adapted by airlines around the world including Air France's trans-Atlantic joint-venture partner Delta and its direct competitors including British Airways in its Club Suite and American Airlines.
For travelers traveling with a partner, the seats in the center of the cabin have a central panel that can be lowered.
A new sliding door allows passengers to create a totally private space, out of sight from the other passengers in the cabin. To create a greater sense of privacy for passengers travelling together, the seats located in the centre of the cabin are now equipped with a central panel that can be lowered by pressing it down, thus creating a convivial space in which to make the most of the flight together.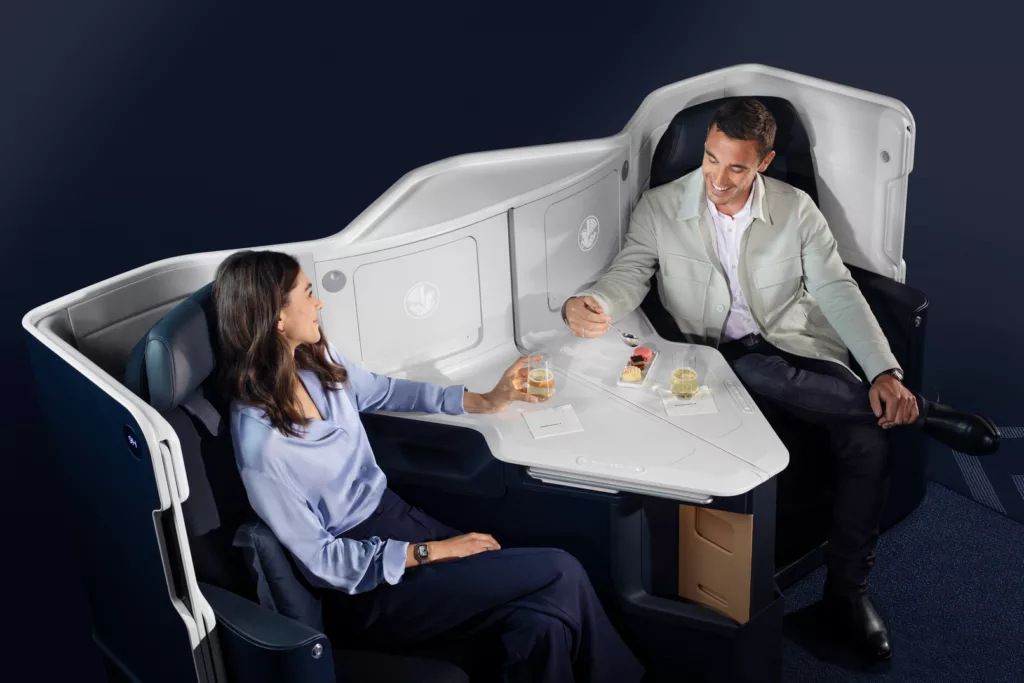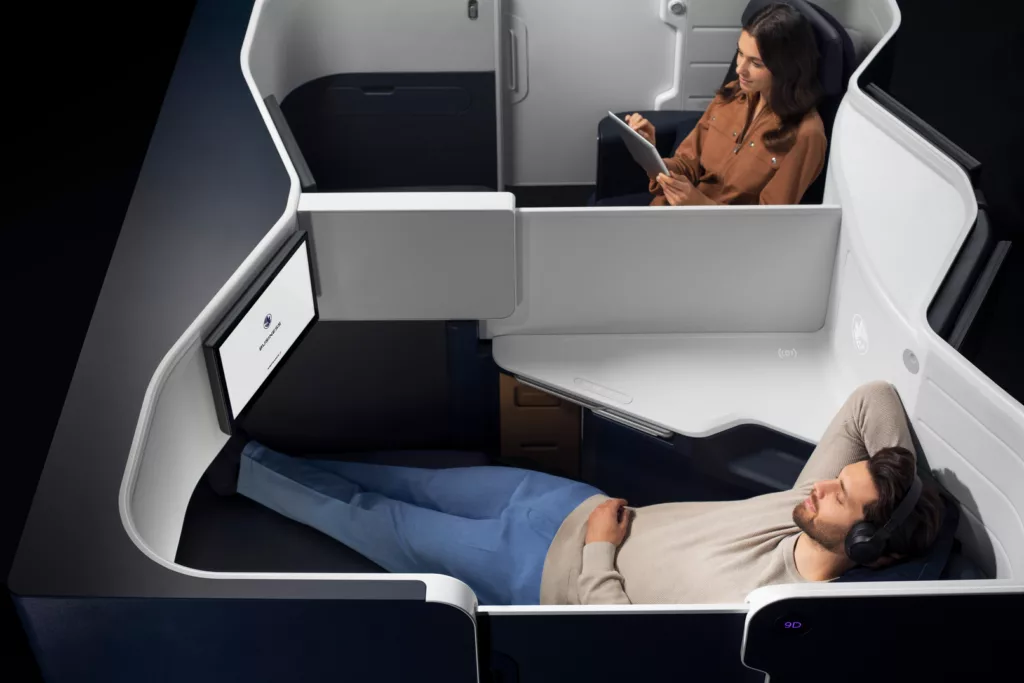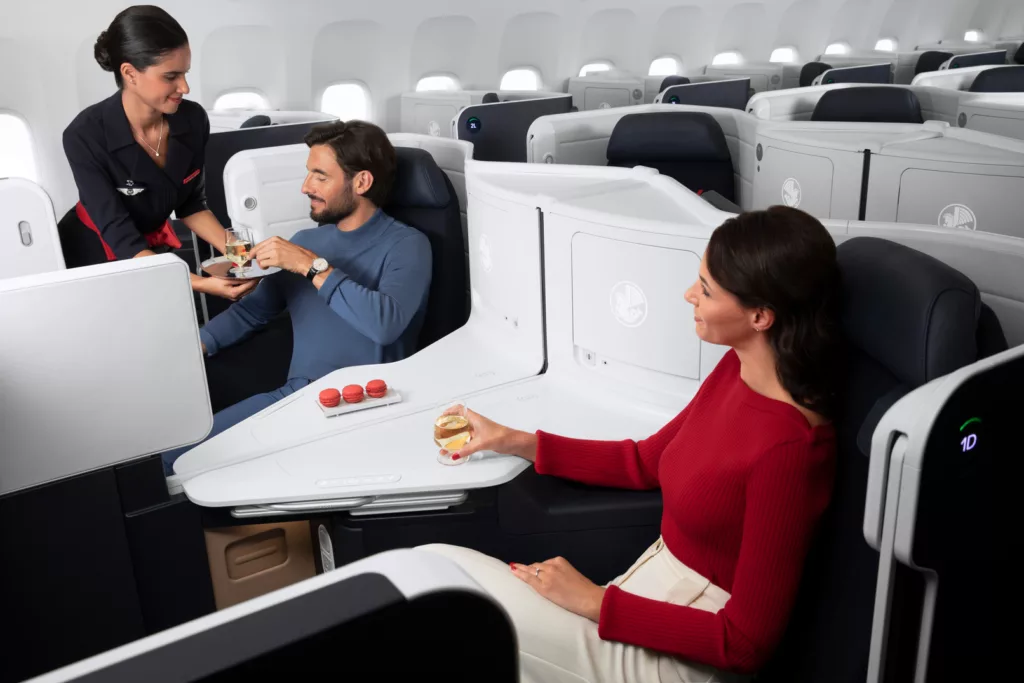 The new business class suites feature a wide 17.3-inch 4K High-Definition anti-glare screen and a noise-reducing headset with a new Bluetooth connection allowing passengers to use their own headphones.
Meanwhile, the airline says the seat's padding adds softness and a feeling of cosiness with wool, brushed aluminum, full-grain French leather being its chosen materials. Each seat is embroidered with the company's trademark red accent.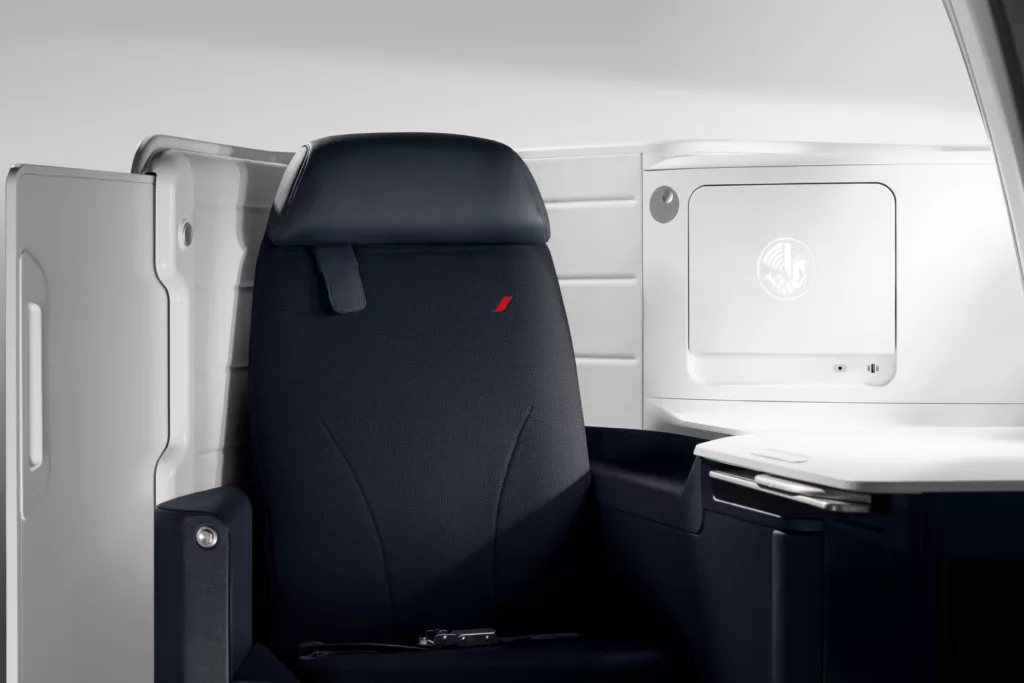 There are several electric sockets to charge devices. The most convenient innovation might be the new wireless charging pad embedded in the table.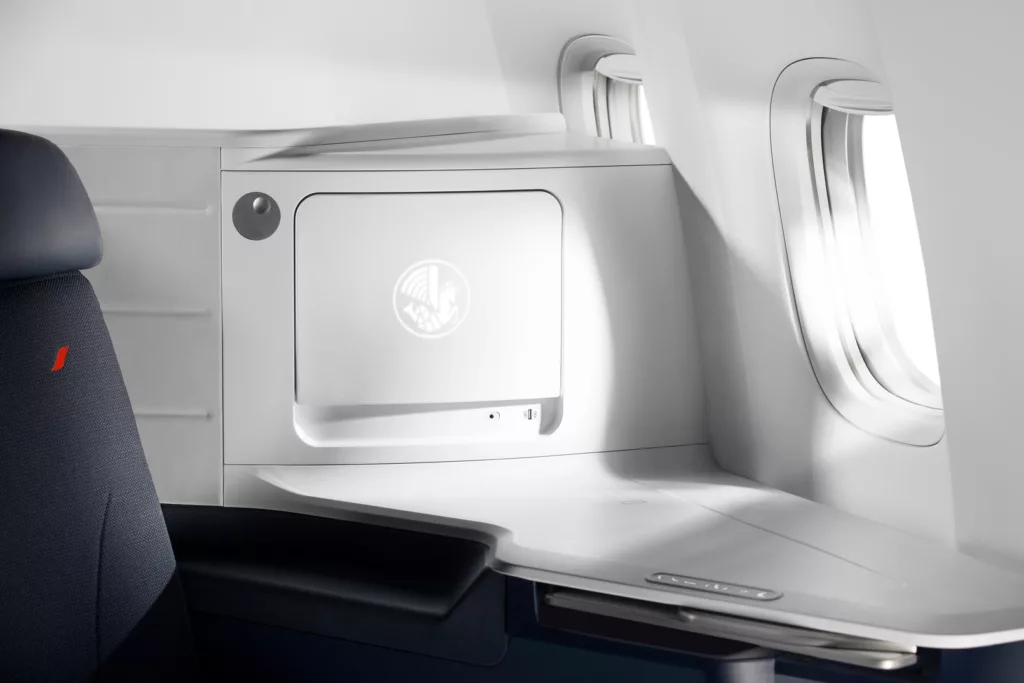 Air France released a video with details about its new suites and retrofit.
The cabin adds some new finishes as well. A backlit winged seahorse greets passengers boarding the aircraft. Air France says the seahorse embodies "the company's founding myth and rich history".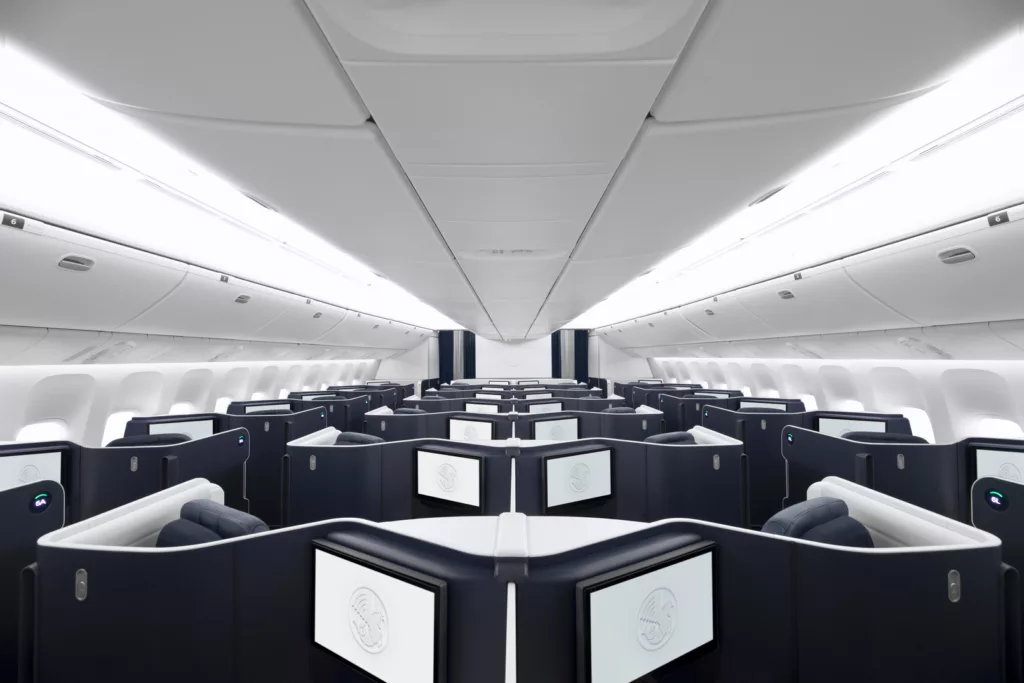 Air France Retrofit Details
Air France is rolling the new retrofitted cabins out first to 12 Boeing 777-300ERs that currently have angled lie-flat seats so this represents a big upgrade. The new cabins will feature 48 business class seats, 48 premium economy seats, and 273 economy class seats.
For now, the only other aircraft that Air France is expected to install the new business class suites on are new Airbus A350-900s. The airline has 18 of these jets on order which are expected to feature the new cabin.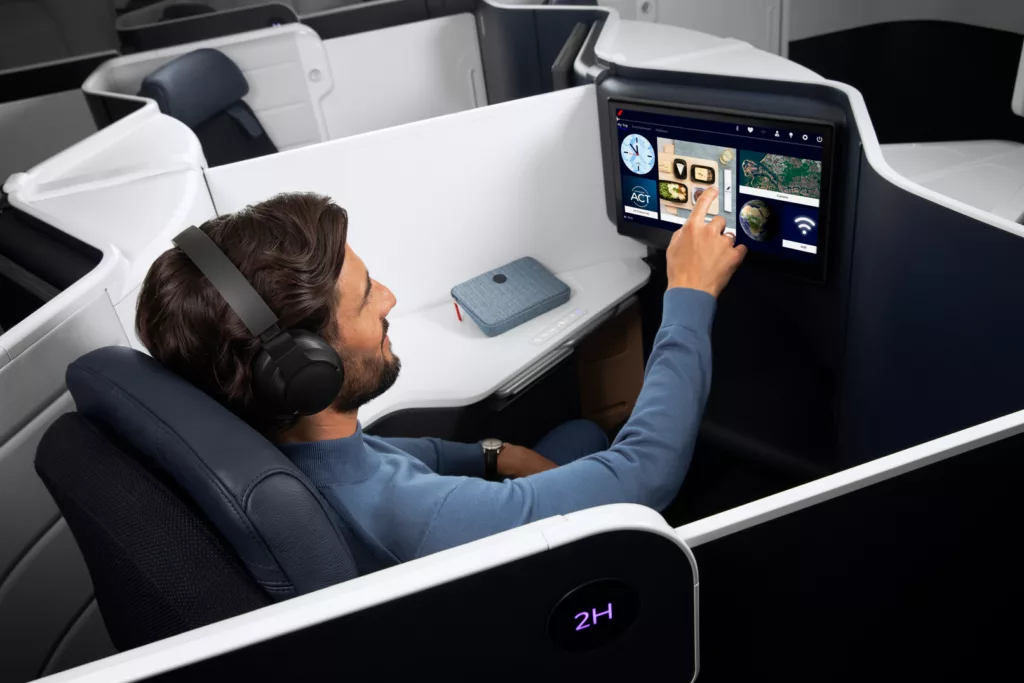 Air France has not announced any plans to retrofit its existing long-haul fleet of Airbus A350-900 and Boeing 777-300ER aircraft which feature a fully lie-flat seat without a seat.
Air France New Premium Economy & Economy
In addition to the new business seat, the premium economy and economy cabins will also be receiving upgrades as part of the retrofits.
Passengers in both premium economy and economy class will have a 13.3-inch 4K High-Definition screen.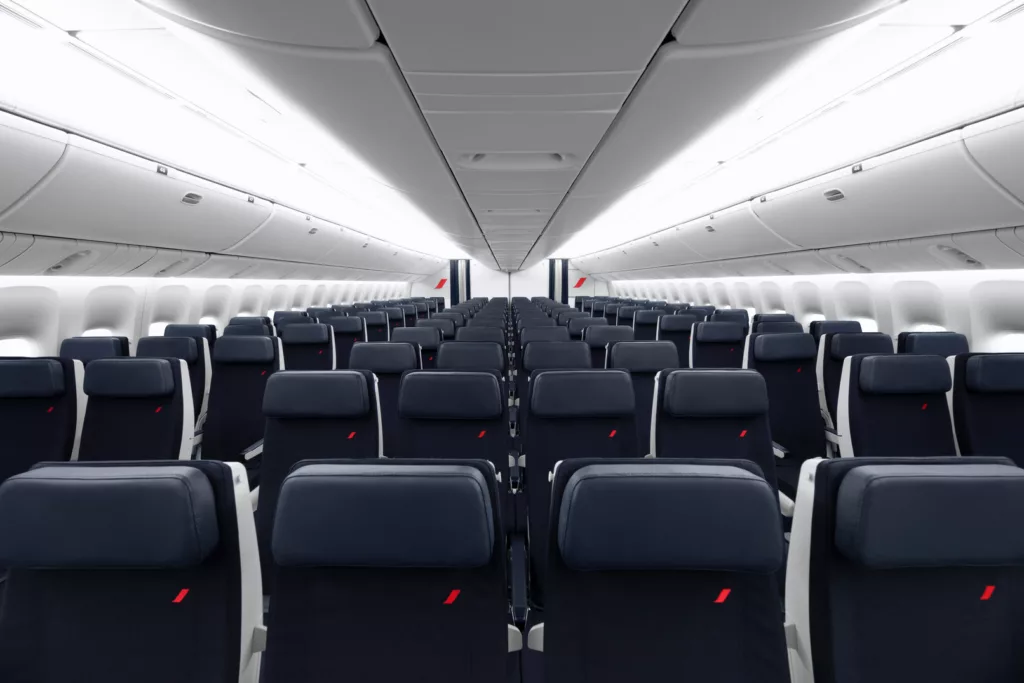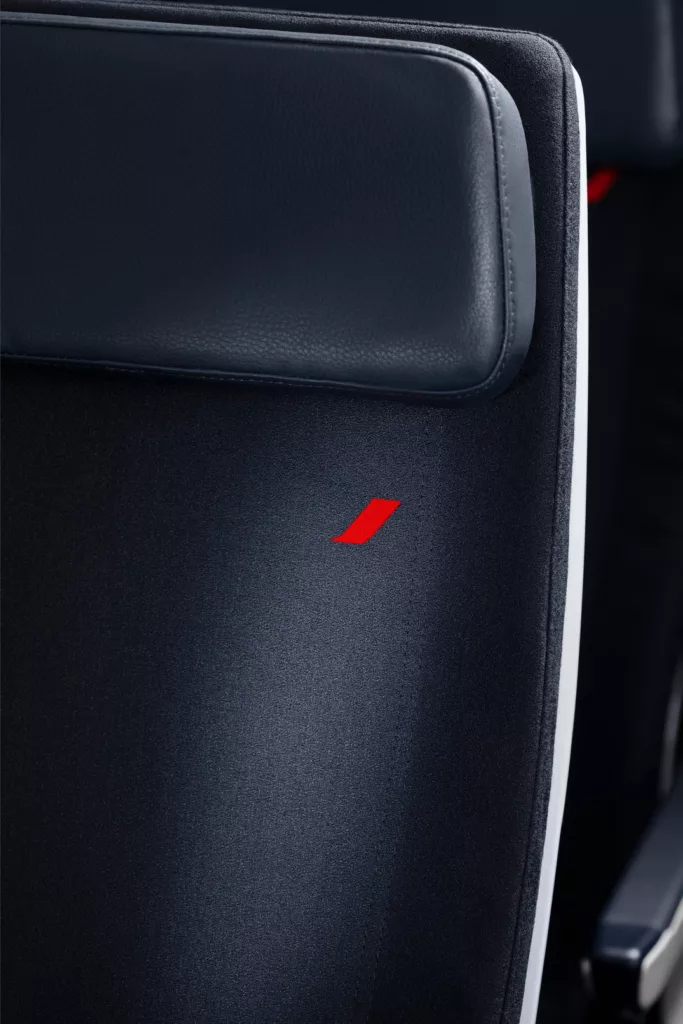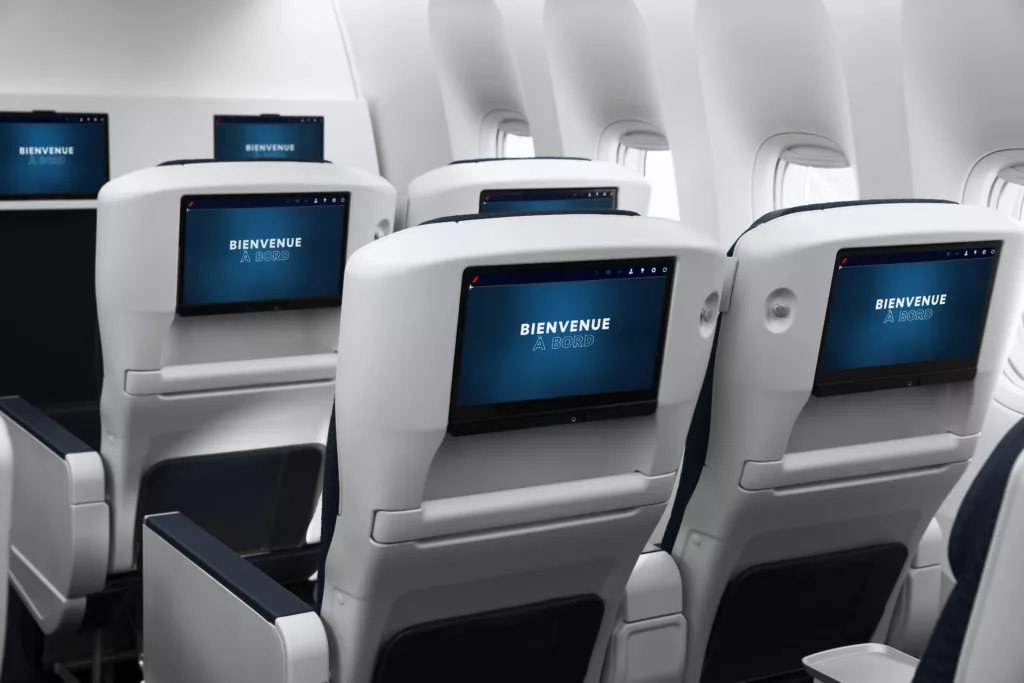 The premium economy cabin will feature the same updated recliner-type seat model already available on Air France's Airbus A350 aircraft with further enhancements for comfort.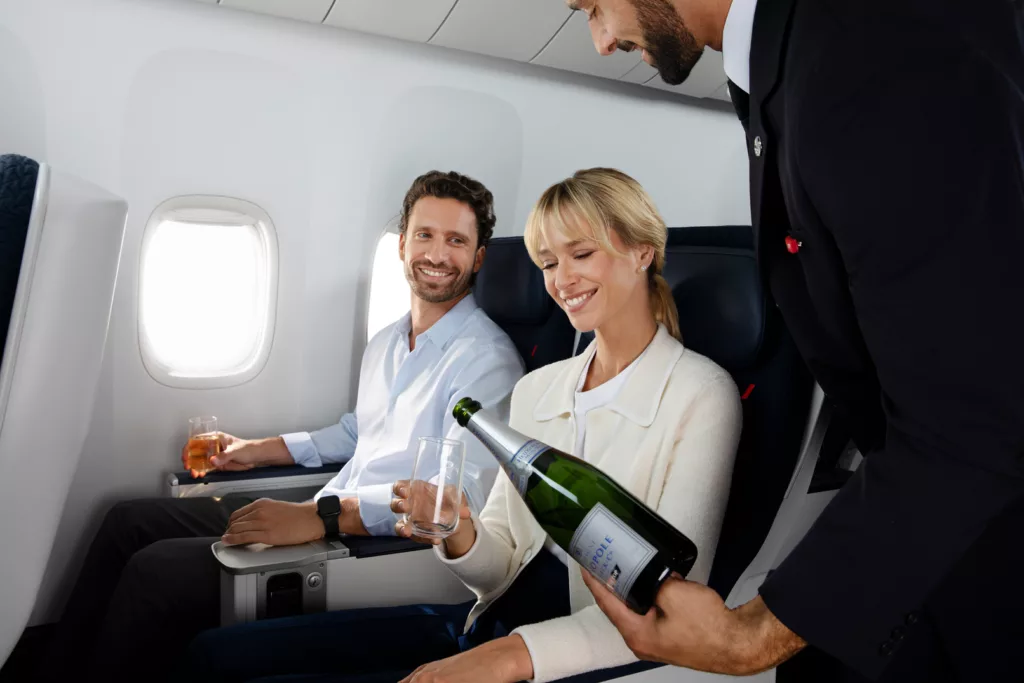 Each seat will provide 96 cm or roughly 3 ft of legroom. The seat cushions have been redesigned with navy blue herringbone fabric for added softness. The seat back reclines to 124 degrees and has been widened to provide greater privacy.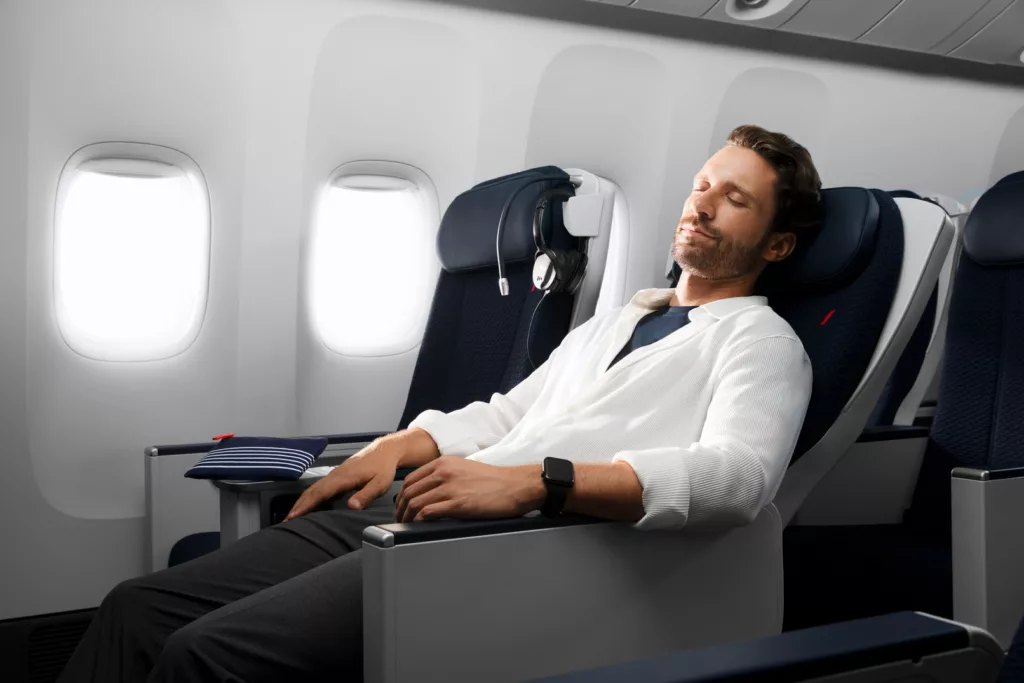 A new noise-reducing audio headset is integrated into the seat and is easy to use at any time during the flight, along with USB-A and USB-C ports.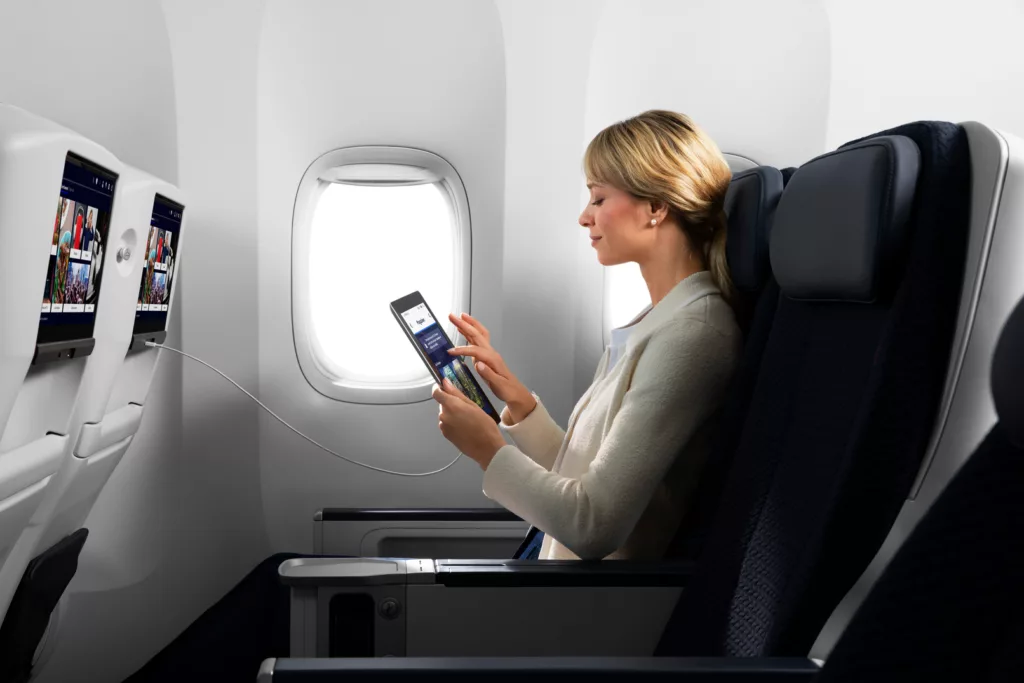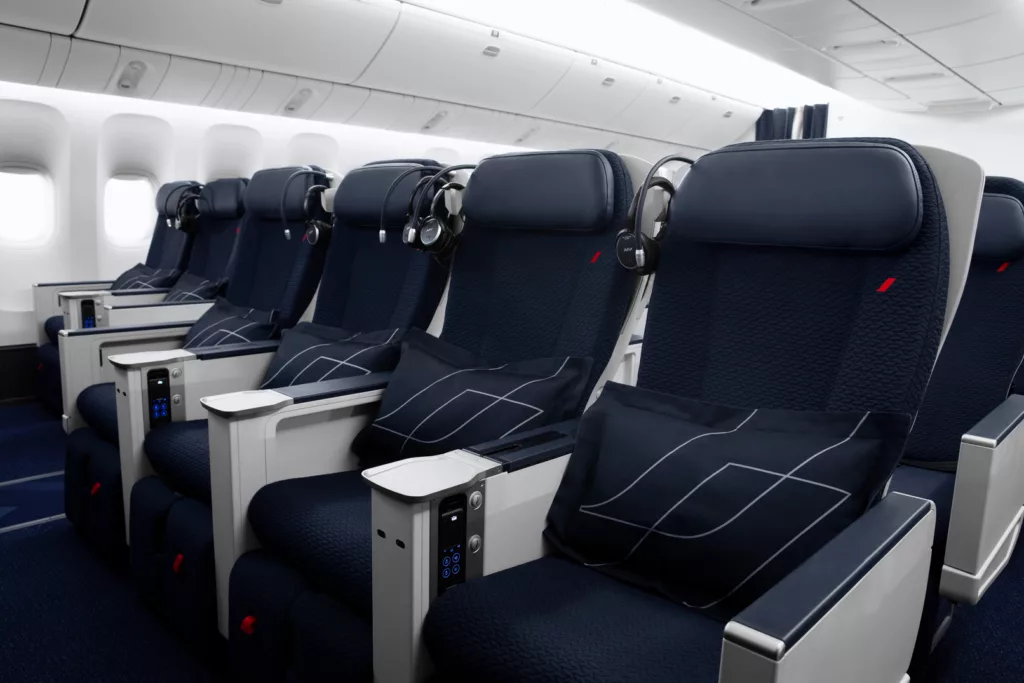 Economy is also getting an upgrade.
Each seat has a wide 43 cm seat pan, a 119 degree recline and 79 cm of legroom. An ergonomic backrest will offer reinforced lateral support.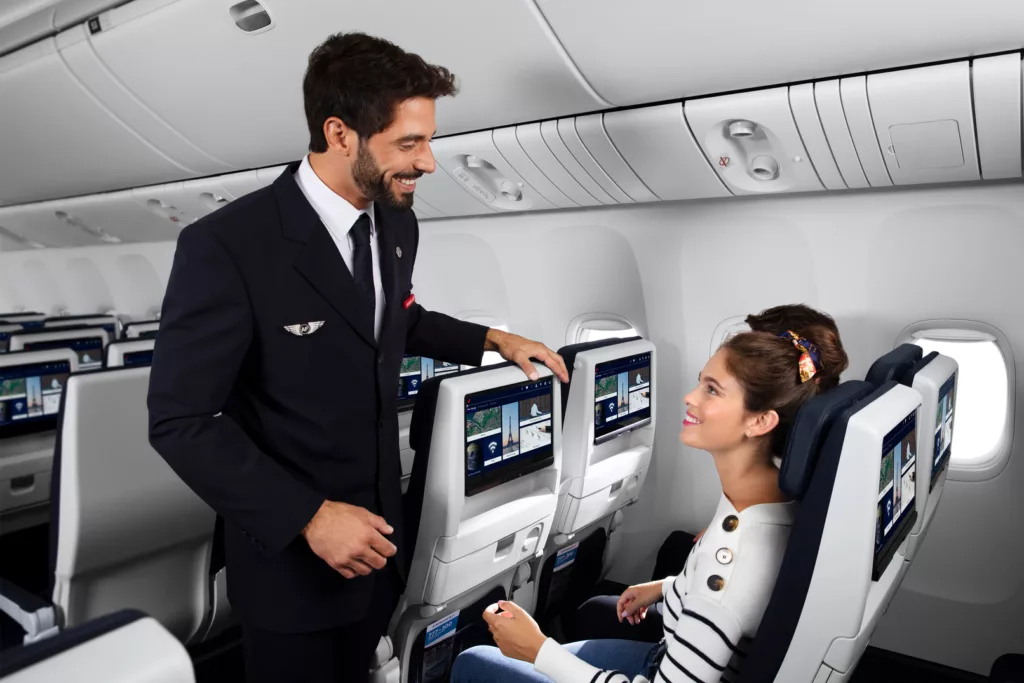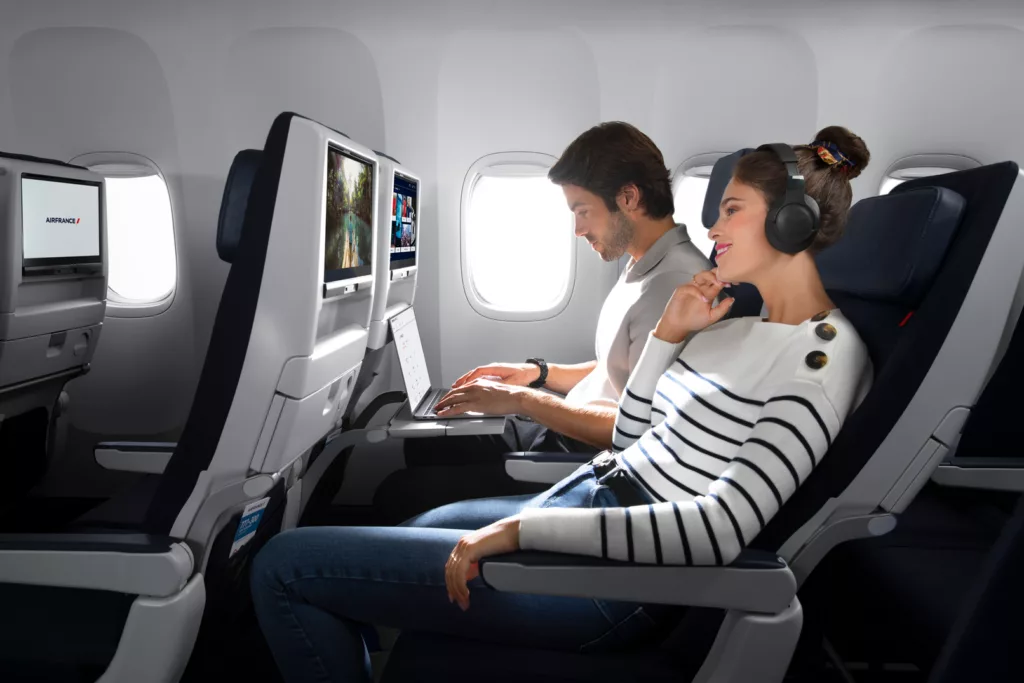 Unfortunately, for economy passengers, the airline will only provide an outdated USB-A port not USB-C.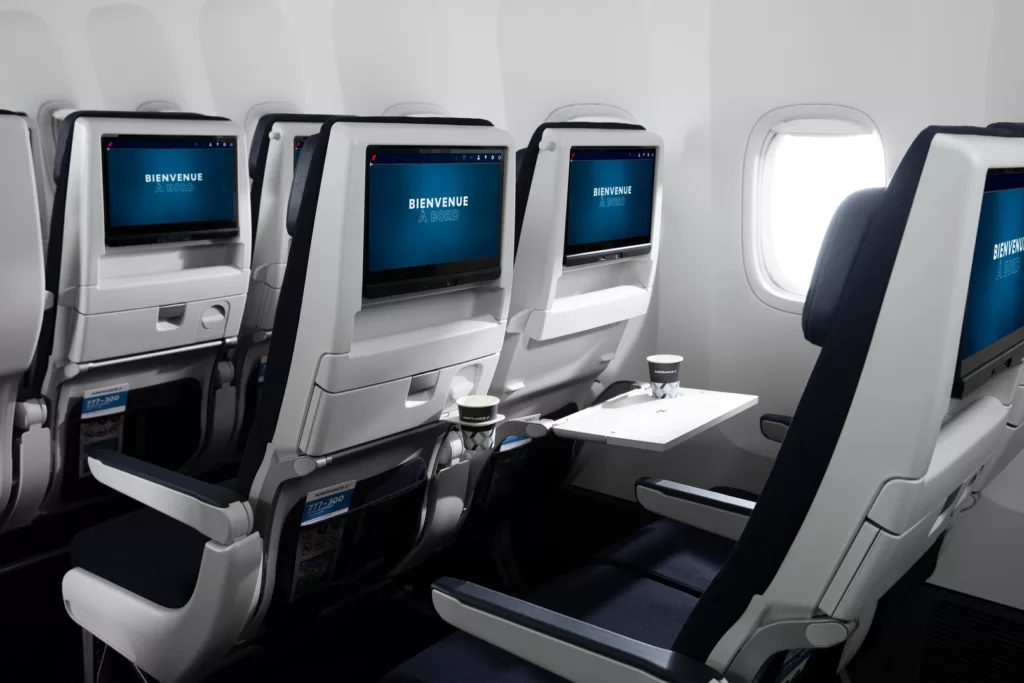 Bottom line
Passengers flying on Fontainebleau from Paris Charles de Gaulle to New York Kennedy today are the first to experience Air France's new long-haul business class suites. As more planes are retrofitted, the product will be progressively rolled out to flyers to New York City, Rio de Janeiro, and Dakar this winter season with more destinations to be added later in the year. The retrofitted planes also offer updated economy and premium economy cabins but the biggest difference will be felt by business class passengers who will finally enjoy the comfort and privacy of suites on Air France.