World of Hyatt has a largely deserved reputation for offering the best value and benefits to members and particularly to Globalists, its top-tier elite status. Confirmable Suite Upgrade Awards are a key component of the value proposition of both Globalist status and the larger World of Hyatt loyalty program. These are distinct from the space-available guaranteed suite upgrades at check-in that are also a key benefit of Globalist status at Hyatt.
In this post, let's take an in-depth look at Suite Upgrade Awards including how to earn the awards and the best ways to redeem them to maximize their potential.
What Are Hyatt Suite Upgrade Awards?
Hyatt's Suite Upgrade Awards are online certificates that allow you to upgrade your room to what Hyatt describes as standard suites at participating Hyatt properties. These were formerly known as Tier Suite Upgrade ("TSU") or Diamond Suite Upgrade ("DSU"), so you may occasionally run into people referring to using them as using a TSU or DSU.
Standard suites typically offer larger living spaces, separate living and bedroom areas, and sometimes additional features such as multiple bathrooms or a balcony. By using a Suite Upgrade Award, you can guarantee a suite as soon as you book your room, eliminating the uncertainty that often comes with suite upgrades.
Furthermore, only one certificate is needed to upgrade your stay for up to seven nights, meaning you can get some pretty incredible value from Hyatt's Suite Upgrade Awards.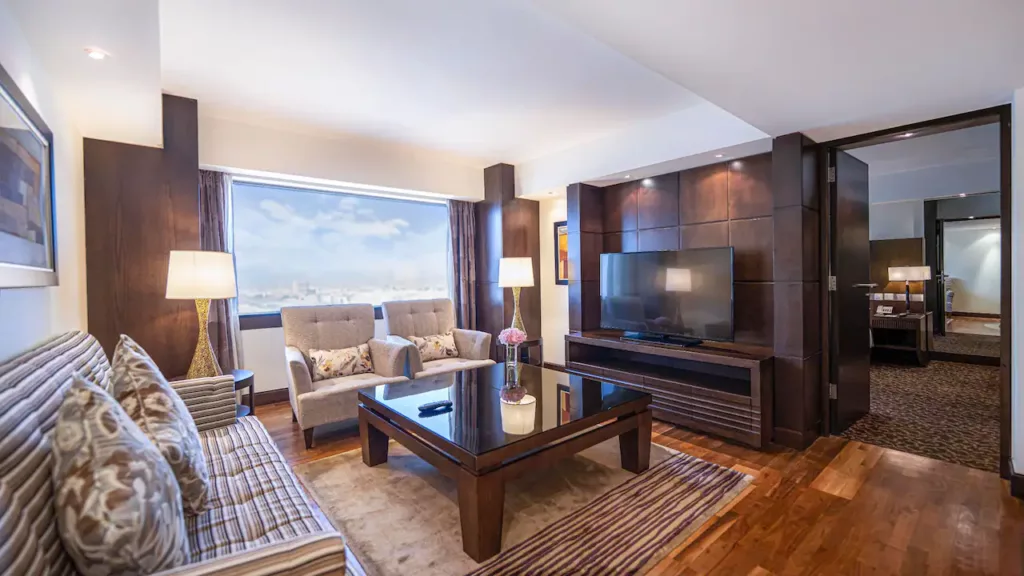 Earning Hyatt Suite Upgrade Awards
There are two primary ways to earn Hyatt Suite Upgrade Awards: through Hyatt's Milestone Rewards program and by being a World of Hyatt lifetime Globalist member.
Milestone Rewards incentivize members to engage with the World of Hyatt loyalty program by earning qualifying nights or base points. You can earn qualifying nights by staying at Hyatt properties, spending money on the Chase World of Hyatt card, or a combination of both. To earn base points, you need to spend money at Hyatt hotels.
You can earn two Suite Upgrade Awards by earning either 50 qualifying nights or 80,000 base points in a calendar year. If you reach 60 qualifying nights or 100,000 base points, you'll earn another two Suite Upgrade Awards.
After achieving 60 qualifying nights, you'll also earn Hyatt Globalist status and have the option to choose between 10,000 World of Hyatt points or one Suite Upgrade Award at 70, 80, 90, and 100 qualifying nights. In other words, at the 60-night threshold, you'll have a total of four Suite Upgrade Awards at your disposal while if you hit 100 nights in a year, you could have up to 8 (assuming you do not have lifetime Globalist status).
Additionally, lifetime Globalist members, who have earned 1,000,000 Hyatt base points, receive four Suite Upgrade Awards annually.
Redeeming Hyatt Suite Upgrade Awards
To redeem your Suite Upgrade Awards, you need to contact World of Hyatt customer support either by calling or reaching out to @HyattConcierge on Twitter. Globalists can also contact their My Hyatt Concierge directly.
Suite Upgrade Awards can be used on bookings made with cash, World of Hyatt points, or a combination of points and cash. However, nights booked using a Hyatt Free Night Award are not technically eligible for Suite Upgrade Award redemptions (but I've heard of this rule not being enforced, YMMV).
When using your Suite Upgrade Award, be aware of the limitations. These awards have expiration dates. The expiration dates are subject to the "travel by" date, not the "book by" date.
This means your stay must be completed by the expiration date of the award.
There are also restrictions in terms of the properties where the awards can be used, which I get into below.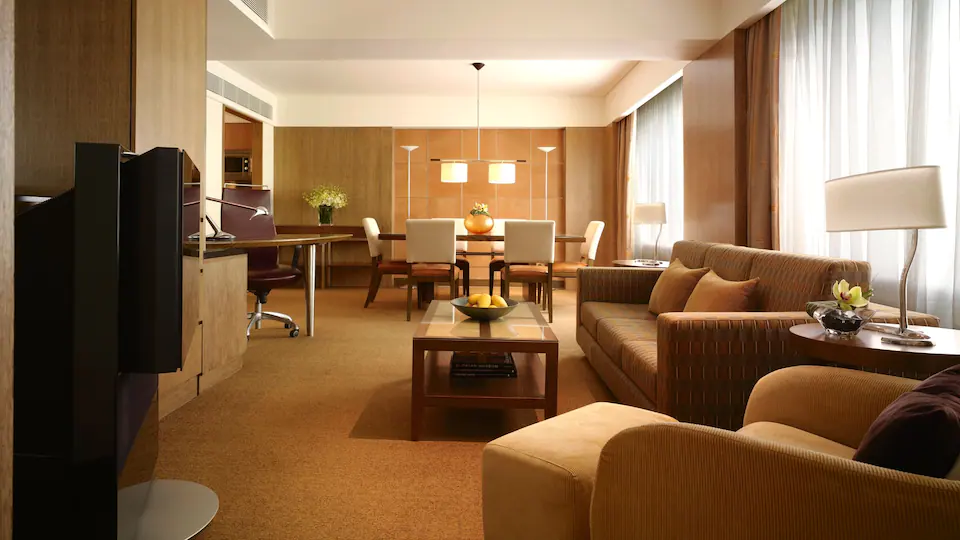 Maximizing Suite Upgrade Awards
To get the most out of your Hyatt Suite Upgrade Awards, consider saving them for stays at more expensive Hyatt properties. For stays booked with points, Hyatt allows you to use points to book a standard suite directly. The difference in points between a standard room and a standard suite is significantly higher at higher-end Category 7 Hyatt hotels compared to lower-category hotels.
Saving your Suite Upgrade Awards for more aspirational properties can provide greater value.
Also, try to save your Suite Upgrade Awards for longer stays, as they can be used for up to seven consecutive nights. The same award could be used for a one-night stay and a seven-night stay. It's obvious which would provide greater value, all other things being equal.
For World of Hyatt Globalists, you're already eligible to receive an upgrade, including standard suites, at check-in for all of your Hyatt stays. While this benefit is based on availability, it is guaranteed when there is a standard suite available. If you're a Globalist, it could be best to use your Suite Upgrade Awards for stays where you want to be certain of getting a suite ahead of time, rather than leaving it up to availability upon check-in.
Good opportunities to utilize a Suite Upgrade Award could be when celebrating a special occasion, staying with additional travel companions, or simply needing extra space. That can guarantee the suite upgrade ahead of time.
In addition, if it appears that suites are readily available as your check-in date approaches, you can always cancel the Suite Upgrade Award and have it credited back to your World of Hyatt account immediately, taking the chance that you'll get the suite upgrade anyway.
Expiration and Extensions
It's important to be aware of the expiration dates for your Suite Upgrade Awards, as they come with a "travel by" date. You must use your award for a stay that is completed by the expiration date. Unfortunately, Hyatt does not typically offer extensions for Suite Upgrade Awards, so it's crucial to plan your stays accordingly to maximize their use.
Ineligible Properties and Hotels
Hyatt is very generous with the availability of Suite Upgrade Awards but not all Hyatt properties participate in this aspect of the World of Hyatt program.
Currently, these Hyatt properties do not accept Suite Upgrade Awards:
Park Hyatt Maldives Hadahaa, Park Hyatt Sydney, Andaz Tokyo Toranomon Hills, Hyatt Regency Kyoto, Hyatt Regency Wichita, Hyatt Paris Madeleine, Hyatt Herald Square New York, Hyatt Key West Resort and Spa, Hyatt City of Dreams Manila, Hyatt Centric South Beach Miami, Spirit Ridge at NK'MIP Resort, Hyatt Rosemont, Hyatt Regency Suites Atlanta Northwest, Hyatt Regency Lisle near Naperville, Hyatt Regency John Wayne Airport Newport Beach, Thompson Seattle, Thompson Hollywood, Chicago Athletic Association, Hotel Revival Baltimore, Hotel Avatar, Waterfront Hotel, Park South, The Laurel Inn, Hotel Kabuki, Alila Manggis, Studios at Alila Sminyak, Alila Villas Uluwatu, Alila Taihu Suzhou, Episode Hsinchu, Hôtel du Louvre, Ventana Campground, Sunscape Sabor Cozumel, Dreams Aventuras, Dreams Royal Beach, Now Emerald Cancun, AluaSoul Alcudia Bay, AluaSoul Menorca, Alua Leo, AluaSun Far Menorca, AluaSun Mediterráneo, AluaSun Cala Antena, Alua Boccaccio, AluaSun Lago Park, AluaSun Doblemar, Caption by Hyatt, or Hyatt Place hotels or resorts or any Destination by Hyatt Residences property
The most current list can be accessed in the World of Hyatt terms & conditions here.
New Hyatt properties that are taking reservations but have yet to open also won't accept Suite Upgrade Awards. This situation is rare but it's useful to keep in mind.
In addition, the awards cannot be used on stays bookable through Hyatt but not managed by Hyatt such as Small Luxury Hotels of the World (SLH) properties, MGM Rewards properties, or Lindburgh Expeditions.
Full Terms of Hyatt Suite Upgrade Awards
Suite Upgrade Award must be redeemed in connection with a reservation at a Hyatt hotel with a checkout date before the expiration date. Suite Upgrade Award must be redeemed in advance when making the underlying room reservation by calling 800.544.9288 or a Hyatt Global Care Center. Suite Upgrade Award is not redeemable at Suite Award Ineligible Properties or Vacation Ownership Properties, Vivid Hotels & Resorts, Secrets Resorts & Spas, Dreams Resorts & Spas, Breathless Resorts & Spas, Zoëtry Wellness & Spa Resorts, Alua Hotels & Resorts, Sunscape Resorts & Spas, or other Legacy AMR Collection hotels or resorts. Suite Upgrade Award is only valid for standard suites. For purposes of this award, a suite provides for one-bedroom accommodations. Suite Upgrade Award is only valid for standard suites, defined as each participating hotel's or resort's introductory suite category, and is subject to availability. There are a limited number of standard suites available at each hotel and resort. Suite Upgrade Award cannot be redeemed for any Premium, Specialty, Premier, Presidential or Diplomatic Suites or similar suite categories, as designated by the applicable hotel or resort. Suite Upgrade Award is valid on nights for which the member has paid an Eligible Rate or has redeemed points for a standard-room Free Night Award, a Club Free Night Award, or a Points + Cash Award (each term as defined in the World of Hyatt program terms), up to a maximum of seven (7) consecutive nights. Not valid in connection with any Free Night Award other than those identified above, including, without limitation, Hyatt Credit Card premium and anniversary Free Night Awards, 5-brand Free Night Awards (as defined in the World of Hyatt program terms), or any other promotional Free Night Award. Suite Upgrade Award is not redeemable in connection with hotels or resorts that have not yet opened when you make your reservation, even if reservations for such hotel or resort are otherwise being accepted. For complete terms and conditions of the World of Hyatt program, including additional terms applicable to the use of this award, see worldofhyatt.com/terms.
Comparison to Competitors
Hyatt's Suite Upgrade Awards are more powerful than similar offerings from other hotel chains, such as Marriott Bonvoy's Suite Night Awards. The ability to guarantee a suite upgrade at the time of booking, coupled with needing only one certificate for a stay of up to seven nights, makes Hyatt's Suite Upgrade Awards a significant competitive advantage for World of Hyatt compared to other loyalty programs.
World of Hyatt generally excels in terms of recognition for its top-tier elites. I've previously written about why I feel that the Globalist breakfast benefit is the best elite breakfast benefit among hotel loyalty programs.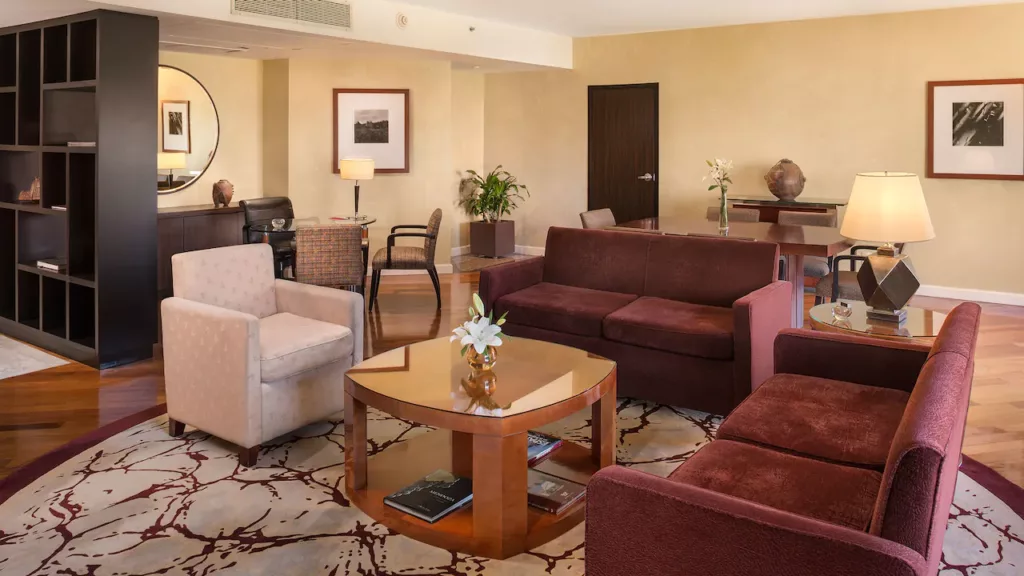 Bottom Line
World of Hyatt Suite Upgrade Awards provide an incredible opportunity for World of Hyatt members to enjoy an upgraded hotel experience. By understanding how to earn and redeem these awards, as well as how to maximize their use, you can greatly enhance your stays at Hyatt properties and enjoy the competitive advantage of Hyatt Suite Upgrade Awards and World of Hyatt.