As a World of Hyatt Globalist member, you can enjoy an array of benefits to improve your experience across Hyatt-affiliated properties including free breakfast and complimentary suite upgrades at check-in along with confirmed suite upgrade awards. One of the many perks available to World of Hyatt members is the Hyatt Club Access Awards. However, these awards often cause confusion among Globalists given that a key benefit of Globalist status is guaranteed club access at participating Hyatt hotels.
In this post, we'll go into what the Club Access Award is and how Globalists can use and optimize these rewards.
What Are Hyatt Club Access Awards?
Hyatt Club Access Awards are part of the Milestone Rewards program, which offers additional perks to World of Hyatt members as they reach specific thresholds each calendar year.
Each club access award can be used for up to seven consecutive nights at a hotel's club lounge. They are valid on eligible paid rates (including Hyatt Privé rates), free night awards, and Points + Cash bookings. To apply them to your stay, contact Hyatt reservations in advance since they cannot be redeemed through your online World of Hyatt account.
How Do You Earn Hyatt Club Access Awards?
As discussed above, the Club Access Awards are part of World of Hyatt's Milestone Rewards program.
Members get their first set of Club Access Awards after staying 20 elite qualifying nights or earning 35,000 base points in a year. These are earned independently of elite status so even if you already hold Globalist status, you'll be credited 2 club lounge access awards after spending 20 nights in a year.
You'll have the chance to earn two more Hyatt Club Access Awards at the 30-night threshold or 50,000 base points in a year when it's one of the options.
Then, there are no further chances to get club access until, at 60 nights, you earn Globalist status grants automatic access to club lounges across Hyatt.
Validity and Expiration of Club Lounge Access Awards
Club Lounge Access Awards are valid for the remainder of the calendar year in which they were earned and an additional 14 months thereafter. They must be redeemed prior to their expiration date, lest they be forfeited. You can track these awards through the "My Awards" section of your World of Hyatt account.
Participating Hotels and Restrictions
Keep in mind that Club Lounge Access Awards are only redeemable at participating Hyatt hotels and resorts with a club lounge. In other words, they can't be used at Caption by Hyatt, Hyatt Place, Hyatt House, Miraval, Destination by Hyatt Residences, Vacation Ownership Properties hotels and resorts, and any other property that lacks a club lounge.
Club lounge access is subject to availability and space limitations, and awards cannot be redeemed when making a reservation at a hotel or resort that has not yet opened.
That makes this a pretty limited award in terms of the footprint of properties it can be used at but that doesn't mean there aren't exceptional properties that you can redeem the benefit at, especially internationally.
Maximizing Your Club Access Awards as a Globalist
As a Globalist member, you already enjoy guaranteed club lounge access at participating hotels. So how can you maximize the value of your Club Access Awards?
Here are two scenarios where these awards could come in handy:
If you travel with a group and book multiple rooms, you can use a club lounge access award to secure lounge access for the second room. This could allow your friends or family to enjoy access to the lounge as well.
If you don't requalify for Globalist status but have club lounge access awards that are valid for longer than your status, you can secure club access for yourself using these awards.
Of course, these are pretty niche uses. Of all of World of Hyatt awards, this is probably the least useful to the average Globalist and many of us find them gathering dust in our World of Hyatt account.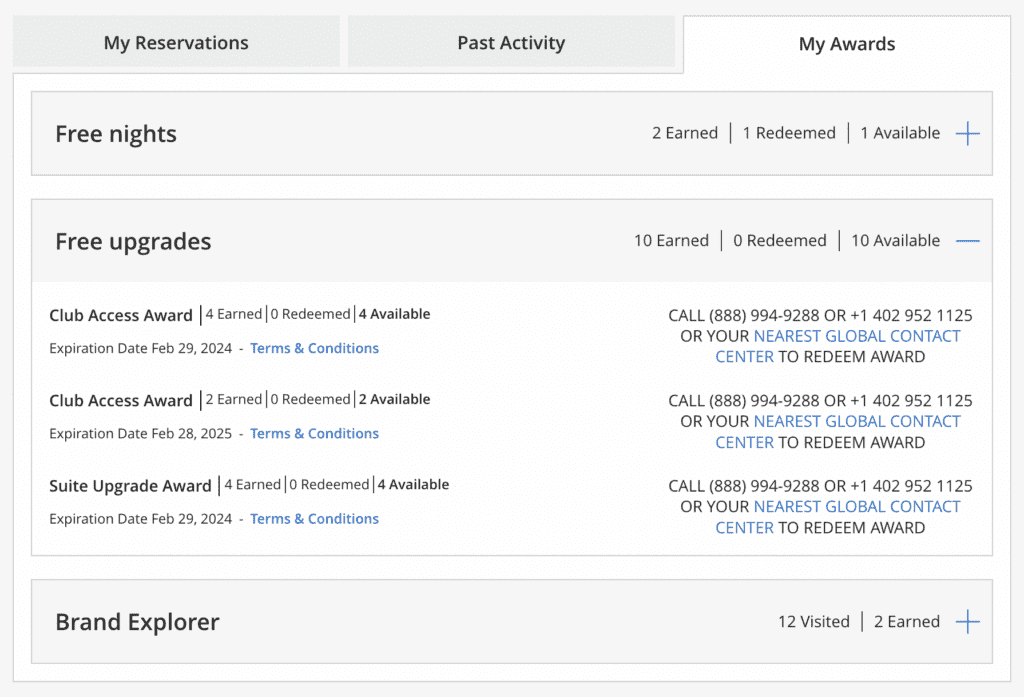 The icing on the cake is that club access awards are one of the few World of Hyatt benefits that cannot be transferred to others traveling alone.
Even redeeming points or free night certificates for friends or family isn't a use-case for these awards since any guest you book like this will inherit your Globalist benefits for their stay including club access as a Guest of Honor.
In my case, Club awards are the only World of Hyatt benefit that I allow to regularly expire without use.
Full Terms & Conditions of World of Hyatt Club Access Awards
The full terms & conditions of the Club Access Award as published by Hyatt are below:
Club Access Award is valid through the end of the year in which it is earned plus fourteen (14) months and must be redeemed in connection with a reservation with a checkout date before the expiration date. Club Access Award must be redeemed in advance when making the underlying room reservation by calling 800.544.9288 or your nearest Hyatt Global Care Center. Reservations for Club Access Award redemption are subject to availability. Club Access Award is redeemable only at participating Hyatt hotels and resorts that have a Club lounge and is not valid at Miraval, Caption by Hyatt, Hyatt Place, Hyatt House, Destination by Hyatt Residences, or Vacation Ownership Property hotels and resorts, Small Luxury Hotels of the World hotels, or MGM Rewards destinations. Access to a hotel or resort's Club lounge is subject to the individual hotel or resort's lounge maximum capacity. Club Access Award is valid for access to the Club lounge on nights for which the Member has paid an Eligible Rate or has redeemed points for a standard-room Free Night Award, Suite Free Night Award, or a Points + Cash Award (as those terms are defined in the World of Hyatt program terms), up to a maximum of seven (7) consecutive nights. Not valid in connection with any Free Night Award other than those identified above, including, without limitation, Hyatt Credit Card premium and anniversary Free Night Awards, Brand Explorer Free Night Awards (as defined in the World of Hyatt program terms), or any other promotional Free Night Award. Breakfast will not be provided to a member at participating hotels or resorts without Club lounge access available. Club Access Award is not redeemable in connection with hotels or resorts that have not yet opened when you make your reservation, even if reservations for such hotel or resort are otherwise being accepted. For complete terms and conditions of the World of Hyatt program, including additional terms applicable to the use of this award, see worldofhyatt.com/terms.  
Bottom Line
The World of Hyatt Milestone Rewards program offers valuable perks such as suite upgrade awards, bonus points, and free night certificates. While Club Access Awards may cause confusion for Globalist members who already have guaranteed club access, there are a few niche use cases where they might come in useful.
Using your Club Access Awards when booking multiple rooms or planning future stays without requalifying for Globalist status can help you get value from these usually overlooked awards. While this is not nearly as useful as the Globalist breakfast benefit, Globalist Complimentary Suite Upgrades, and Suite Upgrade Awards as milestone rewards, it's another way a World of Hyatt membership can elevate your travel experience.