Southwest Airlines offers an enticing fare option that has become a favorite among seasoned travelers: the "Wanna Get Away" fare.
Southwest offers four options include Wanna Get Away, Wanna Get Away Plus, Anytime, and Business Select.
Wanna Get Away is the cheapest option, but, not surprisingly, it comes with significantly fewer benefits than the other fare options. It's known for its unbeatable blend of affordability and flexibility and is a traveler favorite. But if you're considering booking a Wanna Get Away fare on Southwest Airlines, you may be wondering if this is the best fit for you out of Southwest's four fare options.
You're probably already familiar with restrictions that come with booking the cheapest fare options but Southwest puts its own unique spin on its most basic fare category. Luckily, we've got the low down. Here's everything you need to know about Wanna Get Away fares on Southwest, the tradeoffs, how boarding works, and tips for getting the best deal.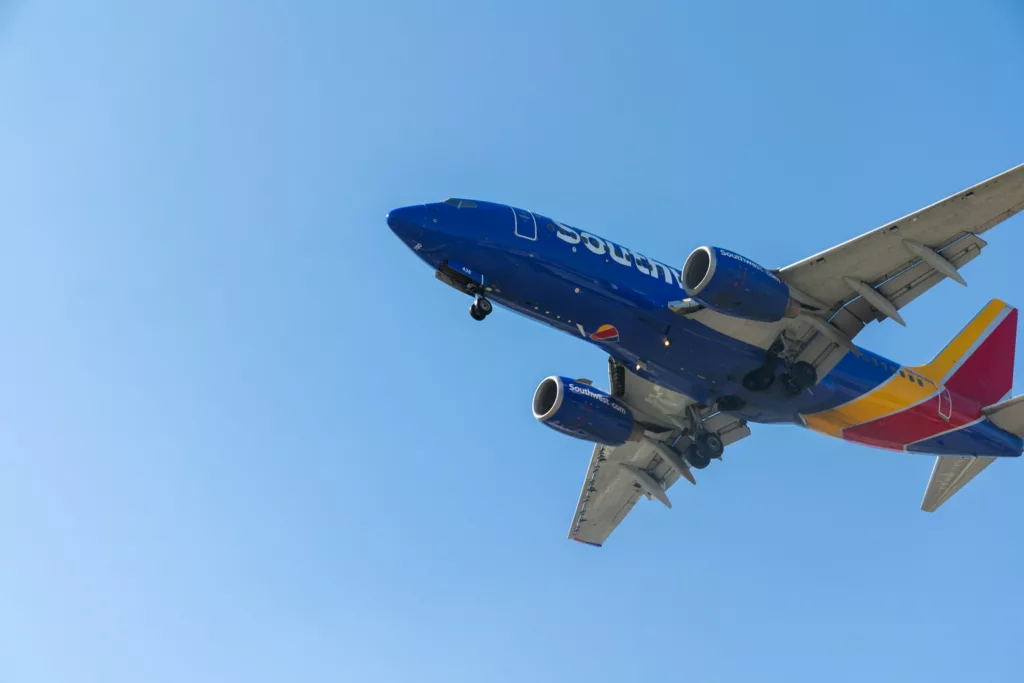 What is Wanna Get Away on Southwest Airlines?
Southwest's Wanna Get Away fares represent the airline's most economical price tier. It sits below Wanna Get Away Plus, Anytime, and Business Select among Southwest fare classes. In other words, it's designed for the most budget-conscious travelers flying on a budget carrier.
While these fares are non-refundable, Southwest's "no change fees" policy still applies to the tickets. That means that the value can be applied towards future travel on Southwest Airlines (for the originally ticketed passenger only) in cases of changes. This unique feature offers a level of flexibility rarely seen in the budget fare category.
Moreover, despite being a lower-cost option, Wanna Get Away fares still come with two free checked bags. This is a significant advantage, considering that many airlines charge hefty fees for checked luggage.
Wanna Get Away tickets come with additional restrictions. They are not refundable but you can receive a flight credit usable towards future travel on Southwest.
Wanna Get Away ticket holders are also ineligible for same-day change or standby benefits. This means that if your travel plans change, you won't be offered a seat on another same-day flight or be able to get on a waitlist for a same-day standby flight.
That's only available to travelers with Anytime and Business Select tickets (and some Rapid Rewards elite members).
Southwest Wanna Get Away Baggage Allowance
It's not all restrictions with Southwest's lowest fare type. Southwest relies on its generous luggage policy as a point of differentiation on the market and this extends to all ticket holders, including Wanna Get Away flyers.
On Southwest, you'll always get at least two free checked bags with your ticket. That includes Wanna Get Away.
You also get one carry-on-sized bag and one personal item included in all fares including the Wanna Get Away fare.
Earning Rapid Rewards Points on a Wanna Get Away Ticket
Unlike some carriers, Southwest will still let you earn Rapid Rewards points on a Wanna Get Away fare.
Wanna Get Away fares earn 6 Rapid Rewards points per dollar spent. That's compared to 10 and 12 points for the Anytime and Business Select fares, respectively.
That means that you're earning back around 7.2% in points for anything you spend with Southwest on a Wanna Get Away fare based on our valuation of each Southwest mile being worth about 1.2 cents.
Rapid Rewards redemptions are revenue-based. Southwest does not have partners so the value of a Rapid Rewards point towards flights is fairly consistent toward airfare. While it's always good to earn miles flying, we generally wouldn't advise buying Rapid Rewards points at anything over 1.2 cents a point given its fixed value.
How Does Wanna Get Away Compare To Other Southwest Fares?
In the following table, you can find how Wanna Get Away fares are different from the other three fares. More about the fare rules find here.
Wanna Get Away
Wanna Get Away Plus
Anytime
Business Select
Rapid rewards earnings
6x fare price
8x fare price
10x fare price
12x fare price
Two free checked bags
☑️
☑️
☑️
☑️
Carry-on bag and personal item
☑️
☑️
☑️
☑️
No change/cancelation fees
☑️
☑️
☑️
☑️
12-month flight credit if you cancel
☑️
☑️
☑️
☑️
Transferable flight credit for
Rapid Rewards Members
N/A
☑️
☑️
☑️
Same-Day Confirmed Change
Fare difference
may apply
☑️
☑️
☑️
Refundable
N/A
N/A
☑️
☑️
Same-day standby list
Fare difference
may apply
☑️
☑️
☑️
Priority and express lanes
N/A
N/A
☑️
☑️
Automatic check-in
Extra charge
Extra charge
Early Bird
included
Priority boarding
(A1-A15)
Premium drink on
flights 176 or more miles
Extra charge
Extra charge
Extra charge
☑️
How does seating and boarding work?
On Southwest, you don't receive a seat assignment when you buy your ticket or even at check-in. Southwest has a notoriously unconventional boarding system. There's no assigned seating. You can't choose your seat in advance.
Instead, you'll join a scramble for seats as you board your plane. Naturally, that makes boarding the plane early to have a better chance of getting your preferred seat critical if it's important to you.
How does Southwest arrange that? Your boarding group (A, B, C) and position (1-60) will determine when you can board the plane. The sooner you check in, the better position you get. You can check in for your flight starting 24 hours before departure time.
However, if you want to guarantee a better boarding group, which is A, you can purchase a Business Select fare. With this fare, you'll be guaranteed an A1 to A15 boarding position. You can also pay to be automatically checked in with any fare and members with elite Rapid Rewards status also get to board earlier.
How to book a Wanna Get Away fare on Southwest?
It's important to know that Southwest doesn't allow online travel agencies and aggregators like Google Flights or Skyscanner to display prices for its flights. To find out how much Southwest charges for a particular flight, you'll need to check directly on Southwest.com.

Like booking any flight, being flexible with travel dates will allow you to select a day with lower rates. It also helps to not book your flight last minute.
If you're planning travel far in advance, keep an eye out for sales and promotions, as Southwest often offers discounted fares for a limited time. You can follow Southwest on their social channels or sign up for their email alerts to make sure you don't miss out. Or stay tuned on Travel Spill when there's a particularly good sale 😘
Wanna Get Away Availability and Booking: Timing is Key
Wanna Get Away fares are not always available for every flight. They are capacity-controlled, which means that there are a limited number of these fares on each flight. Due to their popularity, they often sell out quickly.
As such, it's advisable to book these fares as early as possible to secure the best deal. If you're flexible with your travel dates, you can use Southwest's Low Fare Calendar to find the dates with the cheapest Wanna Get Away fares.
Wanna Get Away vs. Anytime and Business Select: A Comparative Analysis
As we mentioned before, Southwest offers four fare classes: Wanna Get Away, Wanna Get Away Plus, Anytime, and Business Select. Each has its unique benefits and trade-offs, and understanding these can help you make the best choice for your travel needs.
We thought it'd be helpful to break down the differences between Wanna Get Away, Anytime, and Business Select fares. That way, you can decide if booking a Wanna Get Away fare is worth it or if you should splurge for a ticket with more inclusions.
What's the difference between Wanna Get Away and Anytime?
While Wanna Get Away fares are non-refundable, they can be canceled for credit toward future travel.
Anytime fares, on the other hand, are fully refundable and offer more flexibility. They allow for same-day changes and standby benefits, making them a good choice for travelers with uncertain plans. Anytime fares also earn more Rapid Rewards points per dollar spent, which can be a significant advantage for frequent flyers.
What's the difference between Wanna Get Away and Business Select?
Business Select is Southwest's premium fare class. It includes the same flexibility offered by Anytime tickets. It also offers priority boarding (A1-A15), a complimentary premium drink, and the highest earning rate for Rapid Rewards points.
These perks come at a higher cost, but for travelers who value convenience and comfort, Business Select can be worth the extra expense.
Is Wanna Get Away the best fare for you?
As with anything in travel, it's crucial to understand the importance of weighing the costs and benefits of different fare options.
Wanna Get Away fares are the cheapest option offered by Southwest Airlines, but there are some significant restrictions and trade-offs. If a refundable fare or same-day change or standby benefits are important to you, this might not be the fare you want to book. However, if you're looking to save money on your airfare and don't mind the restrictions, Wanna Get Away might be the best option for you.
It's important to keep in mind that Southwest's other fare options, such as Wanna Get Away Plus, Anytime, and Business Select, offer more benefits and flexibility. If that's important to you, it might be worth the extra cost.
Ultimately, the best fare option for you will depend on your personal travel needs and budget. So make sure to consider all the benefits and limitations and do your own analysis.
Have more questions about Wanna Get Away or Southwest? Let us know and we'll update this post with answers.