Southwest Airlines is known for its unique, free-for-all boarding process that might be more reminiscent of the Hunger Games than what passengers are used to on other airlines. Instead of assigned seats, Southwest Airlines assigns boarding positions to passengers, allowing them to scramble to choose seats upon boarding on a first-come, first-served basis.
For travelers who value flexibility and a more personalized in-flight experience, Southwest's boarding process can be an attractive option. However, the process can be confusing and overwhelming for those who are unfamiliar with it. This guide will help you understand Southwest's boarding order, how Southwest's boarding process works, how to secure a favorable boarding position, and the logistics of the process so you can get the best seat even if you booked a Wanna Get Away fare.
How Does Boarding on Southwest Airlines Work?
Unlike other airlines, Southwest does not assign seats to passengers at the time of booking.
Instead, passengers are assigned a boarding position when they check in for their flight. During check-in for Southwest Airlines, you will receive a designated boarding group and position, ranging from A to C and 1 to 60 respectively. This information will be printed on your boarding pass.
The boarding process will start with Group A, followed by Group B, and then Group C. Each category has a range of numbers, and passengers are assigned a specific number within their category. This boarding position determines the order in which passengers board the aircraft and select their seats.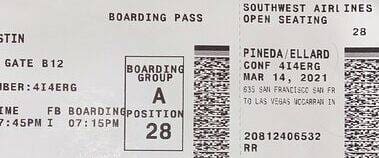 During the boarding process, the gate agent will announce the boarding groups and their corresponding positions (e.g., Group A, positions 1-30). You should head to the gate area and stand between the numbered posts, or "boarding columns" as Southwest terms them, that correspond to your assigned boarding position.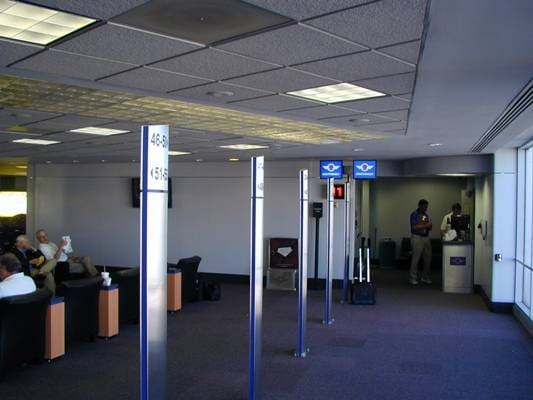 Then, you board with your group when you're called. Once you're on the plane, you can choose any available seat and store your belongings in the overhead bin or under the seat in front of you. Prepare for takeoff!
Of course, if your goal is to board the plane first, it's smart to aim for boarding group A. However, if you end up boarding group C and position 60, you might have to settle for a middle seat in the back next to the toilet.
Pro-tip: Be ready to board when your group is called! Pay attention to the boarding announcements and be ready to board when your group is called. Unlike on other airlines, if you show up to board last minute, you will lose your boarding position and it's unlikely your preferred seat will still be available onboard.
What Is the Southwest Boarding Order
Southwest's boarding order is based on the boarding positions assigned to passengers. The boarding order is as follows:
Pre-boarding: This is for passengers who need extra assistance, such as those with disabilities, unaccompanied minors, and families with young children.
Business Select: This is for passengers who have purchased a Business Select fare. These passengers are assigned the first boarding positions in the A group (A1-A15).
Upgraded Boarding: Passengers flying with Anytime, Wanna Get Away, or Wanna Get Away Plus fares have the ability to purchase Upgraded Boarding starting at $30 per segment based on availability. This will allow them to board A1-A15 as well.
Group A: After Business Select & Upgraded Boarding complete boarding, other passengers in Group A will have the opportunity to board (positions A16-A60).
Group B: Passengers with boarding positions B1-B60.
Group C: Passengers with boarding positions C1-C60.
How to Get Your Southwest Boarding Position
To get your Southwest boarding position, you can check in online or using the Southwest app starting exactly 24 hours before your flight's scheduled departure time.
You can use a mobile boarding pass, print your boarding pass at home, or get a boarding pass at the airport. If you forget to check in ahead of time, you will be assigned a boarding position at airport check-in.
How to Get the Best Seat on Southwest Airlines
People have varying preferences when it comes to airplane seating, but one way to secure the best seat on a Southwest flight is to have an A1-15 boarding group position. As the first group to board, passengers with this position have the opportunity to select from almost any available seat on the plane.
There are three ways to ensure an A1-15 group position, but they come at a cost.
1. Purchase a Business Select fare
Business Select fares offer various benefits, including Fly By priority lane access, a complimentary premium drink, and guaranteed receipt of an A1-A15 boarding position. If you're willing to pay for a seat upgrade, it's almost always better to opt for Business Select because you'll get benefits like elevated points earning and the guarantee of a good seat. However, these fares are usually quite a bit more expensive than Wanna Get Away fares. 
2. Buy an upgraded seat
To increase your chances of getting an A1-A15 boarding position on Southwest, you have the option to purchase upgraded boarding when it is available. This allows you to buy any remaining positions within that range for an additional fee. Upgraded boarding can be purchased on the day of travel at the ticket desk or gate, or up to 24 hours before takeoff through Southwest's website.
The cost of upgraded boarding varies depending on your itinerary, typically ranging from $30 to $50 per segment. Once the 24-hour check-in window begins, these positions are not assigned to regular ticket customers. Therefore, if there is a low number of elite flyers or Business Select passengers on the flight, there may be some A1-A15 positions available for purchase.
3. Use a Southwest credit card
Get a complimentary upgraded boarding position on Southwest by having the Southwest Rapid Rewards Priority Credit Card or the Southwest Rapid Rewards Performance Business Credit Card. This benefit allows you to receive up to four upgraded boardings to positions A1-A15 every year on your anniversary. The process for getting upgraded boarding is the same as for any other customer, requiring you to buy it at the ticket desk or gate on the day of travel, and it's subject to availability.
You'll receive a credit reimbursement for the cost, whether it's $30 or $50. You can purchase all four upgraded boardings at once or for different flights, giving you the option to upgrade your seat once or enjoy the VIP treatment multiple times throughout the year.
Other Ways To Secure Better Seats On Southwest
If getting an A1-A15 boarding position is not necessarily your goal or isn't feasible, you still have options to improve your chances in Southwest's seating Hunger Games. Here are some tips on how to get your preferred seat on Southwest Airlines:
Check-in early: The earlier you check in for your flight, the better your chances of getting a good boarding position. Check in online or using the Southwest app exactly 24 hours before your flight's scheduled departure time.
Pay for early bird check-in: For an additional fee, you can purchase EarlyBird Check-In from Southwest and they'll automatically checks you in 36 hours before your flight's scheduled departure time. While it might not get you into A1-A15, you'll still have a great chance of having a higher boarding position.
Earn A-List elite status: Southwest will automatically reserve boarding positions for all elite members of its Rapid Rewards frequent flyer program and their travel companions 36 hours prior to departure. See the complete terms for details.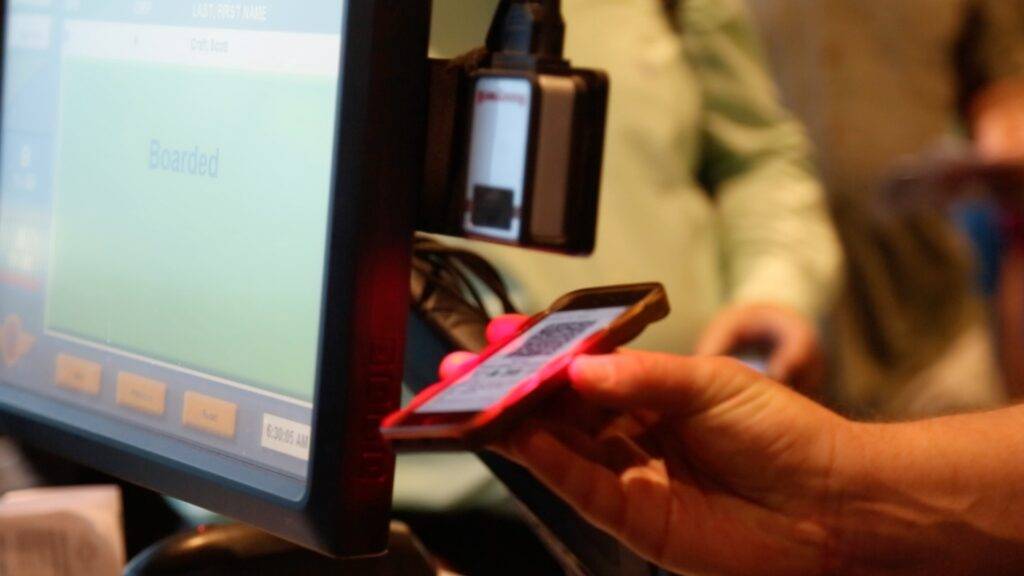 The Logistics of Boarding Southwest Flights
Boarding a Southwest flight can be a little chaotic, but there are some things you can do to make the process smoother for everyone on board. Your passengers and crew will thank you.
Know which seats to choose: The best seats on Southwest Airlines are typically the exit rows and bulkhead seats. These seats offer more legroom and are located at the front of the aircraft.
Move quickly down the aisle: Once you board the aircraft, move quickly down the aisle to find a seat. This will help keep the boarding process moving smoothly.
Store your luggage quickly: If you have a carry-on bag, try to store it quickly to avoid blocking the aisle.
Bottom Line
Southwest's boarding process is different from other airlines and requires passengers to be aware of their assigned boarding position and boarding groups. While this process can provide passengers with the opportunity to select their desired seat and potentially improve their overall travel experience, its enjoyableness may vary depending on the individual traveler's preferences and circumstances.
Some passengers may find Southwest's boarding process stressful or chaotic, particularly if they are not familiar with the process or have specific seating requirements. Others may appreciate the flexibility and convenience that the process provides. Factors such as travel purpose, route, and time of day can also impact how Southwest's boarding process goes.
Regardless of how you feel about Southwest's boarding process, if you find yourself flying the Luv carrier, understanding how boarding works and following the tips provided can help ensure a smoother boarding experience — and help you get the seat you want.