Hotel loyalty programs offer many benefits to their members, from room and suite upgrades, free nights, lounge access, and more. One favorite benefit among members is getting a free hotel breakfast. Various elite breakfast benefits are often favorites with frequent travelers so we asked, which loyalty program offers the best way to get a free hotel breakfast?
Which program has the best breakfast benefit?
It's impossible to say which program has the best breakfast benefit, but knowing the pros and cons of each program will help you pick the program that works best for you. If breakfast is important to you, join us as we compare the elite breakfast benefits offered by four of the largest hotel loyalty programs: Marriott Bonvoy, Hilton Honors, World of Hyatt, and IHG One Rewards so you can pick the program that works best for you.
Program
Bottom line
World of Hyatt
The most consistent and generous elite breakfast benefit for Globalists but Hyatt has a smaller footprint than competitors meaning fewer properties to use the benefit.
Jump to section.
IHG One Rewards
IHG elite breakfast benefit for Diamond members is new and the rollout has been bumpy, but it looks good on paper if the benefit is consistently applied.
Jump to section.
Marriott Bonvoy
One of the most convoluted and inconsistently applied perks in loyalty is the Bonvoy breakfast benefit for Platinum elites and above, but Marriott has the biggest footprint of any chain meaning plenty of places to use it.
Jump to section.
Hilton Honors
Hilton Honors replaced complimentary breakfast with a daily F&B credit for Gold & Diamond elites with amounts that vary by brand. If you're not interested in breakfast, Hilton's benefit can be a worthy replacement.
Jump to section.
World of Hyatt
Hyatt Globalist members get free breakfast on stays at almost every World of Hyatt property. If the property has a club lounge, breakfast is offered there. If it doesn't, a "full breakfast" including a minimum of one entrée or buffet, juice, and coffee is offered in the hotel restaurant.
The benefit is for up to 2 adults and 2 children per room. Taxes, service charges, and gratuity are expressly included. That makes Hyatt's Globalist Breakfast Benefit one of the most generous in the industry.
Exceptions to this benefit include Small Luxury Hotels of the World, Miraval Resorts, Hyatt Place, Hyatt House, and most vacation ownership properties. However, Small Luxury Hotels of the World generally offer free breakfast on any bookings through Hyatt while Miravel Resorts are all-inclusive, and Hyatt Place and Hyatt House offer everyone free breakfast.
Most Hyatt hotels go above and beyond the minimum requirements, offering both a la carte options and a buffet, even though it's not required.
On a recent stay at the Hyatt Centric Milan Centrale, I overheard a guest saying that the breakfast was the best one they had in Italy. For Globalists, that breakfast was included at no extra charge. At Hyatt, not only do you get a free hotel breakfast, you often get a really good breakfast.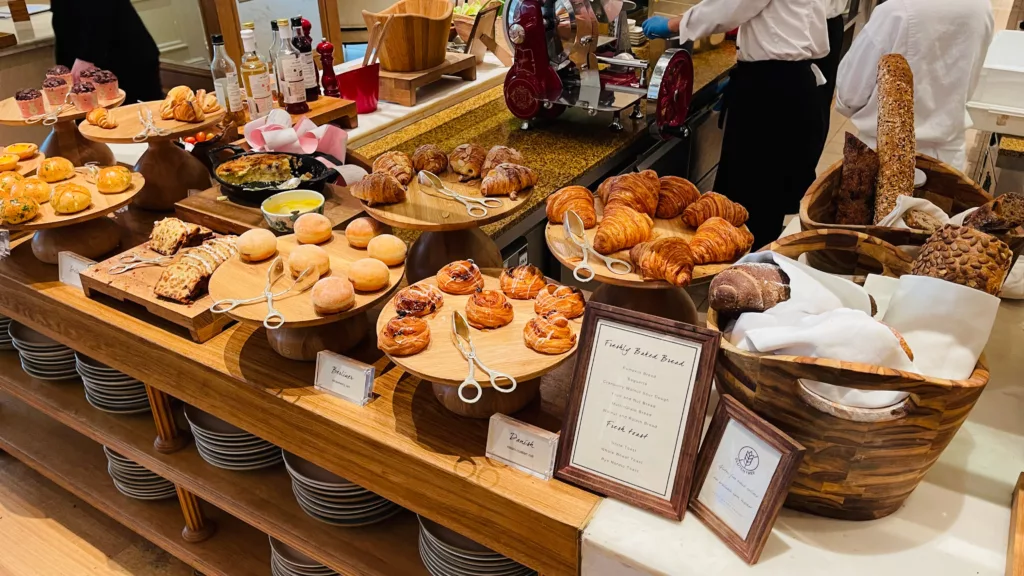 Some hotels, including the Park Hyatts in New York, Tokyo, and Paris, even offer the Globalist breakfast benefit as room service.
Other Hyatts will even include alcoholic drinks like Mimosas in the breakfast as the Park Hyatt Saigon recently did. While the Hyatt benefit is by far the most generous and consistently applied, Hyatt has the smallest footprint meaning fewer places to utilize Globalist benefits.
IHG Rewards Club
The IHG One Rewards breakfast benefit is a new perk for Diamond Elite members. With this benefit, you and one guest can enjoy a complimentary hot breakfast each day of your stay. Simply select the breakfast option as your IHG One Rewards welcome amenity during check-in.
Note that this benefit is only available at certain participating full-service and select-service IHG brands and excludes some brands. For example, it does not apply at Six Senses Resorts and Vignette Collection. But the IHG One Rewards breakfast benefit is a newly introduced perk and there's some inconsistency in application since the application rollout.
Some properties are more generous with the breakfast benefit than others. Be sure to ask about taxes, service charges, and gratuity before you select this option.
Marriott Bonvoy
The Marriott Bonvoy program is a large loyalty program with 140 million members, spread over 30 hotel brands in more than 7,000 properties globally. The program's complimentary breakfast benefit is available to Platinum elite members and above. In other words, there's no incremental benefit for Titanium elites and Ambassadors when it comes to breakfast.
The breakfast benefit varies depending on the property and brand. Some brands offer a food & beverage credit, some offer a complimentary breakfast, and others don't offer any breakfast benefit to elite members.
The Marriott Bonvoy Elite Breakfast Benefit can be very good at some properties, especially at legacy Starwood properties. The problem with the Marriott benefit is the convoluted nature of the benefit with numerous exceptions and limitations. There are also many reports of properties playing games with the benefit to give even Marriott's top elites less than what the terms specify.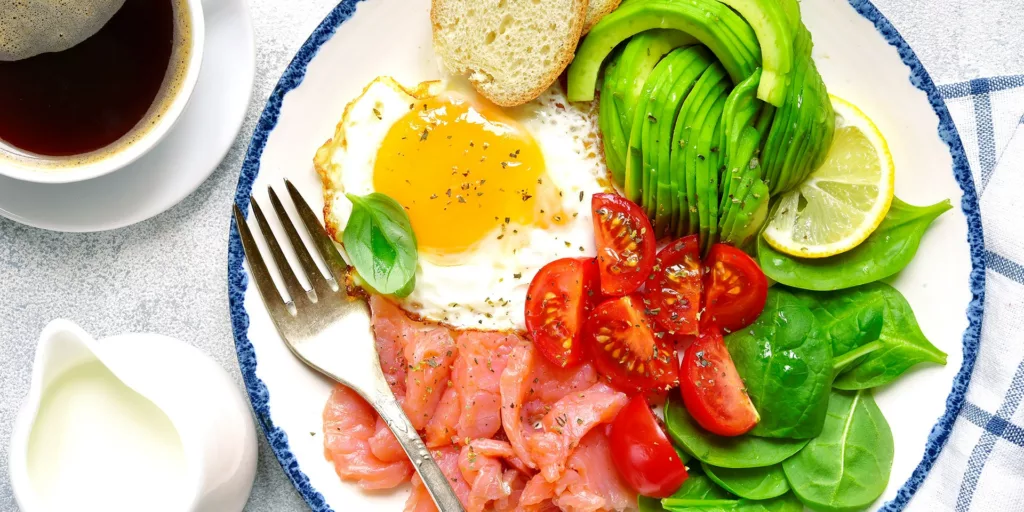 Although Marriott benefits from having the largest footprint of any hotel chain and the largest loyalty program, you can't ever be sure if the property you're staying at will live up to its side of the deal. Even if you know the terms, you might get less than the terms specify you deserve.
Hilton Honors
The Hilton Honors Elite Food & Beverage Credit is a complimentary credit offered to Hilton Honors Gold and Diamond members in the U.S. The credit can be used for any eligible food or beverage purchases billed to the room and varies in amount based on the brand and location of the hotel, with a maximum of $25 per person per night and a minimum of $10 per person per night.
Members must select the credit as their MyWay benefit in their online profiles. The credit is not valid outside of the U.S., except at Motto by Hilton properties globally. Taxes, service charges, and gratuity are not included in the credit.
The daily F&B credit replaces the previous complimentary breakfast benefit. It may not provide the same value as breakfast, but it is intended to be flexible, usable at any time of day for any F&B. It is also stacked on top of breakfast if breakfast is included in the rate.
The benefit might be useful to you if you're not a breakfast person and prefer a flexible credit that can be used for a drink or towards another meal. It could also be beneficial if you usually book rates that include breakfast anyway.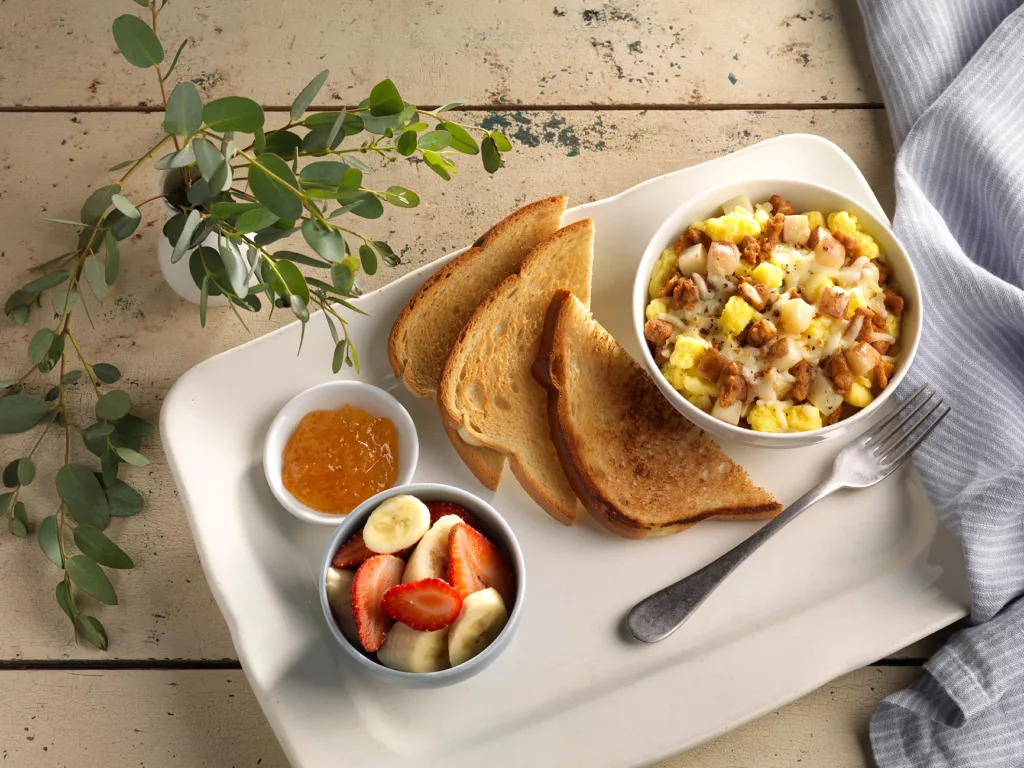 How Do The Elite Breakfast Benefits Compare?
World of Hyatt's breakfast benefit is the best of the four hotel loyalty programs we've compared. It's full breakfast offering is available at all Hyatt-branded hotels worldwide, making it a consistently generous and valuable benefit to members. However, it is important to consider the limitations of the Hyatt Globalist benefit.
Despite good elite recognition, including confirmed suite upgrades and a generous breakfast benefit, World of Hyatt may not be the best option for travelers who frequent destinations without a Hyatt property. Benefits aren't much use if you have nowhere to use them.
Marriott Bonvoy offers a more limited and complicated breakfast benefit that varies by hotel brand and location, making it less consistent than World of Hyatt. You'll also have to deal with (more) hotels playing games with the benefit and trying to provide less than what you're entitled to. IHG Rewards Club's breakfast benefit is standard, but is only available at select hotels, limiting its value. It's also something that's been recently rolled out and that's been bumpy at best.
Meanwhile, Hilton Honors does not offer a breakfast benefit in the United States anymore, just an F&B credit. While you may be able to get a full breakfast, it's often not the case.
So which hotel's loyalty program offers you the chance to get the best free hotel breakfast?
If you're looking for a hotel loyalty program with a consistently generous breakfast benefit, World of Hyatt is the clear winner. But it's the brand with the smallest footprint.
If you frequently travel to destinations where there's no Hyatt and need a looking for a chain with a larger footprint, then Marriott Bonvoy or IHG One Rewards may be a better option even though they feature a less generous benefit.
If you're not a breakfast person but value a F&B credit and travel frequently in the United States, then Hilton Honors having replaced complimentary breakfast with an elite F&B credit in the United States may be appealing to you.
Bottom line
Compare the elite breakfast benefits offered by Marriott Bonvoy, Hilton Honors, World of Hyatt, and IHG One Rewards. Discover the pros and cons of each program, the terms and conditions of the elite breakfast benefits, and which program is most generous and consistent in giving free hotel breakfasts as a benefit for its elite members.