Marriott's loyalty program offers five levels, with the Marriott Bonvoy Ambassador status being the crème de la crème. It's not an easy status to earn but it comes with a suite of published benefits to match including club lounge access, suite upgrades, and flexibility to select check-in and checkout times.
With 100 nights and over $23,000 in annual spending at Marriott required, earning Ambassador is no easy task. Of course, Marriott is the world's largest hotel chain with approximately 1,500,000 rooms around the world so there are plenty of places to earn and benefit from the status.
Holding Marriott's top-level status requires substantially more investment both in terms of nights and an added spending requirement from lower tiers. Is it worth going for? This guide will help you understand how to earn Marriott Bonvoy Ambassador status, explore its benefits, and decide if it's worth pursuing for you.
How to Earn Marriott Bonvoy Ambassador Status
Marriott Bonvoy Ambassador is the highest tier in Marriott Bonvoy and is also the only one that can't be earned simply by getting a certain number of qualifying nights.
To become a Marriott Ambassador member, you need not only at least 100 elite qualifying nights but also at least $23,000 in eligible spending with Marriott in a calendar year.
As you can see in the chart below outlining status requirements for each Marriott level, Ambassador is the only status that has a spending requirement in addition to requiring a number of nights:
It's worth noting that you cannot earn Ambassador status by simply spending $23,000 in one stay. You need to both earn the 100 nights and spend $23,000 over the course of the year. That's unique from other hotels where the night requirement can be bypassed with sufficient spending.
Finally, while it's impossible to entirely avoid the requirements using credit cards, credit cards can definitely ease your path to Ambassador status. Let's dig into the various strategies to earn Ambassador Status.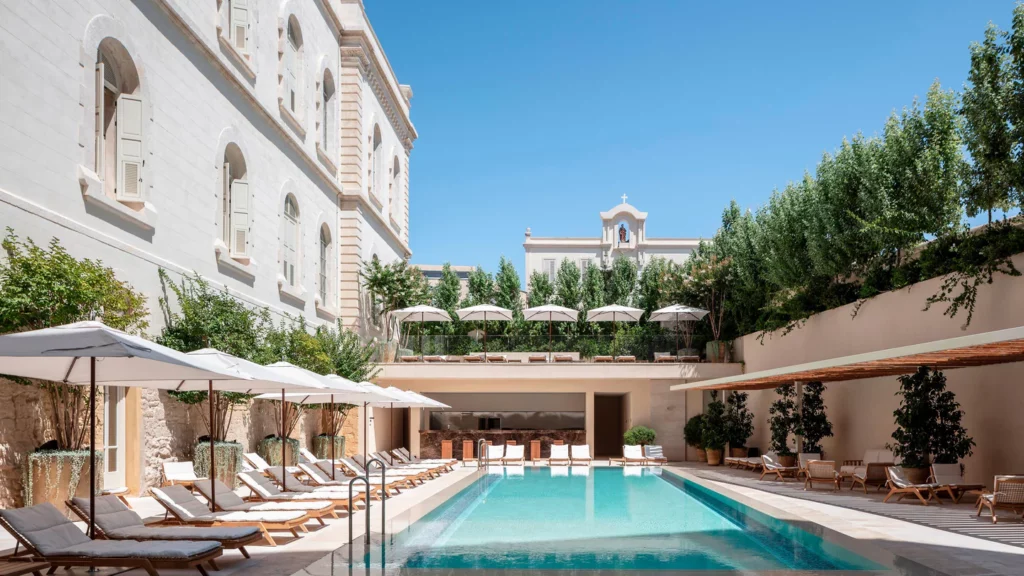 Earning 100 Nights Towards Marriott Ambassador
The most straightforward way to earn Marriott Bonvoy Ambassador status is by accumulating hotel stays and spending at least $23,000 in the process.
The 100 qualifying nights can be a combination of paid stays and award stays, as long as they are booked directly with Marriott. This means that stays booked through third-party websites or travel agents will not count toward your elite qualifying nights or qualifying spend.
When staying at Marriott properties, only the room you personally occupy will count towards your elite qualifying nights. However, all rooms on the reservation will earn points for the cost of the room and any eligible charges.
Getting Additional Marriott Elite Nights Through Credit Cards
For Americans, Marriott's co-branded credit cards can significantly accelerate your journey toward earning Ambassador status. The credit cards can help you earn up to 40 Marriott Bonvoy elite nights annually.
The following cards offer 15 elite nights per year towards status as an ongoing perk:
Marriott Bonvoy Bold® Credit Card
Marriott Bonvoy Boundless® Credit Card
Marriott Bonvoy Business® American Express® Card
Marriott Bonvoy Bevy™ American Express® Card
Meanwhile, the Marriott Bonvoy Brilliant® American Express® Card provides 25 elite nights per year as an ongoing perk.
There is a cap of 40 elite nights a year from credit cards allowed from a maximum of one personal card and one business card.
It's crucial to note that you can only stack benefits from one personal card and one business card, regardless of how many total cards you hold.
That's why, to maximize elite nights, you'll want to combine the Marriott Bonvoy Brilliant® American Express® Card and Marriott Bonvoy Business® American Express® Card, offering an automatic 40 elite nights at the year's commencement.
This could be useful if you're a big spender frequently booking luxury properties and eating on-property who doesn't have an issue meeting the $23,000 qualifying spending requirement.
Of course, for most Marriott customers, the spending requirement will be the tougher hurdle to qualify for Marriott Bonvoy Ambassador.
How to Earn $23,000 in Qualifying Spend for Marriott Ambassador
While spending requirements are commonplace for earning airline status, Marriott is unique among major hotel programs in making this a requirement for status. To earn Ambassador, members have to achieve $23,000 in qualifying spend in addition to the 100 nights requirement.
The qualifying spend is determined by "Qualifying Charges" that you've incurred during stays in the course of the year.
What does that mean? Marriott explains:
Qualifying Charges for Participating Properties include Qualifying Rates for Stays, Food and Beverage with a Stay, and in-room phone/movies/video games. They do not include on-property charges earned without a hotel Stay, Food and Beverage without a Stay,  Marriott Bonvoy® Events, Cobrand credit card spend, purchasing a Marriott Bonvoy® gift card and other Non-Qualifying Charges (No Show charges).   At all times the Member must Check-In and Stay.

At The Ritz-Carlton Yacht Collection, only the cash portion paid towards the Cruise Fare and RCYC Hotel Package Rate are applied to the Annual Qualifying Spend.

In addition, Qualifying Charges paid in advance for a Stay or Voyage occurring in the year(s) following the Qualifying Period are not included in the Annual Qualifying Spend for the current Qualifying Period.

While calculating qualifying charges for a Marriott stay may appear complex, these charges typically arise from a range of expenses at Marriott hotels and resorts. These include room rates, in-room dining and entertainment, spending at hotel restaurants, and an array of services at resorts such as premium food and beverage, spa services, golf bookings, and more.
In other words, "qualifying" spending is often more than just room rates. It's based on purchases eligible for points accrual including the room rate along with most food and beverage purchased during the stay and charged to the room. In addition, charges for in-room phone use, movies, and video games (if they are even still available) are counted as qualifying charges towards earning Ambassador.
You can also accrue qualifying charges on The Ritz-Carlton Yacht Collection on the cash portion paid towards cruise fare and RCYC Hotel Package Rate.
It's important to note that certain charges, such as banquets, meetings, service charges, taxes, and even the cash portion of Cash & Points stays (which are viewed as award stays), do not count towards qualifying spending. Spending on third-party tours and airport transfers, even if booked through the hotel will not count towards Ambassador status. Finally, pre-paid stays for the next year won't boost your Annual Qualifying Spend; only spending for stays completed in the year counts.
Bear in mind that what qualifies (beyond the room rate) can vary significantly from hotel to hotel. Some of the items listed above may count towards your status on some stays. However, once everything is factored in, achieving the $23,000 spending requirement may entail significantly more spending at Marriotts.
Can you earn qualifying spend towards Ambassador status with credit card spend?
You might be wondering if there's a way to use credit cards to ease your way toward meeting the $23,000 spending requirement to become a Marriott Bonvoy Ambassador. While I wish we had good news, we do not. Marriott is very specific that credit card spend on cobranded credit cards does not count towards the $23,000 in qualifying charges required for Ambassador status.
The only charges that count are when the member checks in and stays with Marriott.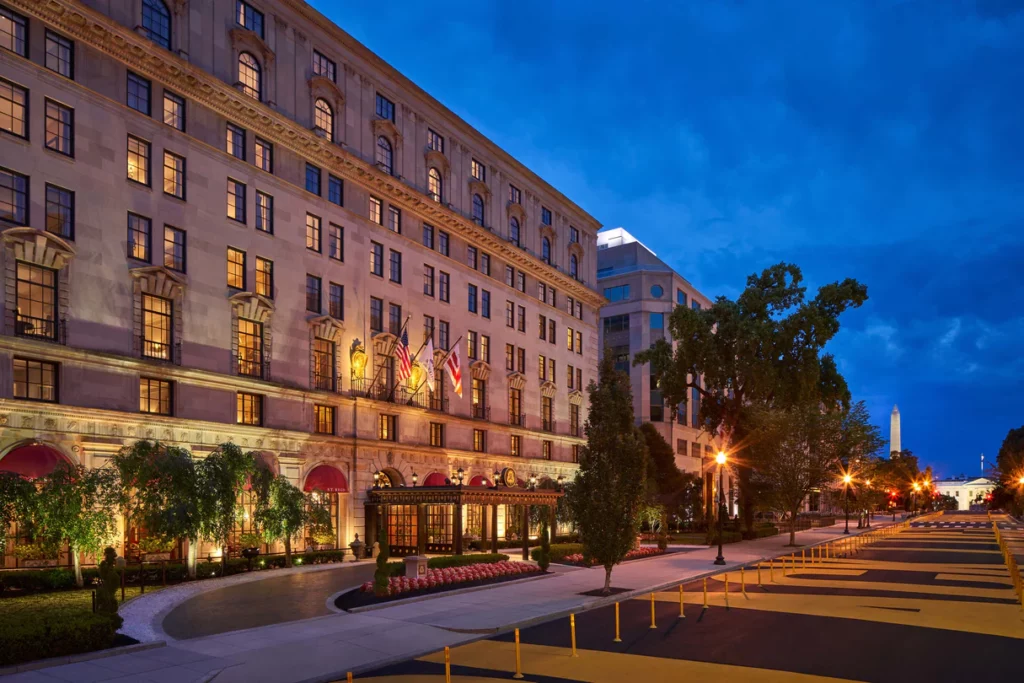 Key Benefits of Marriott Bonvoy Ambassador
Ambassador status offers all of the benefits of Titanium status along with a couple of exclusive benefits. The two exclusive benefits are a personal ambassador and the Your24™ program offering flexible check-in/check-out time.
Beyond these two benefits, Ambassadors simply get Titanium elite benefits carried over. Of course, while there may not be a published difference in benefits, Ambassadors will likely find that at some properties they get better soft treatment and preference for elite perks.
As always, refer to Marriott's website to reference the full terms and conditions or specific wording of any benefit here.
Personal Ambassador
You can find the biggest benefit of Ambassador status right in the name.
As a Marriott Ambassador, you get assigned a personal ambassador to assist you with your travel needs. This can include making reservations, arranging upgrades, or handling any issues that arise during your stay.
This personalized service can be a game-changer for frequent travelers, providing a level of convenience and support that goes beyond the standard customer service experience. It's supposed to be a white glove service that can also assist you with any special requests or ensure the hotel is prepared to help you celebrate special occasions like birthdays or anniversaries.
Your personal ambassador can help you navigate the complexities of the Marriott Bonvoy program, ensuring you make the most of your membership. They can also provide valuable assistance during your stays including helping resolve resolving any problems that may arise.
Of course, given that the ambassadors are assigned to you, your mileage might vary with this benefit depending on who you get assigned as your ambassador and your rapport with them.
Your24™
Your24™ is a unique benefit that allows you to choose your own check-in and check-out times.
For example, if you check in at 7 PM, you can check out at 7 PM on your departure day. This can be particularly useful for travelers with irregular schedules, such as business travelers or those with late-night flights.
With Your24™, you can maximize the value of your stay, ensuring you have access to your room when you need it most. This can eliminate the need for early check-in or late checkout requests, providing a seamless and convenient travel experience.
Note that this benefit is subject to availability so it's worth requesting ahead of time if this is important to you.
Titanium Benefits
As an Ambassador member, you inherit all the benefits of Marriott Titanium status. These benefits, which significantly enhance your Marriott experience, are outlined below.
Suite Upgrades
As a Marriott Ambassador, you are entitled to "Enhanced Room Upgrades" which extend all the way up to standard suites, subject to availability at check-in. The benefit is valid at all brands including the Ritz-Carlton except Marriott Vacation Club, Marriott Grand Residence Club, Aloft, Element, and Vistana.
While this benefit is shared with Platinums and Titanium elites, Ambassadors should theoretically receive priority when there is limited availability.
Executive Lounge Access
Ambassadors, along with a guest sharing the same room, have access to executive lounges at Autograph Collection, Delta, JW Marriott, Le Meridien, Marriott, Renaissance, Sheraton, and Westin hotels. These lounges offer amenities such as continental breakfast, evening snacks and drinks, and all-day access to soft drinks and coffee, though the quality can vary significantly. Many lounges, however, remain closed due to the pandemic.
Welcome Gift Choice (Elite Breakfast)
Upon arrival at a hotel, Marriott Bonvoy Platinum and higher, including Ambassadors, are presented with a welcome gift.
The welcome gift and elite breakfast benefit can be quite complicated but, depending on where you're staying, many brands offer complimentary breakfast as one of the choices.
The implementation of this benefit varies across brands and properties, with some offering breakfast as a choice of welcome amenities, while others provide a food & beverage credit for breakfast use and other variations. Of course, at participating properties, the elite breakfast benefit could provide a substantial advantage for those who appreciate a substantial morning meal (even though I wouldn't call it the best free breakfast benefit for elites).
Late Check-Out
Ambassadors get guaranteed late checkout across all Marriott Bonvoy non-resort properties at 4 pm. At resorts and convention hotels, Platinum members can still receive a 4 pm late check-out but it's subject to availability.
Note that Ambassadors still have the ability to benefit from this perk even if they're checking in early using Your24 as long as they're checking in to the property between 9 am and 4 pm.
48-Hour Guarantee
Marriott guarantees a room for Ambassadors as long as it's booked before 3 pm, 48 hours prior to arrival, even if the hotel is sold out. While this perk sounds great, it's subject to blackout dates and exclusions from certain brands and properties including resort hotels, Marriott Vacation Club Marriott Grand Residence Club, Design Hotels, and Ritz-Carlton Reserve, among others. Be sure to read the full terms and conditions if you're planning to utilize this perk.
75% Bonvoy Bonus Points
Like Titaniums, Bonvoy Ambassadors receive a 75% bonus on base points earned during stays at Marriott properties. Marriott Bonvoy gives every member 10 base points per dollar spent (at most brands) meaning that Ambassadors members get an extra 7.5 points per dollar spent for a total of 17.5x points per dollar.
The bonus only applies to base points, not to bonus points from promotions.
Annual Choice Benefits
Marriott Bonvoy members can select from a range of Choice Benefits when they reach 50 and 75 elite nights in a calendar year. These benefits can include Suite Night Awards, bonus points, or gifting status to another member. While Ambassadors get this benefit, there's no incremental benefit over Titaniums in terms of this benefit.
Enhanced Treatment
While not quantifiable, as an Ambassador member, you may experience enhanced treatment at hotels compared to Titanium members, further elevating your stay experience.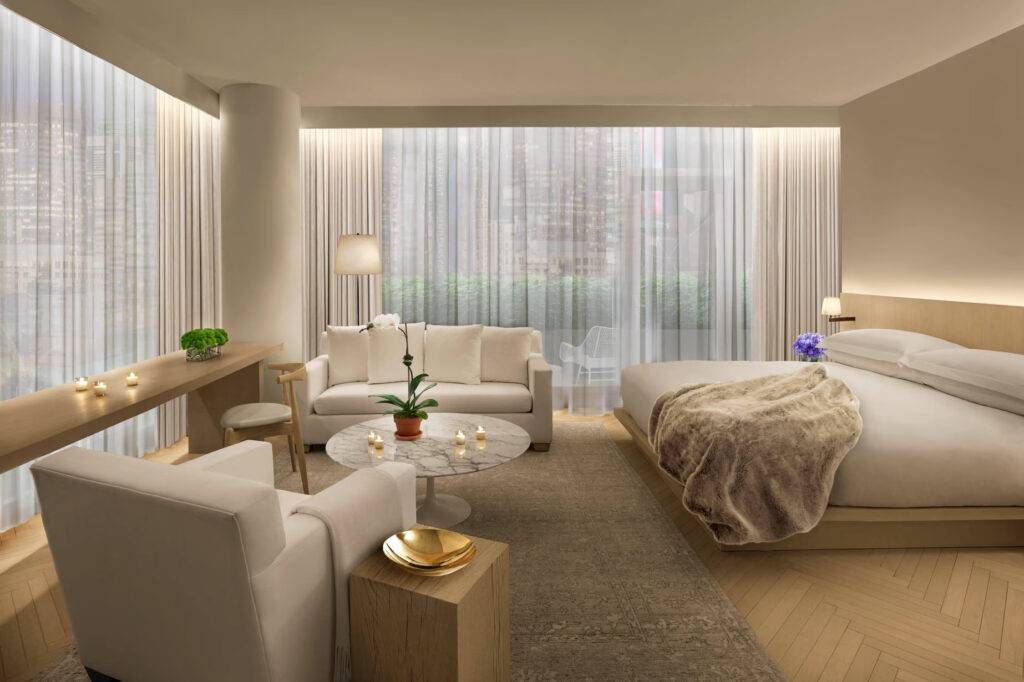 Can You Earn Lifetime Marriott Ambassador Status?
As of now, Marriott Bonvoy does not offer a Lifetime Ambassador status. The highest lifetime status that can be achieved is Lifetime Titanium Elite, which requires 600 lifetime nights and 10 years of Platinum Elite status.
Lifetime status can provide significant long-term value, providing the benefits of elite status without the need to meet the annual requirements. While Lifetime Ambassador status is not currently available, it's possible that Marriott may introduce this in the future. Of course, in the meantime, any nights you earn that count towards Ambassador status will also count towards Lifetime Titanium Status.
Is Marriott Ambassador Status Worth It?
The value of Ambassador status largely depends on how frequently you stay at Marriott properties and how much you value the additional benefits.
If you're a frequent traveler regularly dealing with irregular schedules, the Your24 benefit could be a game-changer. Similarly, if you frequently require assistance with your reservations or account issues, having a personal Ambassador at Marriott could be a significant advantage.
However, if you're not a frequent Marriott guest or if you don't anticipate spending $20,000 annually at Marriott properties, Ambassador status may not provide enough value to justify the effort and expense required to earn it. Especially how easily Platinum and Titanium status can be earned.
If you frequently stay at Marriott properties and spend enough on your stays that you're close to earning Ambassador anyway, the benefits might make it worthwhile. Between the personal ambassador service, Your24™, and benefits carried over from Titanium (but with higher priority), there's a lot of value to be unlocked.
On the other hand, if you're a less frequent traveler or if you don't spend that much on your stays at Marriott, the benefits of Ambassador status may not outweigh the effort and expense required to earn it. It may make more sense to aim for a lower tier, such as Platinum or Titanium, which still provide a range of valuable benefits but have lower requirements.
Making the Most of Marriott Bonvoy Ambassador Benefits
To truly maximize the value of the Marriott Bonvoy Ambassador status, it's essential to take full advantage of the benefits it offers. Here are some notes on that.
Leverage Your Ambassador
Once you're assigned a Personal Ambassador, get to know them. They're there to assist you with all your Marriott-related needs.
Whether it's booking reservations, addressing account issues, or facilitating requests at hotel properties, don't hesitate to reach out to your Ambassador for help. This personalized service can save you time and enhance your overall Marriott experience.
Your Ambassador can also provide valuable advice and insights to help you make the most of your Marriott Bonvoy membership. They might be able to guide you on the best ways to earn and redeem points, provide information on the latest promotions and offers, and help you navigate the various benefits and features of the program.
Utilize Your24
If you frequently travel for business or have irregular schedules, Your24 is an awesome benefit. By allowing you to choose your 24-hour check-in and checkout time, it can help you maximize your stay and avoid unnecessary waiting times. Be sure to request this benefit in advance to ensure availability.
Your24 can be particularly useful for late-night arrivals or departures. Instead of having to wait for the standard check-in time or check out early, you can align your check-in and check-out times with your schedule, providing a more seamless and convenient travel experience.
To request the benefit, you can reach out to your personal Ambassador or reach out to Ambassador Service at least two days before your stay.
From the terms and conditions:
Your24 benefits may be requested when an Ambassador Elite Member requests a specific check-in time and check-out time for a stay through Ambassador Service. Your24 benefits may also be requested by an Ambassador Elite Member at any time prior to 3 p.m. (local time of the Participating Property) two (2) days prior to arrival for such stay by contacting Ambassador Service. If a request for Your24 benefits is approved, Ambassador Service will connect with the Member to confirm the check-in and check-out times.
Maximize Bonus Points
As a Marriott Ambassador member, you earn at least 17.5x points per dollar spent at Marriott properties before bonuses, thanks to the 75% bonus points. These points can quickly add up, especially if you frequently stay at Marriott hotels. Be sure to use these points to redeem free nights, room upgrades, or other rewards in the Marriott Bonvoy program.
The 75% bonus on points earned can significantly accelerate your points earning, allowing you to reach free nights or other rewards faster. Be sure to factor this into your calculations when assessing the value of Ambassador status.
Take Advantage of the 48-hour Guarantee
If you travel on short notice, the 48-hour guarantee can be a lifesaver. It ensures you a room at any Marriott hotel if booked by 3 PM, 48 hours before arrival. This can provide peace of mind, especially during peak travel seasons or in popular destinations. The 48-hour guarantee can particularly be valuable for business travelers when booking travel last minute.
Enjoy the Enhanced Room Upgrade
As an Ambassador member, you receive priority for room upgrades, including suites. This can significantly enhance your stay, especially for longer trips. Be sure to confirm during check-in if one is available and request one if you see availability.
Room upgrades can provide a more comfortable and luxurious stay, enhancing your travel experience. As an Ambassador member, you have priority for these upgrades, increasing your chances of receiving a better room or suite.
Maximize Your Welcome Gift
Ambassadors get a welcome gift while checking in. Depending on the hotel, this could be bonus points, the Marriott elite breakfast benefit, or an amenity. If your hotel rate already includes breakfast, think about selecting bonus points (rather than duplicating the breakfast benefit) so they can add up and help you earn free nights faster. On the other hand, if your rate doesn't include breakfast, the breakfast option might be more appealing.
Comparison of Marriott Elite Status Benefits Per Tier
Benefits
Member
Silver
Gold
Platinum
Titanium
Ambassador
Requirements
Sign up
10+ nights a year
25+ nights a year
50+ nights a year
75+ nights a year
100+ nights & $23,000 in spending a year
Free WiFi
☑️
☑️
☑️
☑️
☑️
☑️
Bonus Points
10%
25%
50%
75%
75%
Late Checkout
☑️
2 pm (when available)
4 pm (guaranteed)
4 pm (guaranteed)
4 pm (guaranteed)
Elite Reservation Line
☑️
☑️
☑️
☑️
☑️
Welcome Gift
Points
Points, elite breakfast, or amenity
Points, elite breakfast, or amenity
Points, elite breakfast, or amenity
Enhanced Room Upgrade
(when available)
Excluding suites
Up to select suites (except at Ritz-Carlton)
Up to select suites (including Ritz-Carlton)
Up to select suites (including Ritz-Carlton)
Lounge Access
☑️
☑️
☑️
Guaranteed Room Type
☑️
☑️
☑️
Annual Choice Benefit
☑️
☑️
☑️
Additional Annual Choice Benefit
☑️
☑️
48-Hour Guarantee
☑️
☑️
Ambassador Service
☑️
Your24
☑️
Bottom Line
The Marriott Bonvoy Ambassador status is the highest tier in Marriott's loyalty program. Ambassadors get the full suite of benefits Marriott extends to its elites including club lounge access, suite upgrades, and flexible check-in and checkout times. The requirements to achieving this status are quite steep and may require substantial investment: at least 100 elite qualifying nights and a minimum of $23,000 in eligible spending with Marriott in a calendar year. The status offers unique benefits such as a personal ambassador to assist with travel needs and the Your24™ program offering flexible check-in/check-out time. Whether the perks of Ambassador are enough to significantly enhance your travel experience and provide substantial value will depend on your travel habits and how effectively you utilize the benefits.