InterContinental Hotels Group (IHG) made waves when it announced that the IHG One Rewards program would be introduced starting June 2022. For the first time, it appeared that IHG would actually enter the fray and try to offer a competitive loyalty program.
The IHG One Rewards breakfast benefit for IHG Diamond Elite members is a new perk offered as part of the new program. Diamond elites can use the benefit during their stay at any participating IHG hotel to get a complimentary hot breakfast.
The benefit isn't quite as generous or clear as Hyatt's Globalist Breakfast Benefit. But it comes after the announcement of a Hilton F&B credit offered as a Hilton MyWay benefit, replacing breakfasts for Hilton Honors elites, and it's certainly not as confusing as the Marriott Bonvoy Breakfast Benefit. That puts the IHG One Rewards breakfast benefit that Diamond elite members enjoy definitely squarely in the middle when it comes to elite breakfast benefits. Let's break it down.
Basics of the IHG One Rewards Breakfast Benefit for Diamond Elites
The Diamond breakfast benefit is a new benefit for IHG introduced as part of the IHG One Rewards program rollout in June 2022.
In order to use the benefit, you must select it as your welcome amenity while checking in. The other two options are points or a welcome drink. If you use digital check-in, you'll forfeit your chance to choose an amenity and you'll receive points as your welcome amenity.
Out of the welcome amenity options, breakfast will usually be the best option. The other two choices aren't worth much by comparison so you'll want to check-in with an agent and select the benefit when you arrive.
The breakfast benefit is valid for the Diamond Elite Member and one guest registered to the same room for each night of the stay. That compares negatively to the Hyatt Globalist benefit which includes up to two adults and two children registered to a room.
IHG defines breakfast to include "one main menu item with unlimited non-alcoholic beverages or full buffet with unlimited non-alcoholic beverages per person." Drinks with alcohol and "certain specialty drinks" are excluded. IHG does not define what a specialty drink is.
The breakfast cannot be used for room service or at specialty restaurants. What constitutes a specialty restaurant is, once again, not defined.
It's also worth noting that the terms do not specify if taxes, service charges, and gratuity are covered by the breakfast benefit. If you're in a country where tipping is the norm, you might want to take that into account. That's not as good as Hyatt's benefit where the terms specifically indicate that it is inclusive of extra charges but it still compares positively to the Hilton Honors F&B credit if you're looking for breakfast.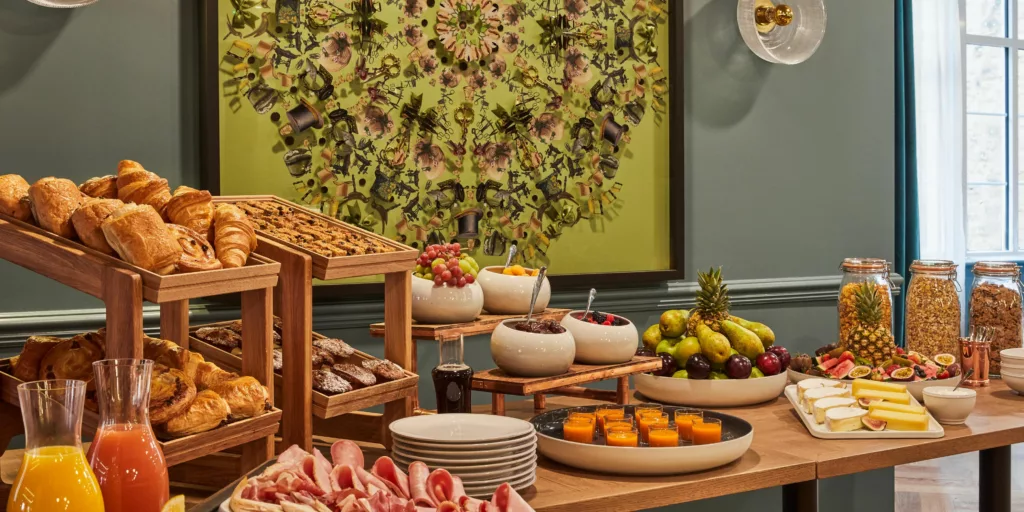 Where Can The IHG One Rewards Breakfast Benefit Be Used?
The benefit is valid for use by Diamond Elite during stays at participating full-service and select-service brands in the IHG portfolio. Specifically, the IHG One Rewards breakfast benefit is valid at the following brands:
InterContinental
REGENT
Kimpton
Hualuxe
Hotel Indigo
voco
Crowne Plaza
Even
Holiday Inn
That includes most of IHG's portfolio with the exception of a few hotels like the Holiday Inn Express where breakfast is included for every customer already. Out of the brands that do not honor the breakfast benefit, Six Senses is probably the biggest disappointment, especially for award stays.
Here's the list of IHG brands where the breakfast benefit is not applicable:
Six Senses
Vignette Collection
avid
Holiday Inn Express
Atwell Suites
Staybridge Suites
Holiday Inn Club Vacations
Candlewood Suites
The InterContinental Residence Suites Dubai Festival City or InterContinental Doha Residences are additional properties that are exempt from the benefit.
How Good Is The IHG One Rewards Breakfast Benefit?
If you're looking for a hearty breakfast with the benefit while staying at your next IHG hotel, you may come away disappointed. While IHG specifies the minimums breakfast must include, there are reports of properties playing games with the benefit.
While Hyatt specifies that tip, service charges, and taxes are included in its breakfast benefit, IHG's terms are (similarly to Marriott Bonvoy) silent on the issue.
Unsurprisingly, some properties are more generous than others. While one property gave Diamond elite guests a card noting that tax & service were included at breakfast, another very explicitly noted gratuity (along with juice) is not included. It'll be interesting to see whether it continues to be so inconsistent or if IHG will clarify the requirement.
Overall, while this benefit is not as good as Hyatt's benefit, it'll likely be preferable to Marriott's benefit if you value your breakfast. If you're not much of a breakfast person, you'll likely think that Hilton's F&B credit.
Bottom line
IHG rolled out its One Rewards program in the middle of 2022 and it represented a major improvement in elite benefits. One of the new benefits is the addition of a complimentary breakfast benefit as one of the perks of IHG Diamond elite status. This is the first time that IHG has provided a proper breakfast benefit to its elites so it's a big deal if that's important to you.
While the benefit is nice to have, it's significantly more limited than Hyatt's competing offer to Globalists even if it does rank above Marriott and Hilton's offerings if you're looking for a complete hot breakfast. To get the IHG One Rewards Breakfast Benefit, you'll need to select it as your welcome amenity while checking in with an agent in-person (no digital check-in).