The capital city of Malaysia, Kuala Lumpur, is a melting pot of different cultures, religions, and traditions. While many of us from the west probably don't know much about the city, it's not one to overlook. KL, as the locals call it, ranks eighth globally in terms of the number of skyscrapers that dot its skyline.
A bustling metropolis, Kuala Lumpur offers a unique blend of modern and traditional experiences. From historical landmarks and temples to vibrant local food culture and plenty of shopping, Kuala Lumpur has something for every kind of traveler.
So whether you're interested in Malaysia's rich history or simply want to immerse yourself in the local culture, you won't find yourself lacking things to see and explore. Join us as we explore the top 10 cultural experiences that every visitor to Kuala Lumpur should add to their list.
1. Petronas Twin Towers
Ok, this one is pretty obvious.
The Petronas Twin Towers are the most iconic landmarks in Kuala Lumpur but that doesn't mean that you should avoid it as a tourist trap. These twin towers were the tallest buildings in the world from 1998 to 2004 and are a symbol of Malaysia's rapid development. They're still the world's 9th tallest building and the tallest twin towers.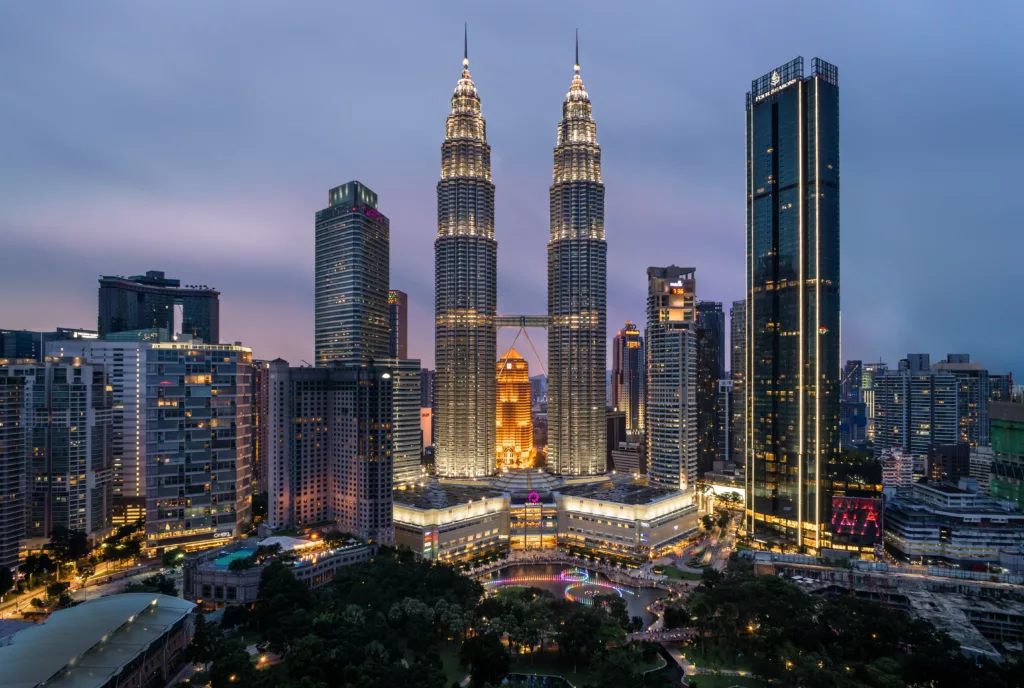 But it's not just the impressive architecture that makes them worth a visit, the view from the top is (literally) in the clouds. You can take an elevator up to the sky bridge on the 41st floor, which connects the two towers, and get a stunning panoramic view of the city.
It's definitely worth the trip. Plus, the surrounding area of the towers is also home to some great shopping and dining options. In other words, the perfect spot to spend an afternoon exploring and taking in the sights.
Entry fee: RM 80 (∼USD 19.00) for adults, RM 30 (∼USD 7.00) for children. The ticket includes access to the sky bridge and observation deck
Things to know before: tickets are limited and sell out quickly, so it's best to book in advance. Proper attire is required (no shorts or sandals allowed)
See also: Guide to Bali and Lombok
2. Batu Caves
Batu Caves is another popular cultural destination in Kuala Lumpur. This limestone hill is home to a series of caves and temples, including the famous Sri Subramaniar Swamy Temple.
The main attraction in the caves is the 42.7m high golden statue of Lord Murugan, which is the tallest statue of a Hindu deity outside of India. The temple and caves are considered the most significant Hindu shrines outside of India and are dedicated to Lord Murugan, the Hindu god of war and victory.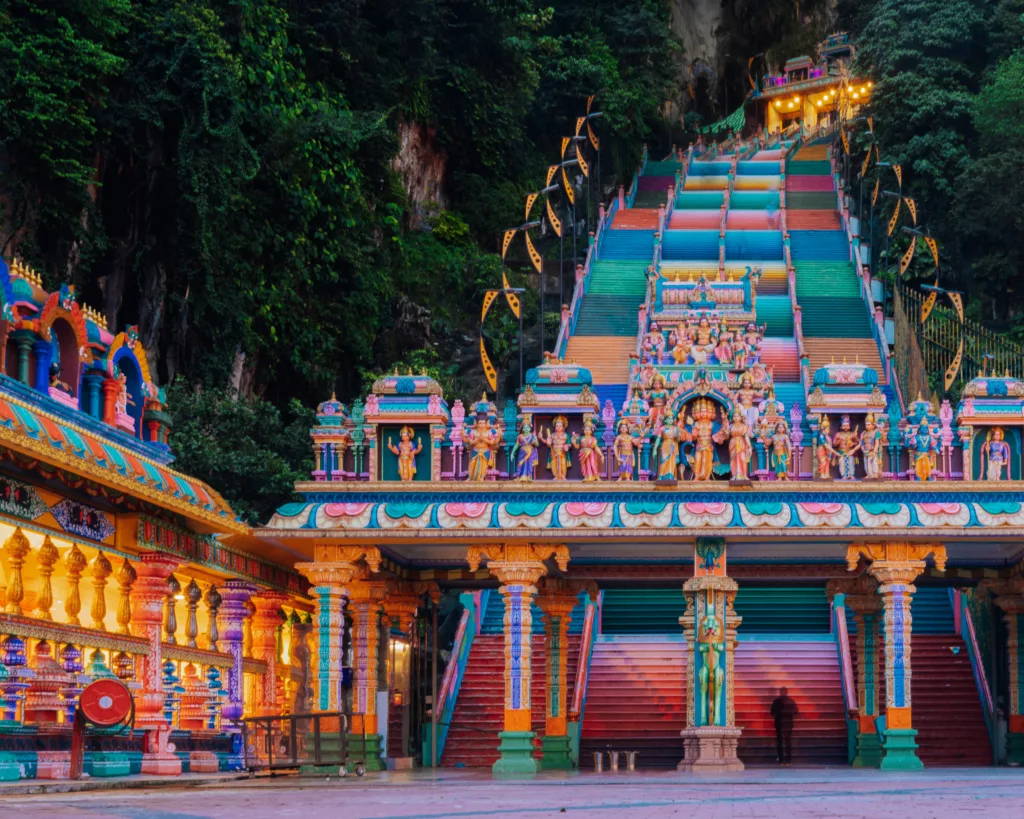 Visitors can climb the 272 steps to reach the temple and caves, which offer a unique and spiritual experience. The colorful steps leading up to the caves are a popular spot for content creators and photographers with their vibrant and Instagrammable backgrounds. The caves themselves are a natural wonder and offer a cool respite from the heat and humidity of the city. Looking to visit some monkeys? The Batu Caves are home to resident monkeys who many visitors come to see.
Entry fee: Free
Things to know before: Dress modestly (shoulders and knees should be covered) and remove shoes before entering the temple
Address: Gombak, 68100 Batu Caves, Selangor
3. Merdeka Square
Merdeka Square, also known as Independence Square, is a historical and cultural landmark that holds a lot of significance for Malaysians. It was the site where the Malaysian flag was first hoisted in 1957, signifying the country's independence from British colonial rule. If you're into history and want to learn more about the country's past, this is a great place to visit.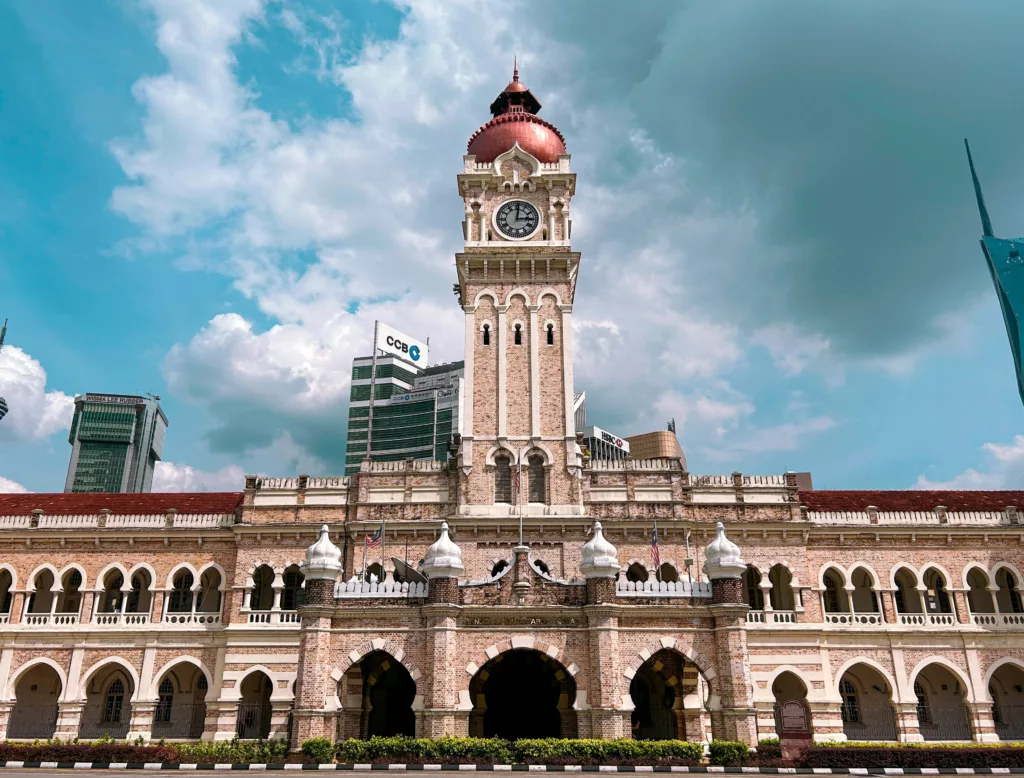 The square is surrounded by British colonial-era buildings, including the Sultan Abdul Samad Building, which now houses the kingdom's Ministry of Information, Communications, and Culture. It's a good spot to take a leisurely stroll around and admire the architecture. Another fun thing about Merdeka Square is its flagpole, one of the tallest in the world, and the site where the Malaysian flag was first hoisted replacing the Union Jack.
Entry fee: Free
Things to know before: The Sultan Abdul Samad Building is closed to the public, but the exterior can be viewed from the square. The square is a popular spot for political rallies and protests. Be sure to check for any scheduled events before visiting
Address: Gombak, 68100 Batu Caves, Selangor
4. Central Market
The Central Market or "Pasar Seni" is the place to go if you're looking for unique souvenirs, traditional crafts, and authentic Malaysian goods. The market is housed in a beautiful Art Deco building, a historical landmark in itself, so it's worth a visit just to see the architecture even if you're not looking for trinkets to bring home.
Inside, you'll find a wide variety of items on offer. The traditional batik fabrics and handmade jewelry are particularly notable while there are many craftsmen selling their wares made from local materials like bamboo and wood. You can see and sample a wide selection of traditional Malaysian snacks and street food so you can always grab a bite to keep your energy up while you haggle with the merchants.
Entry fee: Free
Things to know before: The market is closed on Mondays, so plan accordingly. Also, some vendors may be hesitant to take credit cards, so it's best to have some cash on hand. Lastly, be aware that the market can get quite hot and humid, so it's best to wear light, comfortable clothing and bring a water bottle
5. Chinatown
Here's an interesting fact: about 37.19% of KL's population is of Chinese ethnicity according to data from 2020. The ethnic Chinese population makes a big contribution to Malaysia's multicultural heritage and Chinatown, the center of Chinese culture in Kuala Lumpur, is definitely a must-visit. The vibrant neighborhood is full of color. Narrow streets are lined with shops selling traditional Chinese goods such as herbs, textiles, and trinkets.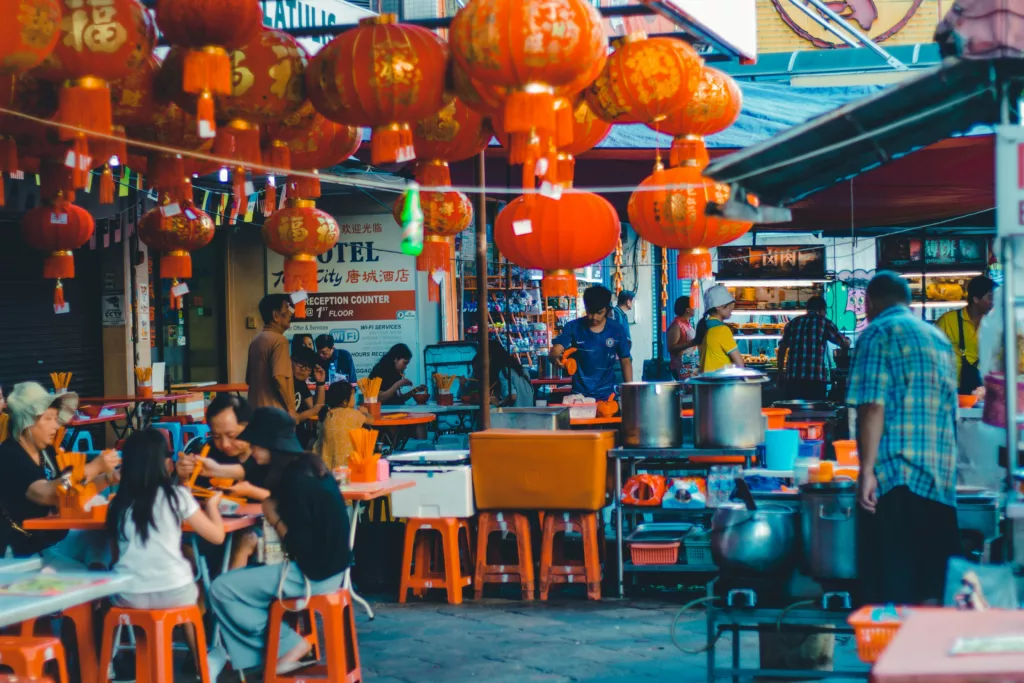 Visitors can find a variety of Chinese restaurants and street food vendors throughout the neighborhood offering a taste of traditional Chinese cuisine.
When the sun sets, there's the night market on Petaling Street. Here you can find bargain shopping along with street food and snacks, from Chinese dumplings and fried noodles to Malaysian favorites like satay and curry.
Chinatown is also home to a number of historical and cultural sites, including the Sri Maha Mariamman Temple, which is the oldest Hindu temple in Kuala Lumpur, and the Chan See Shu Yuen Temple, which is one of the most ornate and well-preserved Chinese temples in the city.
6. KL Tower
You might be tempted to skip this one if you're scared of heights, but you'll definitely be missing out on a highlight. KL Tower, also known as Menara Kuala Lumpur, stands 421 meters tall, offering a breathtaking panoramic view of the city from its observation deck towering 276 meters above the city.
Not only is it the highest viewpoint in the city, but it also provides a unique perspective of Kuala Lumpur's skyline. The tower's location on Bukit Nanas, a hill in the heart of the city, gives visitors an unparalleled view of the city's landmarks such as the Petronas Twin Towers (read above), the KLCC park, and the KL Forest Eco Park.
If you're feeling fancy, treat yourself to a meal at the revolving restaurant at the top, Atmosphere 360, which offers a unique dining experience while slowly rotating to give diners a 360-degree view of the city. The restaurant serves a variety of local and international dishes, making it the perfect spot for a romantic dinner or a special occasion. Check out their menu for more.
Don't want a revolving restaurant experience? You can by a ticket to the KL Tower's open-air Sky Deck with an exhilarating view of the city. While you're up above the clouds, check out the Sky Box, a glass box that extends out from the tower offering an unparalleled view of the city.
Entry fee: RM 40 (∼USD 9.50) for adults, RM 15 (∼USD 3.50) for children
Things to know before: Proper attire is required (no shorts or sandals allowed)
7. Merdeka 118
Did you know that the world's second tallest building is under construction in Malaysia? It's true. Merdeka 118 is a planned megatall skyscraper and a brand-new attractions in Kuala Lumpur.
At 678.9 meters tall, this tower is an architectural wonder that's sure to impress. The top 17 floors will house the first and only Park Hyatt Hotel in Malaysia. That'll make this World of Hyatt property one of the highest hotels in the world and one we can't wait to check out.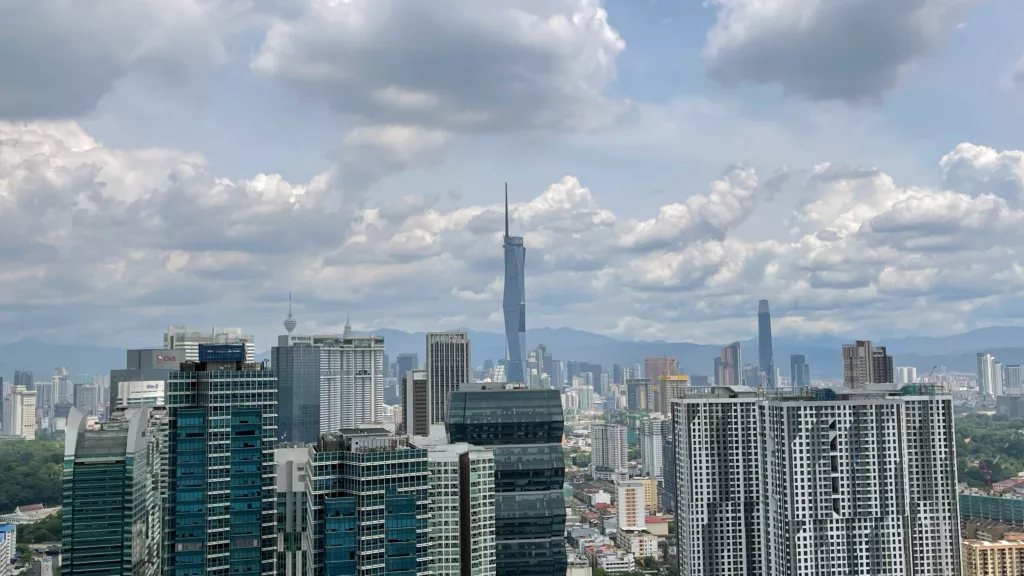 The real gem of Merdeka 118 will be located at Level 116, where you'll find Southeast Asia's highest observation deck. From this vantage point, you'll be able to take in a breathtaking view of the city.
But Merdeka 118 won't just about the views. This tower will also offer plenty of other activities and amenities for visitors to enjoy including a VIP lounge, a sky lobby, several restaurants to choose from, and plenty of luxury shopping. It's location between Stadium Merdeka and Stadium Negara, two popular landmarks, make it a convenient spot to visit.
Entry fee: not open yet
Things to know before: Madeka 118 is planned to open in mid-2023 so for now you can only see the exterior of the building. As of 25 January 2023, Merdeka 118 is 97% complete.
Address: Cangkat Stadium, City Centre
8. Thean Hou Temple
This six-tiered Temple is dedicated to the Chinese sea goddess Mazu. Thean Hou Temple is one of the largest and most popular Chinese temples outside of China. When we say it's absolutely massive, we're not kidding— it's six tiers are laid out over 1.67 acres acre. If you're interested in Chinese culture and architecture, it's a must.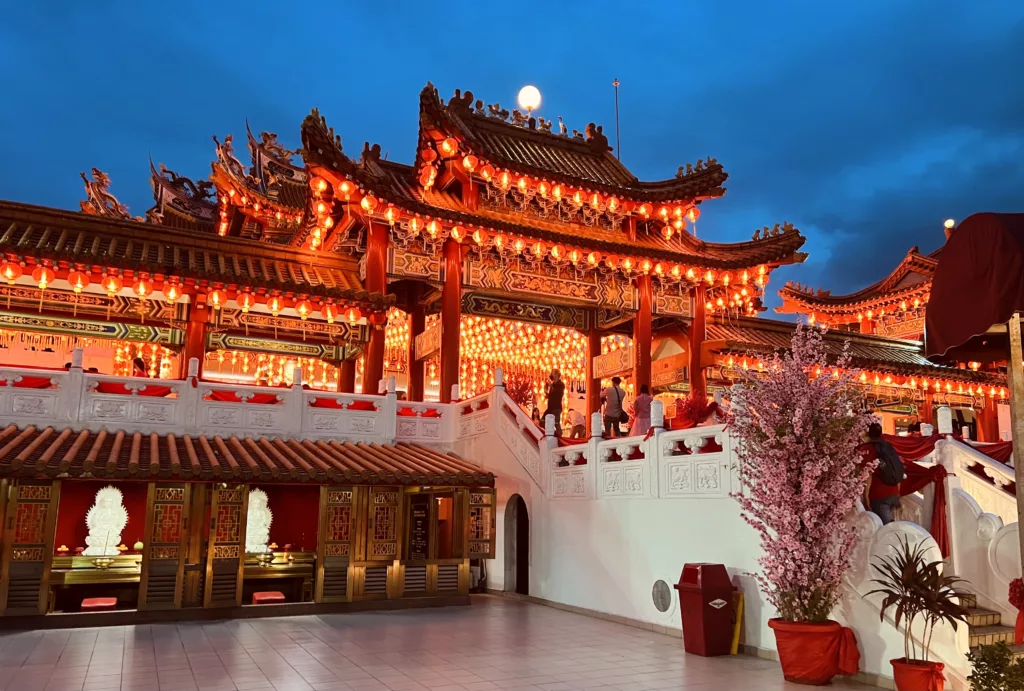 The temple's architecture is a traditional Chinese style featuring sweeping roofs, ornate columns, and intricate tile-work. The temple's architecture and layout are designed to symbolize the harmony between heaven and earth. The main prayer hall represents heaven and the lower levels represent the earth.
For those looking to create some colorful social media content: one of the most striking features of the temple is its intricate and colorful decoration. It's adorned with detailed carvings, sculptures, and murals that depict stories and figures from Chinese folklore and mythology.
Entry fee: Free
Things to know before: The temple is open every day from 8 AM to 10 PM
9. National Mosque of Malaysia
The National Mosque of Malaysia, also known as Masjid Negara, is a prominent mosque located in Kuala Lumpur. It's one of the largest mosques in Southeast Asia, with a capacity for 15,000 worshippers at a time. The mosque's large blue dome is said to symbolize the unity of the Malaysian people.
Why is it worth a visit? Of course, it's a major landmark in Kuala Lumpur and offers visitors a glimpse into the Islamic culture and religion in Malaysia. Beyond that, it's an architectural masterpiece with unique and impressive architecture. The blue dome is particularly striking. The mosque is located in a beautiful park setting, making it a peaceful and serene place to visit.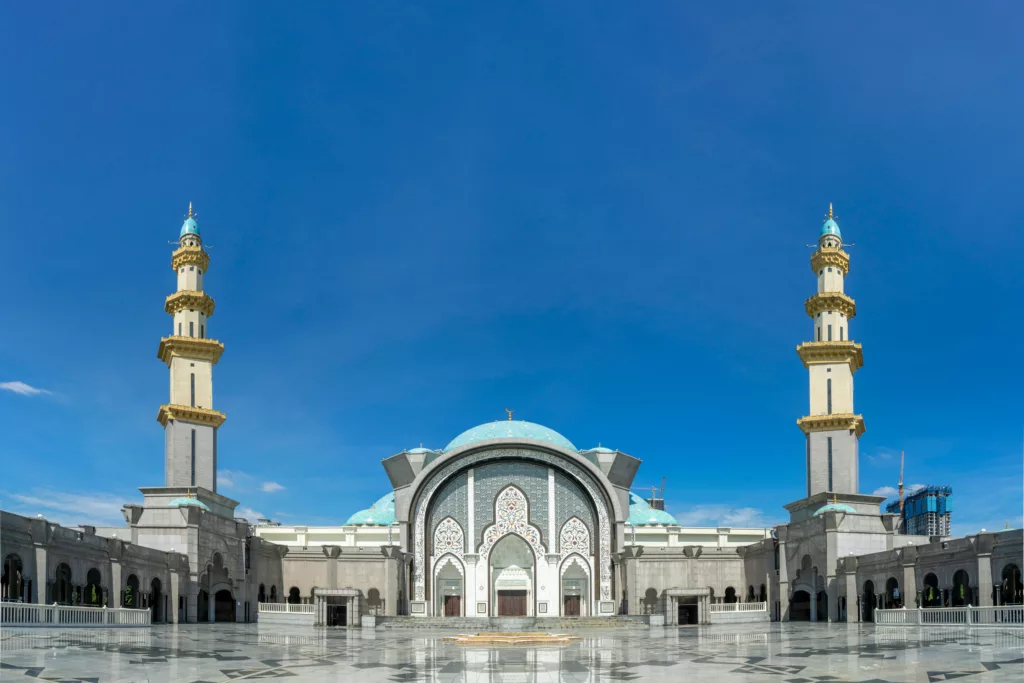 If you're interested in delving deeper into the culture and gaining a greater understanding of the history and significance of the Mosque, guided tours are regularly scheduled.
Entry fee: Free entry (some guided tours may have a fee)
Things to know before: The opening hours remain the same from Saturday to Thursday (9 AM-11 PM). Visiting hours are from 2:45 PM in the afternoon and until 6 PM in the evening
Address: Jalan Perdana, Tasik Perdana
10. Pintasan Saloma
Last but not least, the urban pedestrian bridge Pintasan Saloma offers picturesque views of the city from a slightly lower vantage point than the observation decks we mentioned. It's named for the late Malaysian singer, Saloma. It connects Jalan Ampang and Jalan P. Ramlee, two major roads in the city, over the Klang River.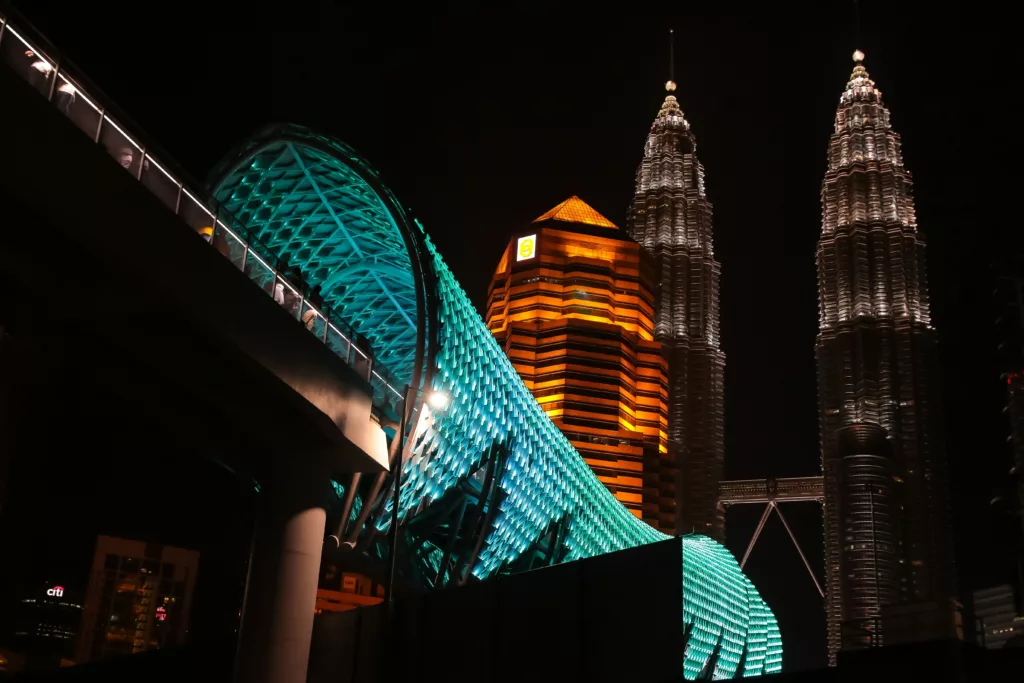 The bridge has a unique yet still panoramic view of the city with a different perspective on the hustle and bustle of KL. You'll see the Petronas Twin Towers, the KL Tower, and other iconic buildings and landmarks. If you want to create the best Instagram content, it's best to head to the bridge after dark. That's when the city and bridge light up creating a striking contrast against the backdrop of a dark sky.
Entry fee: Free
Things to know before: The two ways to go to the bridge are either from Kampung Baharu (most locals take this way as they will be driving or taking the LRT train) or from the KLCC and Petronas Twin Towers (most visitors come from this direction)
Bottom Line
Kuala Lumpur is a bustling metropolis that offers a unique blend of modern and traditional experiences for all types of travelers. From the iconic Petronas Twin Towers and Batu Caves to historical landmarks such as Merdeka Square and Chinatown, and cultural destinations like Central Market and KL Tower, this dynamic city has something for everyone. Whether you'd like to delve into Malaysia's history or just want to immerse yourself in the city's sights, you'll find something to explore and discover. Don't sleep on all the cultural experiences there are to experience in Kuala Lumpur!