Are you looking for the perfect yet sometimes overlooked place to take iconic photos? Let's take a journey to my hometown, the beautiful and understated city of Riga. Surrounded by the Baltic Sea, Latvia's capital is a melting pot of art, history, culture, heritage, and folklore, creating a dynamic and captivating atmosphere that surprises visitors with its western, cosmopolitan vibe.
As a passionate explorer and keen amateur photographer, I have a lot of experience taking photos in my hometown. I'd like to share some my favorite photo-op spots in this stunning city with you.
From enchanting Art Nouveau buildings, charming cobblestone streets, and rich cultural legacy, Riga is an ideal location for capturing beautiful and lasting memories, perfect for your Instagram feed. If you're looking to plan a city break to take the perfect photograph, here's your guide.
1. St. Peter's Church Tower
One of my absolute favorite spots in Riga is the St. Peter's Church Tower. Without a doubt, this tower offers some of the best panoramic views of the Old Town and the city, with its striking red rooftops and historic landmarks extending as far as the eye can see. Be sure to bring your camera along, this is the perfect place to capture some ultra-wide shots for your Instagram story. The view from the top is awe-inspiring and a Riga highlight.
Note: Entry fee is 9.00€ (∼$10)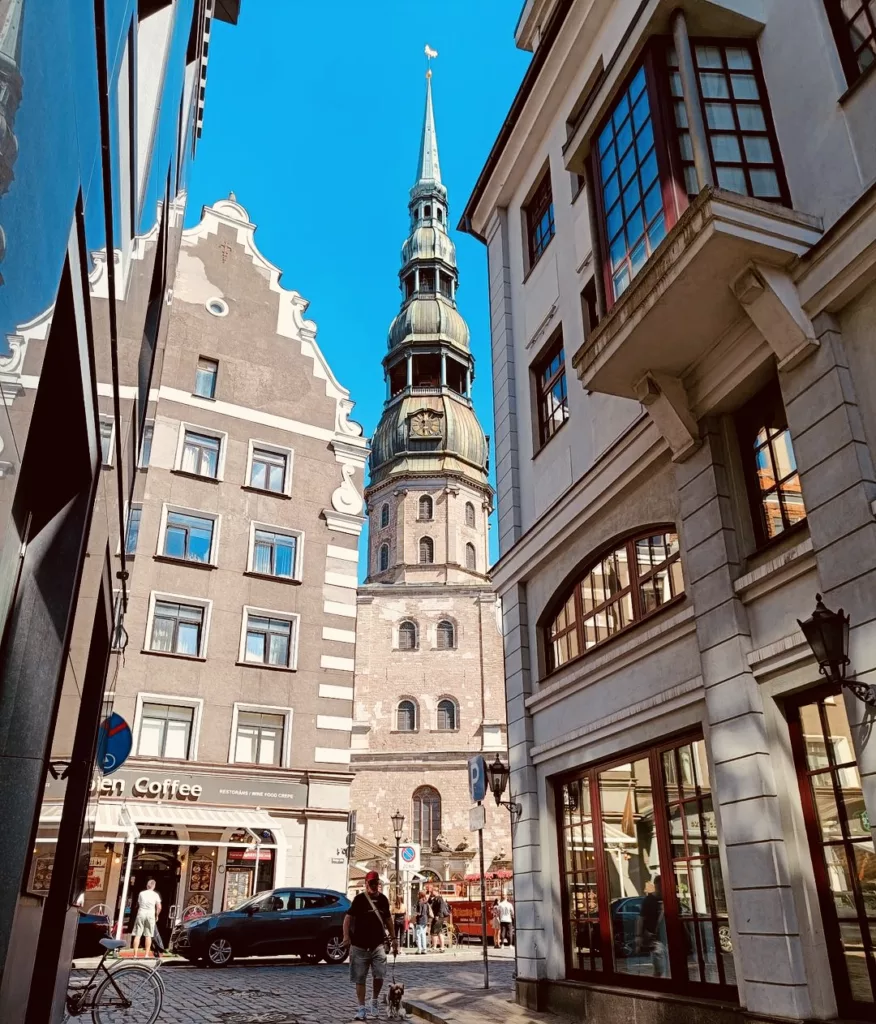 2. Latvian National Opera
For architecture aficionados, the Latvian National Opera is a must-visit. This iconic structure, located at Aspazijas bulvāris 3, is renowned for its intricate details, graceful facade, and magnificent stained glass windows. It comes as no surprise that it's one of the most sought-after photo spots in Riga.
Whether you're a professional photographer or simply someone who appreciates beauty, the Latvian National Opera promises to be a feast for the eyes.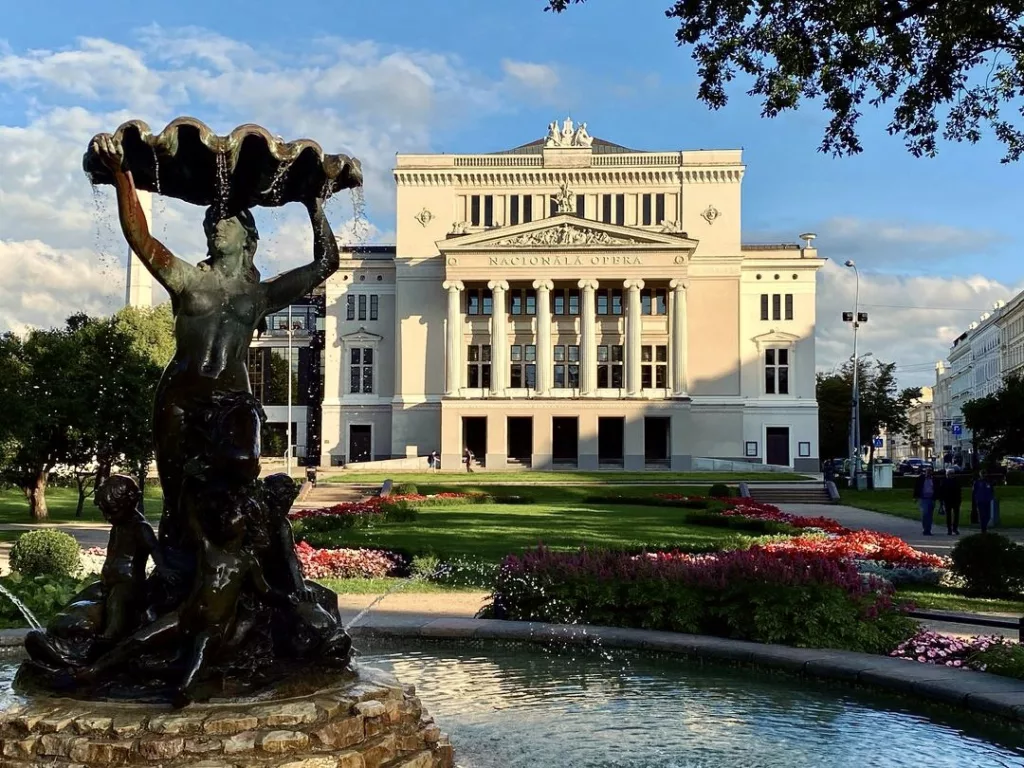 3. House of the Blackheads
The House of the Blackheads is a stunner in Riga and a must for those who love awe-inspiring architecture. This 14th-century building is a feast for the eyes, with its showstopping facade, intricate details, and artistic stained glass windows. Not only is it a hit on Instagram, but it's also a go-to spot for professional photographers and those looking to add some serious beauty to their portfolios.
Whether you're snapping for fun or for work, the House of the Blackheads is a place to go.
Note: Best time to go is in the evening when the lights turn on
4. Riga Cathedral or Doma Laukums
The Riga Cathedral is probably Riga's premier photography destination. Its towering spires and intricate details make for stunning compositions, creating a dramatic contrast against the cityscape. The picturesque setting provides a peaceful backdrop, inviting visitors to capture serene moments in time. From the intricate carvings and stained glass windows to the overall grandeur of the building, there is no shortage of visually compelling elements to incorporate into your shots.
Whether you're an amateur photographer or a seasoned pro, the Riga Cathedral offers an unparalleled opportunity to capture breathtaking images that will serve as lasting reminders of your visit.
Pro tip: If you happen to be in Riga during the holiday season, make sure to check out the Christmas markets at Doma laukums. You'll be treated to a bounty of delicious food and artisanal crafts, including mouth-watering local mulled wine, pure blossom honey, charming hand-knit items from local grandmothers, and warm and scrumptious gingerbread. Don't miss out on this festive and flavorful experience and snowfall photo shots.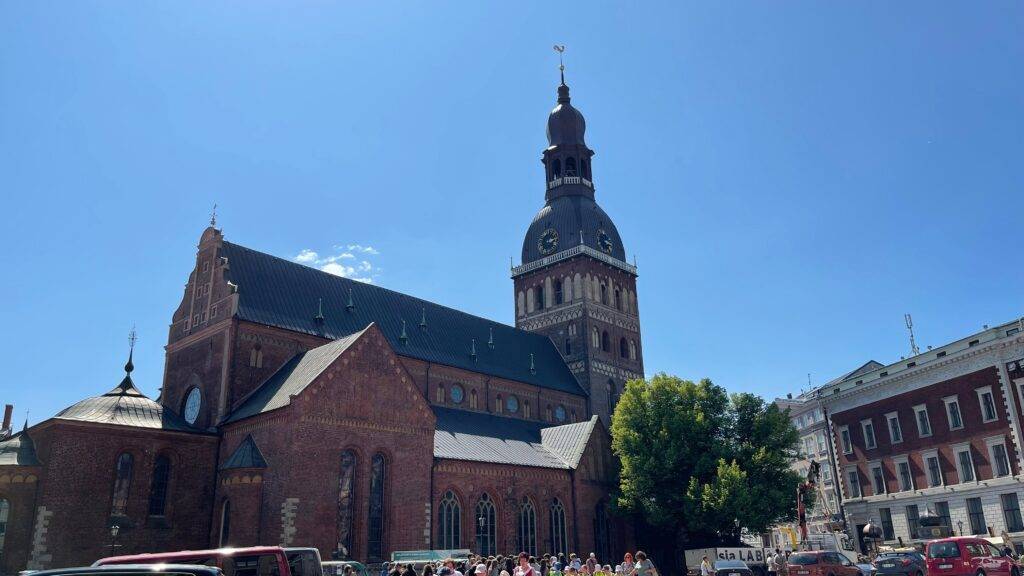 5. Art Nouveau Museum and buildings
Did you know that Riga has the highest concentration of Art Nouveau architecture of any city in the world? It's true. With over a third of all buildings in the city showcasing this captivating architectural style, Riga has the finest collection of Art Nouveau structures in all of Europe.
For those seeking a touch of grace in their photo portfolio, check out the Art Nouveau Museum in the heart of Riga. Art Nouveau is defined by its intricate details, flowing curves, and brilliant colors, and the district is overflowing with photo opportunities. Much of Riga's collection was built in the early 20th century as the city outgrew the Medieval Vecrīga (Old Riga center). Architects included both ethnic Latvians and Jewish Latvian architects, our Art Nouveau district is also a testament to the sad history of our once-thriving Jewish community that was wiped out as Latvia was invaded during World War II then the Soviets, who helped contribute to our beautiful city.
As you explore our Art Nouveau treasures, take your time to bask in the beauty of each turn. A stroll down Alberta iela (Alberta Street) showcases grand houses on both sides of the street, complete with vibrant facades, intricate stonework, and unique gargoyles. Explore the designated Art Nouveau quarter and be sure to visit the Art Nouveau Museum to see examples of residential interiors from this magnificent era.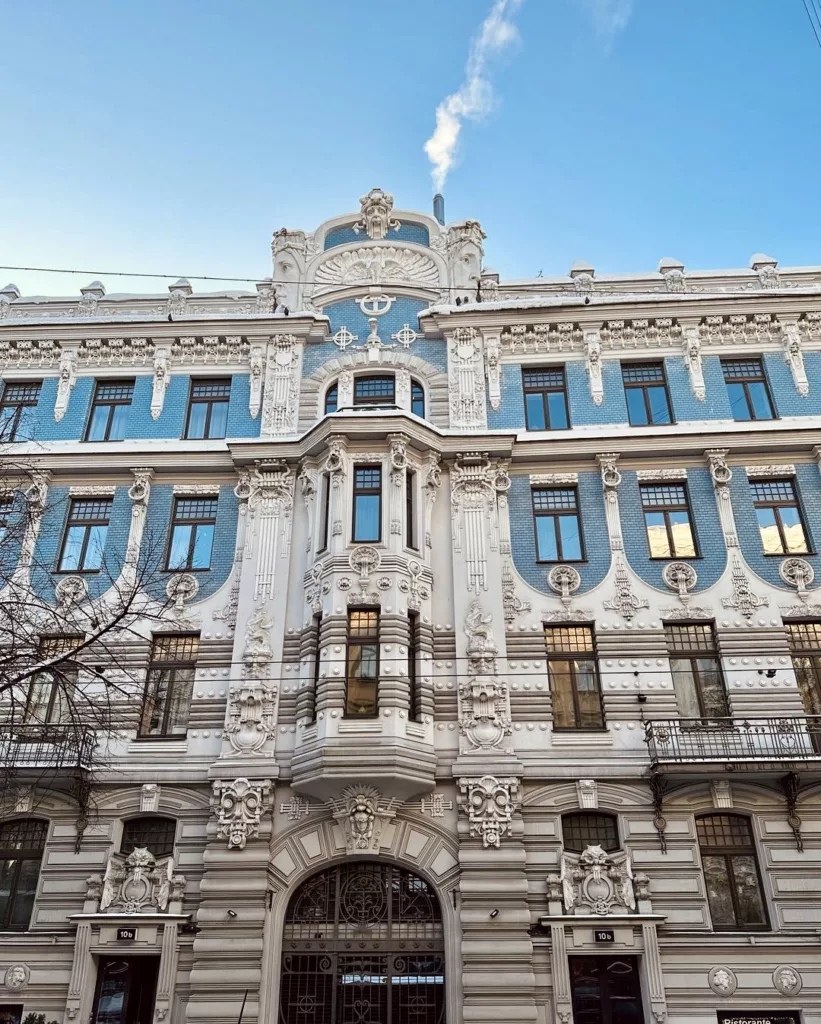 6. Riga Central Market
If you're looking for a bustling and colorful photo opportunity that captures the essence of Latvia's food culture, the Central Market is a must-visit. Located at Lāčplēša iela (Lāčplēša Street), this bustling market is a photographer's paradise, offering a plethora of stalls selling everything from fresh produce to handmade crafts. The main structures of the market are five pavilions that were constructed using repurposed old German Zeppelin hangars, incorporating elements of Neoclassicism and Art Deco styles.
While the market isn't as popular as before due to the rise of supermarkets, it remains a great place to pick up picnic supplies, stock your kitchen, and get a taste of Riga's unique local flavor. With its vibrant energy and historic charm, the Central Market is sure to make for a travel-blog-worthy shot.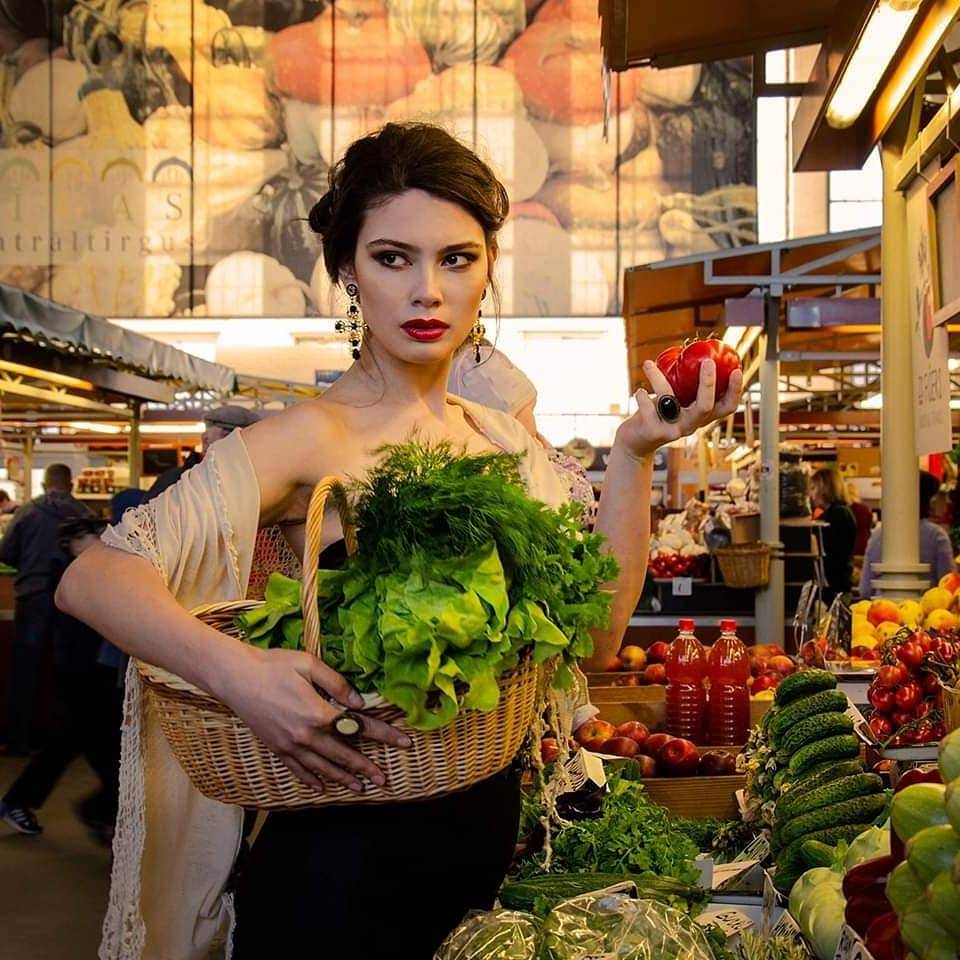 7. Latvian National Museum of Art
The Latvian National Museum of Art is not only a stunning architectural masterpiece on the inside, but also from the outside. The museum's building, located in Riga Boulevard Circle, is a nationally significant monument and one of the most impressive historicist buildings in the area.
The main entrance staircase is a beautiful and glamorous spot to take a dressed-up type of photo, perfect for those who want to show off their fashion sense and sophistication. Whether it's a solo shot or with a group of friends, the museum's staircase provides a stunning backdrop that's sure to make your followers swoon. Don't forget to snap a picture when you visit the museum, this is one photo opportunity you don't want to miss.
Pro tip: If you happen to be in Riga on the third Saturday of May, make sure to experience the museum for free during the Long Night of Museums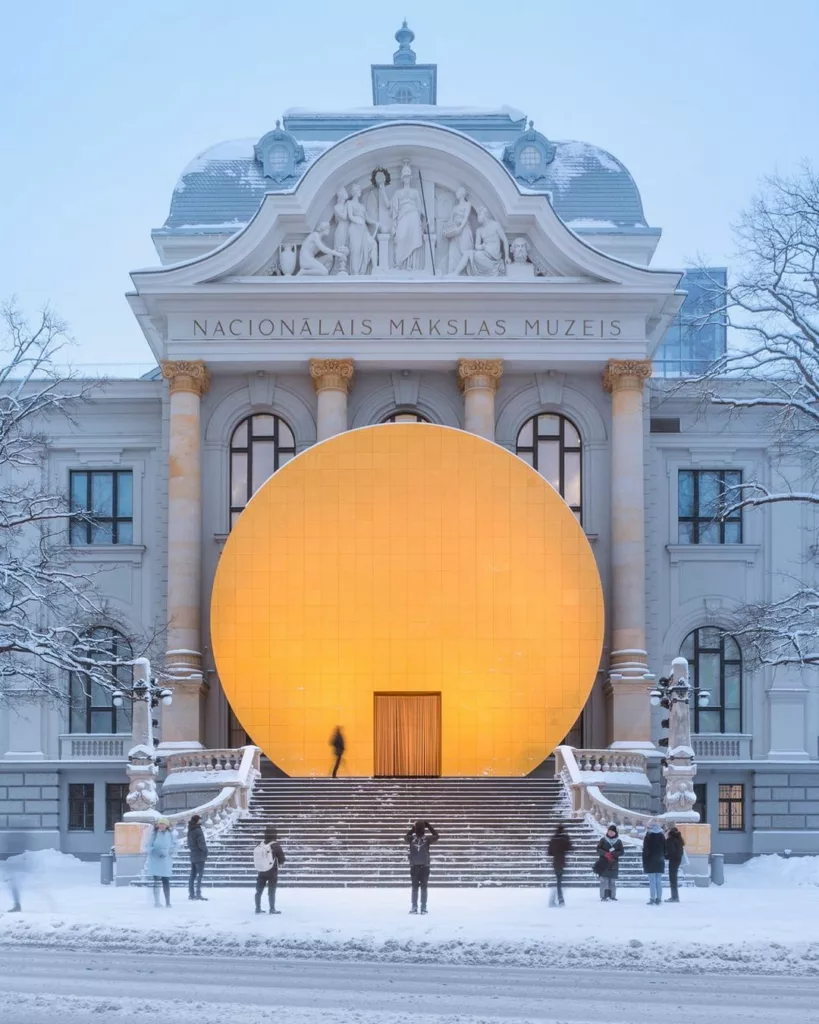 8. Bergs Bazaar
Riga's The Bergs Bazaar is a timeless treasure. Nestled in the heart of the city, this historic shopping arcade, dating back to the late 1800s, is now a go-to destination for all things shopping, dining, and relaxation. With a vibrant mix of local and international boutiques, cafes, restaurants, and spas, there's something for everyone at the Bergs Bazaar.
The best part? Its stunning blend of modern and historic architecture makes it a prime spot for capturing some stunning shots. Whether you're in the mood for a shopping spree, a delicious meal, or just a leisurely stroll, the Bergs Bazaar is perfect. And if you love the vibe so much that you want to stick around, there are also plenty of places to stay like the five-star Hotel Bergs and rental apartments.
See also: Discovering the Best Coffee in Riga, Latvia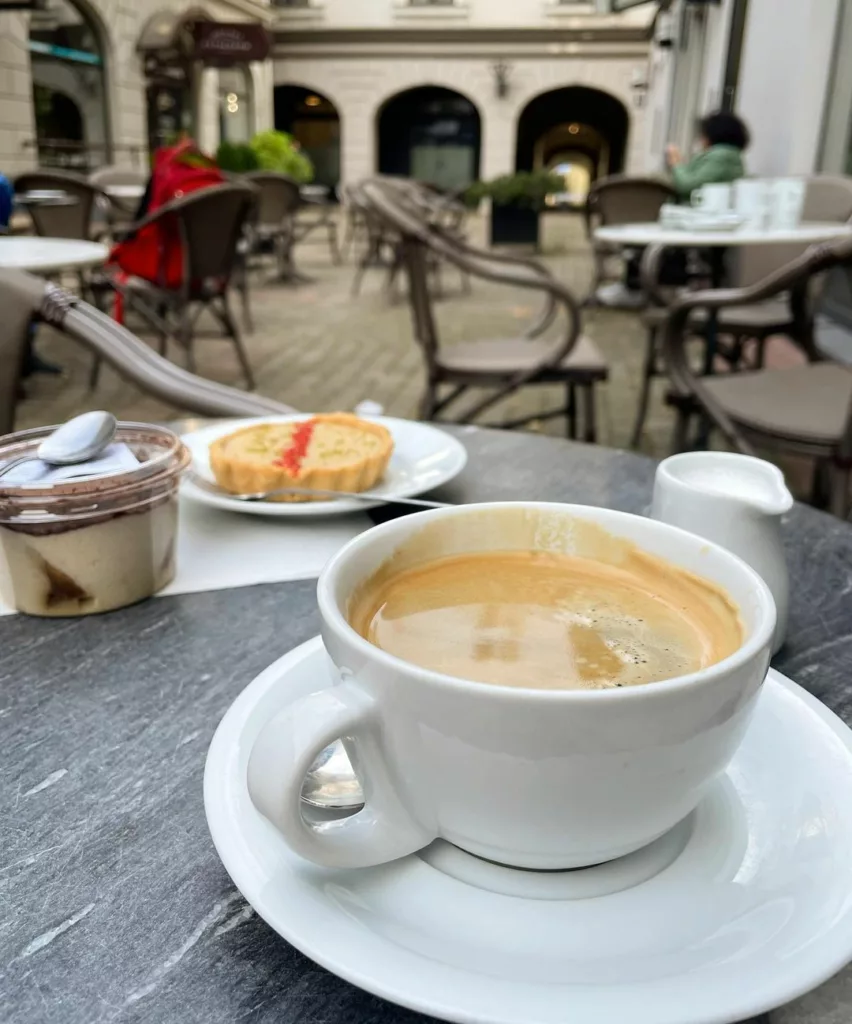 9. Elizabetes Iela
Strolling down Elizabetes Iela (or Elizabeth Street) is a great way to increase your daily step count while capturing some pretty street photos. This street is a visual feast for the lens, boasting breathtaking Art Nouveau architecture, swanky shopping, and quaint cafes. Admire the stunning details, graceful curves, and vivid colors of the buildings, and capture the elegance of the chic boutiques and cafes. Whether you're an art aficionado or just looking for a romantic spot, Elizabetes Iela is a must when you visit Riga. So grab your camera and experience the charm of this enchanting street.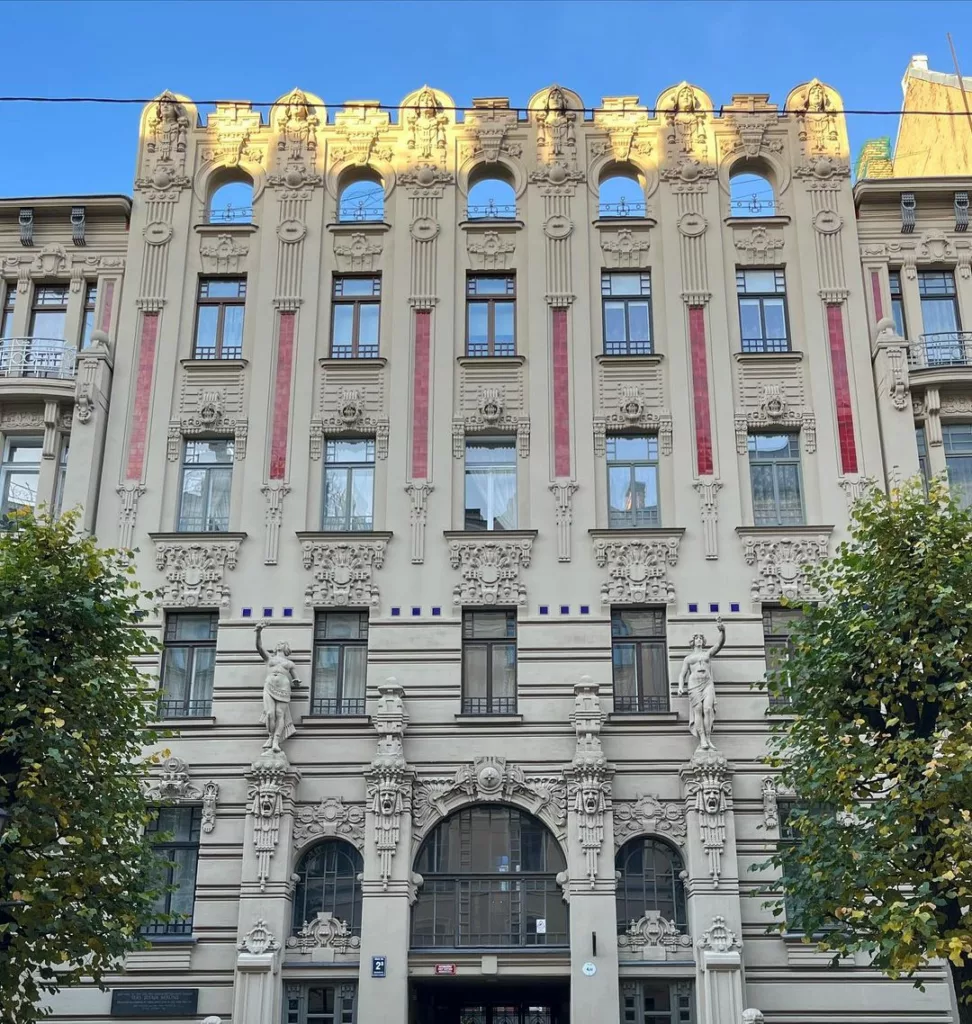 10. Three Brothers
The Three Brothers in Riga are an Instagram-worthy photo spot that'll transport you back in time. These old medieval buildings are the oldest dwellings in the city and each one is a unique masterpiece all on its own. The oldest brother is a mix of Gothic and Dutch Renaissance styles with a Gothic facade, while the middle brother is a rich example of Dutch Mannerism, with its large windows and stylish decoration.
The youngest brother is the smallest and narrowest of the three, with a quirky facade featuring a mask that's said to protect its inhabitants from evil spirits. Whether you're into history, architecture or just looking for a cool backdrop for your photos, the Three Brothers are something to visit.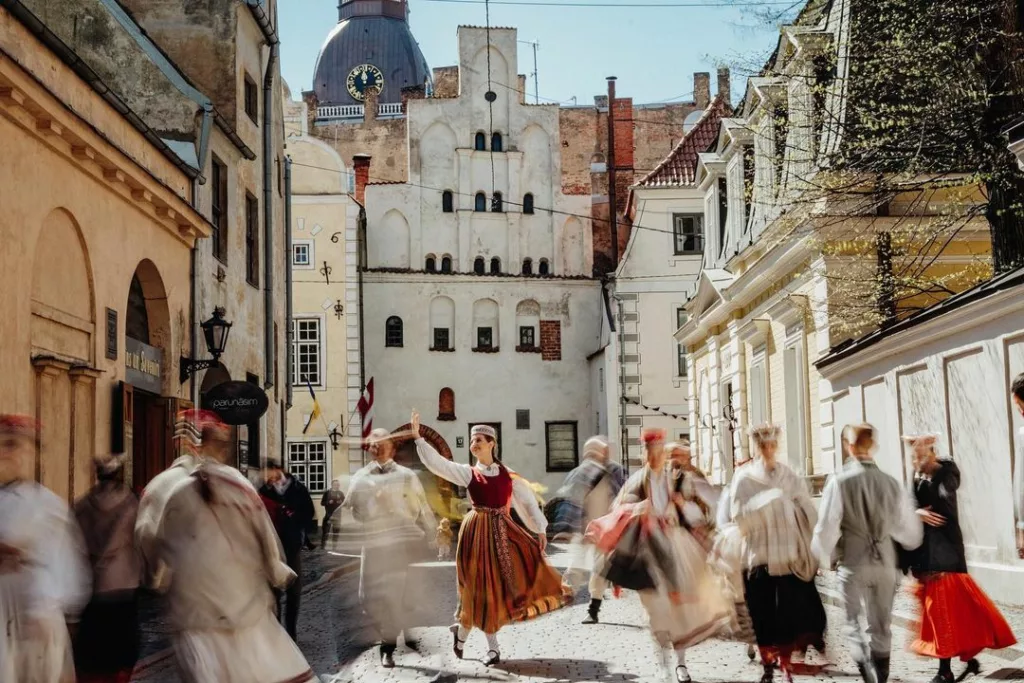 11. Swedish Gate
Finally, we have the Swedish Gate, or "Zviedru vārti" in Latvian. It isn't just important for its history, it also has a charming, old-world vibe. It's part of the old medieval walls that used to surround the city and was built by the Swedes back in 1698. Out of all the city gates, the Swedish Gate is the only one left standing today, which makes it pretty special to all of us Riga natives.
Lots of tourists come here to get a feel for old Europe and snap some photos, and we totally get why! Even though it doesn't serve its original purpose anymore, the gate and walls now separate the Old Town from the busy nearby area full of bars, restaurants, and businesses. Have fun taking snaps of this timeless piece of architecture that provides a glimpse into the city's past.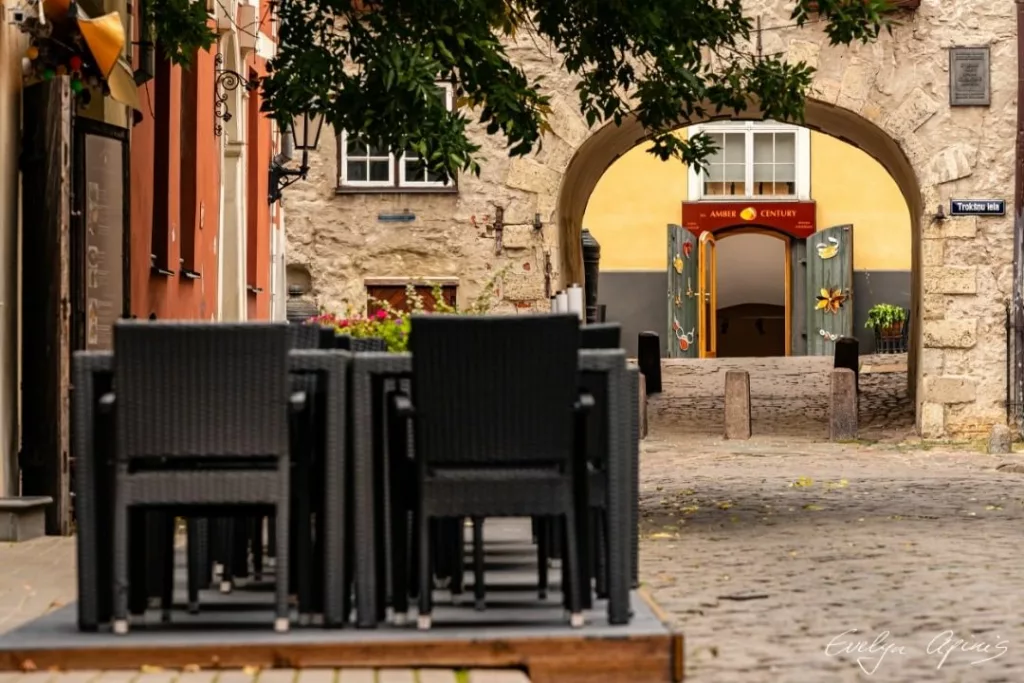 See also: 11 Best Cities to Photograph — The World's Most Iconic Photo Spots
Bottom Line
If you're looking for stunning views, visually appealing architecture, and a unique cultural experience, Riga has you covered. From the St. Peter's Church Tower and Latvian National Opera to the House of the Blackheads and Art Nouveau buildings, Riga is a visual feast for the eyes. Don't forget to visit the Riga Cathedral, the Central Market, and take a stroll down Alberta iela (Alberta Street)to see the city's Art Nouveau quarter.
Whether you're a seasoned photographer, social content creator, or just a fan of capturing beautiful moments, Riga promises to leave you with memories to last a lifetime. So grab your camera and laipni lūdzam (welcome) to my hometown!