Riga, the capital city of Latvia, is one of Europe's hidden gems. If Vilnius is the G-Spot of Europe as its infamous tourism campaign once declared, then Riga is its neighbor just north on the pleasure map. Of course, it's probably not surprising that I'd say so given that Riga is my hometown.
The city is increasingly a digital nomad hotspot thanks to its lightning-fast internet speed in a lively and safe destination in Europe and relative affordability. There's active nightlife, a diverse cultural scene, and amazing food. The Old Town of Riga is one of the most extensive and well-preserved medieval city centers in Northern Europe, featuring a mix of Gothic, Baroque, and Art Nouveau styles. That makes it one of many amazing photo spots in Riga and earned it a designation as a UNESCO World Heritage Site.
For many digital nomads and travelers, a must-have when it comes to selecting a city to work remotely from is top-notch coffee culture. Luckily, Riga offers an amazing selection of coffee shops. Whether you're a local resident or a visiting professional, Riga has plenty of cozy cafés and modern coffee shops with fast Wi-Fi that offer a comfortable and productive environment for remote work. From the historic Old Town to the trendy neighborhoods, there's a coffee place for everyone in Latvia's capital city.
If you find yourself looking for a change of scenery and find yourself in Riga looking for a cup of coffee, we're here to help. As a Riga local, I put together a list of my eight favorite laptop-friendly cafés in Riga that find the perfect balance between workplace and coffee culture.
1. STRADA
STRADA is a great spot for both work and coffee in the heart of the Old Town. The cozy atmosphere and homey decor make for a relaxing environment, and the pleasant staff makes long working hours in the coffee shop feel homier.
The menu offers a variety of delicious pies and cakes, and the coffee and tea selection is extensive, with popular choices like latte, cappuccino, and a huge variety of teas. If you have a sweet tooth, definitely give a try to their strawberry tart.
Although the cafe is great for any season, the best time to go is in winter for its cozy and insta-worthy winter scenes from the windows. The wooden decor, delicious coffee, and cakes make it a very pleasant and relaxing place.
Address: Jāņa iela 5
Instagram: @strada.riga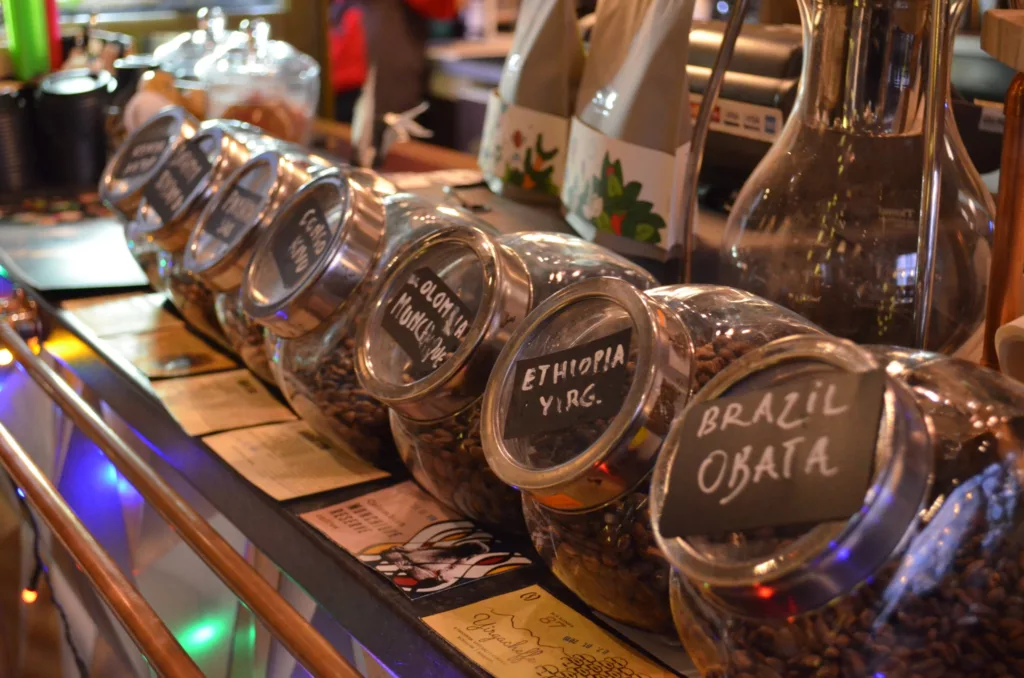 2. MiiT Coffee
MiiT Cafe is another trendy coffee shop in the heart of the city. The croissants and coffee are out of this world, making it the perfect spot for a yummy breakfast or brunch. The atmosphere is cozy and chill, perfect for catching up with friends or just hanging out. They do have some outdoor seating, but it's always in high demand so get there early if that's what you're looking for.
The food is amazing, and all vegetarian. If you're a vegan or vegetarian, you're in for a treat. The service is friendly and attentive, and the staff is always happy to help. The breakfast menu is extensive and offers sweet and savory options, and all the cakes are vegan and taste incredible.
The coffee house has a loyal following. The coffee is made from a wide selection of quality beans you can choose from. Some of the must-try dishes are the poached egg on avocado on a muffin, with fresh pesto and balsamic, and the omelet. There are also plenty of vegan options available.
Address: Lāčplēša iela 10
Instagram: @miit.coffee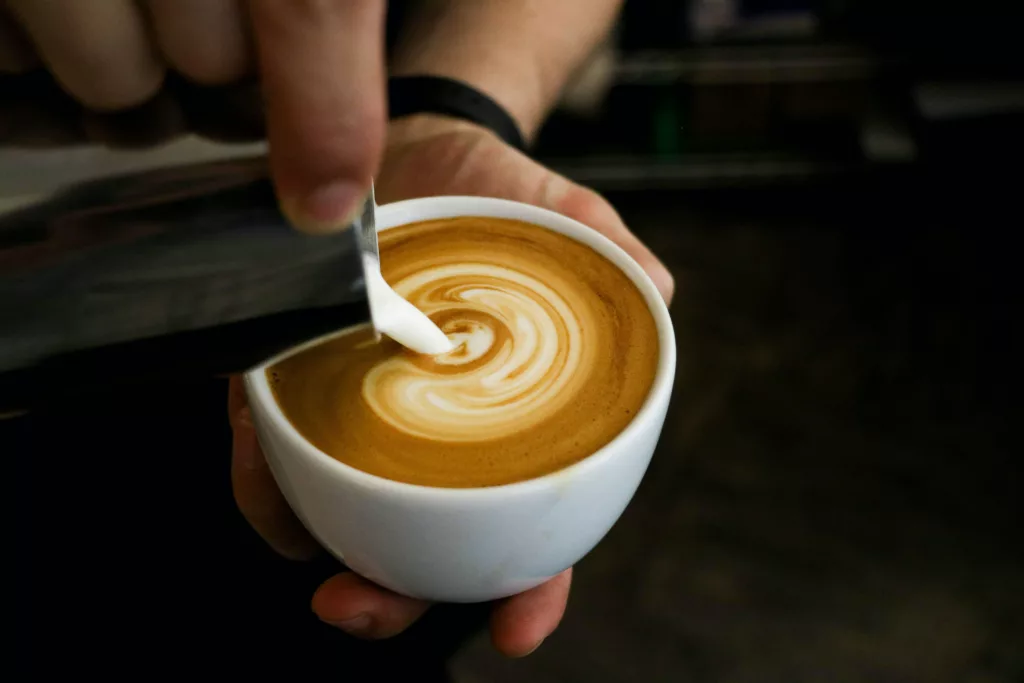 3. Rocket Bean Roastery
Rocket Bean Roastery is a specialty coffee spot with two locations offering freshly roasted coffee, a cozy atmosphere, and a wide variety of menu options. The café serves a range of coffees and an extensive menu of sweet and savory dishes. They also have a brunch buffet on Sundays that is well-reviewed by guests. Prices are a bit higher than in other similar places but the quality of the coffee and food reflects the cost.
Rocket Bean is considered one of the best in Riga and roasts its own coffee beans which are also popular items in the shop. Fresh coffee and cakes are available daily and the café is spacious. The café's design is unique and inviting, making it a great spot for those looking for a high-quality cup of coffee, delicious food, and a pleasant atmosphere.
The cafe has two locations, both of which share the same quality of coffee and food. The one on Dzirnavu Street is more central and usually busier than the one on Miera Street.
Addresses: Miera iela 29/31 & Dzirnavu iela 39
Instagram: @rocketbean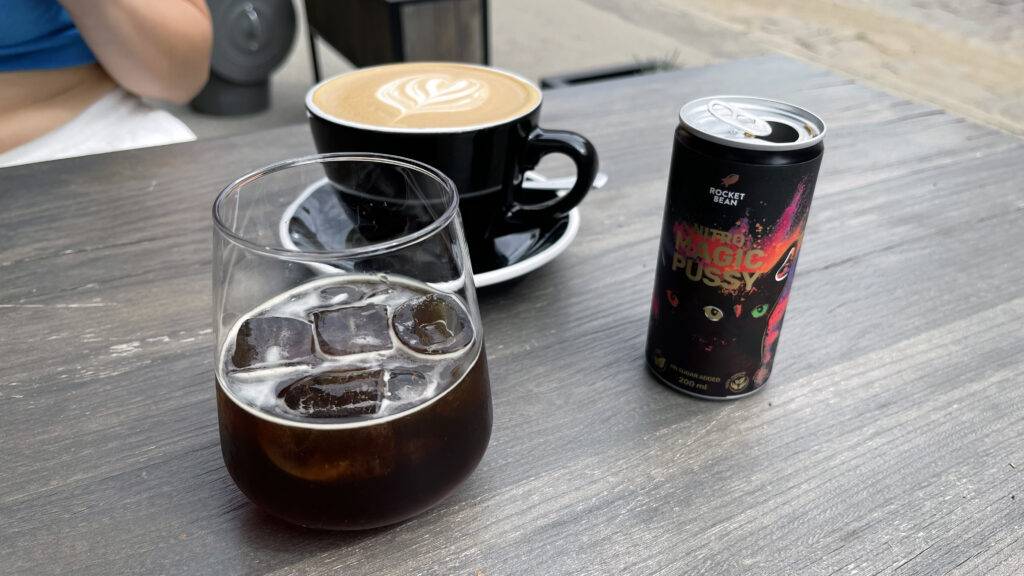 See also: Top 10 Laptop-Friendly Cafes in Amsterdam
4. Kalve Espresso Room
Kalve Espresso Room is another great option for coffee lovers. This small café is a novel coffee roastery, established by a team of coffee professionals. They are dedicated to providing customers with the best quality coffee and strive to ensure excellence in the cup by purchasing coffee with a grade of 82 points or higher on the 100-point scale. The atmosphere is cozy and intimate.
Kalve offers a wide variety of specialty coffees, including signature espresso blends and high-scoring microlots from various origins. They value outstanding taste, responsibility towards the environment, and great product design. The café also offers a zero-waste coffee bean selling concept which is a great initiative for environment-conscious customers. The service is enjoyable, friendly, and executed with great ease.
The coffee room itself with the few tables outside is also pleasant to the eye and the atmosphere is cozy and inviting. The café has become a favorite for many customers because of its consistency in quality of service and coffee, friendly baristas, and delicious pastel de nata.
Expert local tip: Kalve offers a discount if you bring your own cup!
Address: Stabu iela 38
Instagram: @kalvecoffeeshops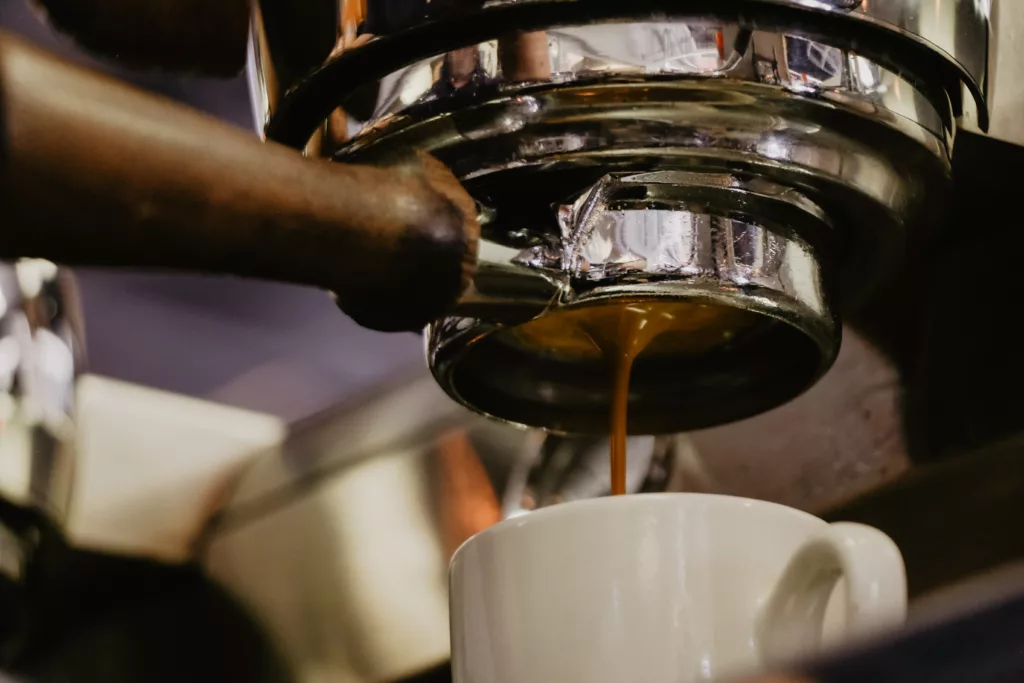 5. Moltto Coffee
Moltto Coffee has two locations in Riga, one in the old town and one in the Center. Both locations offer great coffee and small snacks in airy, bright environments with a modern vibe.
For those of you (us) who prefer our espresso drinks made with plant-based milk, Moltto Coffee can accommodate that without issue. It's one of the few spots in Riga that does not upcharge for plant-based milk.
In addition to coffee, Moltto also has beer, wine, and some spirits available along with pastries and some poke-style bowls. The WiFi inside the cafe isn't a Starlink gigabit connection like onboard AirBaltic flights but it's good enough for most tasks at about 20-30 mbps even when the cafe is packed. There's also an outdoor seating area in the center location which is a great place to get some fresh air on days when the weather is nice in Riga.
Address: Krišjāņa Valdemāra iela 43 & Miesnieku iela 14
Instagram: @moltto.coffee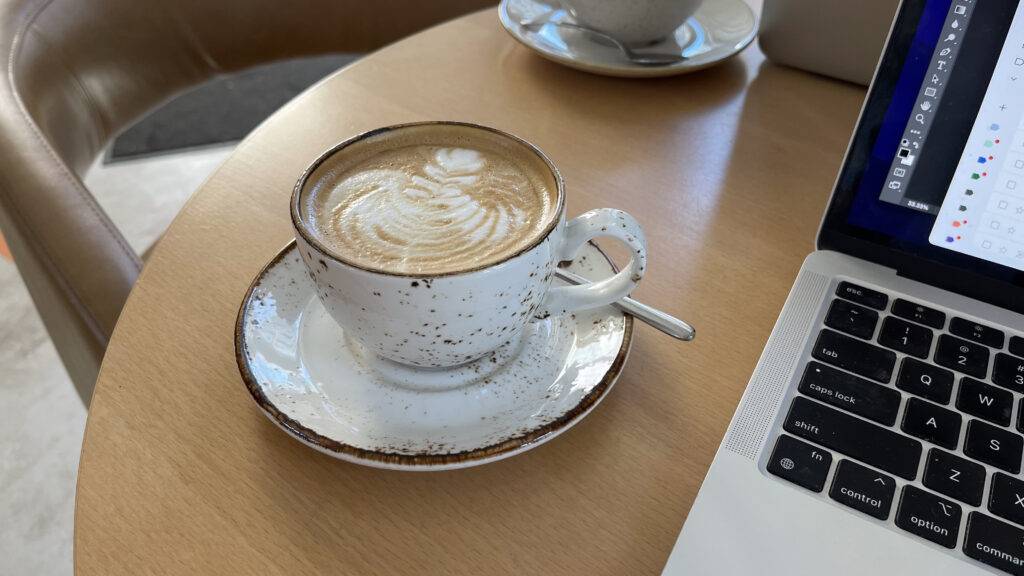 6. All Cappuccino Cafe
All Cappuccino is a cozy little coffee shop located in the city center of Riga. The café is known for its great location, which makes it easy to find. The café has a small front patio for sunny days and it is perfect for those who like to enjoy their time, surroundings, and drink. The café also has a small seating area that creates an intimate feeling and allows customers to enjoy their time inside.
The café is known for its delicious lemon tart, which is a must-try for those who love it. The café also serves a variety of coffee drinks, including cappuccinos, lattes, and teas. The café is also a great place to go if you have food allergies as they offer several milk alternatives. The prices are reasonable and the atmosphere is warm and welcoming, making it a great spot for a casual coffee break or a catch-up with friends.
The café is located near the Art Nouveau area of Riga and is a great place to enjoy a nice meal or a cup of coffee while admiring the sights of The House that was Built in 1903. All Cappuccino is a perfect place for those who want to enjoy a snowy evening in cozy Riga with good coffee and pie.
Address: Antonijas iela 11 & Vīlandes iela 13
Instagram: @allcappuccino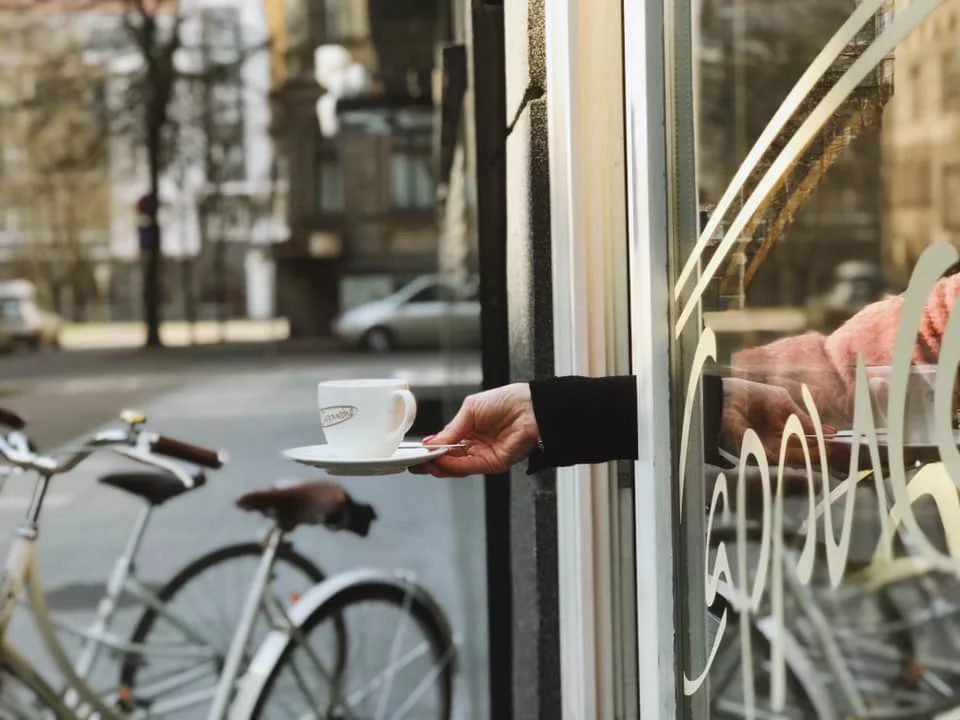 7. Parunāsim kafe'teeka
Parunāsim kafe'teeka is a wonderful, cozy, and romantic cafe located in Old Riga. The cafe is quiet and perfect for sitting and chatting, making it a great spot for a romantic date or a casual meeting with friends. The staff is kind and responsive, making it a pleasant dining experience.
The coffee and cakes are delicious, with the cheesecake being a particularly tasty treat. However, it's worth noting that cheesecake may not always be available as they only make a limited supply that quickly runs out every day. It's also worth booking in advance if you're set on Parunāsim kafe'teeka since all of the shop's tables often fill up.
Most locals would tell you that this is the most romantic cafe in Riga. It lives up to this reputation with its cozy and romantic atmosphere. The interior of the cafe is spread over two floors, and there are also outdoor terraces available. The food selection, while not large, is delicious and perfect as a snack to enjoy with tea or coffee. It all adds up to making Parunāsim kafe'teeka a great choice for those looking for a quiet, romantic spot to sit and chat or work. How cozy!
Address: Mazā Pils iela 4
Instagram: @parunasim_kafeteeka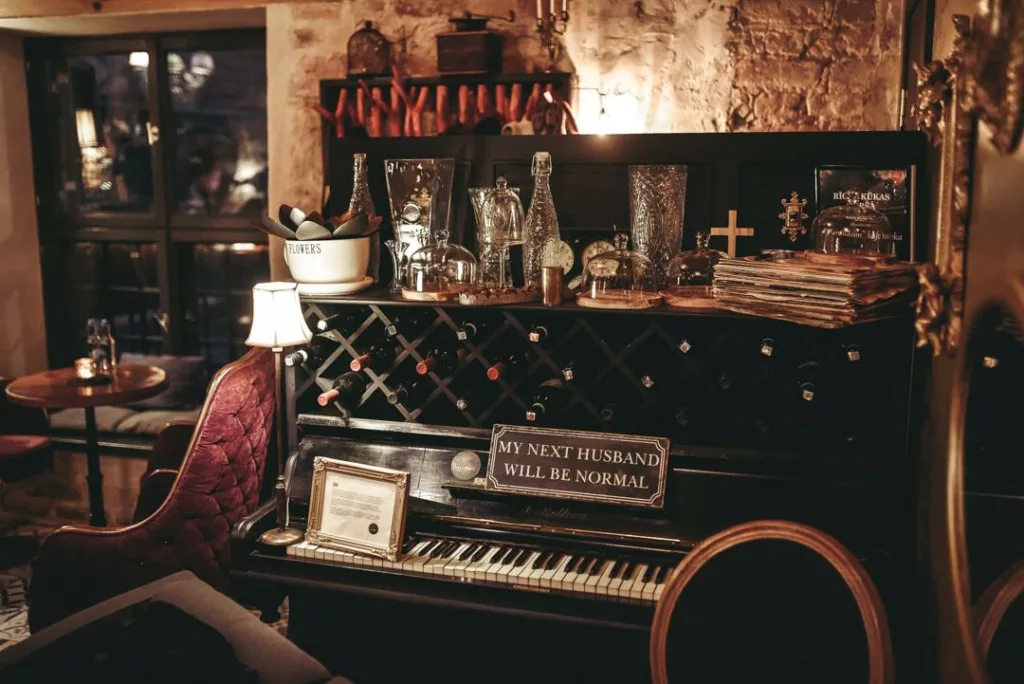 8. Cafeterius
Cafeterius is another excellent choice if you're looking for a good cafe to work from in Riga. It's located right in the center of town at the junction of Terbatas and Gertrudes streets.
In addition to freshly roasted coffee, it offers strong WiFi making it perfect for digital nomads and other reote workers. With comfortable seating areas including a high-top table and couch tables, it offers nice front and back garden terraces which are perfect for enjoying Riga when the weather is nice.
It's worth knowing that the prices at Cafeterius are significantly higher than many of the other options on this list (and in Riga) — you can easily spend 5€ on a drink after selecting your preferred milk. In addition to coffee, you can also get fresh food and tasty deserts to enjoy as you work.
Address: Tērbatas iela 45, Centra rajons
Instagram: @cafeterius_riga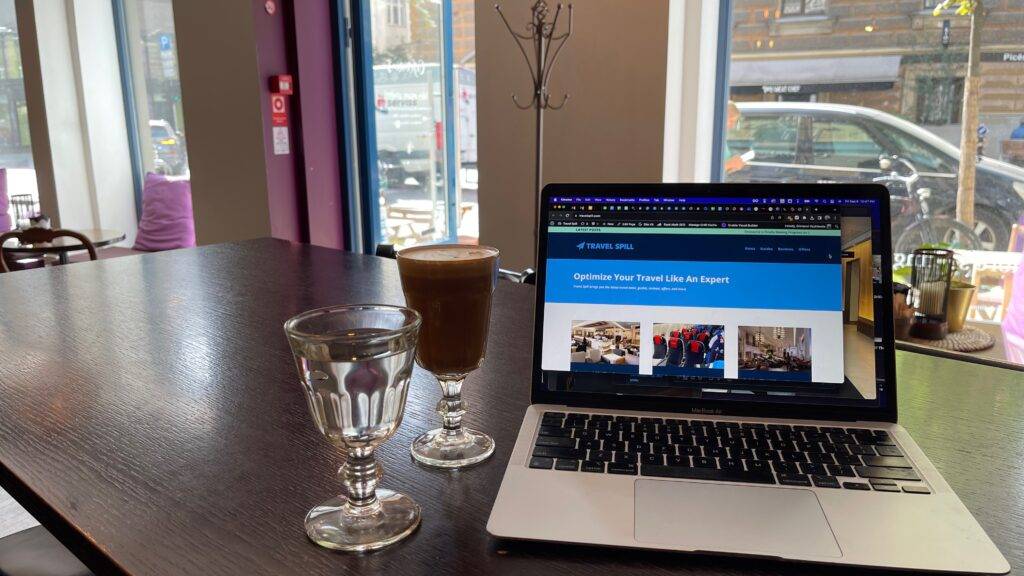 9. Mīkla Coffee and Bakery
Last but definitely not least is Mīkla. This coffee place and bakery is located in the new hygge-Bau Haus quarter MILLA. The place represents the quality and aesthetics of a new Scandinavian artisan, and it specializes in selling sourdough bakery made with long fermentation and coffee.
In addition to its main location on Dzirnavu Iela (Dzirnavu Street), there's also a location inside the Grand Hotel Kempinski Riga.
The cafe bakes its own products every day starting at 5 am, ensuring that customers get the freshest bread, croissants, pastries, cookies, and trendy local deli. they also serve a few voguish craft beers, kombuchas, and smoothies, and they work with small local farmers. As for the coffee, they serve excellent locally roasted 'Kalve' coffee.
The atmosphere is warm and inviting, making Mīkla a great spot for a casual coffee break or a catch-up with friends. With its focus on high-quality, locally-sourced ingredients and a cozy atmosphere, Mīkla is a great place to work and enjoy Riga's artisanal food and drink scene.
Address: Dzirnavu iela 42 & inside the Grand Hotel Kempinski Riga
Instagram: @mikla_bakery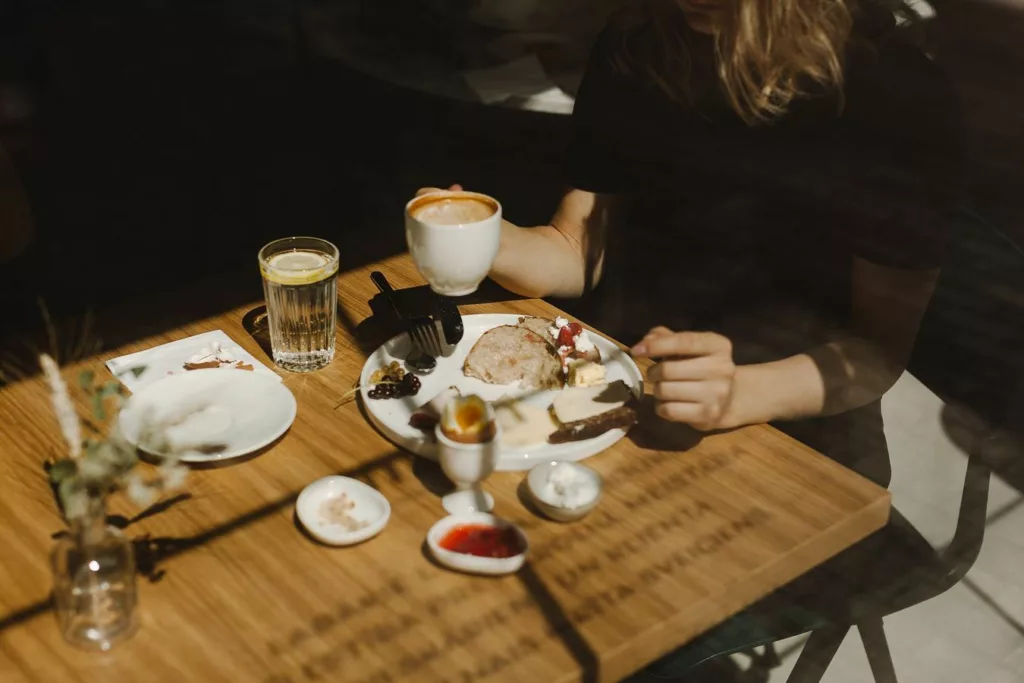 See also: Primeclass Business Lounge at Riga Airport (RIX)
Bottom Line
Riga offers a wide variety of trendy coffee places to choose from, whether you're a coffee enthusiast looking for a unique experience or a digital nomad in search of a comfortable and productive space. Each of the places listed in this blog post has its own unique atmosphere and menu, and target audience. With a wide variety of options to choose from, it's easy to find the perfect spot to enjoy a delicious cup of coffee and get some work done in Riga while exploring everything Latvia has to offer.
Have you been to Riga? Be sure to let us know what your favorite places and tips are in the comments.