A few weeks ago, I had the chance to spend some time at the Riga Airport Primeclass Business Lounge before a flight out of Latvia. Despite being Latvia's main airport, Riga Airport (RIX) only has one lounge so the Primeclass Lounge is where all eligible passengers are directed across all airlines.
The lounge itself is fit for purpose and offers a comfortable space to unwind before boarding. While it may not warrant an early arrival, it's certainly not a lounge to avoid. It provides a relaxing environment to pass some time, complete with apron views.
Here's everything you need to know.
Primeclass Business Lounge Riga Airport Location
The lounge is located in the Schengen part of the airport near Gate B1. Riga Airport is compact so it's only a short walk after completing security checks.
There are no other lounges so follow the signs to the VIP Lounge or Gate B1. You'll find an elevator and stairs near the gate, go upstairs to the third floor and cross a small bridge to find the lounge reception.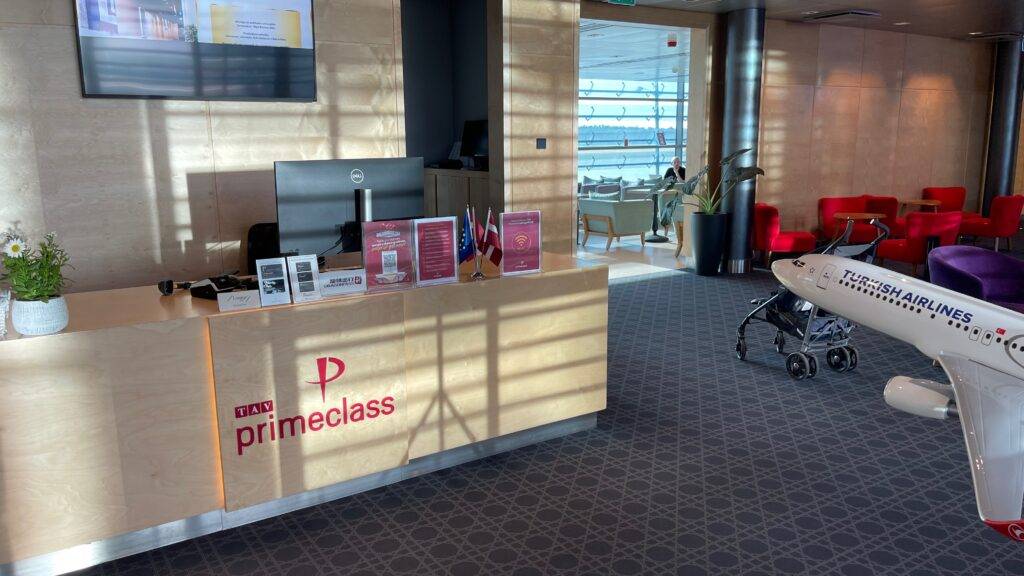 Primeclass Business Lounge Riga Airport Access Rules
As the sole lounge at Riga Airport, the Primeclass Lounge serves as the contract lounge for most airlines operating at the airport and also offers easy access with credit cards.
If you hold elite status with your carrier or are flying in a premium cabin, this is the lounge you'll likely be directed to. This includes AirBaltic, the flag carrier of Latvia which uses Riga Airport as its primary hub, along with the wide array of other airlines serving Latvia.
Access to the Primeclass Business Lounge at Riga Airport is also granted to Priority Pass, DragonPass, and LoungeKey members. So anyone with a credit card including Priority Pass membership has access.
Primeclass Business Lounge Riga Airport Hours
The lounge is currently open daily from 5 am to 11 pm. Hours of operation can change, so before your visit make sure to confirm the current opening times but this should cover most departures from the airport.
Primeclass Business Lounge Riga Airport Seating
Despite being the only lounge in the airport with easy access requirements, the lounge consistently maintained a spacious and uncrowded atmosphere during this visit (and prior visits).
The Primeclass Business Lounge has over 100 seats in various configurations, ensuring a balance between private and open spaces. With diverse seating options like sofas, tables for two, couch-style seats for four, and separate tables, the lounge provides a comfortable and spacious to suit different preferences.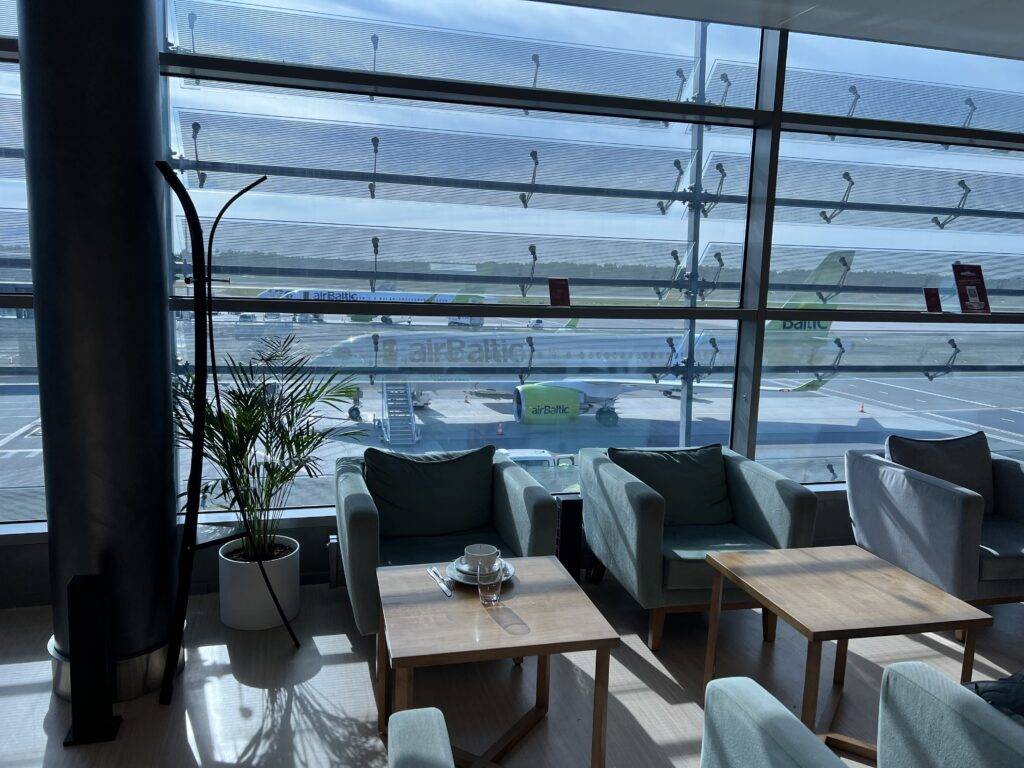 Primeclass Business Lounge Riga Airport Food and Drinks
The Primeclass Business Lounge provides a variety of light snacks and drink options catering to a wide range of tastes and preferences.
There's a soup of the day that changes based on seasonal variations. During this visit, the option was bean soup with pork, not ideal for me as a vegetarian. Traditional Latvian dishes were also on offer, like meatballs, stir-fried vegetables, and potato balls, evoking a sense of culinary familiarity.
As a vegetarian, the salad section was most interesting to me, with options like the red creamy bean salad, carrot salad with sunseeds and cream, and marinated beet salad, all local specialties. Vegetarian options beyond the salad bar were quite limited, but I was quite happy.
They serve the refreshing Latvian soup known as cold beet soup or "Aukstā zupa" in the summer. If you're planning a visit to Latvia in the summer, this soup is a must-try.
Snacks include local treats like Selga and "Vecrīga" cookies, as well as alternatives such as rice cakes and crispbreads. To satisfy sweet cravings, there was an abundant selection of pastries, fresh fruits, and juices, complemented by an array of coffee and tea choices.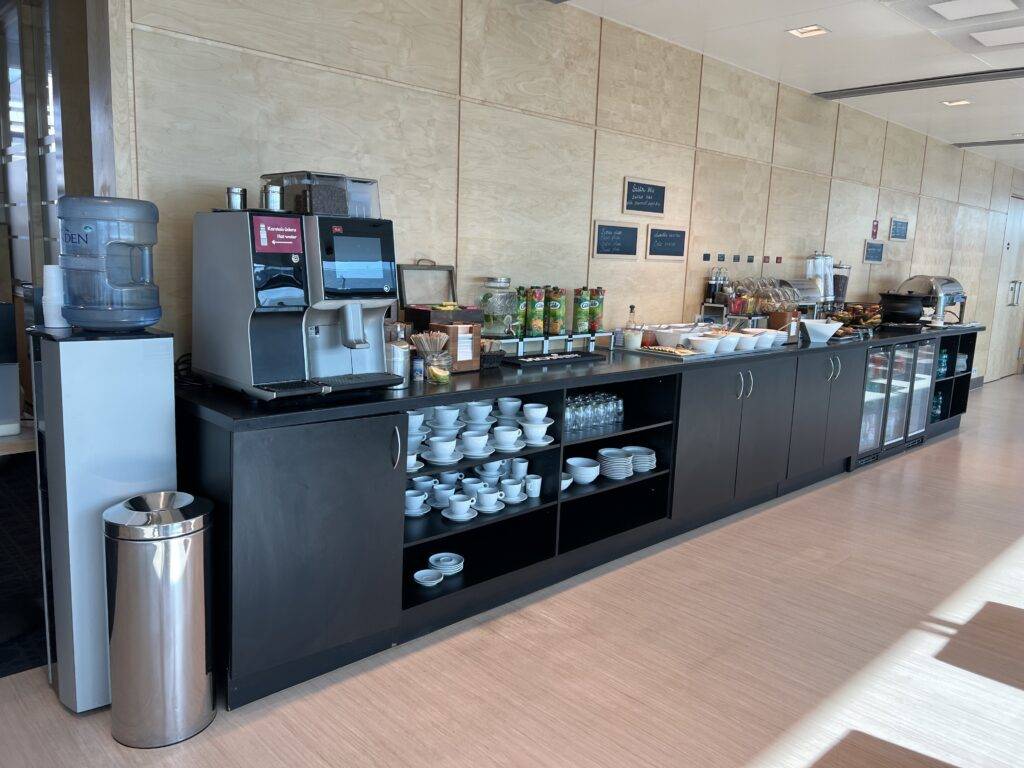 In terms of drinks, the lounge offers a selection of bottom-shelf spirits and an impressive array of alternative liquors. This included various types of the local Latvian liquor, Rigas Balzams.
The gin (my personal go-to) selection was limited to Beefeater so I stuck to mixing prosecco with Cido orange juice, creating a delightful mimosa-like concoction.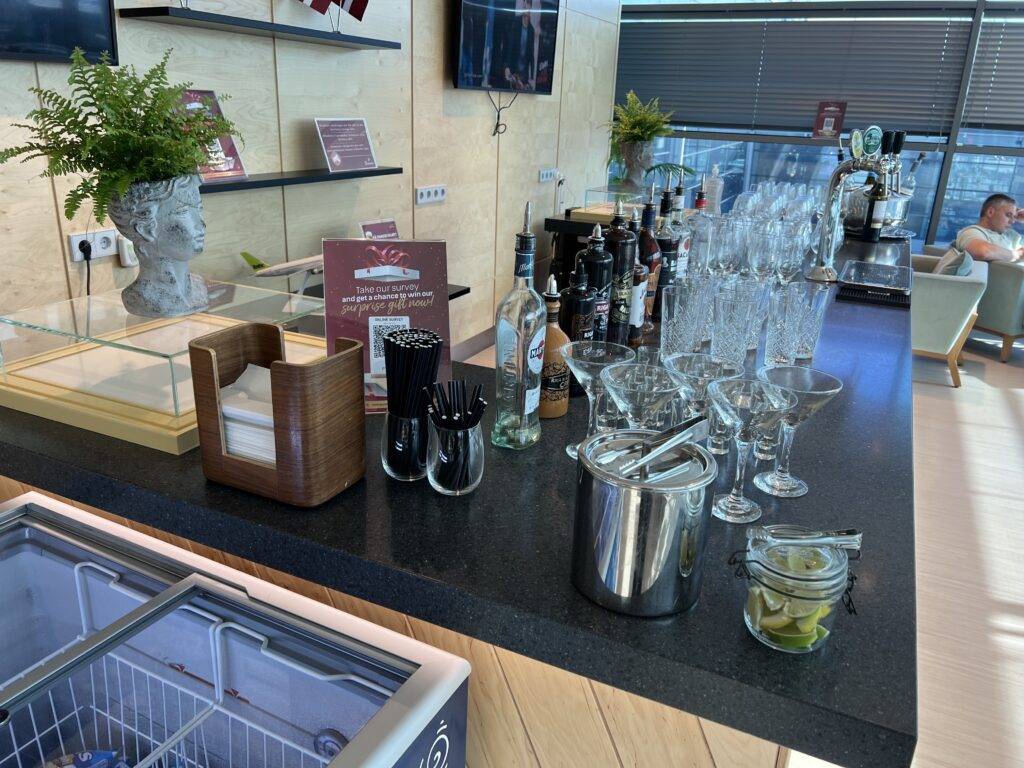 Primeclass Business Lounge Riga Airport Apron Views
What the lounge lacks in drink selection, it makes up for in great views of the apron and runway.
Like the rest of Riga Airport, the lounge is bright and bathed in natural light with floor-to-ceiling windows. The lounge's 3rd-floor location means that the windows directly overlook the apron where aircraft are loaded, taxi, and take off.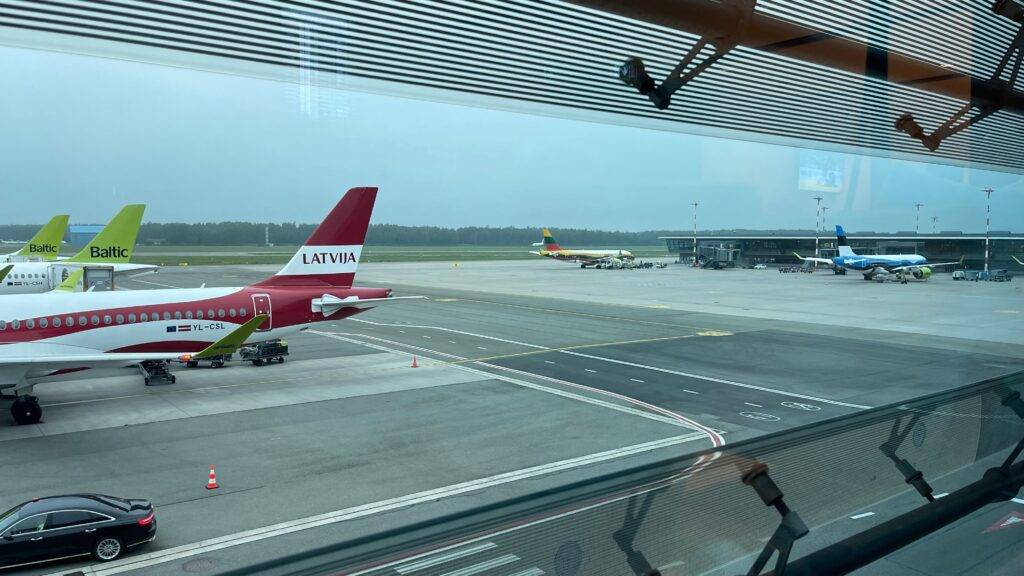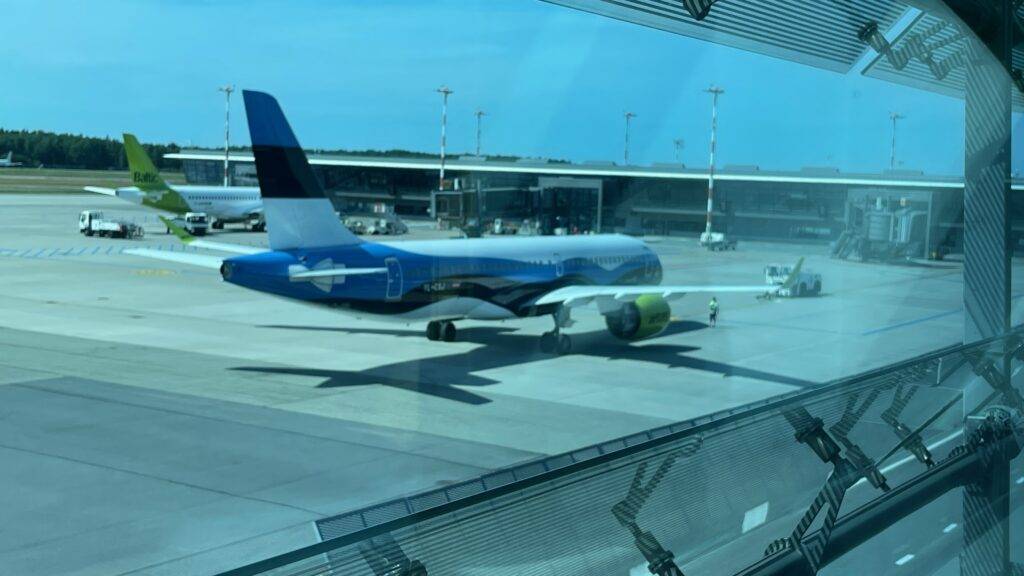 Primeclass Business Lounge Riga Airport Bathrooms
The bathrooms are tucked away from the main room, where the seats and food are. They are spacious and fitted with white subway tiles. Nothing fancy, but they are super clean and easy to find.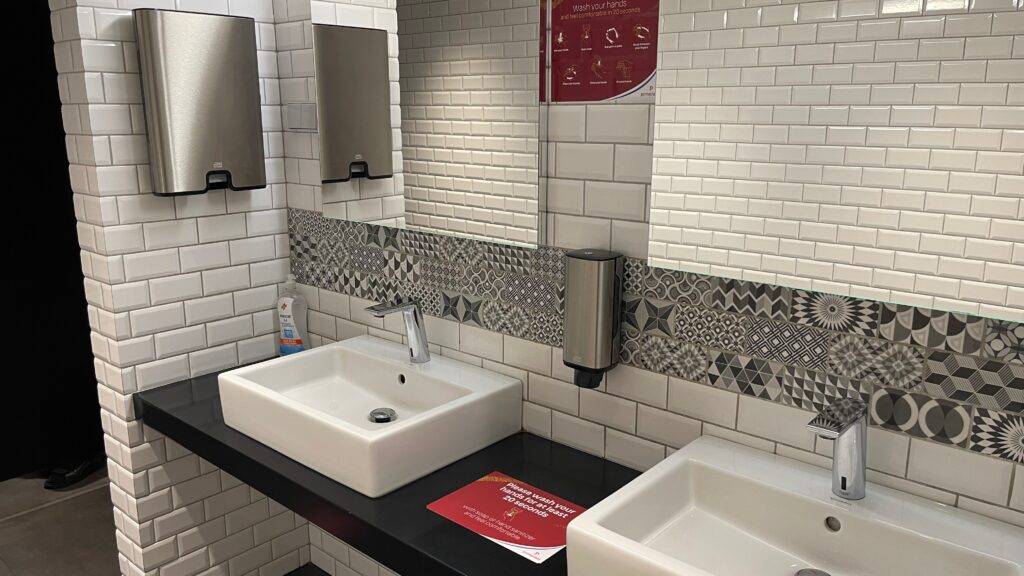 Primeclass Business Lounge Riga Airport Showers
There's little that's more refreshing than the option to shower at the airport when you need it. Unfortunately, this is sometimes unavailable in lounges at smaller airports without a long-haul hub. Luckily, Riga Airport does not have this problem.
The Primeclass Business Lounge features a well-equipped shower room, complete with essentials such as towels, shampoo, conditioner, shower gel, and body lotion. If required, additional amenities like toothbrushes and toothpaste are available upon request. The shower room also includes a toilet.
I was coming directly to the airport from celebrating the Midsummer festival weekend so I planned on a quick refresh before my flight. To access the showers, guests simply need to let the front desk know. There's only one shower but demand isn't very high.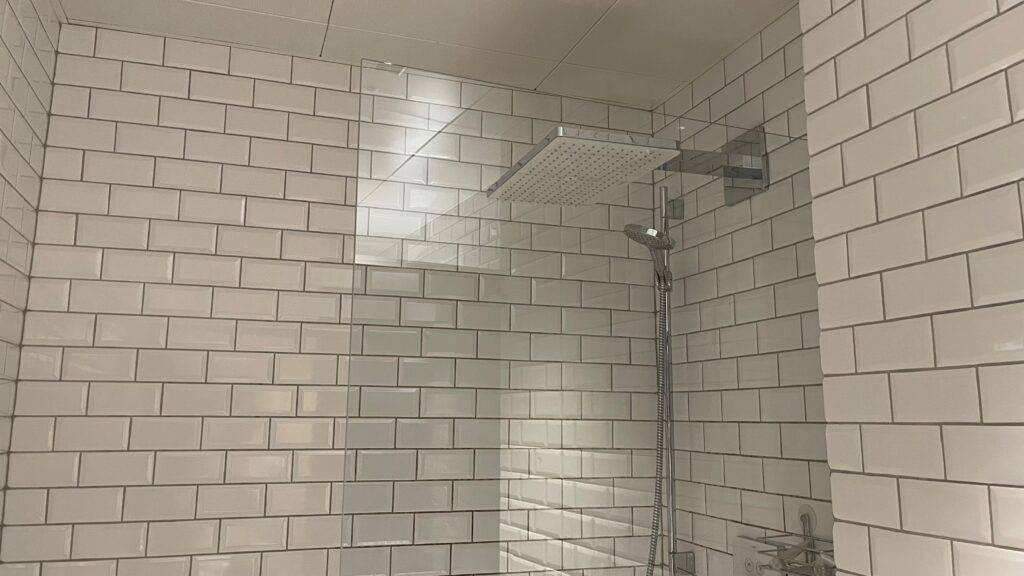 Primeclass Business Lounge Riga Airport Playroom
Primeclass helpfully caters to younger passengers with a separate playroom where they can entertain themselves.
The room features LEGO blocks, crafts, and board games, along with a selection of cartoons and PlayStation games for the TV. There is also a nursery equipped with a baby changing table.
It's a well-designed space to keep kids engaged away from others in the lounge with an abundance of activities while maintaining a peaceful atmosphere for other passengers in the adjacent room. I'm sure this is helpful to parents of energetic kids, allowing them to play freely before their flight without disrupting other lounge users.
Bottom Line
The Primeclass Business Lounge at Riga Airport (RIX) provides a convenient and comfortable environment for eligible passengers to relax before boarding their flight. As the airport's only lounge, it serves passengers from airBaltic along with the other airlines flying to Latvia. This functional space may not warrant an early airport arrival, but it's an ideal spot to kill time and soak in some apron views. If you're flying through Riga Airport, the Primeclass Business Lounge offers a touch of practical comfort to improve your Riga Airport experience.