Flybe, the UK-based regional airline, is ceasing trading and going out out of business (again). The airline, which was once the UK carrier with the most flights outside of London, had been relaunched and begun flying in April 2022 after going out of business in 2020 during the Covid-19 pandemic.
Clearly, Flybe's new management wasn't able to make the tough regional market in the UK work. It's been less than a year since the airline made it back into the skies and we're here discussing a new Flybe collapse.
Flybe Ceases Trading Effective Immediately, Appoints Administrators
UK regional airline Flybe announced today that it is insolvent and has canceled all flights.
According to a statement on its website, "Flybe has now ceased trading and all flights from and to the UK operated by Flybe have been cancelled and will not be rescheduled." It added that "Flybe is unfortunately not able to arrange alternative flights for passengers."
Ironically, the site still has a popup enabled prompting visitors to sign up for email updates to be the first to hear about Flybe's offers.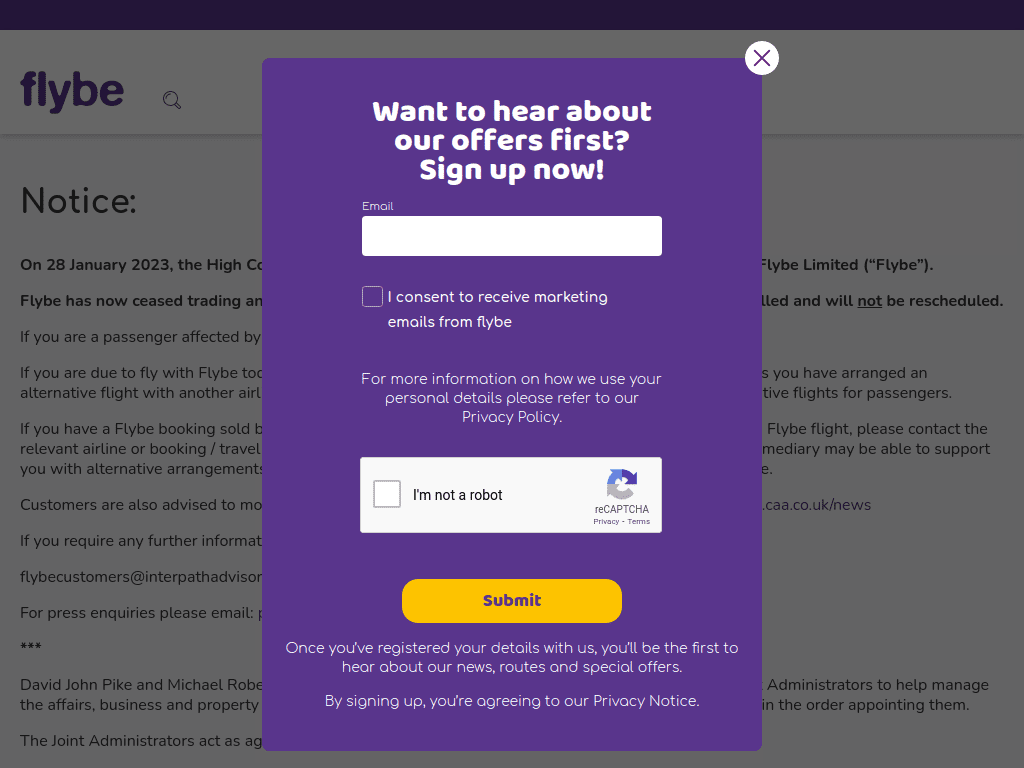 The UK's Civil Aviation Authority also issued a statement with information for affected passengers:
Flybe, which operated scheduled services from Belfast City, Birmingham and Heathrow to airports across the United Kingdom and to Amsterdam and Geneva, has ceased trading.

All Flybe-flights have now been cancelled. Please do not go to the airport as flights will not be operating.

Flybe customers who still need to travel, will need to make their own alternative travel arrangements via other airlines, rail or coach operators.

The UK Civil Aviation Authority will provide advice and information to affected passengers. More information can be found on www.caa.co.uk/news when it is available.

Information will also be made available on our Twitter feed @UK_CAA .

Paul Smith, Consumer Director at the UK Civil Aviation Authority, said:

"It is always sad to see an airline enter administration and we know that Flybe's decision to stop trading will be distressing for all of its employees and customers.

"We urge passengers planning to fly with this airline not to go to the airport as all Flybe flights are cancelled. For the latest advice, Flybe customers should visit the Civil Aviation Authority's website or our Twitter feed for more information."

UK Civil Aviation Authority website
Information for Passengers Affected by Flybe Collapse
If you have a flight booked on Flybe, then this is bad news. Flybe will not be operating your flight and will not be assisting you in getting alternate travel arrangements. Similarly, the UK government is not stepping in to assist passengers and states that those with a Flybe booking "will need to make their own alternate travel arrangements."
Both Flybe and the UK government is urging passengers not to go to the airport unless you've booked an alternative flight with another airline.
Top tip: If you're affected by an airline insolvency, book alternative transportation or accommodation as quickly as possible. Available flights and hotel rooms will quickly fill up and go up in price.
While it's possible that competitors like British Airways or Ryanair may offer rescue fares, there's no guarantee. You're better off snapping up what you can and deal with recovering your funds from your travel insurance or trip interruption coverage, if possible, later.
With the airline going out of business, options for passengers to get compensation are limited since the entity responsible is insolvent. That said, there are some cases where you may have recourse beyond booking a new ticket with your own funds:
If you have a Flybe booking sold by an intermediary (i.e. not directly with Flybe), contact the airline or travel agency that you booked with. They may be able to support you with alternative arrangements.
If you have travel insurance, this is when it comes into play. Contact your insurance company to find out your options for making alternative arrangements.
You should never book a flight with anything other than a credit card and this situation is a good example of why. If you've paid for your flight with a credit card, you should contact them immediately and dispute the charge.
Most good travel credit cards like the American Express Platinum Card include trip cancelation insurance which has you covered in situations like this. Check the details of the policy from the credit card you used to buy your airfare.
Flybe's History
Flybe has a long history. The airline was founded in 1979 has run into repeated trouble in recent years. It's undergone several re-brandings and changes of ownership over the years, but none of them seems to have always struggled to turn a profit.
In March 2019, the company fell into administration citing high fuel costs and currency fluctuations as the main reasons for its financial troubles. It was subsequently bought by Virgin Atlantic and Stobart Group, who attempted to relaunch the brand in 2021. That didn't work when Virgin Atlantic refused to invest more funds into the airline as its own balance sheet was hammered by the Covid-19 pandemic leading to Flybe's collapse in March 2020.
The airline's name and assets were purchased and a smaller version of the airline relaunched under new ownership in April 2022. Despite the relaunch, Flybe struggled to return to profitability. The company's management team had been working on a number of cost-cutting measures, but these proved to be insufficient to save the airline from collapse. Now, less than a year later, Flybe is ending flying again.
Conclusion
UK regional airline Flybe has gone out of business again. The company has canceled all flights and customers affected by the Flybe collapse will need to make alternative travel arrangements. If you have a booking with Flybe, then your flight is canceled and your options for compensation are limited but you may have options for getting rebooked through your travel agent, credit card trip interruption policy, or travel insurance.