Airbnb is a popular alternative to hotels and other accommodation options but it still doesn't offer a rewards program or any sort of elite status. Luckily, if you're in the know, you can earn miles for Airbnb stays worldwide.
What Airlines Can You Earn Miles With on Airbnb?
British Airways, Qantas, and Delta allow their frequent flyers to earn miles on Airbnb stays worldwide. In addition, customers booking with Airbnb in Japan can earn miles with ANA.
United, in contrast, offers the chance to earn miles with Airbnb competitor VRBO.
Earning miles for Airbnb stays isn't as simple as adding your frequent flyer account to Airbnb and earning miles on stays after that. You'll need to start your Airbnb booking process on your preferred airline's site to earn miles. We put together all the details in this article to help you make your next booking that much more valuable but if you're just looking for the summary, refer to this table:
But whether you're choosing a villa for a holiday, a digital nomad or student renting a place longer-term, or just booking an apartment for a city break, it's worth taking the extra step to earn airline miles on Airbnb and supercharge your rewards.
Earn Avios on Airbnb with British Airways
British Airways Executive Club gives members the opportunity to earn Avios on Airbnb bookings for both stays and experiences. To earn the Avios, you'll need to enter your Executive Club number and book through the dedicated link for British Airways.
Bookings for both stays and experiences earn 3 Avios per £1/€1/$1 spent with Airbnb worldwide. You'll have to start each booking from the dedicated link to make sure that Airbnb and British Airways can properly track your booking and reward you in Avios.
Earning rate: 3 Avios per £1/€1/$1 (USD)
How to earn: Book through the dedicated link
Types of bookings: Both stays and experiences (worldwide)
Earn Delta SkyMiles on Airbnb
Delta also has a partnership with Airbnb offering its frequent flyers the chance to earn miles on Airbnb bookings. Unfortunately, you won't earn as many points with Delta as you would with the Executive Club.
Delta only offers 1 SkyMile per dollar spent on Airbnb. Delta's partnership is also limited to just stays, experiences do not count. Like British Airways, you'll need to start each booking at the deltaairbnb.com dedicated link and enter your Delta SkyMiles number to earn Delta miles for Airbnb stays.
Earning rate: 1 Delta mile per $1 (USD)
How to earn: Book through deltaairbnb.com
Restrictions: Only stays (worldwide), not valid for experiences
Earn Qantas Frequent Flyer points on Airbnb
Qantas Frequent Flyer offers members the chance to earn points on Airbnb stays. As with Delta's partnership, Qantas only offers 1 point per dollar spent. However, Qantas is an Australian carrier so the earnings are based in Aussie dollars.
That's a slightly better value than Delta's offer before taking into account the relative value of Qantas miles vis-à-vis Delta. At the current exchange rate (AU $1 = $0.70 USD), its ~1.4 miles per dollar spent. Only Airbnb stays are eligible, experiences do not earn points. To earn Qantas Frequent Flyer points on Airbnb, start your booking using this link.
Earning rate: 1 Qantas mile per $1 (AUS)/ ~1.4 miles per $1 (USD)
How to earn: Book through the dedicated link
Restrictions: Only stays (worldwide), not valid for experiences
Earn ANA Mileage Club on Bookings in Japan
While British Airways, Delta, and Qantas have global partnerships with Airbnb, you have another option if you're traveling in Japan.
Japanese carrier, All Nippon Airways, has a partnership to let members earn Mileage Club miles with Airbnb. Unfortunately, the promotion is limited to bookings in Japan and only to stay. The earning rate is just 1 ANA mile per ¥200. At current exchange rates that works out to 1 mile per $1.50 spent on Airbnb.
Unless ANA is already your preferred frequent flyer program, you'll probably find better value elsewhere. Like the other options, to earn ANA miles on Airbnb bookings in Japan, start your booking at this link.
Earning rate: 1 ANA mile per ¥200/~$1.50 (USD) spent on Airbnb
How to earn: Book through the dedicated page
Restrictions: Only stays in Japan are eligible, no earnings for experiences or bookings outside Japan
Which Program Offers The Best Value?
Earning airline miles on Airbnb can be a great way to get more from your stays, but your value can differ significantly depending on the program you choose. At 3 Avios per USD, GBP, or EUR, British Airways offers the most generous earnings with the fewest restrictions: you can earn on global bookings for both stays and experiences.
In addition, British Airways has been known to run promotions with its Airbnb partnership. This summer, it offered a 50% Airbnb bonus which netted me over 20,000 Avios when I booked a stay with friends. That's great value!

Your earnings with Delta, Qantas, and ANA would be comparatively lower and exclude experiences. Of course, the program that makes the most sense for you will depend on your personal preferences and if you're already active in a program.
If you'd rather avoid Airbnb, it's worth noting that United has a partnership with Airbnb rival VRBO. MileagePlus members can earn 3 miles per dollar spent on VRBO using this link.
Best Credit Card for Airbnb Stays
Of course, any miles you earn through a booking portal are only gravy on the top of credit card rewards.
My go-to card for Airbnb stays is the American Express Green Card. The card offers 3x Membership Rewards on all travel spend including Airbnb. The card is currently offering an enhanced welcome bonus of 45,000 points for $2,000 spend.
The Venture X from Capital One is the newest premium travel card. You can earn 2x CapitalOne points per dollar on general travel including vacation rentals.
The Chase Sapphire Reserve is also a popular option offering 3x Ultimate Rewards per dollar on travel purchases. The Sapphire Preferred with a lower annual fee also earns bonus points on Airbnb at 2x Ultimate Rewards per dollar.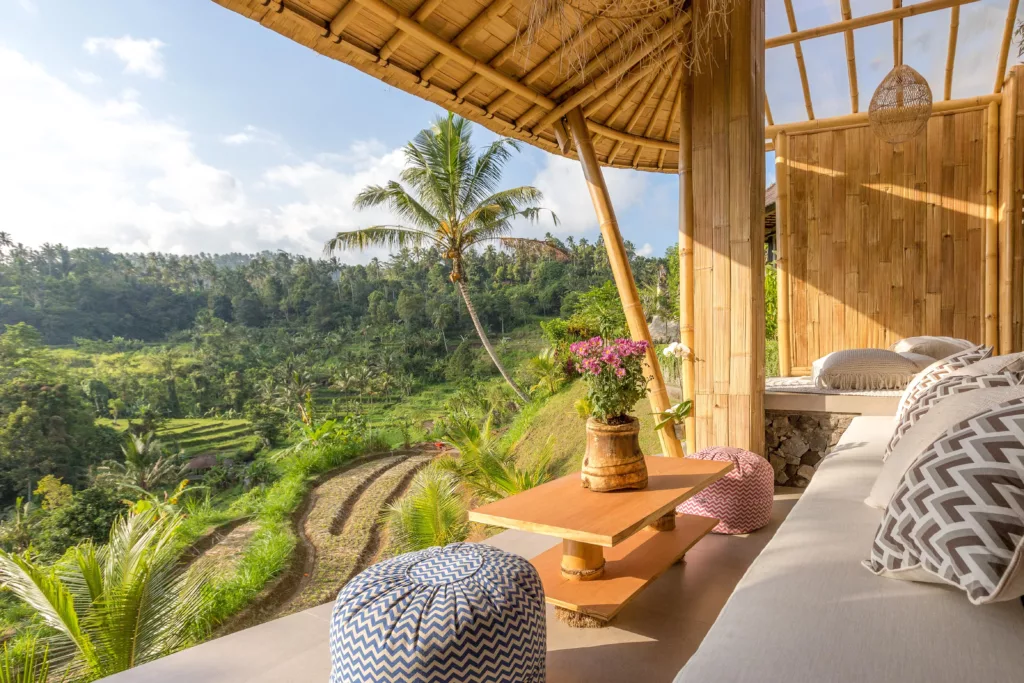 The Upshot
With over 150 million users and nearly 6 million global listings, Airbnb is one of the most popular ways to travel. While it hasn't introduced a loyalty or elite recognition program, it's still possible reward yourself by earning airline miles on your Airbnb booking. British Airways offers the best earning rates but it's also possible to earn airline miles with Delta and Qantas worldwide and with ANA in Japan.