Tuscany, a beloved tourist destination in Italy, boasts stunning landscapes, rich history, and picturesque medieval towns. But Florence and Siena aren't this Italian region's only gems. There are dozens of less well known beautiful towns in Tuscany that are definitely worth adding to your next Italian holiday itinerary.
The 15 beautiful towns in Tuscany we tour have everything beaches to wine country, old fortresses, towers converted to viewpoints to see the bucolic landscape, and much more. Join us as we explore the beautiful towns beyond Florence and Siena that the discerning travel should visit. Explore these hidden gems and lesser-known old favorites, from the hill town of Cortona to the seaside town of Viareggio.
1. Montepulciano: Pearl of the 1500s
Montepulciano, located in the Val di Chiana Valley, is a hill town famous for its wines and Renaissance-era architecture. Explore its cobblestone streets, wineries, and shops, and don't miss the Piazza Grande square, home to great cafes and restaurants.
Montepulciano is not as well-known as its neighboring Tuscan cities, but it is definitely worth visiting. This small medieval town, perched on a hilltop, is full of impressive Renaissance architecture, family-owned shops and restaurants, and some of Italy's best red wines.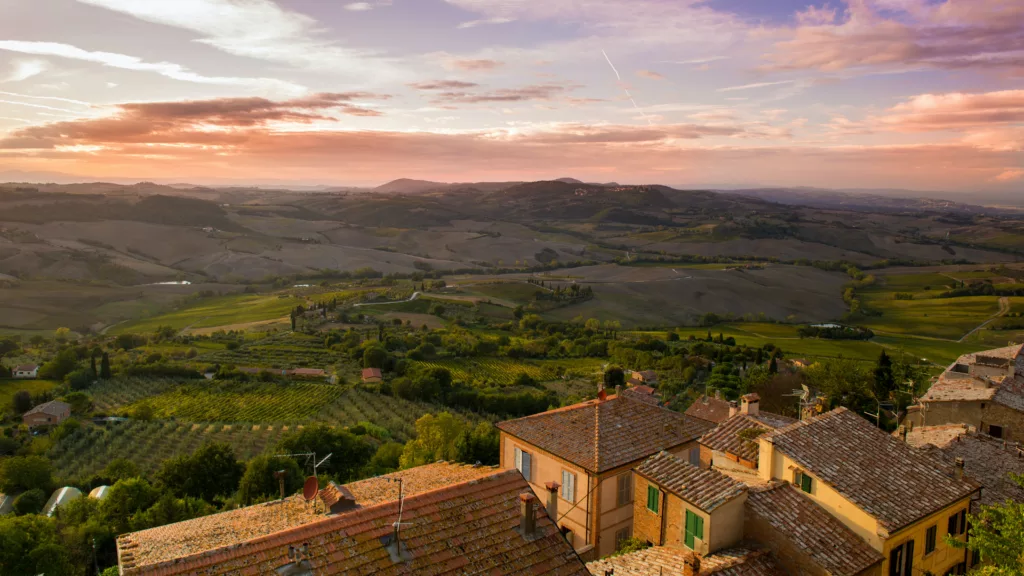 The Piazza Grande is an ideal spot to start your exploration. For centuries, this plaza has served as the primary gathering spot for the town's citizens. The town hall, the Palazzo Comunale, is located on the square and is a great spot for views of the city and the surrounding Tuscan countryside. Montepulciano is also home to three classic Italian churches: the Montepulciano Cathedral, the oldest church in the city, the Church of Sant'Agostino, and the Church of the Madonna di San Biagio, known for its large dome.
To learn more about Montepulciano's history, visit the Museo Civico di Montepulciano. The museum houses a collection of paintings and artifacts from the Etruscans to the 19th century, including works by Caravaggio and Luca della Robbia. To see more of the town, take a stroll down its main street, Il Corso, and admire the many beautiful buildings, including palaces once home to the city's wealthiest citizens.
2. Pienza: The Renaissance Miracle & Ideal City
Pienza, a small hill town in Val d'Orcia, offers a mix of medieval and Renaissance architecture. Visit its Romanesque cathedral and Palazzo Piccolomini, walk its narrow streets and squares, or hike in the surrounding hills. Pienza is also a foodie destination.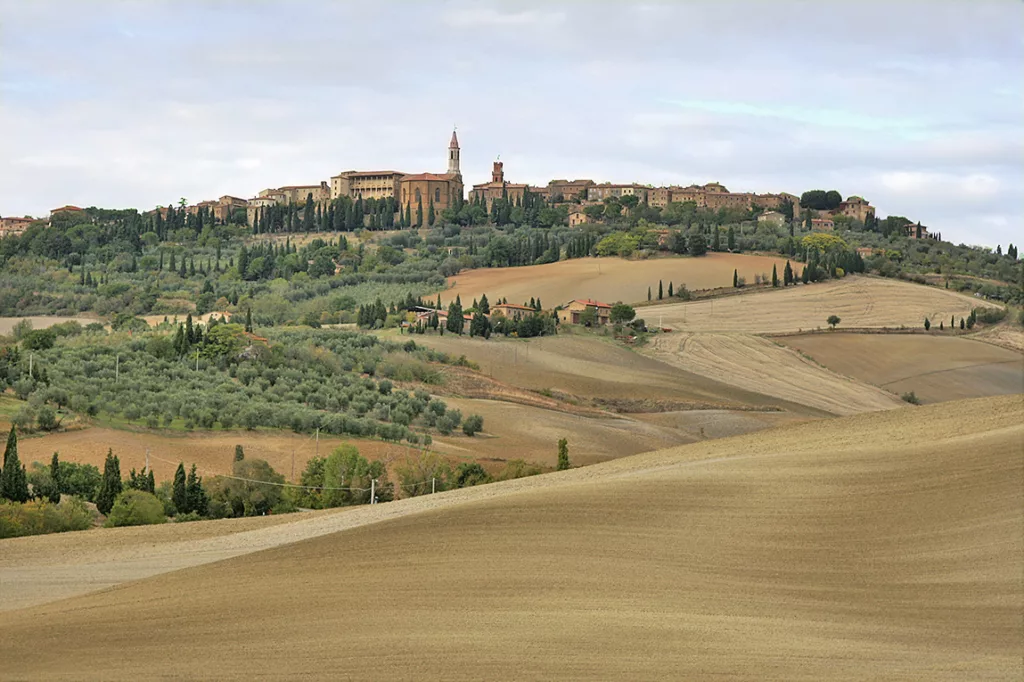 Visiting Pienza, a hilltop town in Tuscany, is like stepping into an urban utopia. Or at least what a Humanist in the late 1400s would have considered utopia. That's when its most famous citizen, Pope Pius II, honored his birthplace by leading its transformation. The town was redesigned by architect Bernardo "il Rossellino" and Humanist Leon Battista Alberti and became known as the "ideal city".
Pienza is a must-visit for cultural tourists and history lovers, families (it's car-free and has a lovely playground), foodies (famous for its pecorino cheese), photographers (stunning landscape photo opportunities), and movie lovers (the last scene of "Gladiator" was filmed here). The town is small but packed with history and charm.
Landmarks worth visiting include Piazza Pio II, the heart of the city's Renaissance design with a trapezoidal shape and buildings in soft honey colors, and the elegant Duomo and Palazzo Piccolomini. Pienza is also a foodie destination. Overall, visiting Pienza is an opportunity to immerse yourself in a 360-degree historical town and feel like time has stood still.
3. Barberino Val d'Elsa: Midway Between Florence & Siena
Barberino Val d'Elsa is a medieval hill town in northern Chianti, near Florence, with a rich history dating back to the destruction of Semifonte. The town was built along the Strada Regia Romana, a vital road connecting Florence to Rome, and was a hub for Tuscan commerce and pilgrimages. The town has maintained its medieval structure, with two main gates, a 15th-century palazzo, and a beautiful dome built on the remains of Semifonte.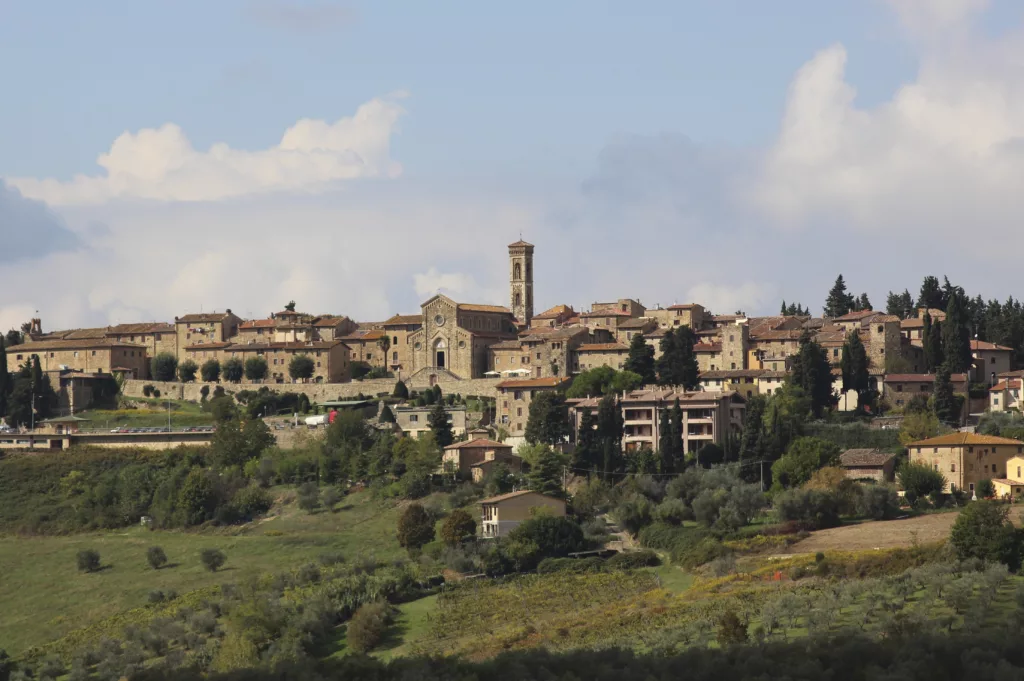 Visitors can explore the historic Fortezza di Barbiano, walk along the River Elsa, and try local cuisine. The town is also home to the "Spedale dei Pellegrini," a former pilgrim's hospital now a popular tourist attraction. Barberino Val d'Elsa is part of the "Village Terraneo" project, which supports and promotes charming, lesser-known resorts in southern Europe, providing tourist information and promoting their unique Mediterranean identity.
Barberino Val d'Elsa is a charming and historic town, with a well-preserved elliptical shape and numerous structures dating back to the 15th century. The town has a rich history, with roots dating back to the daring small country town of Semifonte, and continues to attract visitors with its beautiful buildings and historical significance.
4. Monteriggioni: the Medieval Town on the Hilltop from Assassin's Creed
Monteriggioni isn't just a made up place in Assassin's Creed. Monteriggioni is a unique and immersive experience that you'll never forget. The town is situated on a hilltop surrounded by dense forests in the heart of the Chianti region in Tuscany, Italy, and is well known for its stunning, walled medieval castle.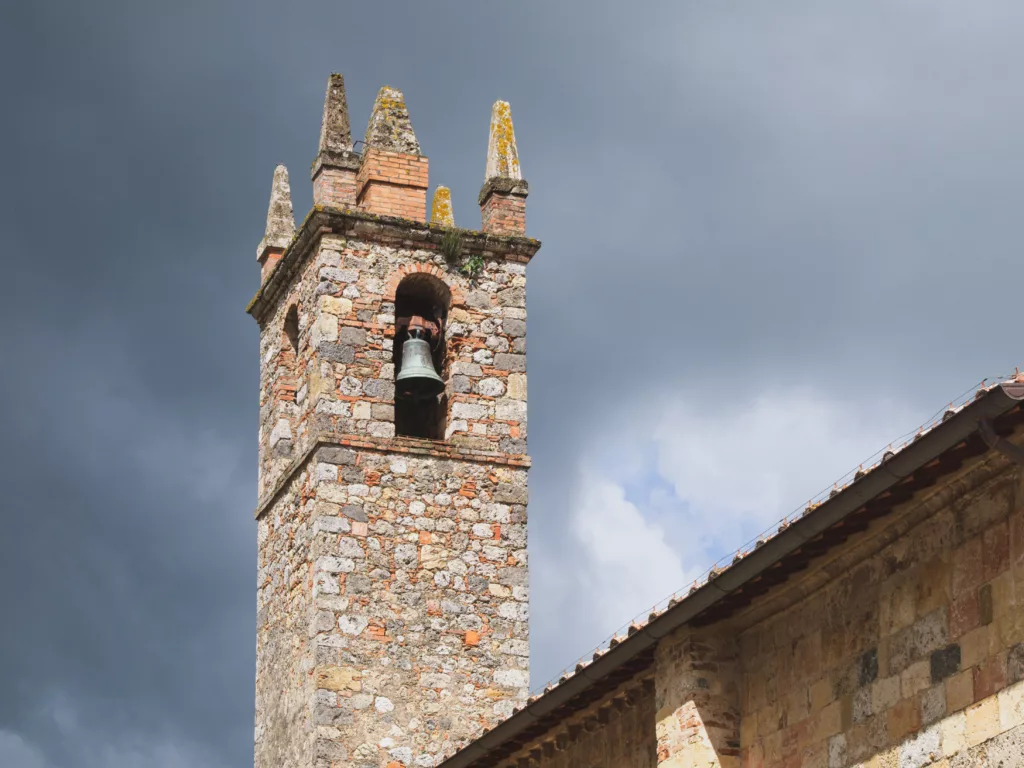 Take a scenic drive along the Chiantigiana road to reach Monteriggioni and step back in time as you enter the fortified walls through one of its two gates, the Franca or Romea Gate. Explore the town's main piazza, Piazza di Roma, and admire the Church of Santa Maria Assunta, which was built at the same time as the rest of the castle.
The castle was cited by the famous Italian poet Dante Alighieri in his masterpiece, The Divine Comedy, and remains an iconic landmark in the region. Every July, the town hosts the Medieval Festival of Monteriggioni, a celebration of life in the Middle Ages with performances, music, food, and much more. Visitors are encouraged to exchange their euros for medieval coins to fully immerse themselves in the experience.
5. Certaldo: Bocaccio's Hamlet
Visiting Certaldo is like stepping back in time to a charming and peaceful medieval town. The town is perched on a hill and surrounded by walls, offering breathtaking views from the top of the Casa Boccaccio tower. The main street, Via Boccaccio, is lined with beautifully preserved medieval architecture and is the perfect place to stop for a delicious Tuscan meal.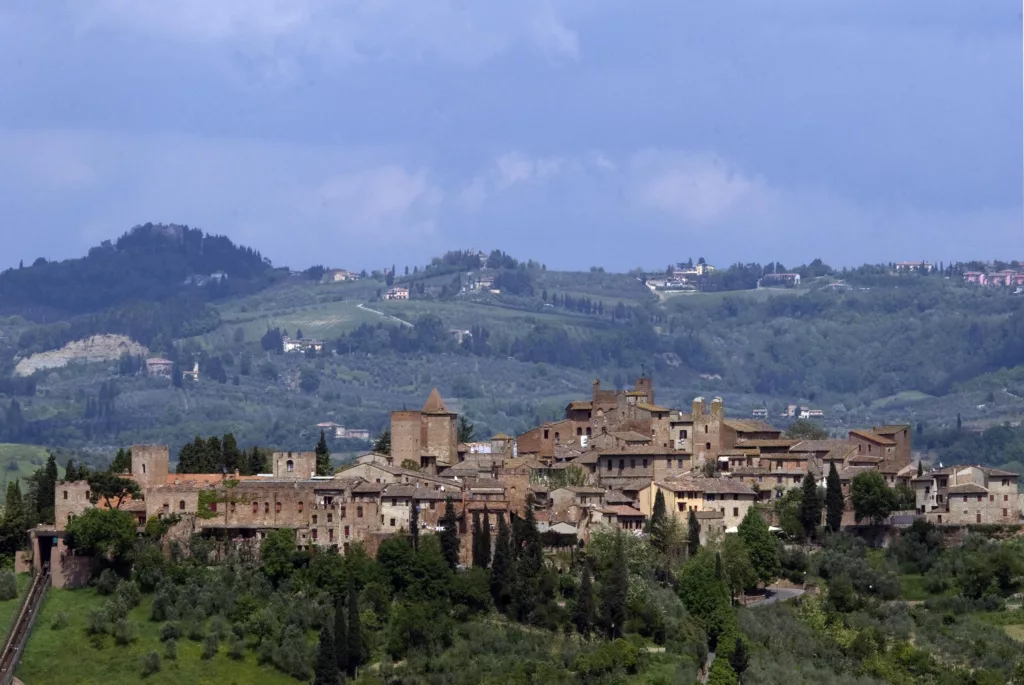 There are a variety of sights to see in Certaldo, including the Palazzo Pretorio, the Church of SS. Jacopo and Filippo, and the Museum of Sacred Art. You can visit the house-tower of Giovanni Boccaccio, an influential Renaissance writer who lived his final years in Certaldo, and learn more about his life and works. A combined ticket, which can be purchased at the Palazzo Pretorio, gives you access to all the main attractions in the town.
6. Colle Val d'Elsa: The Bohemia of Italy
From its winding streets, Renaissance buildings, and hillside vineyards to its crystal glass production, Colle Val d'Elsa in beautiful town in northern Chianti, Tuscany is worth the day trip from Siena. The city is divided into two parts, the old historical center on the hill and the newer part below, and is easily accessible by car or bus from Siena.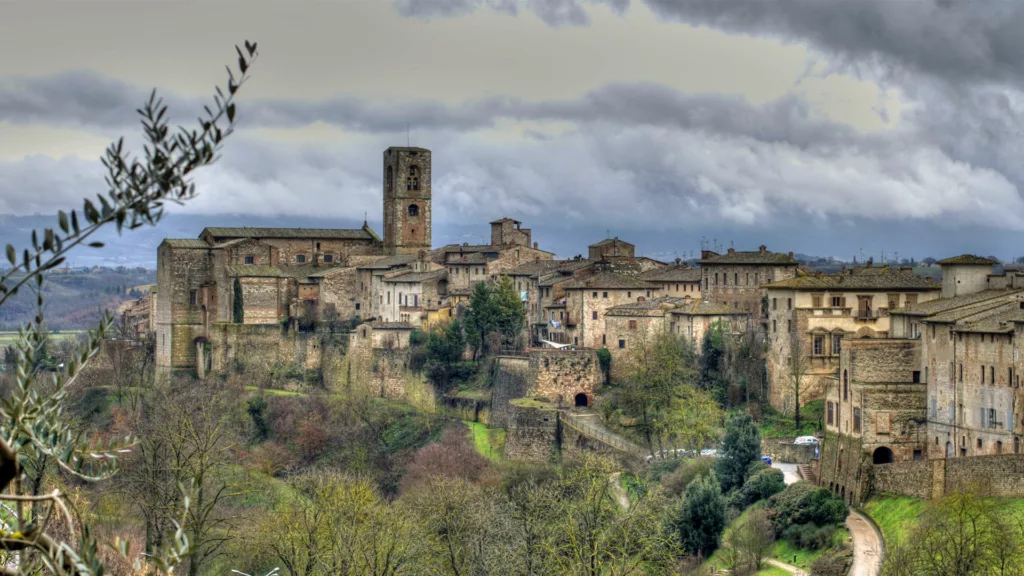 The old historical center is a medieval dream come true, with its narrow streets, imposing churches and palaces, and plenty of opportunities to sample the local wine. The Castello di Colle Val d'Elsa is a must-visit, as is the beautiful Duomo. The lower part of the city is more modern and offers a beautiful fountain, restaurants and shops, as well as museums to visit. The Archeological Museum and the Civic and Diocesan Museum are located in the historical center and offer important collections of art and artifacts from the area.
One of the highlights of Colle Val d'Elsa is its crystal glass production. The town accounts for 95% of Italian crystal glass production and 14% of production worldwide. The first Sunday of every month, you can witness glassblowing demonstrations and see the products on display. Whether you're looking for a peaceful escape or a chance to explore the rich history of Tuscany, Colle Val d'Elsa is a perfect destination.
7. Gambassi Terme: Bathe in Natural Beauty
Gambassi Terme, a small hill town located in northern Chianti, Tuscany, is known for its rolling hills, medieval buildings, wineries and, most importantly, the nearby Terme di Gambassi baths. This charming town has a rich history dating back to the 13th century and was an important center for glass processing. The permanent glass exhibition showcases this history.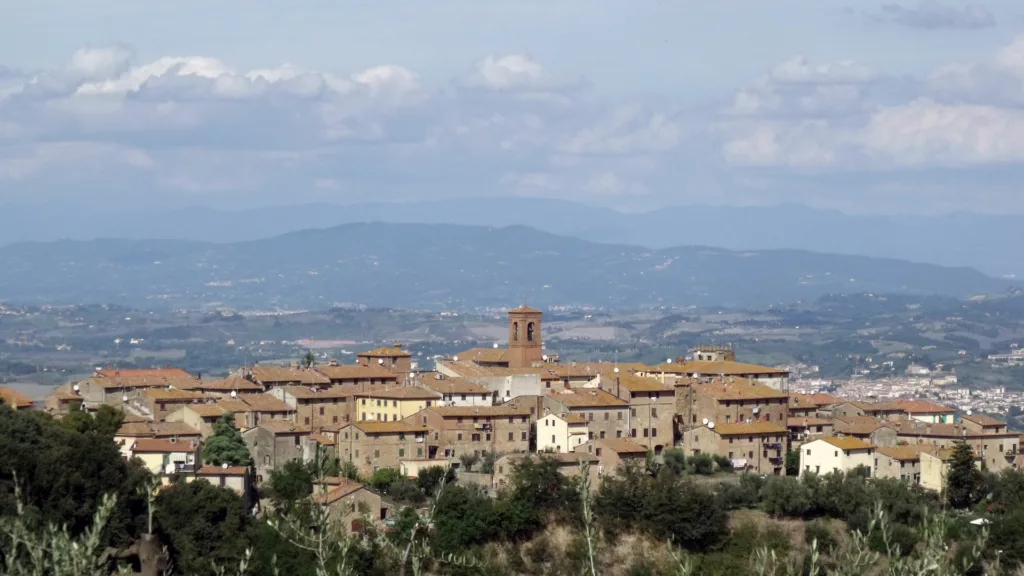 One of the highlights of Gambassi Terme is the Terme della Via Francigena, which uses the Salsa di Pillo water known for its health benefits for respiratory and gastrointestinal issues. The Municipal Park and the Pieve di Chianni, a beautiful Romanesque art piece, are also recommended to visit. The town is also located on the historic route of the Via Francigena and offers picturesque views on a 13 km hike to San Gimignano.
The Val d'Elsa area offers a variety of interesting places to visit including Certaldo, Castelfiorentino, Colle di Val d'Elsa, Monteriggioni, and San Gimignano. Gambassi Terme is a hidden gem in Tuscany, offering a perfect blend of natural beauty, rich history, and cultural escape.
8. Cortona: Under The Tuscan Sun
Cortona, in Val di Chiana Valley, is a hilltop town in Tuscany known for its stunning views and historical architecture made famous by the novel Under the Tuscan Sun. As an ancient town with roots dating back to the Etruscan era, Cortona is rich in museums, churches, and cultural landmarks to explore.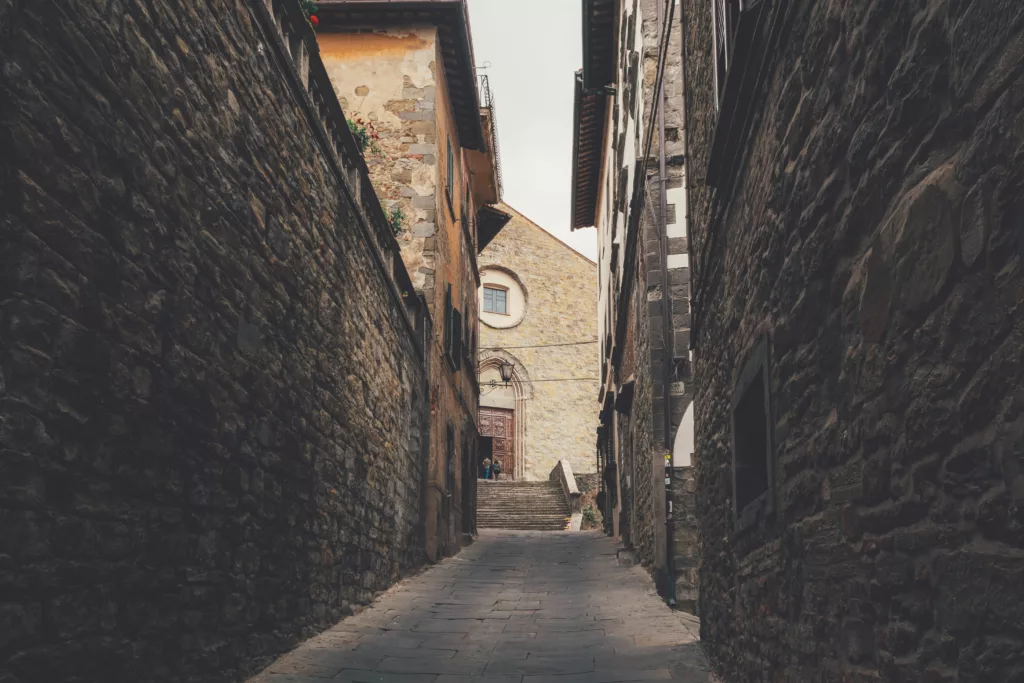 One of the best things about Cortona is its scenic position atop a hill with stunning views over the countryside. In the town center, you'll find the historical heart of Cortona, the Piazza della Repubblica, which is dominated by the medieval Palazzo Comunale, a beautiful palazzo dating back to the 14th century. The square is also home to the Palazzo del Capitano del Popolo, which served as a Papal residency in the 1500s, as well as many cafes and shops where you can relax and watch the world go by.
In addition to Piazza della Repubblica, there is another historical square in Cortona called Piazza Signorelli. This square is dominated by Palazzo Casali and the famous Signorelli Theater. Another cultural highlight of Cortona is the Maec Museum, which houses an impressive collection of Etruscan artifacts and is a testament to the town's ancient heritage.
The best way to experience Cortona is by exploring its museums, churches, and cultural landmarks, taking in the views from its hilltop position, and sampling its delicious food, which is known for being genuine, tasty, and authentic. Whether you're looking for a day trip from Florence or a weekend getaway from Rome, Cortona is a must-visit destination for anyone who wants to experience the essence of Tuscany.
9. Viareggio: Home of the Tuscan Carnival
Viareggio is a town with rich history on the Tyrrhenian coast. Over a millennium ago, the area was fully covered by the sea, but the population of Lucca claimed the coastline in 1460, creating a safe landing stage for goods from the sea and beginning a period of thriving trade. The city built Torre Matilde, a tower that served as defense for the port and became a symbol of the city. In 1601, Viareggio was declared a free port and attracted famous artists, poets and tourists.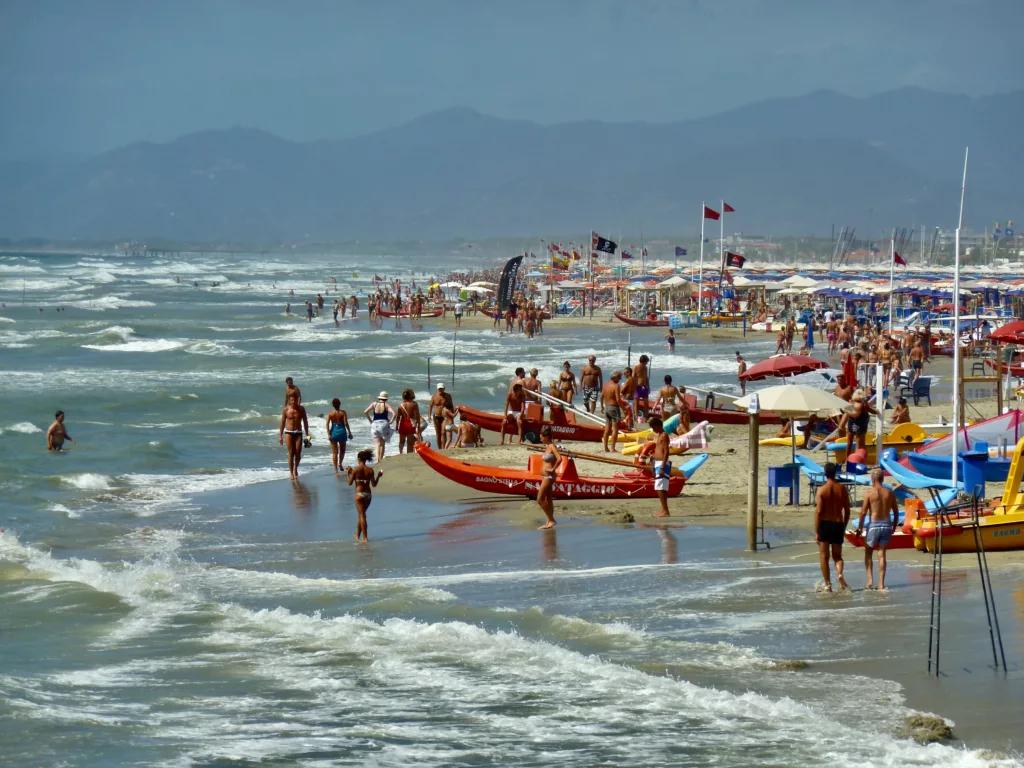 In the present day, Viareggio is a modern city with a distinct image of an Italian Belle Époque resort, thanks to its Art Nouveau architecture. Despite the bombing during World War II, Viareggio has maintained its prestige and reputation, particularly due to events like its famous Carnival. The floats for the Carnival are made by local artists and shipyard workers, and are decorated in a satirical manner, offering a critical view of current events. The Burlamacco, the official local mask, was created by painter Uberto Bonetti in 1930 and is inspired by the Commedia dell'Arte tradition.
Visitors to Viareggio enjoy its long sandy beach, beautiful architecture, and lively atmosphere, making it an ideal destination for those seeking a blend of culture, history, and natural beauty.
10. Lucca: La Città d'Arte (The City of Art)
Next we go to Lucca, one of Tuscany's most well-famous cities aside from Florence and Siena. It's known for its many churches, stunning architecture, and its well-preserved city walls. Aside from being the a city of a hundred churches, Lucca offers well-preserved medieval walls that surround the old town, making it a must-visit for anyone interested in historical architecture.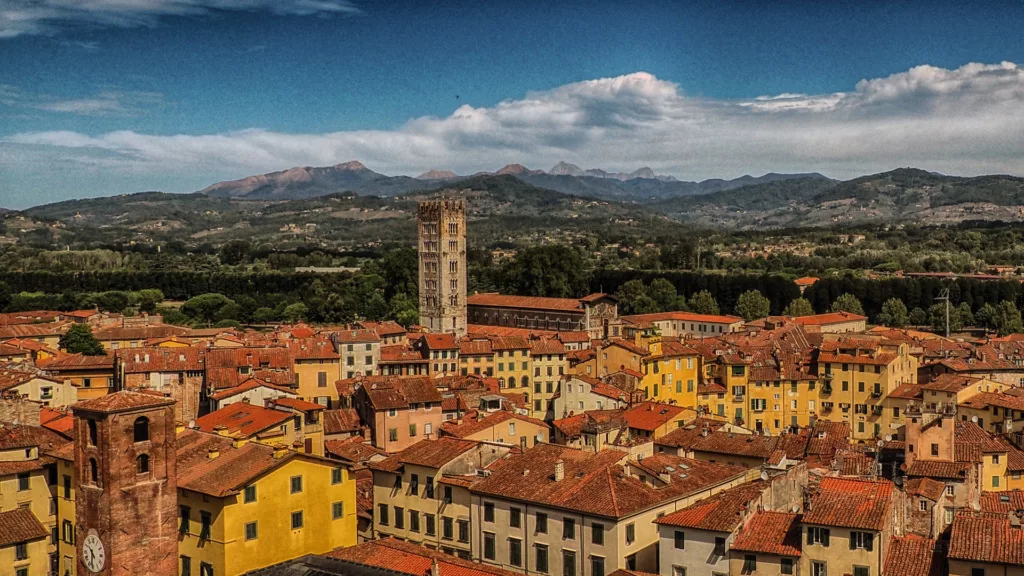 When visiting Lucca, you'll be able to take in the beauty of its many historical structures, including the cathedral and San Michele in Foro. The Piazza dell Anfiteatro is also a must-visit as it is one of the most beautiful squares in Italy, surrounded by buildings that were once a Roman Amphitheatre and are now home to a variety of restaurants and cafes.
If you love history and want to experience the beauty of medieval architecture, then you'll enjoy walking on the historic city walls of Lucca. The city's fortifications were constructed during the Renaissance, and are one of the most well-preserved in Italy.
You can take a walk along the Via delle Mura Urbane, which is a footpath that connects each of the bastions and offers beautiful views of the city. The walk will give you a chance to see the walls from different angles, and admire the craftsmanship of the bastions. From its stunning architecture, churches, and beautiful public squares to its well-preserved city walls, Lucca is definitely worth including on your Tuscan itinerary.
11. San Gimignano: City of Beautiful Towers
San Gimignano is a unique and beautiful town that is unlike any other place in Tuscany. This hill town is famous for its medieval towers, which are symbols of the town's wealth and power. As you walk around the town, you can't help but feel transported back in time, surrounded by the town's rich history and beautiful architecture.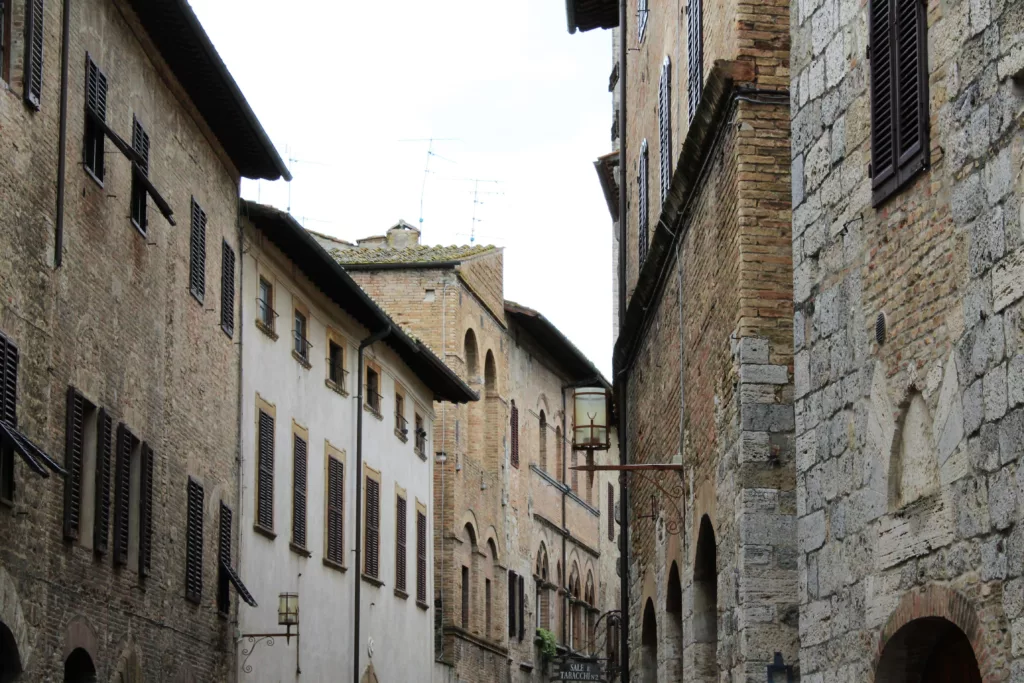 A highlight of visiting San Gimignano is climbing the Torre Grossa, also known as the Bell Tower. The views from the top are breathtaking, with panoramic views of the countryside, the town and its towering medieval towers. It's a great way to get a feel for the town and see the scale of the town's historic buildings.
In addition to its medieval towers, San Gimignano is also known for its narrow, pedestrian-only streets that are lined with shops, cafes, and restaurants. Don't miss wandering through the streets, stopping to take in the scenery and people-watch.
Another great thing to do in San Gimignano is to visit the Historic Centre of the town, which is a UNESCO World Heritage Site. Here, you can visit several piazzas and squares, including the famous Piazza della Cisterna, which is surrounded by beautiful buildings and is a great place to relax and take in the views. The town's main church, the Duomo, is located here and is definitely worth a visit.
The town's beauty, rich history, and unique atmosphere make it a truly special place that you won't forget. Whether you're interested in history, architecture, or just want to relax and enjoy some of the best views in Italy, San Gimignano is a must-visit for anyone visiting Tuscany
12. Arezzo: The Birthplace of Michelangelo
Arezzo, a hill town in eastern Tuscany, is a true gem. Its rich history, art, and natural beauty are just a few of the reasons why one should visit. The town is best explored on foot, winding your way through its medieval streets, churches, and palaces. Art lovers will be thrilled by the famous Vasari frescoes in the church of San Francesco, and Piero della Francesca's stunning frescos in the Church of San Francesco. The elegant loggia in Piazza Grande and the Church of Santa Maria della Pieve are also not to be missed.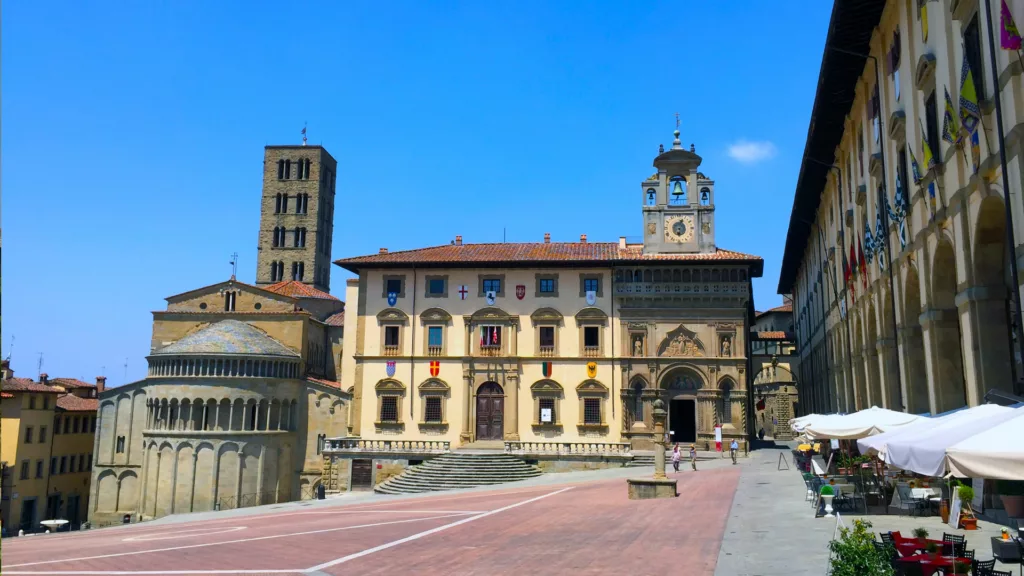 Beyond the art and history, Arezzo is a unique shopping destination, offering everything from gold and silver jewelry to antiques and top-quality textiles. On the first weekend of every month, Arezzo holds its Antiques Fair, one of the largest in Italy. And for those looking for a taste of Tuscany, the local cuisine with its fresh products from the nearby Valdichiana and Casentino Valley is a true delight..
Arezzo is a great base for exploring the surrounding countryside. Just a short drive away is the scenic hilltop town of Cortona. Anghiari, a lively walled town, is also nearby, as is the charming village of La Verna, known for its Franciscan sanctuary. Near the town is Caprese Michelangelo, the birthplace of Renaissance great Michelangelo. For a true Tuscan experience, be sure to attend the Saracen Joust. The traditional festival held every Summer with everyone dressed in Medieval costume.
13. Volterra: The City of Alabaster
Volterra, the hill town in Tuscany, has a wealth of historical and cultural attractions. Interestingly, the city has a rich Etruscan heritage that visitors can explore along with the picturesque countryside. It's no wonder that Volterra is a top destination for travelers in the know.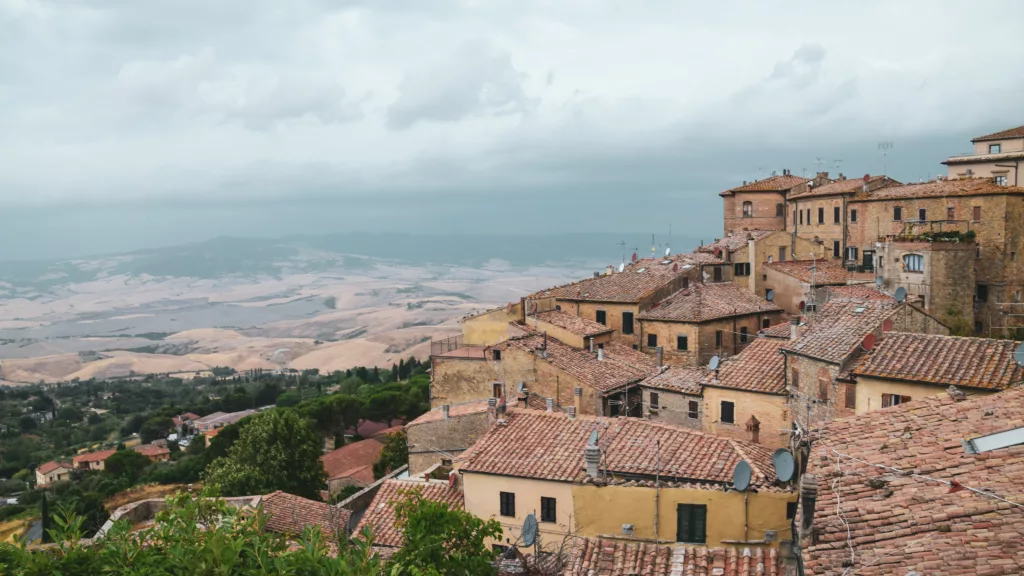 The town boasts a well-preserved medieval old town, complete with a 13th-century wall and ancient city gates, and a variety of museums and archaeological sites, including the Guarnacci Museum, the Roman theater, and the beautiful main square, Piazza dei Priori.
Volterra is renowned for its alabaster processing and is therefore nicknamed the "City of Alabaster." Visitors can take advantage of the Volterra Card, which includes most entrance fees to the city's attractions at a reasonable price. A weekly market takes place every Saturday, where you can taste delicious Italian delicacies.
14. Chianciano Terme: The Capital of Thermal Wellness
Chianciano Terme is a charming hill town located in the southern region of Tuscany, renowned for its breathtaking views, fertile vineyards, and therapeutic thermal baths. The ancient Etruscans believed in the healing powers of the mineral-rich water sources in the area and built a temple to honor it. In the 1960s, Chianciano Terme's fame reached its peak and saw thousands of visitors waiting in line for a sip of its famous spring water.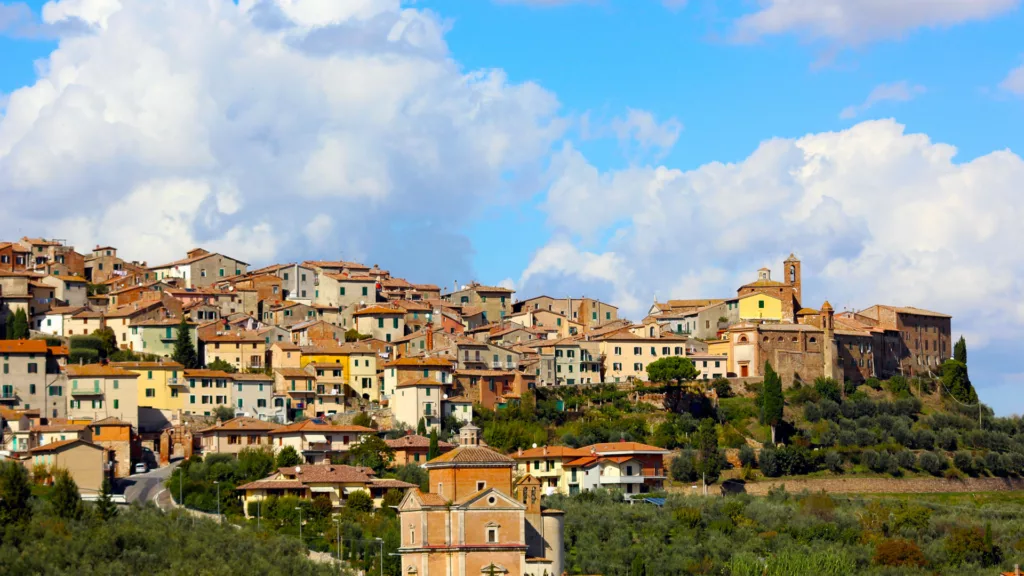 The town is conveniently located close to Siena and is a mere 20-minute drive from Chiusi-Chianciano Terme railway station, making it a popular destination for visitors seeking a unique blend of history, beauty, and relaxation. The combination of its dolce vita glamor and contemporary spa facilities is an irresistible attraction, providing visitors with a chance to rejuvenate and unwind.
The perfect way to start a visit to Chianciano Terme is by visiting Theia's newly renovated thermal pools. The 7 pools are filled with water from the Sillene spring, which is naturally warm, rich in minerals, and has anti-inflammatory properties. The facility is family-friendly, with lounge chairs, dining areas, and even a baby swim class. With a full-day entrance pass, visitors can spend hours soaking in the warm waters and enjoying the spa's facilities. After a relaxing dip, head out to explore the town's historic center, admire the clocktower, and take in the breathtaking views of the Tuscan countryside. Chianciano Terme is a must-visit destination for travelers seeking a unique blend of history, beauty, and relaxation.
15. Liverno: The Venice of the Mediterranean
Livorno, a lesser-known Italian port city in Tuscany, is a hidden gem waiting to be discovered by travelers. Founded by the Medici family in the 1500s, Livorno boasts a unique liberal attitude and a diverse population, making it culturally rich and lively. With its vibrant multicultural atmosphere, lively harbor, and strong link to the sea both culturally and gastronomically, Livorno offers a unique experience.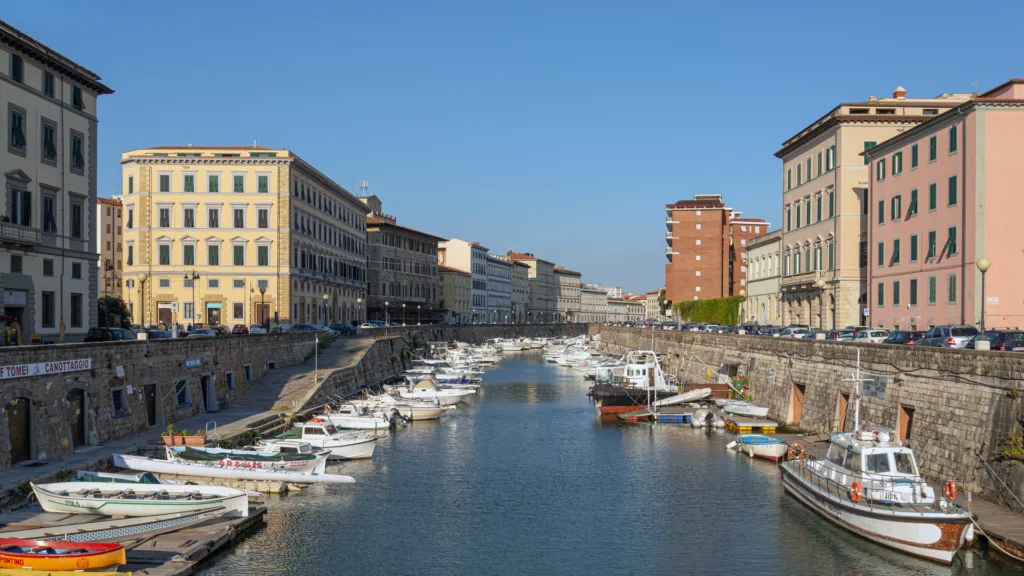 The city is filled with historical and cultural sites, including the Old and New Fortresses, Terrazza Mascagni, Cathedral of San Francesco, and Piazza delle Repubblica. Livorno's roots as a diverse city with freedom to practice any religion are still evident today. Visitors are offered a glimpse into its tumultuous past marked by trades between major powers, religious tolerance, and a cosmopolitan outlook. The city's canal district, Little Venice, and off-the-beaten-path neighborhoods like San Jacopo are charming and absent of crowds.
Livorno's cuisine is also a highlight, influenced by the sea that winds its way into the city's heart. Enjoy the city's signature fish stew, caccuccio, as well as creative dishes like riccio (sea anemone linguine) and riso nero (cuttlefish ink risotto) at its osterias.
The city was once a popular seaside resort and a stop on the Grand Tour, attracting wealthy visitors in the 19th century who believed the sea air had medicinal properties. Today, eleven thalasso spas can still be found throughout Livorno, a testament to its historic connection to the sea.
Bottom line
Tuscany is one of the most popular travel destinations in the world. These 15 beautiful towns in Tuscany are a testament to its rich history, culture, and natural beauty. Each town has its own unique character and charm, making it a perfect destination for any traveler. Whether you prefer seaside towns, hill towns, or medieval villages, Tuscany has something for everyone. There's a reason that Tuscany is one of the world's most popular travel destinations — this picturesque region of central Italy is home to some of the most beautiful towns and villages in the world, each with its own unique character and charm.
The Tuscan coastline is dotted with seaside towns like Livorno and Viareggio, while the inland hill towns like Siena and Cortona offer spectacular views of the surrounding countryside. Medieval villages like San Gimignano and Montepulciano are perfect for those interested in history and architecture, while towns like Pisa and Florence are famous for their art and culture.
No matter what your interests are, Tuscany has something for everyone. So go ahead, and book your ticket, and start packing your bags and get ready to explore all the ins and outs of this gorgeous and region of Italy.