Positano, a picturesque village nestled along the Amalfi Coast, is a dream destination for travelers seeking breathtaking views, vibrant colors, and delightful Italian cuisine. While I live in Milano, I've been visiting the Costiera Amalfitana so frequently since childhood. I'm practically a local so you can trust me to know the best rooftop bars in Positano.
Keep in mind that many of the spots are seasonal, so don't be alarmed if you see that they're "temporarily closed" — I can assure you, they'll be up and running well before the peak summer season starts again. If you're planning a trip to Italy this summer, be sure to also check out my guides to the best rooftop bars in Milan, best rooftop bars in Florence, and Rome's best rooftop bars, and the best bars in Cinque Terre.
In this guide, we'll share some of the most photogenic bars and restaurants in Positano, where you can enjoy refreshing drinks and mouthwatering dishes while soaking up the stunning surroundings (and getting the perfect Instagram shot…).
1. Maestro's at Villa TreVille
Maestro's, located within the stunning Villa TreVille, offers a rare opportunity to dine in a secluded, private residence situated on the edge of Positano. The only way to access this exclusive restaurant is by being a guest at the villa or having a reservation at Maestro's. Once you're there, you'll be treated to exceptional Italian cuisine while taking in the captivating views overlooking Positano and the Mediterranean Sea.
The dining experience at Maestro's is a delight — you're surrounded by natural beauty and Italian charm. The elegant atmosphere perfectly complements the exquisite culinary creations, making it an ideal spot for a romantic dinner or a special occasion.
When it comes to drinks, Maestro's offers an impressive selection of fine wines and creative cocktails. You can enjoy a refreshing aperitif before your meal or savor a glass of wine as you take in the stunning views.
Location: Villa TreVille, Via Arienzo, 30, 84017 Positano SA, Italy
Instagram: @maestrosterrace
2. Il San Pietro di Positano
Il San Pietro di Positano is a luxurious hotel that offers an extraordinary Italian aperitivo experience. With a impossible to beat view of the Positano coastline, it's the perfect spot to unwind and enjoy some pre-dinner drinks and snacks. The signature Bellini, crafted with homemade peach purée, is a must-try as you soak in the beauty of the Amalfi Coast.
Apart from the fabulous drinks, Il San Pietro di Positano is also home to two incredible restaurants, including a Michelin-starred gem. After your aperitivo, you can indulge in a scrumptious meal at either of these establishments, making it a comprehensive dining experience.
The hotel's stylish atmosphere and chic decor make it an Instagram-worthy location, ensuring that your social media followers will be captivated by your opulent dining experience. From the crisp white linens to the remarkable views, Il San Pietro di Positano is a dining and drinking destination worth visiting.
Location: Via Laurito, 2, 84017 Positano SA, Italy
Instagram: @ilsanpietrodipositano
3. Arienzo Beach Club
Arienzo Beach Club is probably the most famous beach club in Positano, offering not only a beautiful, private beach but also delicious food and drinks. Accessible by a free shuttle boat or a scenic hike, Arienzo Beach Club isn't inside Positano proper — it's a hidden gem that offers a more secluded atmosphere compared to other, busier spots in Positano.
At Arienzo Beach Club, you can savor fresh pasta dishes and seafood while listening to the waves crashing on the shore. The orange chairs and umbrellas on the beach make for a perfect photo opportunity, adding a touch of vibrant color to your Instagram feed.
The drink selection at Arienzo Beach Club includes refreshing cocktails, fine wines, and ice-cold beers. It's an ideal place to unwind and enjoy a drink while taking in the picturesque surroundings and soaking up the sun on the beach.
Location: Via Arienzo, 16, 84017 Positano SA, Italy
Instagram: @arienzobeachclubpositano
4. Ristorante Don Giovanni
Ristorante Don Giovanni, located in the Albergo California Hotel, offers a vine-covered terrace that provides some of the best sunset views of the sea and Positano. The charming atmosphere of this restaurant makes it a fantastic choice for a relaxed evening with friends or family.
With an extensive menu featuring traditional Italian dishes made from fresh, local ingredients, you'll be spoiled for choice at Ristorante Don Giovanni. The culinary offerings are complemented by a carefully curated selection of drinks, including regional wines and innovative cocktails.
The combination of exquisite food, breathtaking views, and a warm, inviting ambiance make Ristorante Don Giovanni a must-visit destination for anyone looking to enjoy a memorable dining experience in Positano.
Location: Via Cristoforo Colombo, 141, 84017 Positano SA, Italy
Instagram: @dongiovanni_restaurant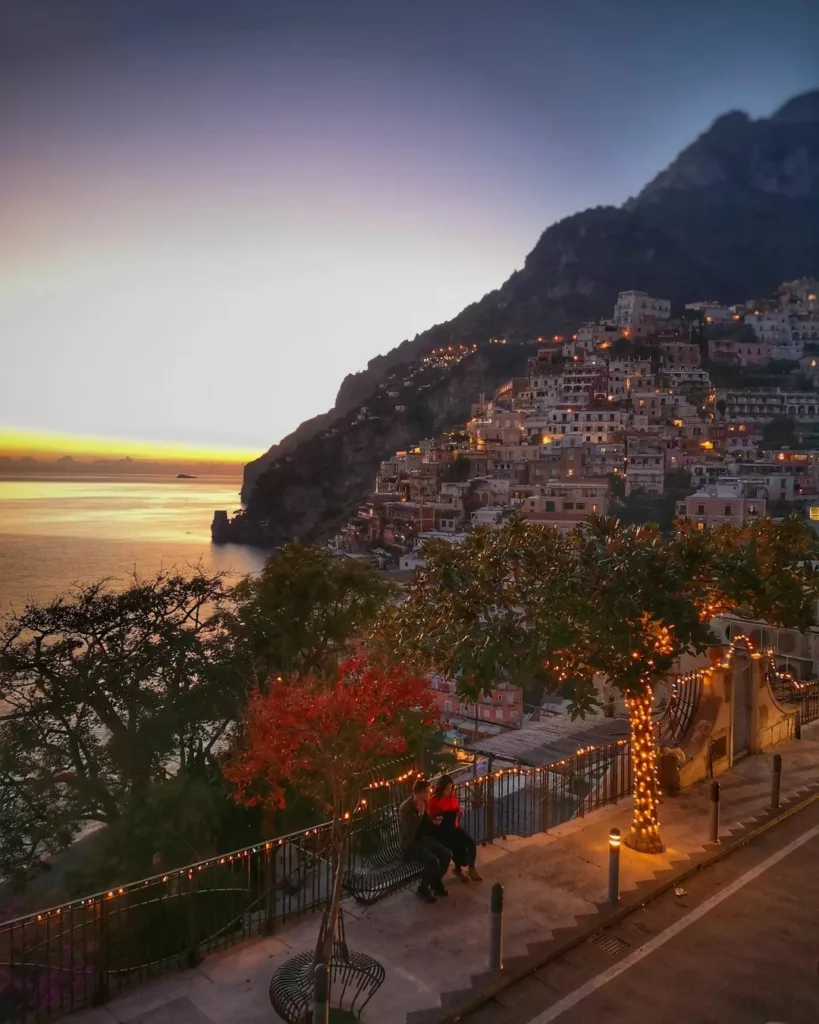 5. La Sponda at Le Sirenuse
La Sponda, a Michelin-starred restaurant located in the iconic luxury hotel Le Sirenuse, is the epitome of Italian elegance. With vine-covered ceilings, lemon trees, crisp white linens, and decadent cuisine, La Sponda offers an unparalleled dining experience in Positano.
Le Sirenuse is also home to Aldo's Champagne Bar & Seafood Grill, Pool Bar & Restaurant, and Franco's Bar. Each establishment boasts its own unique charm and allure, making them perfect spots to capture stunning Instagram photos.
At La Sponda, you can indulge in exquisite dishes crafted by skilled chefs while enjoying a glass of fine wine or a carefully crafted cocktail. The enchanting atmosphere and breathtaking views will make your dining experience at La Sponda a truly unforgettable one.
Location: Via Cristoforo Colombo, 30, 84017 Positano SA, Italy
Instagram: @lesirenuse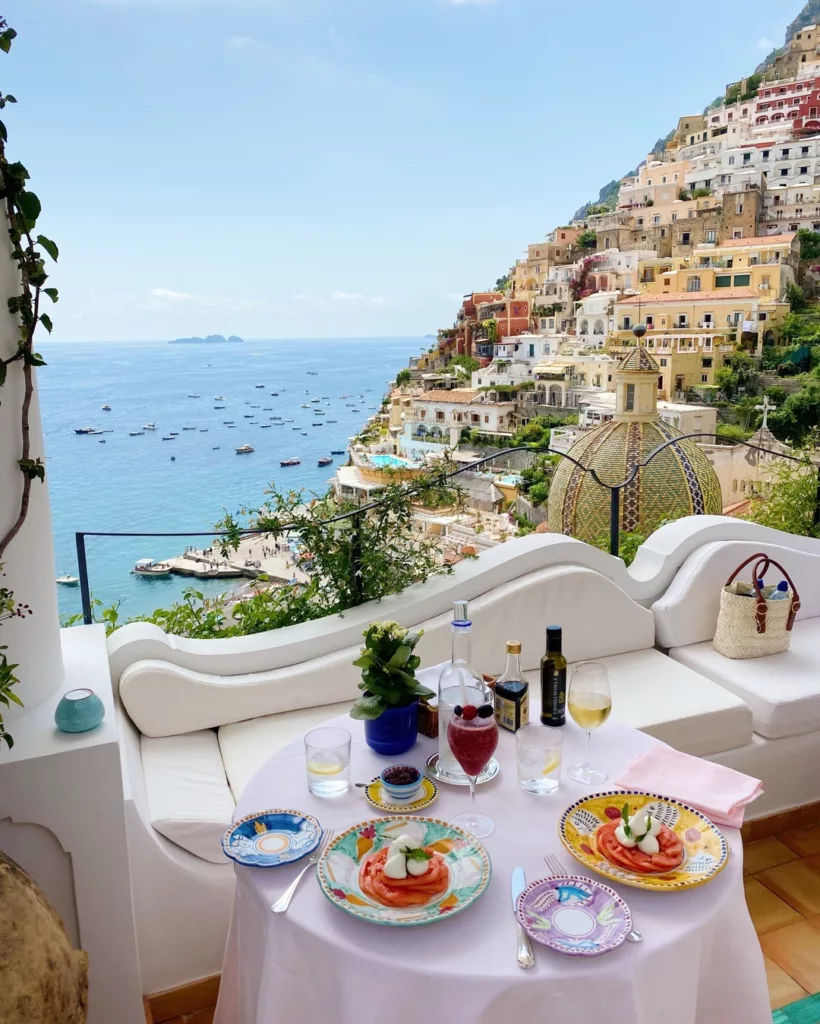 6. GOLD Sky Terrace at Villa Franca
Perched high above Positano, GOLD Sky Terrace at Villa Franca, a Small Luxury Hotels of the World property, offers an awe-inspiring 360° panorama of the Amalfi Coast. From the charming village of Amalfi to the captivating natural marine reserve of Punta Campanella, and from the mythological islands of Li Galli to the vibrant pastel-colored houses of Positano, the stunning vistas will leave you breathless.
GOLD Sky Terrace is the ideal location to savor a sunny and relaxing lunch or al fresco dining experience crafted by the talented Executive Chef Savio Perna and his Michelin Star-awarded team. The menu features a delectable selection of dishes that showcase the finest local ingredients and culinary techniques, ensuring an unforgettable gastronomic journey.
The drink offerings at GOLD Sky Terrace are equally impressive, with expert mixologists crafting creative cocktails that perfectly complement the breathtaking views. Prices are high but not unreasonably so with beers starting at 8€ and most cocktails in the 20-25€ range. The bar has an expansive spirit list and even a gin & tonic menu (a true way to my heart, anyone can tell you). As you sip on a refreshing beverage and take in the striking surroundings, a soothing musical background will accompany you throughout your time at this truly remarkable venue.
Location: Viale Pasitea, 318, 84017 Positano SA, Italy
Instagram: @villafrancapositano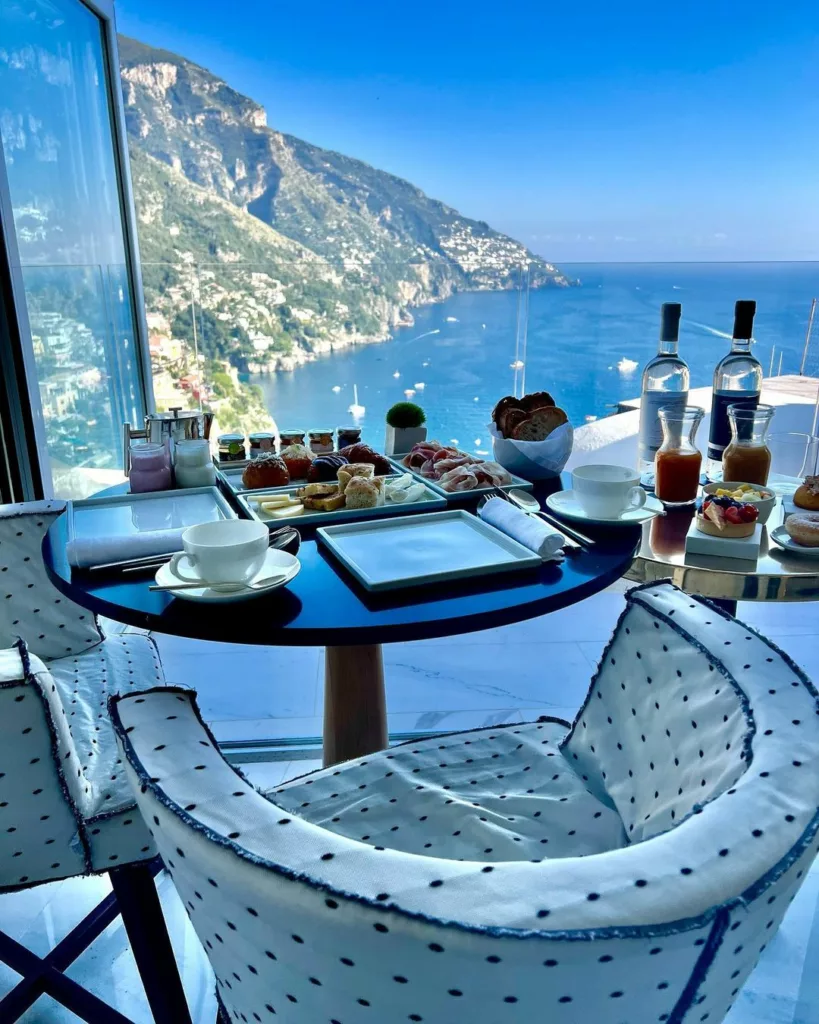 Bottom Line
Positano is a treasure trove of remarkable bars and restaurants, each offering a unique combination of stunning views, delicious cuisine, and a captivating atmosphere. From the secluded charm of Maestro's at Villa Treville to the refined elegance of La Sponda at Le Sirenuse, these Instagrammable spots provide the perfect setting for unforgettable dining experiences. Don't miss the opportunity to sip, dine, and unwind at these exceptional venues after a full day of activities or relaxation in Positano.