Few things in life are as pleasurable as enjoying a delicious rooftop cocktail while taking in a panoramic view. That pleasure is only enhanced when you're exploring an exciting new destination with more to discover looking out over the city. Luckily, if you're visiting Rome, the city has no shortage of bars or sights to enjoy from them.
From stunning views of ancient landmarks to delicious cocktails and gourmet food, these bars with a view are the crème de la crème of the crop. Join us on a tour of Rome's best bars with a view and start planning where you'll be sipping libations to end your day of exploring the Eternal City.
Il Vizio Restaurant & Bar
Hotel: Sina Bernini Bristol (Autograph Collection)
Address: P.za Barberini, 23
Instagram: @ilvizioristorante_
Il Vizio Restaurant & Bar offers spectacular views of the city from the rooftop of Sina Bernini Bristol, part of Marriott's Autograph Collection. The restaurant serves traditional Italian cuisine with a modern twist along with an extensive sushi menu curated by Japanese Sushi Chef Tetsuo Nagano. The bar offers a wide selection of cocktails and carefully selected wines. You can choose between an outdoor terrace to feel the Roman evening or indoors inside the bright and contemporary design indoor space. Either way, you can sip a well-crafted cocktail over spectacular views of the city.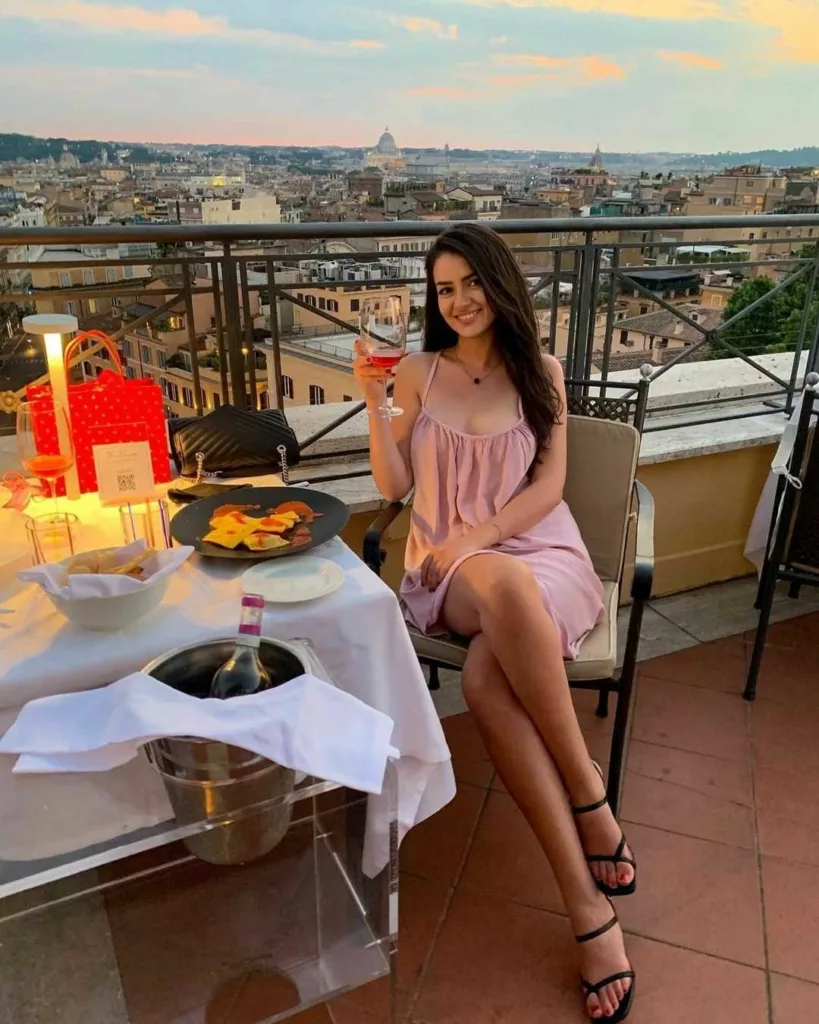 Il Giardino Ristorante
Hotel: Hotel Eden (Dorchester Collection)
Address: Via Ludovisi, 49
Instagram: @hoteledenrome
Led by Chef Fabio Ciervo, Il Giardino Ristorante serves classic Italian cuisine with a healthy twist combined with beautiful views of Rome from its privileged rooftop with breathtaking views of Rome. Its bar offers a selection of cocktails and wines. If you're looking for some food, you'll definitely want to try the courgette blossoms stuffed with ricotta and taleggio and the cicchetti Italian tapas. Il Giardino also offers a Sunday lunch event "La Domenica Italiana" featuring different regional wine and dishes each month. It's worth noting that Il Giardino is located inside Hotel Eden, run by the controversial Brunei-owned but London-based Dorchester Collection which has faced boycotts.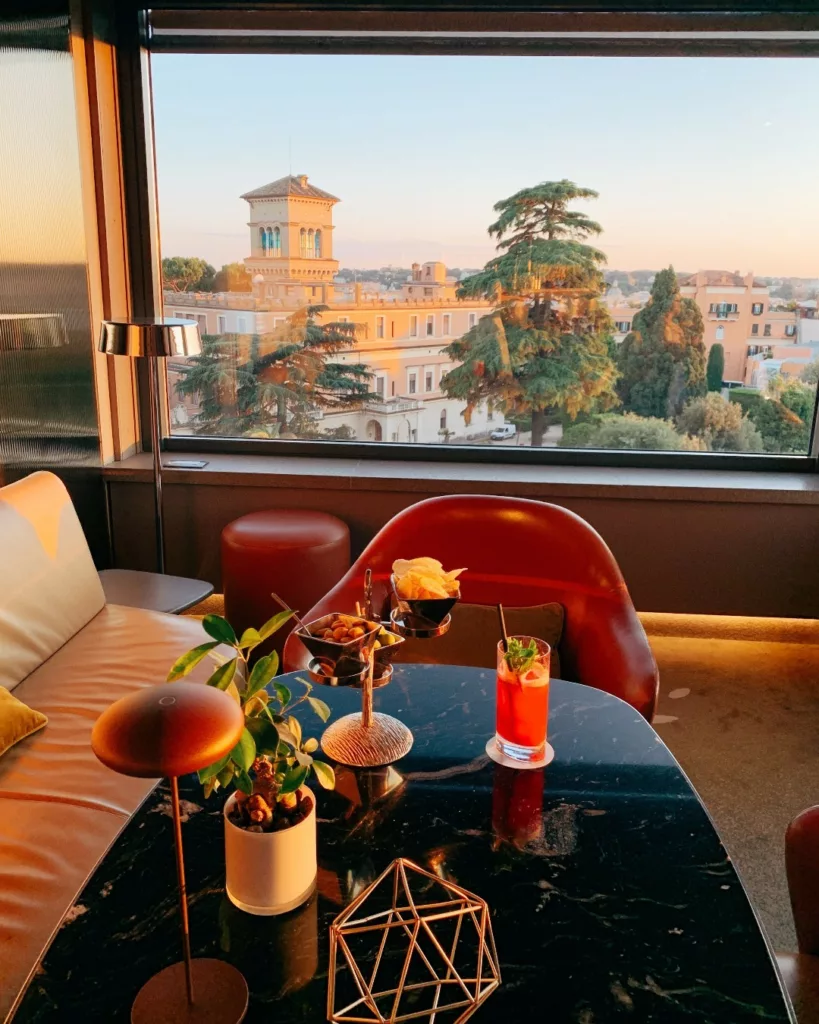 Oro Bistrot
Hotel: NH Collection Roma Fori Imperiali
Address: Via di S. Eufemia, 19
Instagram: @oro_bistrot_roma
Oro Bistrot by Natale Giunta is a sophisticated, contemporary bar concept in one of the most iconic locations in Rome. With elegant gold and teal decorations, the bar offers a wide choice of Italian dishes and drinks, all created by the famous chef Natale Giunta. The terrace offers a 360-degree panoramic view of the city, including the Altare Della Patria, Trajan Forum, and Roman Forum. The bar is open every day from 4 pm to midnight, and reservations are highly recommended.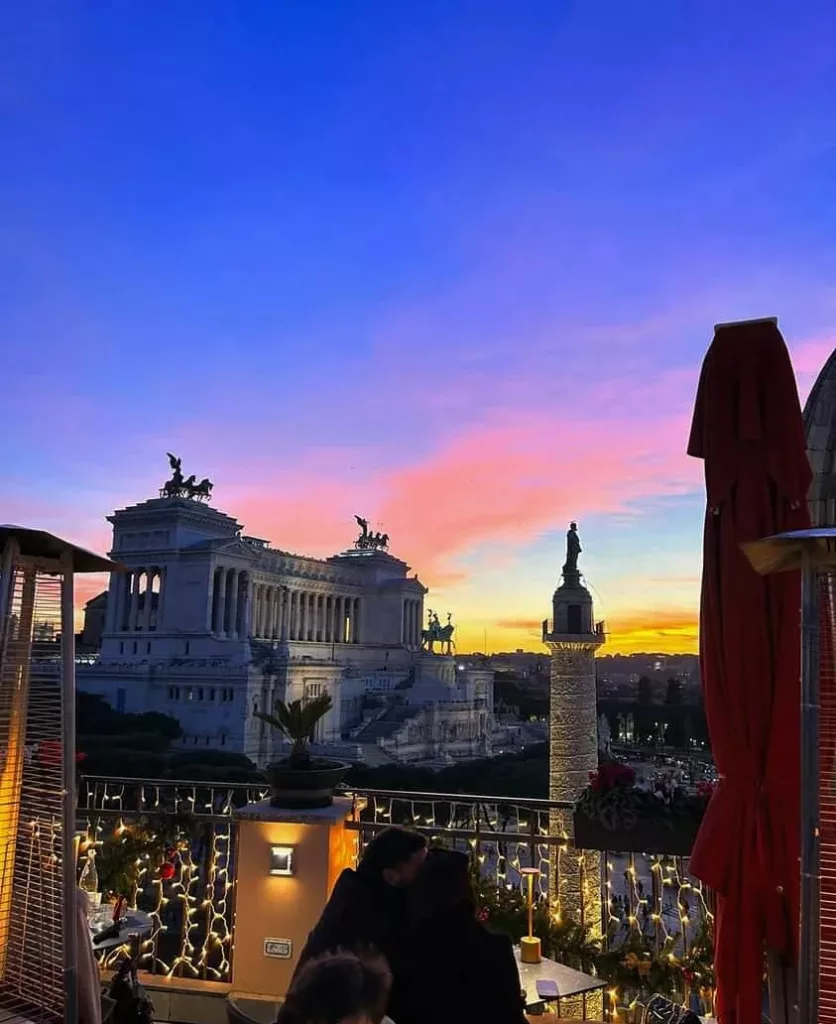 Divinity Restaurant Lounge Bar
Hotel: The Pantheon Iconic Rome Hotel (Autograph Collection)
Address: Via di S. Chiara, 4/A
Instagram: @divinityrestaurant
The Divinity Restaurant Lounge Bar offers a 360-degree experience of the city, with views of the Sant'Ivo alla Sapienza Church (the corkscrew) Pantheon, and the enchanting Roman rooftops of ancient buildings and historic churches. The bar offers an extensive list of signature cocktails, an extensive wine selection, and an elegant and welcoming atmosphere. The terrace is the perfect spot to enjoy the beauty of the Roman sunset reflecting off the rooftops. The bar is located in The Pantheon Iconic Rome Hotel which is part of Marriott's Autograph Collection.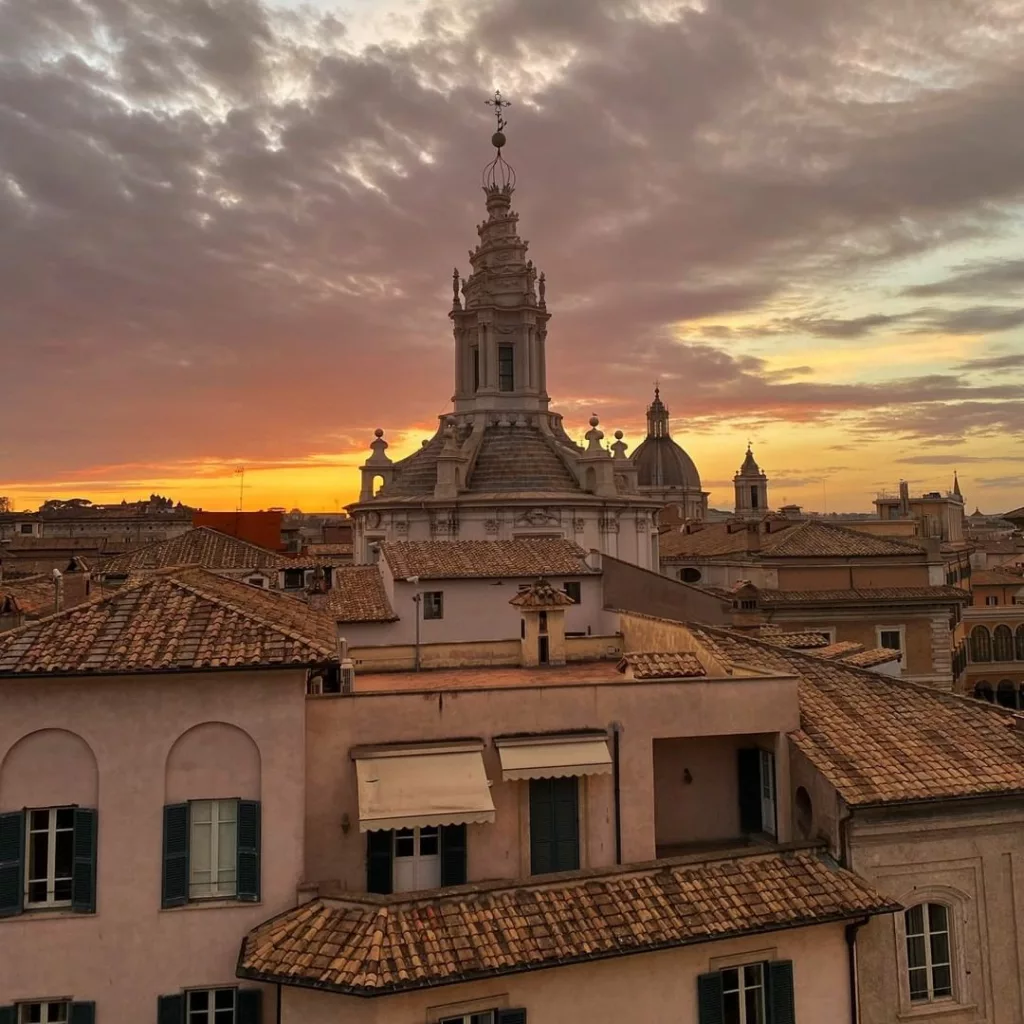 The Court Rome
Hotel: Palazzo Manfredi (Small Luxury Hotels of the World/World of Hyatt)
Address: Via Labicana, 125
Instagram: @thecourtrome
The Court is the only bar on this list that isn't on a rooftop, but don't let that fool you into thinking it doesn't belong on this list of the best rooftop bars in Rome. The bar has a striking street-level view angle of the Colosseum from its perch overlooking the remains of the Ludus Magnus gladiator school which makes it worth the exception.
Pair the view with an innovative menu of libations headed by master mixologist Matteo Zed with experience across the world from Japan to New York and you can't go wrong. Don't miss this modern monument to mixology overlooking the ancient monuments of Imperial Rome. It's located in the five-star Palazzo Manfredi hotel, part of the Small Luxury Hotels of the World (SLH) and participates in the World of Hyatt partnership.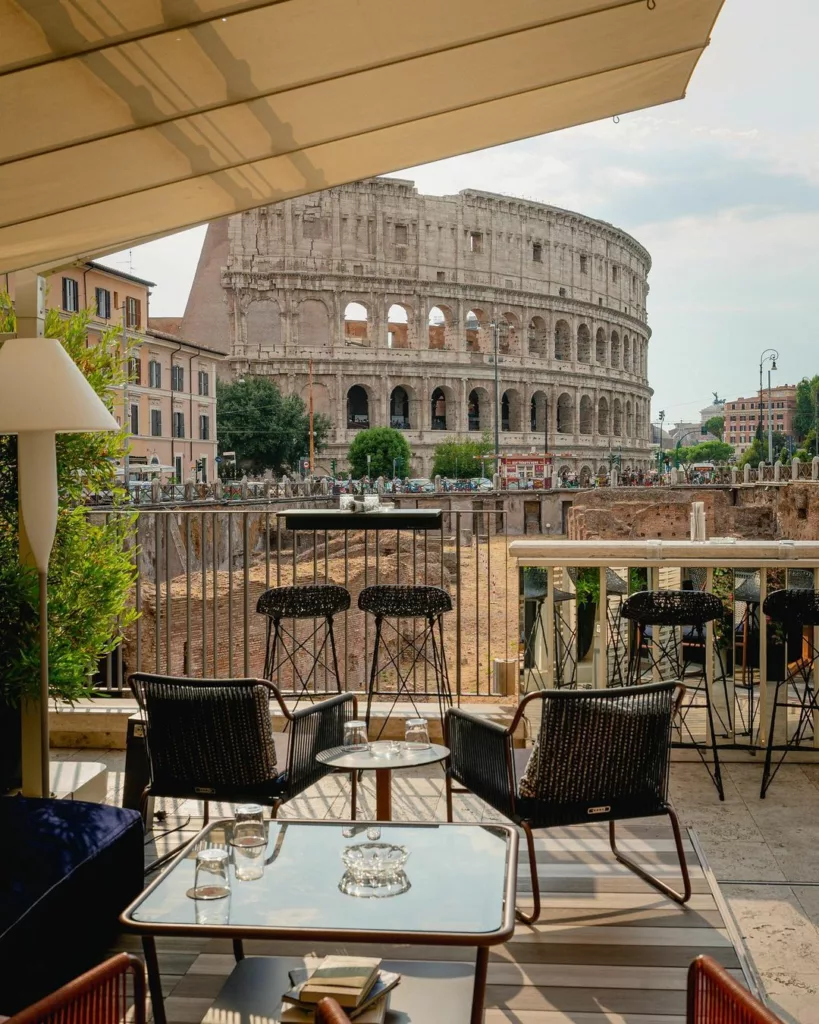 Garden Roof Trevi
Hotel: Relais Fontana di Trevi Hotel
Address: Via del Lavatore, 44
Instagram: @trevirooftop
If you're looking for Trevi Fountain views, Garden Roof Trevi has you covered. The strategically located third floor rooftop garden and terrace offers the perfect spot to sip cocktails while taking in a panoramic view of the fountain and city. It's a small spot with about ten small tables and a seating alcove so reservations are advisable. It's located in the four-star Relais Fontana Di Trevi Hotel, making it the only spot on our list not located at a five-star property or affiliated with a global brand.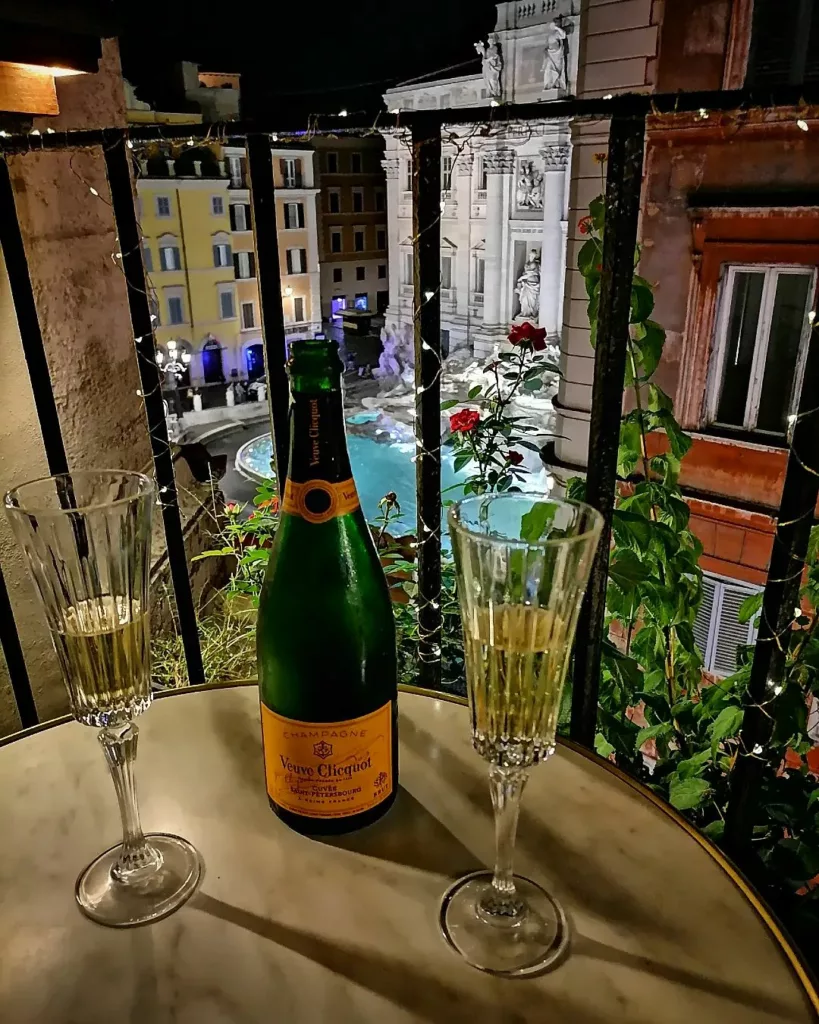 Cielo Terrace
Hotel: Hotel de la Ville (Rocco Forte Hotels)
Address: Via Sistina, 69
Instagram: @cielo_rooftopbar
Cielo is located on the seventh floor rooftop of the glamorous Hotel de la Ville at the top of the Spanish Step. It offers everything you'd expect from the Eternal City outpost of the ultra-lux Rocco Forte group. The bar features panoramic views of Rome from one of the highest points in the city and a menu filled with delicious signature cocktails and light food options from the in-house Michelin-starred restaurant, Mosaic. Live music is usually from 7 pm to 10 pm adding to a vibrant atmosphere. Reservations are a good idea here.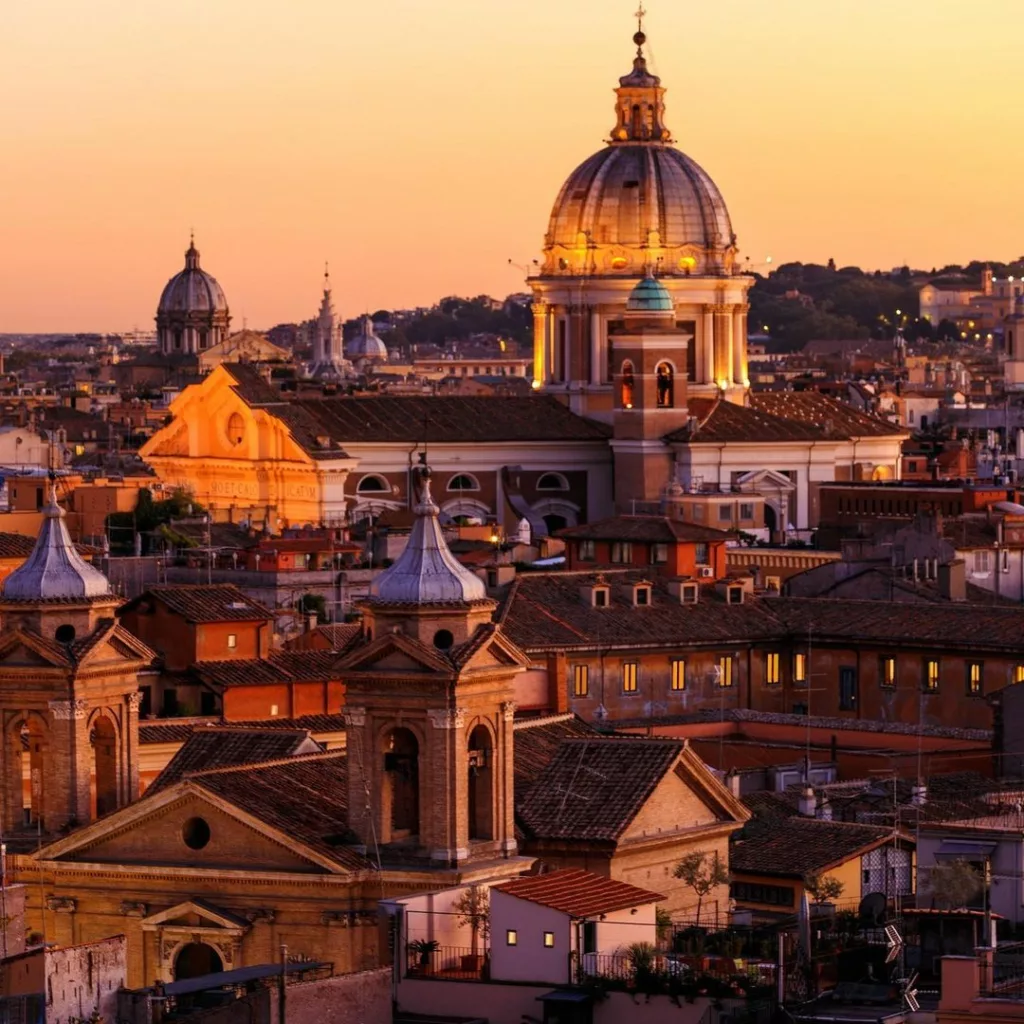 Bottom line
If you're planning a trip to Rome, there's nothing better than taking in the monuments from a different angle while enjoying a rooftop cocktail. From stunning views of ancient landmarks to delicious cocktails and gourmet food, Rome is full of bars with a view that'll satisfy the most discerning travelers. Whether the fashionable crowds crowding Milan's best rooftop bars, the small-town charm of Positano's rooftop bars, Florence's rooftops set in the Renaissance, or even the charming bars of Cinque Terre are your favorite, Italy has a vibe for everyone.
Most of the bars are located in hotels, so if you're a cocktail aficionado, the hotels hosting these bars could make an excellent choice to stay in on your next Italian holiday. After all, what could be better than being an in-house guest while enjoying drinks at one of these bars with a view?