Rakuten is my all-around favorite cashback portal since it allows you the option of earning your cashback as American Express Membership Rewards at an exchange of 1 point per cent. If you're not already a member, there's really no reason not to sign up and earn a $30 (or 3,000 Amex point) initial signup bonus after your first purchase.
Given how valuable transferable currencies like Amex points are, this can offer tremendous value and, at least for me, doubles the value of the cashback. Although I'm in my 20s, I'm a member of the AARP for the travel benefits — a membership that is essentially free thanks to Rakuten.
They frequently offer promotions for more cashback than usual, and there's a big one happening today. This could offer some pretty great value if you have any online shopping coming up…
Rakuten "No Joke" 12% Cashback Promotion
Today, Rakuten is running a promotion where you can earn up to 12% cashback at selected retailers.
If you have your account set up to earn Membership Rewards instead of direct cashback, that amounts to essentially getting 24% back.
A wide variety of stores are included in the promotion. They include travel brands like TripAdvisor (activities), Expedia brands (including Expedia and Orbitz), and $25 cashback (2500 Amex points) from CheapOair.
Some clothing retailers are also included. Macy's, Brooks Brothers, Uniqlo, and Tommy Hilfiger stood out to me along with athletic brands like Nike and Finish Line. Technology retailers like Samsung and Dell are also included.
It's worth taking a look at Rakuten for the whole list. And of course, if you're not already a Rakuten member, be sure to sign up and you can earn $30 (or 3000 Amex points) as a signup bonus after your first tracked purchase. Learn more about the signup bonus here.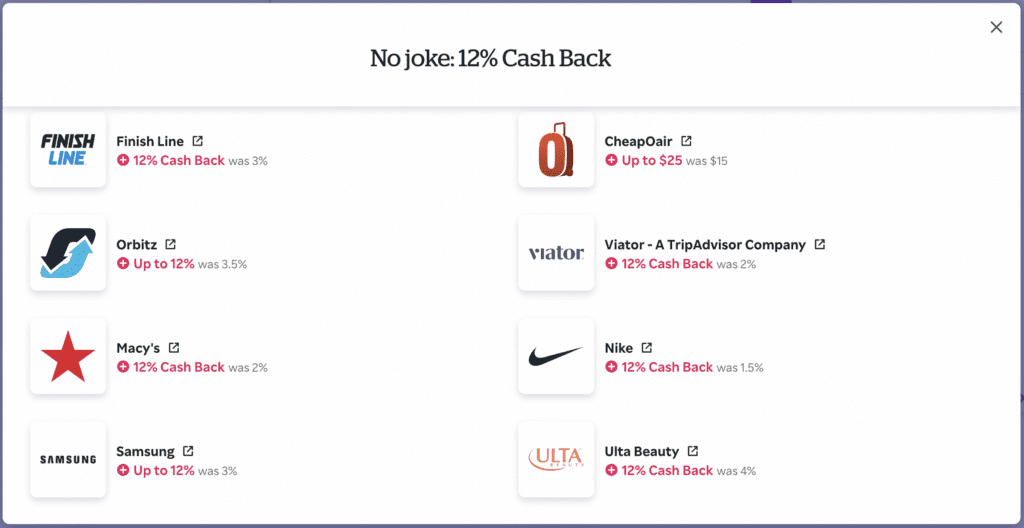 Bottom Line
Rakuten is offering 12% cashback at quite a few retailers today. If you're looking for an easy way to top up your stash of Membership Rewards while completing shopping you were going to do anyway, this could potentially offer you some significant value. I've personally earned over 120,000 Membership Rewards via Rakuten. If you're not already a member of Rakuten, be sure to sign up and check out the cashback offers today.