Koh Samui is a tropical island paradise located in the Gulf of Thailand, known for its pristine beaches, lush rainforests, and vibrant nightlife. It's one of Thailand's most attractive beach destinations with fantastic luxury hotels dotting the coastline and a real estate market known to only ever appreciate with limited volatility due to its desirability.
One of the island's biggest draws are its beach clubs, offering visitors the chance to unwind, relax, and soak up the sun in style. But the island isn't the easiest to get around so it's important to plan your trip to make sure you're visiting the best spots. We put together a guide with a comprehensive list of the top beach clubs in Koh Samui, ranging from luxurious and upscale to laid-back and rustic.
Whether you're looking for a place to party, a romantic getaway, or just a spot to relax and enjoy the views, Koh Samui has something for everyone. So, without further ado, let's explore the best beach clubs in Koh Samui and help you plan your next island adventure.
1. Nikki Beach Koh Samui
Unsurprisingly for the local outpost of the Miami-based beach party empire, Nikki Beach Koh Samui is first on the list of the best beach clubs in Koh Samui. This beach club, located on Lipa Noi Beach, the club offers breathtaking views of the Gulf of Thailand with a scene that exudes luxury and glamour.
The club provides a wide range of amenities such as loungers, umbrellas, and attentive waitstaff to cater to your every need. You can relax and unwind while sipping on signature cocktails, enjoying live music, and taking a dip in the beachside pool.
Apart from the stunning location and impeccable service, Nikki Beach Koh Samui has a fantastic globally inspired menu. The extensive menu features delectable dishes that make the most of signature tastes and spices representative of all the countries in which Nikki Beach is located. From delicious salads to immaculately creative sushi rolls, original seafood entrées, and slow-roasted free-range rotisserie chicken, there is something for everyone.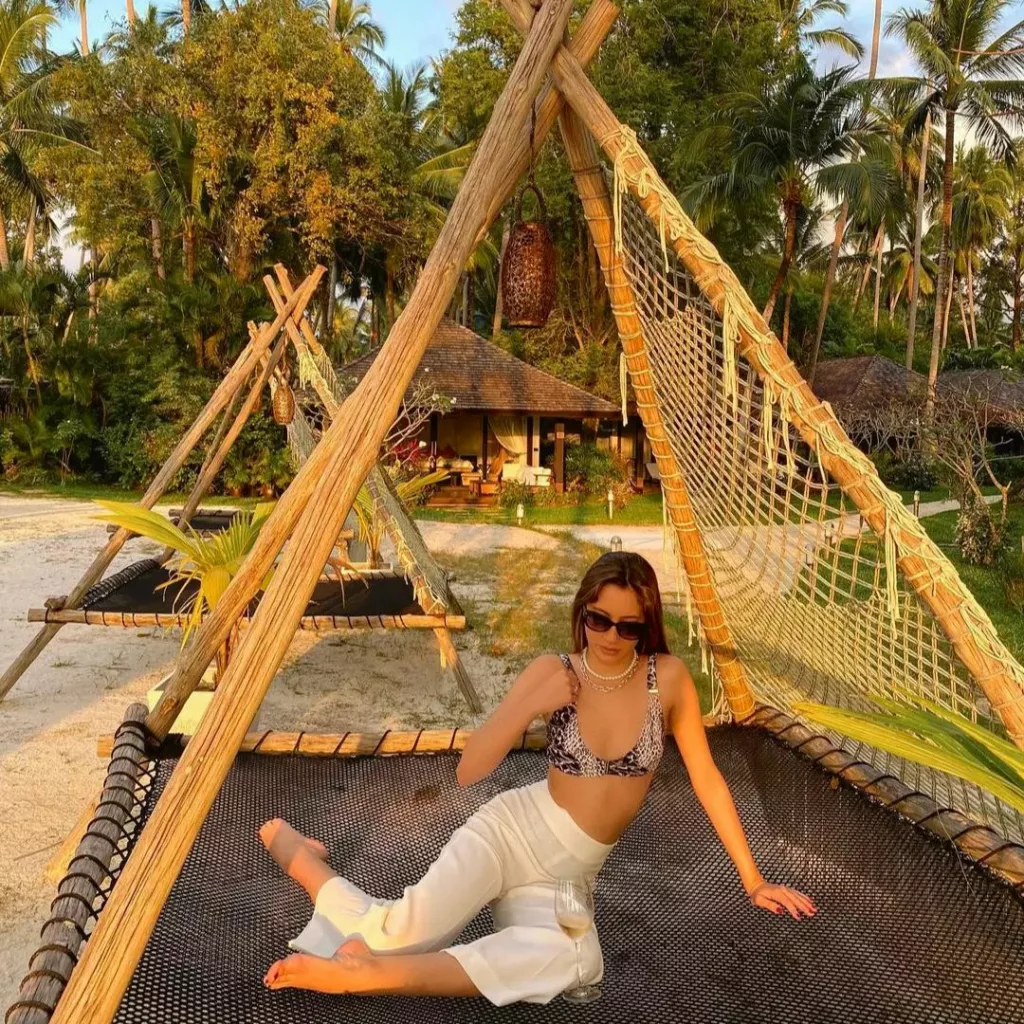 If you're looking for an unforgettable experience, be sure to check out Nikki Beach Koh Samui's "Amazing Sundays" beach party every weekend. If you're looking to party in Samui, this is a must. You can listen to music played by famous international DJs and live musicians while sipping on the handcrafted signature Nikki Beach mojitos. While I never tried it, the Sunday brunch also has good reviews. You can enjoy delicious food, refreshing drinks, and stunning views of the sunset over the Gulf of Thailand.
Guests who want to extend their stay can also check into the Nikki Beach Resort & Spa Koh Samui, which features 48 world-class accommodations, including expansive villas, sea-view suites, private beach bungalows, and more. The resort provides a wealth of amenities such as a 75-meter swimming pool, petanque field, kayaks, mountain bikes, a massage sala, and more, to cater to your every need.
Address: 96, Lipa Noi, Amphoe Ko Samui
Instagram: @nikkibeachkohsamui
2. Beach Republic
If you're looking for a more intimate and laid-back beach club experience, Beach Republic on Lamai Beach is the place to be. This boutique beach club offers stunning views of the ocean, luxurious sunbeds, and a variety of international cuisine options to satisfy your appetite. The venue features modern architecture, both indoor and outdoor areas, and a variety of entertainment options.
One of the most popular events is the Ultimate Sunday Brunch Club. The weekly affair has become an island institution if you're looking for a boozy ocean-front brunch. With its exclusive beachfront location and commanding sea views, the Ocean Club is an exciting destination by day and by night.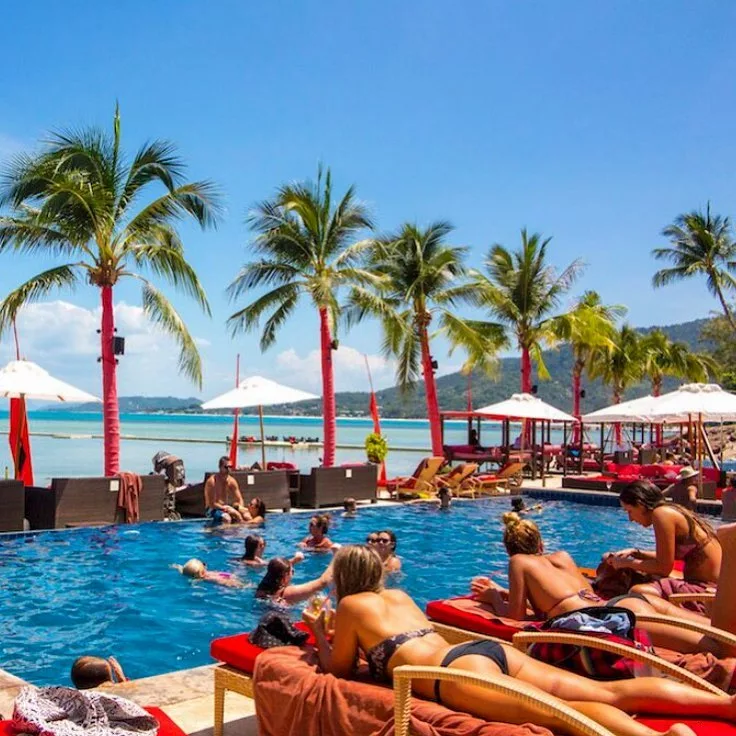 Guests can lounge under clear blue skies on super large beds and private cabanas, share exquisite champagne, cocktails, and wines, refresh in the ocean-front infinity edge pools, and take in the easy ambient grooves of guest DJs and live performers.
The outdoor loungers are set around a swimming pool deck with direct access to the beach. The Ocean Club offers a variety of special themes and events each day of the week, including "Wicked Wednesdays" every Wednesday featuring live DJs and musicians entertaining the crowd.
Whether you're after a relaxing getaway or a lively party, Beach Republic has what you're looking for… just be sure to check what events are happening before going.
Address: 176 34, Maret, Koh Samui
Instagram: @beachrepublicsamui
See also: Review: Cape Fahn Hotel Private Island, Koh Samui, Thailand
3. WOOBAR at the W
Woobar at the W Koh Samui offers a chic and trendy ambiance in Maenam. This is easily one of the best beach clubs in Koh Samui and is known for its innovative cocktails, fine dining, and pool parties. And if you're a travel hacker looking to book a fun spot, the W is of course part of Marriott meaning it's bookable with Marriott Bonvoy points. Even better, if you're a Marriott loyalist, the W is one of the brands where you can count on benefiting from the Marriott Bonvoy Breakfast Benefit.
Woobar (stylized, WOOBAR) is an iconic party and chill spot in Samui. It boasts 270-degree views of the Gulf of Thailand and the surrounding hillside. The unique design of the beach club allows guests to take some fantastic videos and photos of the scene. Combine that with its famous theme nights, and there's enough content to turn anyone into an expert Instagrammer.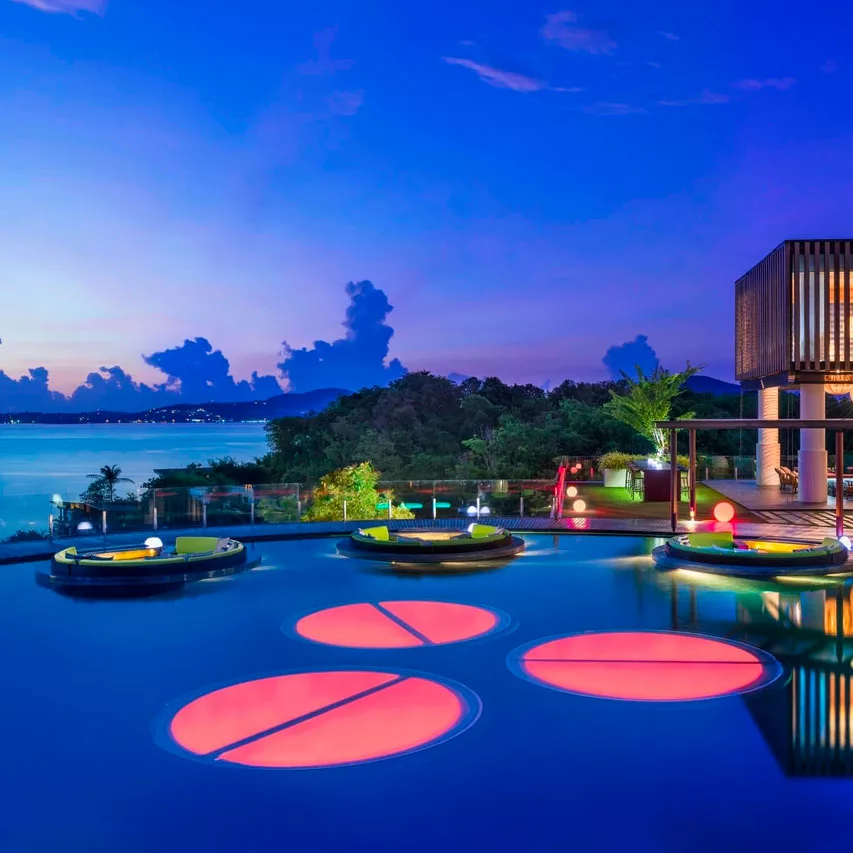 The Wednesday night '50/50' fun is a favorite, starting at 6:00 pm, where guests flip a coin with the barkeep to see who's going to pay. Guests also love 'Moheetoe Madness' every Thursday, where no less than ten different flavors of mojitos await, all professionally made. Woobar is also known for its Bubble Trouble event every Saturday, where ladies get a free glass of bubbles. And, in true Instagram fashion, on Hashtag Sunday guests can post their food and drinks and receive a 15% discount off their bill.
The pièce de résistance at Woobar is the W T-Time Plus afternoon tea, which is available daily from 1:00 pm to 6:00 pm. The tea starts with a surprise – a scaled-down chest of drawers arrives at your table. It's completely transparent, and what's inside is a chef's brilliantly presented handiwork. By all means, eat by yourself if you've just completed a triathlon, but this is the ideal tea to consume with a friend or partner.
With resident DJs playing the catchiest of music that syncs with the mood of the moment, Woobar has little competition when it comes to choosing a venue for an excellent time out. The beach club's creative spirit, along with the stunning view and modern and elegant architecture, keeps things fresh at Woobar, making it a favorite destination for both locals and jetsetters.
Address: 4/1 Moo 1 Tambol, Koh Samui
4. Elixir Beach Samui
Elixir Beach Samui is a hidden gem located on Laem Sor Beach, serving fresh and unique flavors with a friendly and welcoming atmosphere. It might not be as well-known but it certainly deserves to be on our list of the best beach clubs in Koh Samui.
Elixir Beach offers alfresco seating and a stunning location with a newly renovated kitchen. The menu includes healthy salad bowls, Thai food, fresh seafood, immune-boosting, and probiotic drinks such as smoothies, juices, and Kombucha. Ginger and turmeric shots are also available. All the produce is fresh and locally sourced. The fish is line-caught, and organic produce is used wherever possible. No artificial colors or preservatives are used in the kitchen. Vegetarian and vegan options are available.
The bar serves traditional beers and beach cocktails. Happy Hour starts at 4 PM daily. Their evening Sunset Grooves is popular with cool sounds and an amazing fresh fruit and juice menu. Guests can relax on swings and watch the wildlife and sunset. On Sunday afternoons, Elixir hosts a backgammon competition and game night. The restaurant can also arrange trips to Pig Island, snorkeling sessions, and pink dolphin trips.
Weed is available for purchase at the Beach Club if you're so inclined. The food and drinks at Elixir are priced far more affordably than the other beach clubs on this list. You can expect generous portions of fresh and delicious Thai dishes, including Tom Yam Goong, curry with shrimp rice, and squid. Note that Exixir is a cash only beach club. A stunning location and friendly atmosphere make Elixir Beach Samui a perfect place for a wonderful evening, whether for happy hour or dinner.
Address: 30, Ban, Taling Ngam, Amphoe Ko Samui
Instagram: @elixir.beach.samui
5. Coco Tam's
Coco Tam's is a beach club located in Fisherman's Village that offers a shabby eco-chic atmosphere with bean bags and floor cushions for guests to relax and enjoy the beautiful views of the sea. It's fairly laid back so if you're trying to party through the night, this isn't the spot, but it's popular beach bar with swing seats at the bar, cabanas, shishas, and a large projector screen, making it an ideal spot for tropical relaxation. That said, it's a must-visit spot when in Samui.
The club offers a wide range of cocktails and international cuisine, but the food is limited to largely greasy finger food. If you're looking for a proper meal with a more varied menu, the adjoining restaurant with the same name has a more complete menu. The beach bar is open-air, with only a couple of palm-thatch buildings, and a neat little garden separating it from Bophut Beach Road.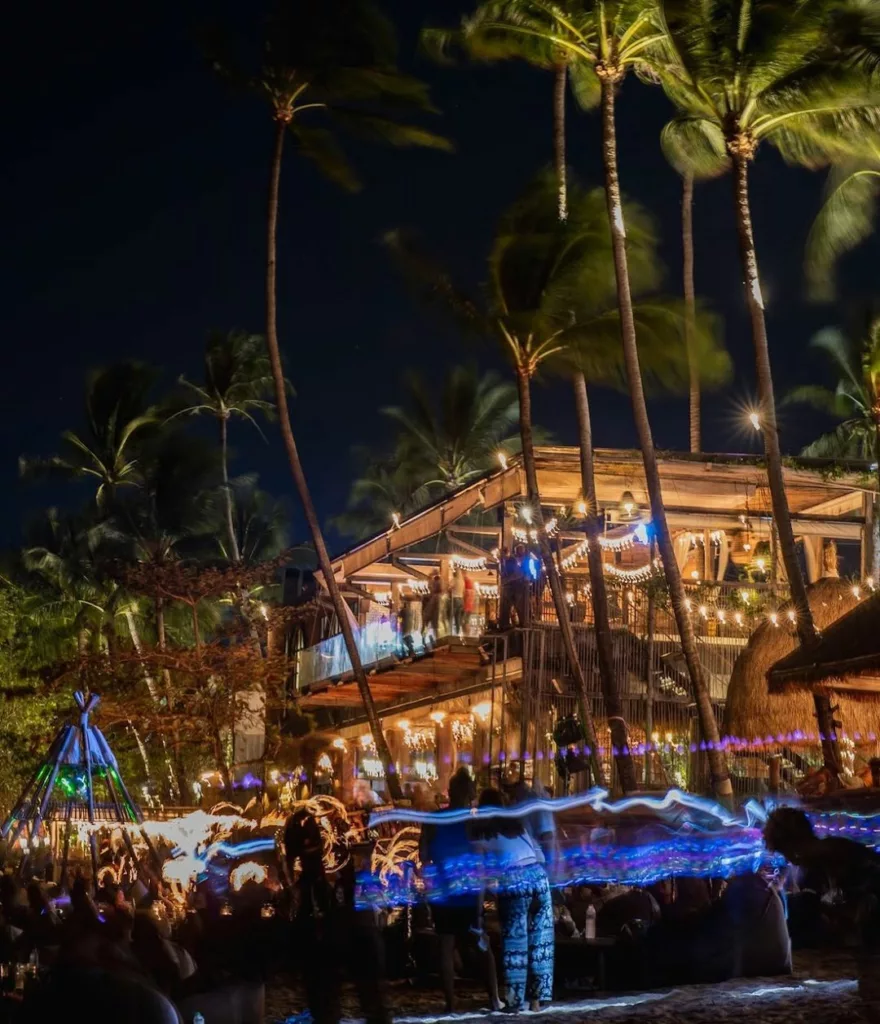 Coco Tam's is busiest on Friday nights when it effectively marks the limit of the Fisherman's Village Walking Street market. The beach club offers over two dozen tropical-themed cocktails served in jar-like glasses. But don't sleep on their super-sized drinks that can offer great value if you're with a group. It's a great place to enjoy classic favorites like the Mai Tai or signature mixes such as the Dark Passion, which includes vodka, passion fruit, and watermelon juice, considered the "best cocktail on the island."
The beach bar features swings at the bar, hammocks, cabanas, and massive bean bags on the sandy shores, making it a perfect place for casual nights out. Coco Tam's has a free fire show every night at around 7 pm and again around 10 pm. It's one of the top fire shows in Koh Samui and the entire production, from the individual acts to the whole team of dancers lighting up the beach, is a highlight for many guests. The beach club is more expensive than neighboring bars, but the fire show is definitely worth the extra expense.
It's located next to The Wharf Samui in Bophut's Fisherman Village Walking Street, and it sits along the beach with prime views of the ocean and boats rocking on the waters.
Address: 62 Tambon Bo Put, Ko Samui
Bottom line
Koh Samui has some of the best beaches in the world. While the beach club scene may not be at the level of Myknonos or Ibiza, there are still some great options. If you're planning a trip to Thailand, then Koh Samui is a destination you should definitely find room for on your itinerary. While you're there, be sure to start your nights at one of the great beach clubs on this list. Whether you are looking for a luxurious experience, a laid-back ambiance, or a party atmosphere, our list of the best beach clubs in Koh Samui will help you have a memorable experience.