Etihad Airways is announcing new inflight messaging and WiFi pricing plans for its passengers, making it easier for them to stay connected during their journey. The airline is now offering free inflight messaging on popular social media apps, including iMessage, WhatsApp, and Facebook Messenger, as well as a simplified WiFi pricing structure on its long-haul widebody aircraft fleet.
How to Access Free Messaging and WiFi Plans on Etihad
To utilize the free messaging service, passengers need to sign up for Etihad Guest. Members can then access the complimentary 'Chat' plan or opt for the unlimited data 'Surf' plan for a flat fee based on the length of the flight. For flights under 7 hours, the Surf plan costs just $9.99, while it will cost $19.99 for flights longer than 7 hours.
Non-member passengers will be asked to pay $2.99 or $4.99 for the Chat plan, depending on the length of their flight.
First Class passengers and frequent flyers with Platinum or Exclusive tier in Etihad Guest will receive free Surf plan inflight WiFi for the duration of their flight.
Etihad's new WiFi pricing is available only on its widebody fleet of Boeing 787 Dreamliners and Airbus A350s, not on single-aisle Airbus A320 series aircraft. However, these smaller aircraft are equipped with technology that allows passengers to make and receive calls and use data roaming services.
Airlines Continue To Add Free WiFi or Messaging
While this move puts Etihad ahead of many competitors, there are still many airlines with free WiFi available onboard. For example, JetBlue is known for offering fee-free inflight WiFi across its entire fleet while Delta offers free WiFi on domestic flights.
Etihad's move follows Turkish Airlines' promise of "free and limitless" messaging earlier this week. However, Etihad's new initiative makes it more accessible for passengers to stay connected while flying, providing an added benefit to Etihad Guest members. Its new offering is roughly comparable to the offering at its UAE-based rival Emirates which makes free WiFi more accessible to elite and premium flyers but does not guarantee free messaging to all customers.
"We know how important it is for our guests to stay connected, which is why we're thrilled to introduce an added complimentary benefit for Etihad Guest members and welcome everyone to sign up before they fly to take advantage of this benefit immediately. Wi-Fly plans will offer unlimited data and will last the duration of the flight, which means our guests can easily catch up on social media, work or browse as they wish. Our fleet of modern wide-body aircraft is fitted with the right technology to enable this service and offer our guests an enjoyable connected experience throughout their journey."

Antonoaldo Neves, CEO of Etihad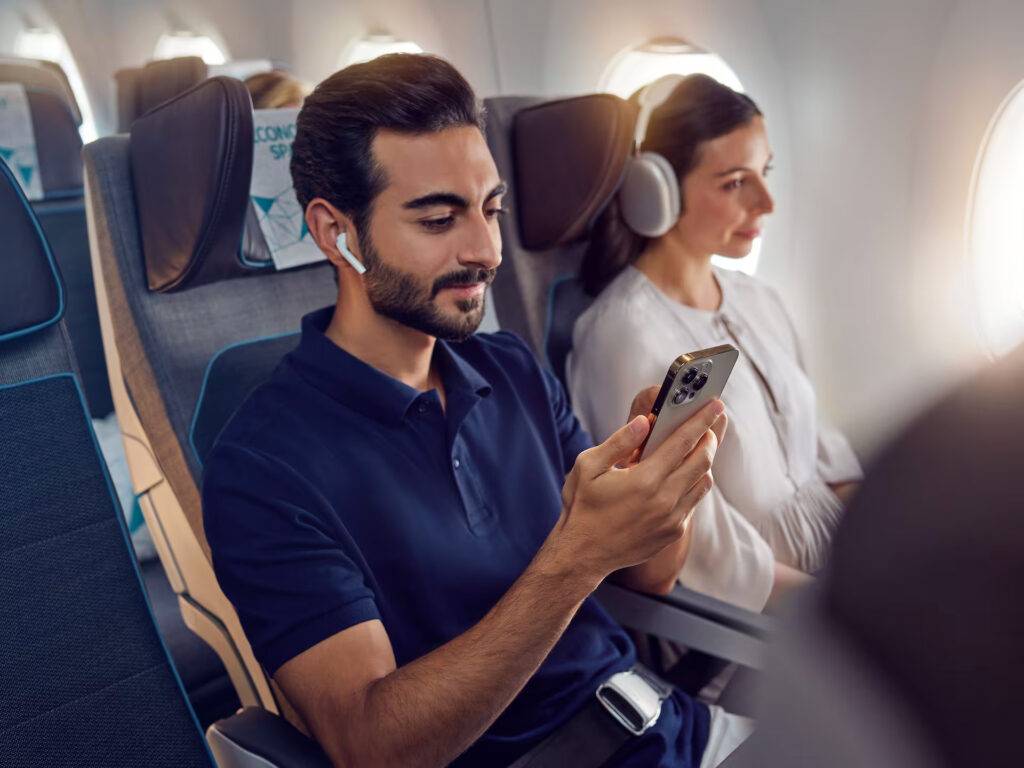 Bottom Line
Inflight connectivity is becoming increasingly important for today's travelers. Many passengers consider WiFi options when booking a flight, and airlines are now viewing WiFi provisioning as a cost base rather than a revenue base. With prices dropping and many airlines offering free connectivity, Etihad's announcement allows it to remain competitive among passengers for whom inflight connectivity is important.