Update (02/02/2023): Delta Air Lines is now rolling out its free in-flight Wi-Fi offering across its domestic fleet.
Here's how Delta described the offering in an email to Delta SkyMiles members: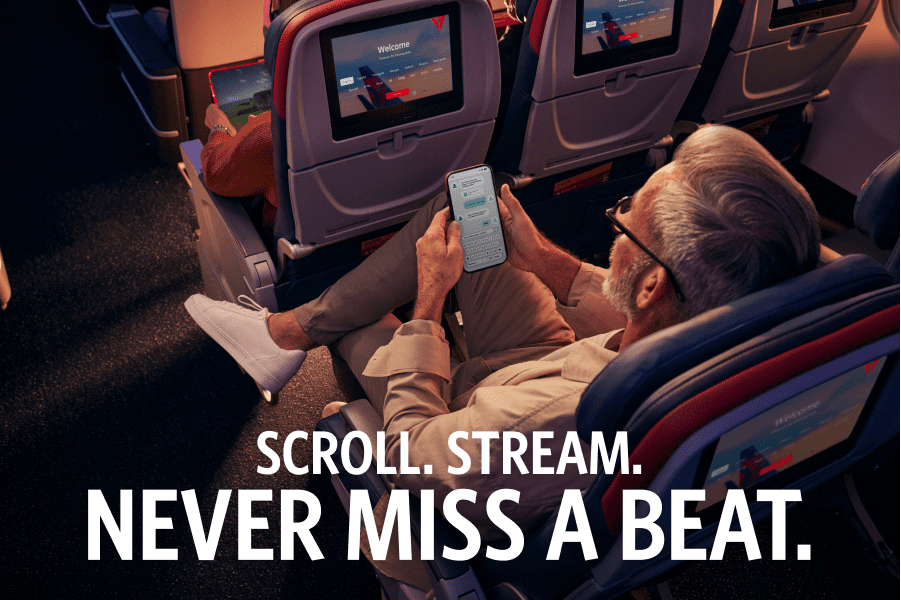 These days, the importance of staying connected means so much more. We're excited to announce that fast, free Wi-Fi is rolling out now. You can expect to see free Wi-Fi on most flights within the U.S. this month, and on our international and regional flights by the end of 2024.

Fast, free Wi-Fi means now you can connect with streaming speeds to keep up with your favorite show or sports team, get the latest updates on what's happening on the ground, and never miss a message from friends and family. Every moment matters – and free Wi-Fi keeps you connected to them all.
To connect to Delta's in-flight Wi-Fi, passengers need to select the DeltaWiFi.com network and sign in with your SkyMiles username and password on the sign-in page or by accessing the website through your browser. Wi-Fi is only available if you're a SkyMiles member (but you can sign-up on the spot for free).
Our original post about Delta's new Wi-Fi offering is below.
---
It's official: Delta has announced that it will become the first major U.S. airline to offer fast, free in-flight Wi-Fi to all of its customers on most domestic mainline flights beginning February 2023. The offering is in partnership with T-Mobile and flyers will need to be members of the Delta SkyMiles frequent flyer program or join while on board.
This is a game changer for frequent travelers but continues recent developments as free in-flight Wi-Fi has become more and more common on global carriers. Delta is not even the first U.S. carrier to offer free in-flight Wi-Fi: free in-flight Wi-Fi has been a longstanding core offering at JetBlue. However, Delta is the first major U.S. airline to offer the service, and its decision to do so is likely to inspire other major carriers to follow suit.
Connectivity on-board has been a major pain point for frequent flyers with many in-flight Wi-Fi offerings being unreliable even while being an expensive paid service. However, the announcement from Delta lays out the gauntlet for competitors. Even before the announcement, Delta's rival American Airlines had previously indicated that it plans to match Delta's offering.
By the end of 2023, Delta plans to have Viasat installed on more than 700 aircraft. The company has stated that it will bring free Wi-Fi to international and regional flights by the end of 2024.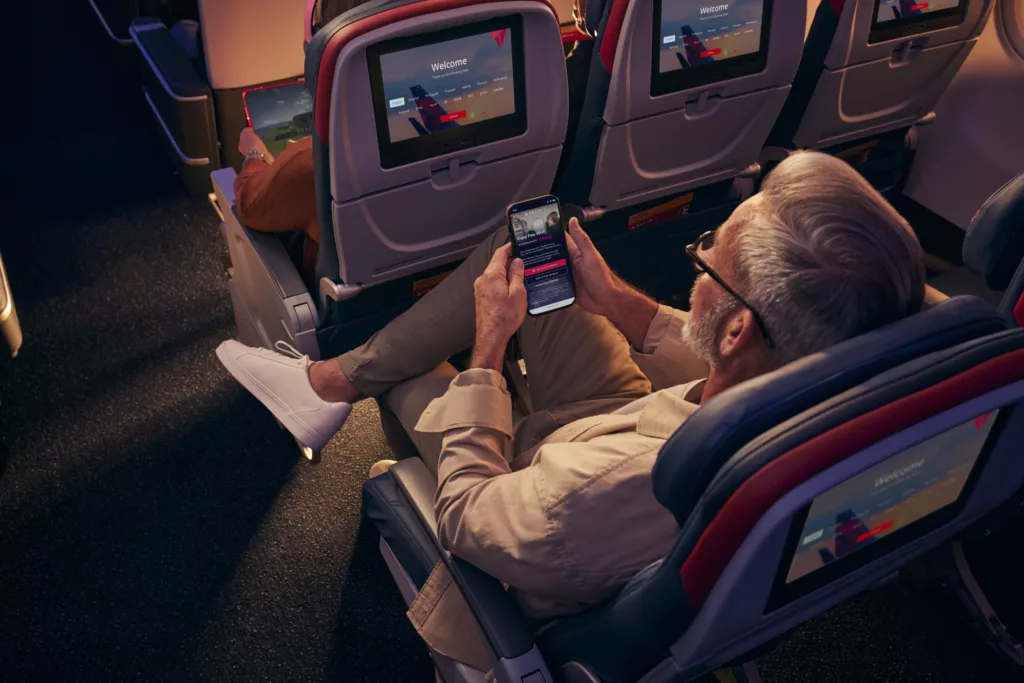 How to Access Delta's Free In-Flight Wi-FI
So, what does this mean for travelers? For starters, Delta SkyMiles members will be able to access the free Wi-Fi using their SkyMiles account, or they can join SkyMiles for free while on board. Non-members will also have the option to purchase Wi-Fi for a flat fee of $10 per device. This is a significant increase from the $5 per device fee that Delta charged during its trial period, but it's still significantly better than what some other airlines charge for in-flight Wi-Fi.
The decision to offer free in-flight Wi-Fi on Delta Air Lines is part of what the airline describes as a larger initiative to enhance the overall customer experience, with a focus on making in-flight connectivity feel more like it does on the ground. To achieve this, the airline is upgrading its fleet with Viasat satellite antennas, which are known for delivering faster and more reliable internet connections than previous providers like Gogo.
In addition to the free in-flight Wi-Fi, Delta is introducing a new platform called Delta Sync, which will offer a personalized in-flight entertainment and internet portal experience. Delta Sync will include two main components: Delta Sync Exclusives Hub and Delta Sync on Demand. The Exclusives Hub will be available through the deltawifi.com internet portal and will offer personalized offers, access, and entertainment from popular brands such as Paramount+, Resy, and New York Times Games. Delta Sync on Demand, on the other hand, will allow passengers to stream content on their personal devices using the Delta app.
Bottom line
In a world where connectivity is essential, it's no surprise that passengers expect to have access to the internet while onboard. Delta is leading the way with its move to offer free in-flight Wi-Fi. That's welcome news for frequent travelers and will allow it to provide a seamless and convenient travel experience.
It'll take a few more years for free Wi-Fi to be available on all Delta flights but the fact that it'll soon be offered on most domestic mainline flights is a significant step. It's very likely that other major airlines will follow suit quickly to ensure they are not left behind now that a major U.S. carrier has done so. In the meantime, Delta frequent flyers can look forward to fast, free in-flight Wi-Fi on their upcoming flights.