British Airways is introducing that it will start offering English sparkling wines to Club World passengers.
British Airways Showcases English Wine in Club World
British Airways has started serving English sparkling wine to business class passengers on its longhaul Club World cabins. The oneworld member carrier is working with four local wine producers from across England, as part of its efforts to showcase more products of British provenance and offering what it says is the "best of British bubbles at 35,000ft."
Luckily, if you'd like to stick to a more traditional Champagne, there's nothing to fear. The new English sparkling wines will complement the existing Chamapgne resident, Heidsieck & Co. Monopole Silver Top Non-Vintage Champagne, not replace it. 
Club World passengers will be able to choose between the English Sparkling wine and the French Champagne resident, meaning this is just adding variety to their in-flight experience. And, of course, if English sparkling wine is your cup of tea, this is an upgrade in experience for you.
British Airways is positioning the move as a significant endorsement for the English wine industry, putting these award-winning wines on the global stage.
In a statement to the Telegram, Simon Thorpe MW, CEO of the industry body WineGB, said: "British Airways really are flying the flag for wines from Britain. This is great news and a very positive step in English sparkling wine becoming a readily available choice for more passengers to enjoy in-flight. It brings fantastic exposure both for the wines themselves and for the category as a whole.'
British Airways English Sparkling Wine Selection
The "Master of Wine" at British Airways has selected the four English Sparkling wine options. The wines will be available on a rotational basis until next March, changing every three months.
The first wine to be featured is the Digby Fine English Brut NV, a sparkling wine with over three years' maturation that pairs well with delicate dishes on the airline's Club World menu. 
Following this, passengers can expect to taste Balfour Rosé de Noirs, Simpsons Chalklands Cuvee Brut NV, and Wiston Estate Brut NV. The airline notes that the Balfour Rosé is being made exclusively for passengers in its Club World.
"We know English Sparkling wines have attracted international acclaim over the years and are only growing in popularity, so we're really excited to offer our customers English Sparkling wines in our Club World cabin. We're really proud to work with four of the very best wine producers across England to celebrate British provenance and bring exclusive sparkling options for customers to try for themselves on board."

Sajida Ismail, British Airways' Director of Onboard Experience
In addition to the English sparkling wine selection, British Airways also spotlights a different destination through its premium wine selection each quarter.
Passengers can anticipate Portuguese wines from the regions surrounding Porto in April, including Anselmo Mendes' Muros Antigos Loureiro Vinho Verde and Casa Ferreirinha's Callabriga Douro in its Club World and First cabins.
Beyond the onboard wine selection, British Airways also recently enhanced its drinks portfolio with the launch of Whispering Angel Provence Rosé and The Pale, curated from the same Château d'Esclans vineyards, in its Galleries and First lounges at London Heathrow (LHR) and London Gatwick (LGW). 
United Airlines also recently introduced Whispering Angel as an option for flyers in its Polaris Business cabin.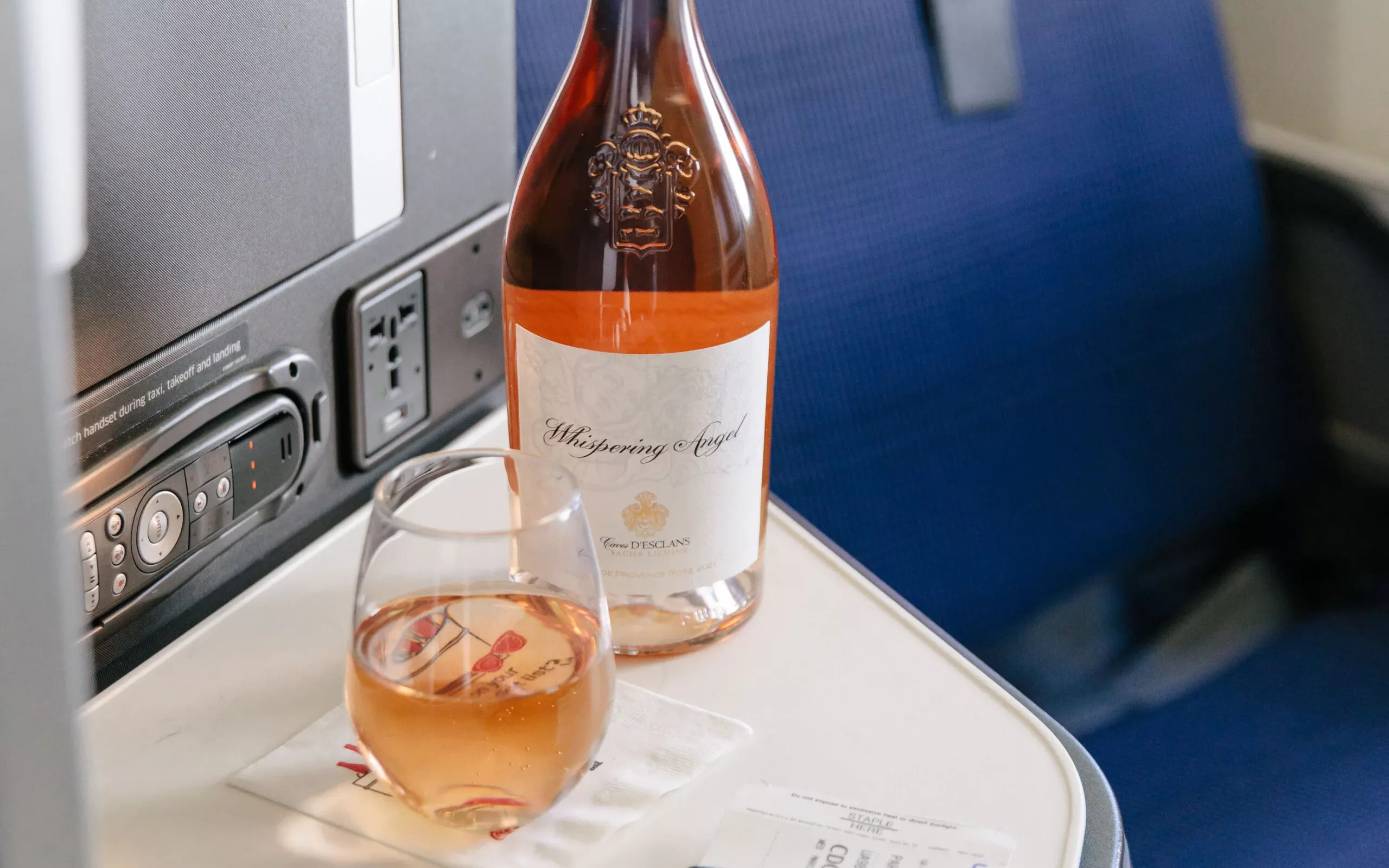 British Airways Club World Upgrades
This new offering complements the airline's recent upgrades to the Club World cabin, including the introduction of the Club Suite. 
The Club Suite represents a significant improvement over the old Club World seats, featuring Collins Aerospace Super Diamond seats arranged in a 1-2-1 reverse herringbone configuration. Every seat now offers direct aisle access, a 6'6″ lie-flat bed, a 17″ high-definition touchscreen TV, and ample storage space. This product also includes a sliding door for each customer, ensuring privacy during the flight.
The airline recently confirmed that the cabin is being rolled out on its 787 fleet meaning that most of its long-haul fleet should soon be offering the upgraded product.
Bottom Line
British Airways is adding English sparkling wines to its Club World menu, working with local producers to showcase British wines. Luckily, the new offerings will complement the existing Champagne options, so this should be a fun thing to sample during flights on the airline without losing anything since the more traditional French Champagne will continue to be available. The wines, selected by British Airways' "Master of Wine," will be available on a rotational basis until next March. I'm a gold Executive Club member and frequently fly British Airways so I'm curious to sample these and see how they'll taste in the upcoming months…