Alaska Airlines Mileage Plan is one of the most popular frequent flyer programs among travel hackers with good reason. It's now offering a promotion on buying Mileage Plus miles that can be an up to 60% bonus depending on what you're targeted for.
Mileage Plan is known for its excellent redemption rates on world-class airlines like Japan Airlines, Cathay Pacific, Qantas, and Singapore Airlines. Since it joined the Oneworld alliance on March 31, 2021, it has steadily rolled out redemptions with its new Oneworld partners. But some of its most lucrative redemptions continue to be on its original partners.
As with any program, buying miles is only a good idea in specific circumstances, but if you have a redemption is mind, then taking advantage of this promotion might make sense for you.
Alaska Airlines Bonus Miles Promotion: Buy Miles With Up To 60% Bonus
Alaska Airlines Mileage Plan is currently offering a bonus on buying miles. The promotion expires on Monday, February 20, 2023. The promotion is targeted with promotions going up to 60%.
Alaska Airlines usually charges $2.96 cents per mile. With bonuses from the promotion, you can get a significantly better deal.
I logged in and I was targeted for a bonus of up to 50% with the following thresholds:
No bonus if buying less than 3,000 miles ($2.96 cents per mile)
A 30% bonus if buying 3,000-9,000 miles ($2.27 cents per mile)
A 40% bonus if buying 10,000-19,000 miles ($2.11 cents per mile)
A 50% bonus if buying 20,000-100,000 miles ($1.97 cents per mile)
Different members will see different bonuses. It's definitely worth logging in to see what bonus you've been targeted for. Unfortunately, I was not targeted for the best bonus of 60%. If you were targeted for the best version, the bonus thresholds will look something like this.
1,000-2,000 miles — no bonus (2.96 cents per mile)
3,000-19,000 miles — 40% bonus ($2.11 cents per mile)
20,000-39,000 miles — 50% bonus ($1.97 cents per mile)
40,000-100,000 miles — 60% bonus ($1.85 cents per mile)
If you were, that will bring your cost per mile to just $1.85 cents which can be a fantastic value for the right redemption.

Terms of the Alaska Mileage Plan Bonus Promotion
Regardless of the promotion you were targeted for, there are some terms to be aware of.
Must purchase by February 20, 2023, 11:59 p.m. PST to receive up to 60% bonus miles
Miles are non-refundable and do not count towards elite status
Maximum of 100,000 miles per transaction (before the bonus)
Mileage Plan members without elite status may be credited up to a maximum of 150,000 miles acquired through Points.com in a calendar year, whether purchased by you or gifted to you
Members with Alaska status (MVP, MVP Gold, MVP Gold 75K, and MVP Gold 100K) have no limit on the number of miles that they can buy
Can Buying Alaska Mileage Plan Miles Be A God Deal?
Whether buying points & miles is a good option depends on your personal situation and how you plan to use the miles. Check out our post on how to decide if buying miles is a good value for you for more.
If you're targeted for the best bonus and maximize this promotion, you can buy 160,000 Alaska Mileage Plan miles for $2,956.25.
The value of 160,000 Alaska miles can vary depending on the type of redemption you're looking at. If you're looking to redeem the miles for short-haul flights or economy, it's unlikely that you'll find value in buying miles with this promotion. On the other hand, if you're looking at long-haul business class or first class flights, you can find ways to get far more than $2,956.25 from buying miles. We'll look into some cases where this is the case next…
Best Uses for Alaska Airlines Miles
One of the best uses of Alaska miles is for first class and business class redemptions on Cathay Pacific. Alaska's relationship with Cathay Pacific predates its membership in the Oneworld alliance and allows Mileage Plan members to redeem for awards with fantastic value. This includes flights to destinations like Hong Kong, Bangkok, and Sydney. A one-way first-class award from the US to Hong Kong can cost as little as 110,000 miles. That's great value considering the cash price of these tickets can easily exceed $10,000.
Similar value can be achieved redeeming Mileage Plan miles for Japan Airlines business class and first class.
Qantas is another airline that Alaska has had a relationship with since before joining Oneworld. This is another sweet spot of the Mileage Plan program: a redemption for a one-way business-class award from the US to Australia can cost as little as 80,000 miles, which is a great value considering the cash price of these tickets can easily exceed $5,000.
Singapore Airlines is a unique relationship for Oneworld alliance-member Alaska Airlines. Despite Singapore Airlines belonging to the rival Star Alliance, Alaska Airlines has maintained its partnership with Singapore Airlines that was in place prior to joining the Oneworld alliance. That means that Mileage Plan members can redeem miles for Singapore Airlines flights. Singapore Airlines business class can be another great redemption of Alaska miles with a one-way award from the U.S. to Singapore costing as little as 110,000 miles. In comparison, a cash ticket on the same routes can again easily cost more than $6,000.
It's worth noting that while there are no devaluations expected, Alaska Airlines has been making changes to Mileage Plan. The best time to buy miles is with an immediate redemption in mind. That said, if you're planning upcoming travel then buying Mileage Plan miles can be a great deal.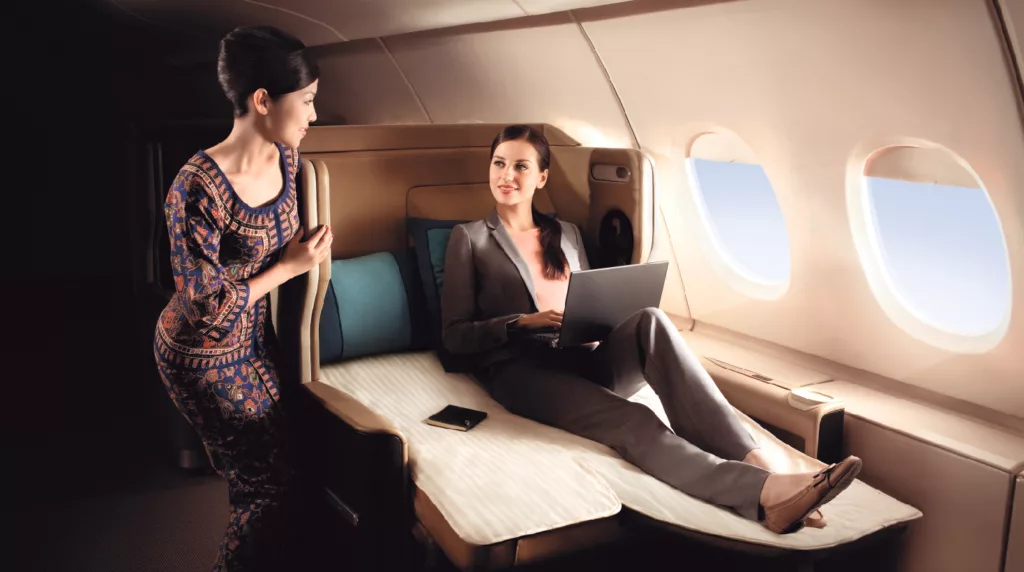 Bottom line
Buying can definitely be worth it if you're looking for great value on first and business class awards. With Alaska Airlines currently offering a promotion on buying miles with bonuses of up to 60%, it's possible to get lots of value from buying Mileage Plan miles.
While buying miles isn't always a good idea, the promotion can make sense for specific redemptions, especially for redemptions to fly long-haul in premium cabins. If you have a redemption in mind, be sure to buy Mileage Plan miles before the promotion expires on February 20, 2023.