Emirates is reintroducing free onboard Wi-Fi access for its Skywards loyalty program members. This move revives and expands a pre-pandemic perk that made Emirates one of the airlines where passengers enjoy free internet connectivity during their flights, in any ticketeting class.
Free WiFi Onboard for Skywards Members on Emirates
Starting today, Emirates is expanding access to inflight WiFi by ensuring all of its passengers have access to some sort of complimentary connectivity onboard as long as they join the Skywards loyalty program. Signup can happen onboard.
Emirates' move is actually a resumption of the complimentary WiFi service that they discontinued in May 2020 due to the economic pressures caused by the global pandemic. However, with the airline now fully operational and enjoying solid financial performance, they are reinstating this popular amenity.
Unlimited Access for First Class Passengers, Top Elites, and Elite Passengers in Business Class
First Class passengers, Platinum members in any cabin, and Gold and Silver members in Business Class now have access to unlimited internet throughout Emirates flights without data caps.
All other Emirates Skywards members can enjoy unlimited, free messaging. This includes popular apps like WhatsApp, iMessage, Facebook Messenger, WeChat, Line, and Viber.
To access free Wi-Fi connectivity onboard, passengers simply need to join Emirates Skywards. With more than 30 million members worldwide and numerous industry awards under its belt, this loyalty program offers unmatched rewards both in the air and on-ground.
The introduction of free inflight Wi-Fi is an enticing benefit for potential Skywards members. Currently boasting over 30 million travelers, the airline's loyalty program offers many perks and privileges for its members. Conveniently, passengers will be able to sign up inflight to access their free WiFi.
The State of WiFi On Emirates
Emirates reported a 30% increase in passenger Wi-Fi usage compared to the previous year while making the announcement. Apparently, 450,000 passengers used the onboard WiFi service in January alone. This figure rises to nearly 20% of Emirates travelers on routes to the Americas.
Although Emirates claims it has consistently been at the forefront of inflight Wi-Fi developments, they are still using OnAir for Wi-Fi on their large fleet of Boeing 777 and Airbus A380 aircraft, which is adequate for texting but not for streaming or other data-intensive tasks. However, improvements are on the horizon.
Starting in 2024, Emirates will take delivery of 50 Airbus A350s equipped with Inmarsat's GX Aviation Wi-Fi, offering speeds of up to 50Mbps and greater reliability. The existing fleet will continue using the old service, even as they undergo major retrofitting and gain new Premium Economy cabins.
Emirates plans to introduce high-speed, in-flight broadband on all 50 of its upcoming Airbus A350 aircraft. This innovation, powered by Inmarsat's GX Aviation, will revolutionize onboard connectivity by providing faster speeds and wider global coverage.
The arrival of the A350s in 2024 promises better connectivity and a seamless travel experience for Emirates passengers. In the meantime, though, many of the carrier's existing Boeing 777 and AIrbus A380 fleet has a subpar WiFi offering. Luckily, the airline seems to be working to invest in its fleet to get WiFi up to the levels modern customers expect. Here's what an Emirates exec had to say in the press release announcing the offering:
"Emirates has persistently worked with our service providers to optimise and improve the connectivity experience. In March we delivered about 55% more data per customer session compared to early 2022 despite the number of sessions increasing by 68% in the same period. We will continue to work to invest in upgrades and enhancements, and our A350 aircraft will arrive with the next generation of satellite connectivity already equipped."

Patrick Brannelly, SVP Retail, IFE & Connectivity, Emirates
Inflight Connectivity Increasingly An Expectation
By introducing complimentary inflight Wi-Fi for its Skywards members, Emirates continues to be responsive to consumer demand in an area where in-flight connectivity is increasingly expected. Emirates' fellow UAE-based carrier, Etihad, just announced a similar offering in April as did Turkish Airlines.
Offering free WiFi is definitely one of those things that will definitely move the needle to make Emirates a more preferred choice for many global travelers. Free Wi-Fi is more than just a perk – it's an essential amenity for today's digitally-connected travelers. With this step, Emirates takes its customer service to the next level, providing an enhanced passenger experience that addresses the need for constant connectivity in today's fast-paced world.
The benefit of staying connected while soaring through the skies can't be understated. Whether it's sending important emails, connecting with loved ones, or simply staying entertained with online content, the availability of free Wi-Fi has become an expectation rather than a luxury for many passengers. Airlines will need to adjust to meet the needs of travelers in 2023.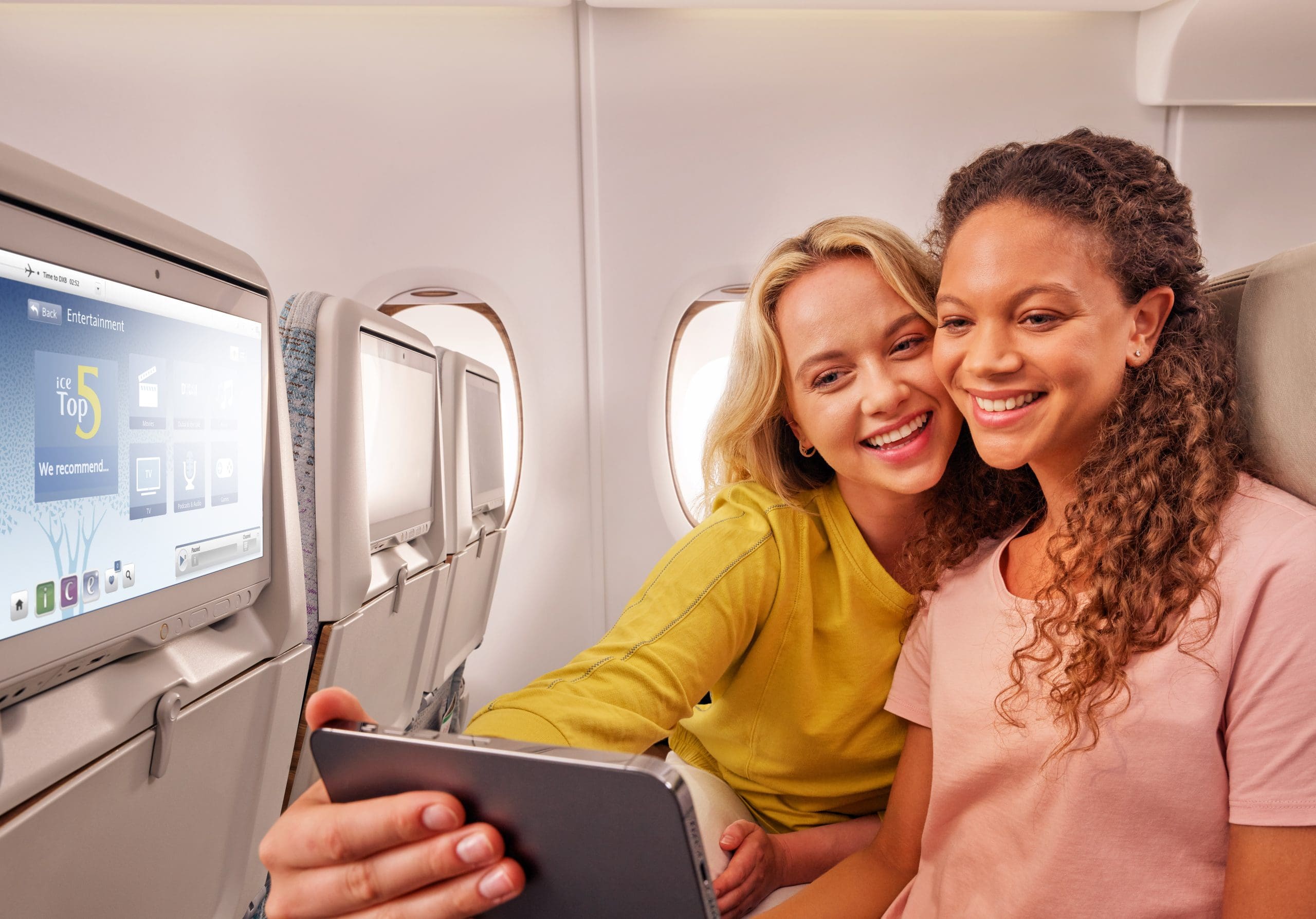 Bottom Line
Emirates has reinstated free onboard Wi-Fi access for all its Skywards loyalty program members, a perk previously discontinued in May 2020 due to economic pressures from the pandemic. The service allows First Class passengers, Platinum members, and Gold and Silver members in Business Class to have unlimited internet throughout their flights, while all other Skywards members can enjoy free messaging via popular apps. Starting in 2024, Emirates will upgrade its connectivity service by introducing high-speed, in-flight broadband on all its upcoming Airbus A350 aircraft, powered by Inmarsat's GX Aviation, promising faster speeds and wider global coverage on that fleet. Here's hoping an announcement comes soon about improvements to the rest of the fleet…
Hopefully, they will have an announcement soon on upgrading connectivity on their exisiting fleet…
.
The skies are becoming more connected, and with Emirates leading the charge, we can't wait to see what the future holds for inflight Wi-Fi and the overall passenger experience.