As streaming services continue to dominate the entertainment industry, it's no surprise that they are finding their way into the skies.
In recent months, both British Airways and Delta Air Lines have announced partnerships with Paramount+ to bring the premium streaming service to their passengers. These deals represent a major shift in the inflight entertainment landscape, offering travelers even more ways to stay entertained while on board.
For frequent flyers, these partnerships represent the shifting way we experience in-flight entertainment from seat-back screens to streaming content on-demand on personal devices. With streaming services becoming increasingly popular, it makes sense that airlines would want to offer them to their passengers.
British Airways Partners with Paramount+
British Airways was first to introduce a partnership with Paramount+ in December when it said it will offer long-haul passengers access to the streaming service on board. This partnership will allow passengers to watch a selection of exclusive Paramount+ series on the airline's Highlife entertainment platform, including HALO, The Offer, Queen of the Universe, Kamp Koral: SpongeBob's Under Years, iCarly, Yellowstone, and Star Trek.
The content will be available on all cabins on the long-haul fleet, with passengers also given the option to subscribe to Paramount+. Bronze, Silver and Gold tier members of the British Airways Executive Club will be offered a complimentary month subscription. This means that travelers will be able to continue watching their favorite shows and movies before and after their flight.
While the partnership with Paramount+ is a great addition to British Airways' inflight entertainment offerings, it is worth noting that it does not allow for true streaming on board. Instead, passengers will be able to choose from a selection of episodes from various series that have been pre-loaded into the Highlife entertainment system. While this is a step up from traditional inflight entertainment options, it does not offer the same level of flexibility as true streaming.
Delta Partners with Paramount+
Delta Air Lines has announced an even more robust partnership with Paramount+ as part of its new free in-flight Wi-Fi offering. The partnership will also provide SkyMiles members with unlimited access to the entire Paramount+ library, including live events, on Viasat-equipped aircraft that offer free Wi-Fi.
This is a major advantage for Delta. Paramount+ offers a vast streaming catalog that Delta flyers will now be able to easily access onboard. That's a point of differentiation from competitors and means it offers a more comprehensive inflight entertainment experience.
Delta will also be offering SkyMiles members access to a free trial of Paramount+ Premium on flights originating in the US. This partnership, which will launch in the spring of 2023, will allow travelers to stream a range of content, including films, sports, news and TV shows, on their personal mobile devices.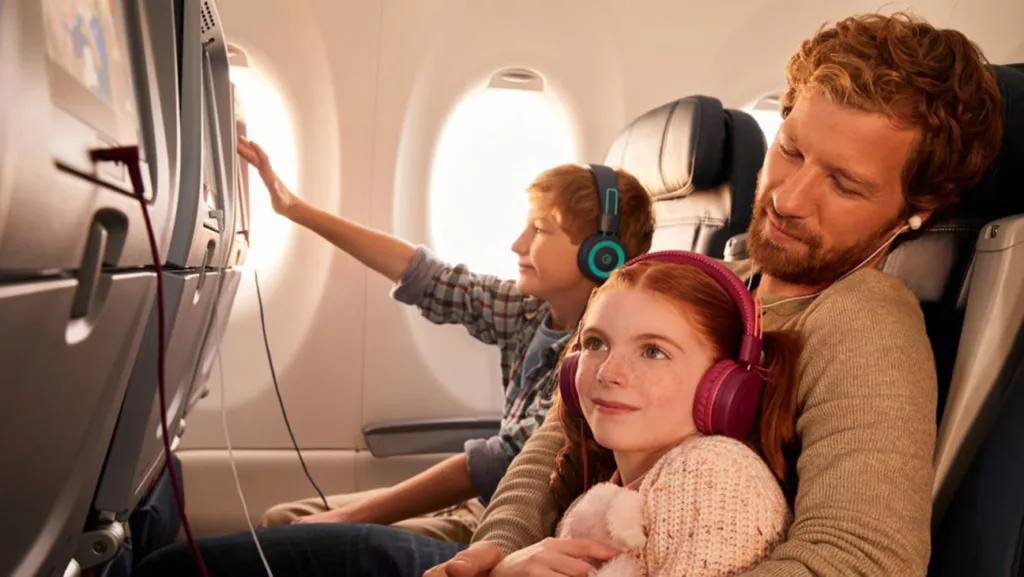 Delta's free in-flight entertainment goes beyond streaming through its Delta Studio platform. Through Delta Studio, the airline includes over 1,000 hours of programming, including the latest movies, premium TV series from HBO, Hulu and Showtime, 18 channels of live satellite TV (on select aircraft), podcasts, playlists and games. This is also accessible through personal devices highlighting the importance of making content available there rather than simply through seat-back screens.
The Future of Inflight Entertainment
With both British Airways and Delta partnering with Paramount+, it's clear that streaming directly to personal devices are increasingly the most important part of the inflight entertainment landscape. These partnerships offer travelers even more options for staying entertained while on board, and it's likely that we'll see more airlines following suit in the near future.
Over time, we should see more connectivity on-board flights with more airlines offering free in-flight Wi-Fi at high speeds. This means that the definition of in-flight entertainment will shift to personal devices with charging ports and connectivity to stream personalized content more valued than ever.
These partnerships represent a major step forward for inflight entertainment, and offer travelers even more options for staying entertained while on board. British Airways or Delta are leading the way with these direct-to-device partnerships with Paramount+ that help passengers maximize their time in the skies.
Will you take advantage of British Airways and Delta's Paramount+ streaming option?