American Airlines and JetBlue announced the Northeast Alliance in July 2020 as a strategic partnership to better compete in the Northeastern United States by coordinating schedules and expanding their networks in congested aiports. The alliance aims to better compete against dominant carriers Delta and United by combining networks to be more competitive while offering reciprocal benefits for elite customers, such as earning and redeeming miles on both airlines and access to priority boarding, baggage handling, and lounge access.
The alliance was approved by the Department of Transportation in early 2021 under the Trump Administration but faces opposition from the Biden Administration, which filed a pending lawsuit claiming it will limit competition and raise fares. Despite this, the Northeast Alliance remains in effect and already benefits travelers in the region. Here's everything you need to know.
Northeast Alliance Basics: What Is It & What Airports Does It Cover?
The Northeast Alliance between American Airlines and JetBlue covers four major airports in the Northeastern US: Boston Logan International Airport, John F. Kennedy International Airport, LaGuardia Airport, and Newark Liberty International Airport.
These airports are responsible for two-thirds of JetBlue's business and are crucial to the airlines' efforts to build a complementary network in the region.
The alliance is already showing results in the form of new routes being added, increased competition, and improved travel options for passengers. By coordinating schedules, American and JetBlue are better able to match supply with demand and offer more convenient travel options. With JetBlue providing feeder traffic for American's long-haul network out of JFK, the two airlines are now a force to be reckoned with against dominant United and Delta networks at the capacity-constrained NYC airports.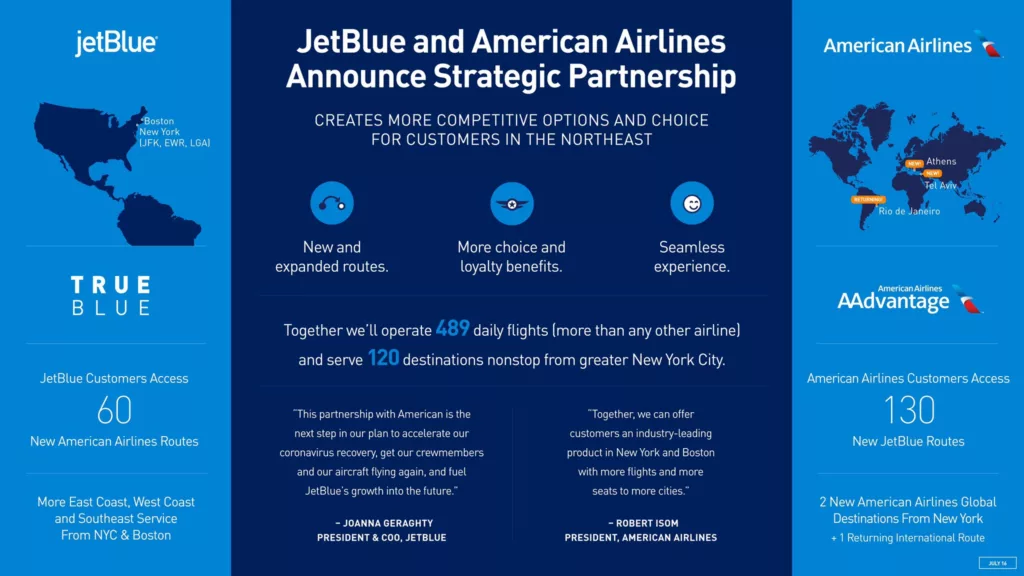 This alliance has brought a new level of competition to the Northeastern US, leading to lower fares and higher-quality service for travelers.
Northeast Alliance Background: AA Shrinking in NYC & JetBlue Squeezed
Prior to the Northeast Alliance, American was drawing back its presence in New York City essentially giving up on the market. Despite the fact that New York City is the country's most lucrative market, American focused on bringing customers to New York rather than competing for customers in the City.
It was shrinking its presence at JFK in favor of its hub in Philadelphia, even losing slots. Given its inability to compete with Delta and United, who controlled a larger share of the limited slots available at capacity-constrained JFK, American didn't have a viable strategy for New York City. This meant that American was essentially removing itself as an option for customers in New York City.
On the other hand, JetBlue, as a smaller carrier without a long-haul network, struggled to compete against larger carriers that could offer a more complete network in the region. This was acute across its home markets but particularly in Boston, where it lost market share to Delta. The airline relied heavily on the Boston market and its struggle to compete put pressure on its bottom line, threatening its viability.
JetBlue also struggled without a reprotection agreement with any major carrier. This made it difficult for the airline to rebook passengers on other flights when it had to cancel its own to provide a seamless travel experience for passengers during network disruptions. This was a "pain point" for JetBlue, as the airline typically operated its planes at full capacity, making it challenging to rebook an entire flight of passengers.
The Northeast Alliance includes a reprotection agreement with American, which JetBlue describes as a "massive benefit." The agreement allows JetBlue to book customers on American Airlines flights in cases when JetBlue flights are canceled, providing a better solution for customers during irregular operations. JetBlue had always sought a reprotection agreement with one of the legacy airlines, but none were willing to partner with the airline prior to the Northeast Alliance.
Regulatory Issues: Initial Approval & Biden Admin Lawsuit
The Northeast Alliance between American Airlines and JetBlue Airways was announced on July 16, 2020 with the intention of allowing the two carriers to coordinate their schedules and expand their networks in the Northeastern United States. This alliance was effectively approved by the Department of Transportation in late 2020 under the Trump administration.
The airlines proceeded to launch the alliance in January 2021 stating it would provide more seamless connectivity and expand travel choices in the Northeastern US. They even had an approving quote from Senate Majority Leader Chuck Schumer (D-NY):
"Due to the COVID crisis, I fought for and delivered over $40 billion in payroll support to the airlines and its workers to keep the industry from collapsing and prevent massive job loss. I am glad to see JetBlue and American Airlines collaborating on innovative solutions to save thousands more jobs in a way that also expands New Yorkers' travel options."

Senate Majority Leader Chuck Schumer (D-NY)
But since the Biden administration took over, regulators have taken a different stance on the partnership. The new administration has an aggressive stance on antitrust enforcement. In September 2021, the Biden Justice Department filed a lawsuit to end the alliance, claiming that the partnership will limit competition and lead to higher fares for consumers. The lawsuit argues that American and JetBlue effectively merging their operations on flights to and from the four major airports in the region eliminates significant competition and ties JetBlue's fate to American's.
Despite the Biden Administration's opposition and ongoing antitrust lawsuit against the Northeast Alliance between American Airlines and JetBlue, the alliance is still active. The airlines say (and most analysts agree) that it is already improving travel options for passengers in the region. By adding a viable third competitor in New York City, the alliance has increased competition and led to lower fares and higher-quality service. Additionally, JetBlue customers now have access to a major airline network through the reciprocal benefits offered by American, including reprotection in the event of a flight cancellation or delay.
The outcome of the lawsuit will determine the future of the alliance, but in the meantime, both airlines have continued to offer increased flight options and aligned schedules to provide a more seamless experience for travelers.
Northeast Alliance Benefits for Frequent Flyers
The Northeast Alliance between American Airlines and JetBlue Airways introduced limited reciprocal elite benefits in October 2021, offering a range of perks for their frequent flyers. These benefits include priority check-in, baggage handling, security, and boarding. AAdvantage members are able to receive up to two free checked bags when traveling with JetBlue, while TrueBlue Mosaic members can check two bags at American Airlines kiosks.
The alliance also offers reciprocal opportunities to earn and redeem miles or points. AAdvantage members can earn 5-11 miles per dollar spent on JetBlue, depending on their elite status, while TrueBlue members can earn 3 points per dollar spent on American. American AAdvantage miles can be redeemed for JetBlue flights, except for transatlantic flights, with the exception of JetBlue Mint business class tickets requiring an additional 15,000 miles one-way for many routes.
Starting March 23, 2022, AAdvantage and TrueBlue Mosaic members will receive even more perks when traveling with either airline. They will have access to premium seating options, such as Main Cabin Extra or Even More Space Seats, offering extra legroom, early boarding, and dedicated overhead bin space. AAdvantage Executive Platinum and Platinum Pro members and TrueBlue Mosaic members will also be eligible for same-day confirmed flight changes.
Admirals Club members also continue to have access to Admiral's Club lounges when flying with JetBlue.
Routes Added as a Result of the Northeast Alliance
Since the launch of the Northeast Alliance, American and JetBlue have added several new routes to their networks. Largely, this has meant American adding long-haul flights from both New York JFK and Boston paired with more domestic feed flying from JetBlue.
In terms of long-haul flights, this has included flights to Tel Aviv and Delhi from New York and an added frequency to London from Boston. JetBlue has also been able to support flying to smaller communities and increase capacity on routes from the affected airports.
Since the alliance was announced, there's been a pretty consistent stream of new route announcements from the carrier with the latest tranche announced in December:
Complication: JetBlue's Spirit Takeover
Since it was formed, the Northeast Alliance has brought together JetBlue's strong connectivity in the Northeast with American's long-haul presence out of New York allowing them both to become viable competitors in the New York market. But JetBlue's proposed takeover of Spirit Airlines could bring the Northeast Alliance into question.
The acquisition is a controversial deal. JetBlue paid a premium for Spirit's assets. In fact, they probably overpaid, and won't not adopting Spirit's business model. The acquisition could also bring anti-trust issues to the forefront, as a combination of JetBlue, Spirit, and American Airlines would result in a concentration of market share in the Northeast and South Florida regions.
How will this affect the ongoing Department of Justice lawsuits against both the Northeast Alliance and the merger? Could they ask JetBlue to drop its alliance with American as a condition for approval of the Spirit acquisition? This could put American Airlines back in a difficult position where it cannot walk away from its assets in New York but it remains too small to succeed on its own with no ability to grow.
It would also remove a viable competitor for New Yorkers against United and Delta.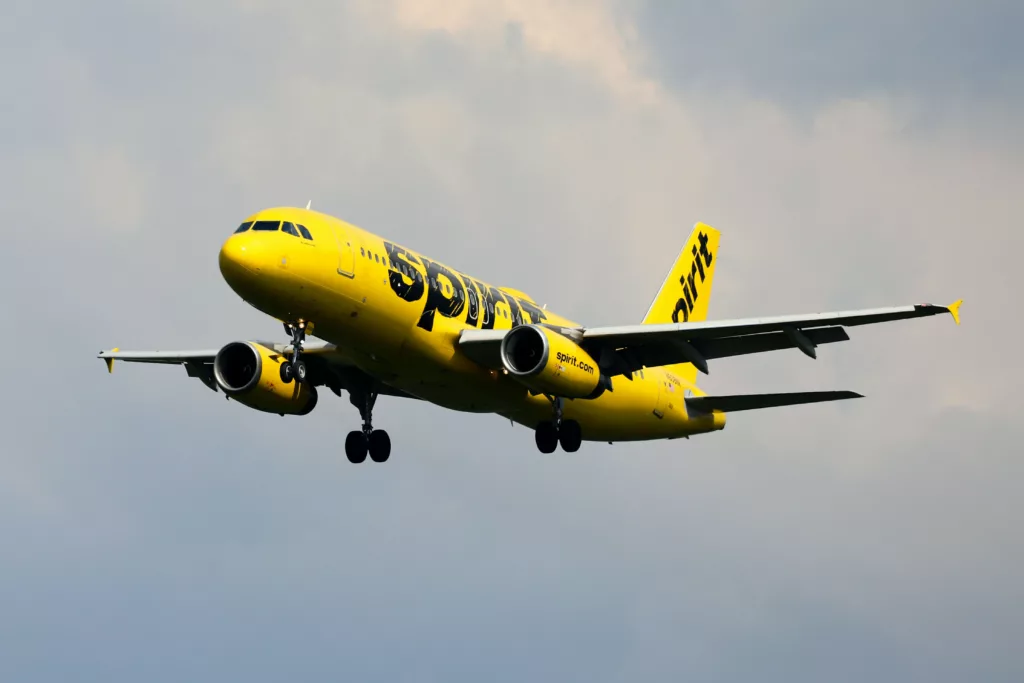 Bottom line
Since being launched, the Northeast Alliance between JetBlue and American Airlines has allowed the airlines to compete by adding new routes and connectivity in the Northeastern US. By adding a viable third competitor in New York City and offering reciprocal elite customer benefits, the alliance has increased competition, reduced fares, and improved the travel experience for passengers. But between opposition from the Biden Administration and the JetBlue/Spirit tie-up, the future of the Northeast Alliance remains in question even as it remains in full swing for the time being.